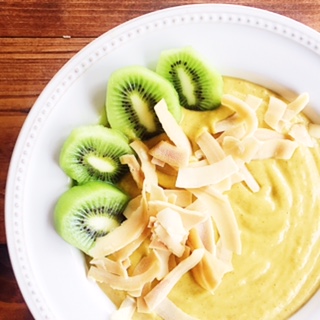 Tropical Superfood Smoothie
1 1/4 cups unsweetened vanilla almond milk
1 cup frozen mango chunks
1 cup frozen pineapple chunks
2 Tbsp shredded coconut
1/2 cup cooked garbanzo beans
1 cup green slaw of choice*
1 Tbsp Manitoba Harvest hemp seeds
1 Tbsp Chosen Foods chia seeds
1/2 tsp turmeric
1/2 cup pumpkin purée
1 tsp Madhava Sweeteners raw honey
2 Tbsp The Natural Citizen organic protein*
Blend all ingredients in a high powered blender until smooth. Top with toppings of choice (I like Dang Coconut Chips and some kiwi) and enjoy!
*I prefer a kale brussel slaw. Look in the bagged greens/lettuce section of your produce department.
*Use code: MILKANDHONEY for 15% off at The Natural Citizen!
This smoothie can be served in a glass to drink or in a bowl, as pictured in the photo. Give both ways a try and see which one you prefer! Here are more breakfast ideas, and if you want to learn the difference between a smoothie that can act as a meal, versus one that's a snack, find my smoothie guide here.