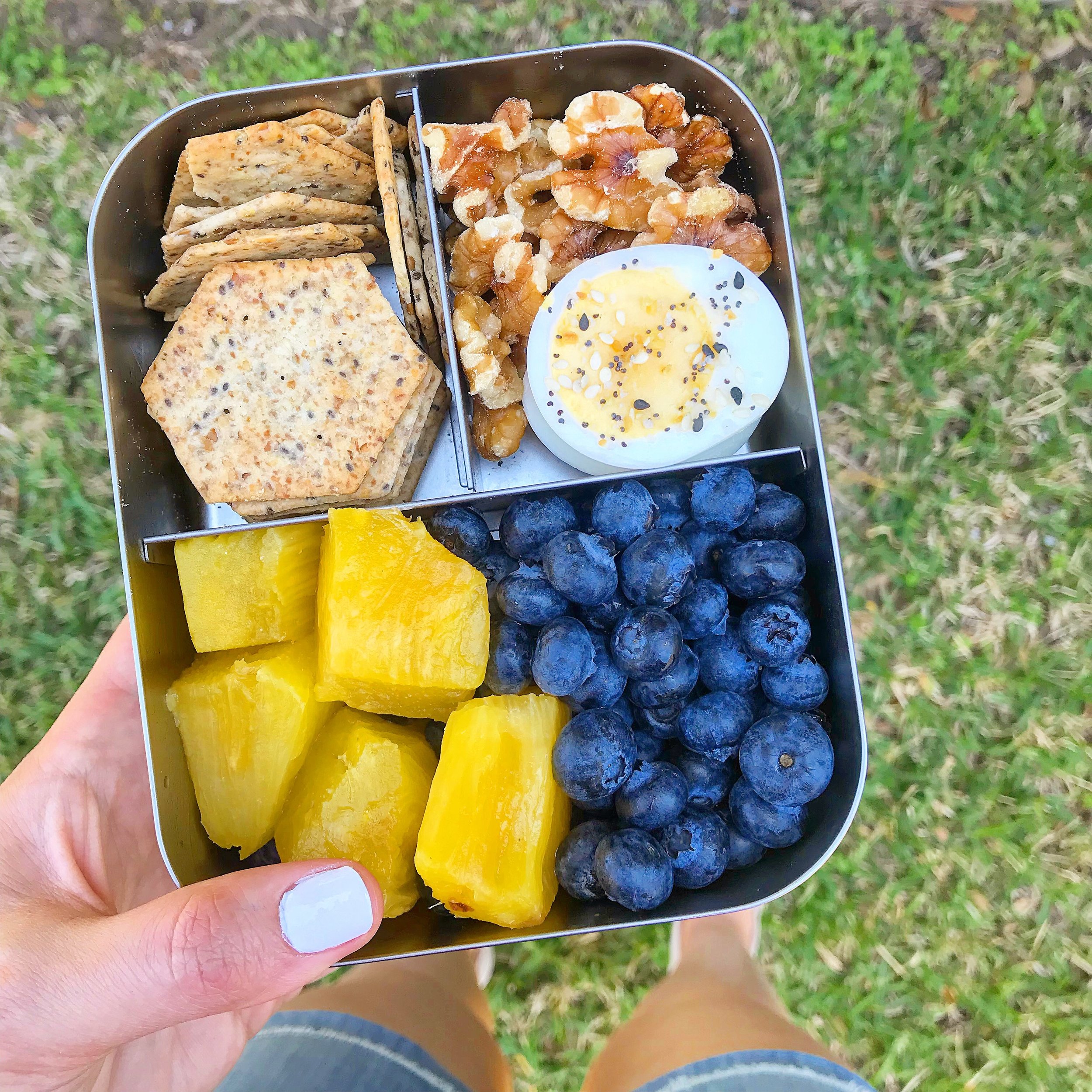 This post "Why you should be eating walnuts at lunch everyday" is sponsored by California Walnuts. All thoughts and ideas are my own.
---
Did you know that only 49% of people actually take a true lunch break each day? In this post, I'll cover some things to consider about your lunchtime routine, and why you should be eating walnuts at lunch everyday.
While 79% of Americans report they eat lunch, only 49% are actually taking a true lunch break. Now, how each person defines a true "lunch break" is pretty relative, but in general whether you're a stay at home mom, work in an office setting, or have an on-the-go routine… we all have a "job" to do during the day. So, why are more than half of us not taking the time to refuel mentally and physically in the middle of the day?
Lunch time is also screen time for many people.
Most people (78%) report wanting to recharge at lunch time, but about 60% of us choose to check social media, catch up on the news, or do something else that involves a screen while we eat. And many people eat lunch at their desks about half the time. (Note: I feel like the stay-at-home mom version of eating at your desk, is standing at the kitchen counter shoveling food in your mouth while your kids eat lunch. Also note, I'm currently typing this at my desk and eating my lunch at the same time.)
The desire to use lunchtime to catch up on screen activities seems to pan across generations too. 88% of Gen Z, 81% of Millennials, 71% of Gen X, and 48% of baby boomers check social media during lunch. I even took a quick poll on my Instagram stories to ask how many of you watch some sort of screen while you eat lunch, and 80% of you said you watch a screen while you eat!
So what can we do about this? Getting rid of the screen at lunch will not only help you be better in tune with your hunger and fullness cues, but it will also help you recharge better for the rest of your day. Even if it's only for 15-20 minutes, simply closing the laptop, putting your phone in another room, and/or turning off the TV while you eat can make a world of a difference on how effective your lunch is at recharging you for the second half of the day.
Most people don't consider their health when deciding if and what to eat for lunch.
Here's some stats I found very interesting:
One in four Americans say it's not important to eat a nutritious lunch, and that they pick what is quick and easy regardless of how healthy it is or is not.

45% of Americans don't plan their lunches at all.

Less than 10% of Americans plan their lunches for the entire week.
In fact, most Americans don't think about what they're going to eat for lunch until they realize they're hungry, and some don't think about eating lunch until their productivity or energy levels start to drop from hunger. But, we do know that people who are intentional about their lunch, whether that means taking it to work or planning ahead for what you'll eat at home, are more likely to eat a nutritious meal. Out of the people who bring their lunch to work:
54% eat fruits and vegetables at lunch

50% bring a salad

25% include nuts (with nearly 50% of the nuts being walnuts)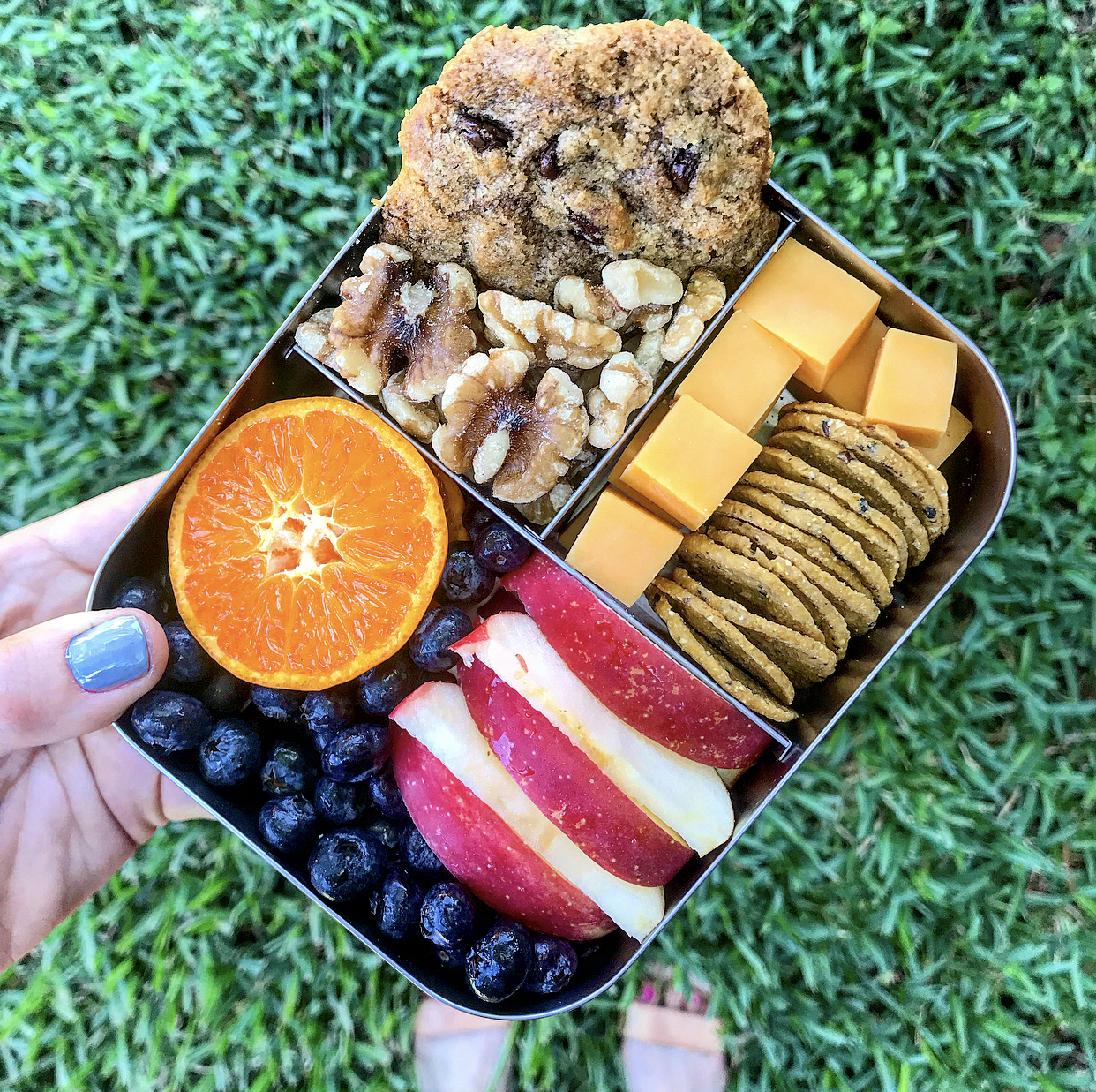 Most people face this lunch-time dilemma: health and nutrient dense foods v. competing priorities
Taking time to recharge at lunch is the most important part of taking a lunch break for most Americans, yet only 27% of people choose to eat foods that give them energy to power through the rest of their day. For example, only 8% of people report that they choose foods that are shown to be good for our brains, only 5% of people choose foods that are good for our hearts, and only 3% of people choose foods with '"good" fats. In fact, only 15% of Americans say their lunch break includes a well-balanced meal.
Three ways to solve these problems
In all this data, one theme seems to remain the same. We all WANT one thing, but competing priorities and obligations prevent us from doing so most of the time. But, there are three things we can do to bridge the gap between what we want to do/eat at lunch time and what we actually are doing:
Put the screens down and/or turn them off. Even if it's just for 15 minutes.

Plan ahead for lunch. This doesn't have to be for the whole week, but simply taking the time to think through what you will eat for lunch the next day or even 2-3 hours in advance of the meal can make a world of a difference.

Utilize nutrient dense foods that help fuel the rest of your day. A quick glance at my instagram stories each day will show you, I'm a big advocate for adding quality fat into our diets in easy and simple ways. Walnuts are the perfect way to do this, and so easy (and tasty!).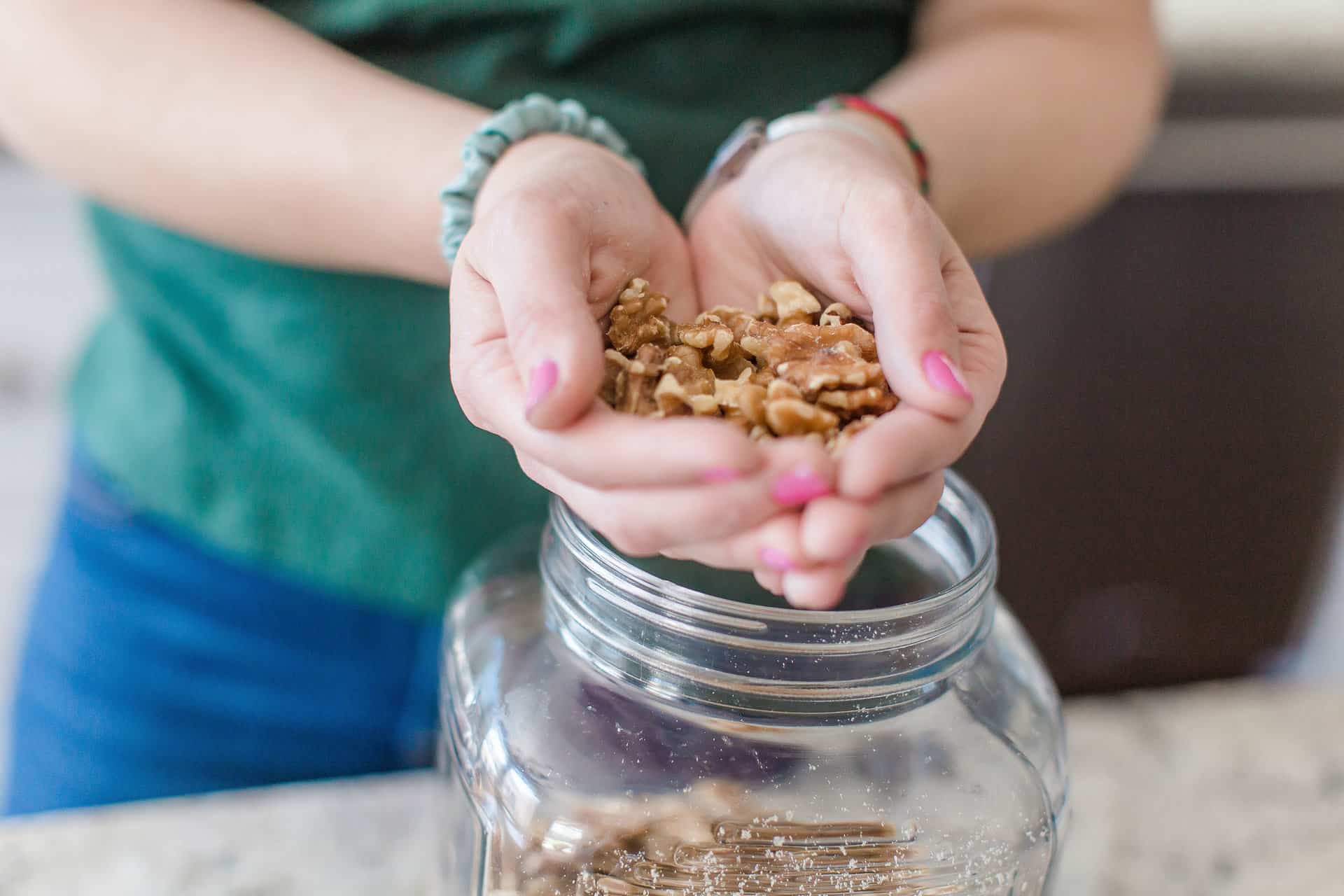 Why you should be eating walnuts at lunch everyday…
Walnuts are a quick, nutrient dense way to add some healthy fats to your mid-day meal. Walnuts are an excellent way to improve overall diet quality and are certified by the American Heart Association's Heart-Check mark. Walnuts have been researched for their potential role in a variety of health outcomes, including cognitive function, heart health, cancer, diabetes, gut health and reproductive health. Their protein, fiber, and fat content help you feel fuller longer, and when you add them to your lunch, they provide your brain with a steady supply of energy throughout the afternoon.
Just one ounce of walnuts comes packed with nutrition:
An excellent source of alpha-linolenic acid (ALA), a form of omega-3s (2.5g) – the most ALA of any other tree nut

4g protein

2g fiber

A good source of magnesium (45mg)

Why you should be eating walnuts at lunch everyday; Image source: https://walnuts.org/nutrition/nutrition-information/
When you buy shelled walnuts at the store, either pre-packaged or from the bulk bins, you've got a no-waste food ready-to-go. There's no skin/shell to throw away, there's no prep work needed. You can enjoy them instantly as is.
Walnuts and Diabetes (source)
Research has shown us that people who eat walnuts can cut their risk for developing type 2 diabetes in half! One study that utilized data from over 34,000 people, noted that most people only ate 1 1/2 Tbsp of walnuts each day. Simply doubling that intake to 3 Tbsp walnuts each day was associated with a 47% lower prevalence of diabetes. Stated another way: people who ate more walnuts than average, had lower rates of diabetes. Researchers think this benefit is largely due to the ALA (a form of omega 3 fatty acids) content of walnuts.
It's very easy to add 3 Tbsp walnuts to your lunchbox. Just check out these pictures: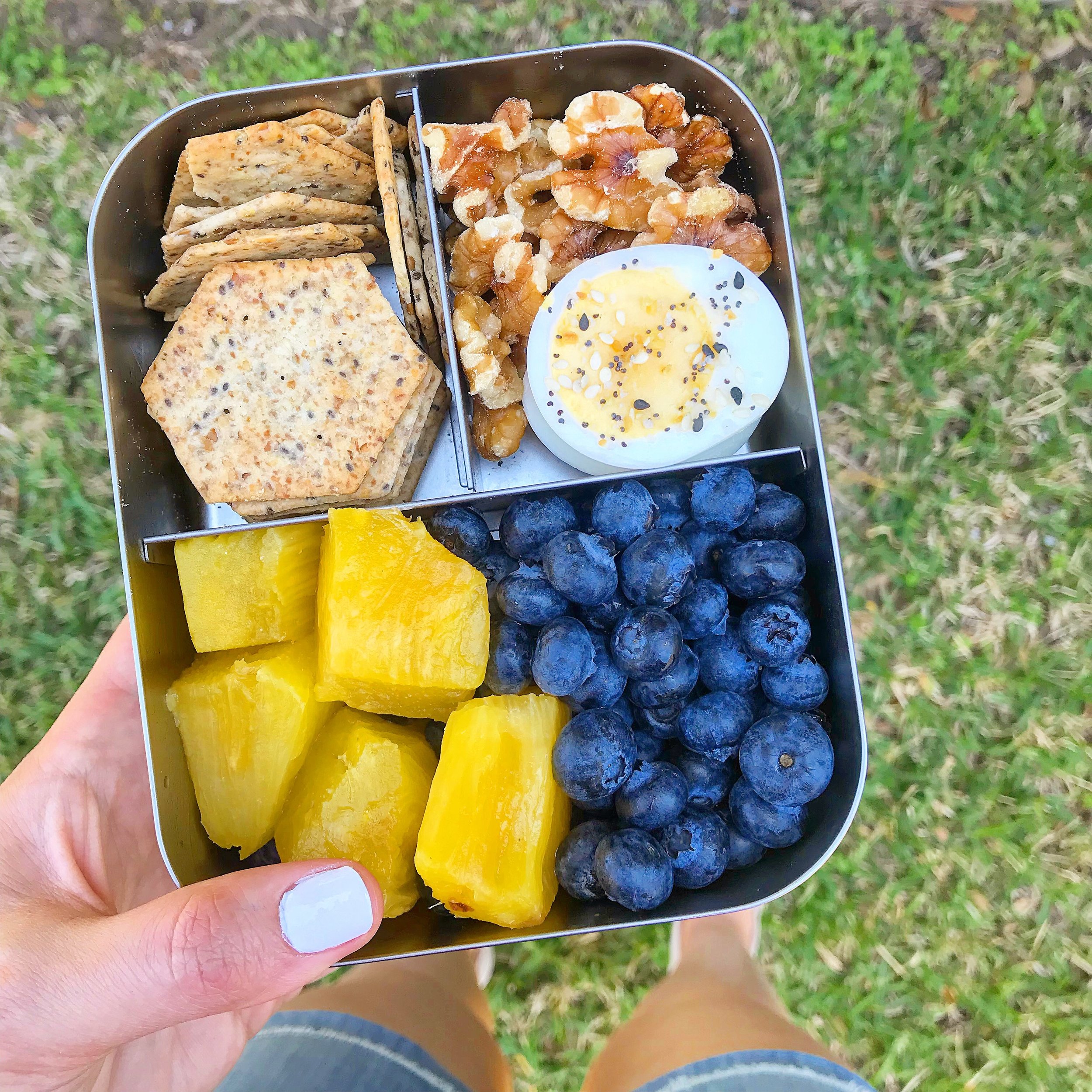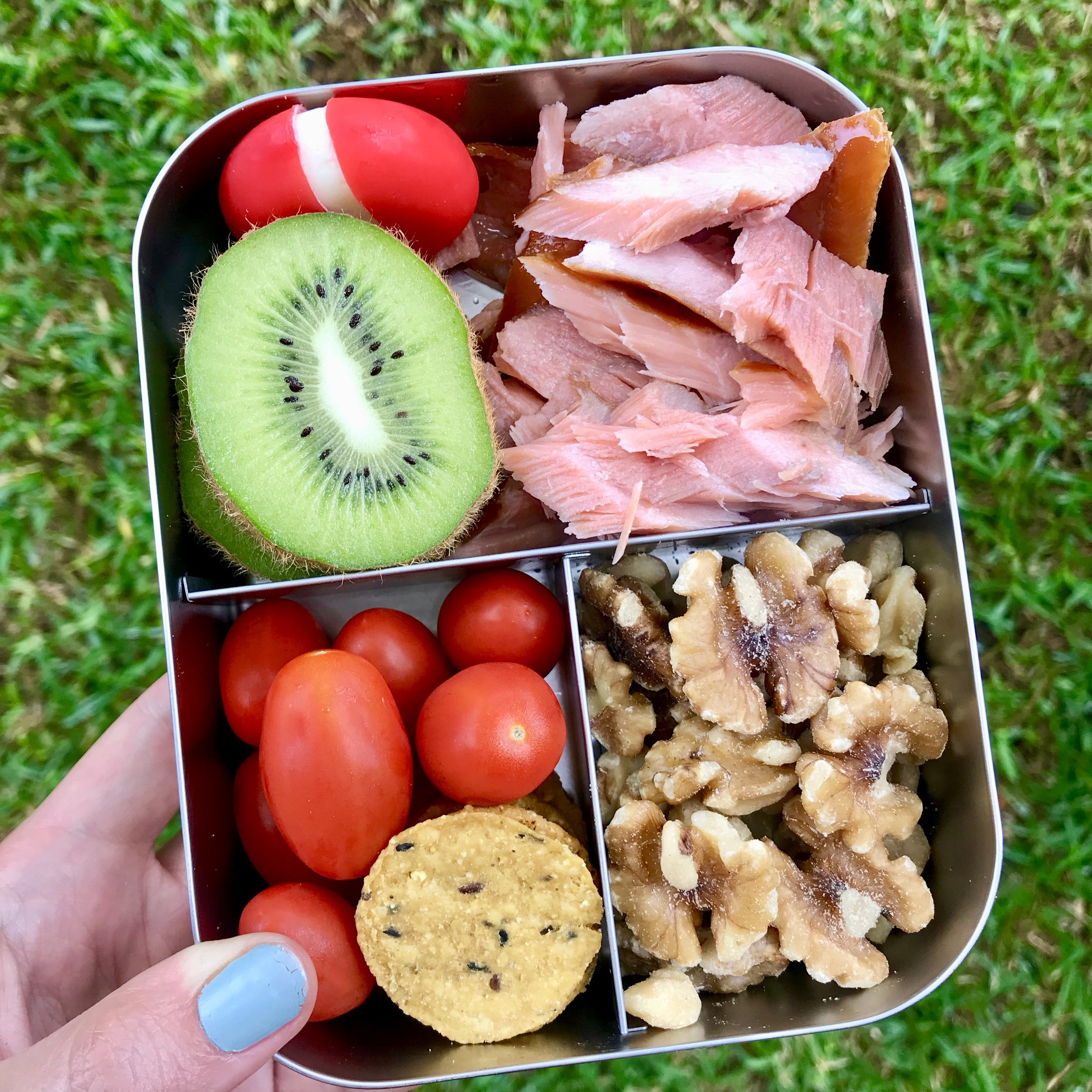 Walnuts and Heart Health (source)
There's a reason walnuts bear the American Heart Association's Check Mark. One recent study found that people who regularly eat foods high in polyunsaturated fatty acids (PUFA), like walnuts, could be better protected from the negative impacts of saturated fats. After eating a diet high in PUFAs for one week, healthy participants saw lower post-meal triglyceride levels when they ate a meal high in saturated fats. While improvements were seen for both men and women, women tended to benefit more from the PUFA-rich diet.
You can jazz up your lunch with walnuts in other ways too:
Add them on top of a salad

Chop them up the night before and add them to a bowl of oatmeal (yes, I eat oatmeal for lunch sometimes 🙂

In the colder months, you can puree them into soups

Add crushed walnuts on top of any pasta dish for added crunch

Instead of using breadcrumbs, use crushed walnuts next time you're baking chicken or fish

Try using them in a sauce, like my Spinach, Walnut, and Feta Pesto Sauce

Make your own walnut butter at home. All you need is walnuts and a food processor or high powered blender

Combine walnuts, mushrooms, and cauliflower for an amazing meat substitute

Try the yummy Grain Free Chocolate Chip Walnut Cookie recipe below
---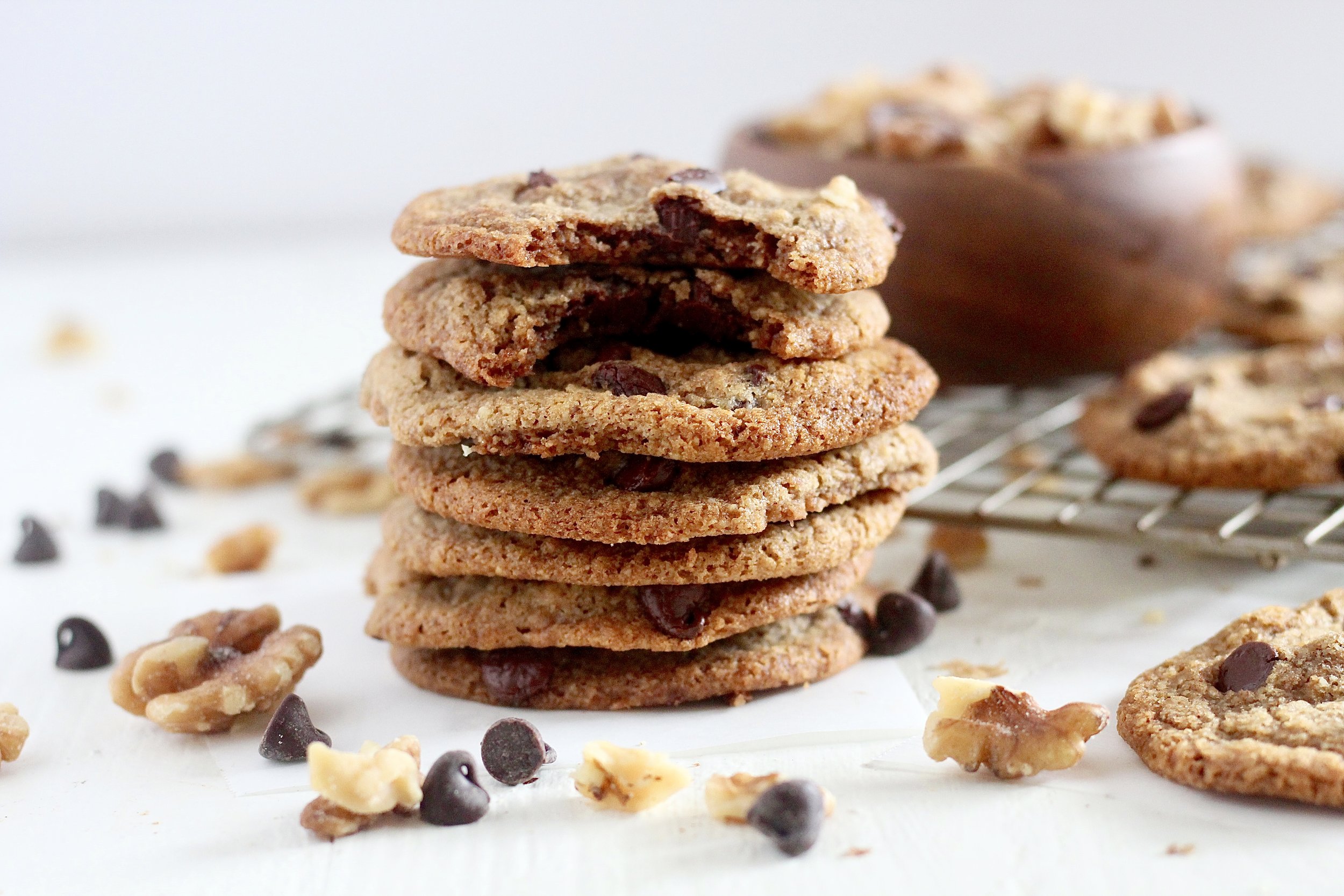 Grain Free Chocolate Chip Walnut Cookies
Yield: 24 cookies
3 cups walnut halves or pieces
1/3 cup butter
1/3 cup liquid sweetener (I like to use maple syrup)
1/4 teaspoon salt
1/2 teaspoon baking soda
3 teaspoons vanilla extract
1/2 cup chocolate chips or chunks
Preheat your oven to 350 degrees. Line a baking sheet with parchment paper and set aside. Add the walnuts to a food processor and process until a powder forms. Add in the butter and pulse until well combined. Next, add in all of the remaining ingredients except the chocolate chips. Process for 20-30 seconds until a dough forms. Be careful not to over process the dough. Processing for too long can make the dough too wet because of the oils that separate out from the walnuts.
Carefully remove the blade from the food processor and stir in the chocolate chips by hand.
Note: You can go ahead and bake the cookies at this point but the dough will be slightly runny. I recommend refrigerating the dough for 1-2 hours or letting it sit in the freezer for 20 minutes before trying to scoop the dough onto your pan.
Using a cookie scoop or a tablespoon, scoop the dough into balls onto your parchment lined pan. These cookies will spread out a lot so make sure to leave ample room on the pan.
Bake for 12-14 minutes or until set and the tops start to turn golden. Remove the cookies from the oven and let cool for 4-5 minutes before carefully transferring to a wire rack to finish cooling completely.
Store in an airtight container with a paper towel underneath the cookies in the bottom of the container to absorb liquid/natural oils from the walnuts. Eat within 48 hours, or freeze.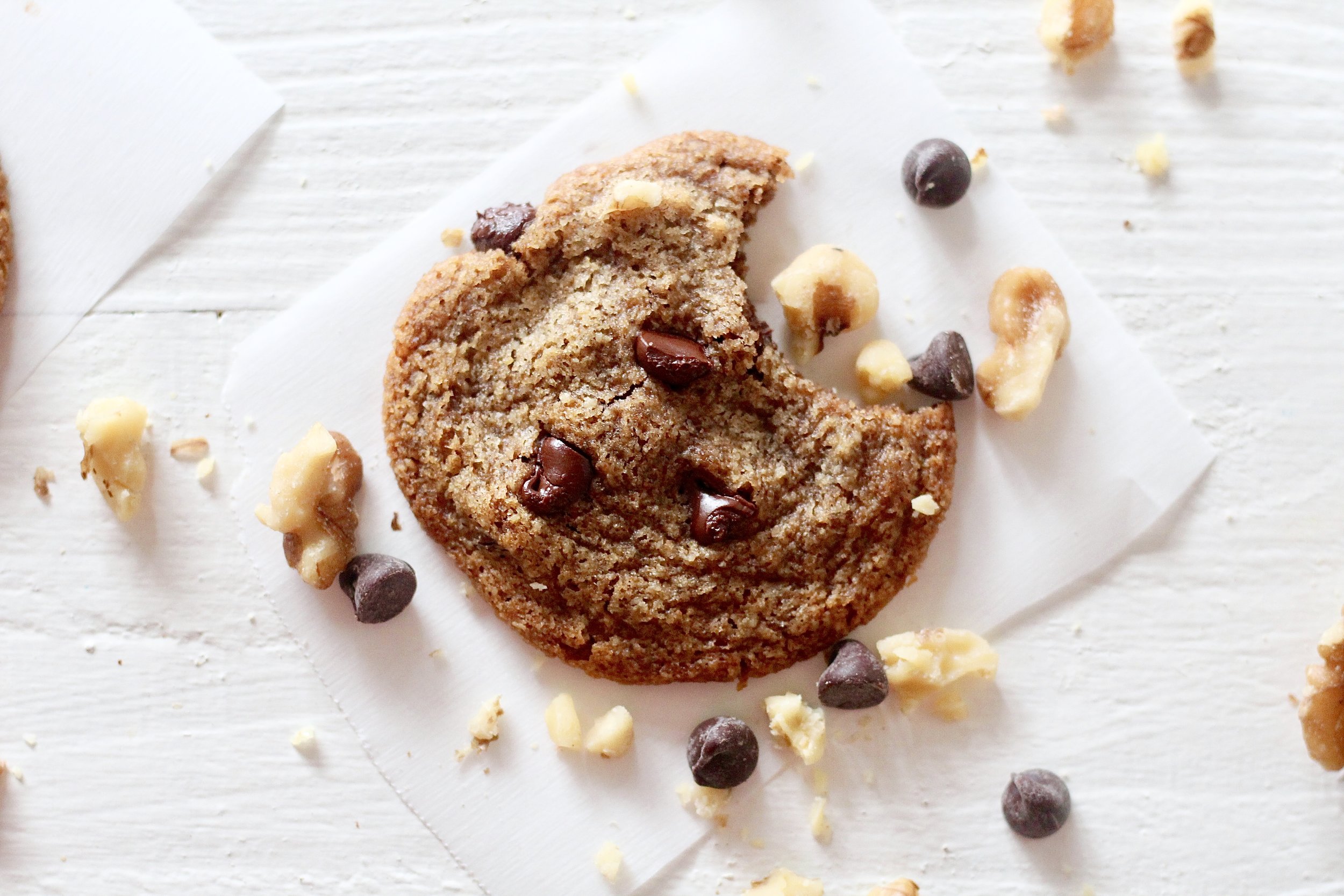 ---