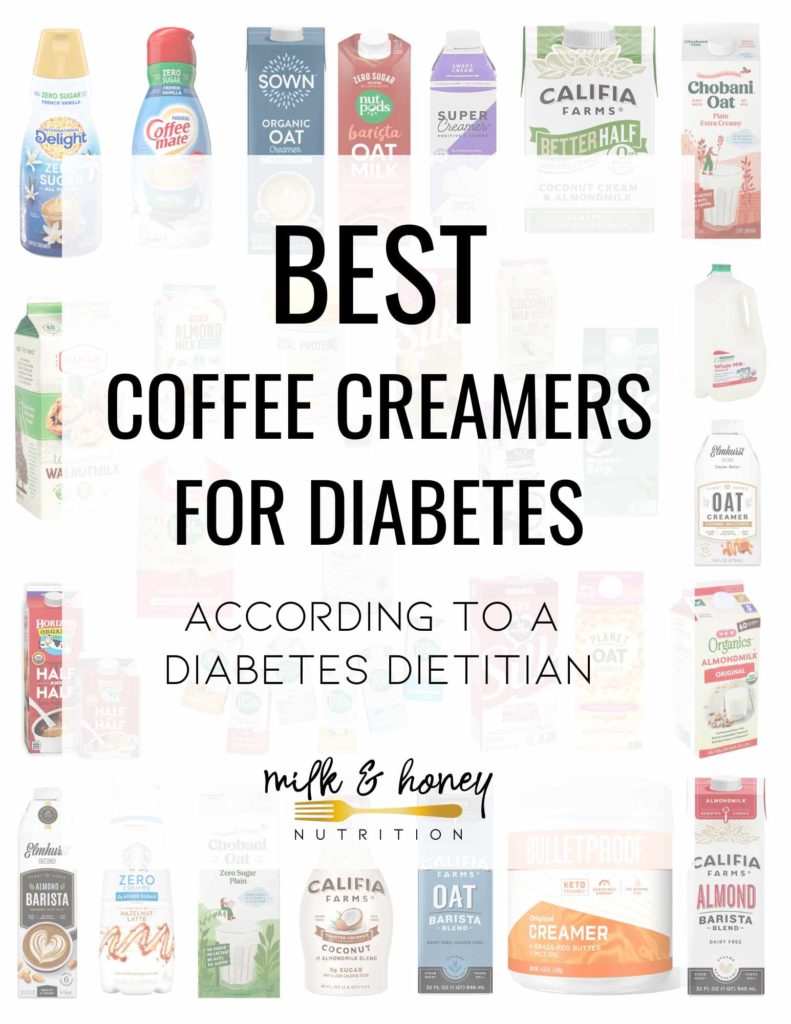 With lots of options on the grocery store shelves, let's take a look at the best coffee creamers for diabetes.
A quick trip to the grocery store and you'll notice everything from basic half & half, to heavily flavored and sweetened creamers. In this article, we'll review what to look for in a blood sugar friendly coffee creamer and what the best coffee creamers for diabetes should include. 
Can people with diabetes drink coffee with creamer?
Absolutely! In fact, as a dietitian who is living with diabetes myself, I recommend adding a creamer with some fat or protein to your morning coffee. This may be better for your blood sugars than drinking coffee alone. 
Research has shown that caffeine from coffee may cause:
Increased insulin resistance
Decreased glucose uptake by cells from the blood stream
Because of this, some people notice a blood sugar rise after drinking coffee, even when no carbohydrate has been added to it. So, adding a creamer with fat and protein may help with this.
What is a normal blood sugar after coffee with creamer?
Your blood sugar after coffee with creamer should follow the same guidelines we have for meals and snacks. Some rise in blood sugar may happen and that's generally ok.
People with diabetes: <180mg/dL 2 hours after you start drinking your coffee
People without diabetes: <140mg/dL 2 hours after you start drinking your coffee
Speak with your doctor to confirm what is best for you.
What coffee creamer does not spike blood sugar?
The most blood sugar friendly coffee creamers, and the least likely to spike blood sugars, are those with low amounts of added sugar (or none at all).
Do you have to choose no sugar coffee creamers for diabetes?
You do not have to stick to only sugar free coffee creamers and milks. While there are some great sugar free creamers on the market (as you'll see below), when you're looking to find a coffee creamer for diabetes you can consider options with small amounts of sugar.
What to look for in a healthy coffee creamer
When looking for a coffee creamer for diabetes, we want to consider total carbohydrate, added sugar, protein, fat, and fiber. Ideally we want to consider:
How much total carbohydrate is in it?
How much added sugar is in it?
Is there fat, fiber, and/or protein present?
Total carbohydrate
If you are on insulin or need to carb count to manage your diabetes, remember to account for the carbohydrates in your coffee creamer or milk.
Added sugar
I prefer coffee creamers with <3g added sugar/serving. The serving size listed for creamers is usually only 1 Tbsp. And, most of us end up using more than that… I know I usually do! So, in reality, we're getting 2-3 servings worth which can add up quickly if it has a lot of added sugar.
But, if the sugar is occurring naturally like it does in cow's milk, it's likely also coming with some protein and fat, which does help slow down how quickly the sugar can raise your blood glucose levels.
Fat, fiber, and protein
Look for creamers that provide fat, fiber, and/or protein. Fortunately, most options on the market will have fat and some amount of protein. But, some creamers also add fiber.
Top diabetes coffee creamer recommendations
There are many different coffee creamers on the market. I've listed some of my favorites below. I reviewed options available at Target, Walmart, H-E-B, Thrive Market, and Sprouts. And remember, there may be others that make a great coffee creamer for diabetes too.
Whole milk
Half & half
Unsweetened coconut milk
Unsweetened almond milk
Original almond milk
Original soy milk
Unsweetened soy milk
Califia Farms Toasted Coconut Blend Almond Milk
Califia Farms Almond Barista Blend
Elmherst Almond Barista Milk
Planet Oat Unsweetened Oat Milk
Chobani Zero Sugar Oat Milk
Chobani Extra Creamy Oat Milk
Nutpods Barista Oat Milk
Califia Farms Oat Milk Barista Blend
Mariano Unsweetened Walnut Milk
Silk Unsweetened Cashew Milk
Ripple Original Unsweetened Pea Milk
Califia Farms Unsweetened Better Half Almond Milk Half & Half
Nutpods Almond + Coconut Creamers
Vital Proteins Collagen Creamer
Kitu Protein + MCT Oil Super Creamer
Bulletproof Original Creamer
Sown Organic Oat Creamer
Nutpods Oat Creamer
Elmherst Oat Milk Creamers
Coffeemate Zero Sugar Coffee Creamer
Starbucks Zero Creamer
International Delight Zero Sugar Coffee Creamer
Some of the links below are affiliate links. This means I may earn a small commission at no extra cost to you, if you decide to purchase the product.
Basic milk and coffee creamer for diabetes options
These basic options are available in many different brands and at almost all grocery stores.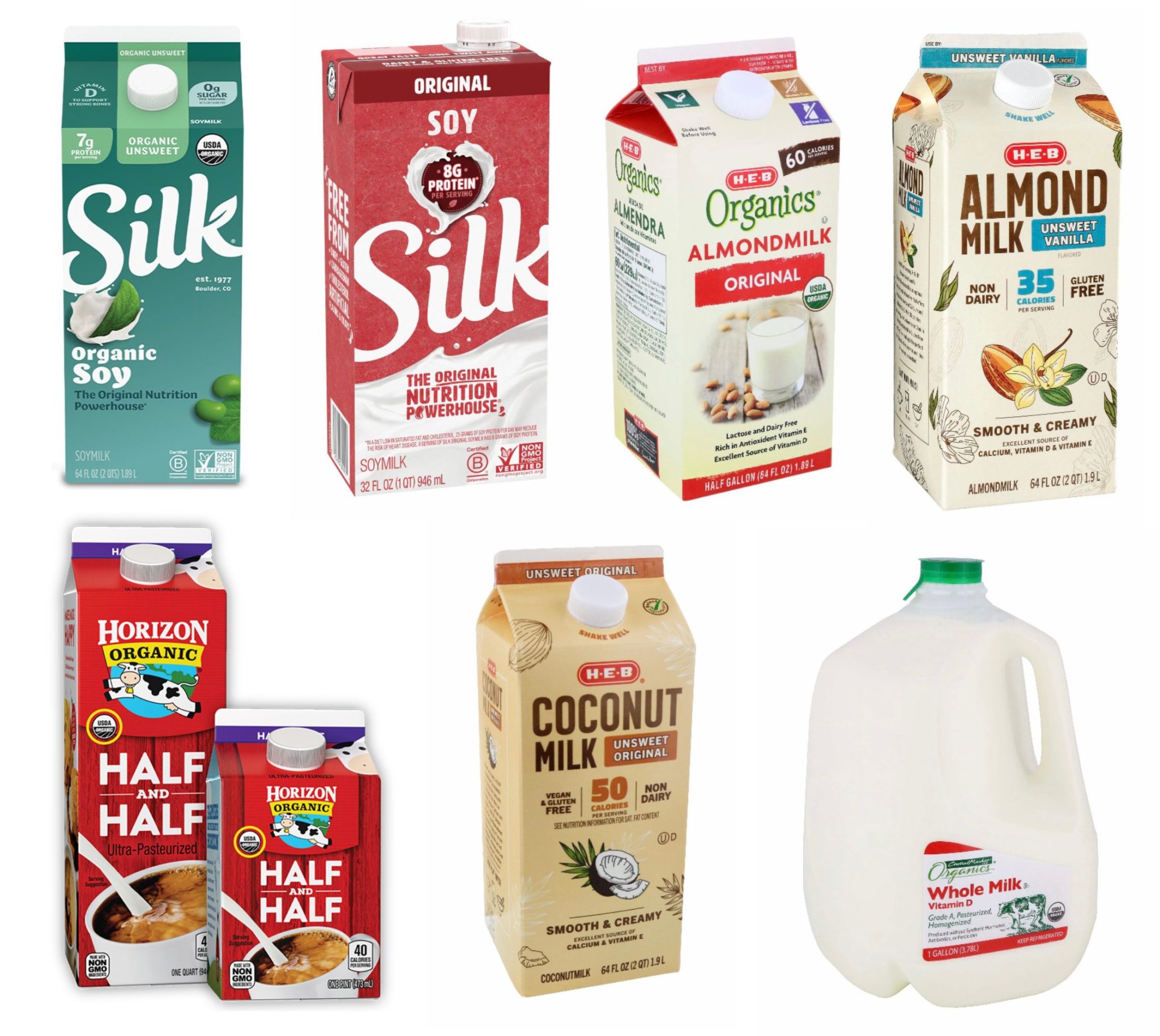 1. Whole milk
Whole milk contains protein and fat; roughly 0.5g of each per Tbsp used. I prefer whole milk over skim milk because of the added fat and flavor.
2. Half & half
Unsweetened half & half can be a great coffee creamer for people with diabetes. The additional fat (compared to whole milk) makes it even creamier and tastier in my opinion.
3. Unsweetened coconut milk or coconut cream
Unsweetened coconut milk and coconut cream are low in sugar and carbohydrate and provide a subtle coconut flavor to your coffee.
4 & 5. Original and Unsweetened almond milk
Unsweetened almond milk is my personal favorite way to add a little something to my coffee. (Note: I don't tend to like sweet coffee, so keep that in mind.) But, if you want something a little bit sweeter but still low in sugar, original almond milk that's lightly sweetened can be used too.
6 & 7. Original and Unsweetened Soy milk
Similar to almond milk, both unsweetened and original soy milk can be a great option for people with diabetes to put in their coffee.
Specialty almond milks
Almond milk is naturally low in sugar and carbohydrates so it makes a great base for a flavored milk or creamer for people with diabetes.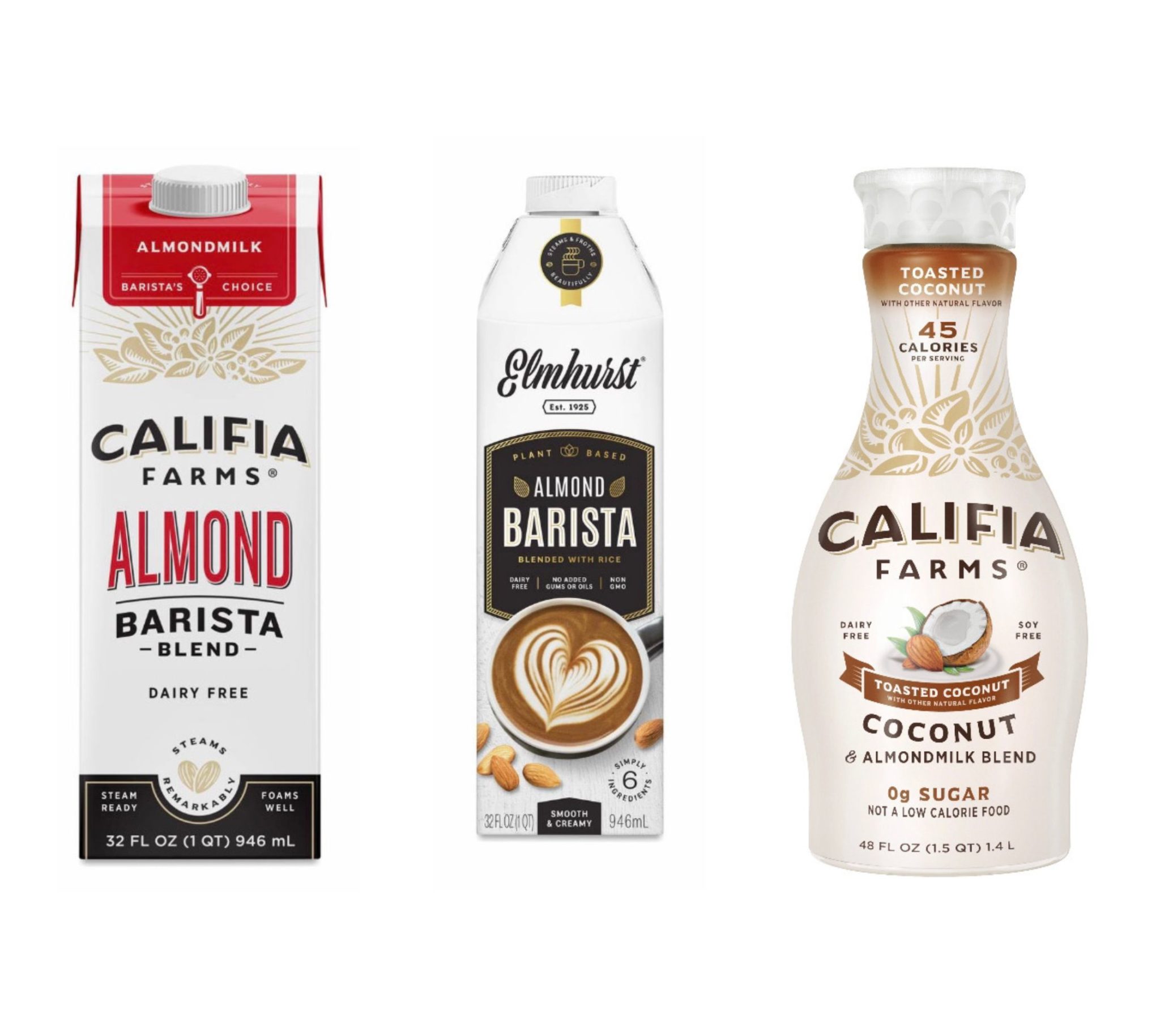 8. Califia Farms Toasted Coconut Blend Almond Milk
The flavor of toasted coconut really comes through in this almond milk option. It is extremely low in carbohydrate and has no added sugar.
9. Califia Farms Almond Barista blend
This is the first of many "barista" blends you'll see in this post. A barista blend usually means it's formulated to be slightly creamier and froths well if you're making lattes or other specialty drinks at home. This Califia Farms option is delicious and comes in an unsweetened variety as well as an Original variety, both of which are lower in added sugar.
10. Elmherst Almond Barista Milk
Elmherst products are slightly more expensive than other brands, but if you're using this as a creamer and not a base for a latte it's worth the price and will last you longer. The creaminess is perfect and the flavor of Elmherst's Almond Barista Milk has a subtle sweetness to it.
Oat milks
Oat milk hit the market a few years ago and I believe it's here to stay. It froths really well and has a naturally creamy texture so it's perfect for adding to coffee drinks. Below are some of my favorite lower or no sugar options.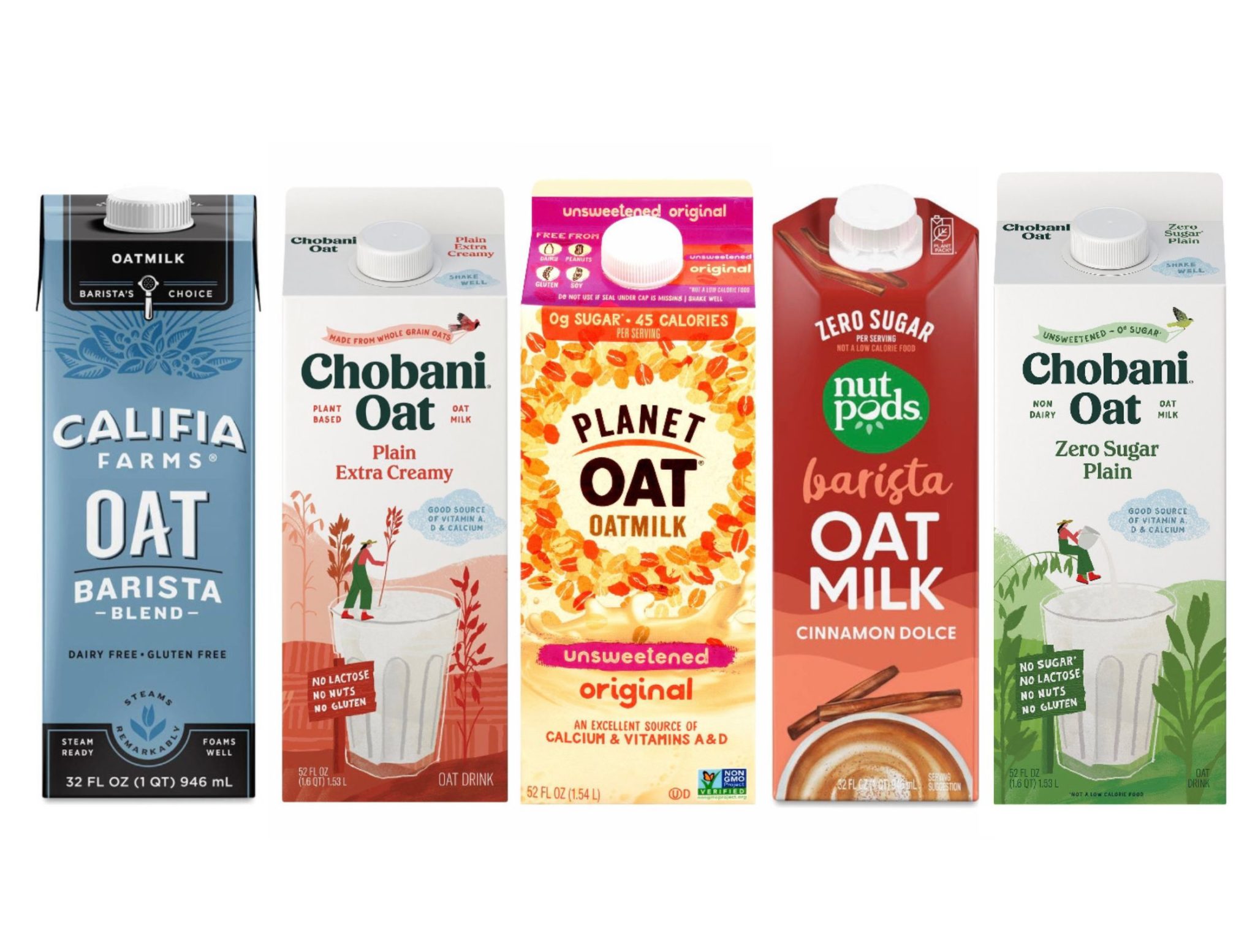 11. Planet Oat Unsweetened Oat Milk
Planet Oat was one of the first brands to offer an unsweetened oat milk. It's creamy and tastes delicious.
12. Chobani Zero Sugar Oat milk
Chobani has some delicious coffee creamer options but they're all pretty high in sugar and not on this list. So, I was excited to find their new(ish) oat milk options. Just like with their yogurts, the creaminess and texture are perfect. It has 9g carbs in 8 fl oz from the oats but no added sugar.
13. Chobani Extra Creamy Oat milk
Chobani's extra creamy oat milk option has the same amount of carbohydrates and sugar as the Original blend but the extra creaminess of this variety means you'll likely need to use less and it has a better flavor and texture in my opinion.
14. Nutpods Barista Oat milk
I've been a Nutpods fan for years and their oat milk is no exception. The Cinnamon Dolce flavor is perfection in a coffee cup. And, it makes the most perfect at home cinnamon dolce latte.
15. Califia Farms Oat Milk Barista Blend
Califia Farms offers the almond milk barista blend we talked about above as well as this oat milk option. The oat milk option comes in Original and Vanilla flavors. The Vanilla has more added sugar, but Original is still just as tasty and creamy… with less sugar.
Specialty milks
These milks are unique and only available from a few select brands.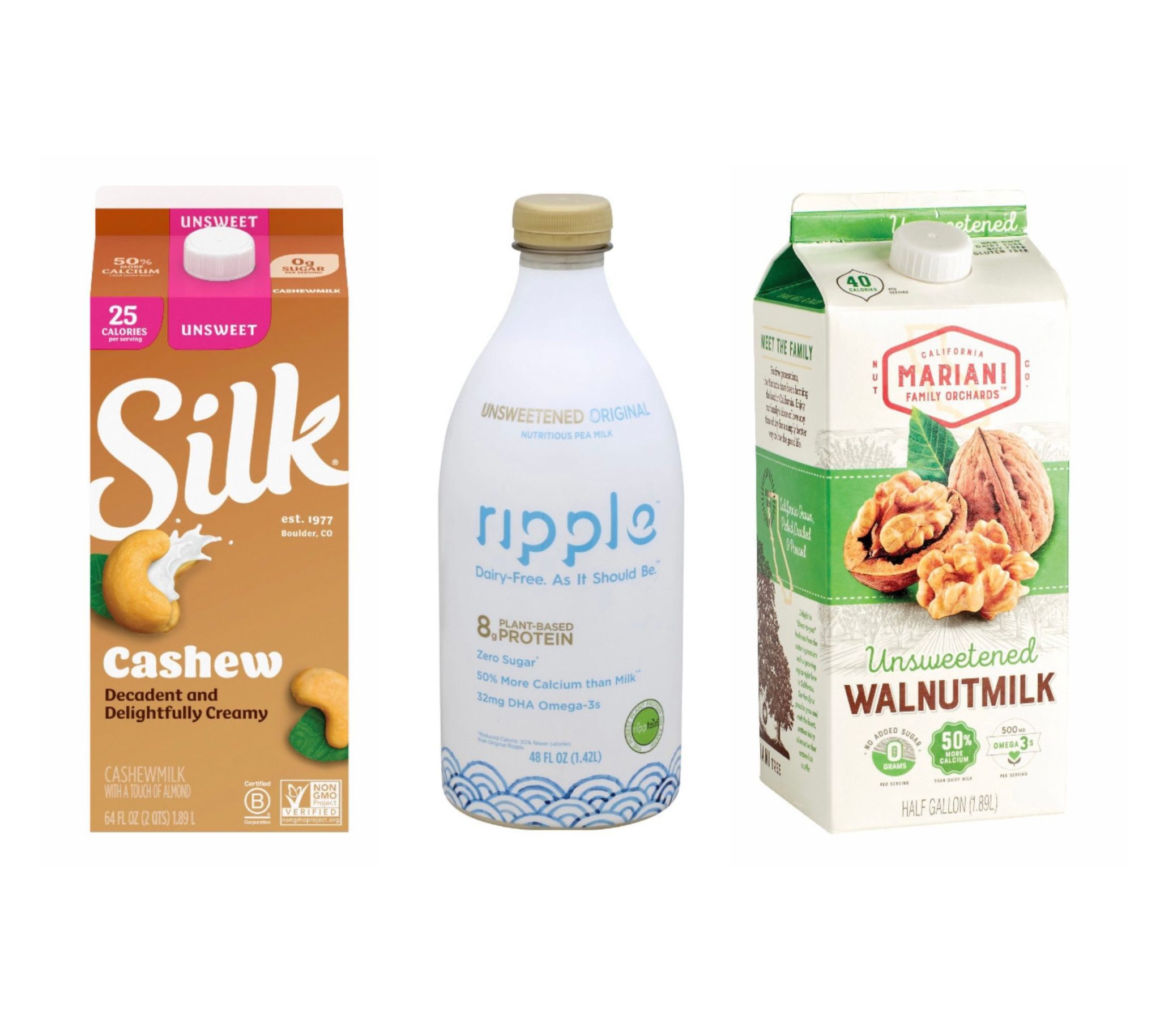 16. Mariano Unsweetened Walnut Milk
Walnut milk tastes very similar to almond milk, but with a higher amount of omega-3s. The Mariano Unsweetened Walnut Milk adds a subtle flavor and light creaminess to your coffee.
17. Silk Unsweetened Cashew Milk
Of all the standard nut-based milk options on the market, cashew milk is by far the creamiest. And, I personally prefer the Silk brand for it's smooth texture. It comes in an unsweetened original flavor and unsweetened vanilla flavor.
18. Ripple Original Unsweetened Pea milk
I know what you're thinking, but hear me out. Most plant based milks, other than soy, don't provide protein. Ripple came onto the market several years back and slowly started winning over people looking for another plant based milk option that provided protein. (It has 8g/cup.) It's got a smooth and creamy texture and goes great in your coffee. They also have flavored varieties, but those have more sugar than I'd recommend for a coffee creamer for diabetes.
Almond milk based creamers
Now, let's move on to creamers. First, these are two delicious almond milk based creamers.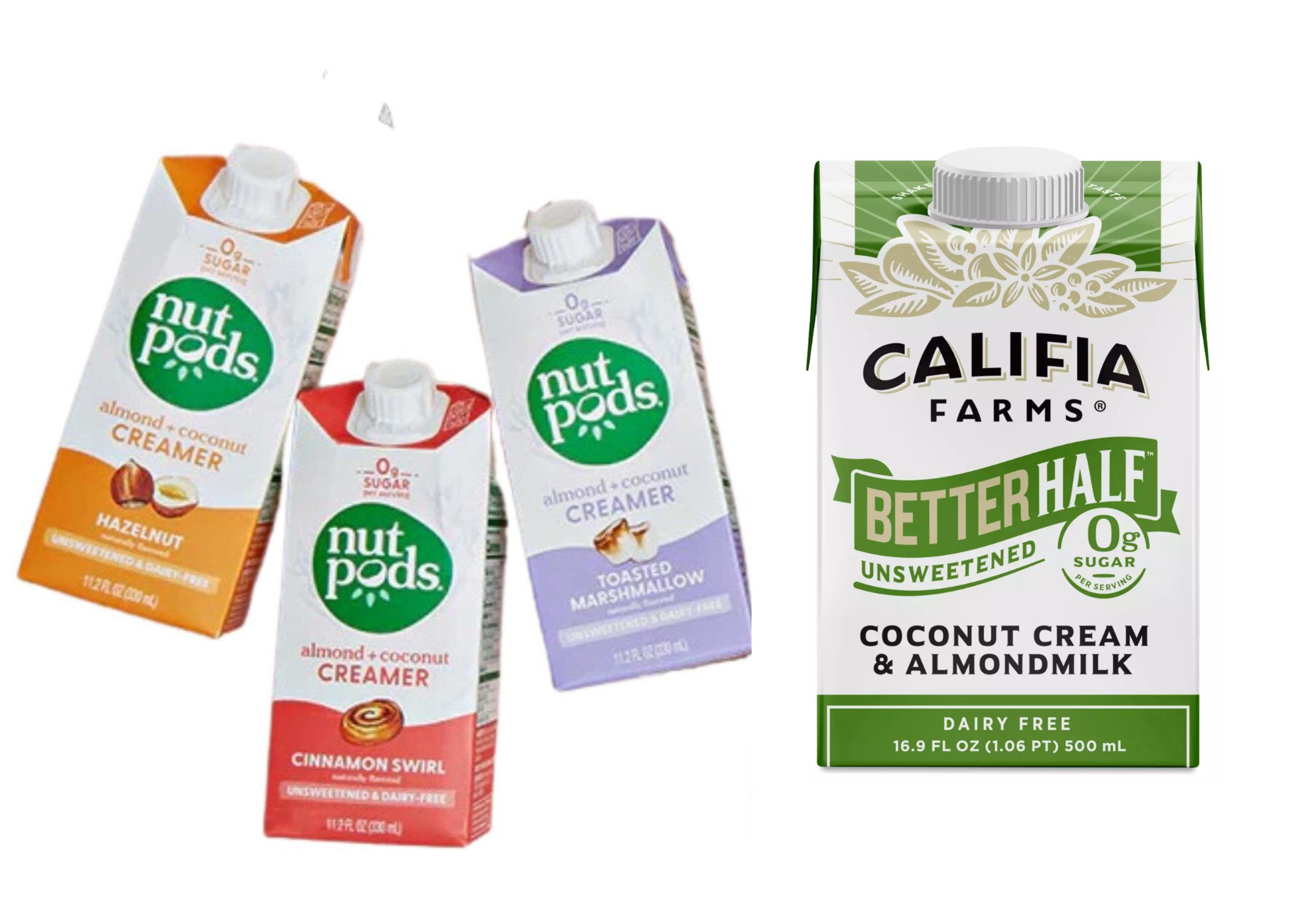 19. Califia Farms Unsweetened Better Half Almond Milk Half & Half
Just like their barista blend almond milk, Califia Farms knocks it out of the park with this plant based "half & half"… a mixture of coconut cream and almond milk for the perfect unsweetened coffee creamer.
20. Nutpods Almond + Coconut Creamers
There's a lot of creamers in this list, but Nutpods coffee creamers will always be my personal favorite. They come in several different flavors including seasonal options. They have no added sugar, taste amazing, and froth really well. My favorite flavors are vanilla and peppermint mocha.
Creamers with protein added
Sometimes brands will add protein, collagen, MCT oil, and other things to give a coffee creamer an additional nutrition benefit.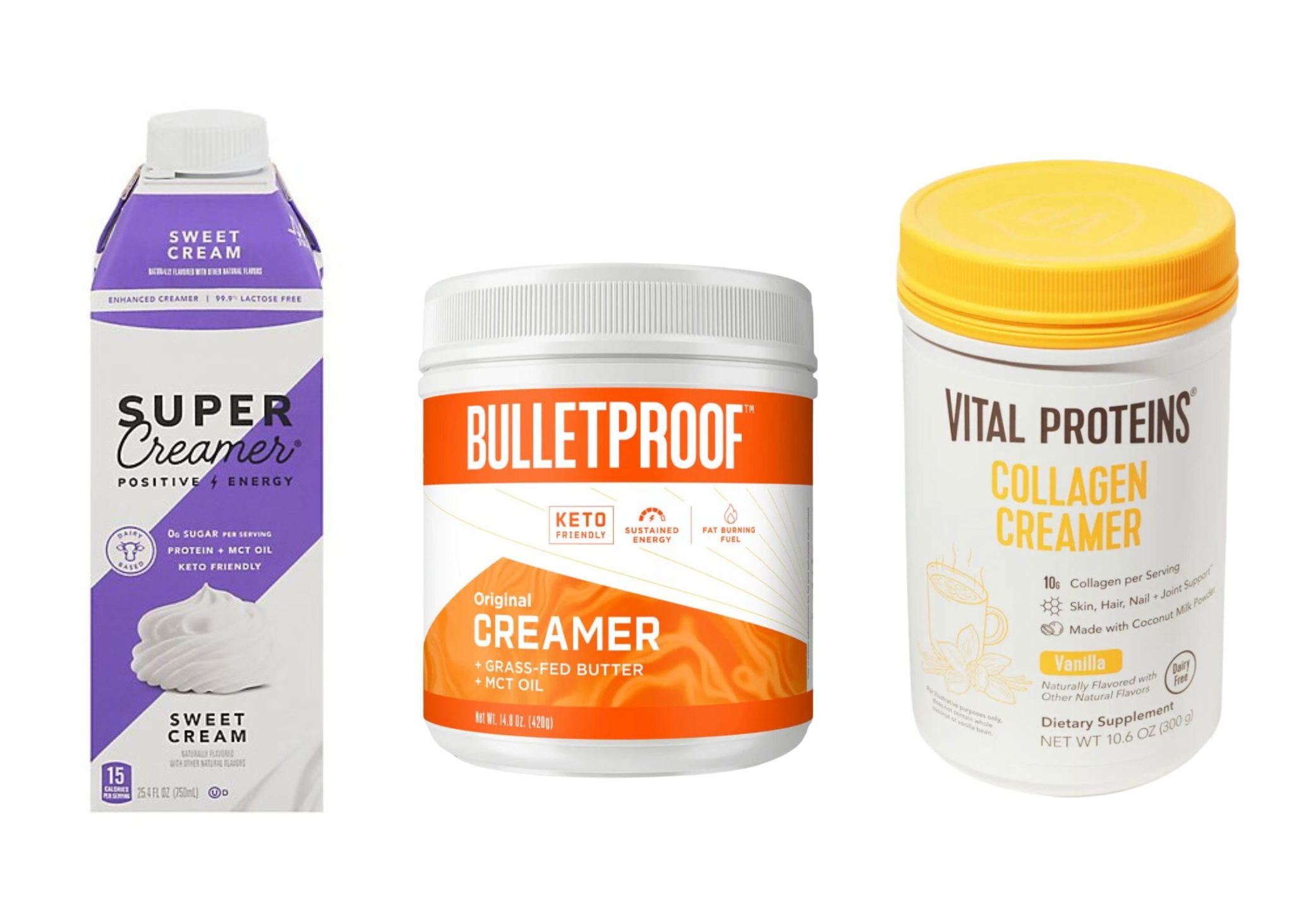 21. Vital Proteins Collagen Creamer powder
If you already add collagen to your coffee each morning, this creamer may be for you. The flavors are delicious, and have low amounts of sugar. They're dairy free and made with coconut milk powder. Just add a scoop to your morning coffee and stir.
22. Kitu Protein + MCT Oil Super Creamer
Kitu Protein Super Creamer is a liquid creamer with no added sugar. Sweetened with monk fruit, it offers a creamy texture with extra MCT oil. 
23. Bulletproof Original Creamer powder
Similar to the Vital Proteins collagen creamer, Bulletproof creamer is another powdered creamer with no added sugar and the extra benefit of collagen. 
Oat milk based creamers
Oat milk creamers offer a rich taste and the creamy texture of oat milk… but better! They also froth super well if you're into making lattes and other coffee drinks at home.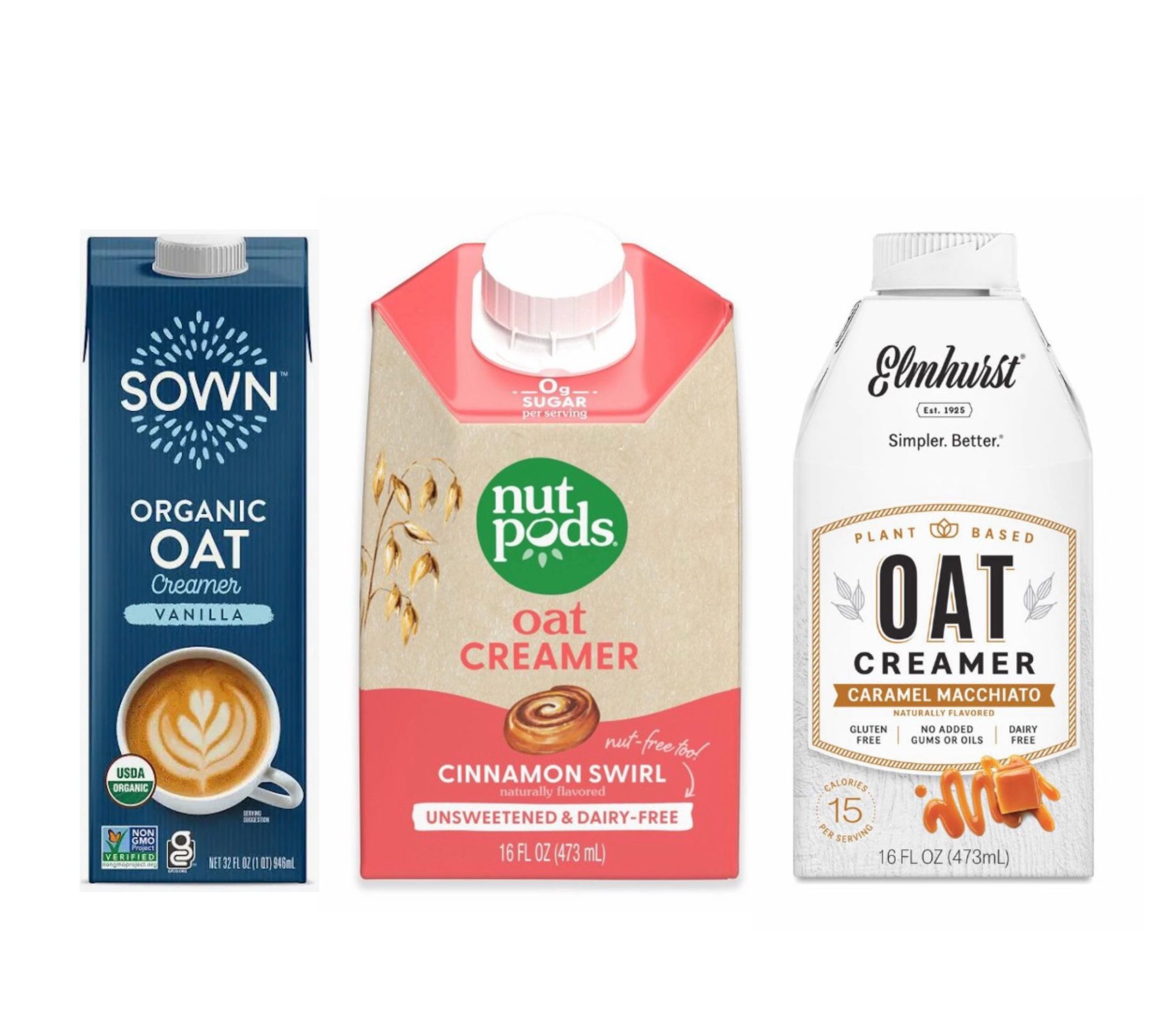 24. Sown Organic Oat Creamer Unsweetened
Sown oat milk based creamers have a great smooth texture. The vanilla and sweet cream flavors have more sugar than I recommend, but the unsweetened variety has a classic oat milk taste and no added sugar.
25. Nutpods Oat Creamer
Just like the almond + coconut creamers, Nutpods oat creamers have no added sugar and taste delicious! I love the cinnamon dolce flavor.
26. Elmherst Oat Milk Creamers
Elmherst has another great creamer option with their oat milk creamers. They come in four great flavor options as well as a fifth unsweetened option. The vanilla is delicious and I'm dying to try the pistachio flavor! Each flavor has 2g carb/serving and only 1g added sugar.
Other sugar free coffee creamers for diabetes
The last three creamers on our list offer a sugar free version of the classic coffee creamer flavors you know and love.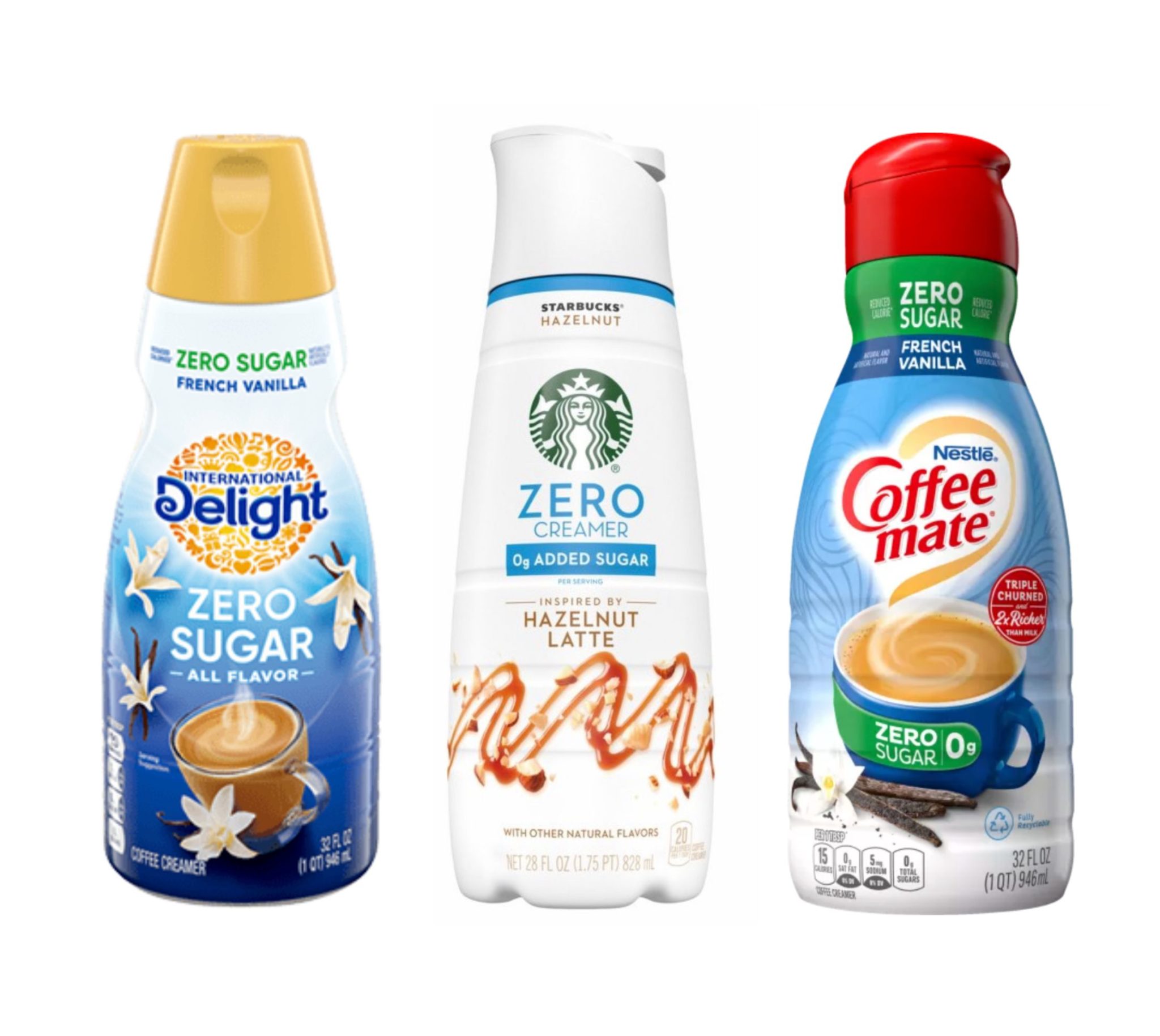 27. Coffeemate Zero Sugar Coffee Creamer
If you love a classic flavored coffee creamer, but don't want all the sugar that comes with it, Coffeemate has you covered. They offer a whole line of dairy free creamers sweetened with sucralose and  acesulfame K. 
28. Starbucks Zero Creamer
These Starbucks creamers are my favorite of the traditional creamers. Sweetened with sucralose, they have 0g added sugar. Try the caramel macchiato or hazelnut latte flavors. 
29. International Delight Zero Sugar Coffee Creamer
International Delight offers similar flavors to Coffeemate that taste delicious and have that traditional creamer taste. They're sweetened with acesulfame K and have zero sugar.
Overall best coffee creamer for diabetes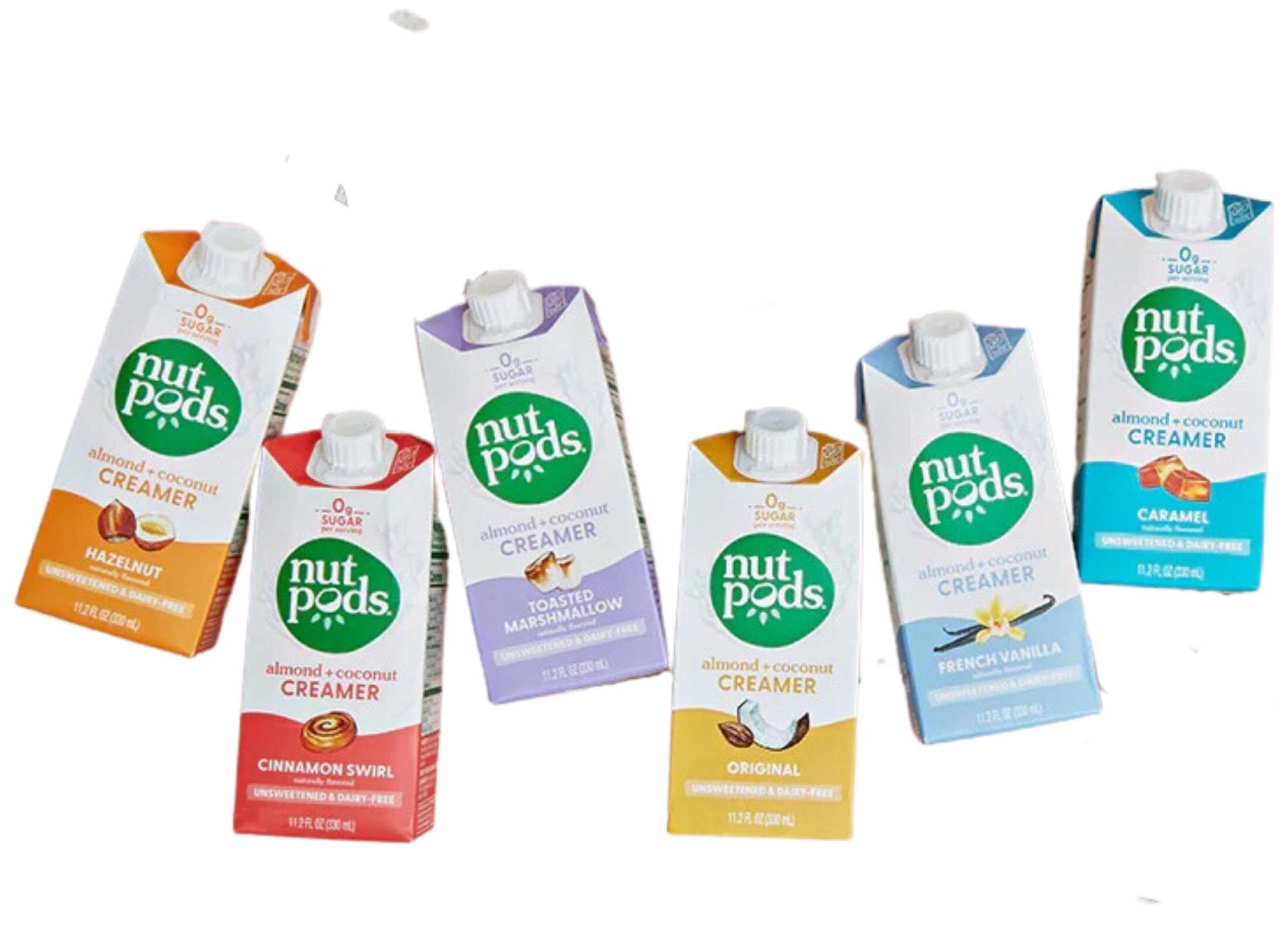 As I mentioned above, Nutpods Almond + Coconut Creamer is my go to recommendation for coffee creamer for diabetes. With no added sugar and a wide variety of flavors, they check all the boxes. And, they're available at most grocery stores.
Best flavored coffee creamer for diabetes
My favorite flavored coffee creamer is the Peppermint Mocha Nutpods creamer. It's only available October-January usually, so make sure to stock up!
*Keep in mind this is my personal preference as someone who's lived with diabetes for over 30 years. All of the brands on this list offer delicious options!
Best sugar-free coffee creamer for diabetes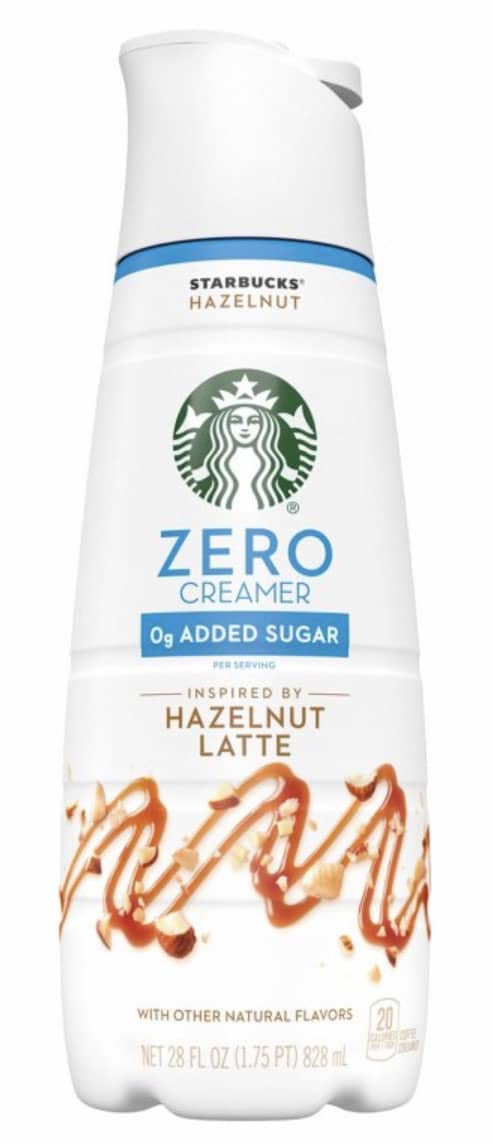 The Starbucks Zero Creamers win the title of best sugar free creamer for me. The flavors are spot on, the texture is super creamy, and the price point is reasonable.
Diabetes friendly coffee recipes
Want to try some of the barista milks or other coffee creamer recommendations at home? Add them to your morning coffee, or try these delicious specialty drink recipes.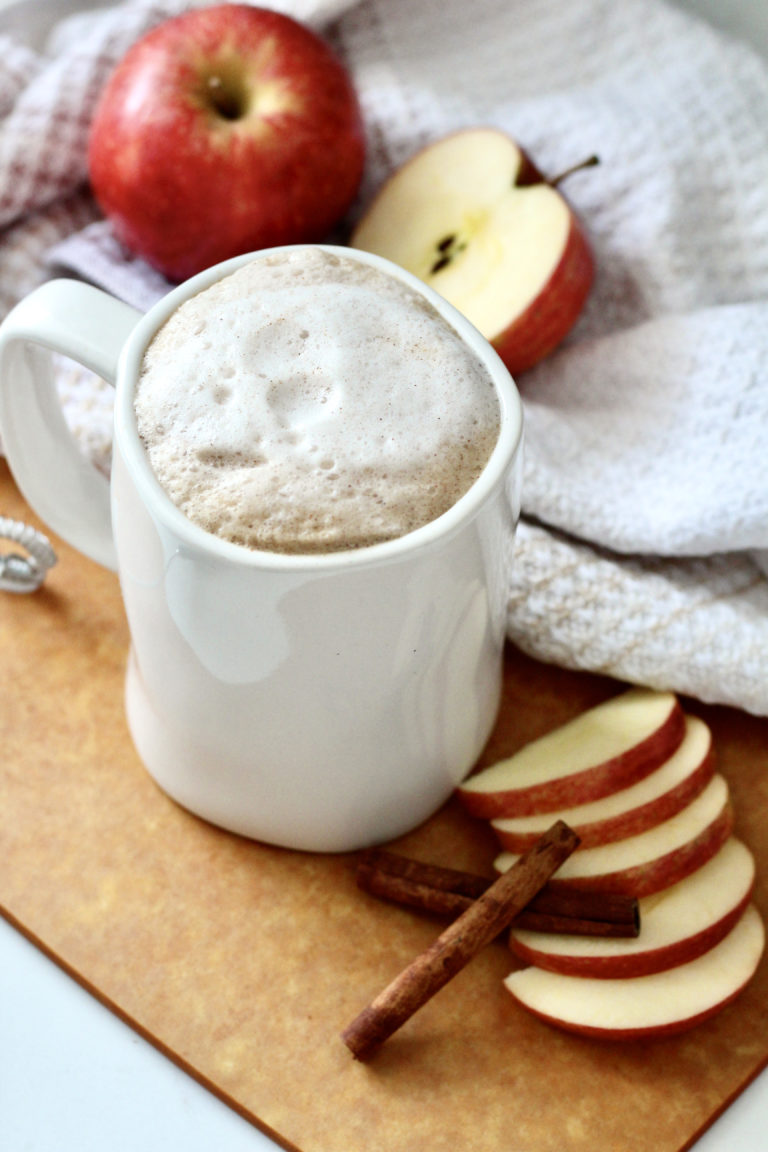 Homemade Apple Crisp Macchiato (Starbucks copycat)
Try my lower sugar blood sugar friendly apple crisp macchiato for the perfect warm coffee drink to start your day!
View Recipe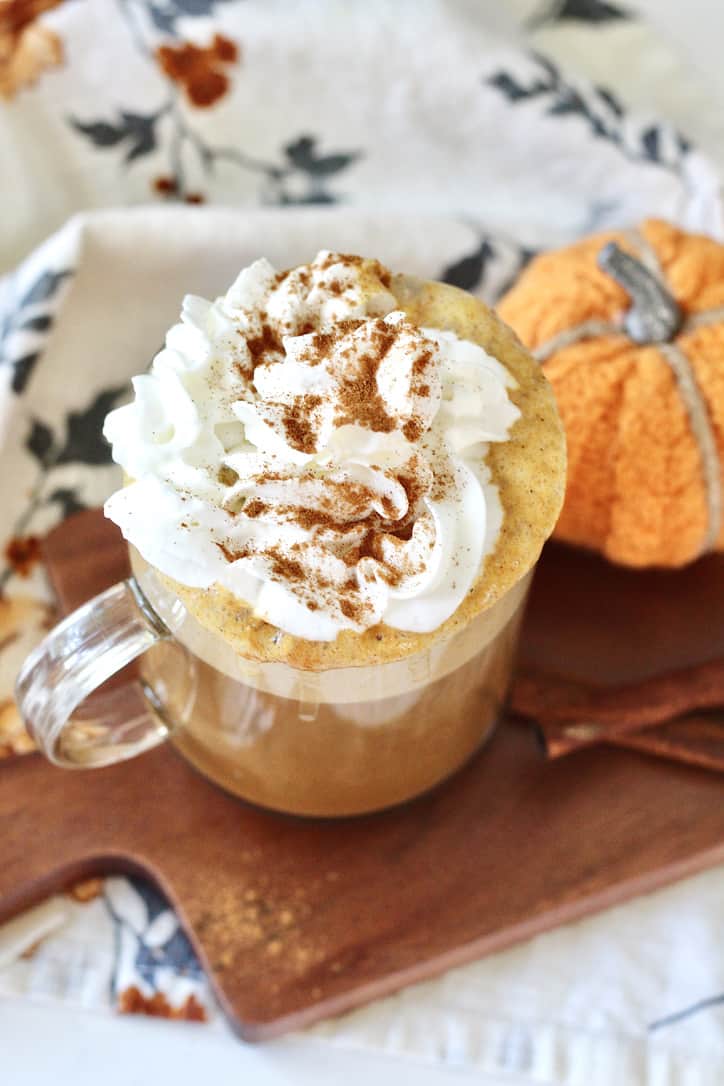 Low Carb Healthy Pumpkin Spice Latte
My healthy pumpkin spice latte is ideal for someone with diabetes or anyone looking for a lower sugar version of this classic fall beverage. And, you don't even need an espresso maker to make it at home!
View Recipe
---