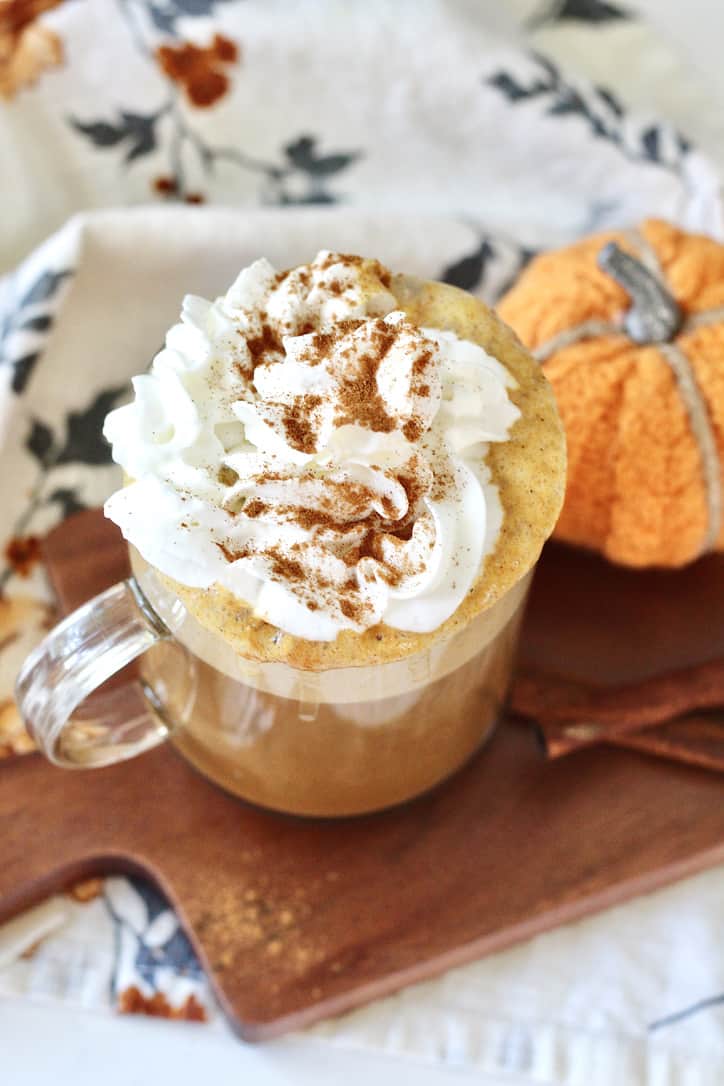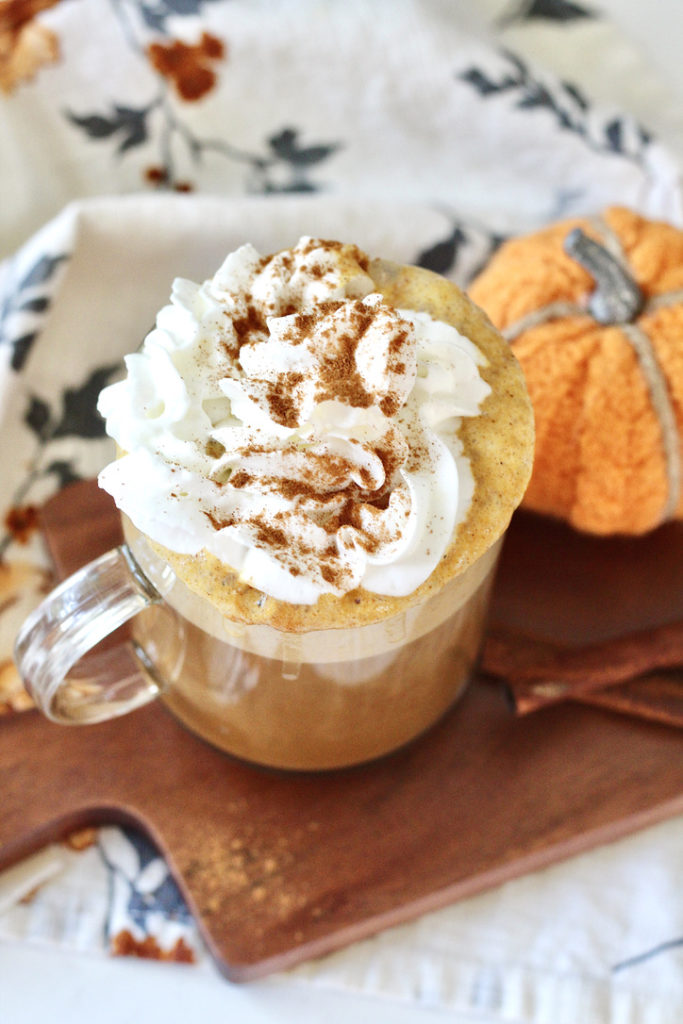 'Tis the season for all things pumpkin spice and I've got a delicious healthy pumpkin spice latte recipe for you!
My healthy pumpkin spice latte is ideal for someone with diabetes or anyone looking for a lower sugar version of this classic fall beverage. And, you don't even need an espresso maker to make it at home!
The BEST low carb pumpkin spice latte
I've always been a bit bothered by the fact that a lot of restaurant or coffee shop pumpkin spice lattes don't actually have any real pumpkin in them. But, this healthy pumpkin spice latte does!
We also use some of my favorite ingredients to enhance flavor and sweetness, without adding additional sugar to the recipe: extracts, stevia, and spices!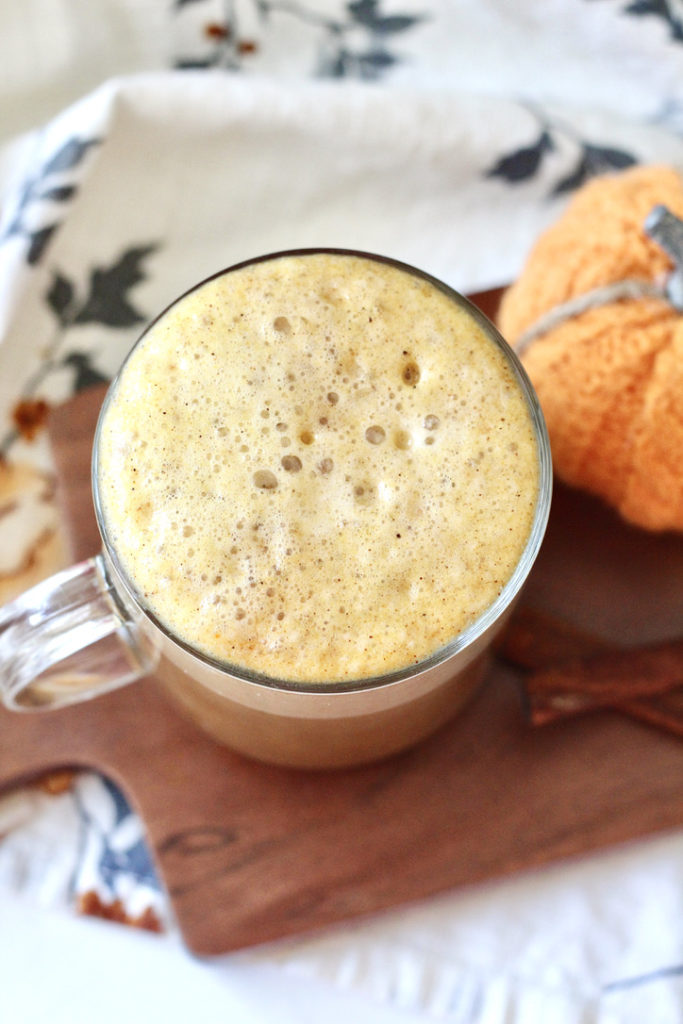 What is a skinny pumpkin spice latte?
Usually, this term refers to a drink that is lower in sugar than the traditional version of the drink.
How much caffeine is in a pumpkin spice latte?
The caffeine content of a latte is going to depend on what you use to make it. Or, if you're getting it from a restaurant, how much espresso they use to make it. Typically a latte will range from 120-180mg caffeine, and usually has the same amount of caffeine as a 12 fl oz. cup of coffee.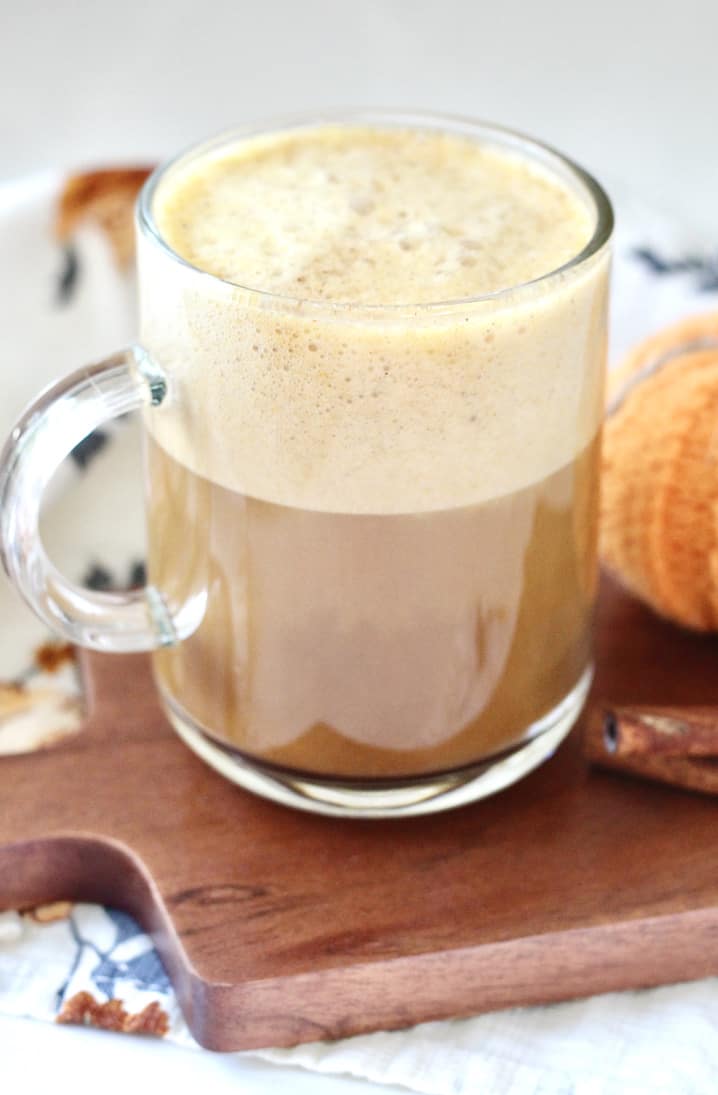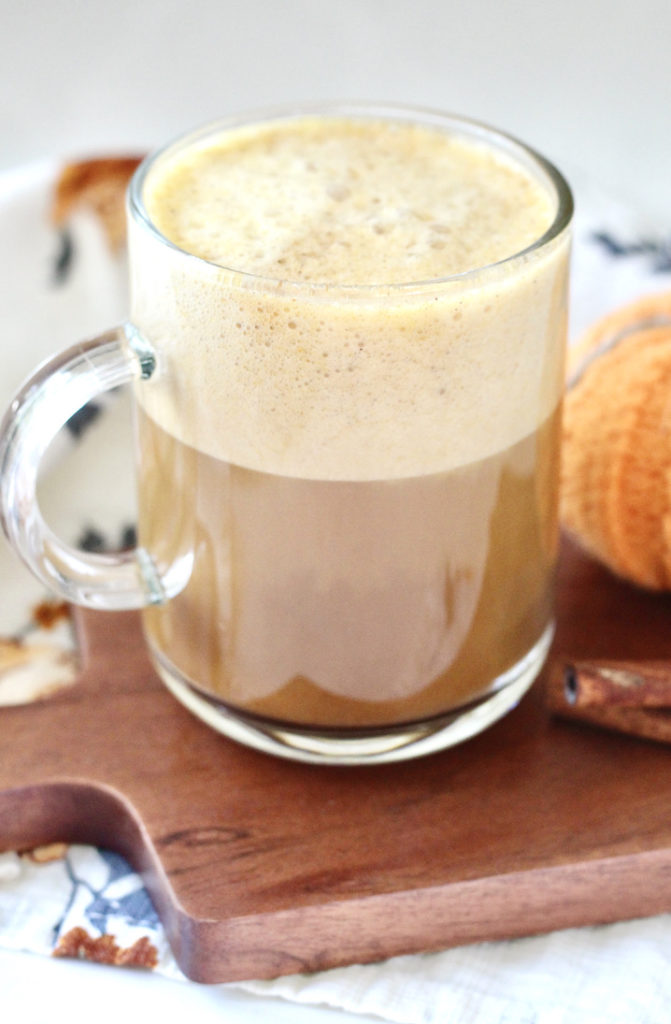 Pumpkin spice latte recipe healthy swaps
If you're ordering a latte from a coffee shop or restaurant, there are several ways to make it a bit healthier. And by healthier, I'm primarily referring to your drink having less sugar:
Ask for half syrup if your latte is flavored
Use an unsweetened milk like whole milk or unsweetened almond milk
Skip the whipped cream and syrup on top or ask for less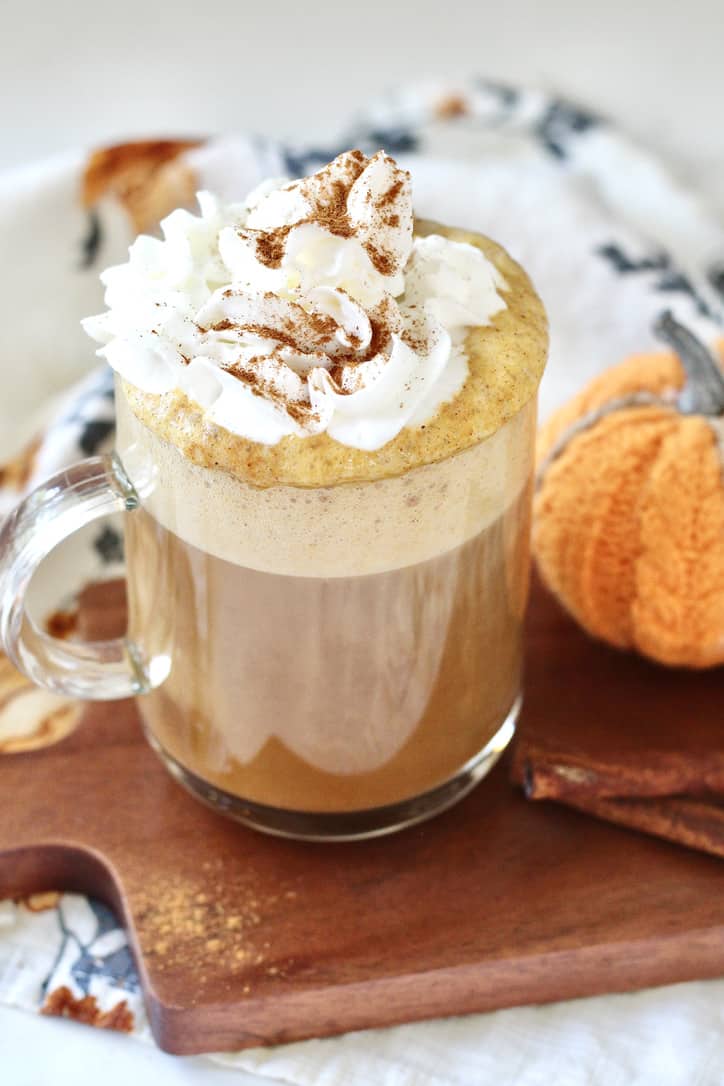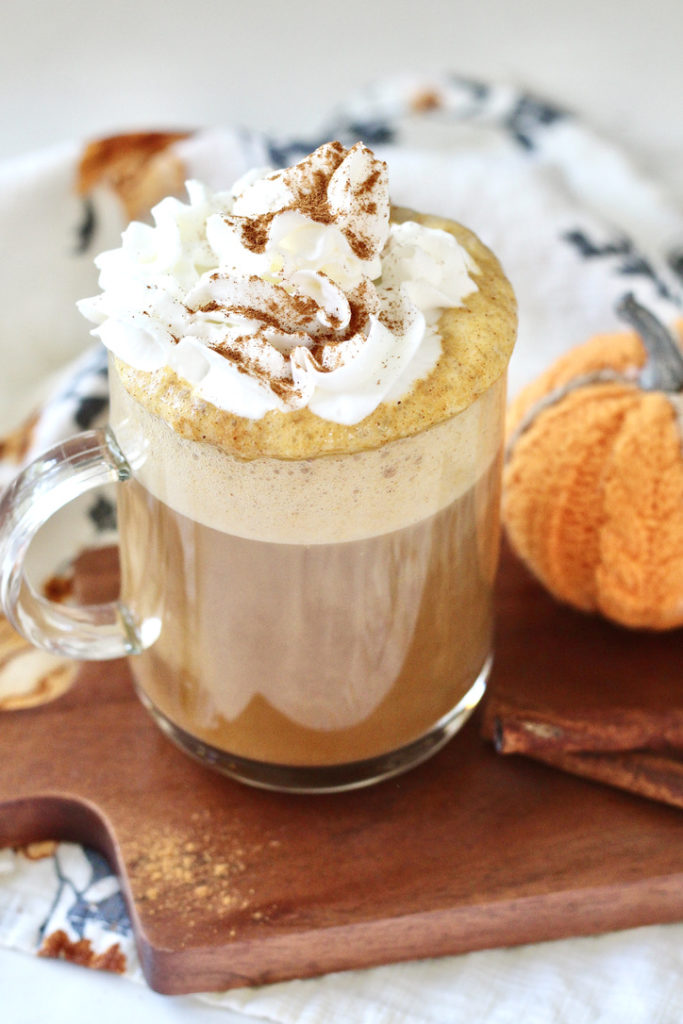 Is there a healthy pumpkin spice latte at Starbucks?
When most of us think of pumpkin spice latte we think of some of the huge chain coffee ships, like Starbucks. But, are you wondering how to order a healthy pumpkin spice latte? You can ask for the modifications above, or I'll tell you how I order mine here in a bit.
Starbucks pumpkin spice latte
A standard grande pumpkin spice latte from Starbucks comes with 2% milk, two shots of espresso, four pumps of pumpkin spice syrup, and has pumpkin spice topping and whipped cream on top. This 16 fl oz. drink has: 52g carbohydrate (50g sugar), 14g protein, and 150mg caffeine.
How to make Starbucks pumpkin spice latte low carb
If you want to reduce the sugar content and order a healthy pumpkin spice latte from Starbucks, ask for 2 or fewer pumps of syrup, and no whipped cream on top.
Mcdonald's pumpkin spice latte
A medium pumpkin latte from McDonald's is made with whole milk, espresso, and pumpkin spice flavored syrup. This drink is also 16 fl oz. and has slightly less sugar (44g sugar) than the Starbucks version, and 10g protein.
Dunkin Donuts pumpkin spice latte
While the sugar content of the Starbucks and McDonald's pumpkin spice lattes seem high (and they are), it's actually Dunkin Donuts that has the most sugar. A medium (14 fl oz) Dunkin Donuts pumpkin spice latte is made with whole milk, espresso, and pumpkin spice syrup. The drink has 59g carbohydrate, 55g sugar, and 12g protein.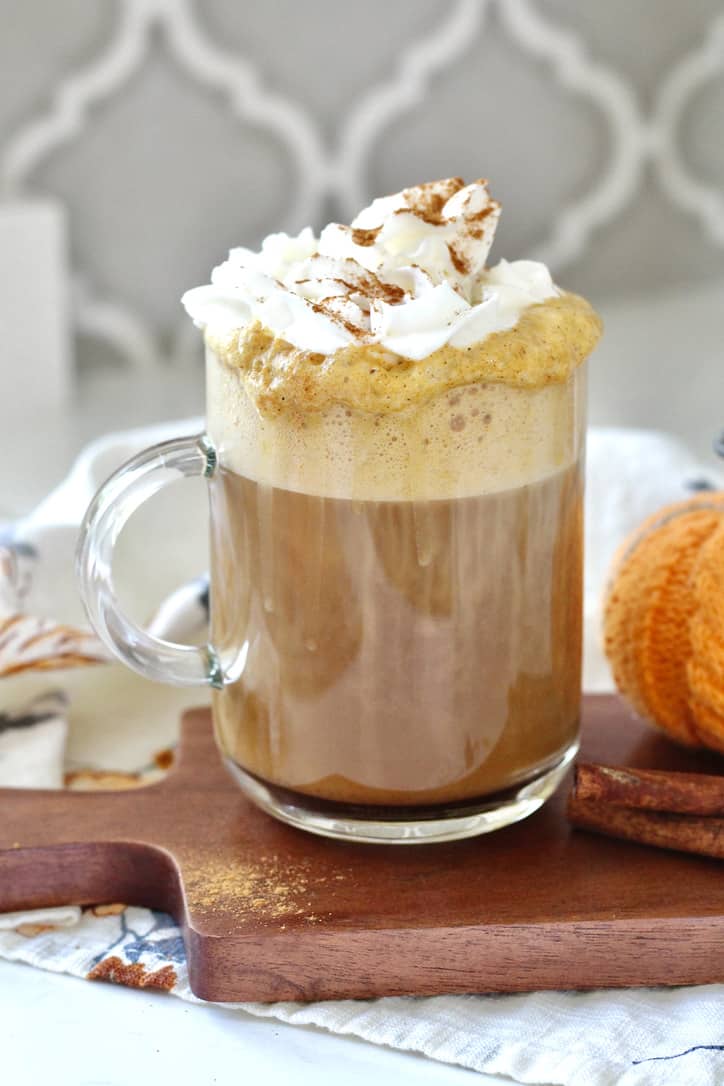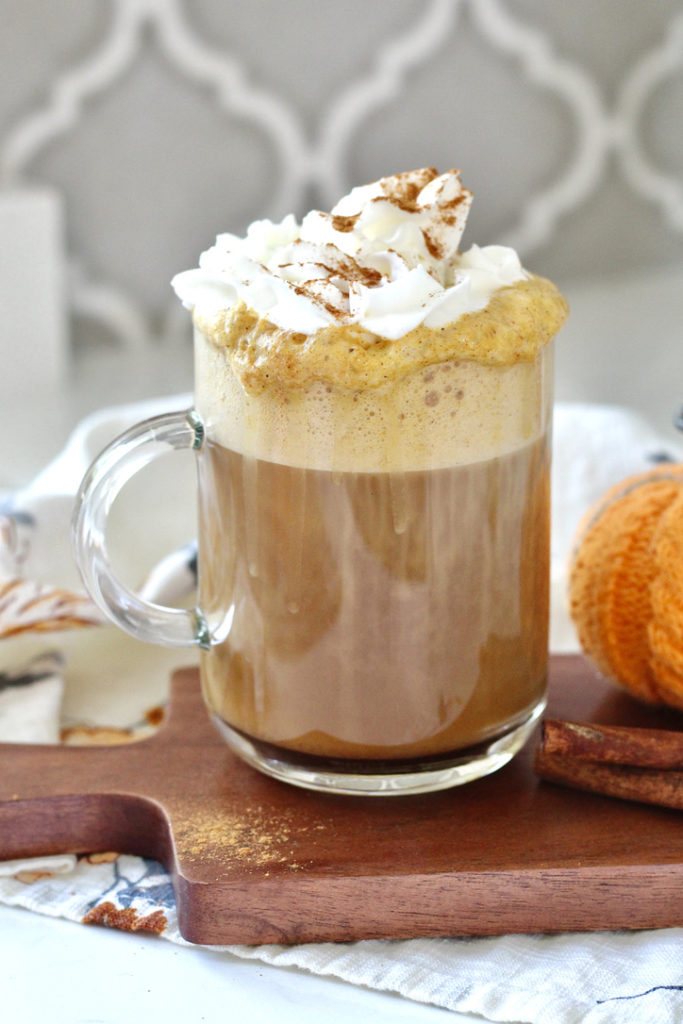 Homemade pumpkin spice latte
So, as you can see, most of the restaurant options available are quite high in sugar. Yes, there are ways to order a healthy pumpkin spice latte. But, it's much cheaper to make one at home for yourself!
Make sure to try my Low Sugar Caramel Brulee Latte too!
How to make a pumpkin spice latte if you don't have an espresso machine
And, believe it or not, you don't even need a fancy espresso machine. I've included instructions in the recipe below for how to make your pumpkin spice latte both ways, with to without an espresso machine.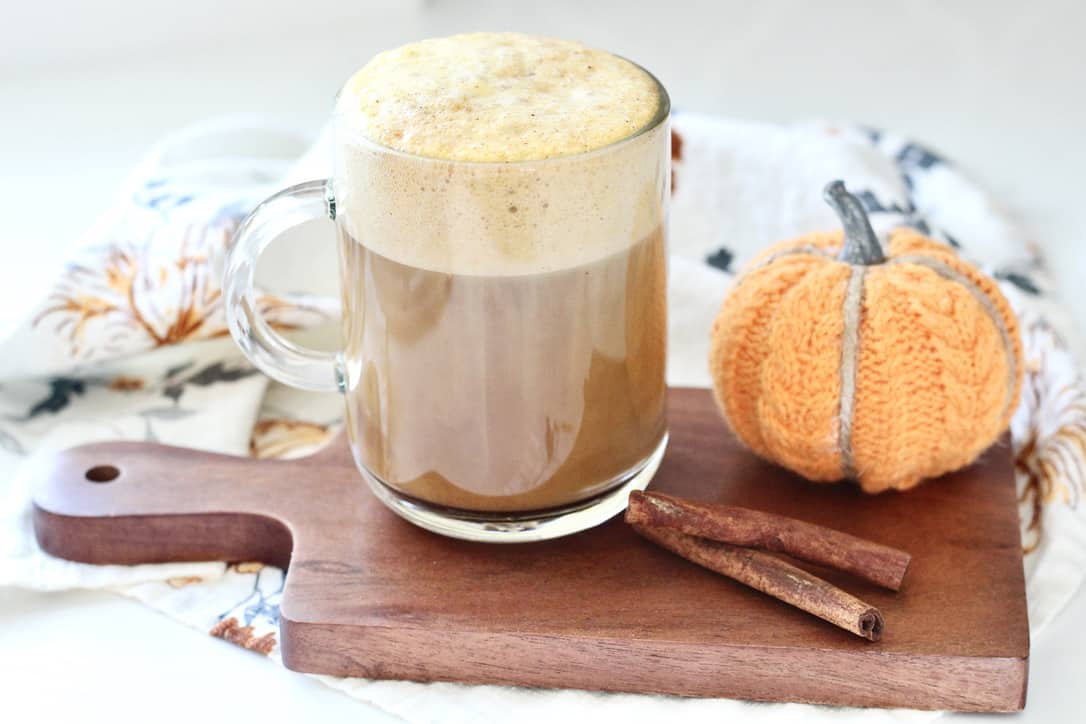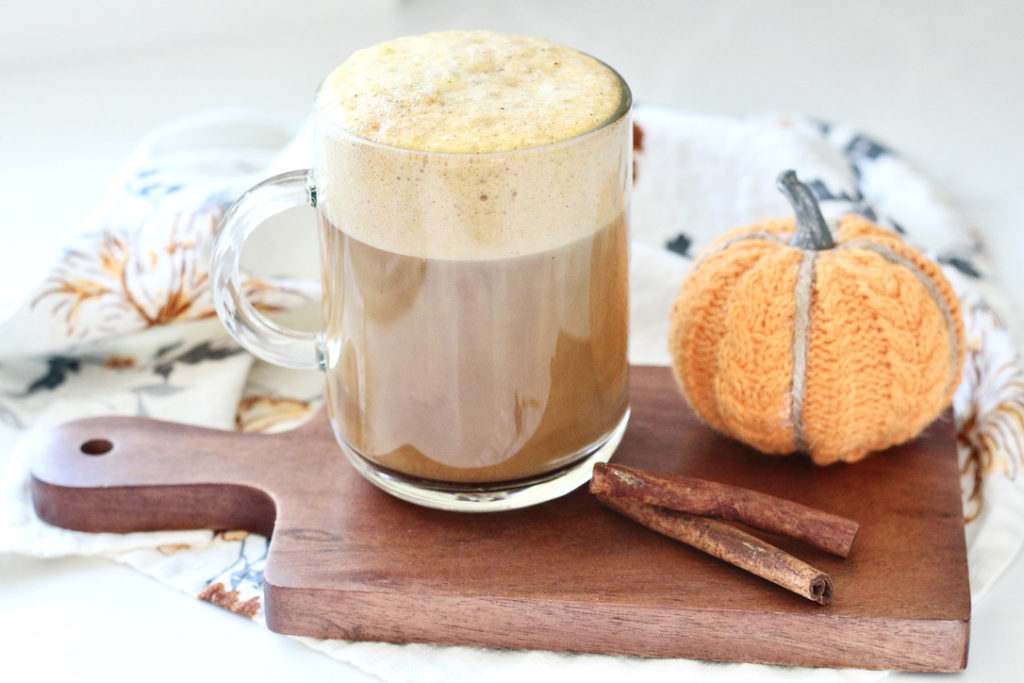 Is this a keto pumpkin spice latte recipe?
Yes, this recipe could be called a keto pumpkin spice latte. The only carbohydrate source in this drink (if you use unsweetened almond milk) is the real pumpkin puree itself. Which means it also has 4g of fiber in each latte!
Just remember to be careful with keto recipes, as some can be packed full of alternative sweeteners and sugar alcohols. Some amounts of these sweeteners are just fine, I even prefer to use some in my lattes I make at home. But, excessive amounts can lead to stomach upset.

Low Carb Healthy Pumpkin Spice Latte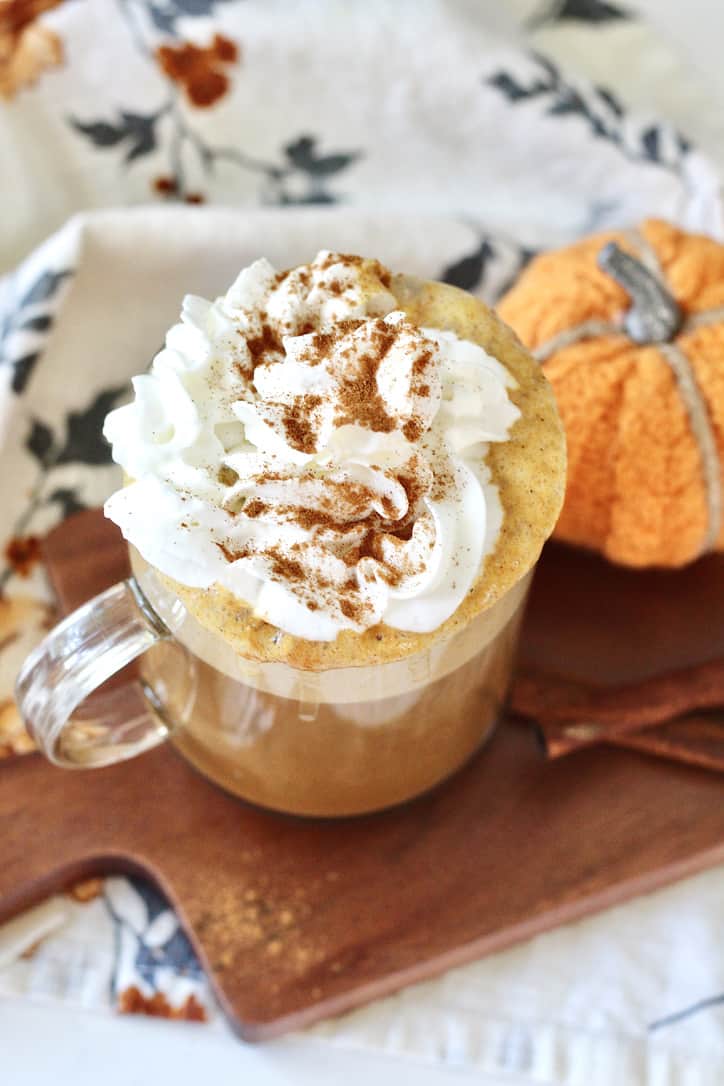 Ingredients
2

fl oz

brewed espresso

or 4 fl oz strong coffee

6

fl oz.

unsweetened milk of choice

Unsweetened almond milk or plain whole milk work best

2

Tbsp

pumpkin puree

¼

tsp

vanilla extract

¼

tsp

almond extract

¼

tsp

ground nutmeg

¼

tsp

ground cinnamon

1-2

tsp

granulated sweetener

optional (I prefer Truvia)

Low sugar whipped cream

optional

Additional ground cinnamon for topping

optional
Instructions
If you have an espresso maker
Brew a shot of espresso per your machine's instructions into a large coffee cup.
If you have a standard coffee pot
Brew 4 fl oz of coffee as you normally would into a large coffee cup, except use double the amount of coffee grounds as you normally would. (For example, if you typically use 2 Tbsp of coffee to brew a cup, use 4 Tbsp here.)
While your espresso or coffee brews…
Add your milk to a microwave safe 16 fl oz or larger glass cup or jar. Heat the milk in the microwave for 90 seconds.

Once heated, add the pumpkin puree, vanilla extract, almond extract, ground nutmeg, ground cinnamon, and sweetener to the milk. Using a milk frother, froth the milk until it is almost double in volume.

Pour your frothed milk mixture into the brewed espresso or coffee. Top with whipped cream and some additional cinnamon and enjoy!
Notes
The nutrition facts presented here are estimates only. The brands you use and product types chosen can change the nutritional information presented. The numbers below reflect using unsweetened almond milk. To obtain the most accurate nutritional information, you should calculate the nutritional information with the actual ingredients you use.
Nutrition
Serving:
1
latte
|
Calories:
75
kcal
|
Carbohydrates:
11
g
|
Protein:
1
g
|
Fat:
3
g
|
Saturated Fat:
1
g
|
Sodium:
170
mg
|
Fiber:
4
g
|
Sugar:
0
g