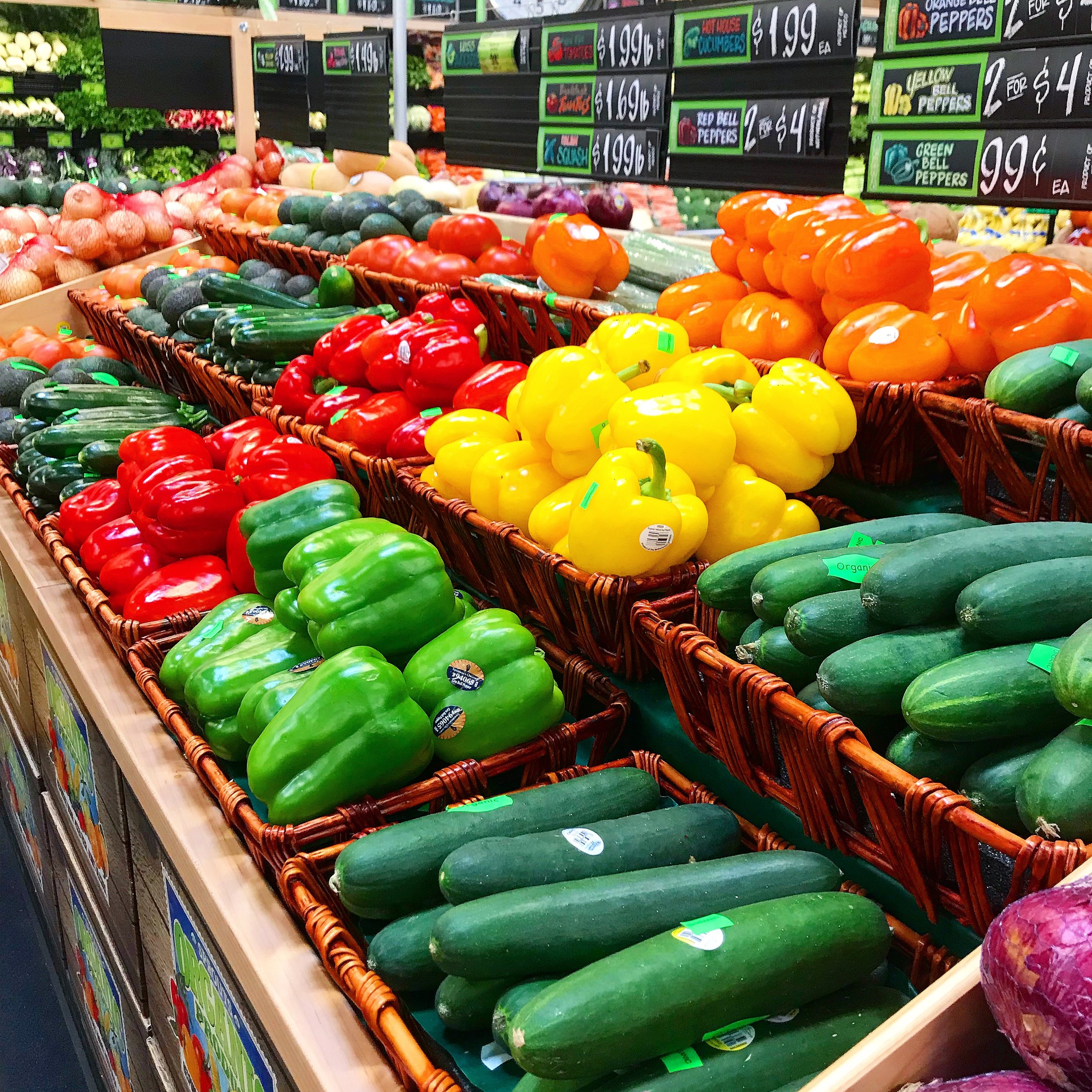 Whether you want to spend less time in the grocery store, save money on the things you buy, or stress less while you're there, I think we can all agree, we could use a little help in the grocery shopping department. I learned the following 10 ways to be a better grocery shopper last month when I had the opportunity to travel to Scottsdale, Arizona with 9 other health and wellness bloggers/influencers to learn all about Sprouts Farmers Market at their headquarters and some of their stores for their #plantbasedgetaway. The focus of this trip was on the existing and new plant based options available at their stores, but I learned so much more about their organization and retail grocery shopping in general.
This post was sponsored by Sprouts Farmers Market. All thoughts and ideas are my own.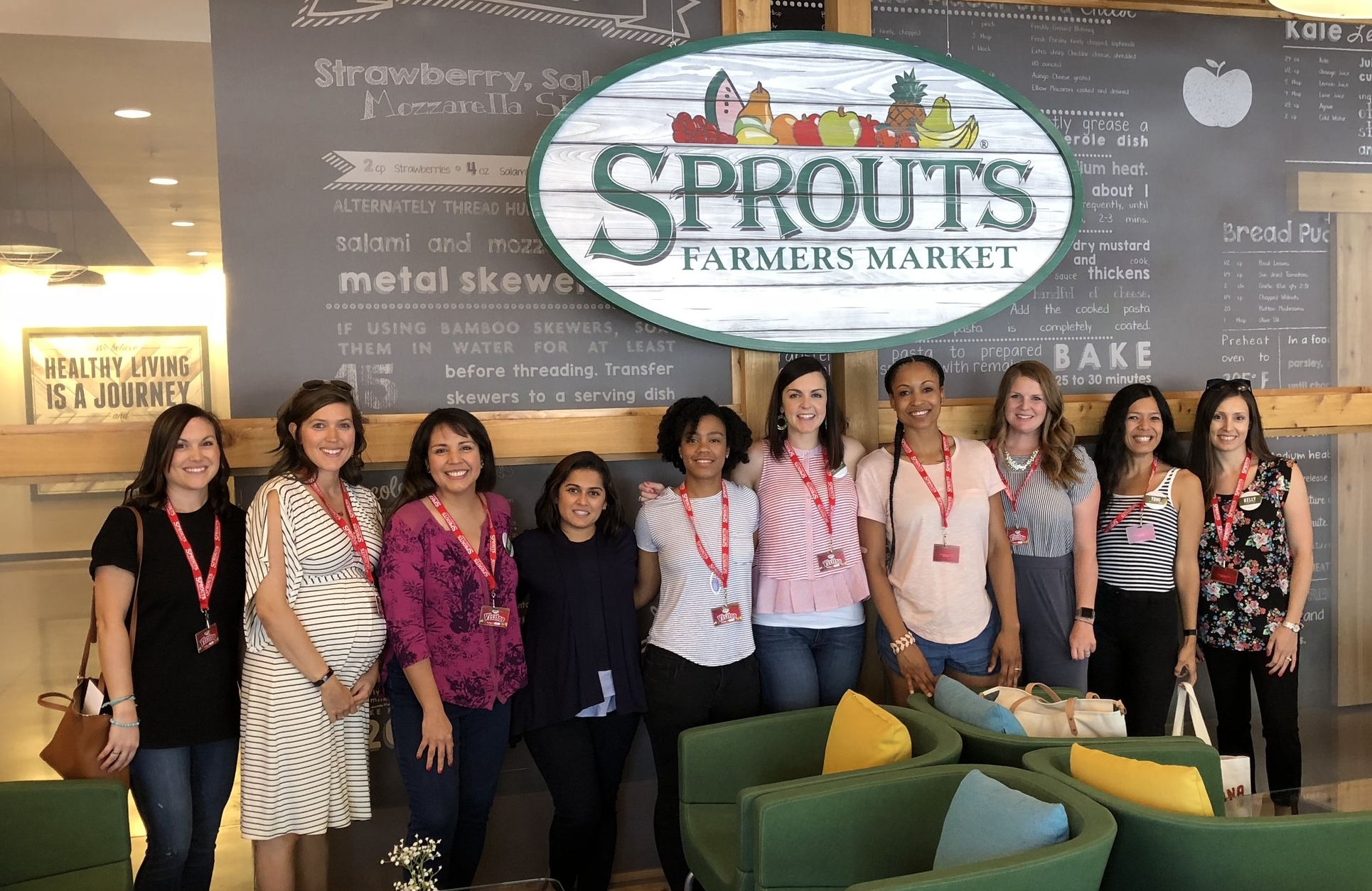 We got to learn from some of Sprouts' top people… everyone from one of the buyers for the vitamin department (which, hello! If you've never seen their vitamin department… it's amazing… and once every quarter, the whole department is 25% off!), to their chief operations officer, Dan Sanders… who also happens to be a New York Times best-selling author .
And the food. O, man. The food. To say they fed us well is the understatement of the year. Nearly everything they fed us was entirely plant based. One night, thanks to Melissa's Produce , we had an entire 4-course meal with jackfruit. Every course included jackfruit. (And don't worry, if you're not sure what a jackfruit even is… keep reading!) And got to taste a new wine from Leftie Wines , only available at Sprouts.
---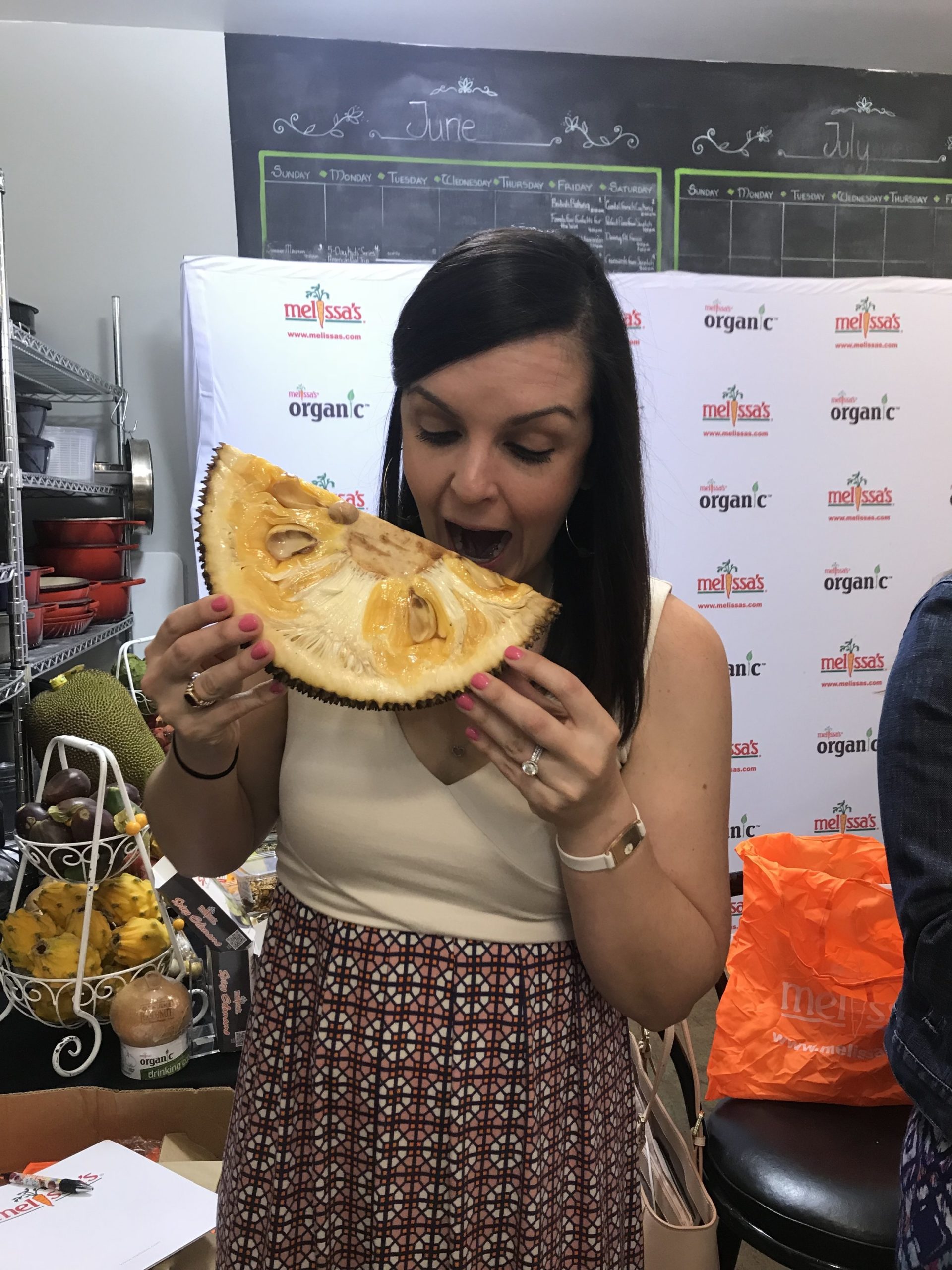 That's just a small slice of a jackfruit. The average jackfruit weighs 20 pounds!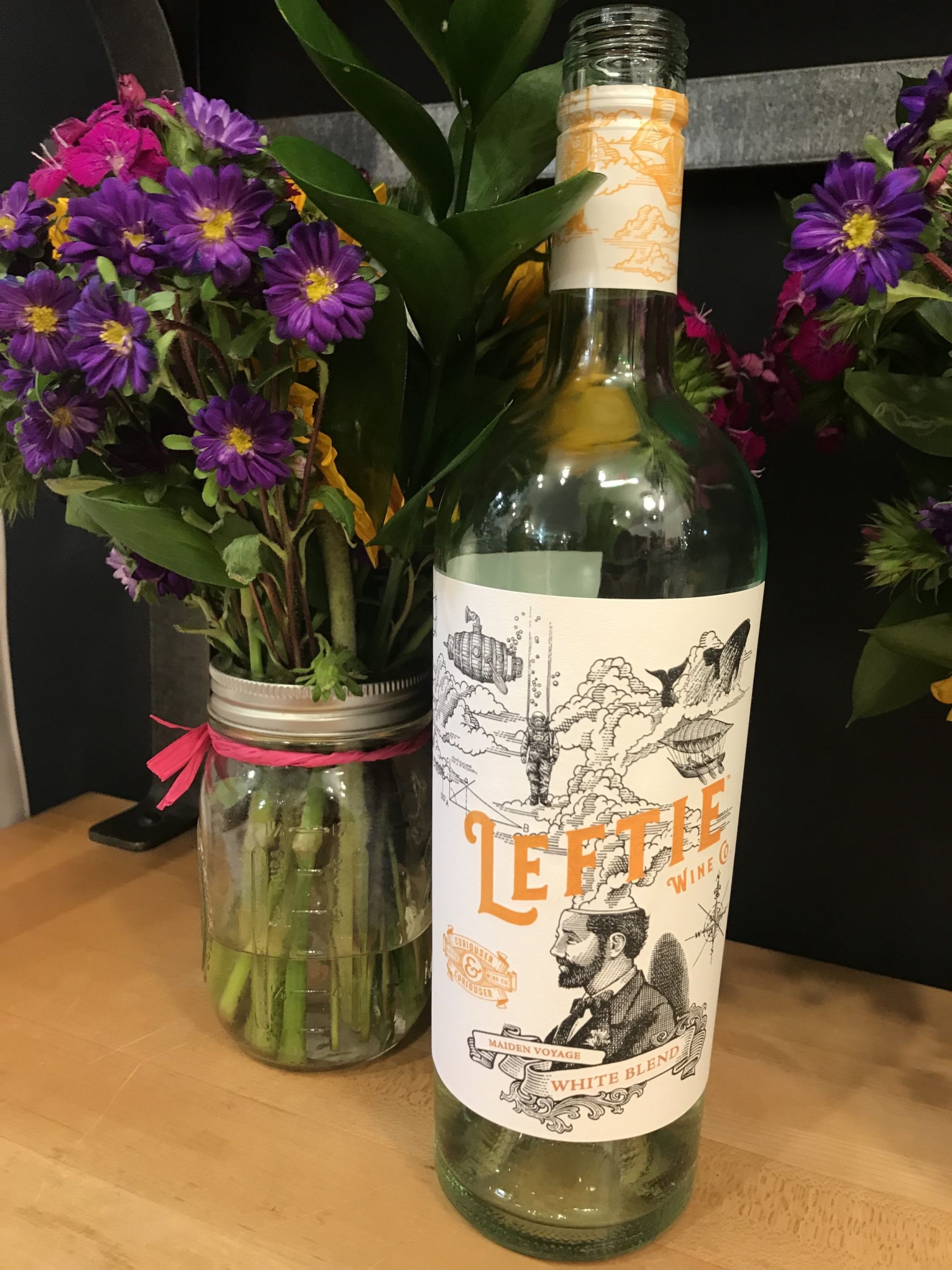 This new line of fruit infused wines hit Sprouts shelves on July 1! The white blend has pineapple juice and the red blend has raspberry juice!
---
But anyways, back to 10 ways to be a better grocery shopper…
1. Know your store
There's nothing more frustrating than attempting to grocery shop in a new store when you're not familiar with the layout, or when they change up the layout of your existing store! There's a reason most of us have one or two stores we always go to. Whether you're making a huge haul or just running in for a few things, it helps to know where things are. I love that all Sprouts stores are meant to be small. They don't put anything in your line of sight in the middle of the store, so you can see the entire store from any spot. Curious where something is? You can survey each section because they design each store to be open and welcoming… and probably my favorite thing is that the produce section is intentionally located at the center of every single store!
2. There's an app for that
Have you ever downloaded your grocery store's app? Not all stores have them these days, but most do. They offer everything from mobile coupons to meal planning features to grocery list options. I LOVE the Sprouts app for one main reason… it's the easiest to use out of any grocery app I've found. Just pick your store location and clip your coupons… that's it. And then you just scan your personal barcode (found in the app) at checkout and it downloads all of your coupons.
If you have a Sprouts location near you, make sure to download the app here.
3. Shop when there's the most sales
It's kind of common sense that if you're looking to save money on your groceries, you should shop what's on sale. But what I love about Sprouts is that on Wednesdays, literally 2/3 of their store is on sale… like for real… 2/3 of the entire store. Each week new sales start on Wednesdays (that's a standard in the grocery industry)… but what's different about Sprouts is they leave the previous week's sale active… so the 1/3 of the store that was on sale the previous week and the 1/3 of the store that's on sale for the coming week are ALL on sale on Wednesdays!
4. Try something new-
Specifically, in the produce department… if you're going to expand your nutrition options, you have to be willing to try new things. I usually recommend trying to buy 1-2 new produce items each week.
For a native Texan who's lived here my whole life, trying exotic produce is a little out of my comfort zone, but thanks to Sprouts and Melissa's Produce, we got to try prickly pear cactus, dragonfruit, jackfruit, and fresh coconuts one night at dinner! Some of my favorites were the freshly tapped coconuts (see photo below), and the dragonfruit fruit salad!
---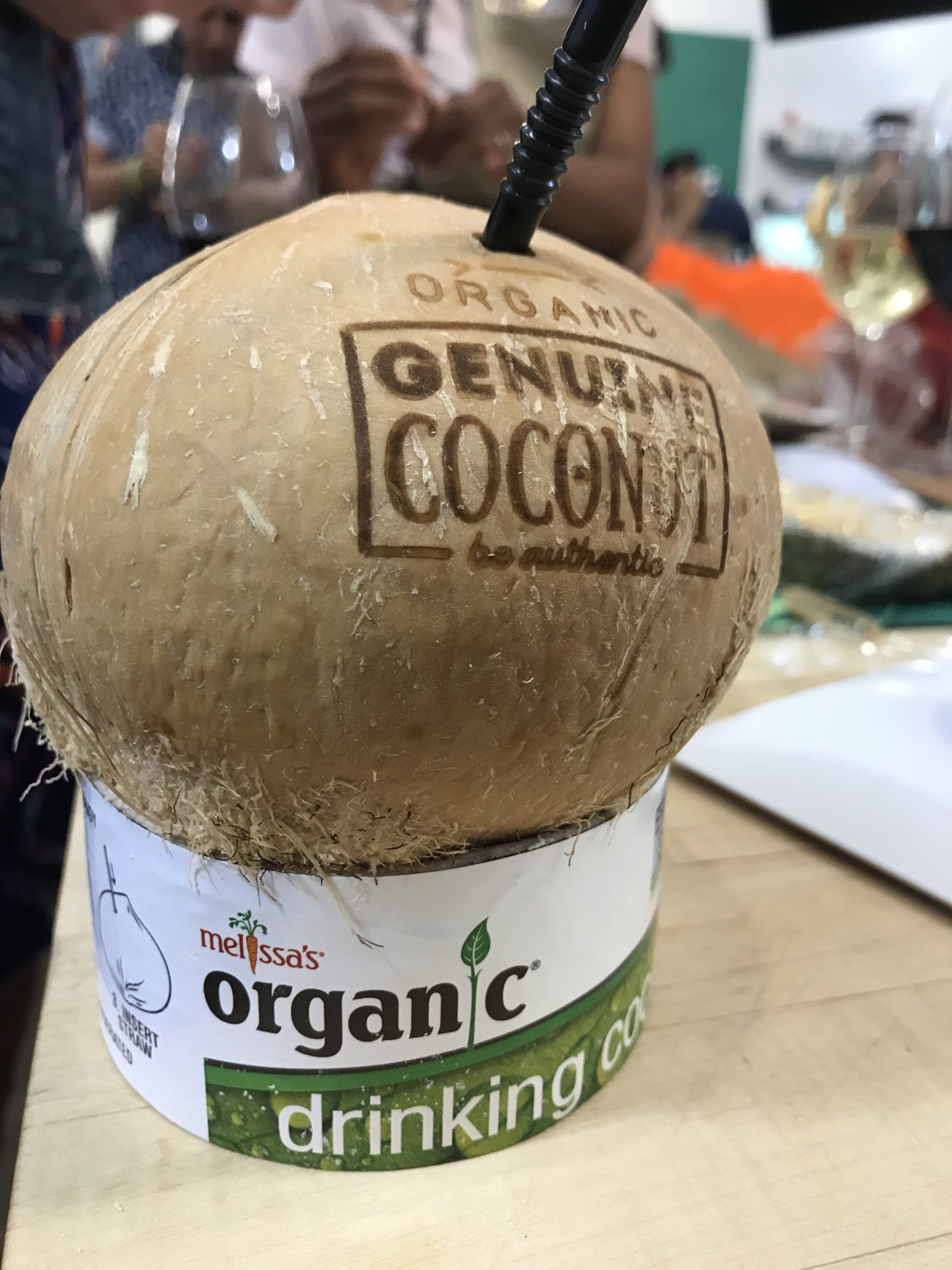 How fun is this?? Freshly tapped coconut water!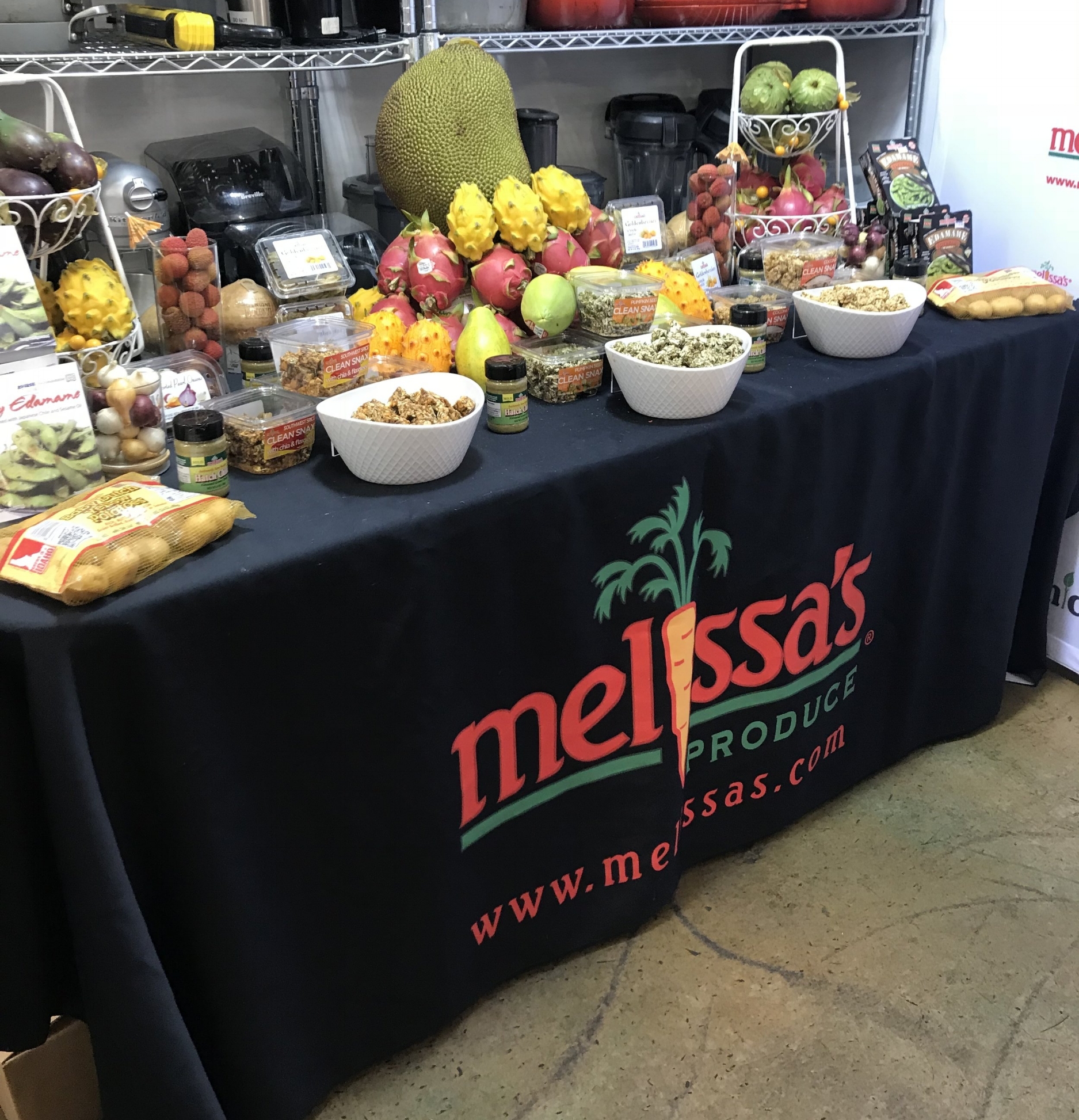 That big prickly guy in the back is a jackfruit!
---
5. Shop store brands
I feel like this might be a given, but buying store brand products at any store will save you money. And often they're made by the same manufacturers that name brand products are.
At Sprouts, the options are incredible! They have everything from pantry and refrigerator staples to novelty products like these new dark chocolate coated rice cakes (which are like heaven btw…).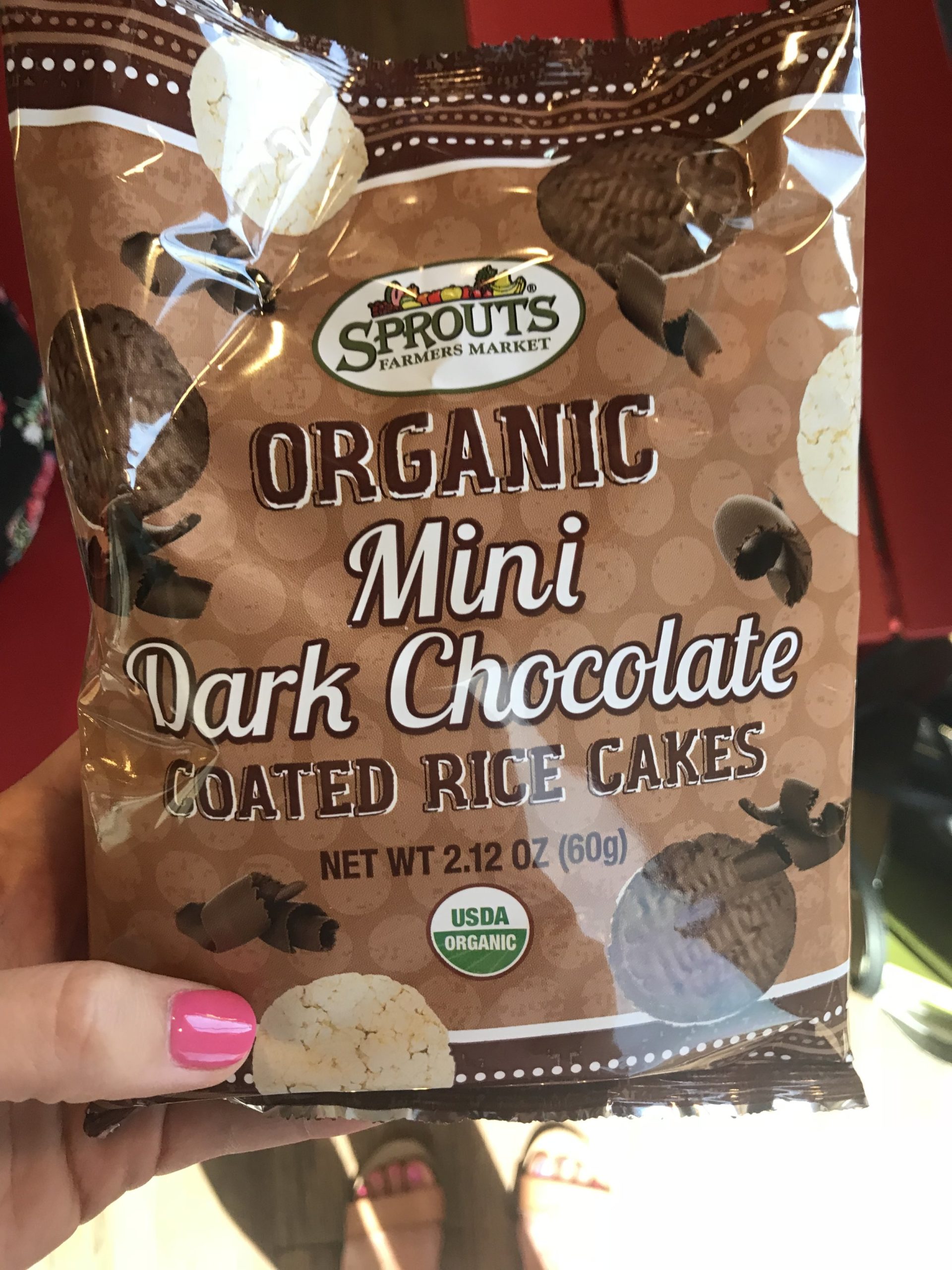 6. Expect more from your store
There has been a large shift in what motivates us as retail customers in the last 10-15 years. For the most part, people expect more from the stores they shop at. It matters how they are giving back to our communities. We want to know that the money we are spending at the grocery store could also go to help other people.
"The Sprouts Healthy Communities Foundation was founded in 2015 and has donated more than $5.1 million to health and wellness related causes… The Foundation empowers individuals to live healthier lives."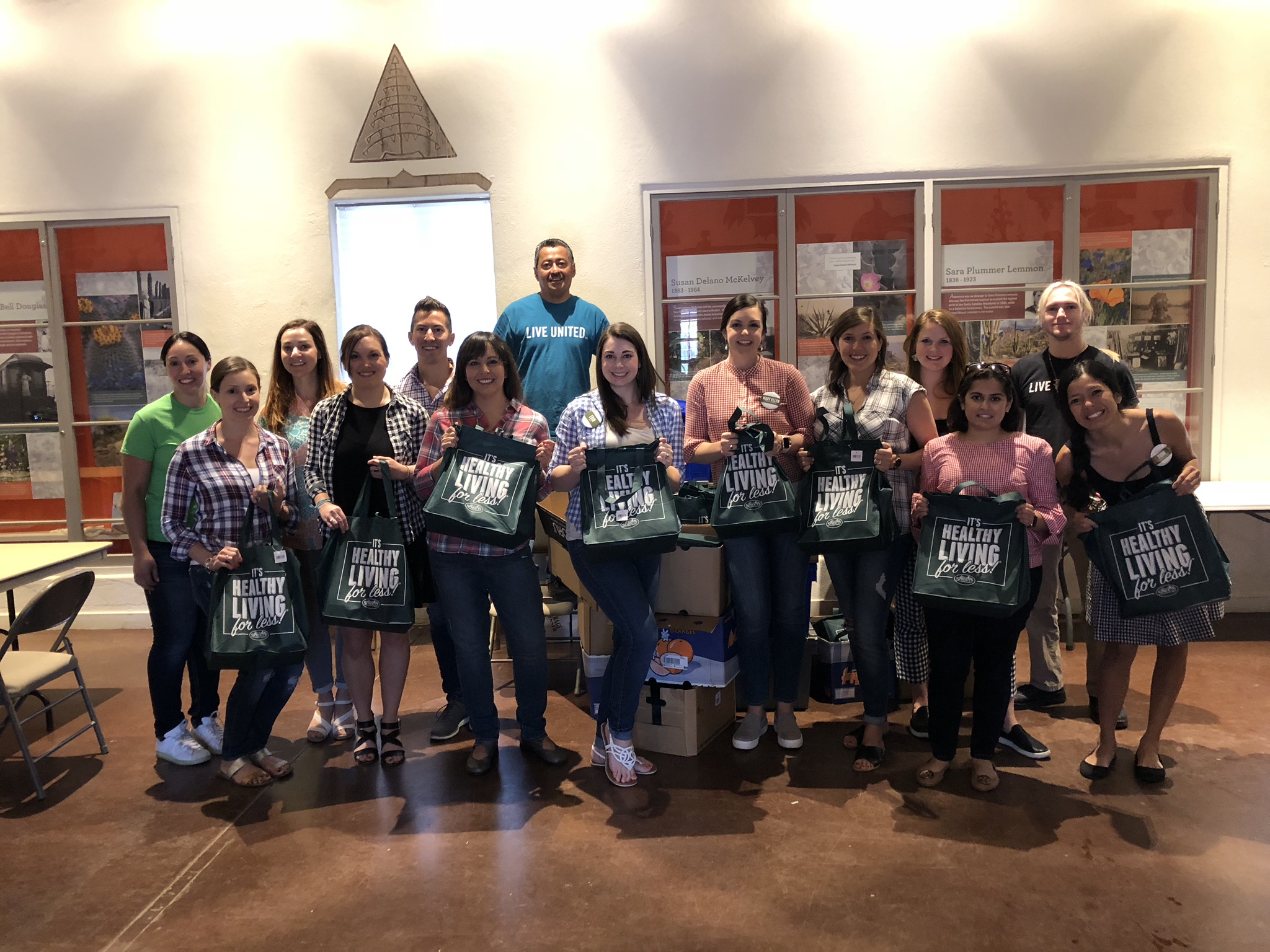 While we were in Scottsdale, we got to help package 175 emergency meal kits that were delivered to families of children in summer school in local Arizona schools.
7. Shop somewhere you know people will help you
I can think of quite a few stores that I shop at that I know for a fact, finding someone to help me would be near impossible. Whether it's because of poor training or under staffing, it can be quite frustrating. Being a regular shopper at Sprouts for the last year and a half, I had noticed how someone was always there to help me… but what I learned while in Scottsdale was WHY someone was always there to help me. Put simply, they value their employees. They know that if they treat their employees well, they're going to treat us as customers well. I was also really impressed with all of the internal promotion opportunities and trade-specific training and advancement opportunities they offer to employees.
8. Be on the lookout for new products
New products will often be on sale in an effort to promote them to customers. Make sure to keep an eye out in sale mailers or in app coupons. Some of my favorite new product finds from the trip are below.
---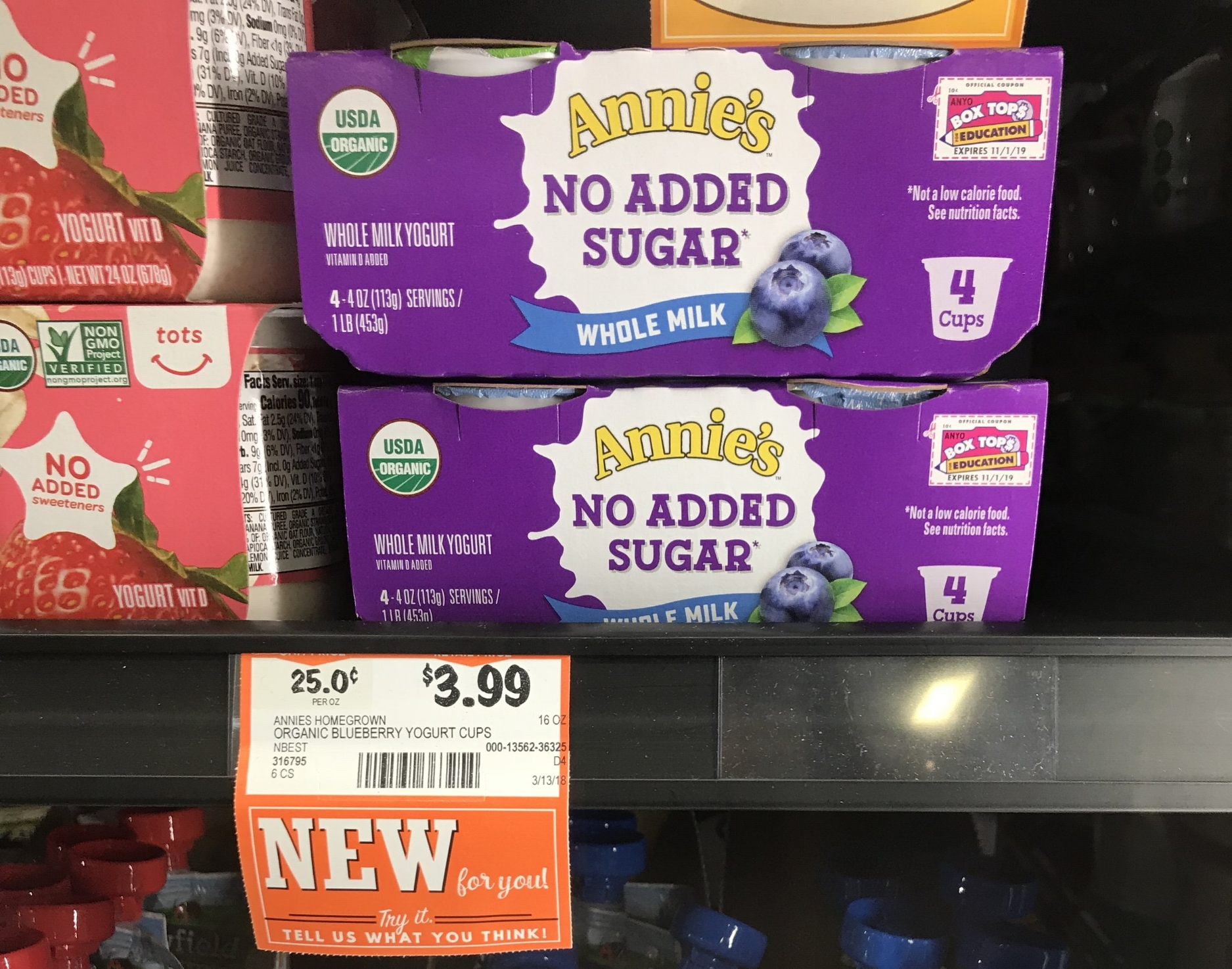 No added sugar whole milk yogurt!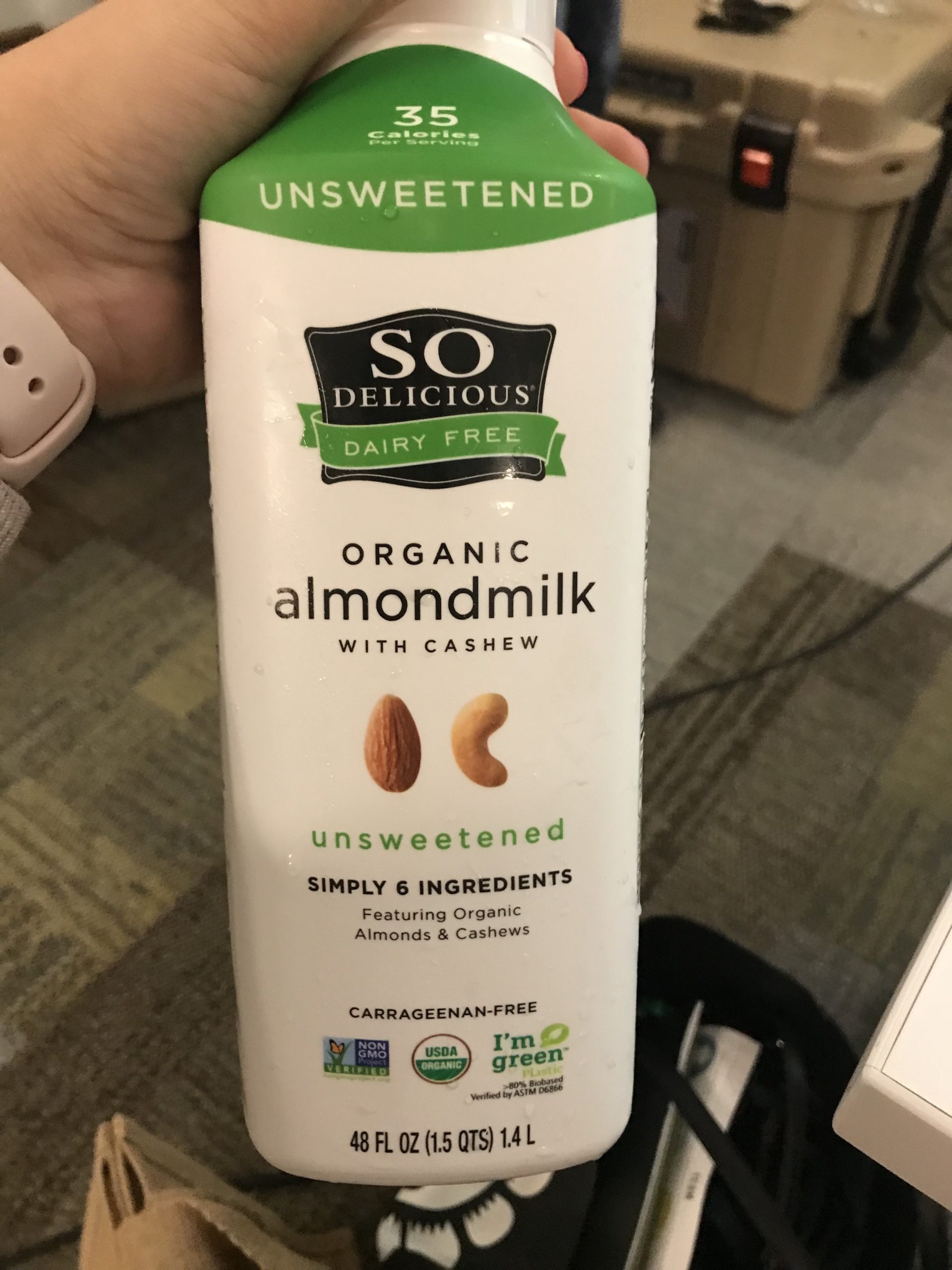 This new almond cashew milk from So Delicious has the shortest ingredient list I've seen on almond milk!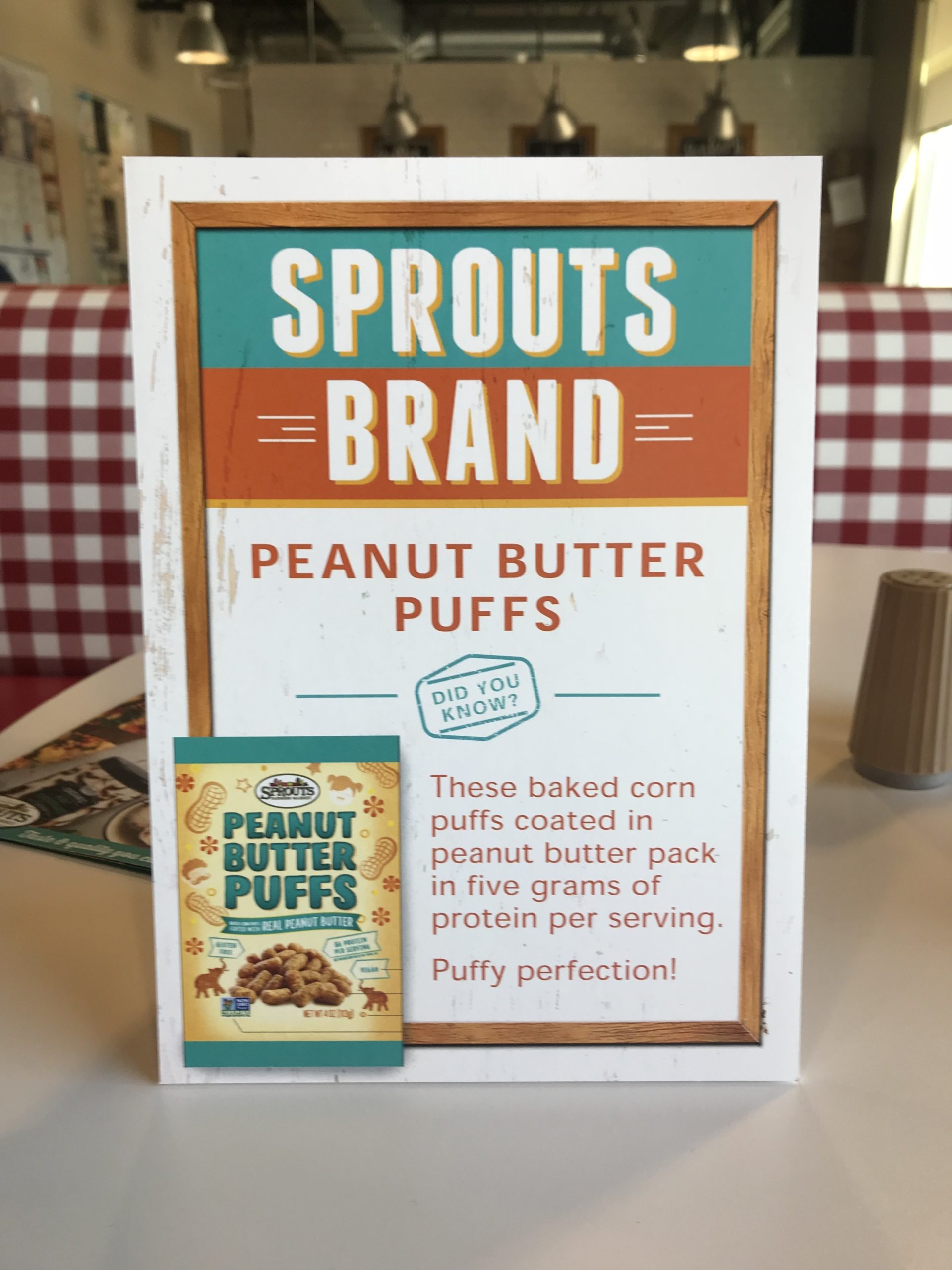 These new Sprouts brand PB puffs were amazing and packed 5g of protein per serving!
---
9. Shop plant based
I'll admit, I love dairy, meat, eggs, etc. I'm not a vegan or vegetarian… but I definitely appreciate a plant based meal. Why? Honestly, plant based meals tend to be cheaper and we don't HAVE to eat meat everyday. Plant based protein for some people can be less inflammatory than animal protein and tends to offer more anti-inflammatory fats along with it than animal protein.
I asked you all over on Instagram stories what the term "plant based" means to you and here's what a few of you had to say:
"Plant based means focusing primarily on food made from plants"
"A diet that contains only foods that come from plants"
"To me it means eating mostly plants- veggies, fruits, nuts, seeds, legumes, grains- but not necessarily a strict vegan or vegetarian"
For me personally, that last definition aligns more with my thoughts. The beauty of the "plant based" movement is you can make it what you want. If you're not ready to go completely vegetarian (or if you just don't want to), that's totally fine… maybe incorporating meatless Monday meals is a good option? Or maybe switching to vegan makeup options? (Yes, most makeups are not made from vegan ingredients… something else we learned about on the trip that surprised me.)
10. Get more than groceries
Probably one of the most entertaining things we got to do on our trip was a gift basket challenge… a great reminder that you can get so much more than just groceries at the grocery store… and Sprouts specifically. Le from FitFoodieLe and I paired up and were tasked with making a "day at the beach" themed basket… we got everything from snacks and drinks, to sun protection and toys! Have you ever perused the non-grocery options at your local store?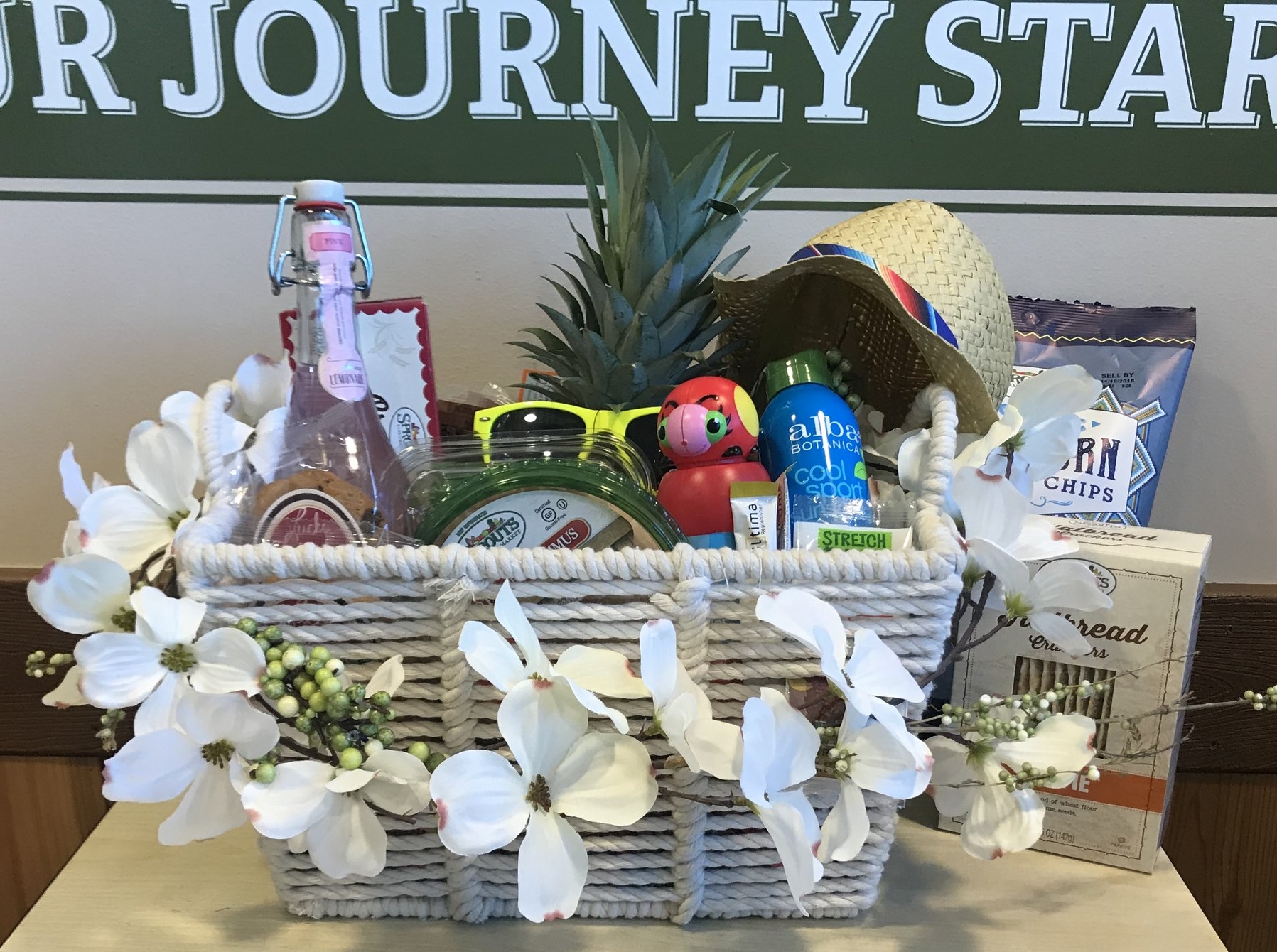 Thanks to Sprouts' always low prices, this entire basket rang up at under $100!
So, if you couldn't tell, I'm officially in love with Sprouts Farmers Market. So much so that I drive 20 minutes to our closest one a few times each month… but you better believe I'm completely stoked they're opening a new location next year just 2 minutes from my house (cue: red dress lady emoji)… to find your closest store use their store locator here. Tell me your favorite Sprouts brand product or your favorite way to be a better grocery shopper below in the comments!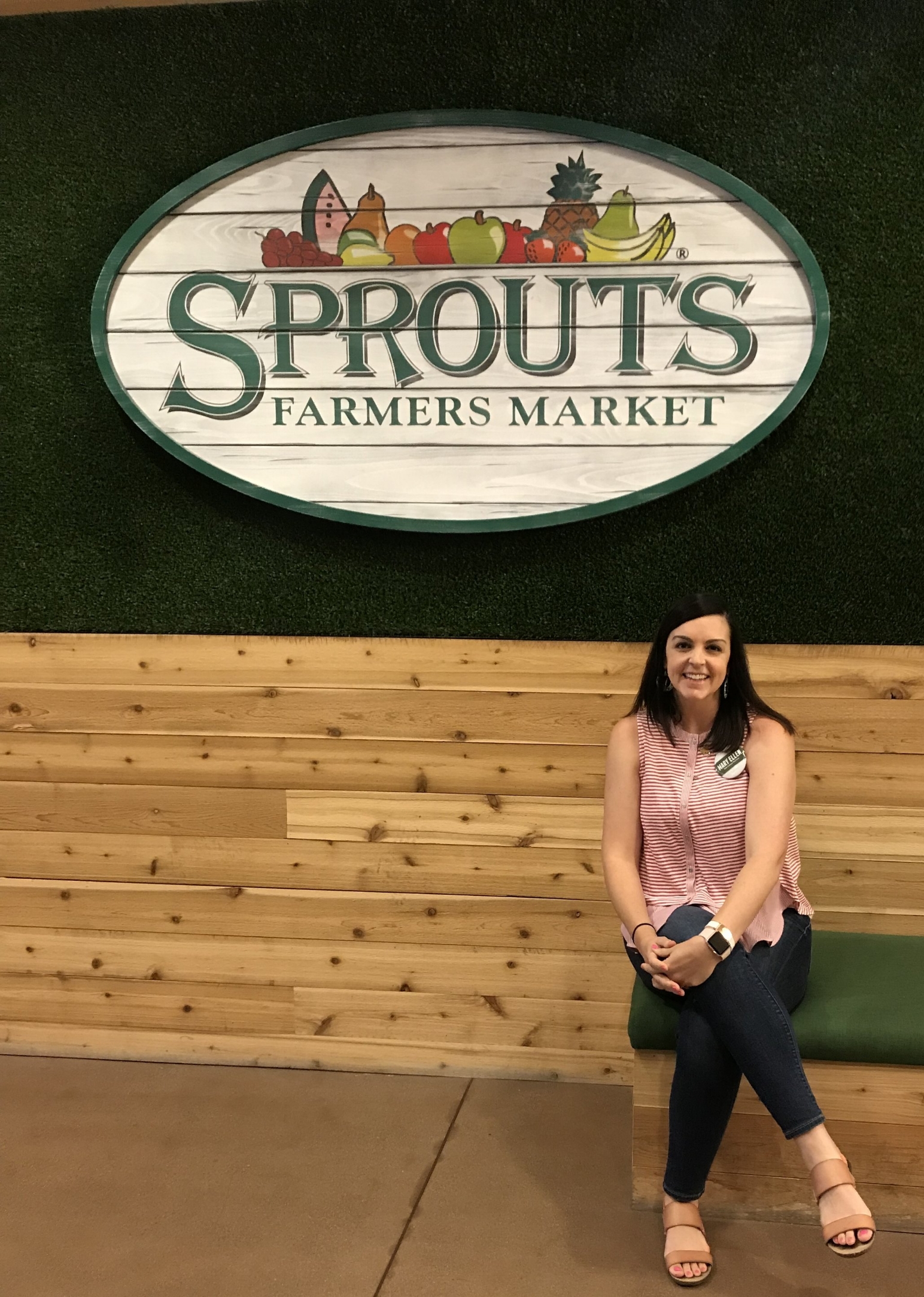 ---