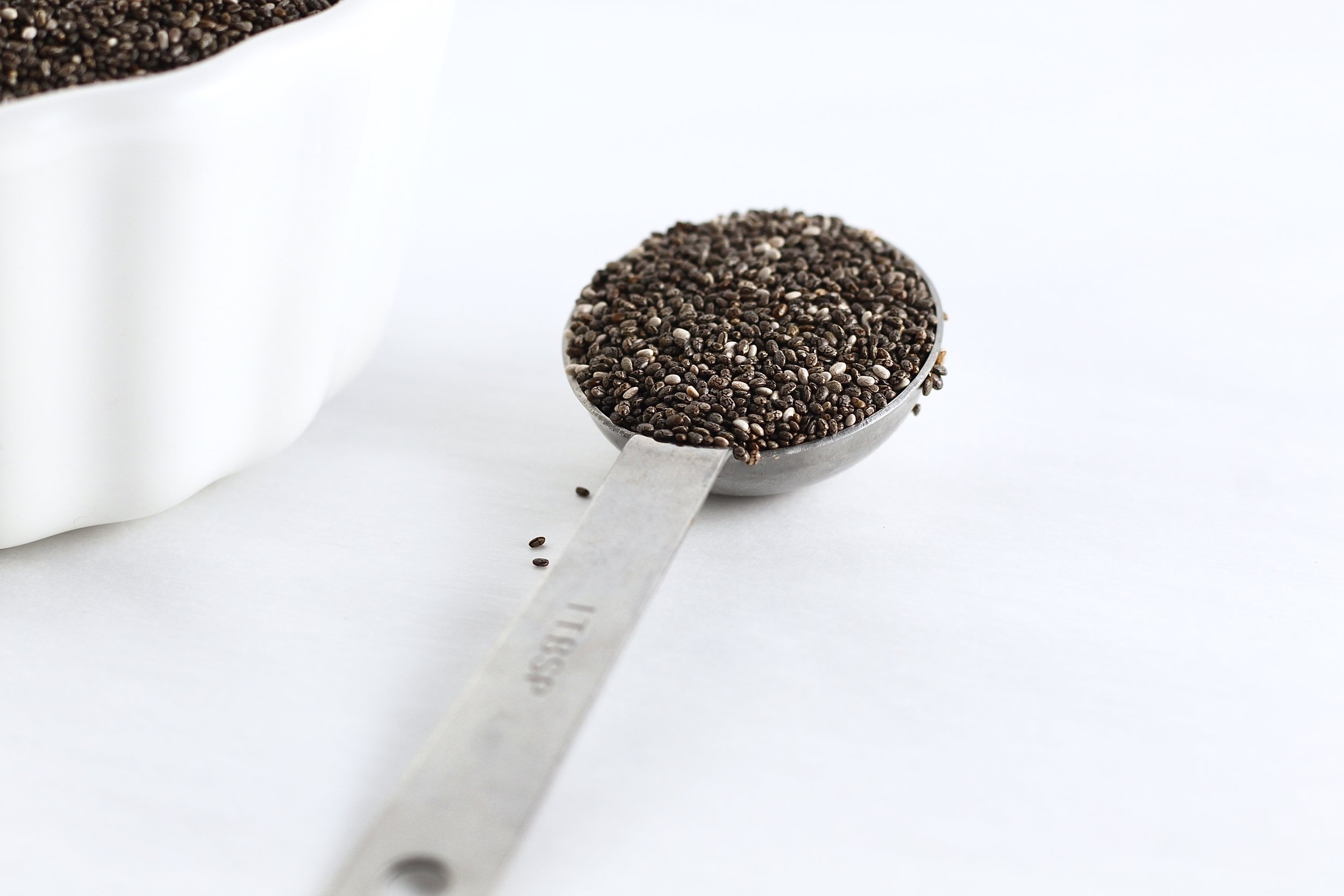 Chia seeds are a nutrient dense complete protein containing fiber, essential fatty acids, and minerals that can easily be incorporated into your daily routine. 
Chia seeds are popping up everywhere from restaurant menus to home kitchens, and rightfully so. Let's explore some fun facts about chia seeds and discover some of the many reasons they are not only nutritional powerhouses, but also loved by professional and home chefs alike.
Chia seeds provide an excellent source of essential nutrients 
Have you heard of all the incredible nutrient sources chia seeds provide? To name a few, chia seeds provide omega-3 fatty acids, protein, fiber, antioxidants, and essential minerals!
Chia seeds nutrition facts
2 Tbsp (1 ounce) of chia seeds contains:
140 calories
4.4 g protein
11g fiber
7g unsaturated fat
30% RDA for magnesium 
30% RDA for manganese
27% RDA for phosphorus
18% RDA for calcium
Health benefits of chia seeds
Chia seeds contain health benefits such as promoting GI health and reducing the risk of heart disease and diabetes.
Protection against Heart Disease 
Studies have shown that chia seeds may reduce high blood pressure and triglycerides which are common risk factors for heart disease. 
Source of omega-3 fatty acids 
1 ounce of chia seeds provide 4915 mg of ALA omega-3 fatty acids! Omega-3's are important for overall body and brain function. 
Fish oil and omega-3 fatty acids
Keep in mind, plant omega-3's sources contain lower amounts compared to animal sources such a fish. Fish sources such as salmon contain DHA omega-3 fatty acids. 
---
1) People have been eating chia seeds for hundreds of years. 
Even though chia seeds seem to have just gained popularity in American diets in the last few years, they've actually been a staple in Native American and Mexican diets for hundreds of years. They were used to make breads, porridges, and for medicinal uses.
2) Yes, chia pets were made with chia seeds.
Prior to chia seeds making a resurgence in our smoothies, puddings, and desserts, they became popular as the star seed of chia pets!
3) 1 Tbsp of chia seeds packs in 5g of fiber.
If you're looking to add more fiber to your diet, chia seeds are an easy way to do that! Just make sure that you increase the amount of fiber you eat gradually… overloading your GI tract with fiber when you're not used to eating lots of fiber can have some pretty uncomfortable side effects. Nearly 40% of chia seeds (by weight) is fiber.
4) Adding fiber to your diet, which chia seeds help you do, can improve symptoms and side effects of many common chronic conditions. 
Some of these conditions include: type 2 diabetes, high blood pressure, and mental health conditions. Read more here.
5) Chia seeds can absorb up to 9 times their weight in liquid.
"When soaked in water, plant milk, or any liquid, chia seeds form a gelatinous mix that works perfectly to create a creamy pudding or thick sauce. The added bonus is that the soluble fiber in chia can help lower cholesterol levels and stabilize blood glucose. A win-win with this pantry staple." says Bonnie Taub-Dix, RDN @bonnietaubdix on Instagram and founder of www.betterthandieting.com
6) They make a great ingredient for baked goods! 
Chia seeds can easily be incorporated into muffins, pancakes, cookies, and bread! Keep reading for some of my recipes with chia seeds.
7) You can enjoy them ground up too!
"I love chia seeds for protein, fiber, and omega 3's, but I don't like them stuck in my teeth. Grind chia seeds in a coffee grinder and add them to pancakes, muffins, breads, smoothies and more!" recommends Betsy Ramirez, MEd, RDN, founder of betsyramirez.com.
8) Chia makes a great plant-based substitute for eggs. 
"Chia seeds can be used as an egg replacer and make a wonderful nutrition booster," says Tracee Yablon Brenner, RDN, CHHC, Culinary Director at www.triadtowellness.com.
9) Chia seeds offer "healthy" fats.
 1 Tbsp of chia seeds has 5g of total fat, with over 80% of coming from unsaturated fat sources. They have high amounts of ALA, which can help your body make more DHA and EPA, fatty acids essential for good health.
10) They are loaded with antioxidants. 
And did you know that these antioxidants are what help the fats in chia seeds from going bad?
11) They're a great quality protein source. 
One Tbsp of chia seeds provides 2g of high-quality plant-based protein.
12) They're like nature's little sprinkles. 
"You can call chia seeds "sprinkles" to make them more fun for kids. I'll ask, "do you want some sprinkles on your yogurt?" and I bring out the chia seeds with a little spoon. You could even put them in a spice shaker to shake them out just like real sprinkles!" recommends Kacie Barnes, MCN, RDN founder of Mamaknowsnutrition.com.
13) They may help your bones. 
Chia seeds are high in several minerals that help with bone health… calcium, phosphorous, and magnesium.
14) Chia seeds may help you control blood sugar levels.
Some studies have shown that a higher carb meal that also contains chia seeds may be better tolerated by diabetics than a higher carb meal without chia seeds.
Delicious and easy chia seed recipes
Microwavable Chia Seed Almond Milk Oatmeal