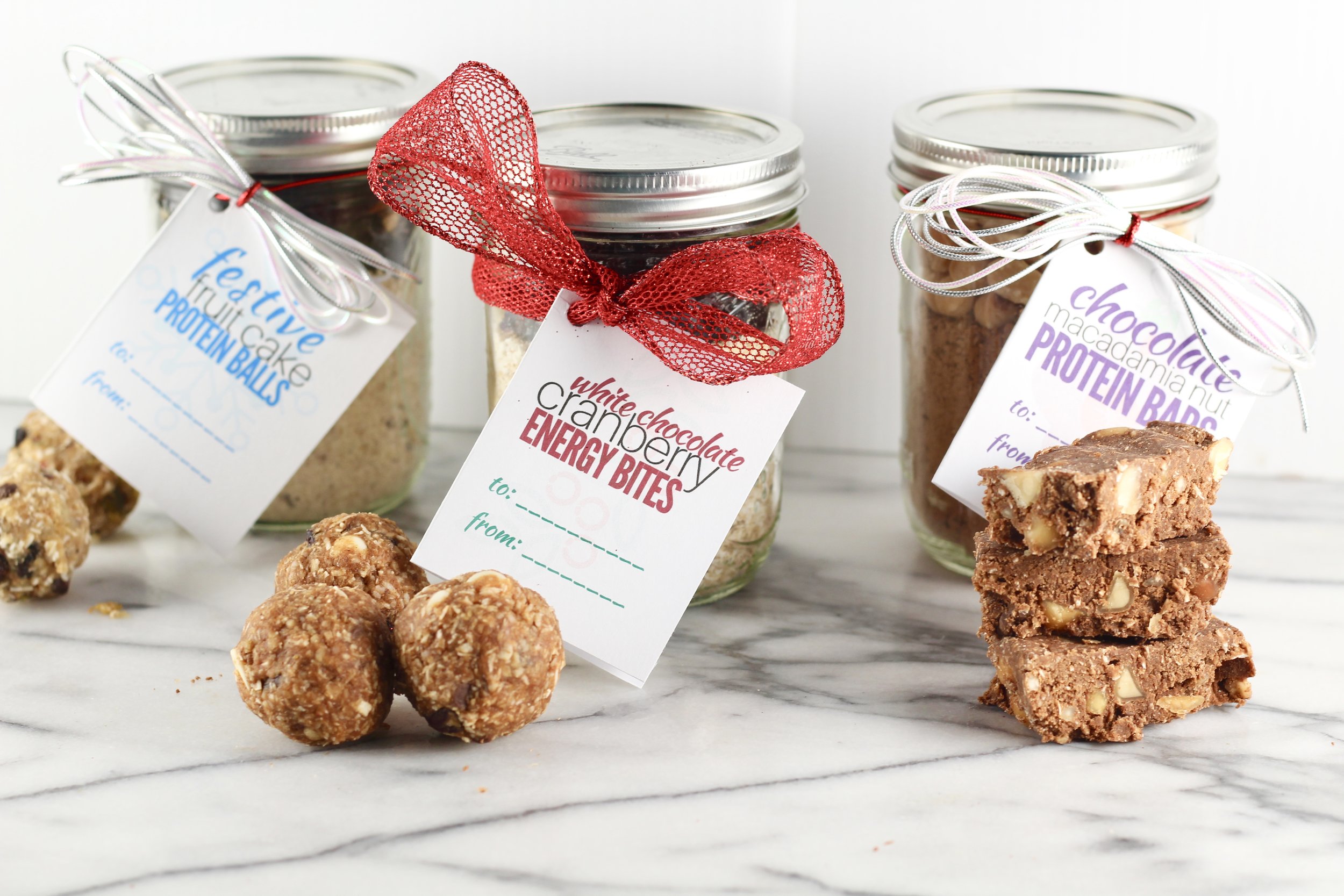 This post for DIY Holiday gifts in a jar: Protein balls and energy bites was sponsored by Creation Nation.
---
You've probably already heard that no-bake protein balls & energy bites are the cool new "cookies" that Santa's Elves are rolling. So when it comes to DIY gifting, if you're like me and love the idea, but sometimes miss the mark a tad (think: pinterest fail, lol), these DIY Christmas Jars are a simple and foolproof way to avoid the land of misfit gifts. Plus, they're delicious & healthy, so whether it's a hostess gift or a teacher gift, or any other type of gift for that matter, these DIY mason jars are perfect!
Here's how it works… rather than having to buy a whole bunch of random ingredients you may not be used to buying (or maybe you just want a little extra help to make your life easy), you can just use any of the following Creation Nation No-Bake Mixes, pour them into a mason jar with an extra goodie or two, and tag the jar with the sweet recipe cards linked at the end of this post:
Whey Hip Chocolate Chip, Protein Bar Mix
Peas Love and Cocoa, Protein Bar Mix
Oat Yes! Chocolate Chip, Energy Bite Mix
Check their store locator here to see which stores near you carry the mixes, or order online at ProteinBarMix.com, ThriveMarket.com or Vitacost.com.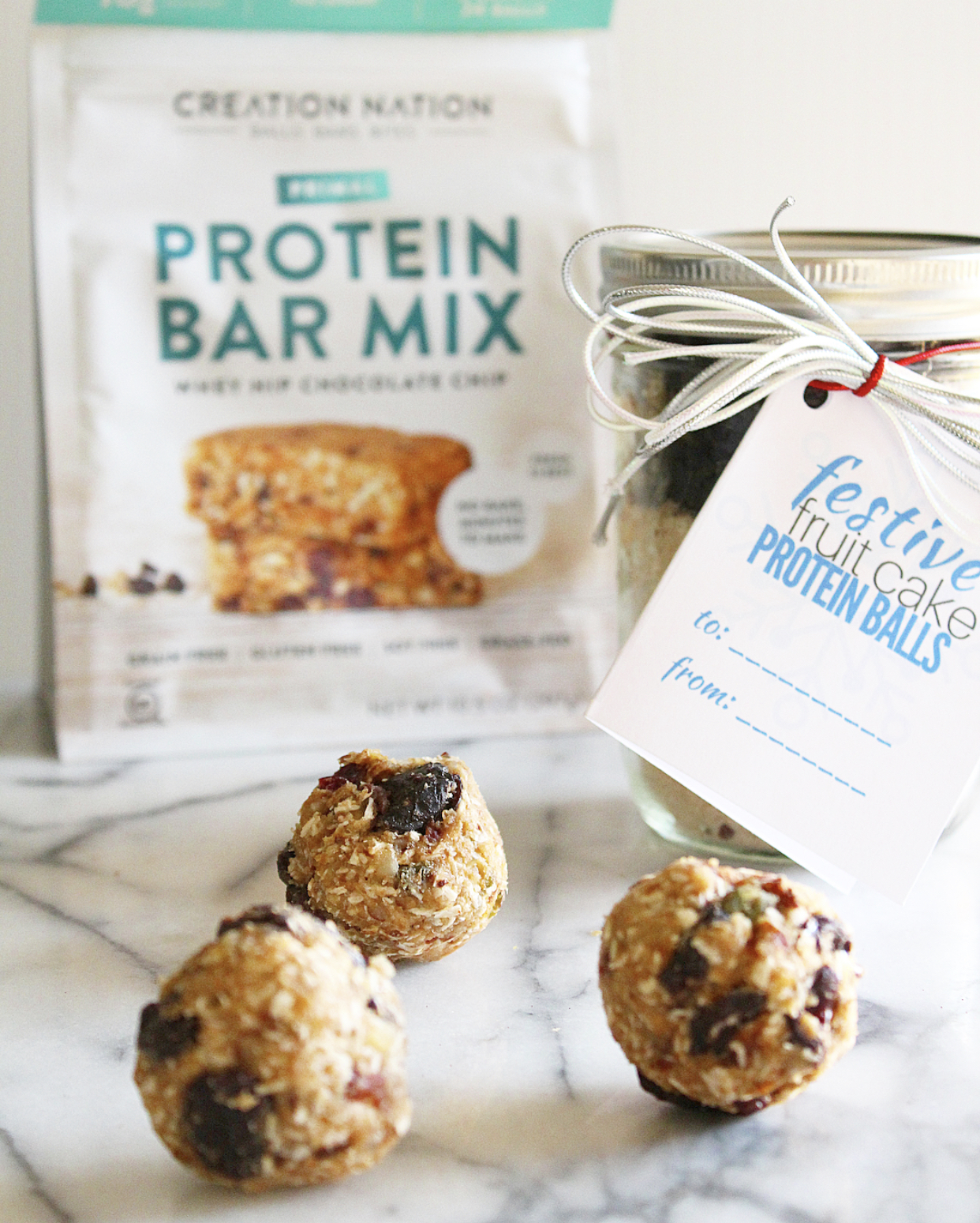 One bag will make two mason jar gifts! You can layer in half of a bag (about 1 1/3 cup mix) with whatever festive mix-in's you like… here's some of my favorite combinations:
1/2 bag Oat Yes! Chocolate Chip Energy Bite Mix with 1/3 cup dried cranberries, 1/3 cup white chocolate chips in the mason jar. Recipe card calls for 1/2 cup almond butter and 2 Tbsp water mixed in when they're ready to make them.

1/2 bag Whey Hip Chocolate Chip Protein Bar Mix with 1/3 cup chopped pistachios, 1/3 cup dried cherries in the mason jar. Recipe card calls for 1/3 cup unsweetened applesauce or eggnog mixed in when they're ready to make them.

1/2 bag Peas, Love, & Cocoa Protein Bar Mix with 2/3 cup chopped macadamia nuts in the mason jar. Recipe card calls for 1/4 cup water, and 1/3 cup maple syrup mixed in when they're ready to make them.
Here's some pictures to help you see what they could look like. A link to download the gift tags is below…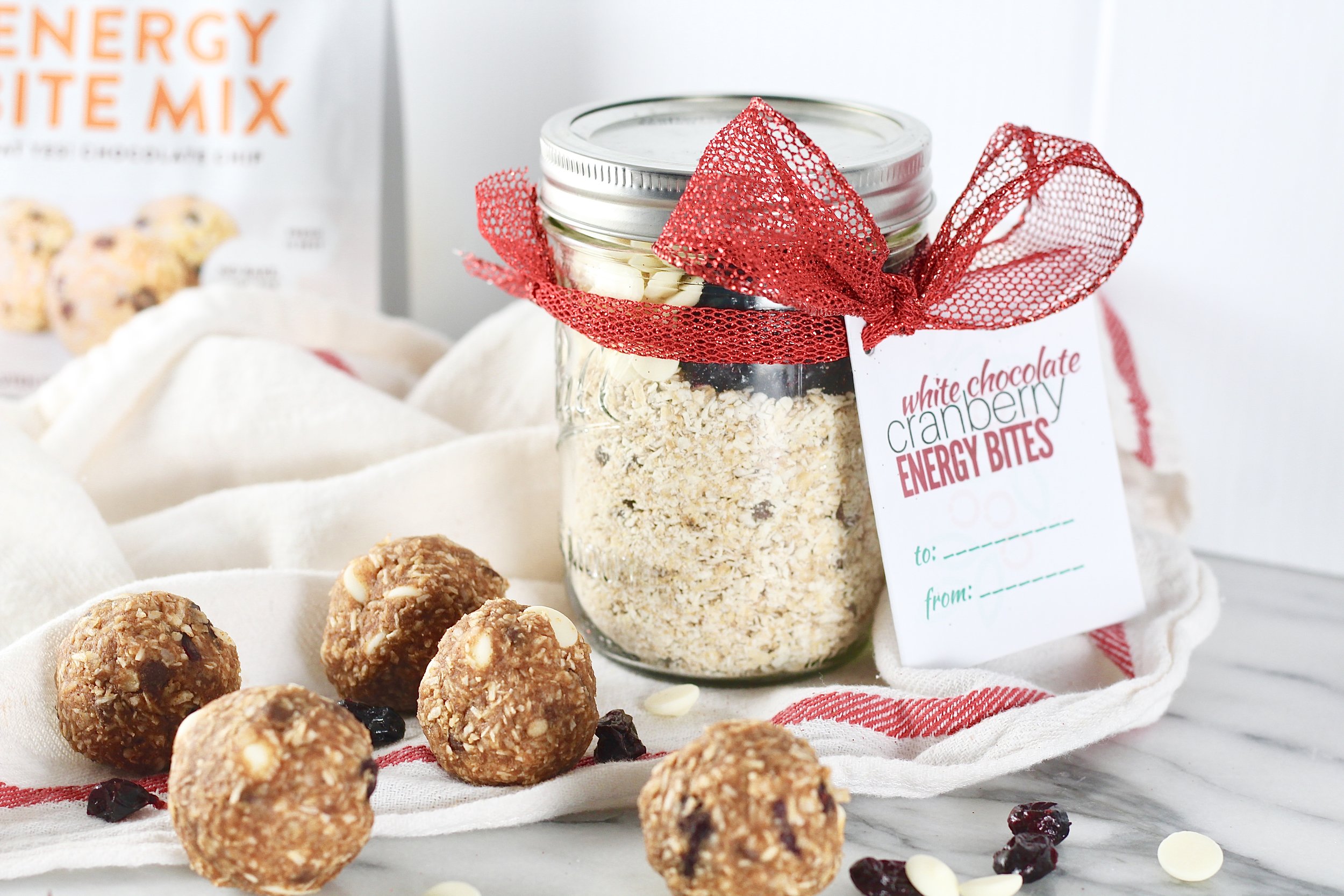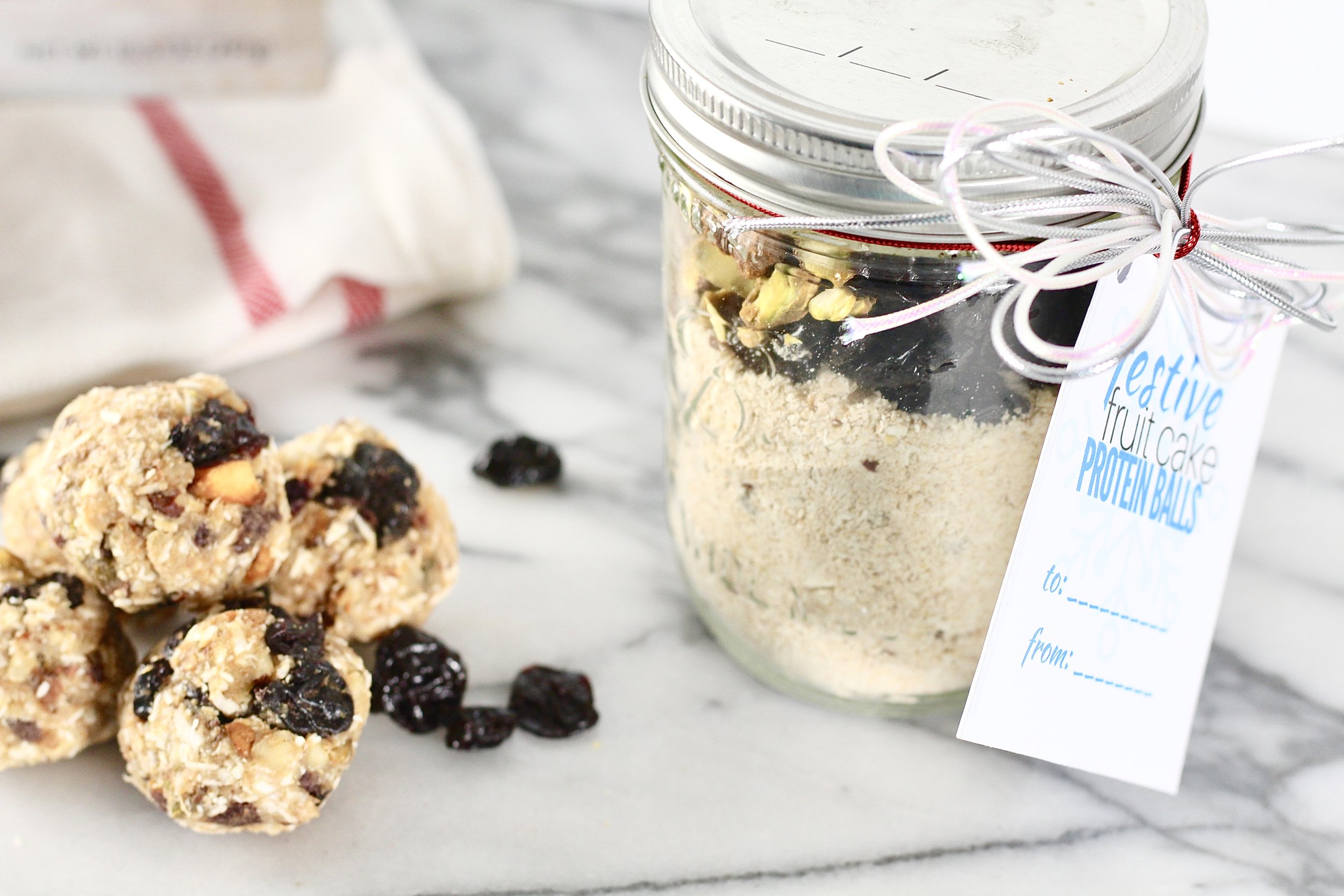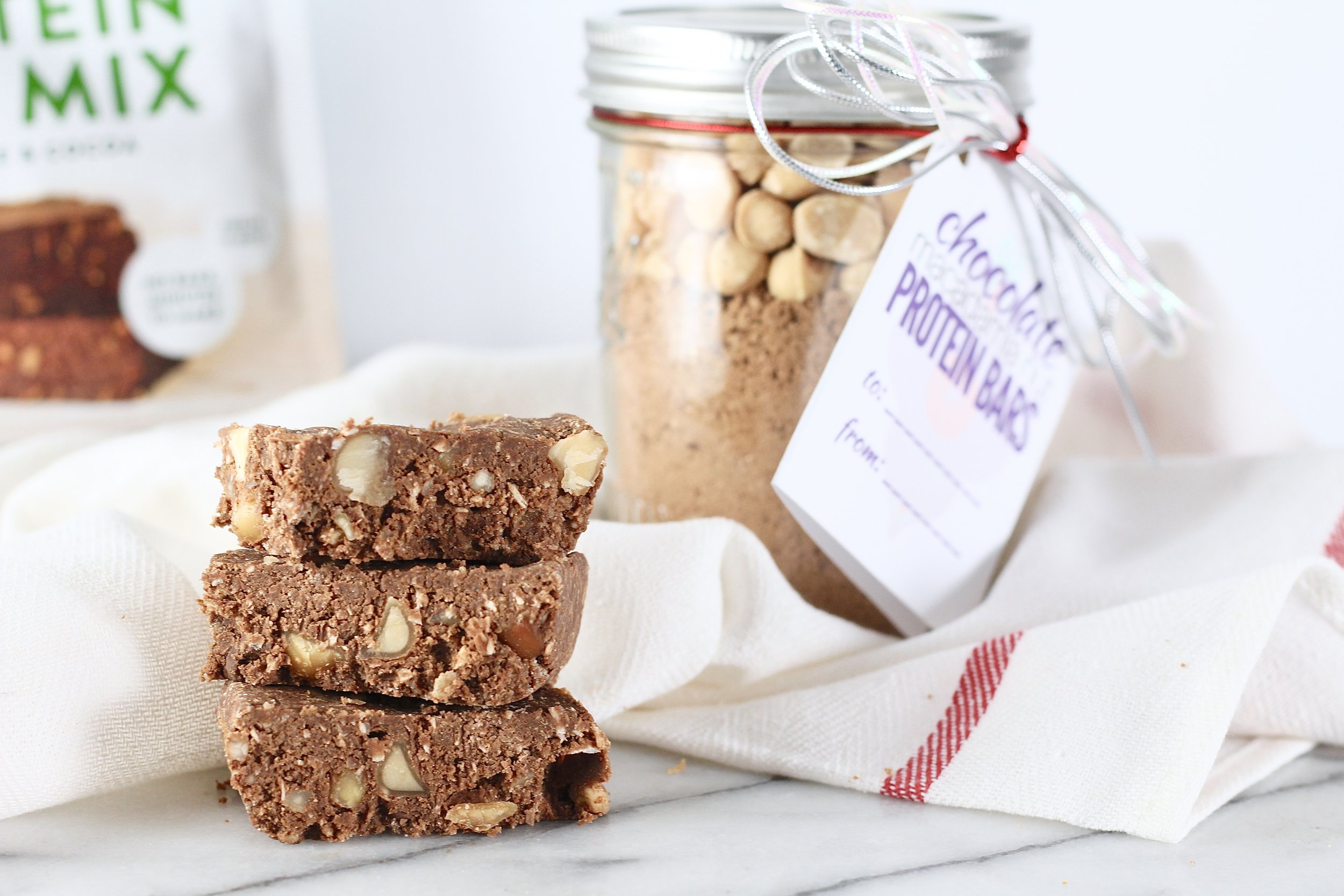 Here's some recipe card gift tags you can download:
White Chocolate Cranberry Energy Bites
Festive Fruitcake Protein Balls
Chocolate Macadamia Nut Protein Bars
Print out the above cards on a blank 3×5 notecard. Each download is two pages intended to be printed front and back on one card. Fold them in half and punch a hole where indicated. Use some twine, string, or ribbon to tie the cards to your jars.
Have another mason jar energy ball or protein ball idea? Tell me below!!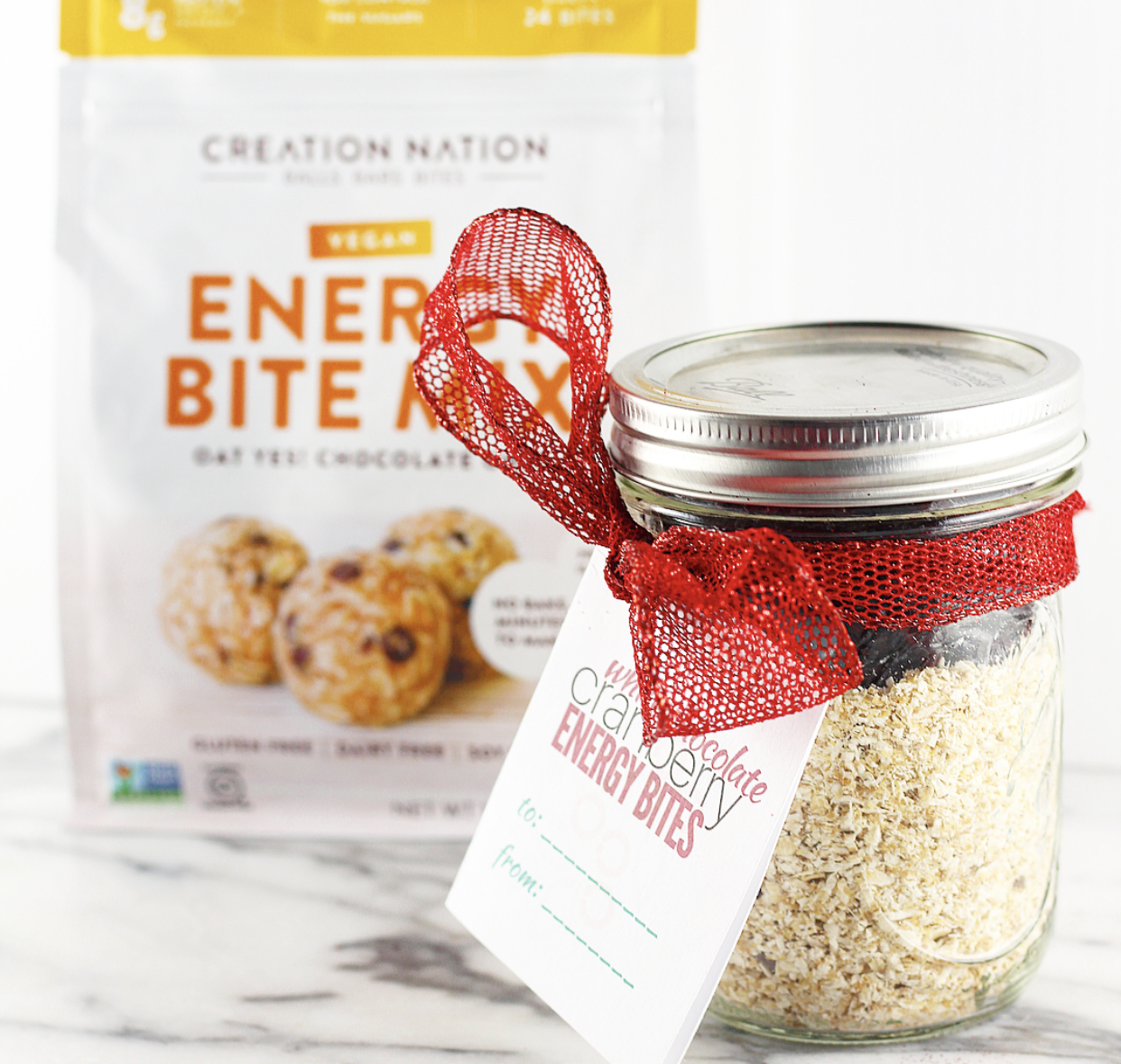 ---