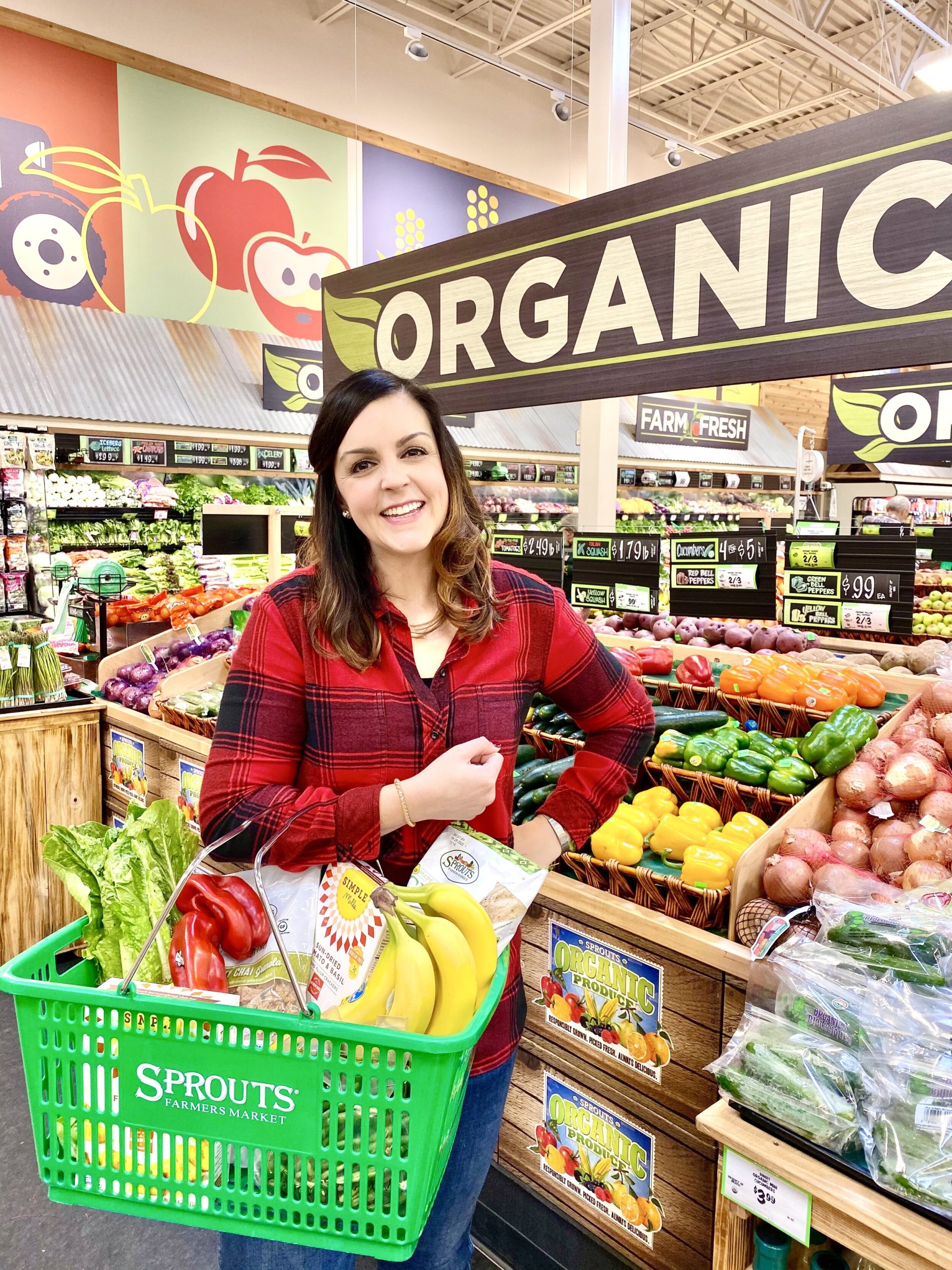 This post was sponsored by Sprouts Farmers Market. All thoughts and ideas are my own.
---
Happy new year and welcome to 2020!! All this month I'm going to be telling you how I save money while grocery shopping by sharing my gluten free grocery shopping tips to help you save money. I'll be focusing on how I save money on our family's gluten free grocery needs. If you weren't aware, my husband has celiac disease so our whole house eats mostly gluten free. Shopping gluten free can get very expensive if you're not careful, and if you don't know where to shop.
This month I am going to be sharing all about why I love shopping at Sprouts Farmer's Market and I thought it would be best to start at the beginning – at the store!
Come along as I show you exactly what I look for when gluten free grocery shopping, and how I save money each week!
You can save money before you even enter the store…
Before I head to the store, I always make sure to check that week's sales and the Sprouts app! Have you ever downloaded your grocery store's app?  They offer everything from mobile coupons to meal planning features to grocery list options. I LOVE the Sprouts app for one main reason… it's the easiest to use out of any grocery app I've found. Just pick your store location and clip your coupons… that's it. And then you just scan your personal barcode (found in the app) at checkout and it downloads all of your coupons. AND you'll notice that the coupons offered each week are typically on top of things that are already on sale that week which means MAJOR savings.
If you have a Sprouts location near you, make sure to download the app here.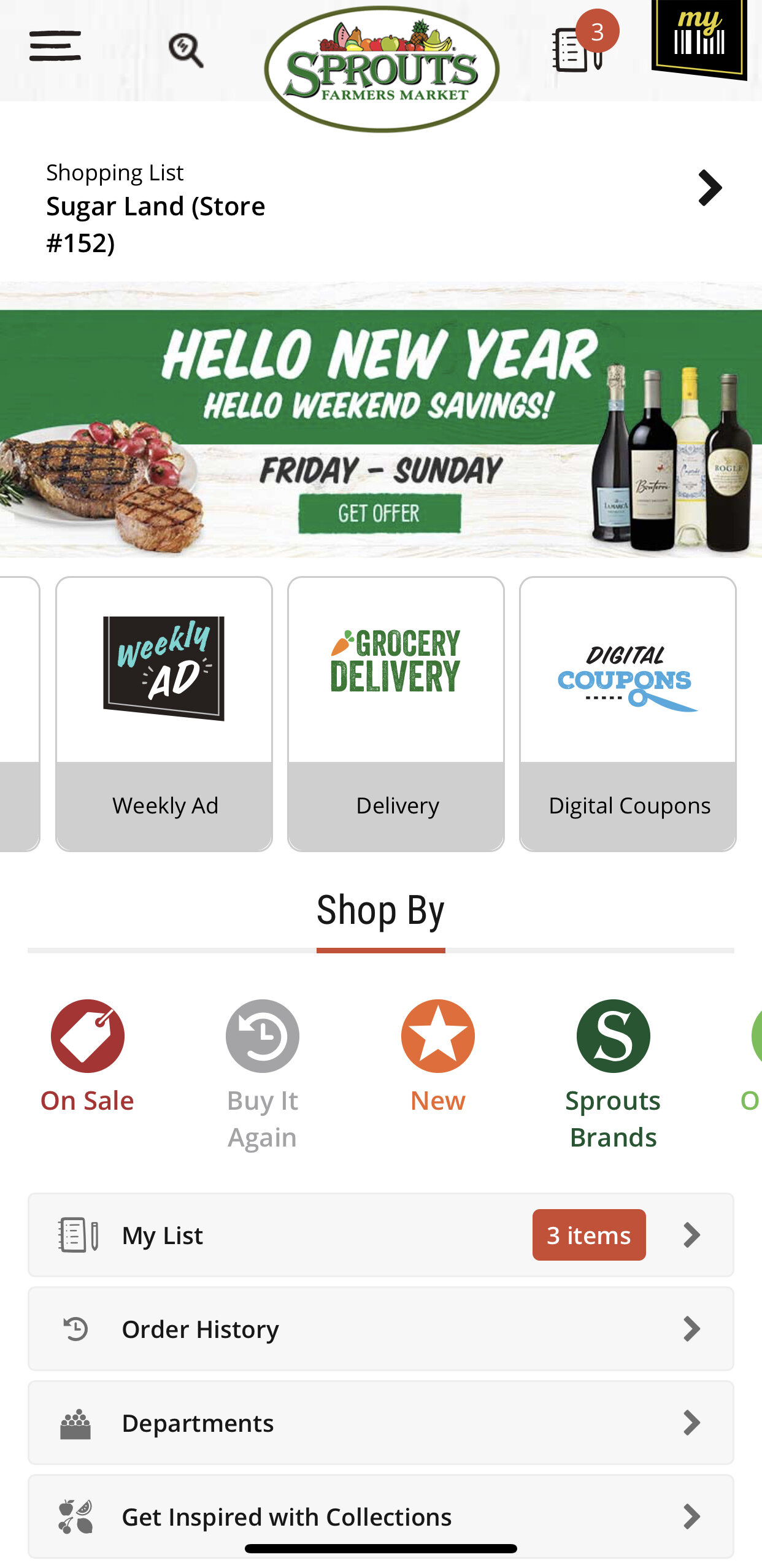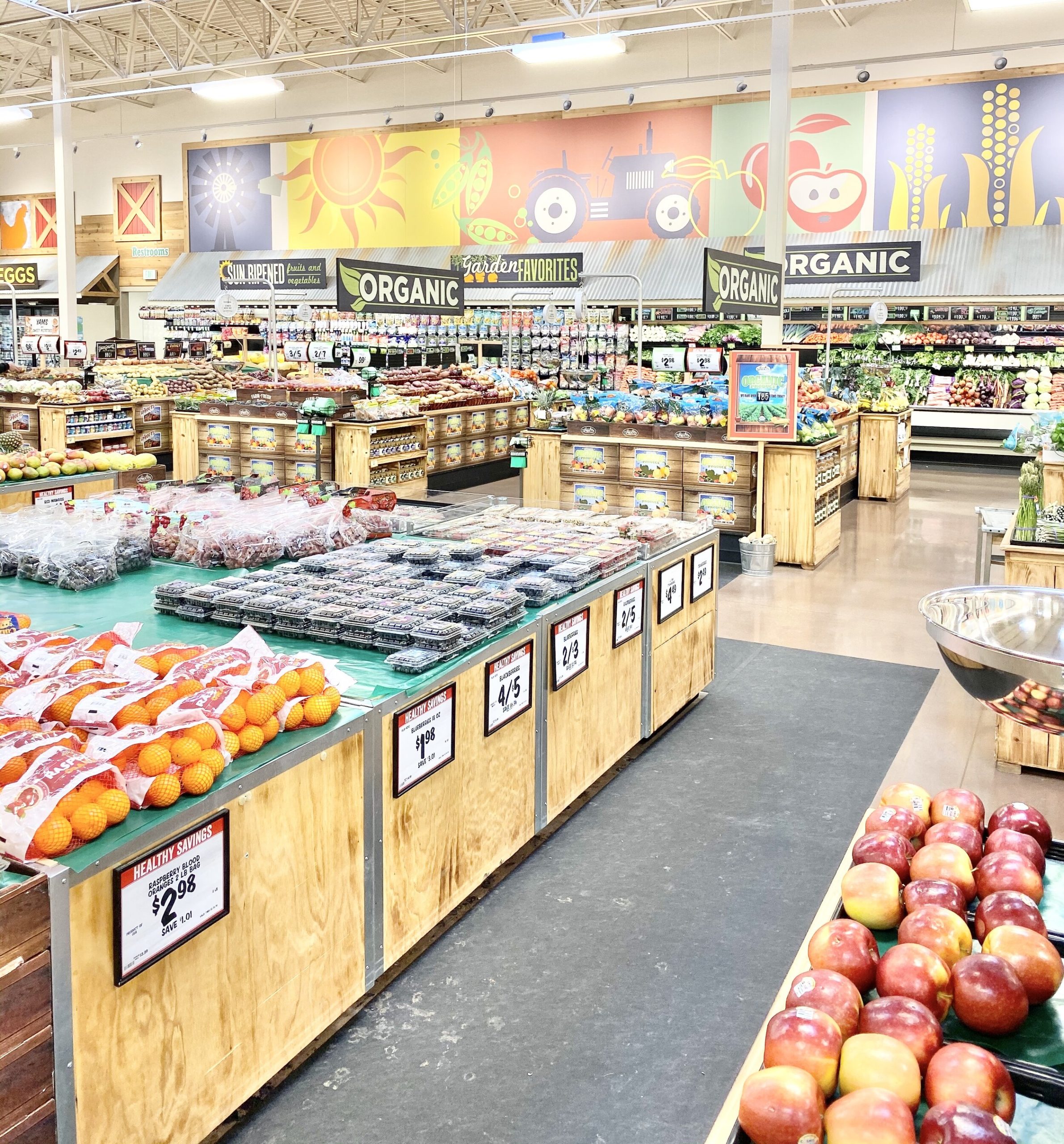 You'll never get lost in a Sprouts…
There's nothing more frustrating than attempting to grocery shop in a new store when you're not familiar with the layout, or when they change up the layout of your existing store! There's a reason most of us have one or two stores we always go to. Whether you're making a huge haul or just running in for a few things, it helps to know where things are. I love that all Sprouts stores are meant to be small. They don't put anything in your line of sight in the middle of the store, so you can see the entire store from any spot. Curious where something is? You can survey each section because they design each store to be open and welcoming… and probably my favorite thing is that the produce section is intentionally located at the center of every single store!
Shopping store brands will save you money…
I feel like this might be a given, but buying store brand products at any store will save you money. And often they're made by the same manufacturers that name brand products are. At Sprouts, the options are incredible! They have everything from pantry and refrigerator staples to novelty products you'll find yourself wanting to buy each week. And many of the Sprouts brand products are certified gluten free. Click here to view all of the Sprouts Brand gluten free products (there's a lot!).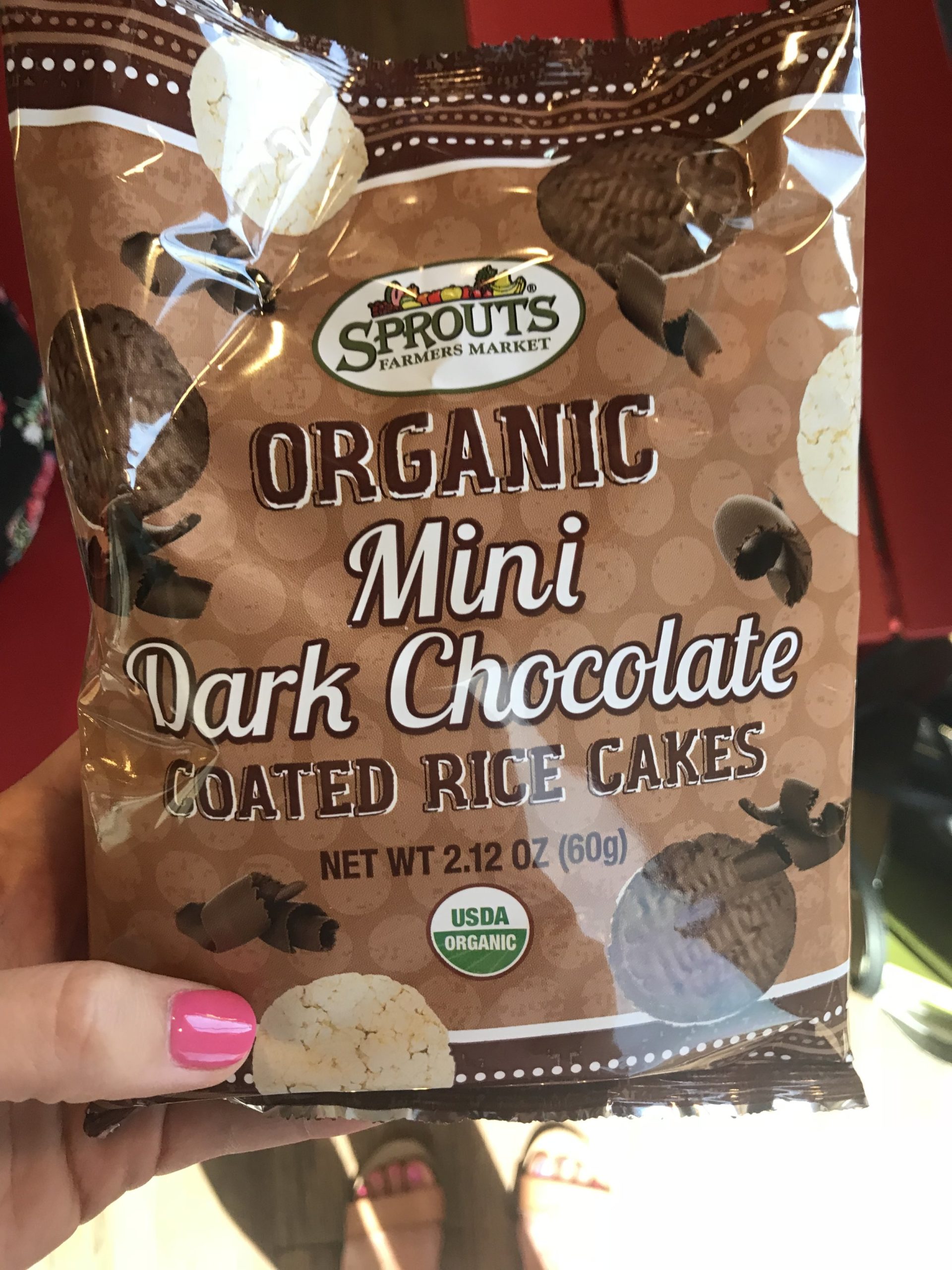 Now let's get shopping! Gluten free grocery shopping tips to help you save money…
Remember, if you need or want to avoid gluten, you're avoiding any products or ingredients derived from wheat, rye, barley, and oats (WRBO) (Exception: oats are innately gluten free, but typically come into contact with gluten when they are processed. So, if you're shopping for oats, make sure to buy oats that are certified gluten free.)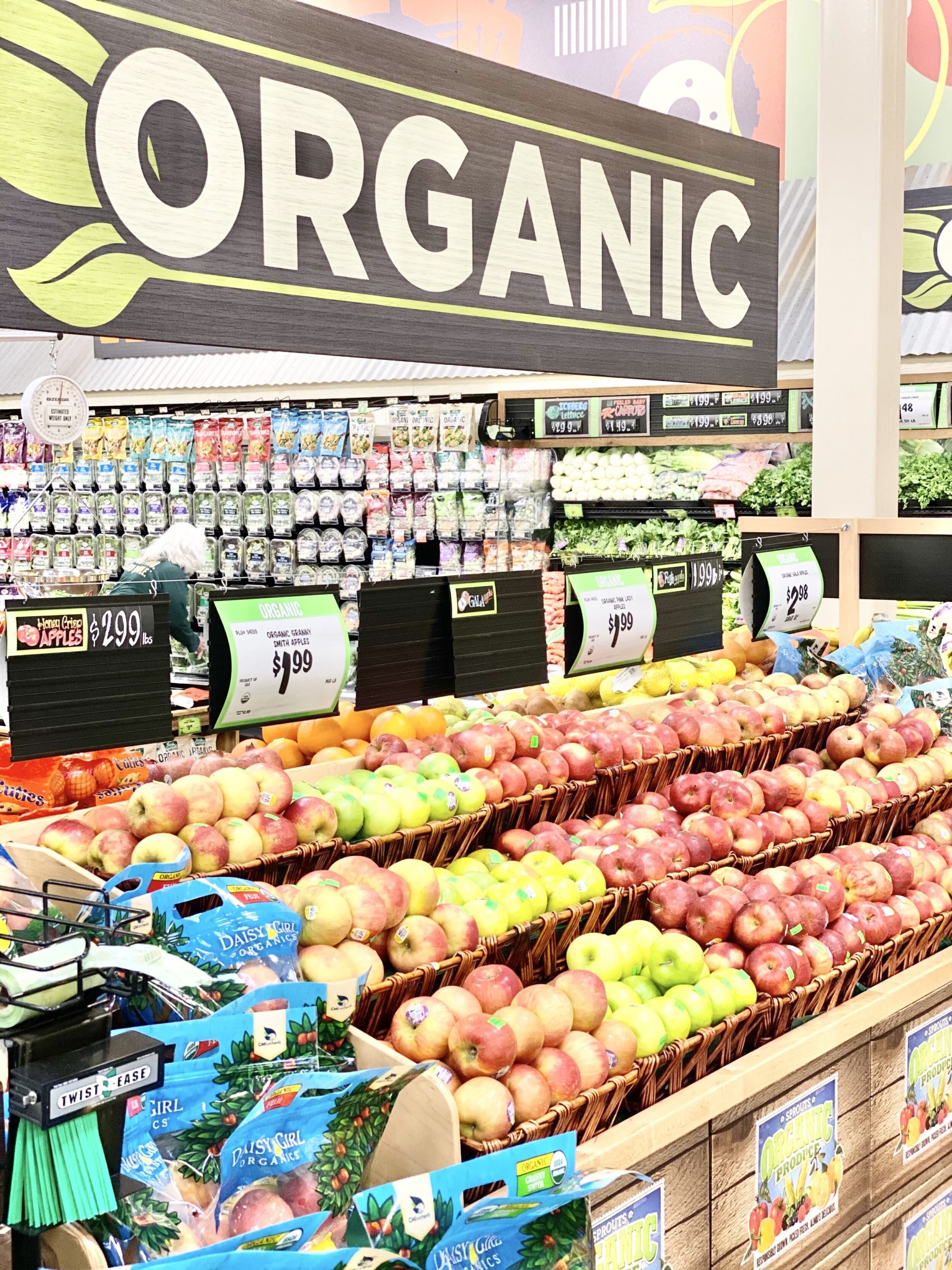 Produce
Since all forms of fresh produce are free of WRBO, the ENTIRE PRODUCE DEPARTMENT IS GLUTEN FREE. It should be the primary section that you shop in. You can check the Sprouts sales for their amazingly low prices on organic produce as well as any specials within the app. My year round staples include: broccoli, cauliflower, carrots, apples, sweet potatoes, leafy greens, blueberries, avocados, and grapes. And I love to shop for some seasonal favorites at different times throughout the year like: strawberries, watermelon, blood oranges, and spaghetti squash.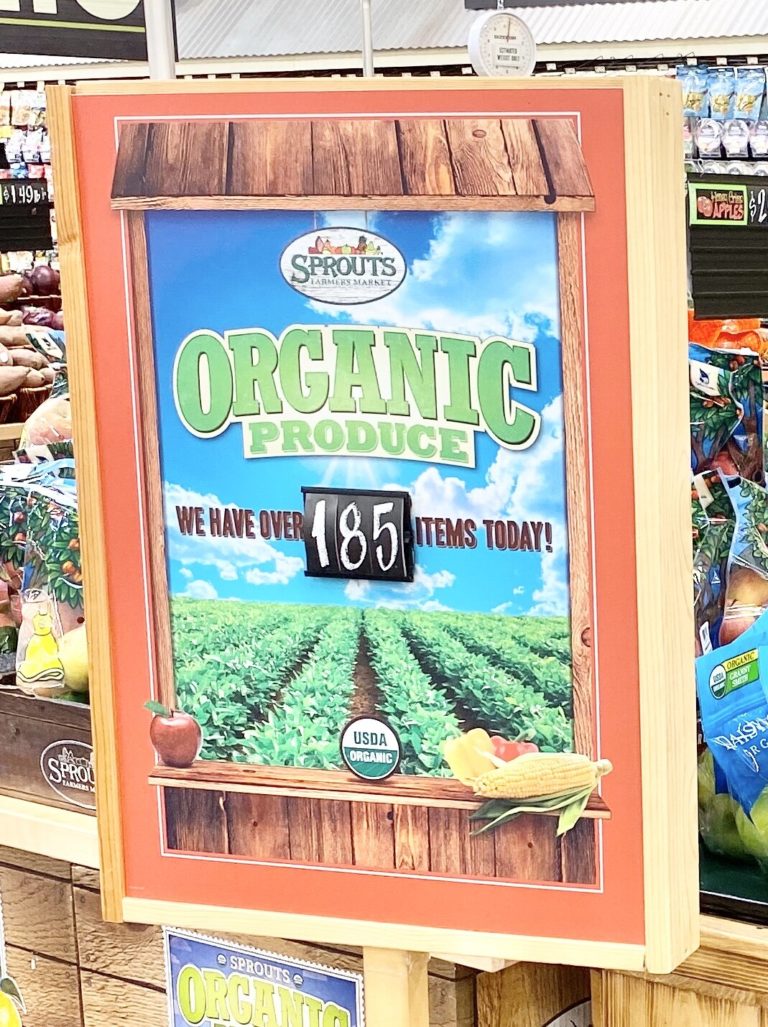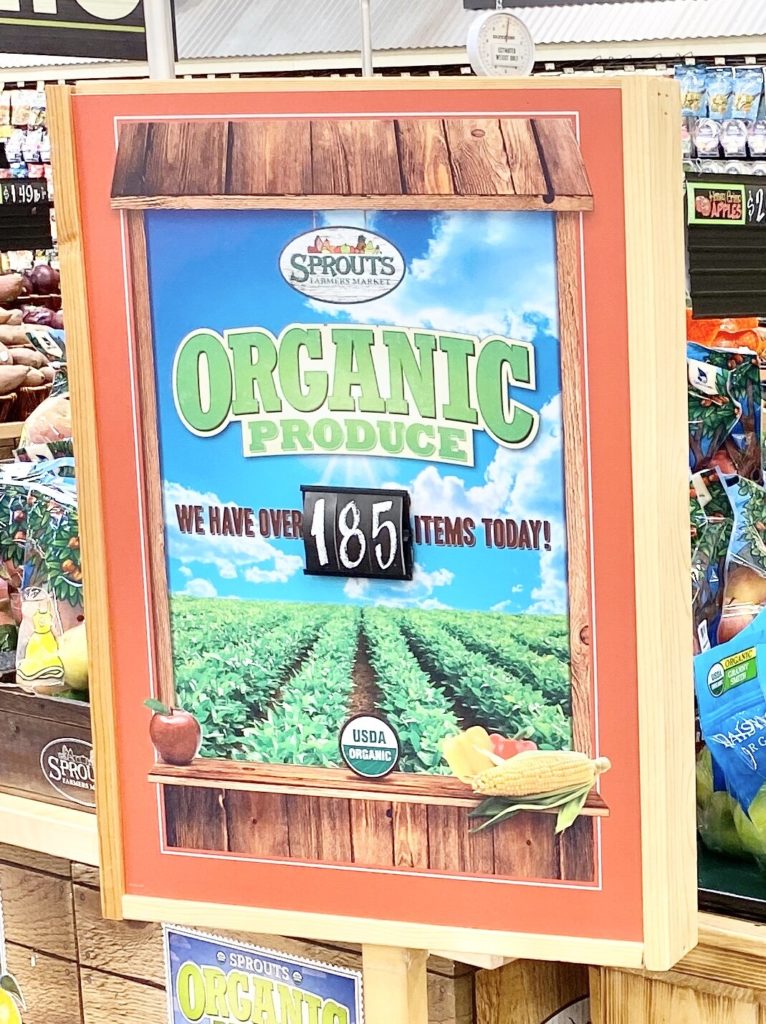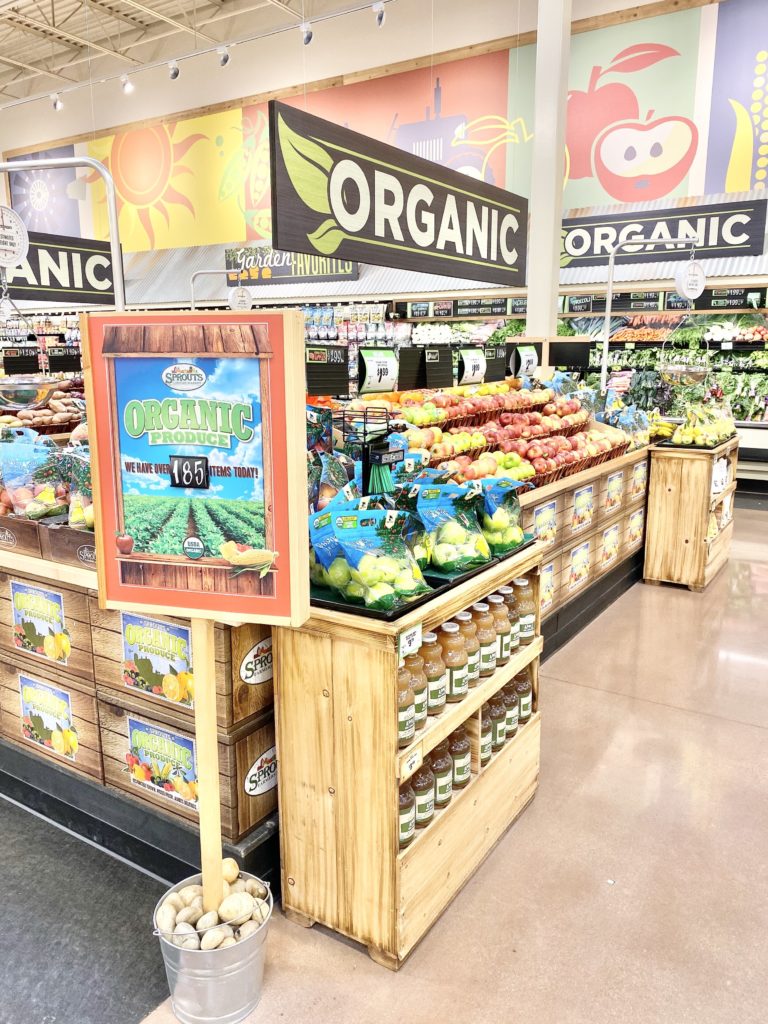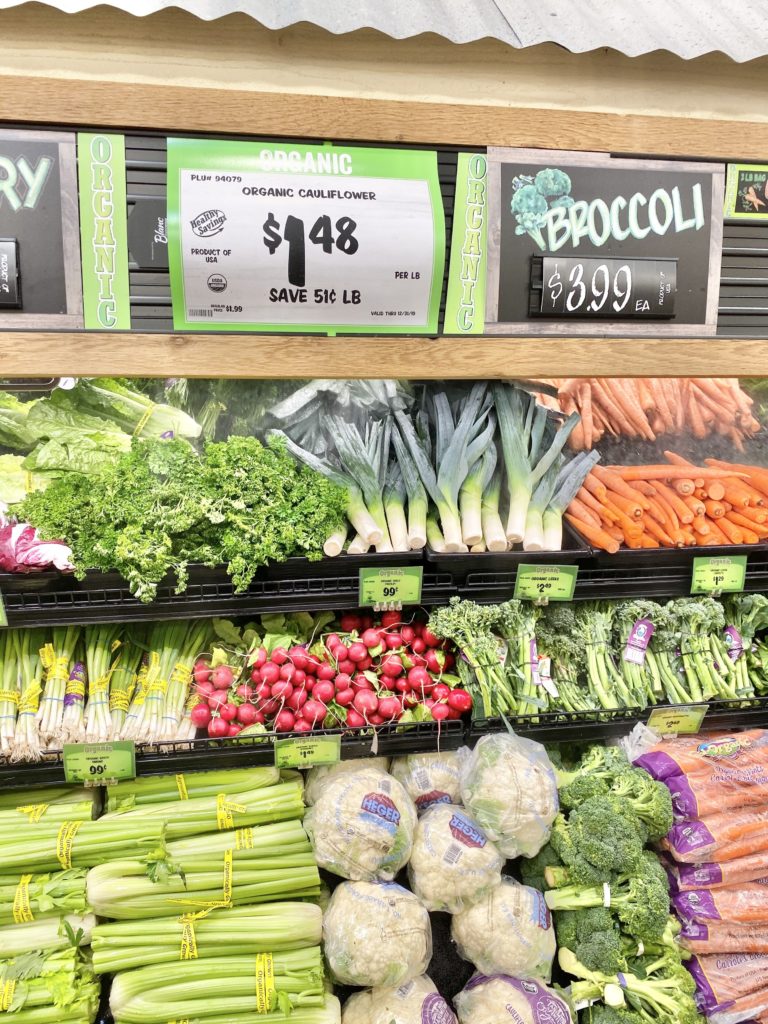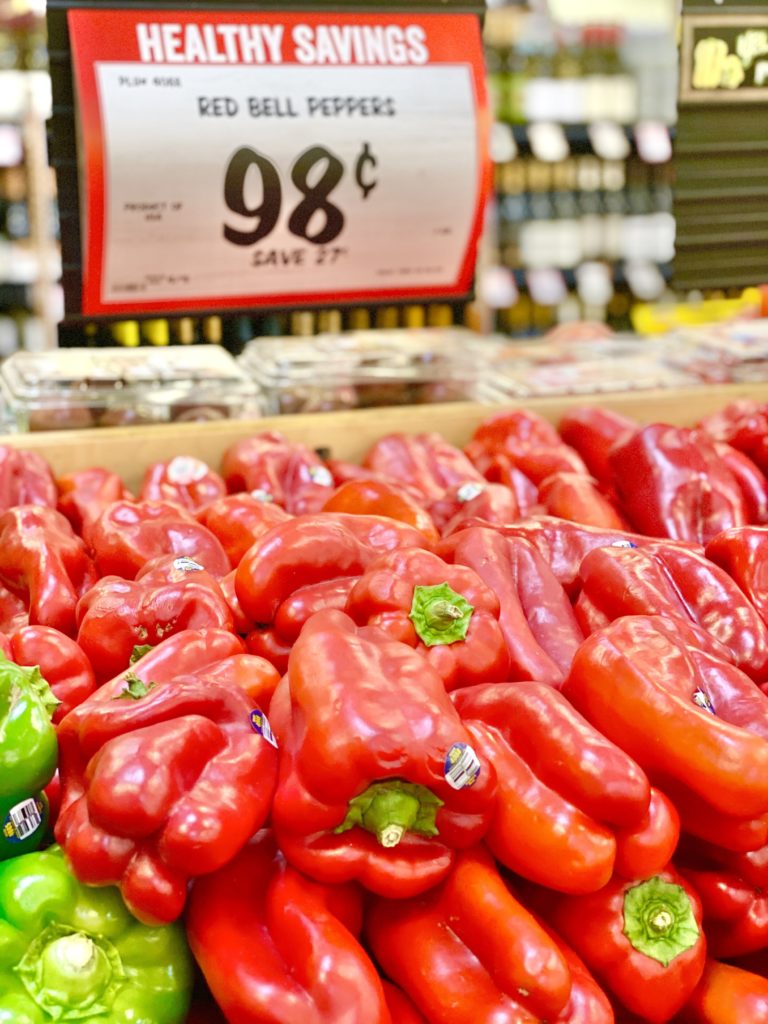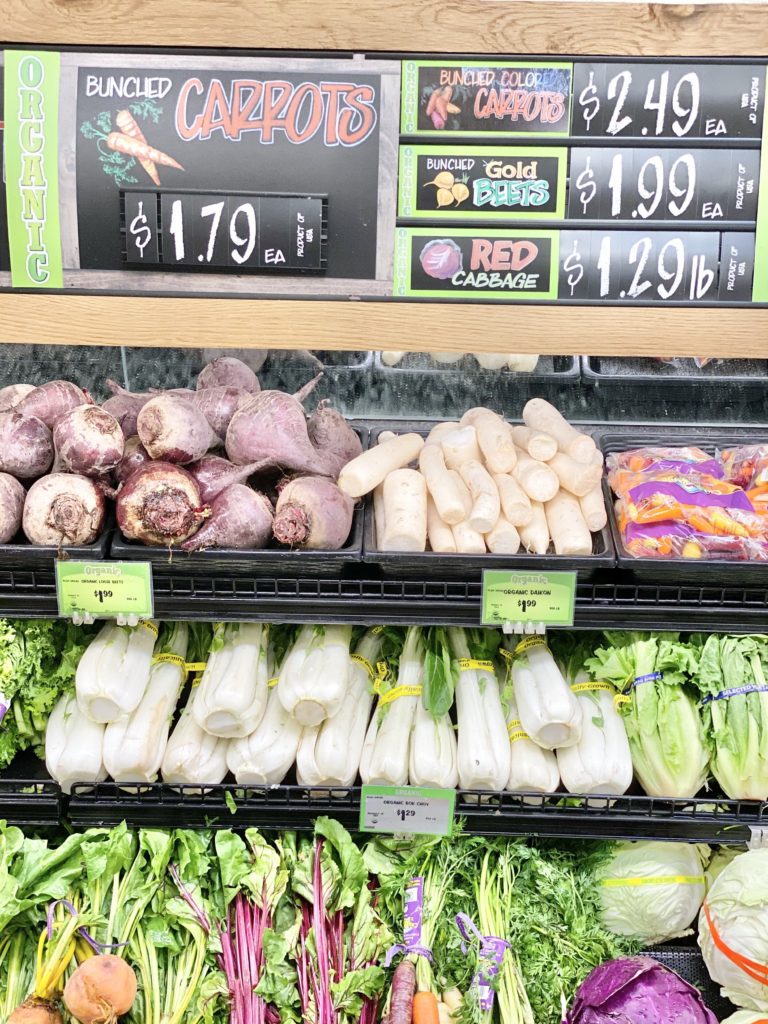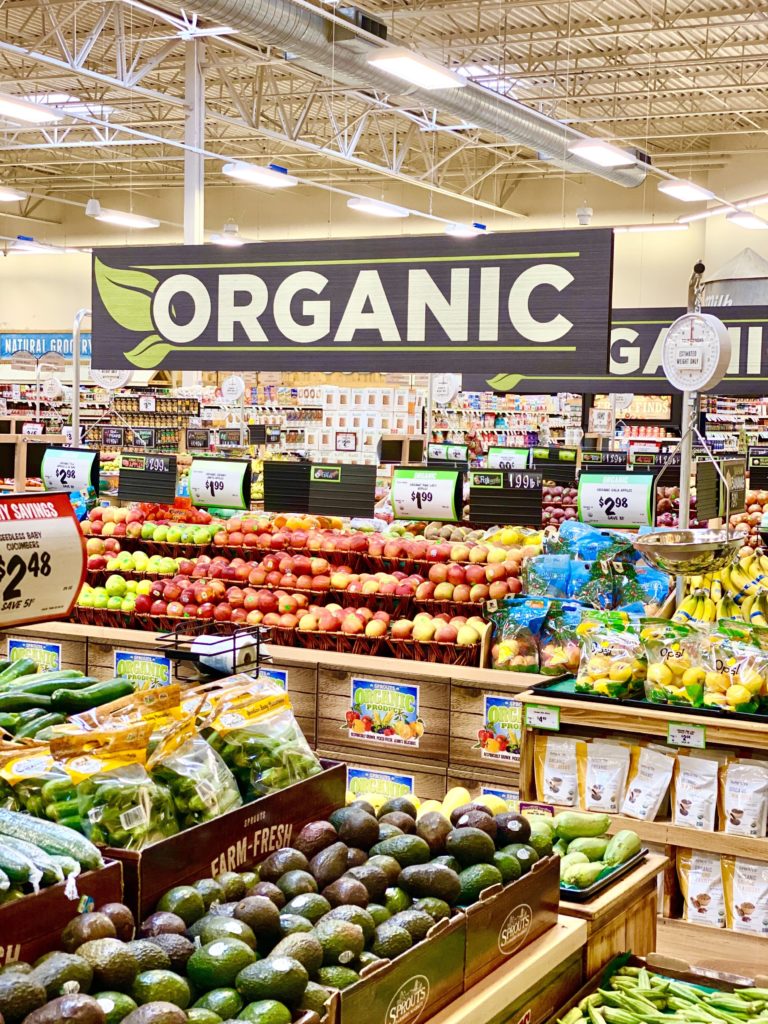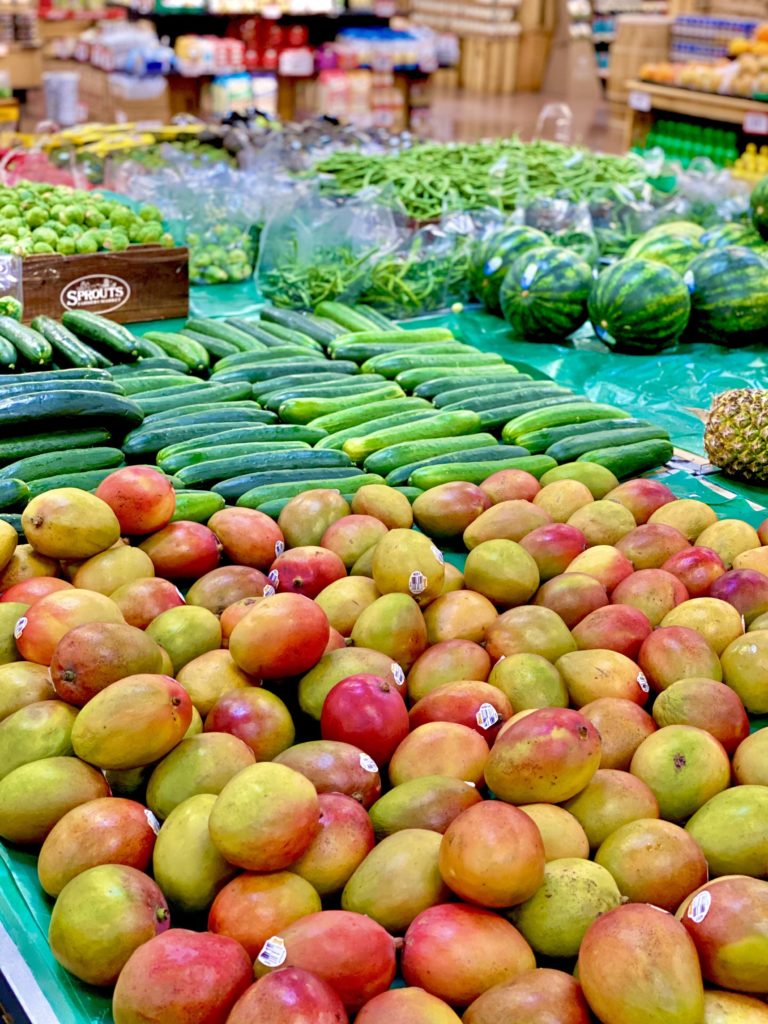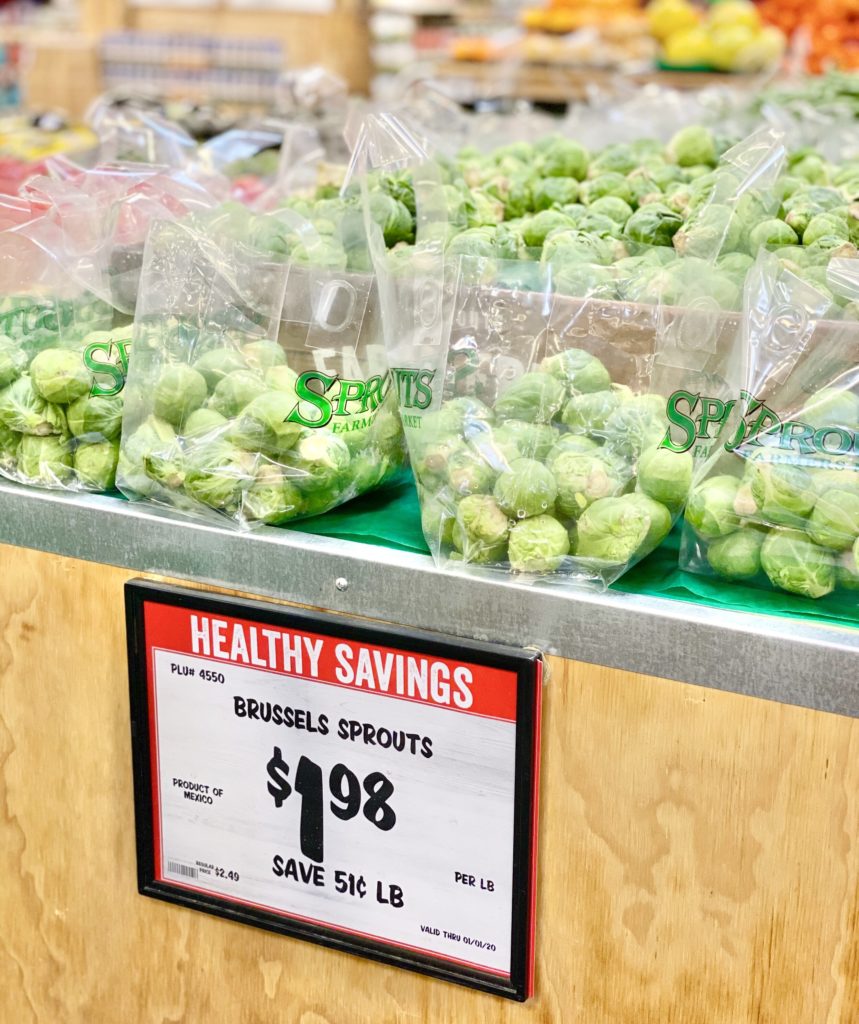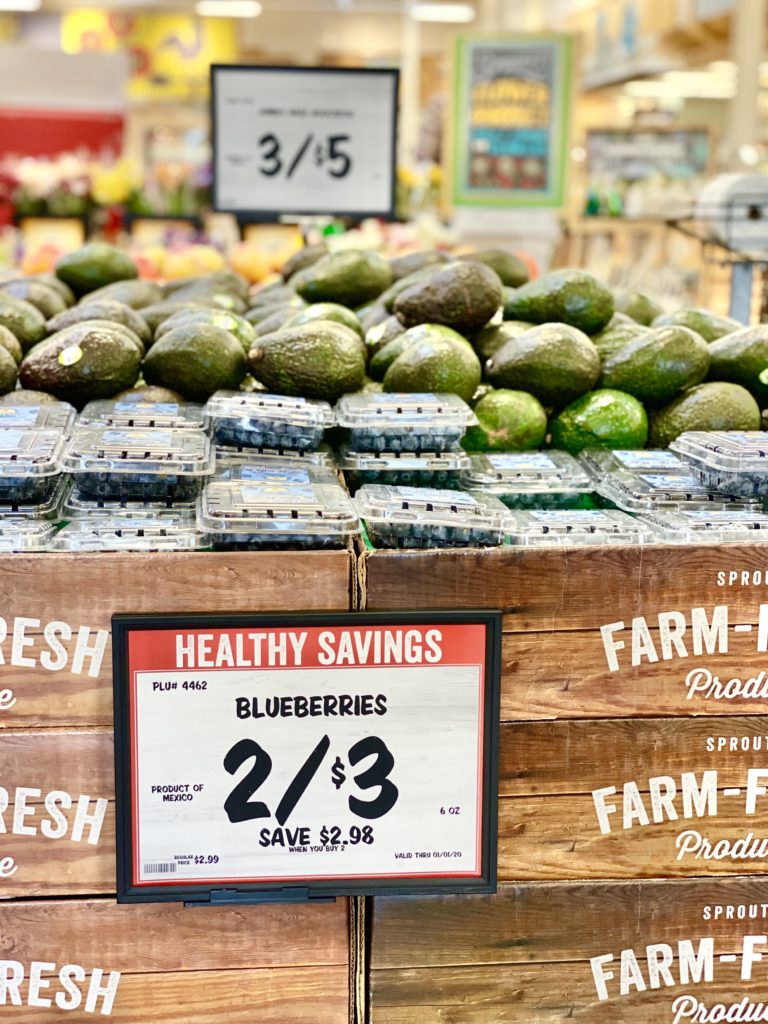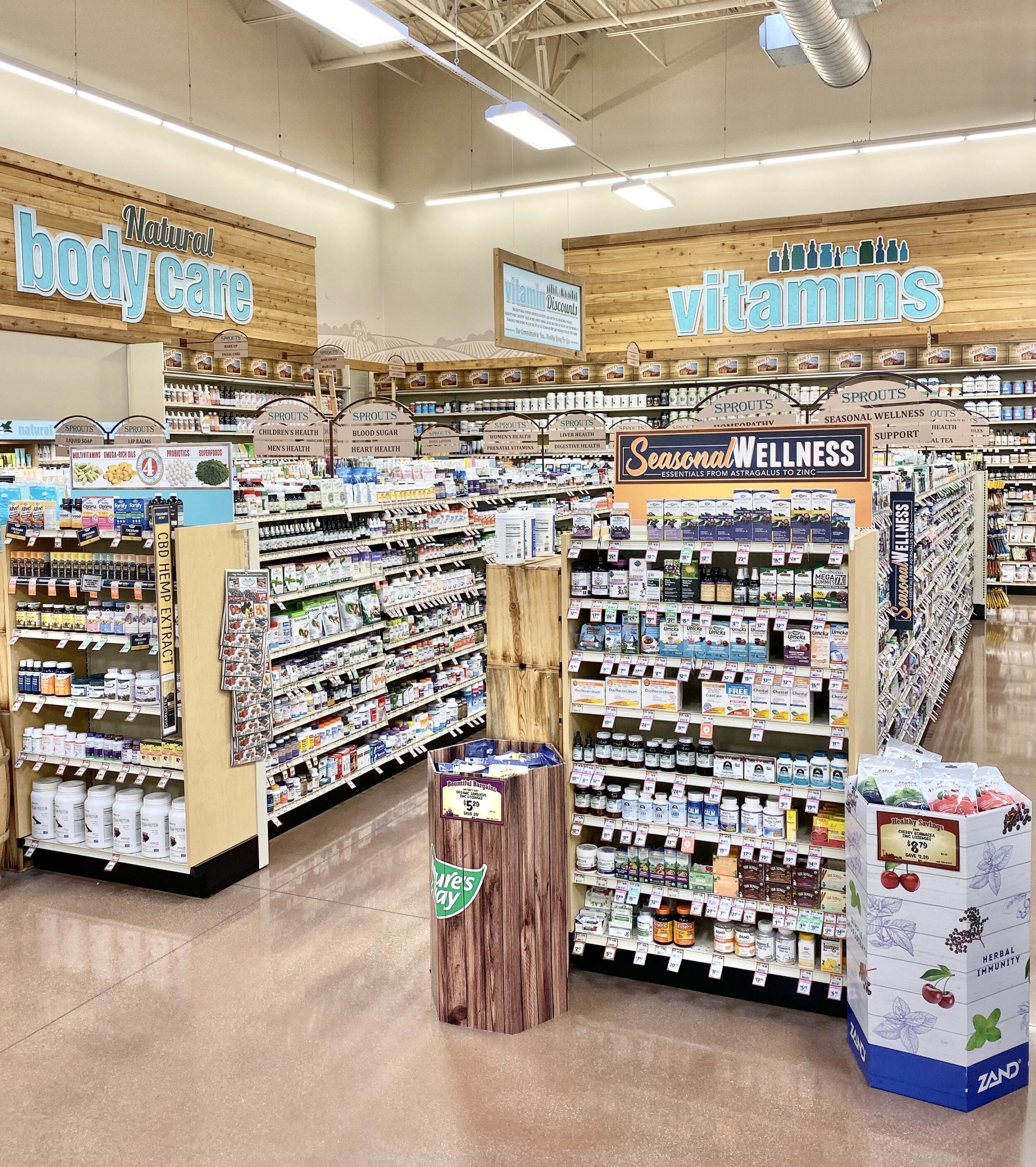 Vitamins and Body Care
It's so easy to find all the vitamins and body care products I need at Sprouts. Every time I shop the aisles, someone is there to answer my questions and recommend the best products for me. (Tip: If you want to try something and end up not liking it, you don't have to purchase it! It's a little known Sprouts policy that you can try anything at zero risk to you.) Many of the vitamins, supplements, and body care items are certified gluten free.
Some fo my favorites from this department include: Andalou Naturals facial products, Sprouts Brand makeup wipes, Mineral Fusion Mascara, Smarty Pants Kids Vitamins, and MegaFood supplements.
And make sure to keep an eye out for the Vitamin Extravaganza each quarter where the entire department is 25% off!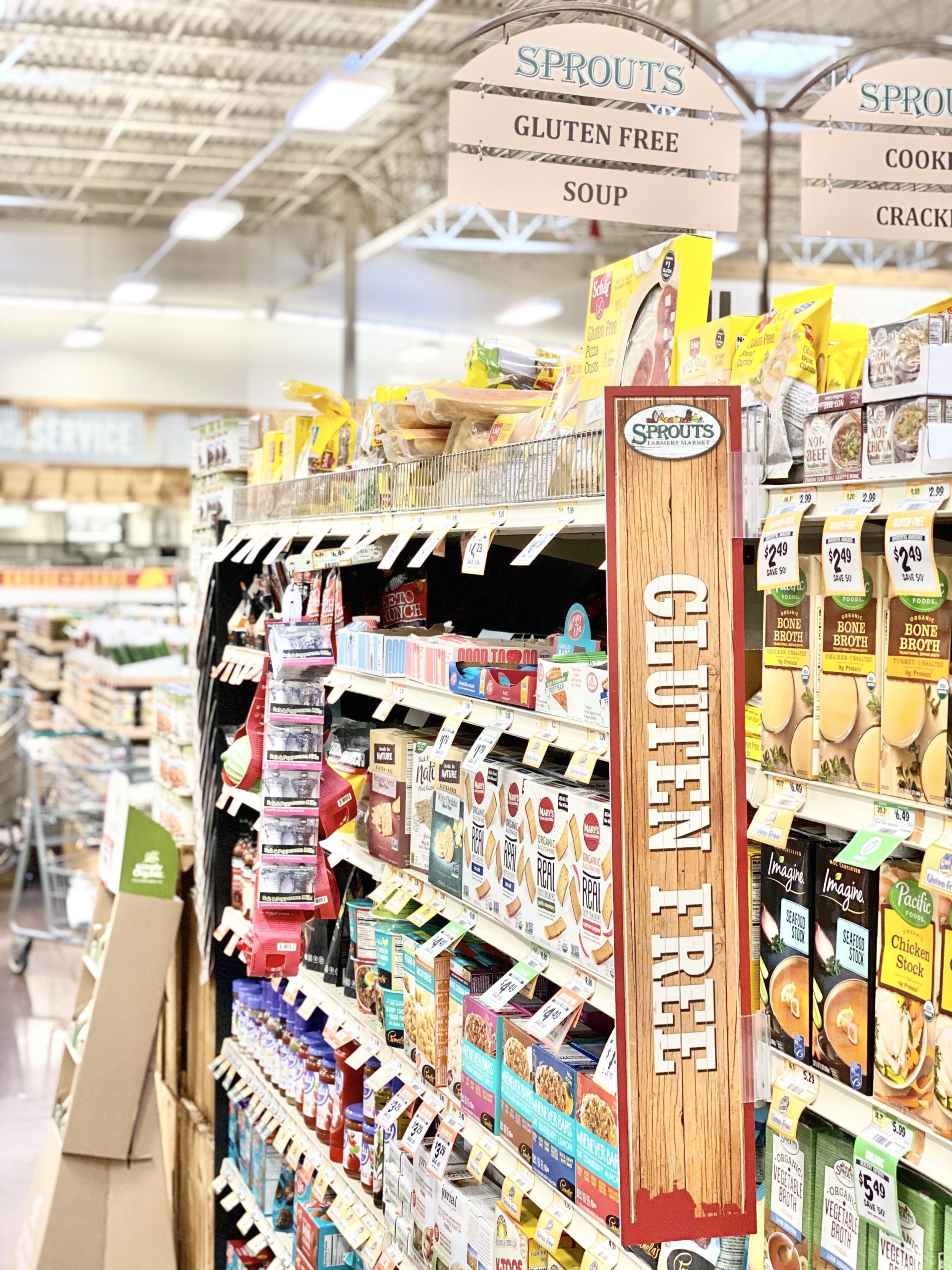 Grocery Aisles
Shopping for gluten free products in the grocery aisles is so easy at Sprouts. Each item that is certified gluten free has a convenient little tag (see the photo below) so you can easily spot your favorite items, know exactly what to buy, and where to find it. Some of my favorite gluten free grocery aisle items are:
Sprouts Brand: Red Lentil pasta, salad dressings, granola, coconut rolls, canned beans, jarred salsas and dips.

Other brands: Simple Mills crackers and baking mixes, Bobo's oat bites, Schar bread and graham crackers, Lily's chocolate chips, TastyBite meal kits, Beanitos chips, SkinnyPop popcorn, and so many more.
Make sure to visit the Sprouts website and search through all fo the gluten free products they sell!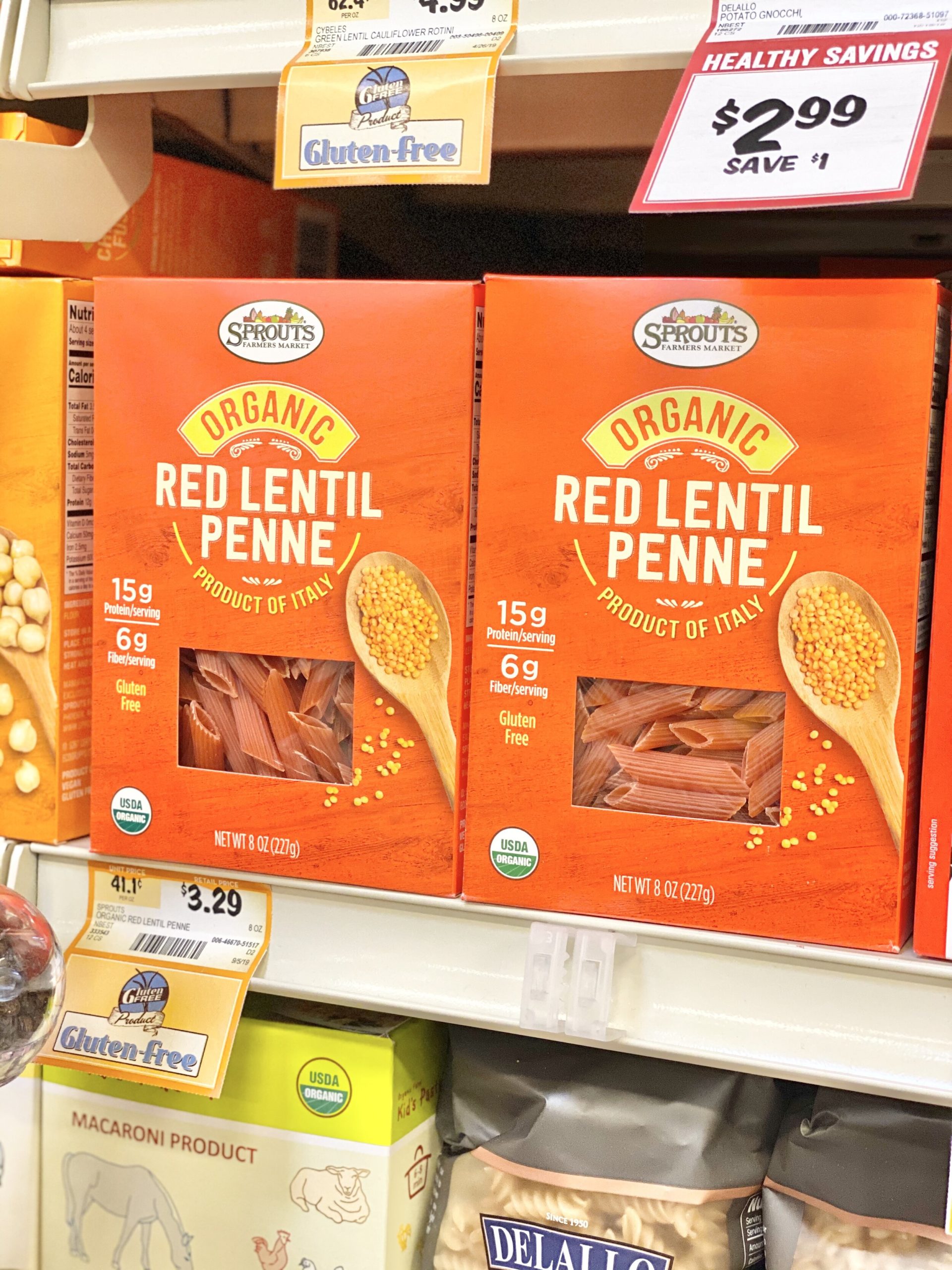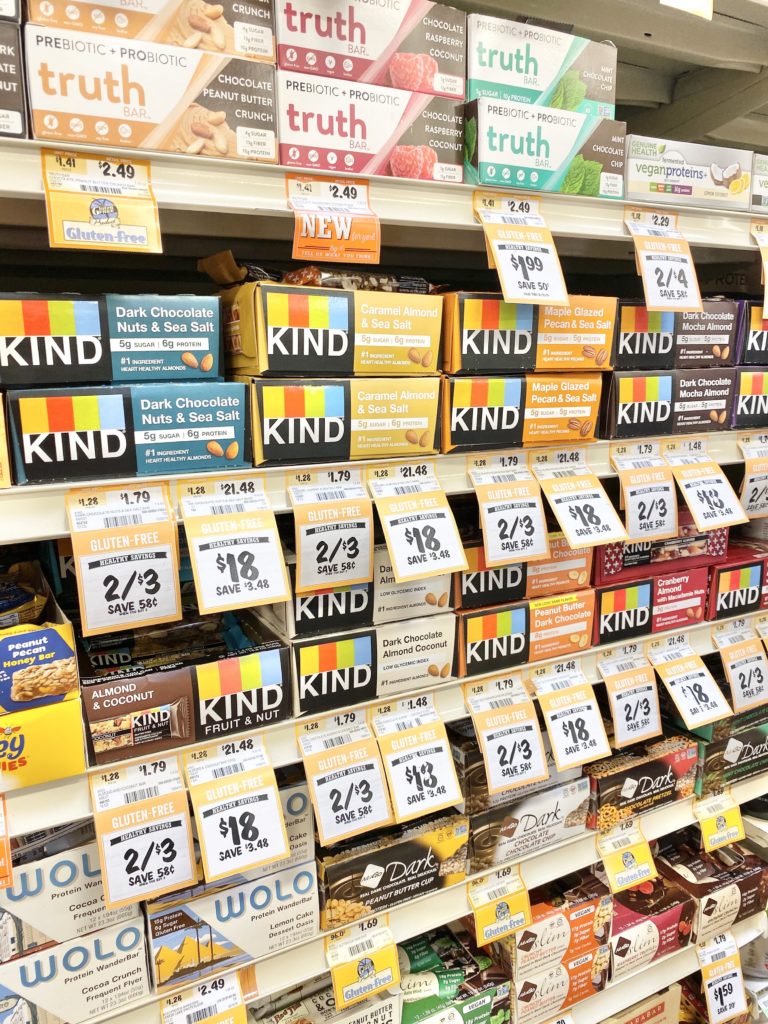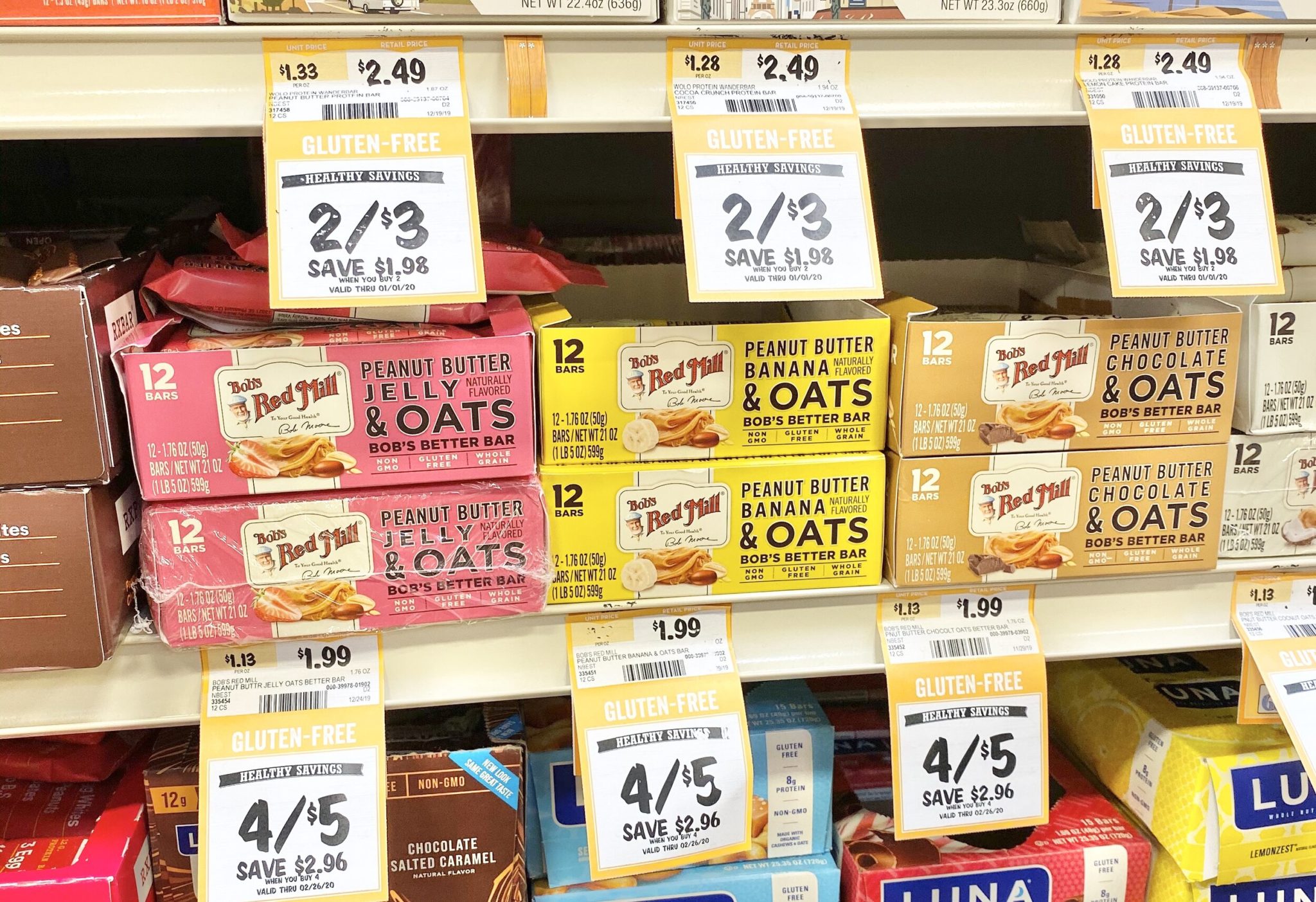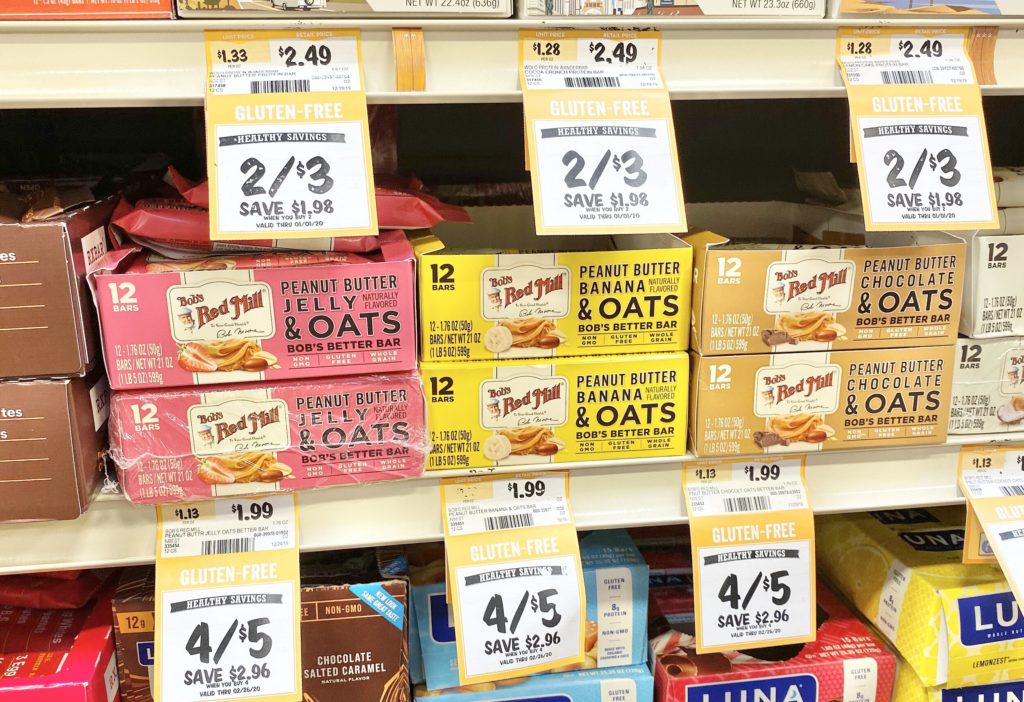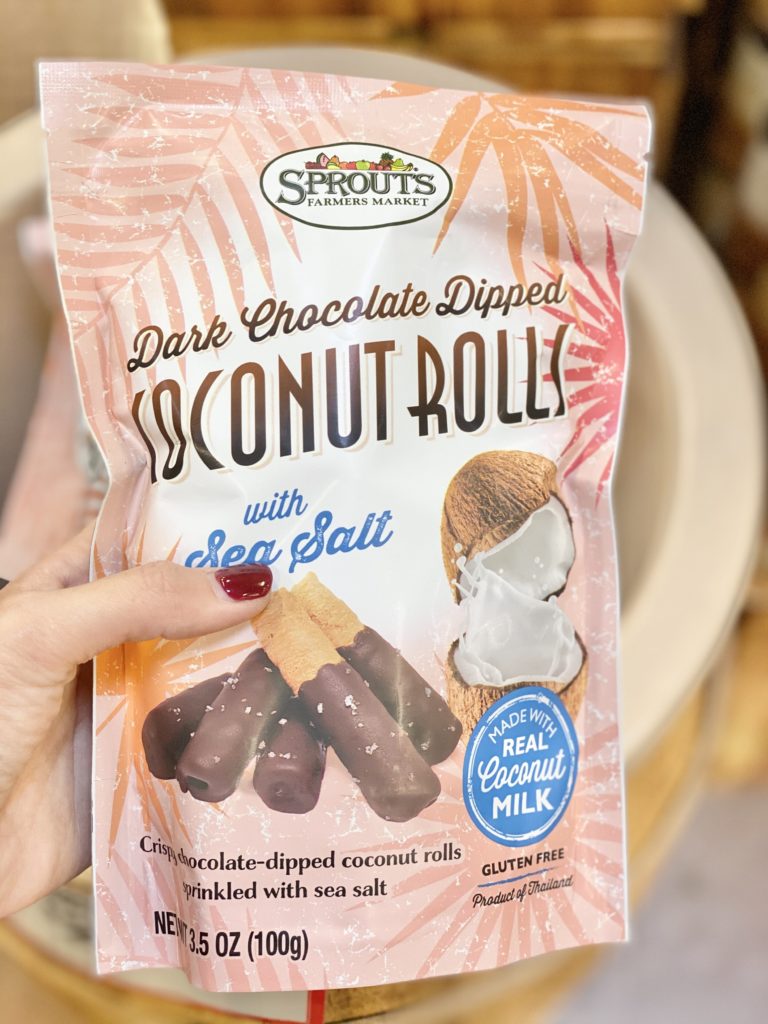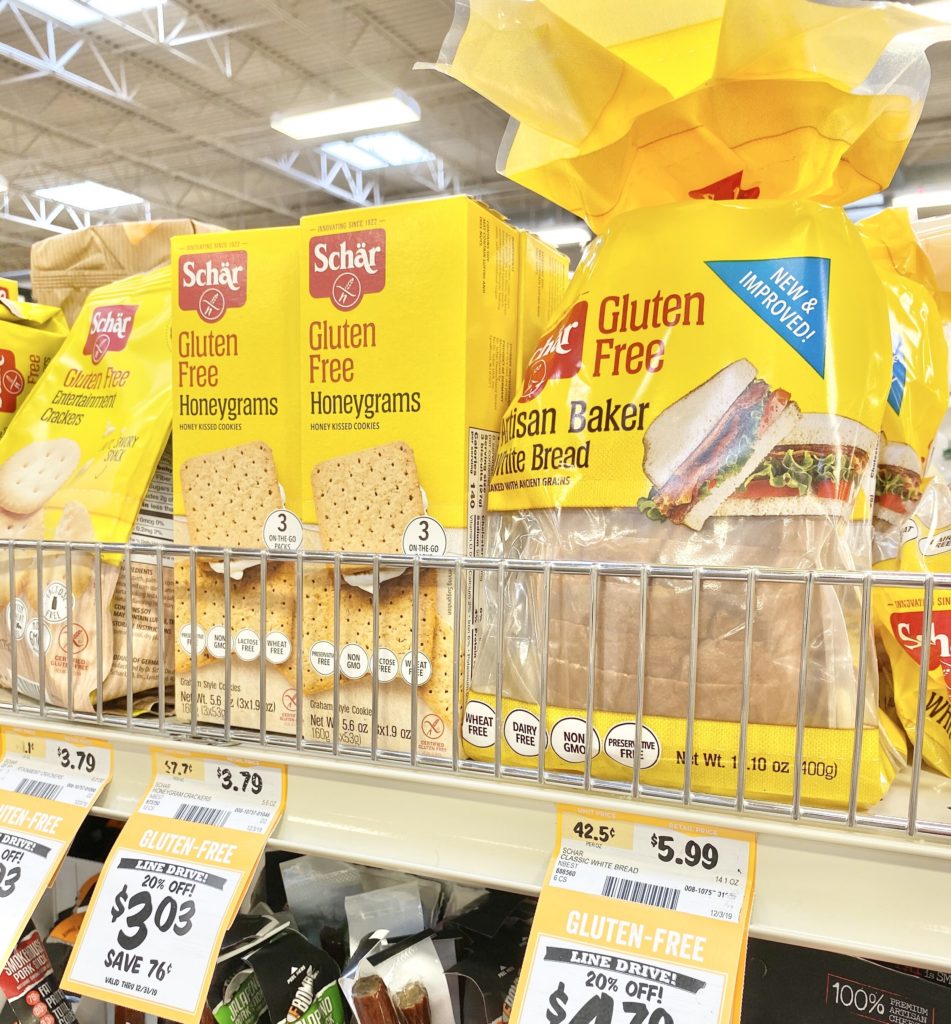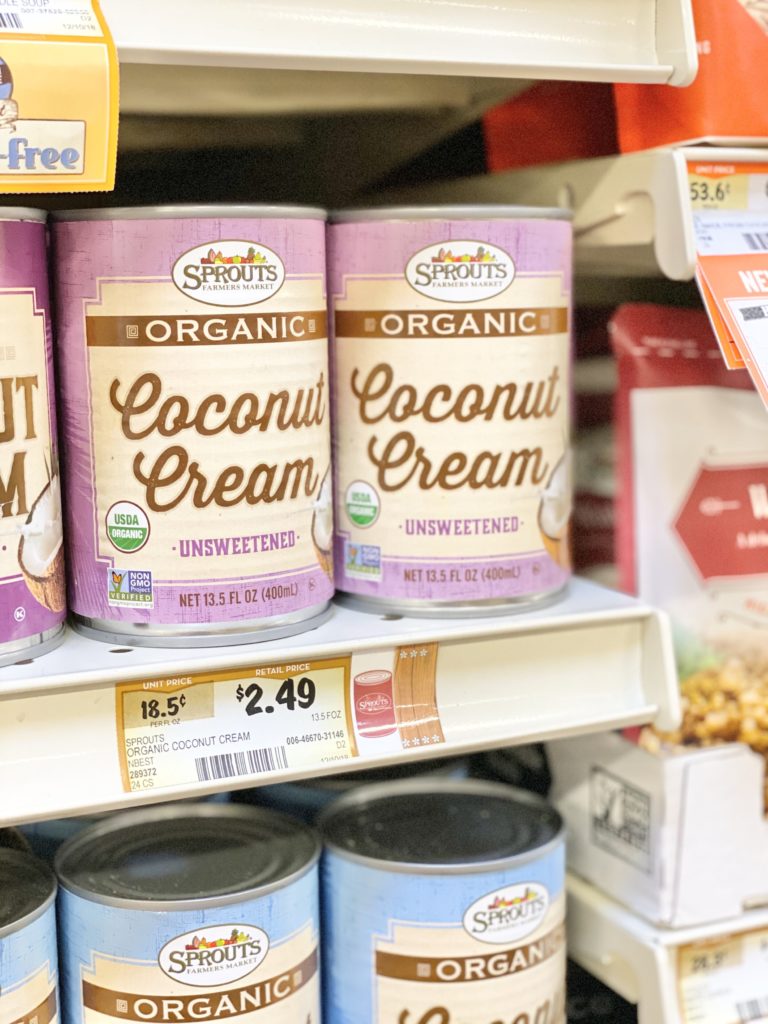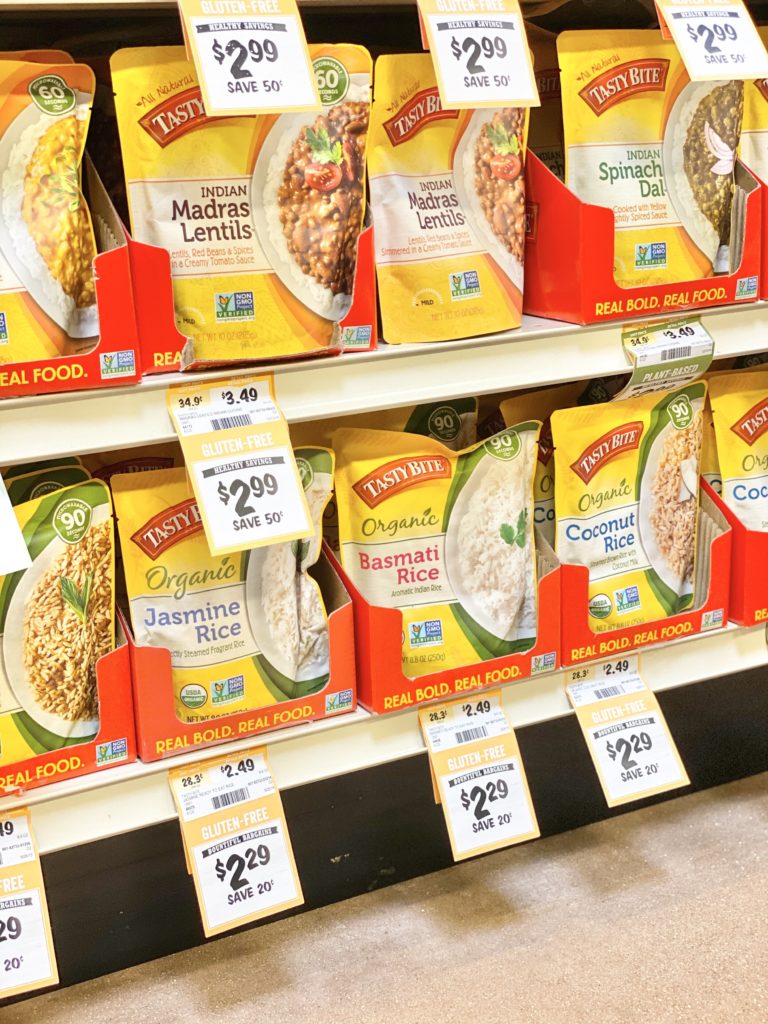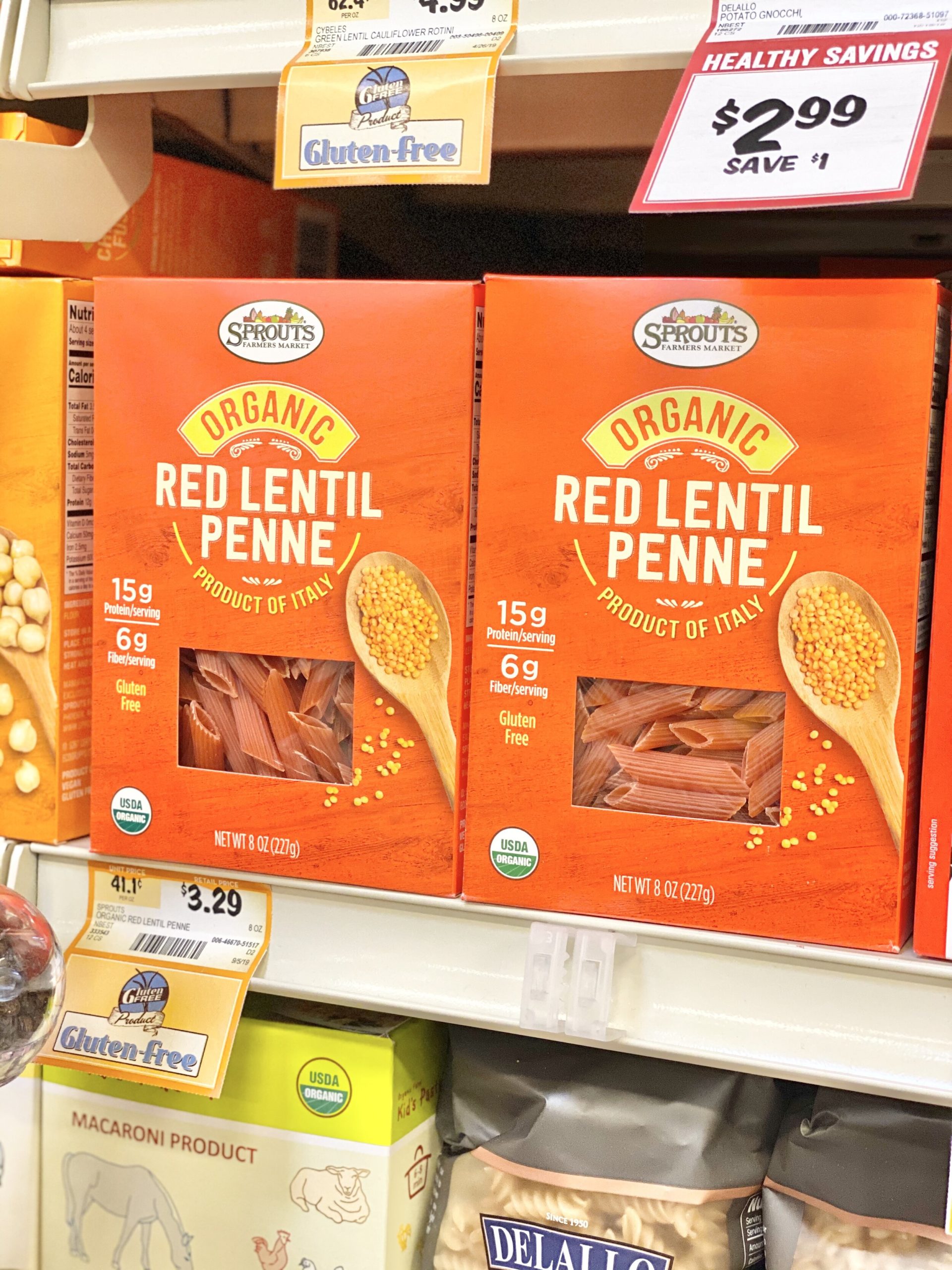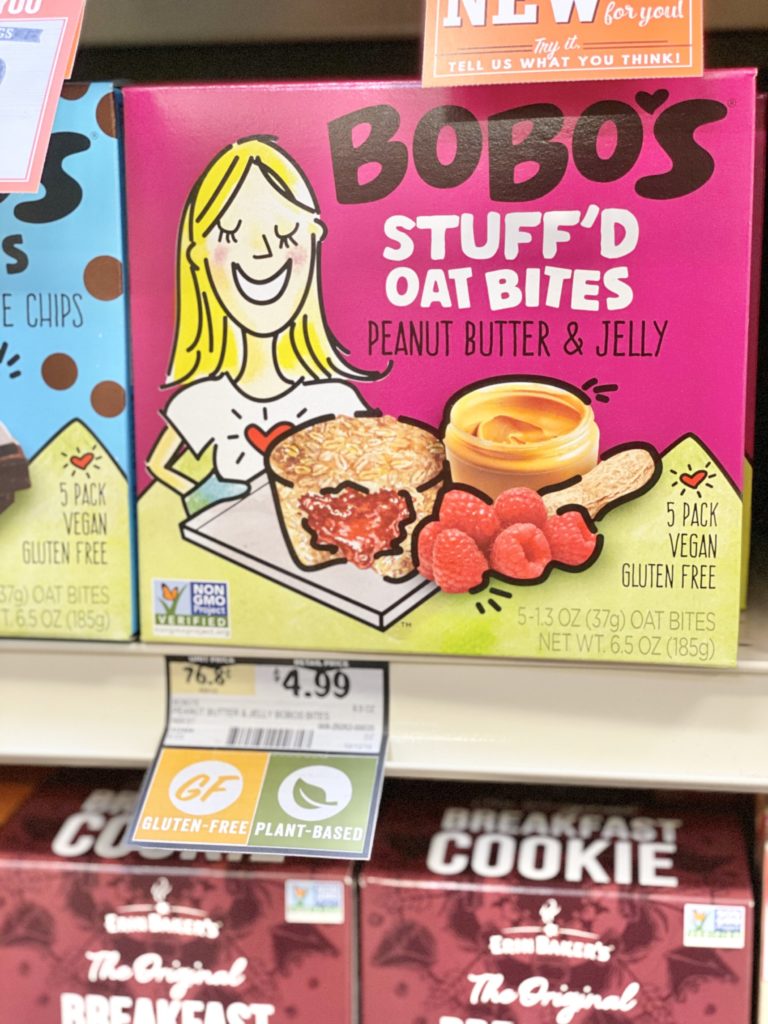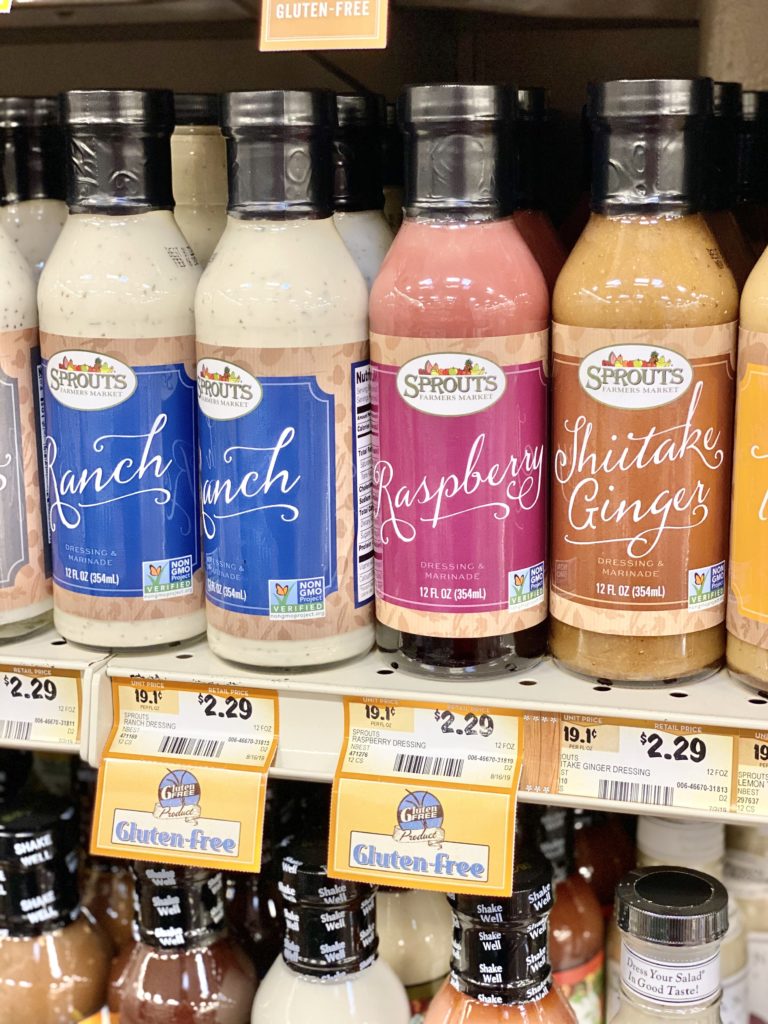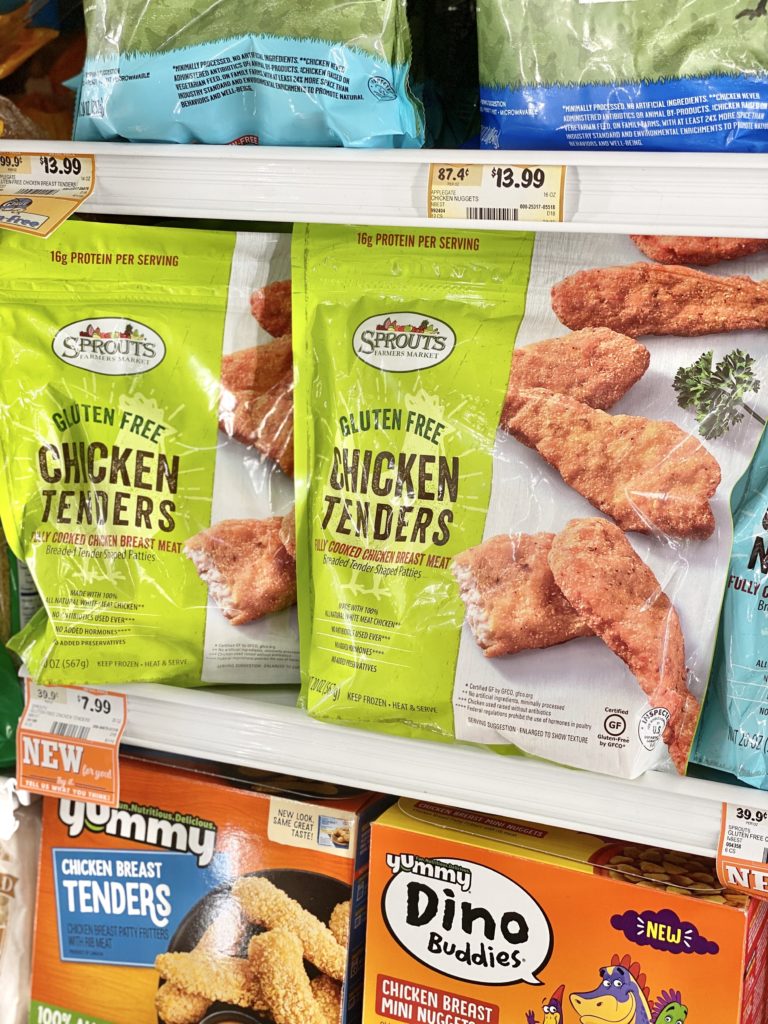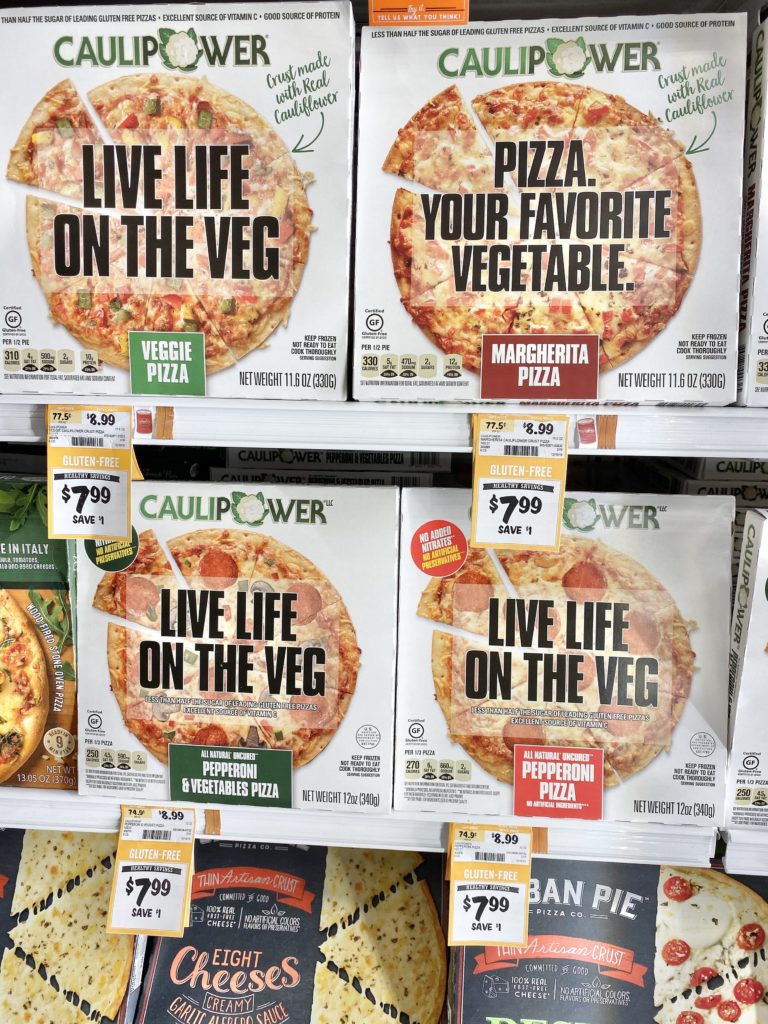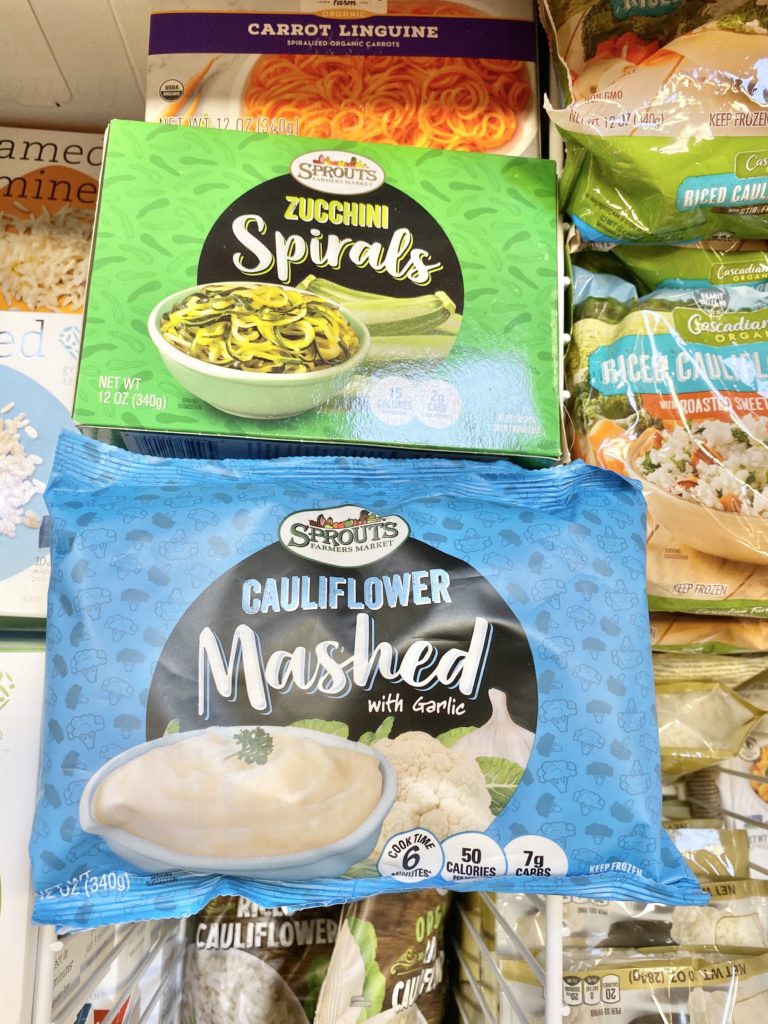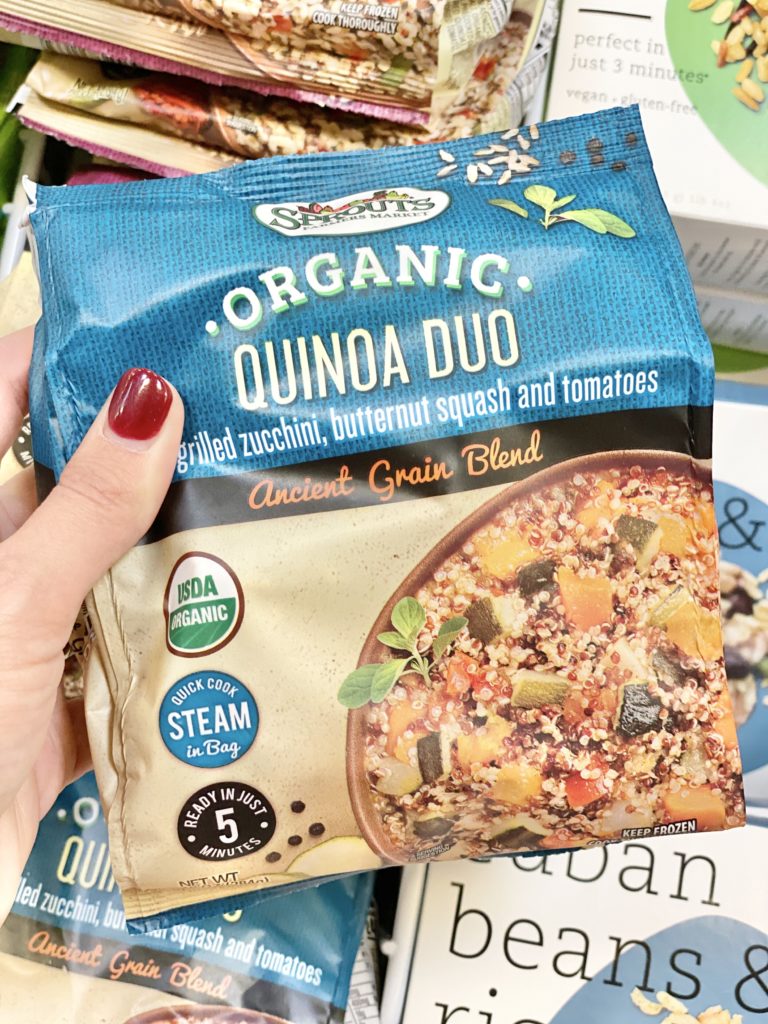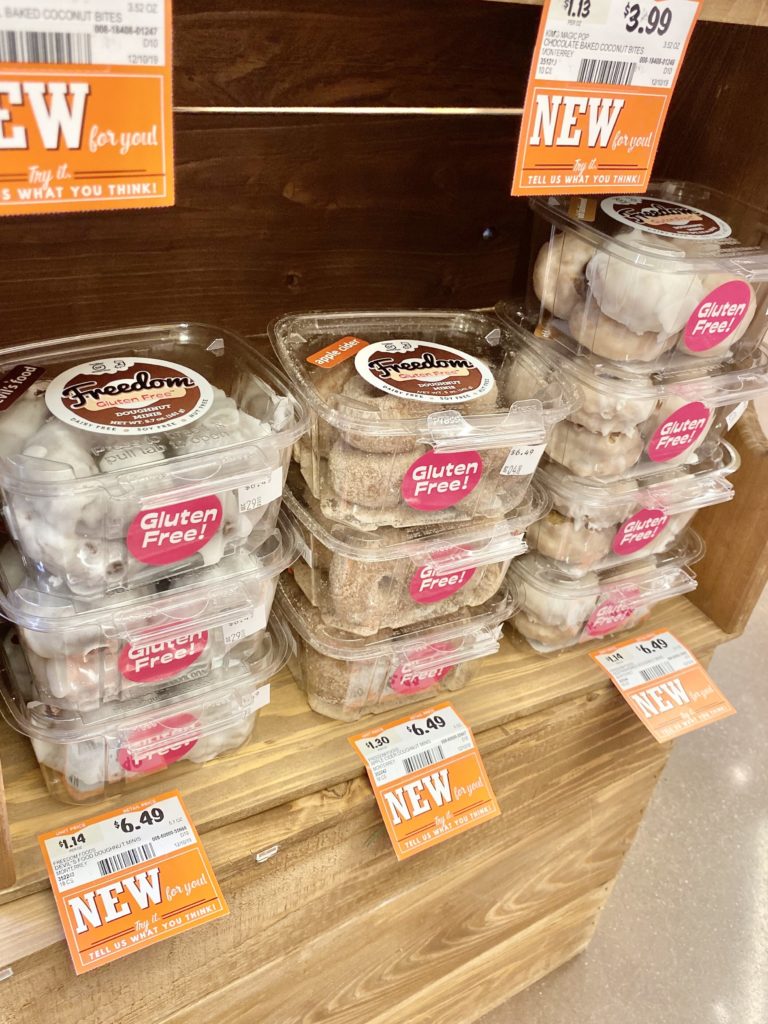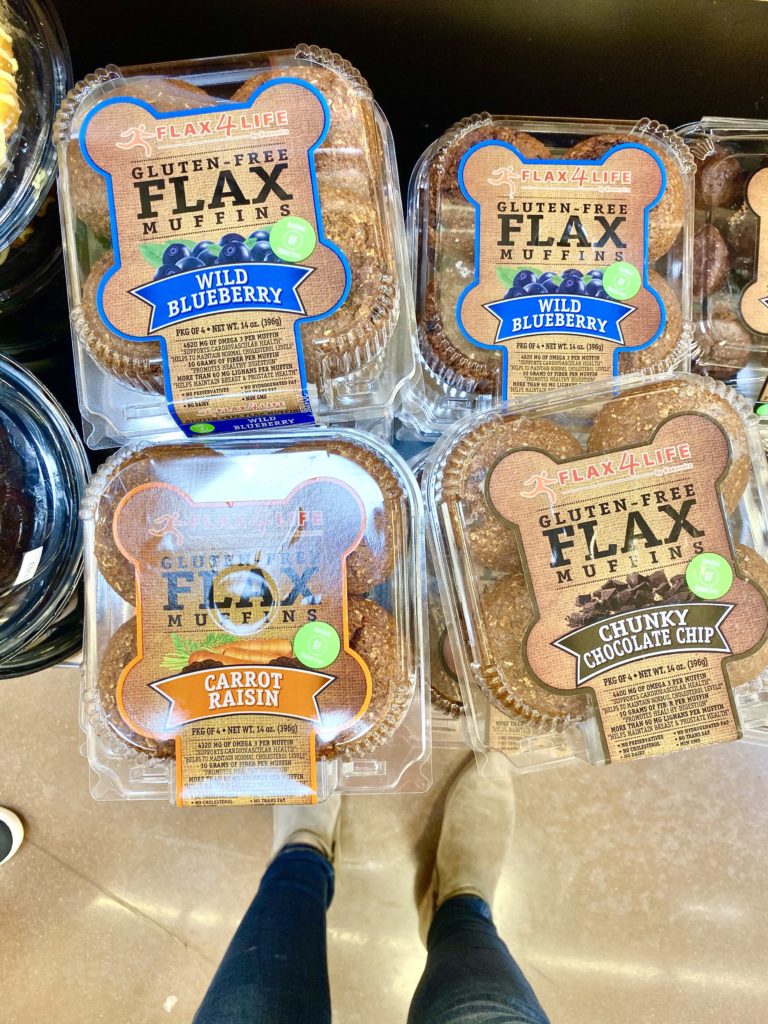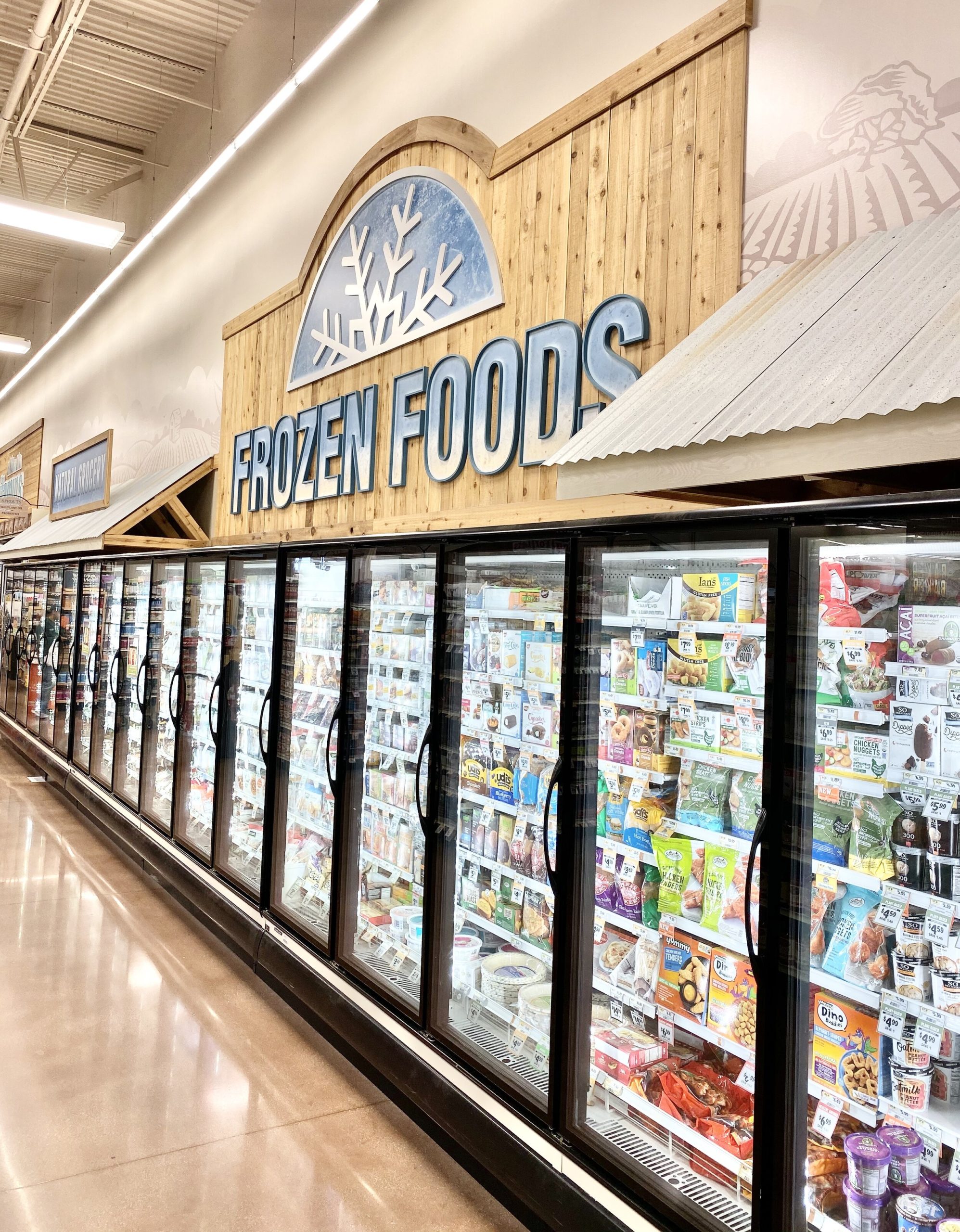 Frozen Foods
I am very intentional about keeping my freezer stocked with ready to go dinner options for nights when I get in a bind and just don't have time to cook a meal. The frozen Foods department at Sprouts not only carries some of my favorite name brand products, but also has some amazing Sprouts brand options like gluten free chicken fingers and gluten free lasagna.
And don't forget to always stock up on frozen fruits and veggies (naturally gluten free). They're often even cheaper than fresh produce and can cut down on food waste since they can safely stay in your freezer or up to one year.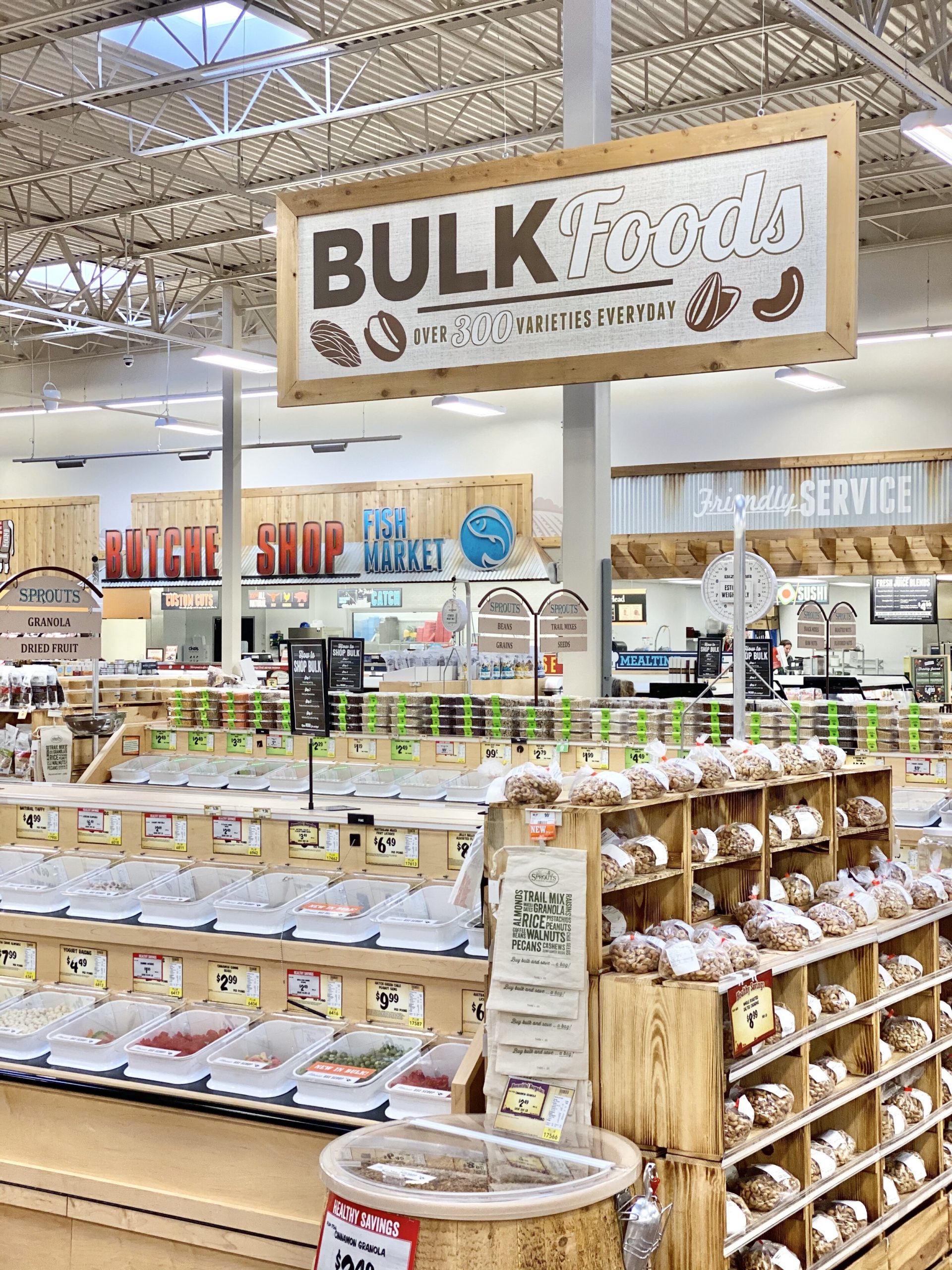 Bulk Bins
*Disclaimer: the bulk bins are not a certified gluten free space, so please follow your standard rules given to you by your physician for cross-contamination and know what your body does or does not react to.
For us personally, my husband does not react to minor cross-contamination and has been given permission by his GI doc to eat things that are naturally gluten free from the bulk bins: nuts, seeds, gluten free grains, trail mixes, dried fruit, etc. I love scouring the bins for staples and seasonal favorites. The bulk bins allow me to get the exact amount I want or need, which means less food waste, less packaging, and more savings for me.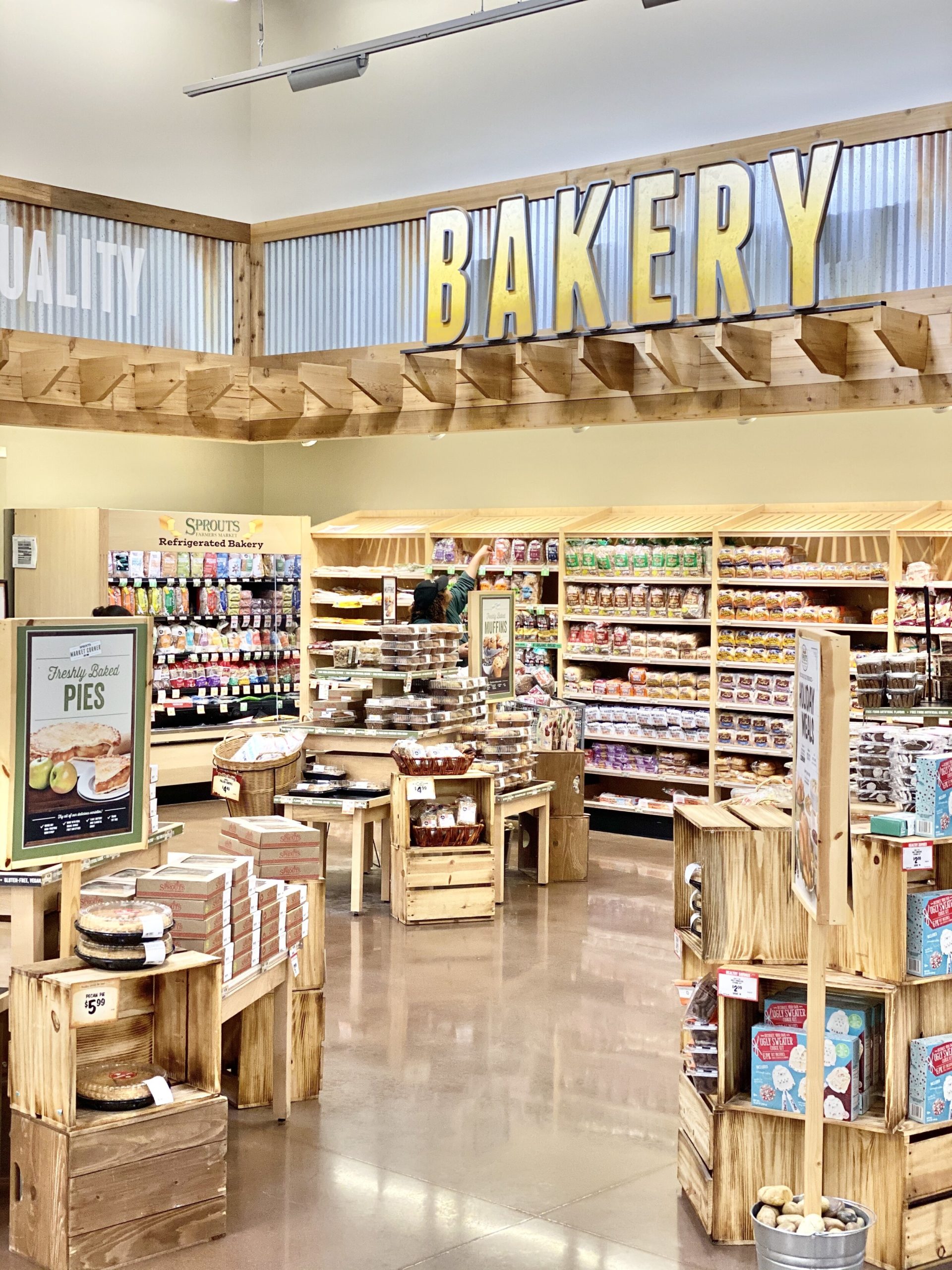 Bakery
And finally, probably the number one gluten free food I get asked about… gluten free bread! Sprouts makes it super simple and puts all of the gluten free breads right next to each other in the Bakery department in their Refrigerated case. It's so easy to compare prices and see what's on sale. My favorites are: Canyon gluten free, and Little Northern Bakehouse.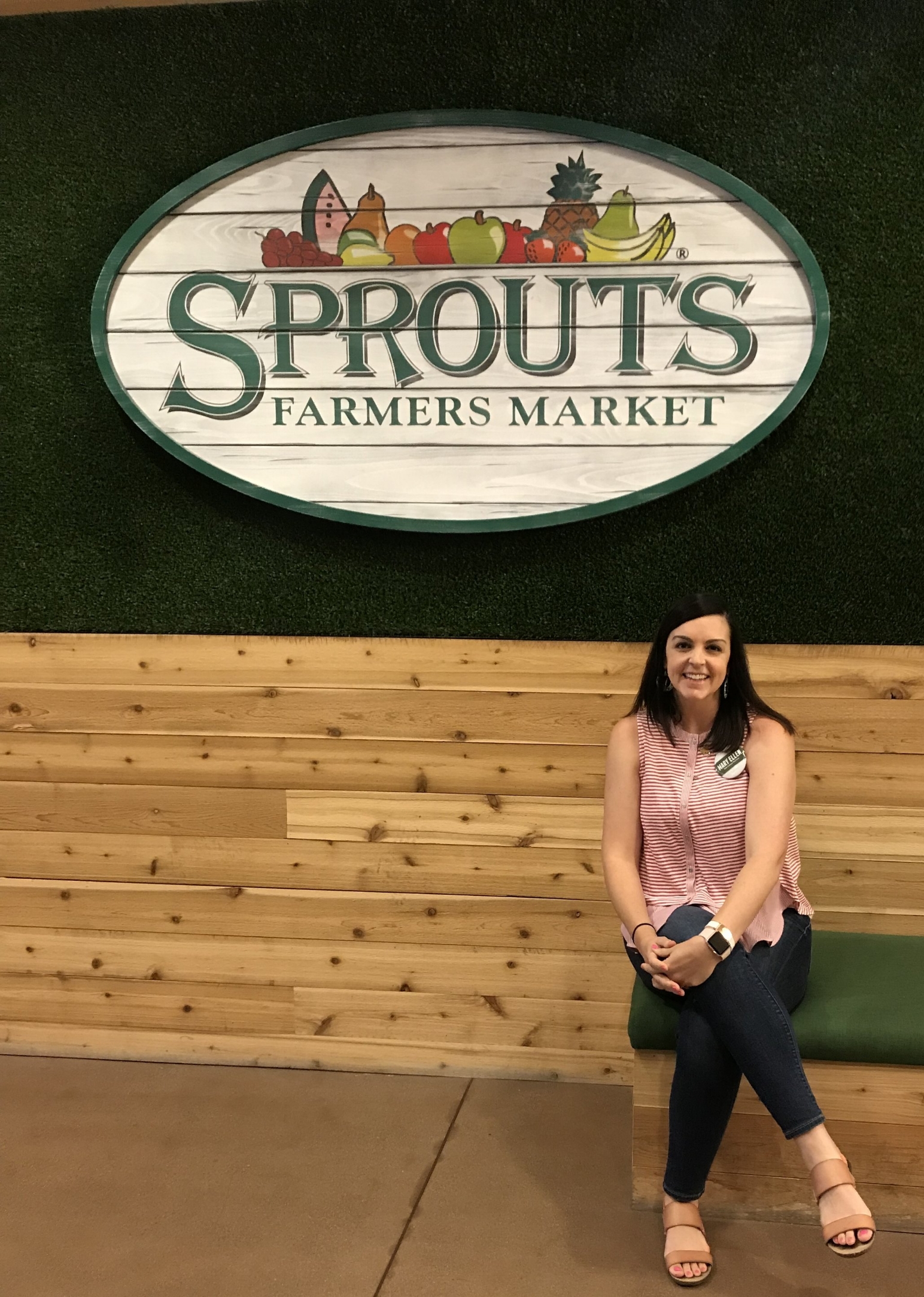 What questions do you have about grocery shopping at Sprouts or about grocery shopping for gluten free needs? Leave a comment below with your question and I'll answer! And make sure to come back next week for my list of gluten free pantry staples!
Win free groceries for a year!
Sounds too good to be true right?? Well, it's not. Just text "Sprouts" to 777688. You'll be entered to win free groceries for a year and you'll get special deals and promotions. For full info on the contest, visit sprouts.com/newyear.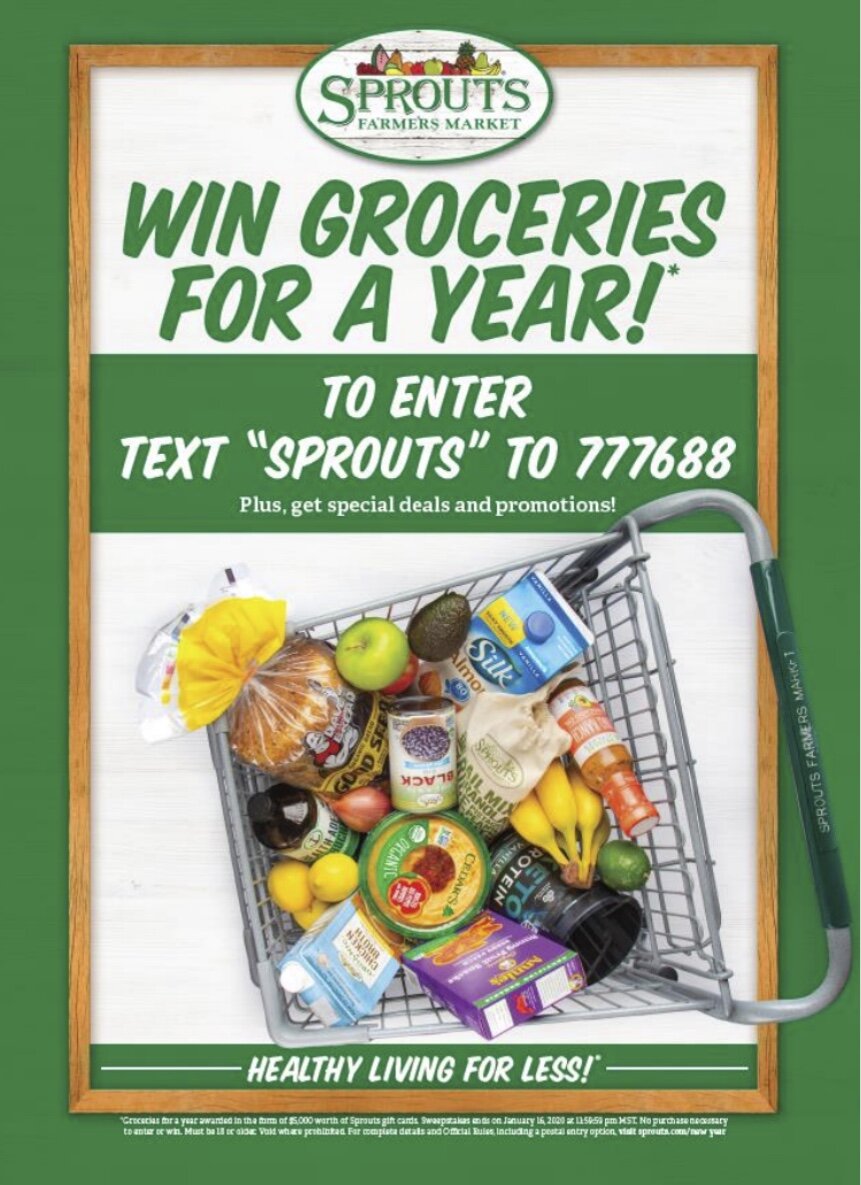 ---