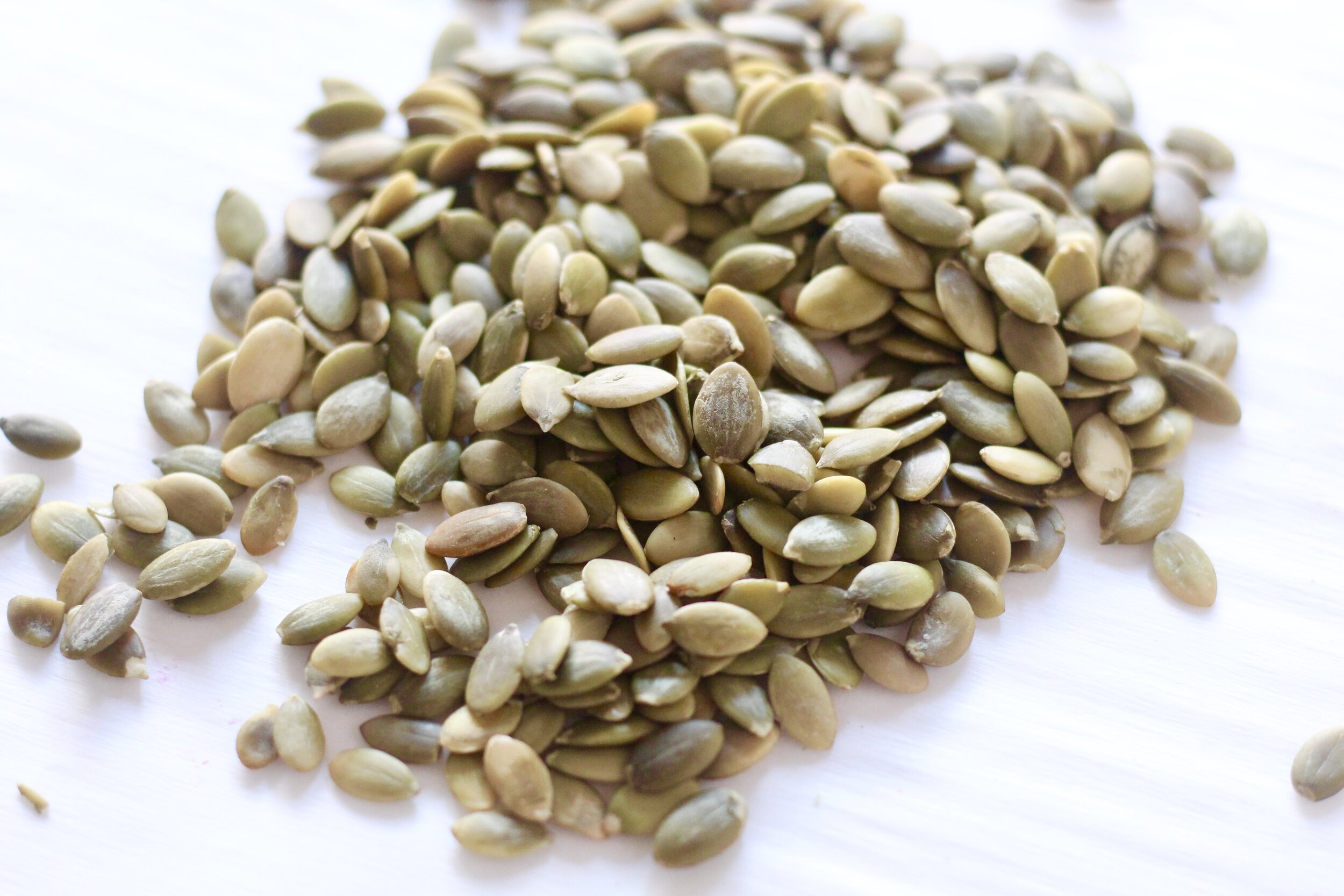 Keep reading to learn about the benefits of pumpkin seeds nutrition for Diabetes and blood sugar levels.
Have you ever read about all the health benefits of pumpkin seeds nutrition??! They're loaded with health benefits and nutrients that can potentially help a variety of health conditions.
***Remember that this article is not intended to provide medical advice, diagnosis, opinion, treatment or services. This article and the links contained in it provide general information for educational purposes only. The information provided in this article is not a substitute for medical care, and should not be used in place of the advice of your physician or registered dietitian.
Pumpkin seeds nutrition
When you carve a pumpkin, you may notice the seeds are larger and white. That white coating is actually a shell. Inside that shell is the green seed you're likely used to seeing at the grocery store.
Pumpkin seeds have essential vitamins and nutrients that can help reduce blood sugar levels and improve the health of our heart, bones, and immune system.
One area of research on pumpkin seeds is especially intriguing to this diabetic dietitian: Can pumpkin seeds really lower blood sugar levels? Keep reading to learn about all the excellent sources of nutrition pumpkin seeds provide and research in the diabetes field!
Excellent source of antioxidants, magnesium, fiber, healthy fats, and zinc
Additional pumpkin seeds nutrition information
Protection from free radicals
Free radicals are considered unstable atoms. In other words, they can take electrons from other atoms to become stable.  When this occurs over time, this process leads to oxidative stress, damaging our body's cells that contribute to aging and a wide variety of diseases. 
Free radicals are produced naturally in our bodies, however, eating a variety of foods rich in antioxidants may help fight against chronic conditions, such as diabetes. Antioxidants like vitamin E and carotenoids in pumpkin seeds help prevent the effects of free radical damage.
Pumpkin seeds and bone health
Not only does magnesium help control blood sugar levels, but it also is important for bone formation and overall bone health. Did you know that 50% to 60% of magnesium is present in our bones? 
Research shows that consuming adequate magnesium is associated with a higher bone density and improved bone formation. Additionally, magnesium is linked to a lower risk of osteoporosis in females. 
Source of protein
Pumpkin seeds can be a great snack option and an additional source of protein in meals! Did you know 1 ounce, or 28 grams of pumpkin seeds contains 7 grams of protein?  
Adequate protein combined with fat and fiber is essential for maintaining stable blood sugars. Pumpkin seeds can be a convenient option for a blood sugar balancing snack and additional protein!
While pumpkin seeds do provide a source of protein, keep in mind plant-based proteins provide a smaller amount of protein compared to animal products. Combine or top pumpkin seeds on your salad, oatmeal, or yogurt for a complete meal and extra protein!
So, can the benefits of pumpkin seeds nutrition lower your blood sugar levels?
Possibly.
They have many proven health benefits and likely are associated with positive health outcomes for people with diabetes, but more research is needed to confirm the existing studies. I, however, do encourage everyone, diabetic or not, to find ways to add this nutrient powerhouse into your daily routine.
Thoughts from my fellow dietitians on pumpkin seeds nutrition
"Pumpkin seeds are a great snack for blood sugar control. They are rich in protein and healthy fats which help stabilize blood sugar levels." – Kelli Shallal, RDN from hungryhobby.net
"Pumpkin Seeds are a delicious, nourishing allergen friendly snack. They're great on everything from yogurt, ice cream, and cottage cheese, to salads and soups… or even on their own as a snack. Pumpkin seeds are also rich in Zinc which is beneficial to your immune system." -Tracee Brenner, RDN from triadtowellness.com.
Quick and easy ways to add pumpkin seeds nutrition into your daily routine
Oatmeal
Yogurt
Salads
Baked goods (muffins, cookies, cake, or bread)
Pancakes/waffles
Granola
Trail mix
Smoothies
Recipe ideas where you can incorporate pumpkin seeds
Add one serving (1/4 cup) of pumpkin seeds to any of the following recipes!