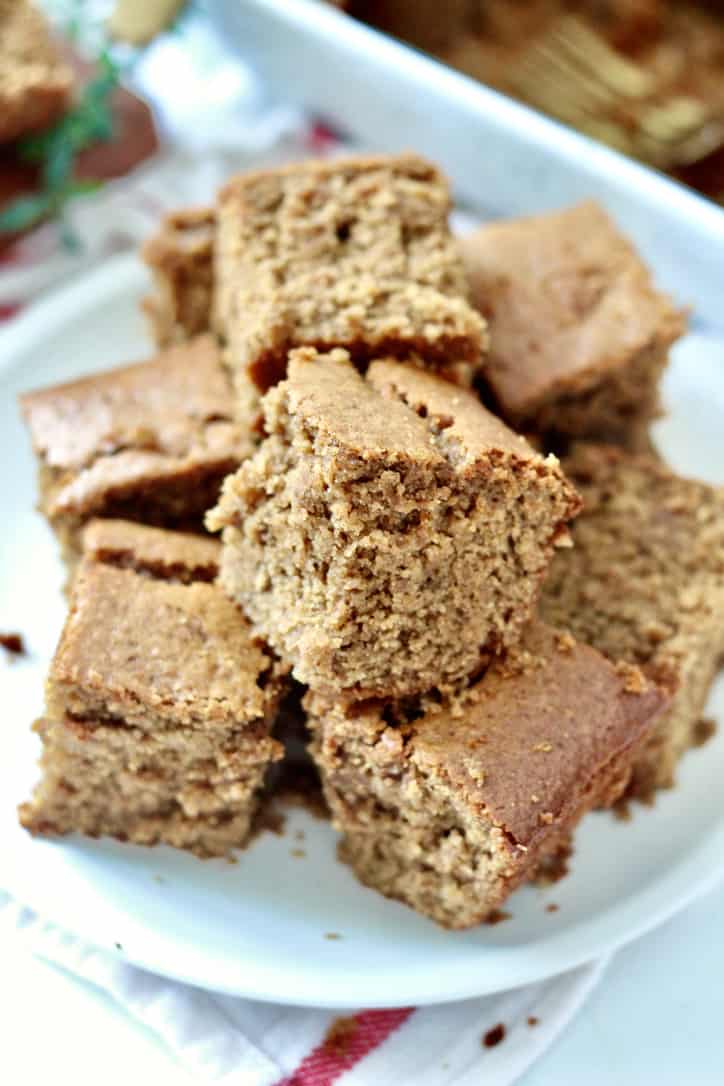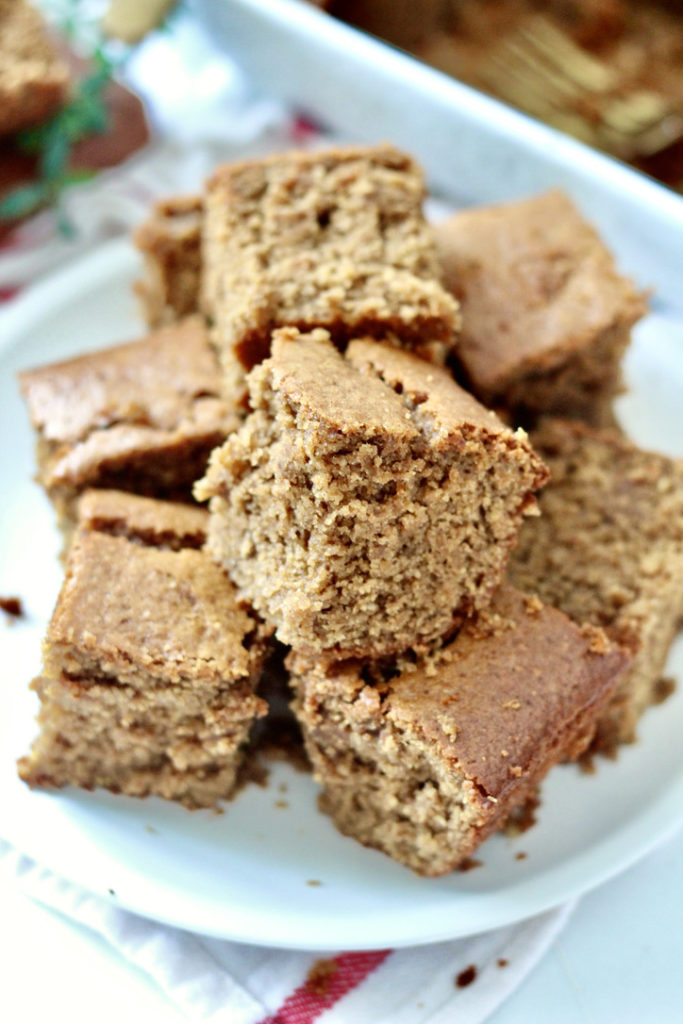 Nothing screams the holidays quite like a fluffy gingerbread loaf cake!
This gingerbread loaf cake is so versatile. Thanks to a blood sugar friendly balance of ingredients, you can enjoy it at breakfast, as a snack, and also as dessert!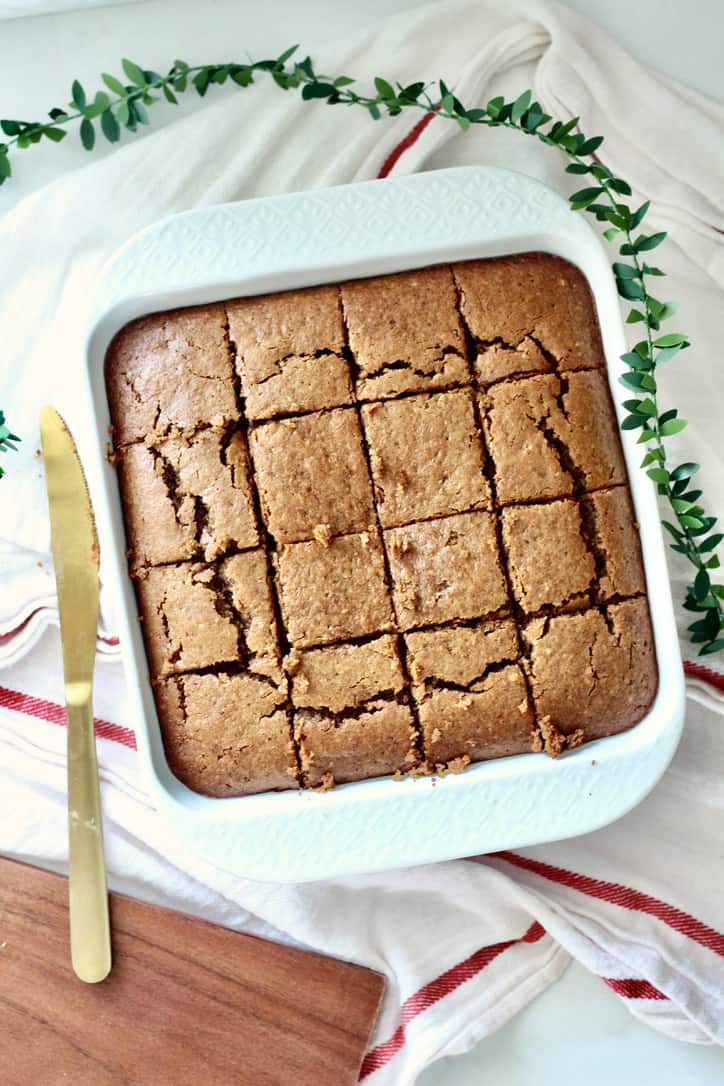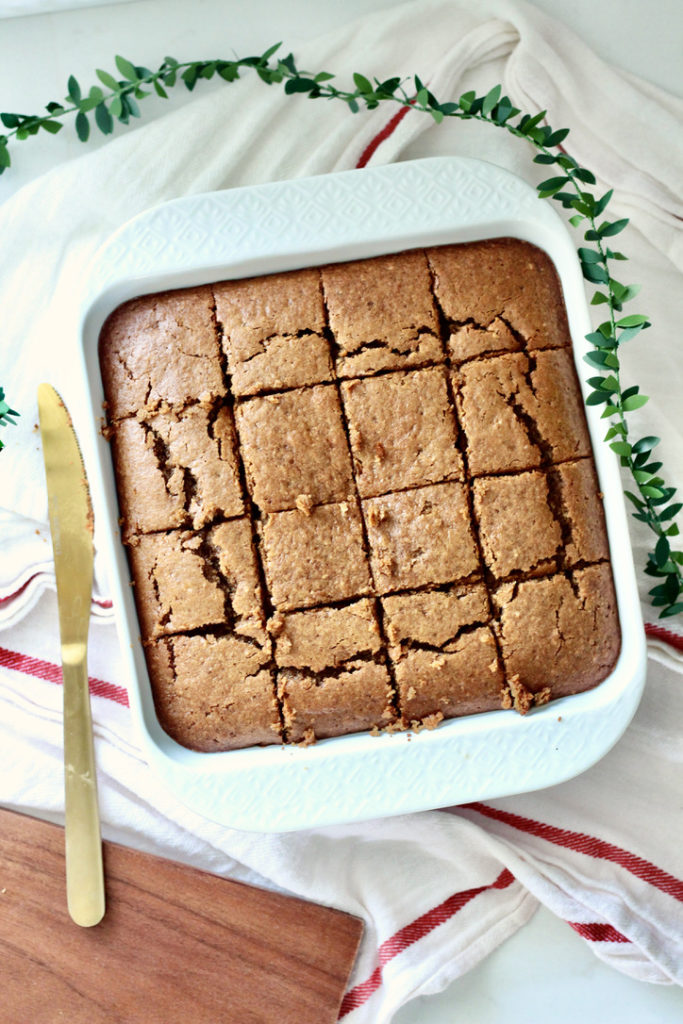 Your new favorite blood sugar friendly gluten free gingerbread
I absolutely love the sharp bite of ginger that comes with gingerbread cake. Combine that with the perfect fluffy mixture of gluten free ingredients, and I know this is going to be your new favorite recipe to make, not just at the holidays, but all year round too.
Why is gingerbread called bread?
So, being the baking nerd that I am, I did get a bit curious as to why we call this category of desserts "gingerbread"? It seems that way back in 11th century Europe, the term "gingerbread" actually referred to crystallized ginger… and it wasn't until about 400 years later that it started to mean more of the types of desserts we know today. If you're curious, I highly recommend reading about it some… the history of food is so fascinating to me.
Check out my Gluten-Free Gingerbread Cookies (Without Molasses).
What is the difference between gingerbread and ginger cake?
The term "gingerbread" typically refers to ginger flavored cookies or cakes. And sometimes to avoid confusion, people will refer to gingerbread cakes as just ginger cakes. A gingerbread loaf cake is a ginger cake, baked in a loaf pan or square pan.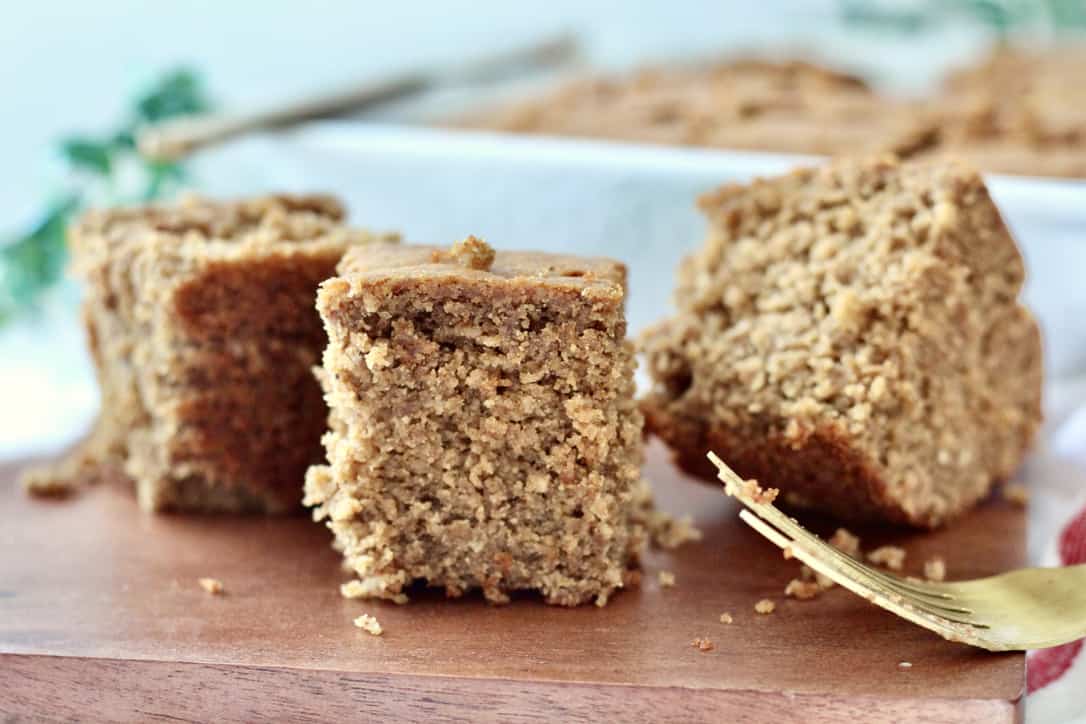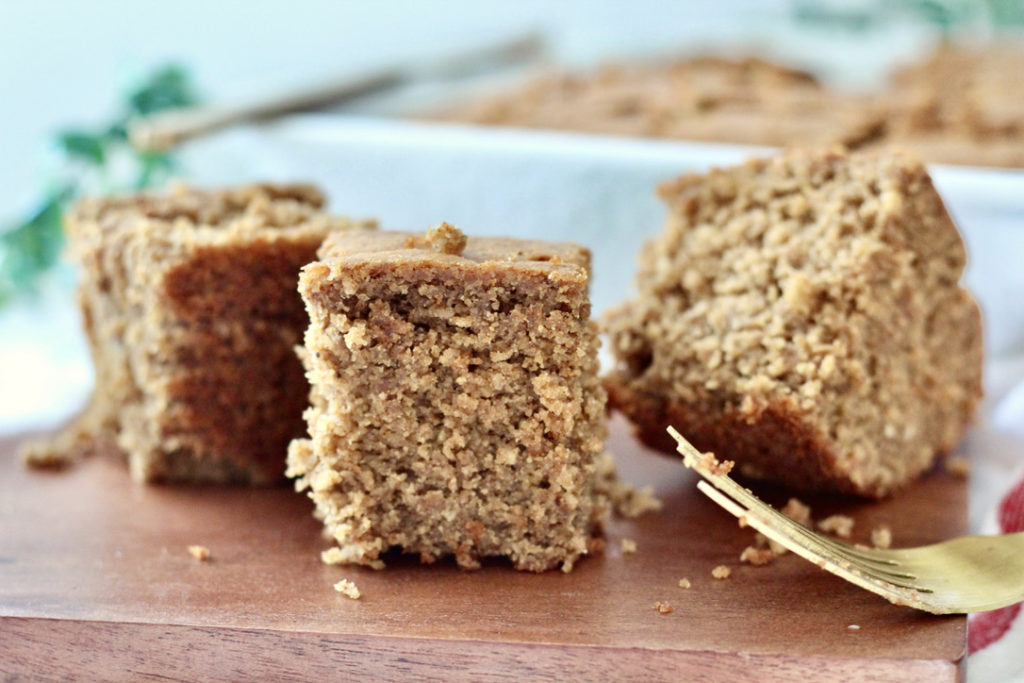 Starbucks gingerbread loaf comparison
Probably one of the most popular and well-known ginger bread loaf cake options here in the US comes from Starbucks.
What is in the gingerbread loaf at Starbucks?
The Starbucks gingerbread loaf cake contains many of the same ingredients as my recipe below, except for the flour and butter. Starbucks uses traditional enriched flour which is not gluten free and on it's own is not blood sugar friendly. They also use butter, and I chose to use almond butter and oil to keep mine dairy free for those that need that.
Each slice of the Starbucks loaf also contains a whopping 49g of sugar and 70g carbohydrate. My recipe contains just 17g carbohydrate and only 7g sugar.
What makes this a healthy gingerbread loaf?
While I'm not a huge fan of the term healthy, we've definitely got a more blood sugar friendly ginger loaf cake. We use a lot less sugar than other versions and a combination of almond flour and oats instead of traditional enriched flour, or typical gluten free flours which are often primarily rice flour.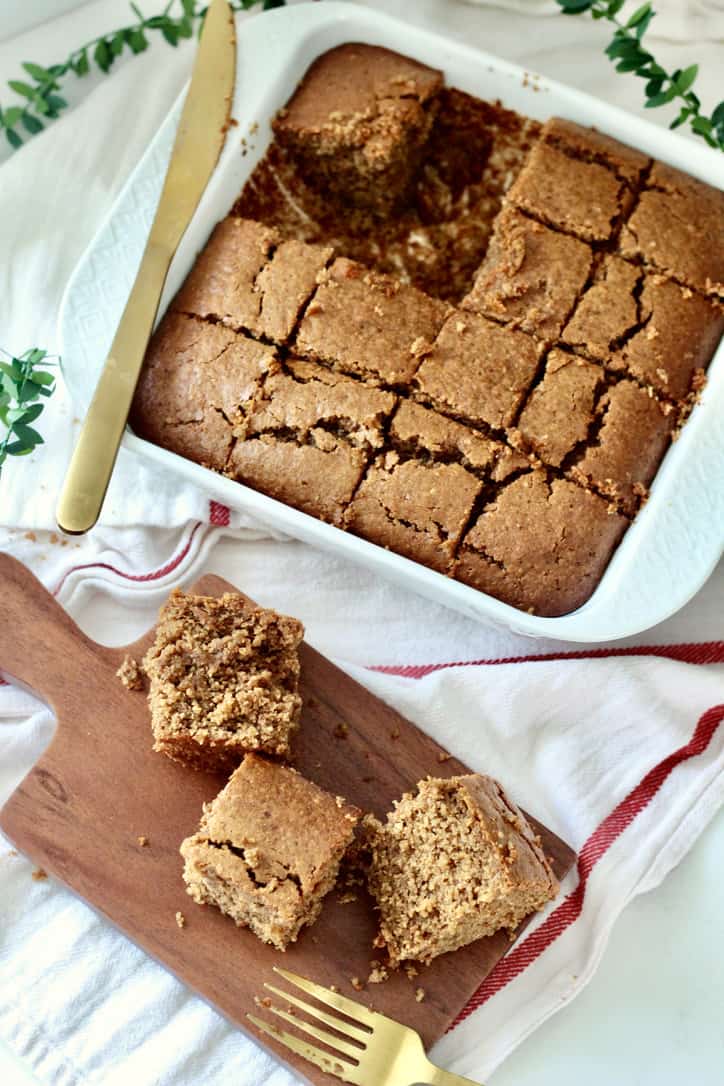 Homemade gingerbread loaf recipe
This recipe follows a pretty simple quick bread strategy… mix your dry ingredients together, then mix your wet ingredients together, and then combine them all. I choose to do this in the blender because it's super quick and easy too!
It does take a bit longer than you'd expect to bake, but it is so worth the wait!
If you like gingerbread loaf cake, try these other great diabetes friendly baking recipes…
If you like this recipe for gingerbread loaf cake, you'll definitely love these other blood sugar friendly baked goods…

Healthy Homemade Gingerbread Loaf Cake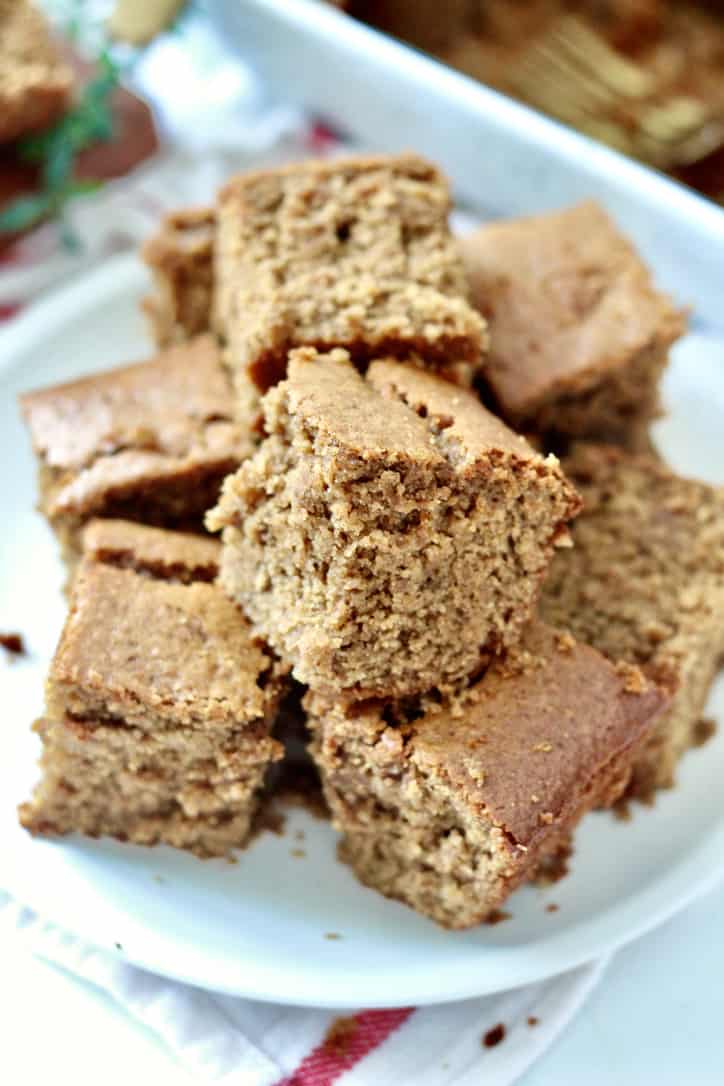 Ingredients
1 ½

cups

almond flour

1 ½

cups

rolled oats

use gluten free if needed

⅔

cup

dark brown sugar

unpacked

1

tsp

baking powder

1

tsp

baking soda

3

tsp

ground ginger

½

tsp

ground cloves

½

tsp

salt

⅔

cup

unsweetened apple sauce

½

cup

unsweetened almond butter

3

large

eggs

¼

cup

cooking oil

2

tsp

vanilla extract

1

tsp

apple cider vinegar
Instructions
Preheat your oven to 350 degrees F. Then, grease a standard size 8×8 or 9×9 square pan or line it with parchment paper. Set your prepped pan aside.

add the dry ingredients (almond flour, oats, brown sugar, baking powder, baking soda, ginger, cloves, and salt) to the blender or food processor and blend on high until combined and most of the oats are ground up. You may need to stop it once or twice to scrape down the sides.

Now, add the applesauce, almond butter, eggs, cooking oil, vanilla extract, and apple cider vinegar to your blender or food processor and blend until combined.

Transfer the batter to your prepared pan and spread it out evenly in the pan.

Bake the cake for 45-55 minutes until set and a toothpick inserted in the center comes out mostly clean.

Let the cake cool for at least 30 minutes before slicing. Top with a dust of powdered sugar or whipped cream and enjoy!

Your Healthy Homemade Gingerbread Loaf Cake will keep in a sealed container in the refrigerator for up to 5 days or in the freezer for up to 3 months.
Notes
This cake will puff up a good bit and deflate some once it's pulled out of the oven. That's normal! Don't be tempted to pull this cake out of the oven too early. It's going to look done by around 30 minutes, but I promise it needs to stay in there for a bit longer.
The nutrition facts presented here are estimates only. The brands you use and product types chosen can change the nutritional information presented. To obtain the most accurate nutritional information, you should calculate the nutritional information with the actual ingredients you use.
Nutrition
Serving:
1
slice
|
Calories:
205
kcal
|
Carbohydrates:
17
g
|
Protein:
6
g
|
Fat:
14
g
|
Saturated Fat:
2
g
|
Sodium:
200
mg
|
Fiber:
2
g
|
Sugar:
7
g