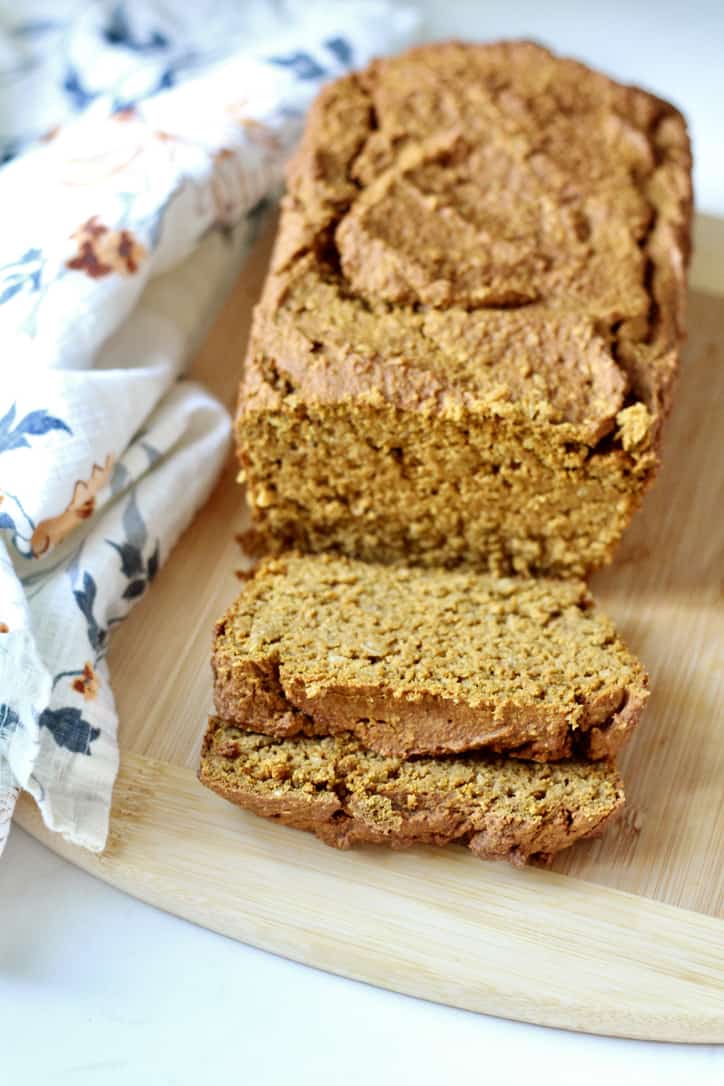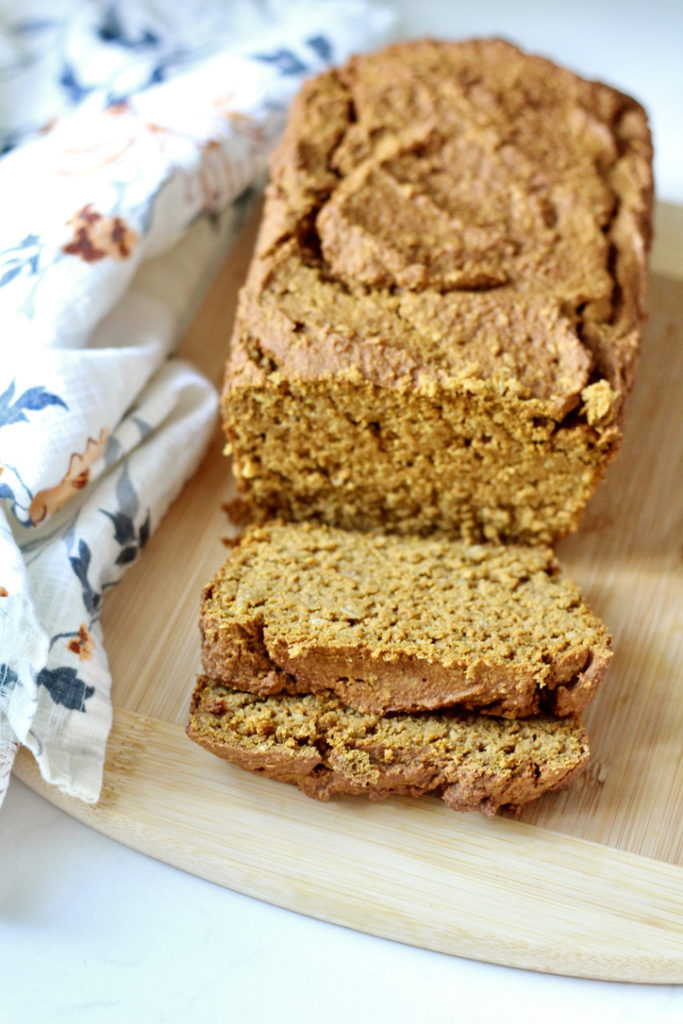 A good go-to gluten free pumpkin bread recipe is an absolute must every Fall!
My version of gluten free pumpkin bread is subtly sweet and the perfect satisfying start to your day. And, when it's also a diabetes friendly, lower sugar, low carb pumpkin bread, that's even better!
The best low carb pumpkin bread
If you're like me, the phrase "low carb" used in connection with a recipe immediately makes you very suspicious of it. Especially with breads. I feel like every "low carb" bread I've tried somehow tastes like barely flavored cardboard. But, I promise you that is just not the case with this recipe. In fact, it's probably not truly low carb to some people, but it definitely is a lower carbohydrate pumpkin bread when you compare it to other options.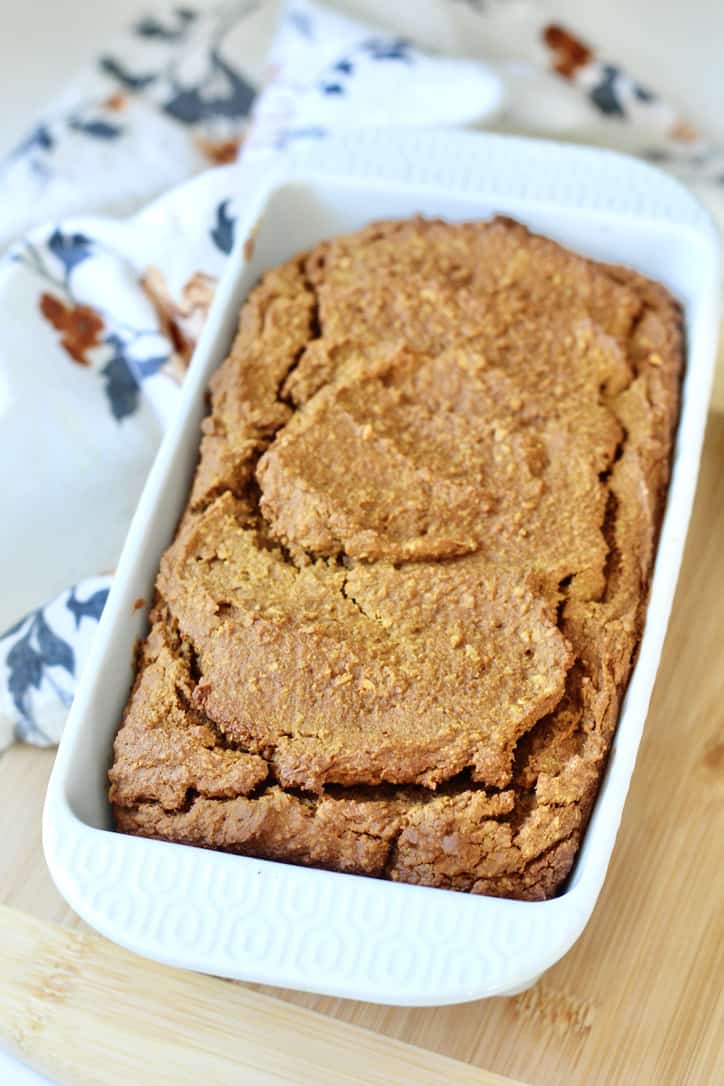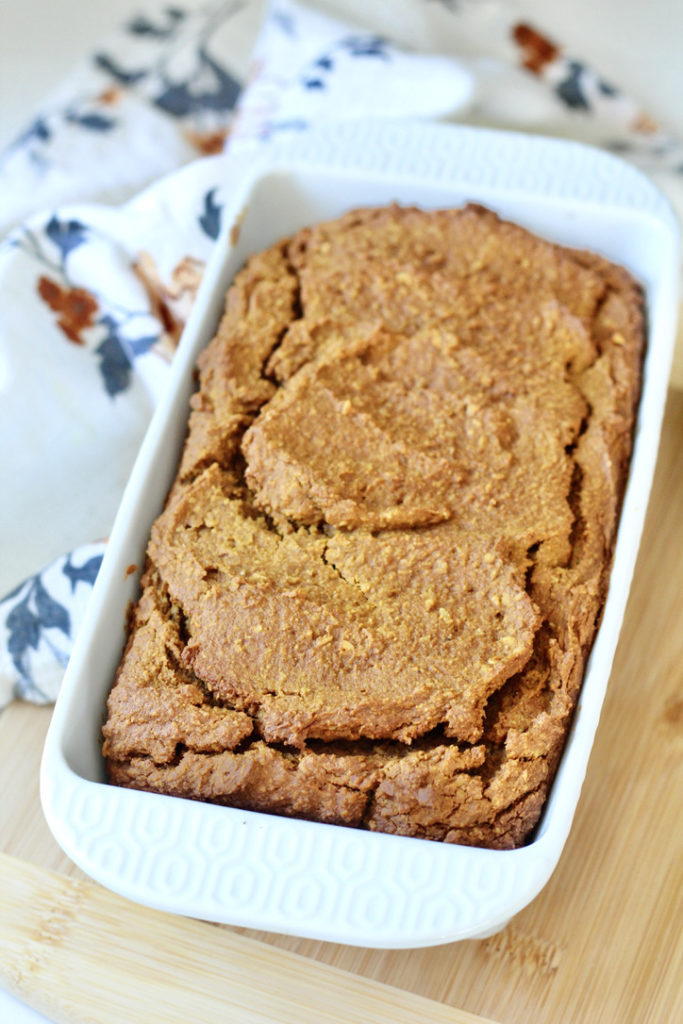 Diabetes-friendly pumpkin bread
When I started to create this recipe, I noticed that one of the most common terms put into google for a blood sugar friendly pumpkin bread was "Diabetic pumpkin bread." And, it made me laugh. If I ever saw a bread labeled as diabetic pumpkin bread, I'd run far far away.
But, I guess technically this recipe is just that. And it also tastes amazing. Each slice offers 4g protein, 4g fiber, and only 9g sugar.
Gluten-free pumpkin bread
As with a lot of my recipes, this low carb pumpkin bread is also a gluten free pumpkin bread recipe (assuming you use gluten free oats). The more blood-sugar friendly flours also happen to be gluten free.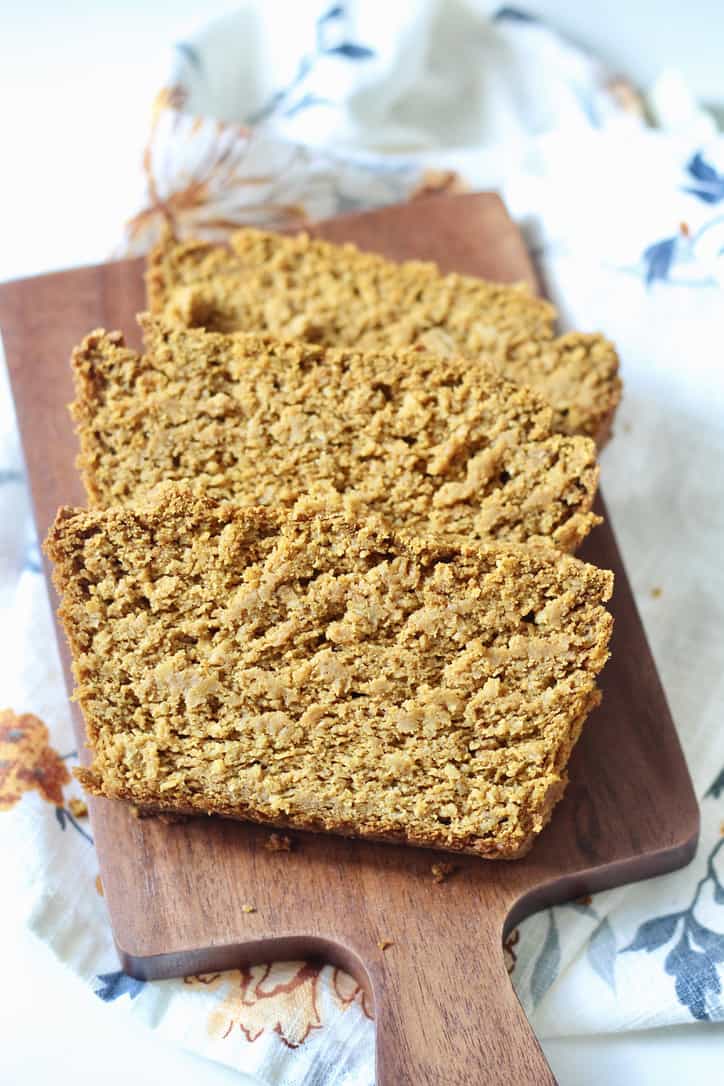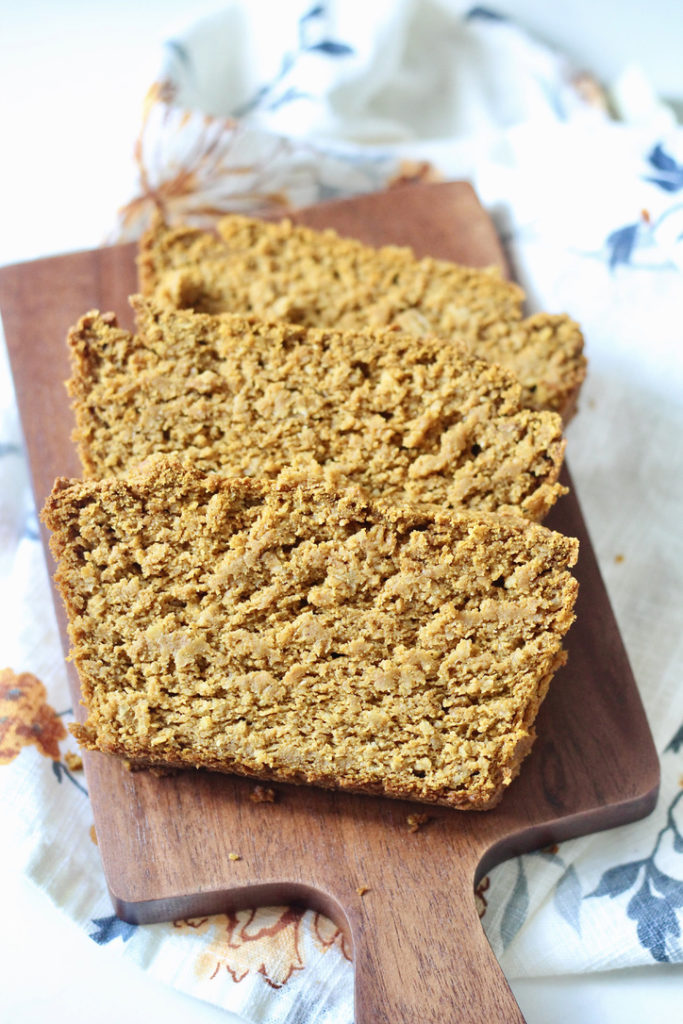 Oat flour pumpkin bread
Part of the flour mixture we use in this recipe is ground up oats, aka, oat flour. It helps the bread hold together and gives it that nice dense texture.
Gluten free pumpkin bread almond flour
Almond flour makes up the other part of our flour mixture. It offers a much more blood sugar friendly nutrient mix. (More protein, more fat, less carbohydrate.) And, it pairs perfectly with the oat flour. If we just did almond flour, it would be a bit crumbly. The combination of the two flours really helps everything hold together well.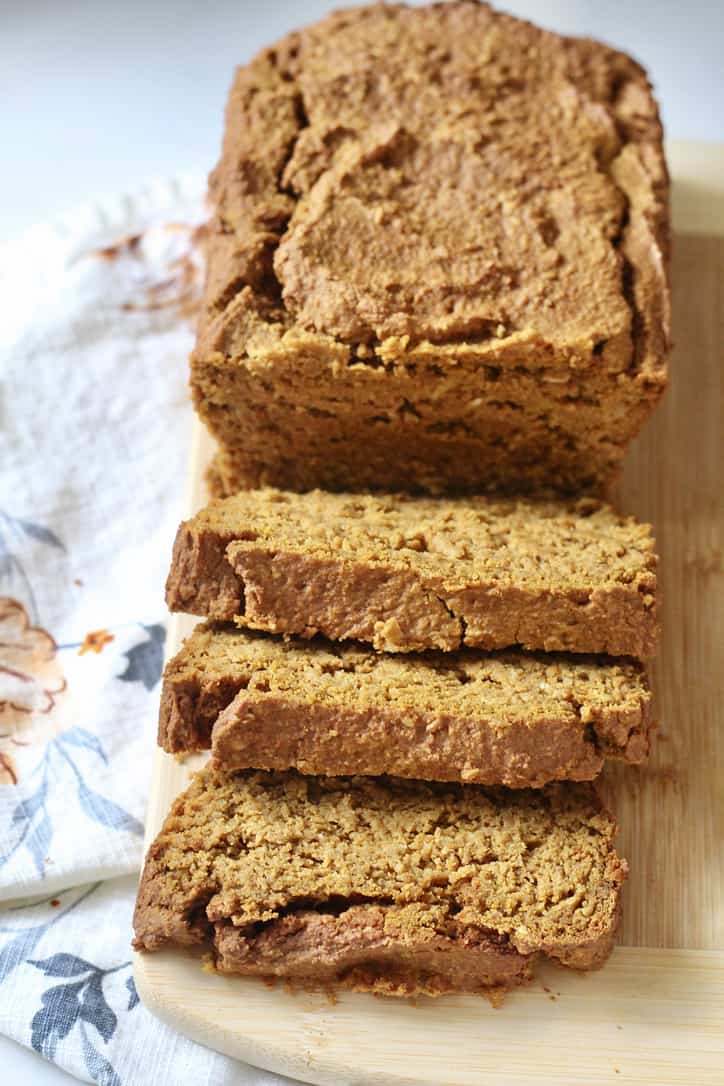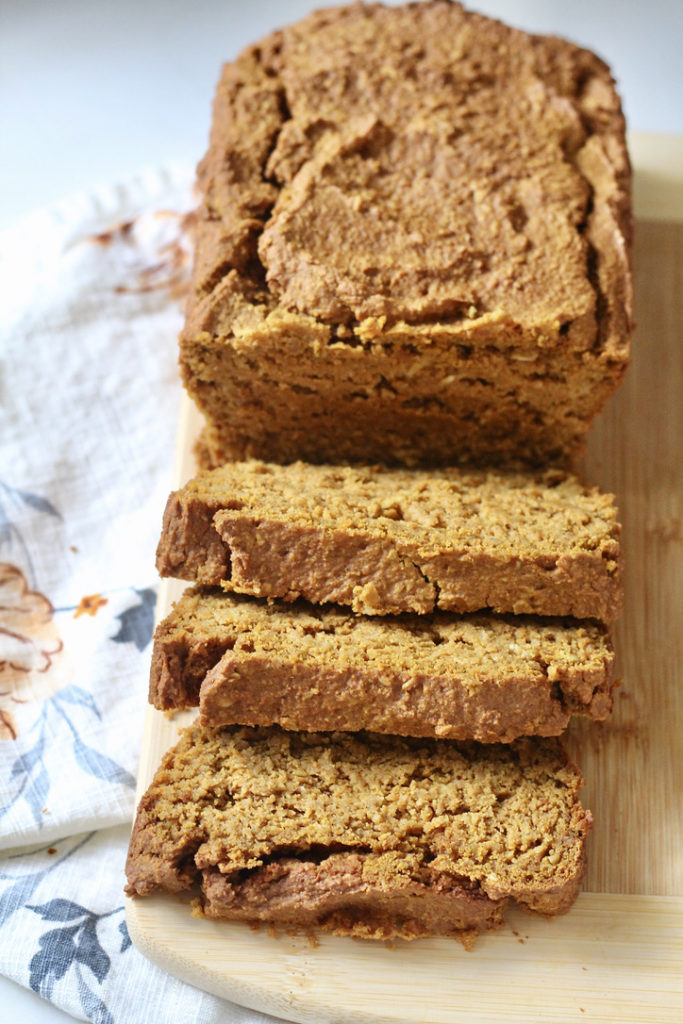 Low sugar pumpkin bread
And, one of my favorite things about this recipe is you can totally make it as sweet or not-sweet as you want! The recipe below with 2/3 cup sugar is not super sweet, which is exactly how I love it! But, if you prefer a sweeter low carb pumpkin bread, you can use an alternative sweetener or increase the sugar up to 1 cup.
Make sure to try my Gluten-Free Pumpkin Cheesecake Bars with Oatmeal Crust too if you're in the mood for more blood sugar friendly pumpkin goodness!
Simple pumpkin bread recipe for 1 loaf
You know how when you're making a recipe that calls for canned pumpkin, you never have any idea what to do with the leftover pumpkin?? Well, I have the same problem. I try to be responsible and save the remaining pumpkin puree but it never fails it grows mold before I can get around to using it.
So, I wanted to make a simple gluten free pumpkin bread recipe that uses the WHOLE can of pumpkin! Makes life much easier right?! Plus, pumpkin has so many amazing nutritional benefits, the more the better!

Diabetes Friendly Gluten Free Pumpkin Bread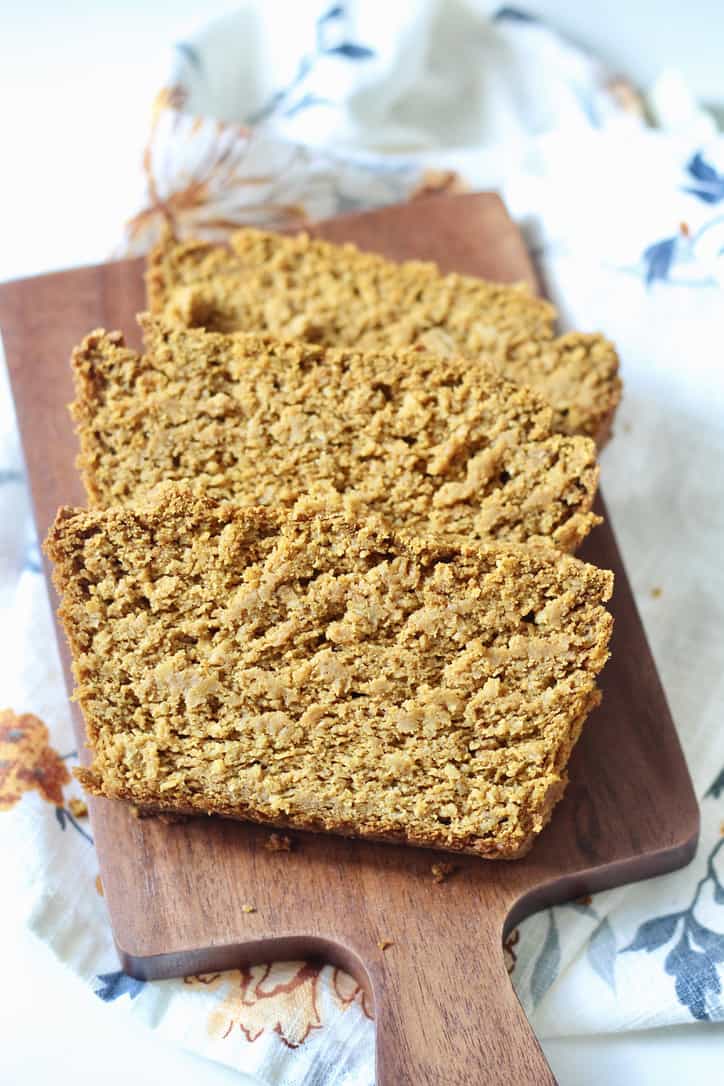 Ingredients
1

15oz can

pumpkin purée

3

large

eggs

beaten

¼

cup

cooking oil

1 ½

tsp

almond extract

1 ½

tsp

vanilla extract

1

tsp

apple cider vinegar

1 ½

cups

almond flour

1 ½

cups

rolled oats

use gluten free if needed

⅔

cup

sugar

if you prefer a sweeter bread, increase this to 1 cup

1

tsp

baking powder

1

tsp

baking soda

2

tsp

ground cinnamon

½

tsp

ground nutmeg

½

tsp

ground ginger

½

tsp

salt
Instructions
Preheat your oven to 350 degrees F. Then, grease a standard size loaf pan or line it with parchment paper. Set your prepped pan aside.

Add the pumpkin puree, eggs, cooking oil, almond extract, vanilla extract, and apple cider vinegar to your blender or food processor and blend until combined.

Now, add the dry ingredients (almond flour, oats, sugar, baking powder, baking soda, cinnamon, nutmeg, ginger, and salt) to the blender or food processor and blend on high until combine and most of the oats are ground up. You may need to stop it once or twice to scrape down the sides.

Transfer the batter to your prepared pan and spread it out evenly in the pan.

Bake the bread for 50-65 minutes until set and a knife inserted in the center comes out mostly clean.

Let the bread cool for at least 30 minutes before slicing.

Your gluten free pumpkin bread will keep in a sealed container in the refrigerator for up to 5 days or in the freezer for up to 3 months.
Notes
The nutrition facts presented here are estimates only. The brands you use and product types chosen can change the nutritional information presented. To obtain the most accurate nutritional information, you should calculate the nutritional information with the actual ingredients you use.
Nutrition
Serving:
1
slice
|
Calories:
190
kcal
|
Carbohydrates:
23
g
|
Protein:
4
g
|
Fat:
10
g
|
Saturated Fat:
1
g
|
Sodium:
250
mg
|
Fiber:
4
g
|
Sugar:
9
g