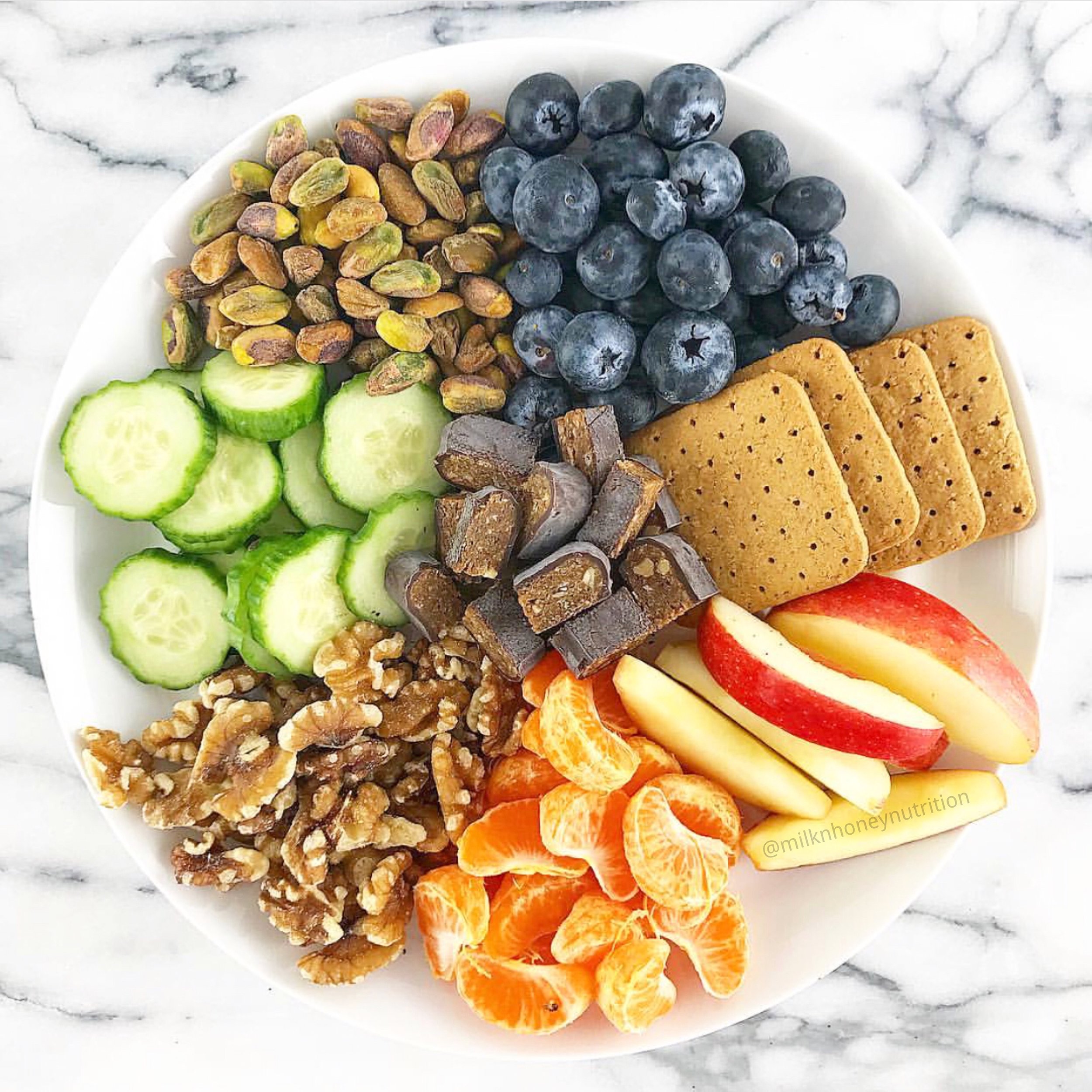 What comes to mind when you hear the words "snack dinner" or "snack lunch"?? If you follow me on Instagram, you're well aware of this concept, but if not, make sure to keep reading for "Snack lunch and snack dinner: THE 5 minute meal solution."
This is a concept I started originally for my kids a few years ago. You see, unlike their mom, my kids aren't all that into food. I know. It's kind of hard to believe and makes me wonder if they're even actually my kids?? I've always been one of those people who loves to eat and to have not one, but TWO, kids who just aren't all that into eating just blows my mind. (I'll clarify here too, they're not really what I would call picky eaters. They will generally try most things if we're at home in a familiar setting… it's just that they don't really get excited about eating and don't have a huge interest in food.
But anyways… back to meal time in our house…
A few years ago,I would say "let's eat dinner" or "time for lunch" and get nothing but whining or just a general lack of interest… but one day, out of sheer desperation to just get them to have an interest in what we were going to eat, I just said "Fine, let's just have a snack lunch." And wouldn't you know their ears perked up and they were suddenly SO excited about helping me make lunch!
So, over the next few weeks, I played around with different combinations and serving sizes until we figured out a system that worked for them. I generally try to offer 4-6 different types of food in smaller portions that won't overwhelm them. This picture is a good example of a plate I might serve them (that they would split between the two of them) when I want to do a snack meal…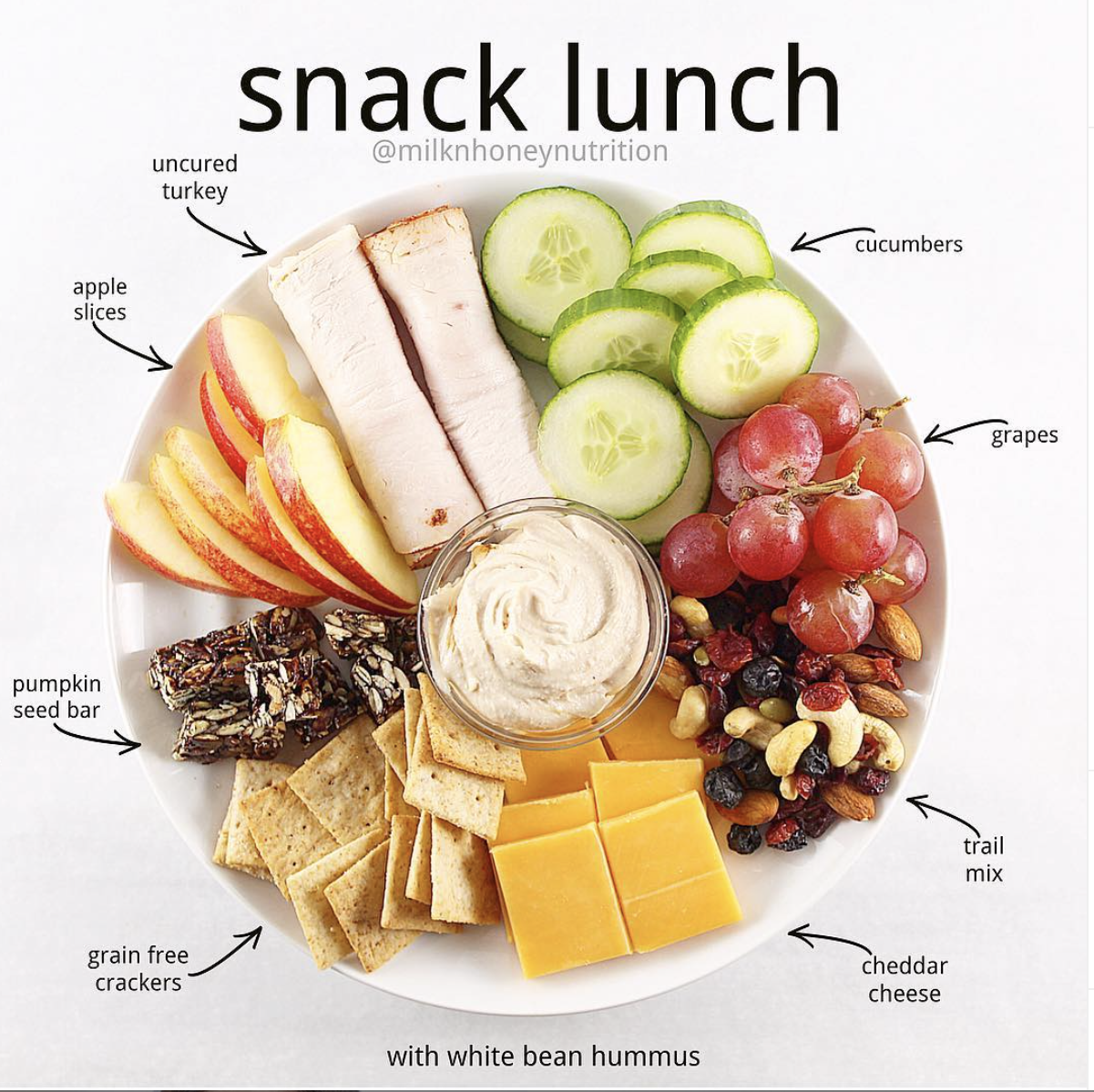 Pretty quickly, I realized this was a great concept for me and my husband too… sometimes cooking a full meal just isn't an option, or you simply don't feel like cooking. There's a lot of pressure in our social media driven world to have the perfect home cooked meal on the dinner table each night. But, I'm hear to help you say no to that pressure! Lunch and dinner (and breakfast too!) don't have to be something that we think of as "traditional" and they definitely don't have to be something you stand over the stove cooking for 30 minutes or more.
I'm sure you've already thought of a few of these as you were reading, but these are some of the reasons I love Snack lunch and snack dinner: THE 5 minute meal solution…
No cooking.

Very little prep work.

No marathon meal prep sessions on the weekends.

Kid-friendly.

You get to have multiple foods you love.

Ready in 5 minutes or less.

Simple formula to follow.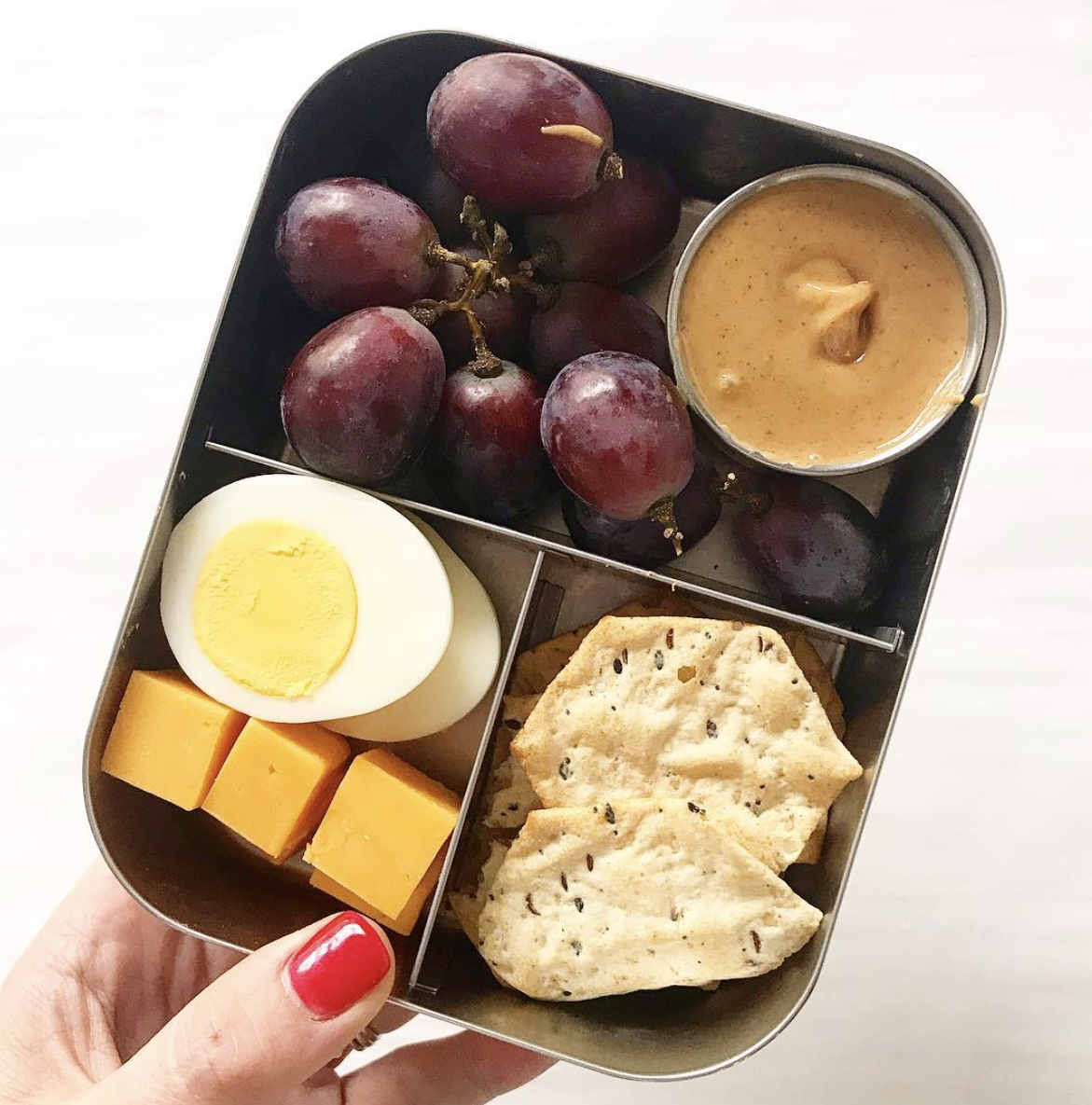 You can scroll a little further in this article for a comprehensive list of ideas for foods to keep on hand to make these types of meals. In general, I follow this formula when thinking of what I want to serve in a snack meal…
For me or my husband:
1-2 animal proteins

1-2 plant proteins

2 healthy fats

at least 1 fruit

at least one veggie

a dip

1 cracker/crunchy type food
For my kids:
1 animal protein

1 plant protein

1 healthy fat

1 fruit

1 veggie

1 cracker/crunchy type food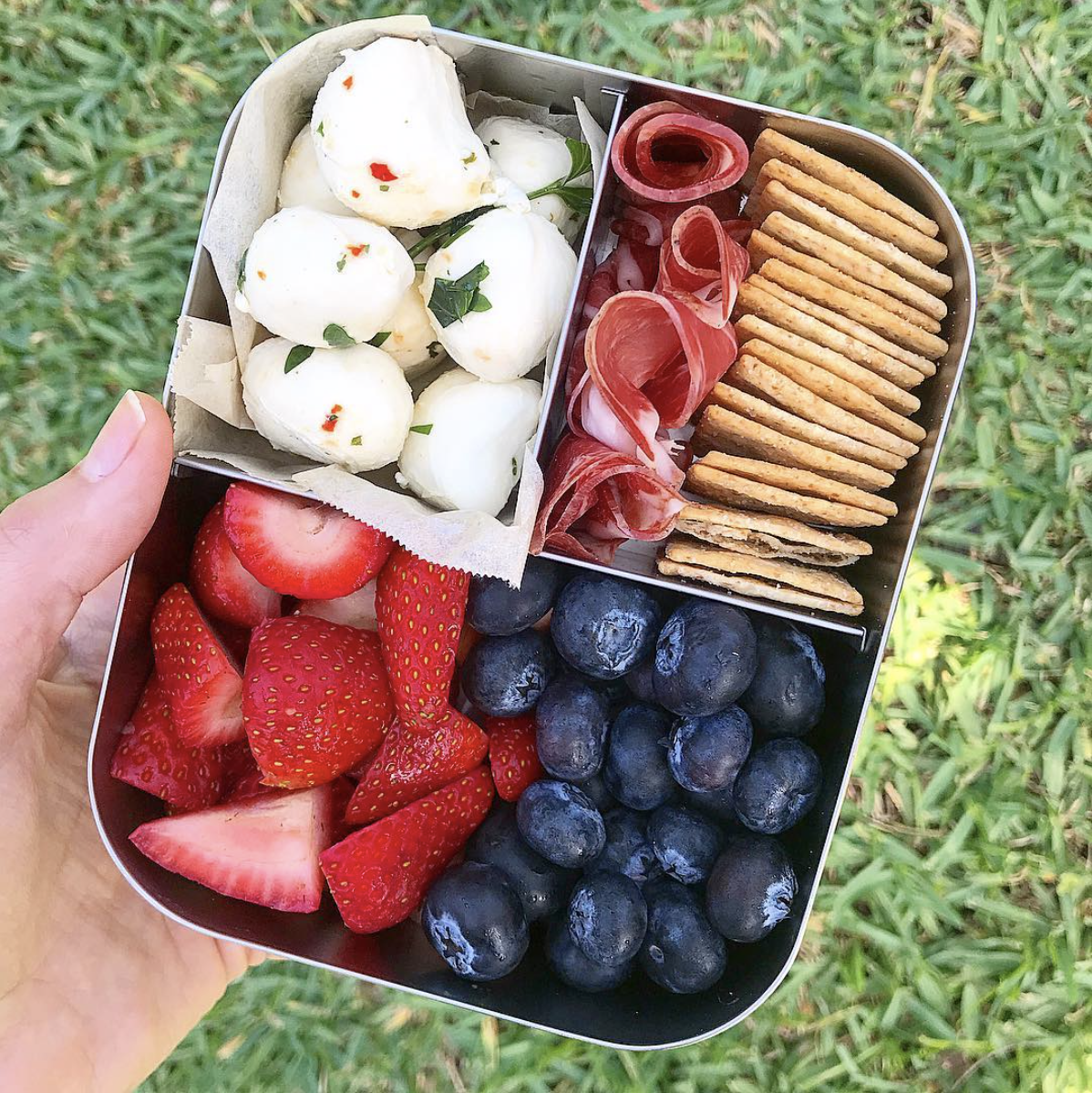 Before I get to that list I mentioned, I want to address one of the most common questions I get asked about snack lunch or snack dinner… What are the right portions for a snack lunch? And while I'd love to be able to provide a clear and concise answer to this question, this is such an individualized thing and will even vary day to day for each person. Just like with any eating situation, you need to listen to your body and know what you need to feel full and satisfied. For me, I like to use the handy lunch box container when deciding how much to serve myself at a meal. I know, for me, that the volume of food that fits in this container tends to keep me full for several hours. You can play around with different types of containers or plates, but the best thing you can do is to serve yourself "snack size" portions of everything you want to have at the meal and see what keeps you full. Don't finish your plate just because you think you should… finish it if you're hungry, but if you realize as you're eating that you need more or need less, pay attention to those cues and use that information when deciding how much to serve yourself in the future.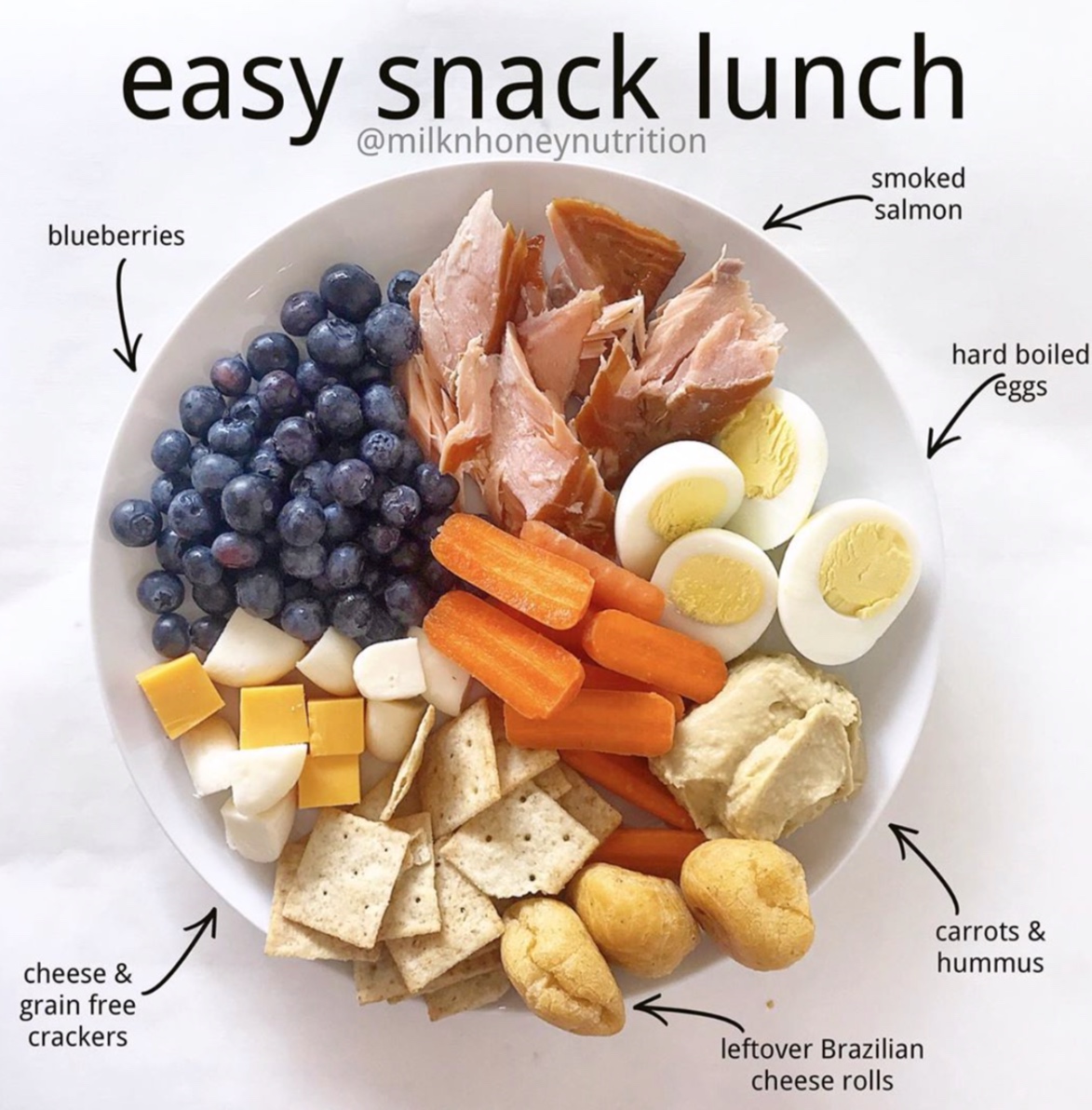 Here's what I keep on hand to make these types of meals in just 5 minutes?
Pantry staples
Chocolate chips

Raisins

Dates

Walnuts

Almonds

Pistachios

Peanut Butter

Almond butter

Crackers

Goldfish

Pretzels

Potato chips

Dried Mango

Pumpkin seeds

Chia seeds

Popcorn kernels

Quinoa

GF oats

GF bread

Quick and easy: bread mixes, pizza crust mix, brownie mix

Bean-based pasta

Canned fish

Popcorn

Cheerios

Snack bars

Protein bars

Granola
Fridge staples (buy weekly or every 2 weeks)
Blueberries

Strawberries

Cucumbers

Lettuce

Cheese

Lunchmeat

Smoked salmon

Salmon

Shrimp

Apples

Oranges

Sweet potatoes

Plain yogurt

Vanilla yogurt

Hummus

Grapes

Carrots

Avocados

Hard boiled eggs

Eggs

Sausage

Feta cheese

Pickles

Salad dressing

Olives
Freezer Staples (replenish when we run out)
Frozen fruit: raspberries, blueberries, mango, pineapple

Frozen broccoli

Frozen green beans

Brazi Bites

Ground beef

Chicken nuggets

Muffins/baked goods

Sausage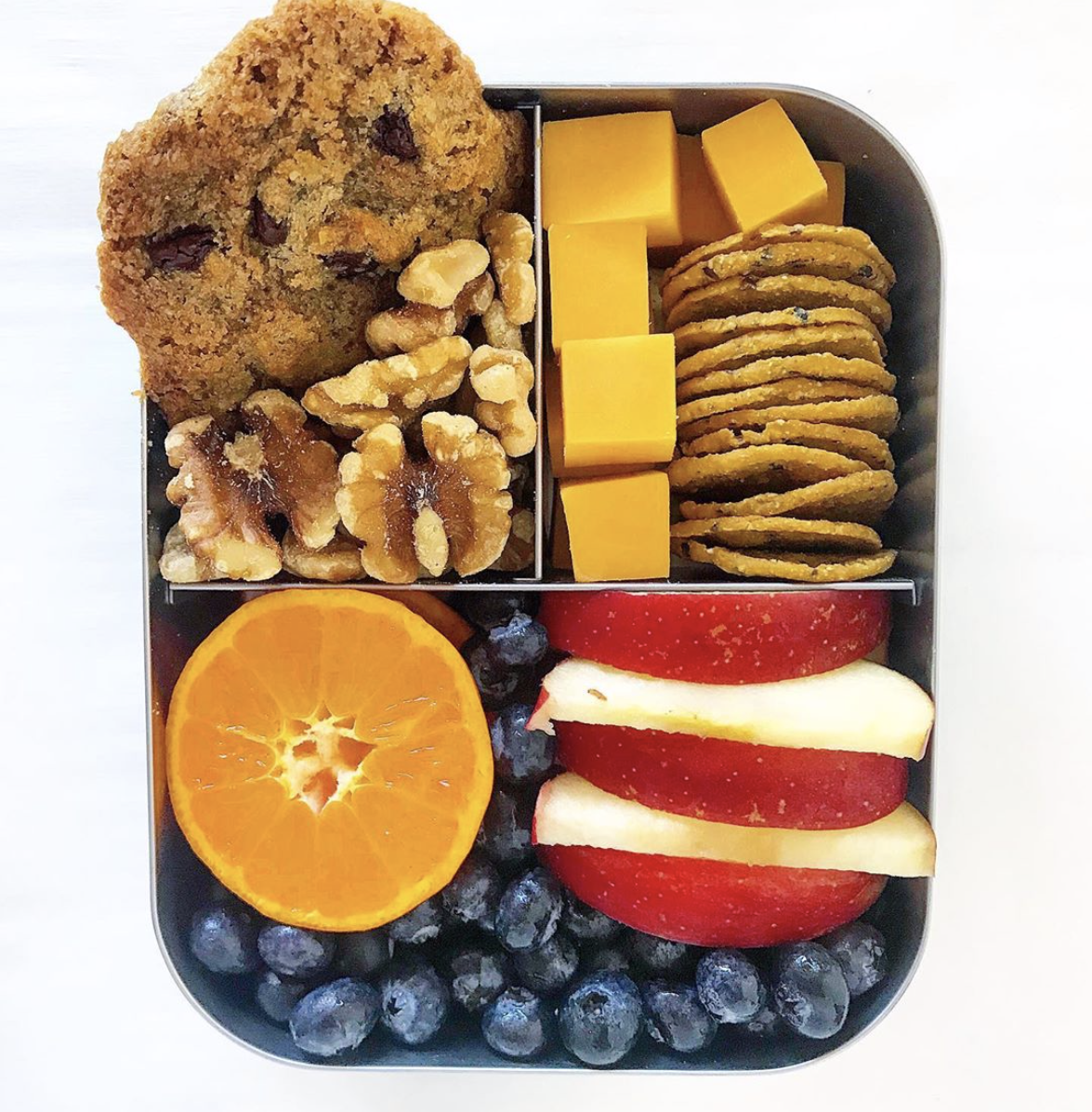 ---