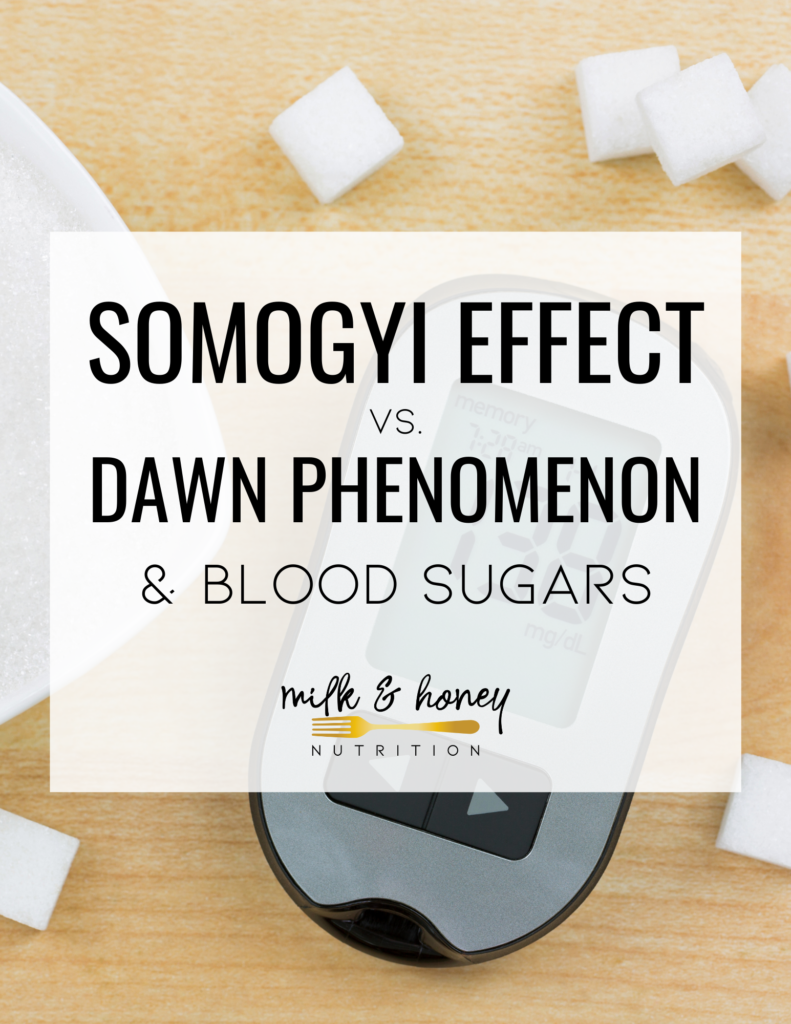 Are you familiar with the somogyi effect v. dawn phenomenon and how they may or may not be impacting your morning blood sugar levels?
Many people confuse the somogyi effect and the dawn phenomenon. Both can happen to people with diabetes and knowing which situation (somogyi effect v. dawn phenomenon) is impacting your blood sugars is very important.
Are you familiar with the somogyi effect and dawn phenomenon?
Many people living with diabetes struggle with unexplained high blood sugars when they wake up in the morning. So, even if you've never heard of the somogyi effect or the dawn phenomenon, odds are you've been impacted but one of them (or both) at some point. 
Similarities between diabetes dawn phenomenon and somogyi effect
Both the somogyi effect and the dawn phenomenon cause elevated blood sugars in the morning. Most people assume this happens because of the dawn phenomenon as it seems the somogyi effect of diabetes is lesser known by the general public.
What is dawn phenomenon?
The dawn phenomenon happens to almost everyone with diabetes and happens as a result of your body's natural circadian rhythm. Blood sugars rise when your body gets ready for you to start the day. Your liver will produce glucose to help fuel your day around the time you typically wake up. But, if you're living with diabetes, your pancreas cannot produce enough insulin to keep up or the insulin is not as effective as it should be, and as a result blood sugars do the opposite of morning hypoglycemia, and instead rise around the time you'll be waking up.
Does dawn phenomenon effect all types of diabetes?
Dawn phenomenon can impact people with all types of diabetes. It may be more noticeable, however, in people with type 1 diabetes and advanced type 2 diabetes.
Can you take metformin for dawn phenomenon?
Metformin is one of the most commonly prescribed oral medications for pre-diabetes and type 2 diabetes. It can be used to slow down the release of glucose from the liver and thus prevent dawn phenomenon in some people.
Dawn phenomenon treatment ideas
So, what can you do to help prevent dawn phenomenon? Here's a few strategies:
Eat a small bedtime snack with less carbohydrate and more protein
Have your doctor adjust your medication dosage
Change the time you take your medication
Adjust insulin dosages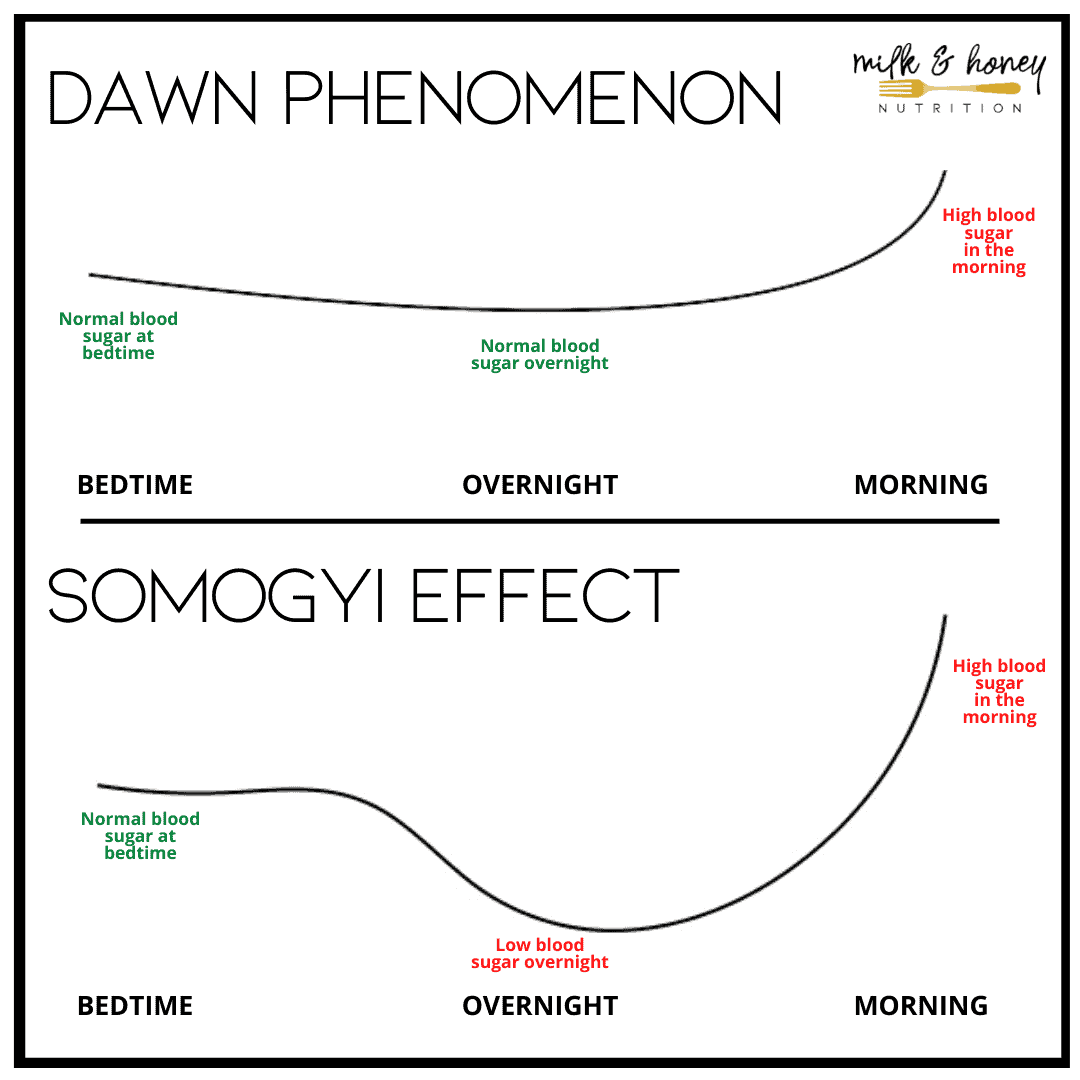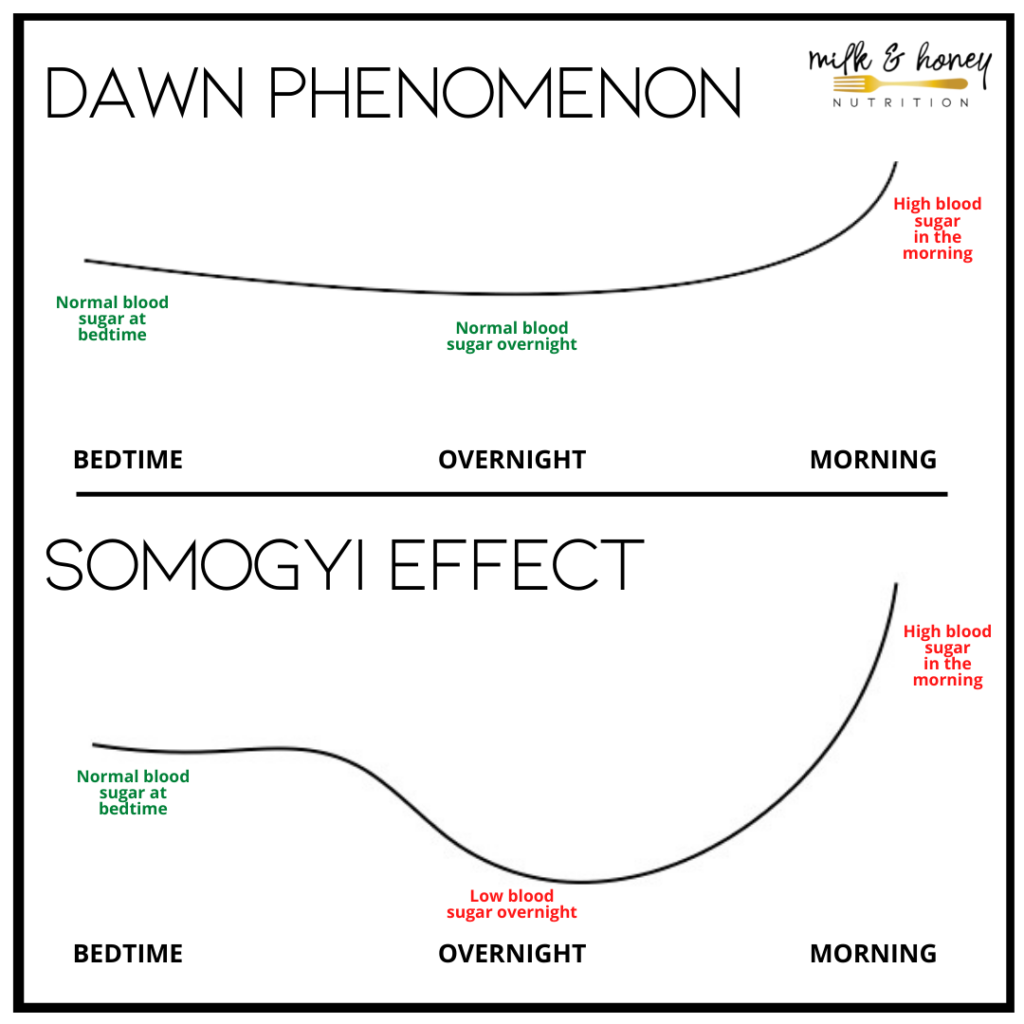 What is somogyi effect in diabetes?
While dawn phenomenon happens naturally, the somogyi effect is rebound hyperglycemia (high blood sugar) overnight as a result of taking too much insulin or not eating enough the night before. In both instances, blood sugar levels drop low and the body can produce hormones to signal glucose production by the liver. And as a result, blood sugars go high again by the morning time. 
Low blood sugar at night phenomenon
Low blood sugar at night can be caused by not eating enough (skipping a bedtime snack, eating a smaller dinner than normal, etc.), or taking too much insulin or other medication that impacts blood sugar levels.
Rebound hyperglycemia
When blood sugars drop low, the body can produce hormones that work against insulin and raise blood sugars too much. When this happens , you experience what we call "rebound hyperglycemia."
Somogyi effect in type 2 diabetes 
The somogyi effect impacts people who utilize injected insulin to manage their diabetes. This includes type 1 diabetes and insulin-dependent type 2 diabetes.
Somogyi effect treatment
Treatment for the somogyi effect usually means adjusting either your food intake or your insulin dosage.
How to know the difference between somogyi vs dawn phenomenon?
Many doctors may ask you to test your blood sugar in the middle of the night to determine whether you're experiencing somogyi effect vs dawn phenomenon. (Low blood sugar overnight indicates somogyi effect.)