Guest post written by Ashley Smith, MPH, RDN, LD of veggiesandvirtue.com
It doesn't take a marathon meal prep session on Sundays to get ahead for the week. Instead, you just need a step-by-step 60-minute meal prep game plan for what's on the menu and what nights you need a little help to get ahead. While it does take some practice to familiarize yourself with the steps and systems that can simplify a meal prep session, I am sharing what I do below in hopes it inspires you in whatever approach you take!
Below is the meal prep plan based on this week's meal plan featuring Milk & Honey Nutrition broken down by how I would prep it in an hour or less. I don't get every night's dinner completely cooked in that amount of time, but I do go into the week with both a nightly plan for what to make and having the more time-consuming ingredients prepared in advance.
To be most successful with meal planning and prep, there are a few things to think through what you prep for the week.
Questions to Ask
By answering a few generic questions, you are able to evaluate what food items to prep ahead. Then, figure out what works best for you! Consider:
What meal(s) are the most time-consuming to prep?

What days or nights do I most need meals ready ahead of time?

What items would be the most helpful to have ready and on hand?

What foods will stay fresh until they're eaten?

What could I get ready all at once, so I don't have to do _________ repeatedly during the week?
In planning the logistics of your upcoming week, you can determine what from your weekly menu would be best to meal prep. You can often cut back on the dishes you use to prepare your weekly meals by preparing them in advance, as well as save time and energy on tasks like standing at the stove, preheating the oven, or washing produce one item at a time.
Since this meal plan focuses on dinner, my goal is to get ingredients prepped and the meal ready to cook (if not already cooked) so that our evening meals take less than 30 minutes to get on the table. The following one-hour prep session helps me accomplish just that.
So without further ado, here is the 60-minute rundown of what to prep for this week's meal plan.
60 Minute Meal Prep
0-5 Minutes
Pull out trash can, cutting board, knives, compost bin, hand towel, and any appliances you anticipate needing (food processor, stand mixer, etc.).

Preheat oven to 350. Line muffin tins with parchment paper liners.
5-20 Minutes:
Make blueberry muffin batter (day 5).

If oven is not yet preheated, make dough for cheesy rolls (day 3). Set aside to add cheese later (if shredding yourself below).

When oven is preheated, put blueberry muffins in. Set timer for 30 minutes.
20-40 Minutes:
Wash all vegetables. Allow vegetables to air dry while chopping others.

Dice two sweet potatoes (days 5 and 7). Store half in a large, airtight glass container with water covering diced potatoes completely (I use a mason jar). Set the other half aside in a glass dish (for more of day 7).

Halve Brussels sprouts (day 1). Store in glass baking dish.

Dice one bell pepper (day 7). Store with sweet potato and set aside (day 7).

Chop about 6 cups kale (day 3 and 4). Separate into two glass storage dishes with 2 cups in one dish (day 3) and 4 cups in another (day 4). Set aside.

Dice one onion (days 4 and 7). Add half to sweet potato and bell pepper mixture (day 7) and the other half in a bowl beside the kale (day 4).

Mince 3 cloves garlic (day 4 and 7). Split between three dishes (those for day 4 and 7; set aside for day 2).

Open can of garbanzo beans (day 3). Rinse and set beside kale in glass container.
40-50 Minutes:
Start quinoa+water on the stove.

While stove top heats up and quinoa cooks, shred block of cheese in food processor to be used in macaroni (day 2) and grain free rolls (day 3).

Add cheese to rolls dough. Knead and form large ball of dough, wrap tightly in saran wrap, then refrigerate until the night of use.

While quinoa cooks, make sloppy joes sauce (day 7). Store in a glass mason jar.

If consuming salmon within the next 24 hours, remove from freezer and set in a glass baking dish to thaw overnight (in the fridge).

When timer goes off remove muffins from the oven.
50-60 Minutes:
Add lids to all of dishes. Transfer to fridge.

Wash dishes and wipe down counters.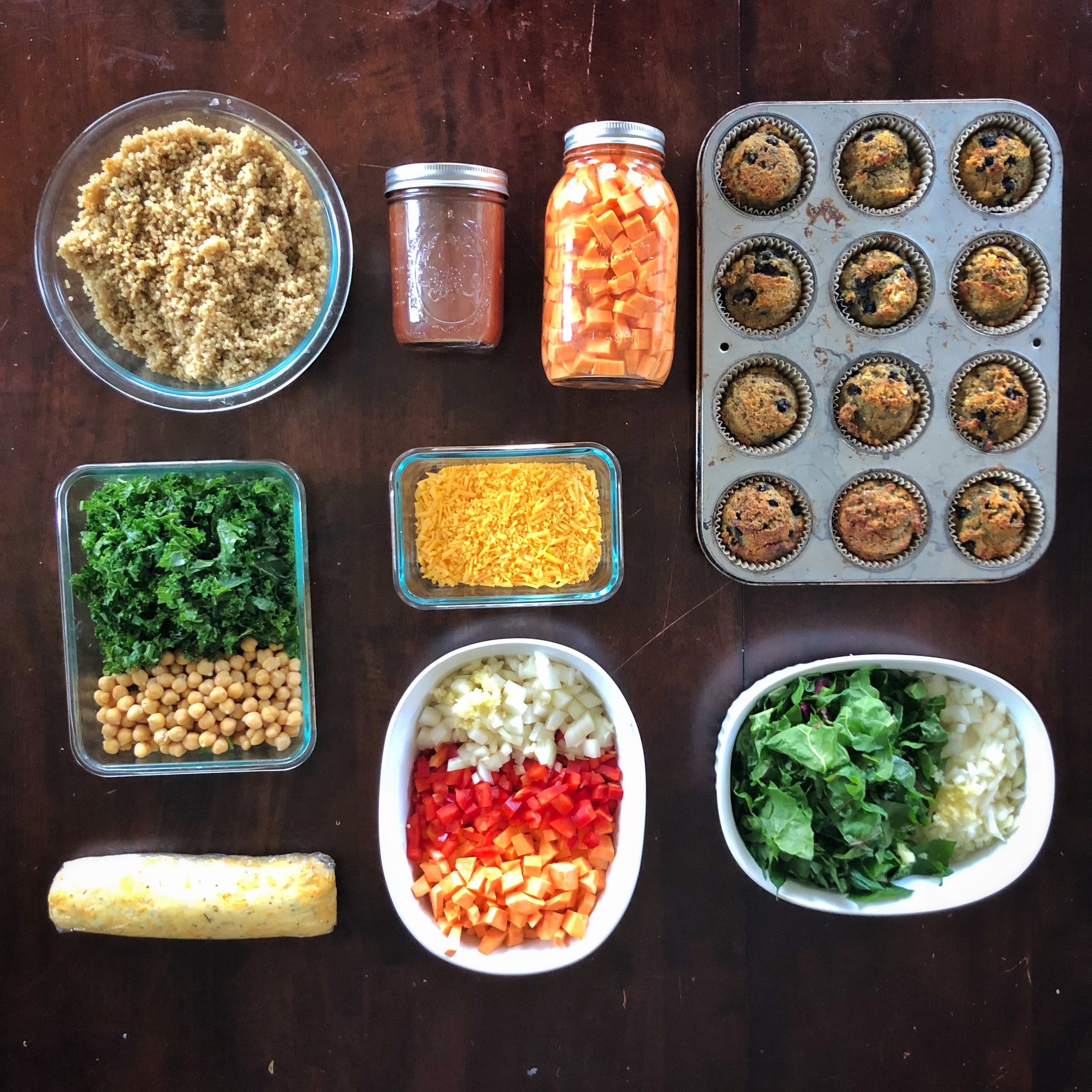 Reducing Waste
While there are several ways to do meal prep, I find that knowing my recipes in advance and taking care of most of the prep steps in advance helps me to better execute them during the chaos of the week.
That said, there is often some flexibility required to make sure nothing spoils.
Whether grocery shopping only once for the whole week or prepping on Sundays for the week's worth of meals, we often shift the weekly meal plan schedule to how life happens or to consider what food items I need to cook up first.
Here are a few things to keep in mind:
As the week goes on, continue being efficient with your meal prep. If you have the oven on to bake the cheesy rolls (day 3), go ahead and roast the sweet potatoes (day 5) as well while you're at it and the oven is on. This will make them taste more fresh when you eat them, while also saving you the time to preheat the oven and roast them the night of.

If you are standing at the stove sauteing onion and browning turkey meat already (day 4), consider going ahead and cooking the sloppy joes as well (day 7). This will make a second meal ready to eat with little to no extra work, but also prevent the prepped ingredients from going bad.

Plan to either cook or consume the items you prep over the weekend within 3 days. This helps to make sure that vegetables cut in advance don't spoil, especially those that don't hold up as well like greens, bell peppers, cucumbers, and other soft produce.

If it looks like something may spoil before it appears on the menu rotation, swap it out with another meal that can sit another night or two without going bad. The meal plan should act as an inspiration for meal ideas over the course of the week and to serve you; you should not be serving your meal plan.

Use shortcuts, when necessary or more convenient. If you don't get to all of the meal prep above or need to save time elsewhere during the week, buy pre-cut produce. This often lasts at least 3-5 days and has been pre-washed and pre-cut. If you are concerned an item you prep in advance may spoil before you get to eating it over the course of the week, err on the side of caution. Either wait to prep it and/or buy the pre-cut option of it to have on hand (as needed).
Get Your Weekly Meal Plan
I hope this is a helpful breakdown and inspires you to how you could invest just one hour each week to manage your meal prep. With a little planning and prep, you can become more efficient getting delicious, healthy dinner ideas on the table each week.
For more on Veggies & Virtue meal plans including this week's with Milk & Honey Nutrition, hop on over here. You can see the past three month's worth of menus as well as sign up to get the "complete meal plan" to your inbox every Friday – for FREE!
---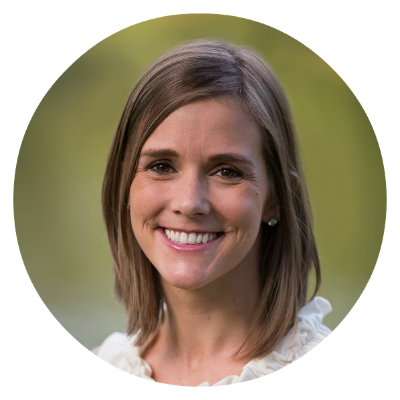 Meet Ashley Smith, MPH, RDN, LD
Ashley is a pediatric dietitian and mom to two apprehensive eaters (ages 4 and 2). Her mission is to bring other families less meal time stress and more feeding success. Ashley does this each week through sharing simple approaches to meal planning and effective strategies for raising healthy eaters. Follow her on Instagram @veggiesandvirtue or her blog, www.veggiesandvirtue.com.