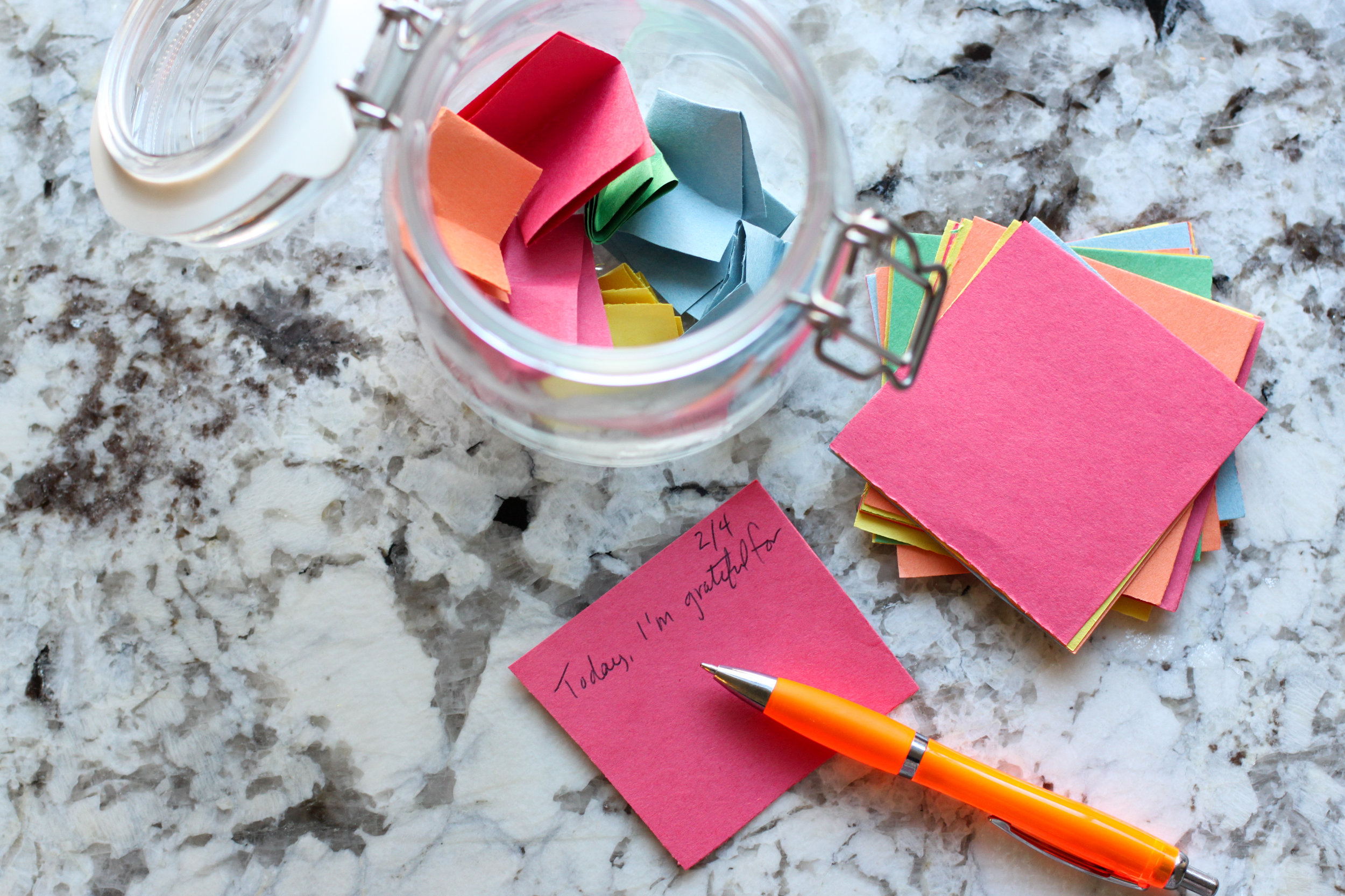 ---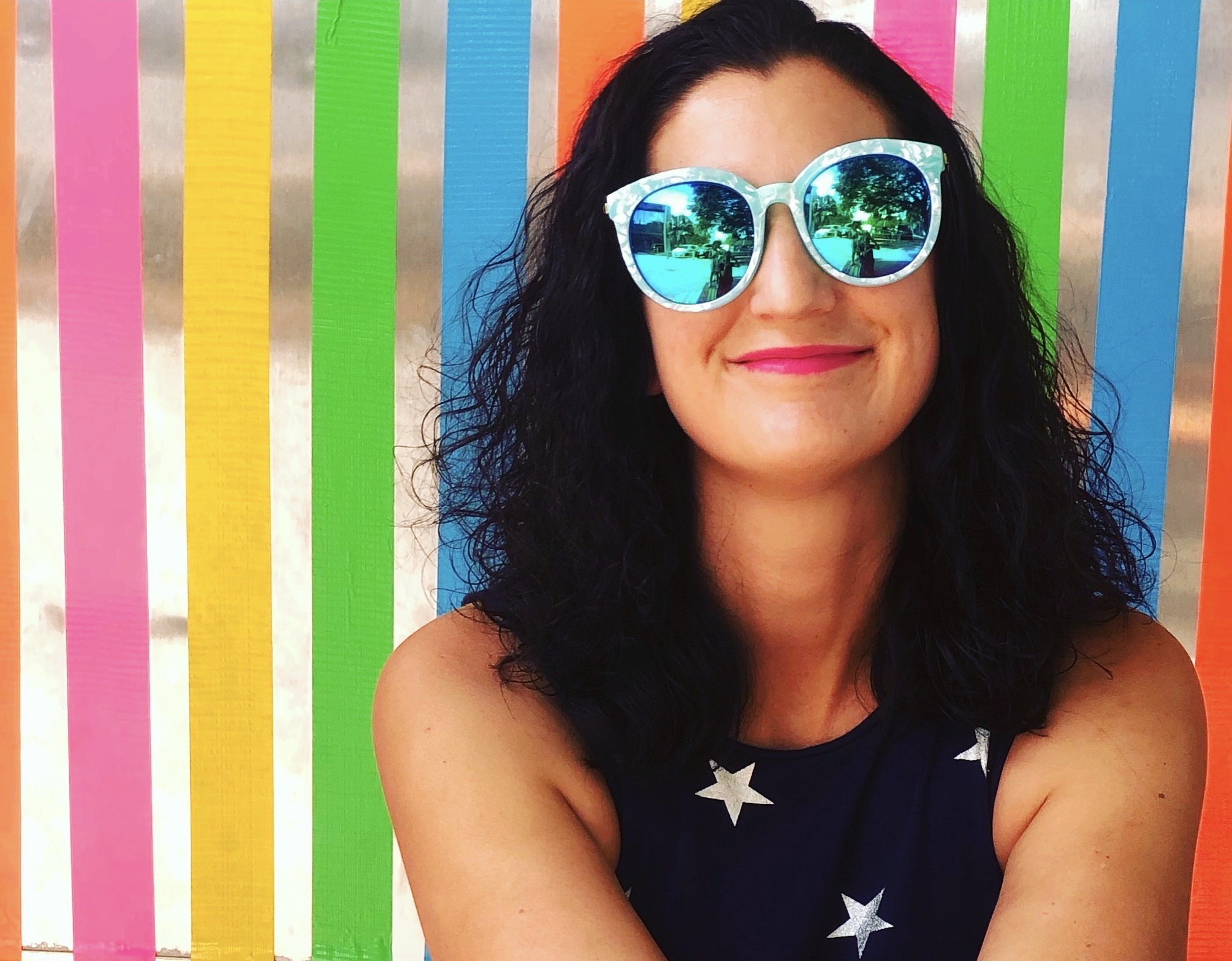 This post was written by Amanda Sorena. Amanda is a freelance writer and Public Relations Specialist. She is a contributor to the free blog/app Mommy Nearest and resides in Houston, Texas with her husband and three elementary age children. You can find her on Instagram and Twitter @KismetSorena.
---
Growing up, I always looked forward to Valentine's Day because it meant that my mom would give us treats and a pair of goofy heart socks. For us, it was never about the date night, but rather simply one more opportunity to express how much our family means to each other, but in fancy footwear.
Like so many things, I took for granted how valuable a lesson this was until I became a mom myself. In a pre-pintrest, no pressure era my mother was a master at adding little touches to the minor holidays to make them memorable. I cherish how she was able to make occasions like Valentine's Day feel special and family focused. This was even more critical when I became a teenager and Valentine's Day came with a new romance narrative. Boyfriend or not, my mom was getting me socks.
I've started this Valentine's Day tradition with our children, but it occurred to me –What makes Valentine's Day a special day? Beyond the gifts and the candy hearts, Valentine's Day is also a time when we often write notes to one another expressing our love and appreciation that they are in our lives. Why do we only do this one day a year?
Enter the Gratitude Jar.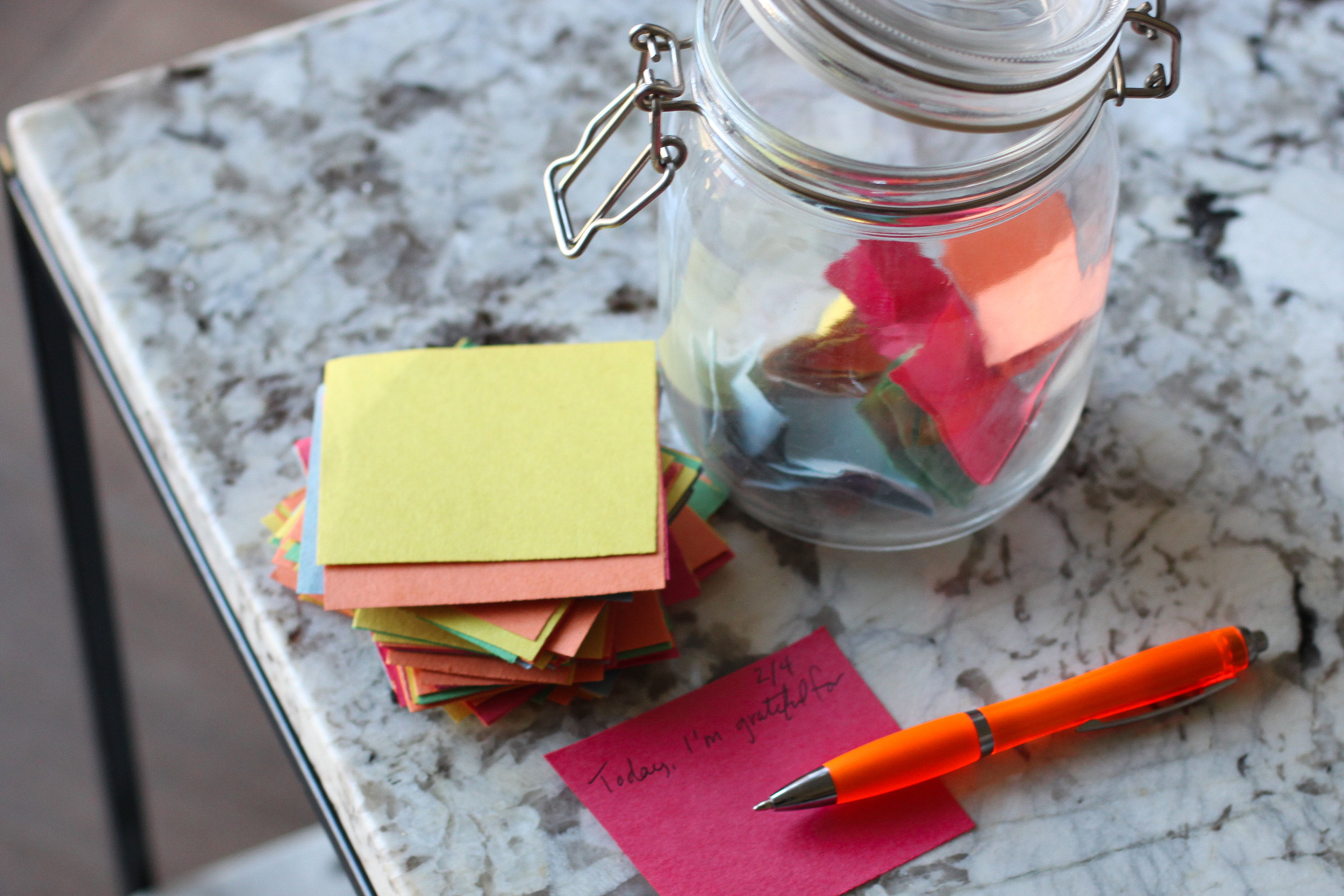 Last year, a friend handed me a stack of color slips of paper wrapped with a bright gold bow and issued a challenge – write down your daily gratitudes and put them in a jar.  On New Years Eve, read them aloud as a family. I have always liked the *idea* of practicing gratitude daily, but had been terrible at follow through. I vowed to be different this year. I bought a jar and set it on the kitchen counter with the hopes that mere proximity would serve as an adequate reminder. I'll admit I struggled some in the beginning. I would consider scribbling being grateful for "family," or "coffee," or "beautiful days." Not bad, but not exactly introspective.  I decided to push myself to dig a bit deeper past the general stuff to the real nitty-gritty, daily moments we often forget to mark as the "good stuff."
It wasn't that suddenly there were more aspects in our lives to be grateful for. The hard stuff still happened. I still yelled more than I wanted to. The laundry didn't go away. Dinners still needed to be made, bills paid, and deadlines met. If anything, I learned that when you stop treating gratitude as some sort of special thing reserved for holidays and big events, and start looking for it day after day, there is a perspective shift that is profound and meaningful. Everyday, no matter what, there is always something worth writing down.
Through this daily gratitude practice, my family is reminded that even normal days are worthy of love notes and while chocolates and flowers are wonderful, there are other sweet treats for us to discover each day if we go looking for them. Our son staying in his bed all night after weeks of sneaking into our room at 3am.  Dance parties in the kitchen. Dinners with friends.  Singing along to the radio in the car. Kids taking tamiflu with no complaints. Truthfully, I am grateful that tamiflu even exists.
I am confident that on Valentine's Day a note will be slipped into our Gratitude Jar about how we celebrated and I know they will love their new silly socks. More importantly, I also know that on the 15th another note will go into the jar about some unexpected way that our family felt grateful that day. While both have value, I think I know which one is the bigger Valentine.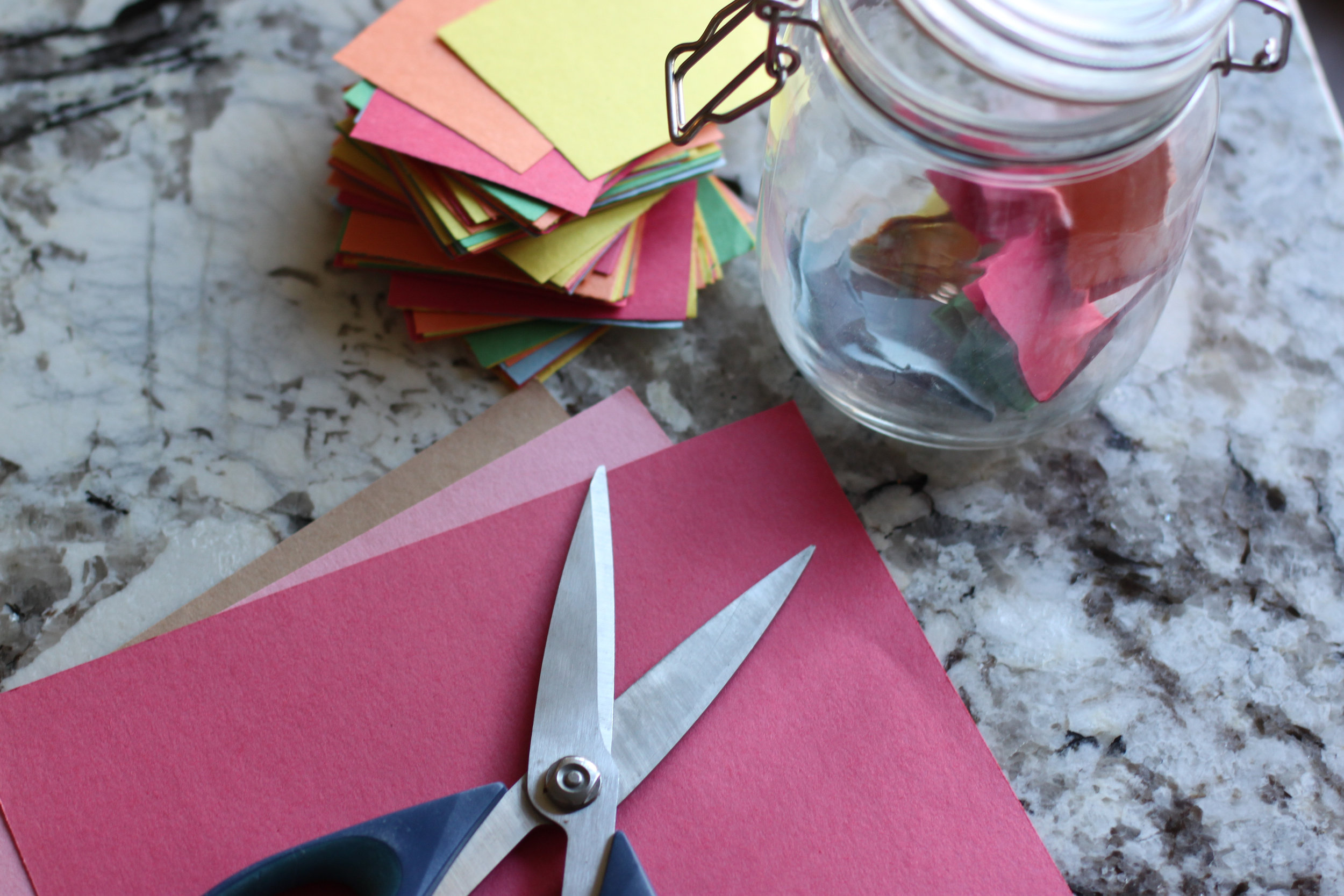 Creating your own Gratitude Jar is easy. You just need a few items: 
Paper – I used some scrap construction paper from our craft stash and cut them into little squares. I keep them inside the jar with a pen.

Jar – I bought a jar at the dollar store, but the container does not need to be fancy. You can use a box, flower vase, etc. Anything simple that you can use to collect the gratitude slips year-round.

Place it Someplace You'll See it – I get it. Clutter is not ideal, but for me having the jar someplace I can see it helps encourage me to follow through with actually writing down my gratitudes. For me, that place is the kitchen, but for you maybe it is the laundry room, living room, bathroom, wherever!

Write It Down – Again, they don't have to be big things. The point is to find something worthy of writing down. You can do this daily or weekly or whenever it comes to mind. There are no rules here. Things like, "finally mastering that piano piece," or, "no cavities at the dentist," or "learning to pump your legs on the swing without mommy pushing," are great places to start. Just write!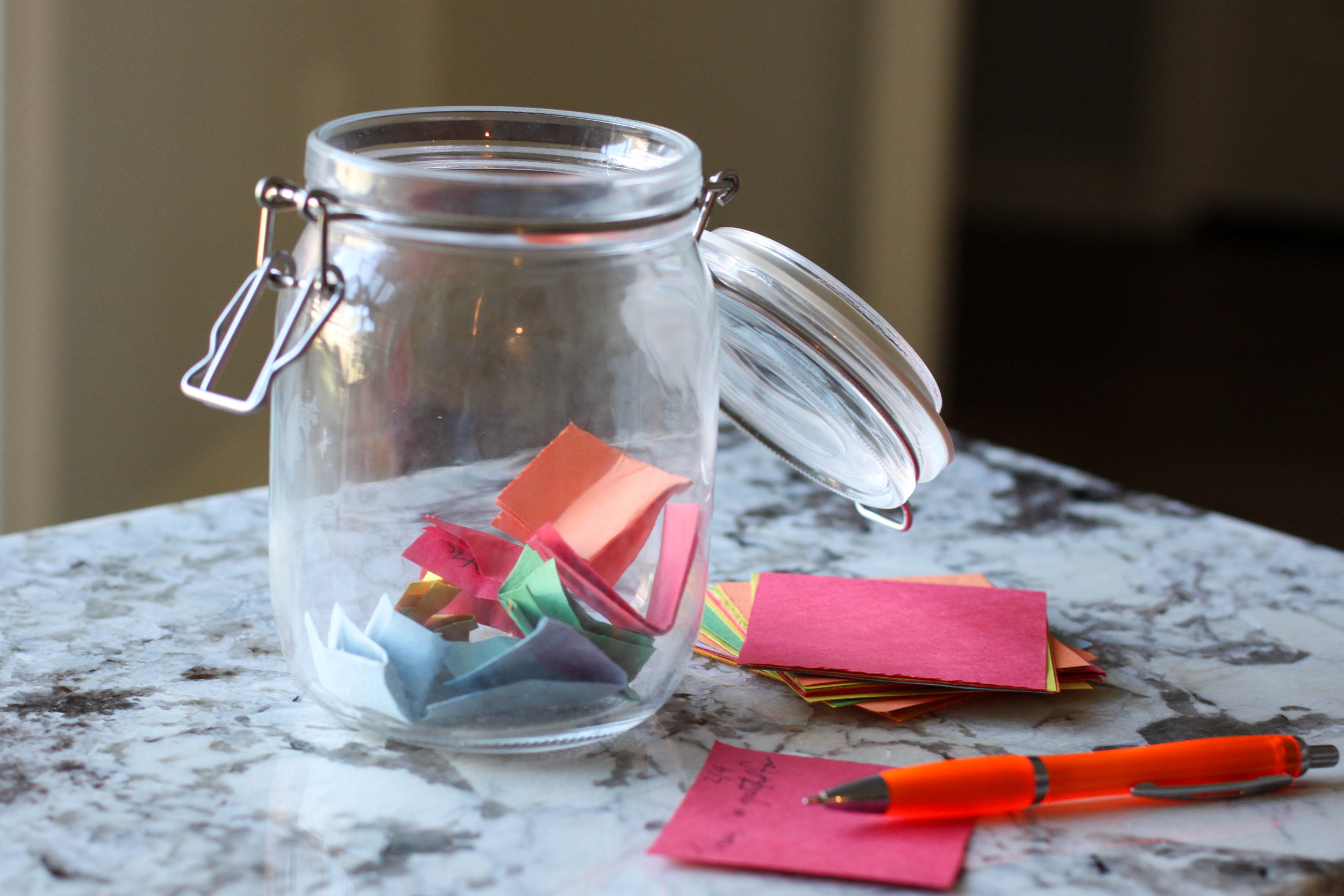 ---