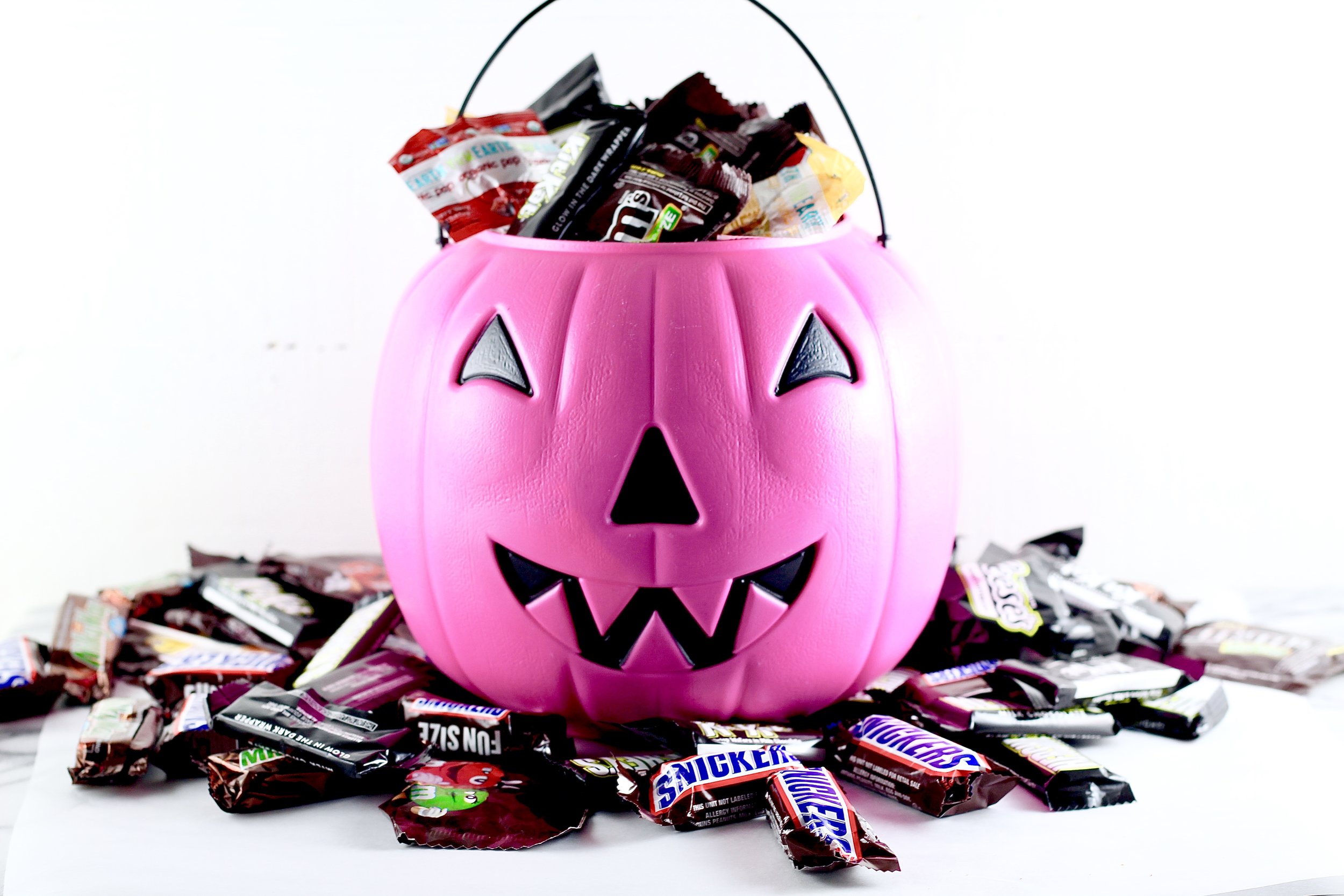 ---
This time of year, I get asked ALL THE TIME about how to handle Halloween candy and kids…
How much should they have?

Do you let them have any at all?

What do you do with your kids?

How much is too much?

Do you hide it from them?
And you get the idea…
My usual reply isn't really what people want to hear. Because the truth is, there's no right or wrong way to handle Halloween candy and kids. Different things work for different families. And even within the same family, you may need to handle Halloween candy different for one kid than you do for another. You have to know what each child needs and will respond best to.
And it's also important to think of this sugar-filled, candy-laden holiday as a teaching opportunity rather than something dreadful to be avoided.
I asked people over on Instagram to share some of the ways they handle Halloween candy with kids and here's some of my favorite responses.
Note: Any and/or all of these could be good and totally acceptable options for your kids. Try to think about your child's personality, eating habits, and favorite foods and do what you think is best for them…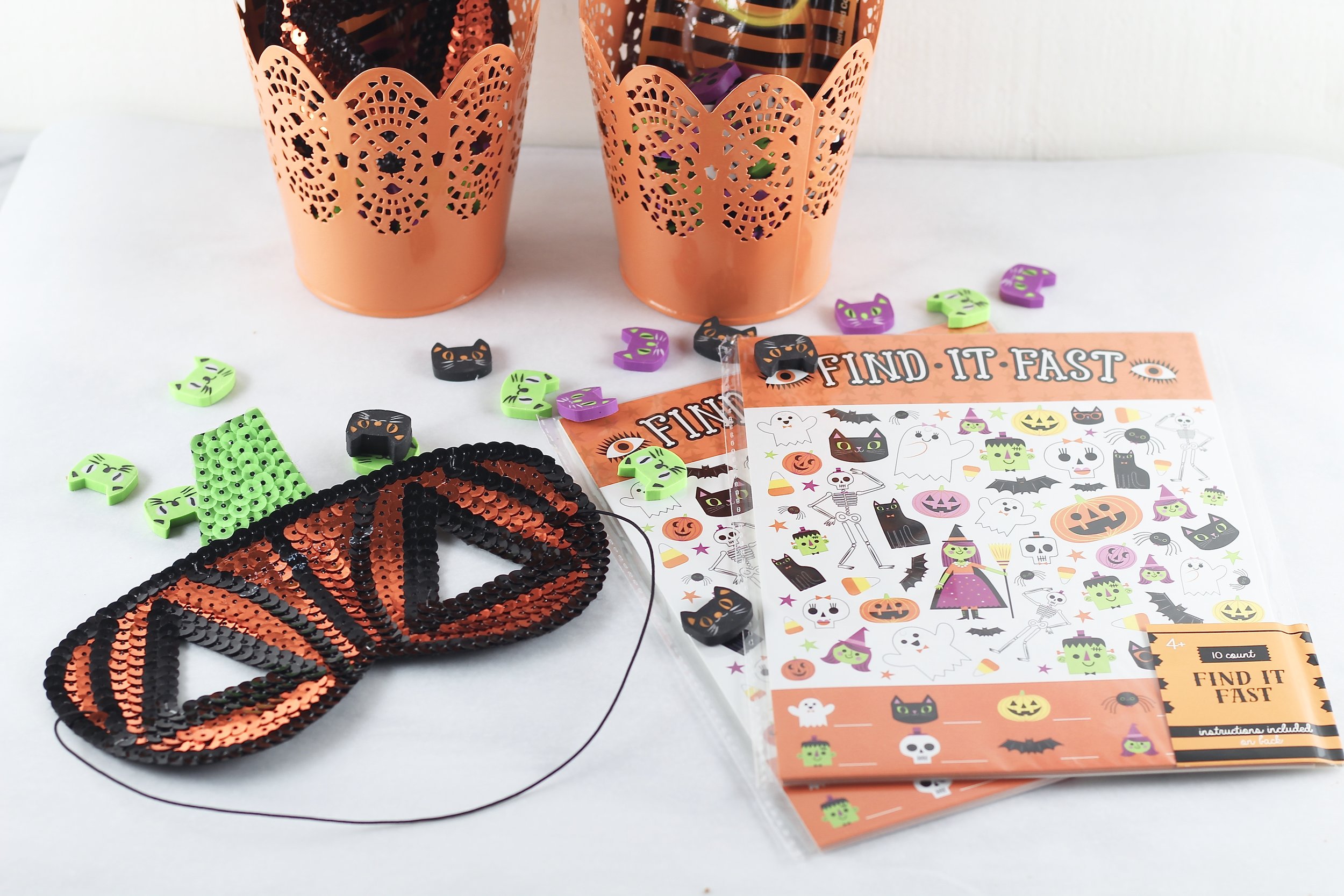 Ideas for how to handle Halloween candy and kids
"Switch Witch"

– Lots of people suggested some variation of this. Some people called it the "Great Pumpkin." Others said their kids called it the "Halloween Fairy." But whatever you want to call it, basically you have your kid leave their bucket of Halloween candy out and in the morning it has been replaced with a toy, gift card, money, etc.

"One a Day"– Again, another very popular answer, but there were several different variations of this. The two most common were:

Let your child have a set amount of candy that night that you determine, and then they get one piece of candy each day after until it's all gone. Store the candy out of sight, and only offer the one piece if they ask.

Let your child have as much candy as they want the night of, and then put the candy out of sight and allow them one piece of candy for dessert each day until it's gone, but only if/when they ask for it.

Donate it!

– Several people do this. I know several dentist offices around us that will collect the candy and send it to troops overseas, or you can donate it to different children's groups around town as long as it hasn't been opened.

Buy it back $$$

– This was interesting to me. As someone with younger kids, this had never occurred to me, but more than one person suggested it. There were differing money values, but basically for every piece of candy they gave their parents, the parents would pay them some set amount (responses ranged from a nickel to a quarter).

"Mom tax"

– I'm a firm supporter of the "mom tax"… 🙂 Because, if I walk you around this neighborhood, I'm entitled to my share too. And none of this smarties or starburst business. Mama wants chocolate

!
Before you go trick or treating
Regardless of how you choose to handle Halloween candy with your kids, whether it was listed above or not, one resounding theme I heard and that I would echo is to let them have some. You decide what you want that to be, but I strongly recommend you don't deprive them.
Pro-mom tip: Knowing that they will be getting some form of candy that night, regardless of how much, make sure to do these two things before you head out the door.
Give them a quality dinner you know they like and won't protest eating. You want those little bellies full 🙂
I'd also give them a nutrient dense snack before going if there's a decent amount of time between dinner and trick-or-treating. This could be any of the following: protein bar, cheese and crackers, apples and PB, energy bites, etc.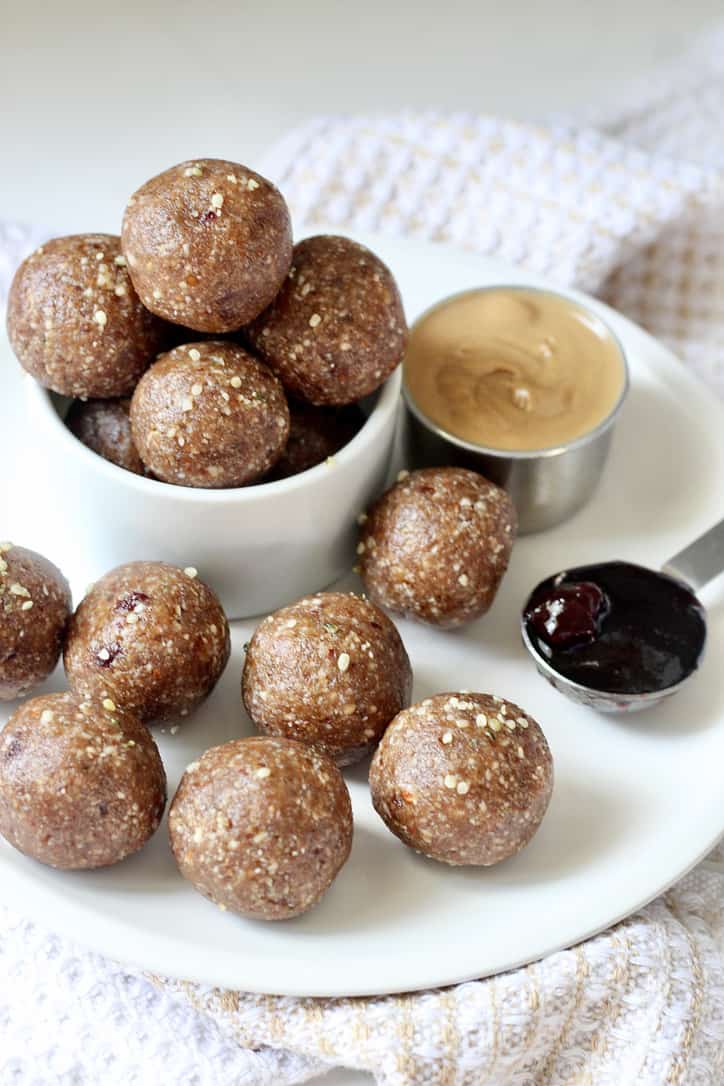 PB&J Power Bites (No Added Sugar)
I've got you covered with the perfect back to school snack with these no added sugar PB&J Bites.
View Recipe
What a dietitian hands out on Halloween
Another thing to consider for Halloween is what you're going to pass out at your house to the kids from around the neighborhood.
For me, since I know my kids will be getting candy from the other houses, and since I know the other neighborhood kids will be too, I see no reason to add to it and I choose the non-candy route. Call me a scrooge, but that's just what I do. You do you.
Here are a few that aren't candy (but still food) that you could pass out, and I know kids will still get excited about (or at least my kids will!):
Pretzels
Applesauce pouches
Goldfish
Popcorn
Fruit snacks
Dried fruit
What are your thoughts on this topic? I'd love to know! Leave a comment and tell me how you handle Halloween candy and kids!
---