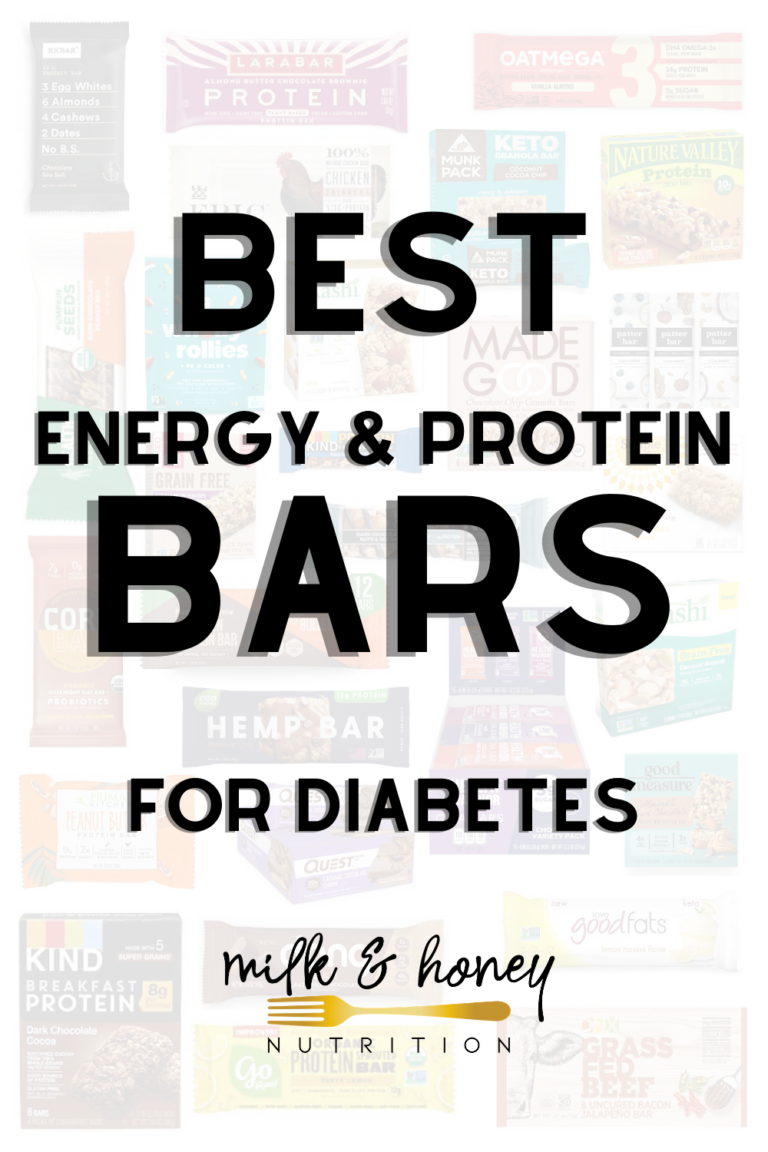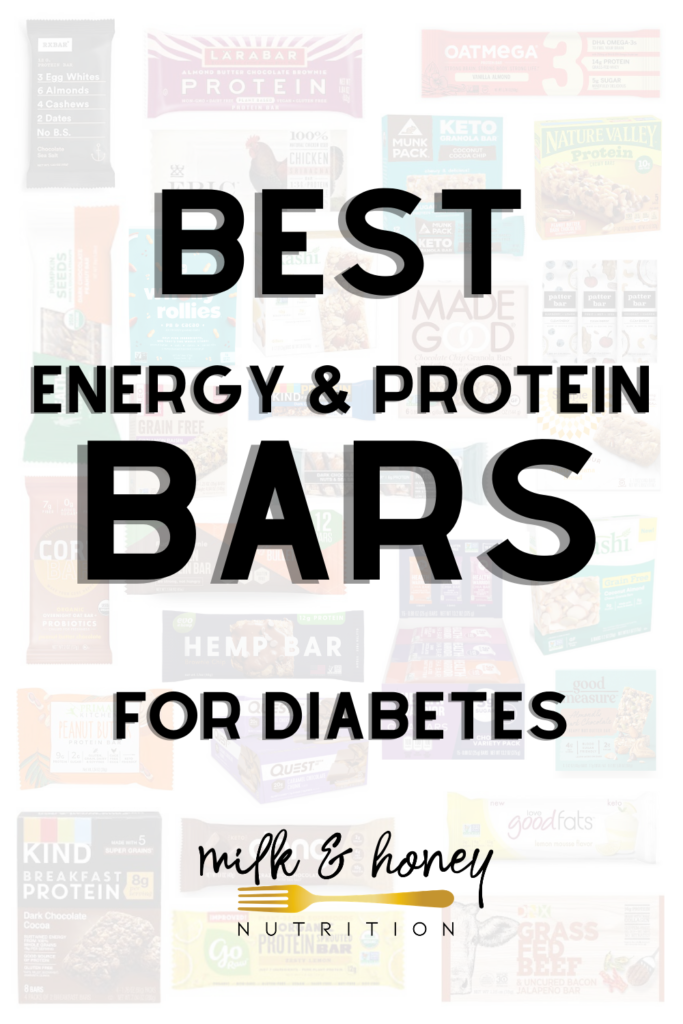 Did you know there are a TON of great protein bars for diabetes available out there?
But, you need to know what to look for in a protein bar, or any other type of bar, to know if it's a good protein bar for diabetes. In this article, I break down what to look for and my favorite protein bars, energy bars, and low glycemic bars for diabetes.
*Disclaimer: This blog post is not sponsored in anyway. These are all truly my favorite bars for diabetes. However, I do work with some of these brands occasionally. That's actually one of my favorite things about my job… some of my favorite foods to eat are also my clients! And some of the links in this post are affiliate links. What does that mean? It means that if you click on a link and end up purchasing that product, I may get a small commission, but it doesn't cost you anything extra.
Also, this article is not intended to provide medical advice, diagnosis, opinion, treatment or services. This article and the links contained in it provide general information for educational purposes only. The information provided in this article is not a substitute for medical care, and should not be used in place of the advice of your physician or registered dietitian.
What should you look for in diabetes friendly bars?
Just like with packaged snacks (check out my post on the best packaged snacks for diabetes here), when we're eating a bar there's several things to consider…
Is this bar a snack, a meal, part of a meal, etc?
How much protein is in the bar?
How much fat is in the bar and what type of fat is it?
How much carbohydrate is in the bar?
How much of the carbohydrate is made of sugar?
How much fiber is in the bar?
All of these factors played into the protein bars for diabetes recommendations below… and the energy bars and snack bars for diabetes recommendations as well.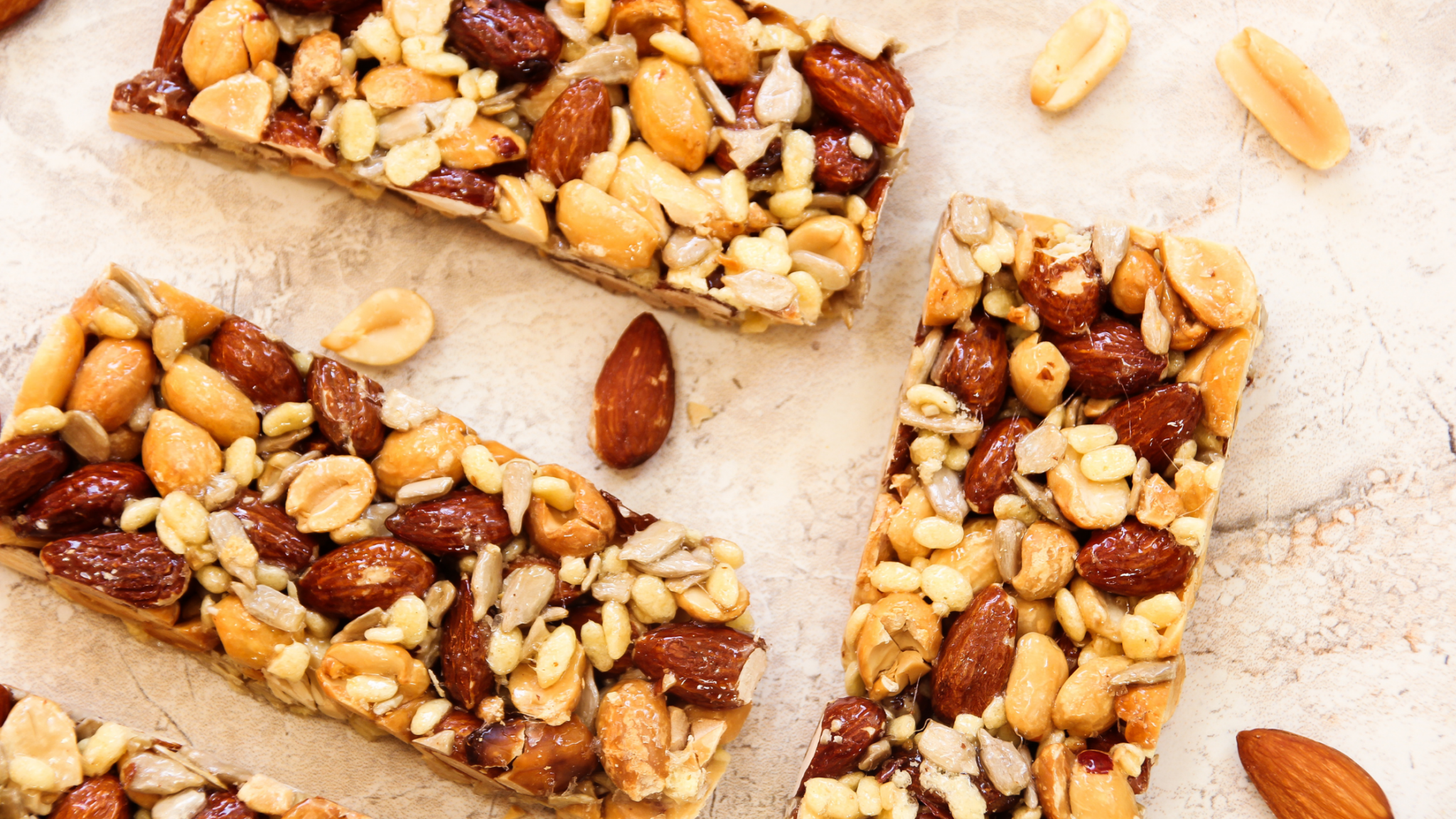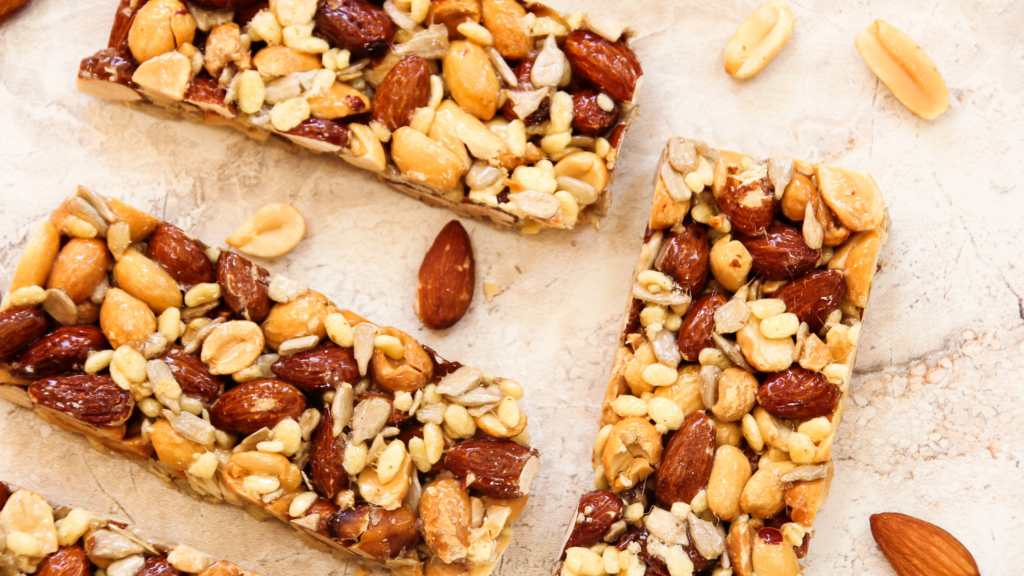 What types of health bars for diabetes are available?
Now, just so you know, I'm not going to recommend bars that you'll find in the pharmacy department labeled as "diabetes bars." Think: Glucerna, Ensure, etc. These bars are often not made with quality ingredients (just my opinion) and aren't super satisfying either.
The key to remember is that something doesn't have to be labeled as "diabetes-friendly" for it to be a good option for people with diabetes. You just need to know what to look for. (Make sure to read this post too on balancing blood sugars and choosing the right foods.)
A quick note on categorizing bars before we get started
You'll notice that some of these bars could have probably gone in other categories or been repeated. Just keep that in mind. I may have a bar listed under higher fiber, but it could also be labeled as higher protein, low glycemic, etc. So, yes there is some crossover but I wanted to give you as many options as possible and not repeat recommendations.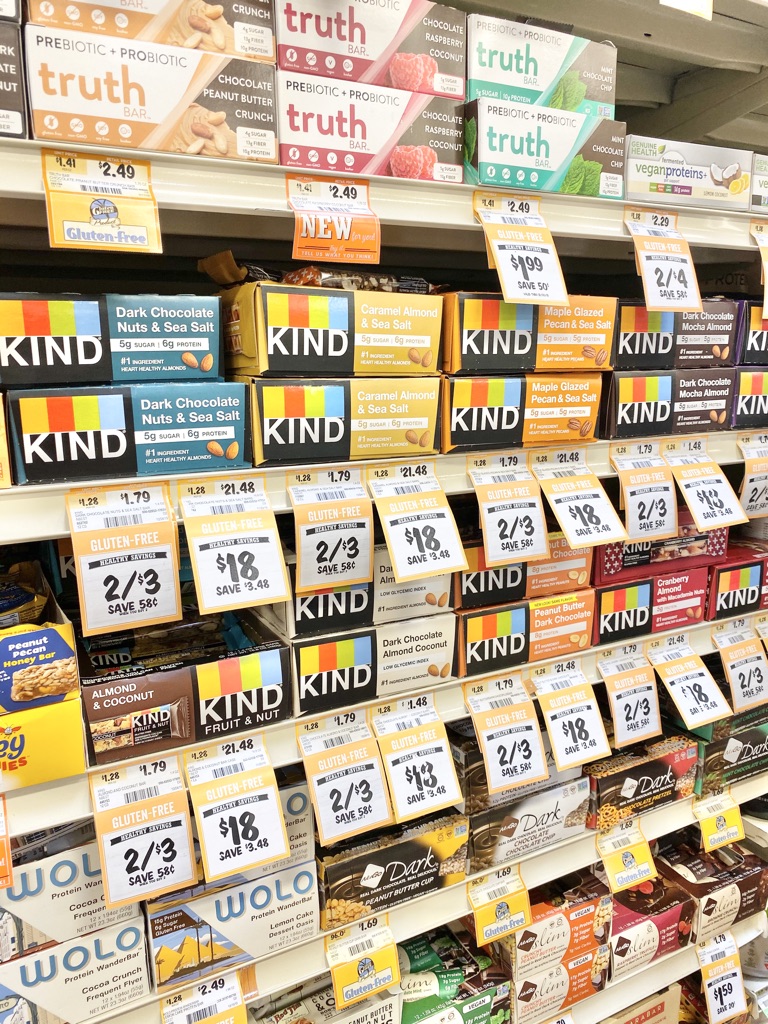 Protein Bars for Diabetes
Now, first, let's chat about protein bars…In this section, I'm going to talk about and reference protein bars for diabetes that are marketed as protein bars and/or have 8g or more of protein/bar.
Are protein bars good for diabetes?
Yes, they can be! Whether you're looking for a meal or a snack, it's important to have a quality source of protein each time you eat.
Do you need to focus on low GI protein bars?
Again, the bar does not need to be labeled as low GI for it to be blood sugar friendly or diabetes friendly, though it certainly can be. We're focusing on a whole host of factors (see that bullet list at the beginning of this blog post again) to determine what the best protein bars for diabetes are.
Are the best protein bars for type 2 diabetes the same as type 1 diabetes?
Generally speaking, yes. Just like all of the other content I publish here on my website, and on social media, the recommendations for bars in this post apply to people with all types of diabetes, and anyone looking to balance blood sugars and energy levels.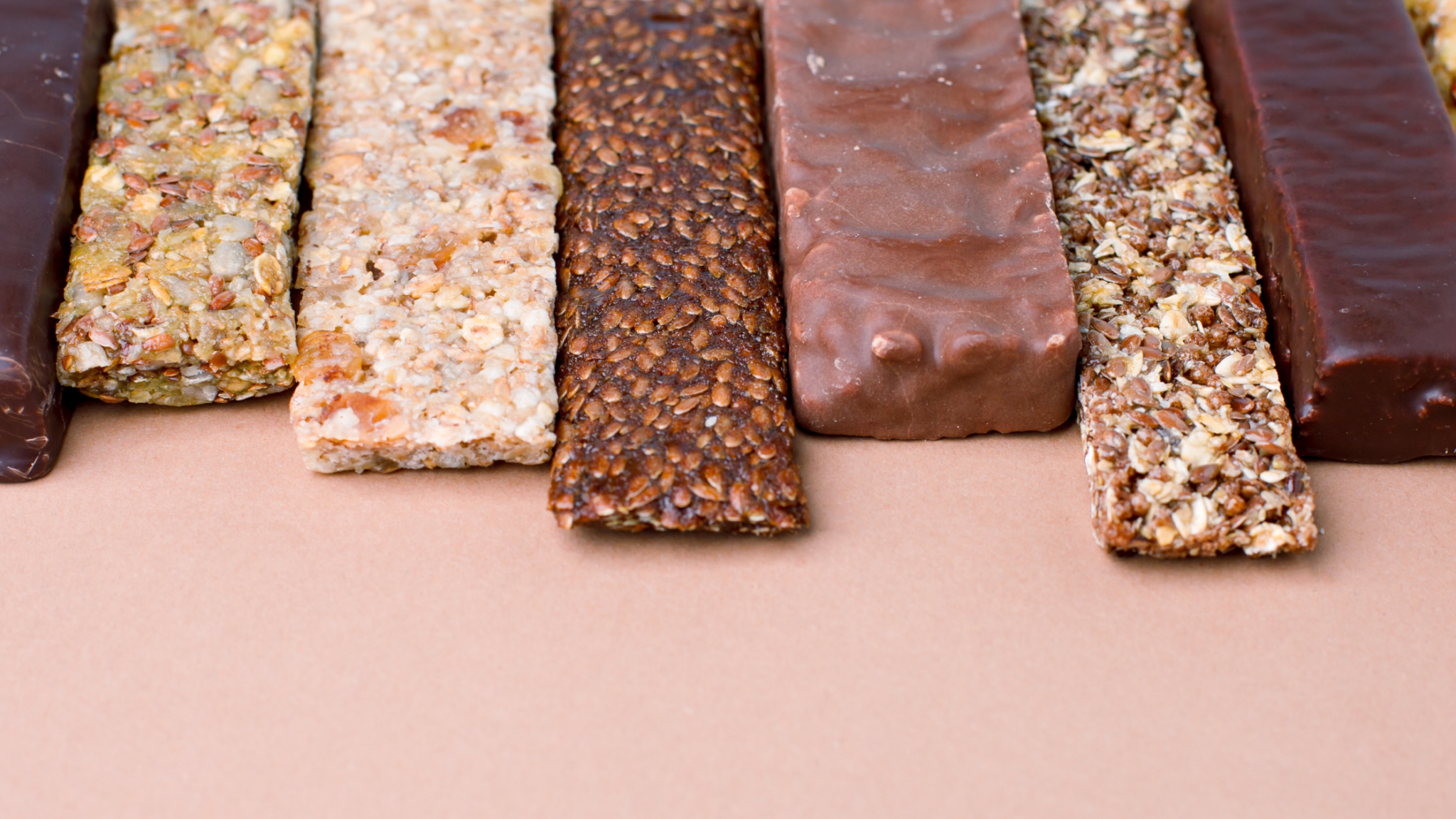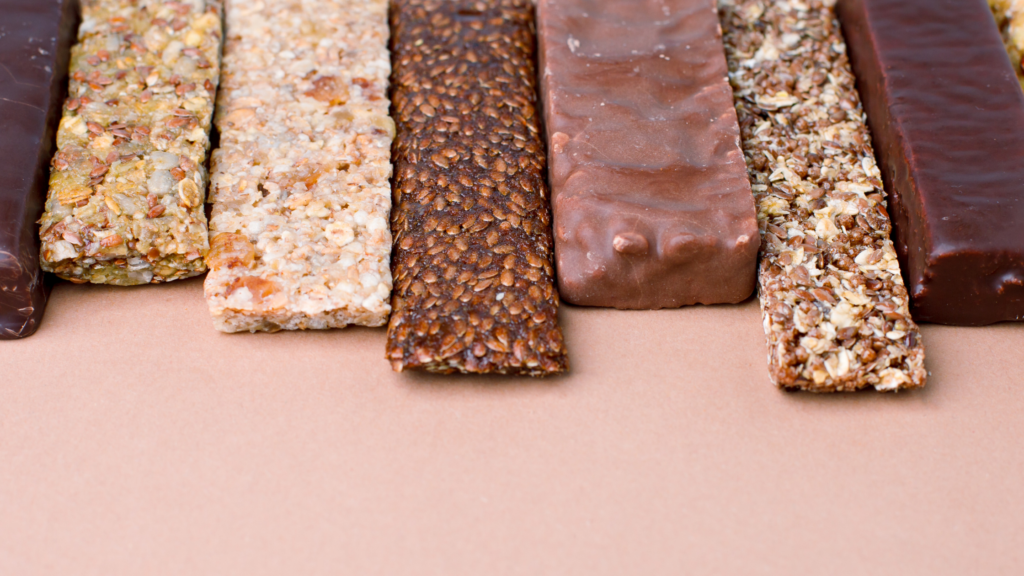 What is in the healthiest protein bars for people with diabetes?
You'll notice many of the bars listed in this article also have a decent amount of fiber in them. And if they have more than 20g protein in one bar, I probably didn't include them since that amount of added protein in a bar can sometimes lead to stomach upset.
I also look for protein bars that get their protein from actual foods like nuts and nut butters if I can. This means they will also have a good amount of plant based fats in them as well.
How and where to find low glycemic protein bars
You'll find most of these protein bars for diabetes in the "health/natural" section of the grocery store by the protein powders, and some of the other bars in the breakfast section of your store near breakfast bars or granola bars.
Best protein bars for diabetes
The bars below have 8-12g protein/bar, at least 4g fiber/bar, and low amounts of added sugar.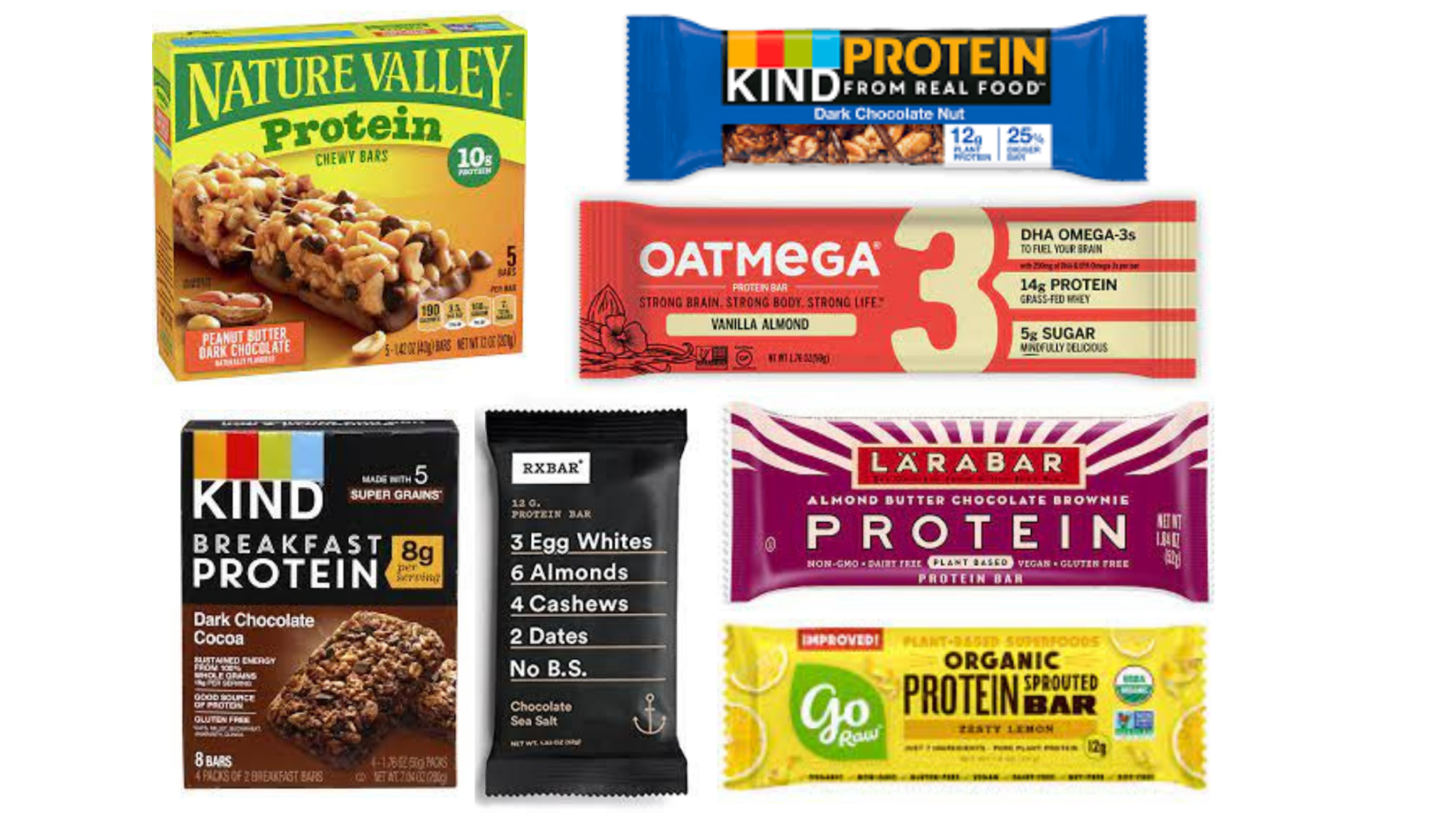 Best low carb protein bars for diabetes
The bars below have 8-20g protein and <15g carbohydrate.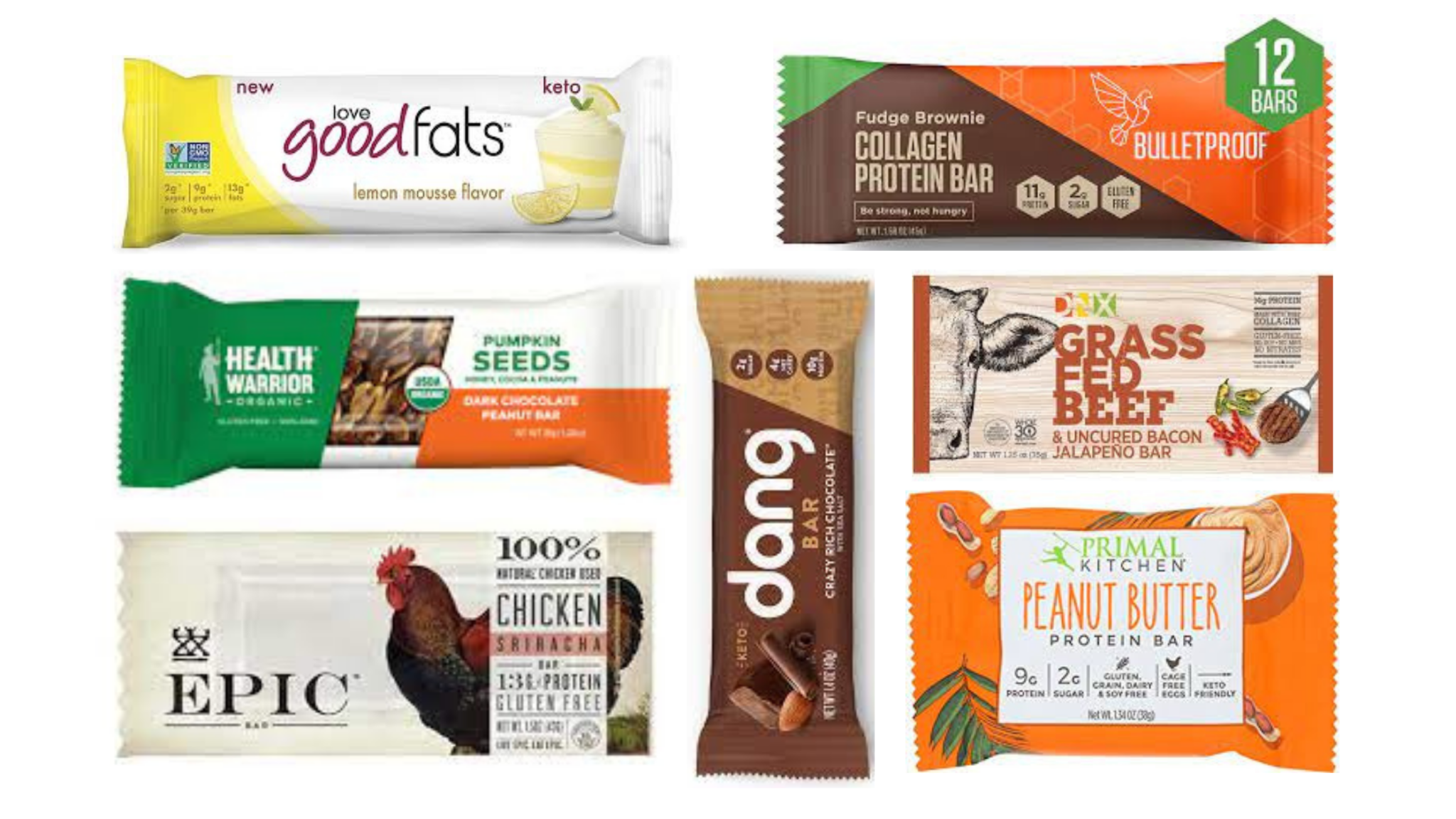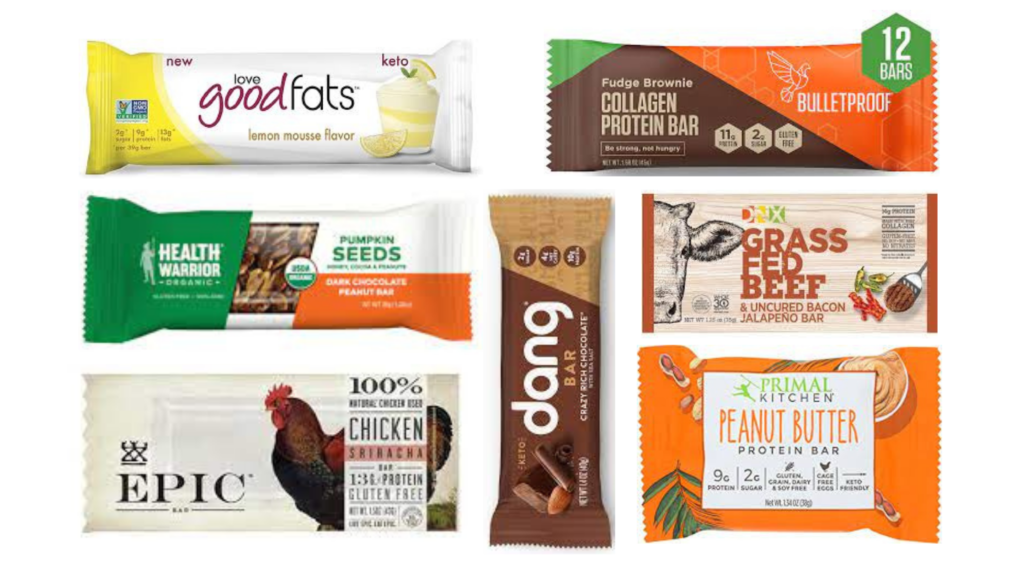 Sugar free protein bars and low sugar protein bars
Sometimes a low sugar or sugar free protein bar can come in handy if blood sugars are running higher or if you simply want a sugar free option. These protein bars contain 2g or less of sugar each.
Are these the best tasting protein bars for diabetes?
Yes. Well, according to my tastebuds they are! Any recommendation I give always considers taste. What good is having a quality protein bar recommendation if it tastes like cardboard??
Where I find and buy the best protein bars for diabetes
I buy many of the bars listed above on a regular basis at places like Sprouts Farmers Market, H-E-B, Amazon, Thrive Market, or direct from the brand on their website.
Low Carb and Low GI Bars for Diabetes
Now let's talk a bit more about some of the low carb bars and low glycemic bars for diabetes that are out there…
Are RX bars low glycemic and other bars that use dates?
Sometimes yes, and sometimes no. But that doesn't mean that they aren't good for people with diabetes. It just means that you need to be aware of what else could impact your blood sugars when you choose to eat a bar made with dates. Is your blood sugar running lower or higher that day? Have you just been exercising? Is it first thing in the morning? Do you need a quick energy boost? What else is in the bar? All of these things are questions to ask your personal dietitian and how they could impact your food choices.
Best low glycemic bars for diabetes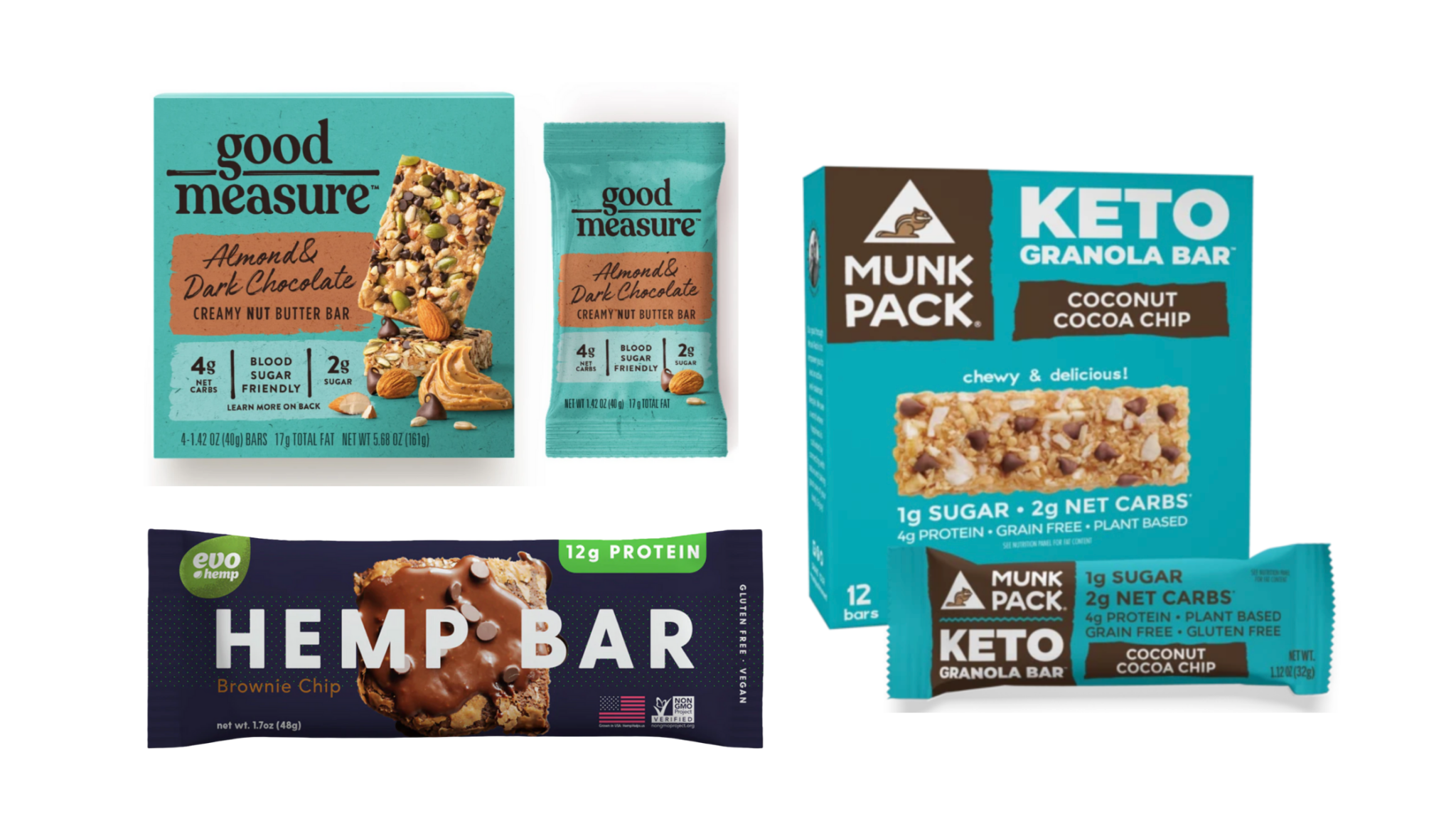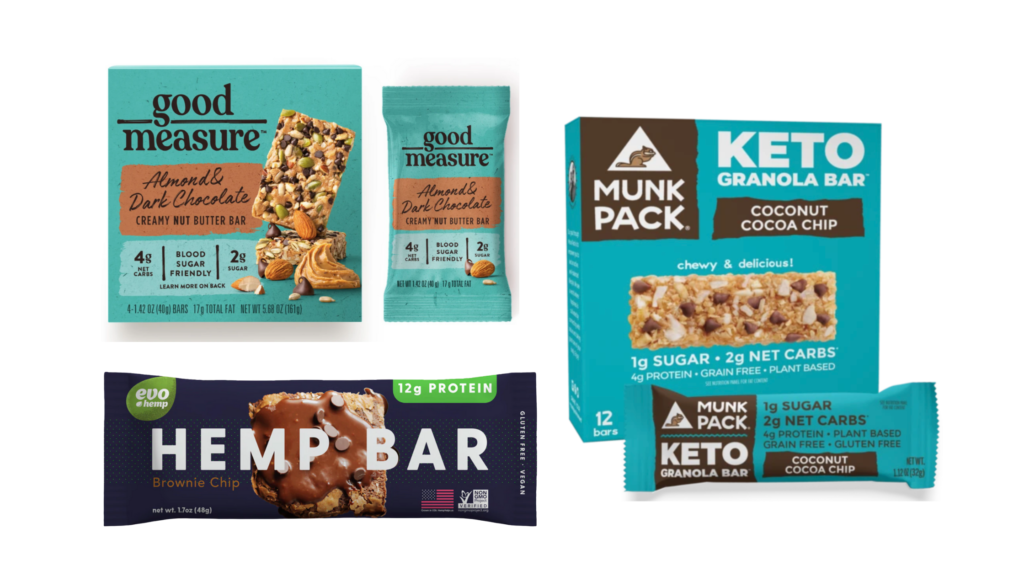 Best higher fiber bars for diabetes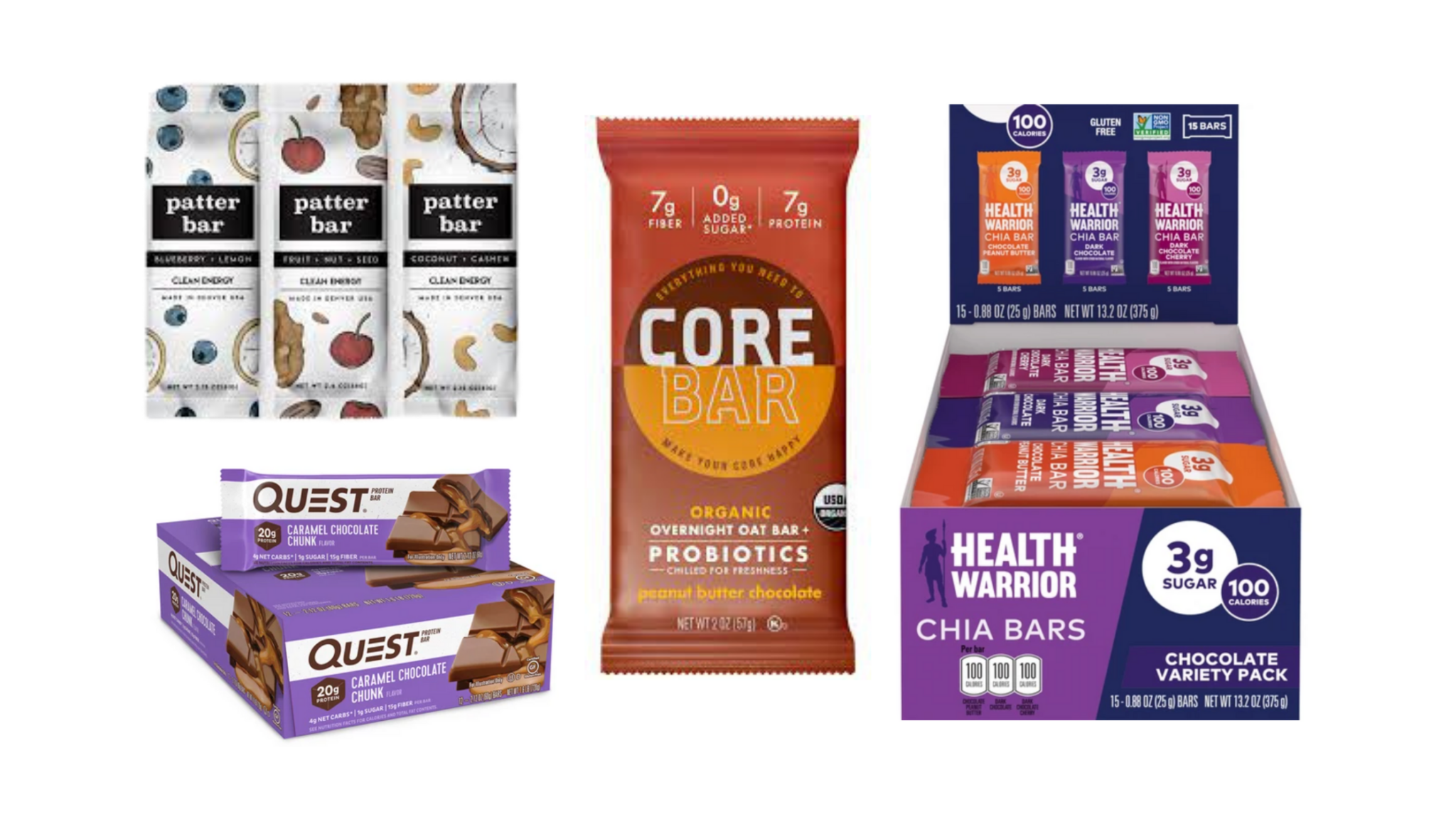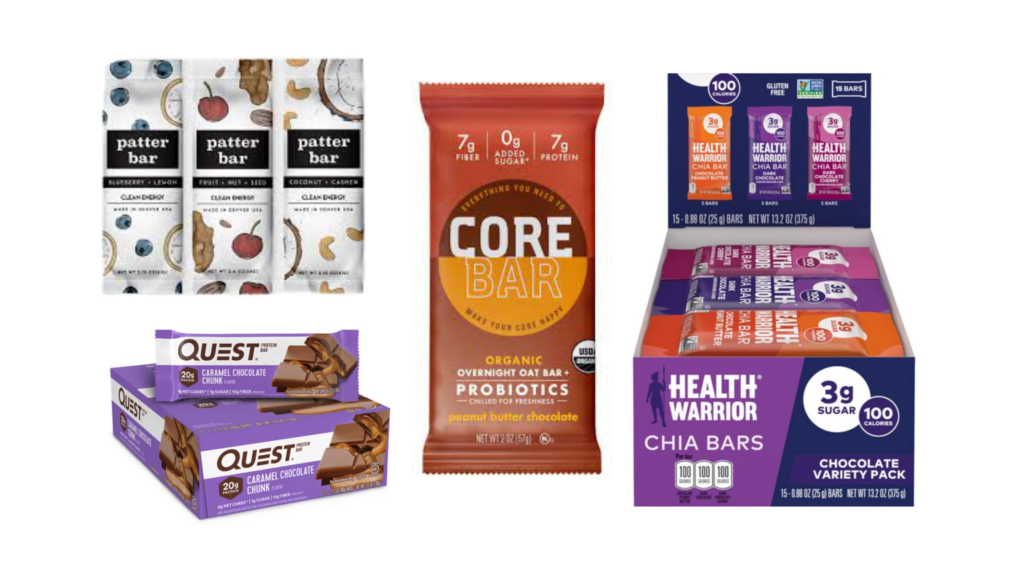 Energy Bars for Diabetes
And finally, let's talk about energy bars. These types of bars are not high in protein typically, but can still provide a quality blood sugar friendly snack.
What should you look for in energy bars for diabetes?
Since these bars aren't going to have the large amounts of protein that we saw in the protein bars for diabetes, here I'm focused on finding bars made from whole grains, bars with low amounts of added sugar, and bars with added nuts and seeds.
Do low GI energy bars exist?
Yes, they do. Typically they are higher in fiber and have more nuts or seeds as I mentioned above.
Best granola bars for diabetes
Best snack bars for diabetes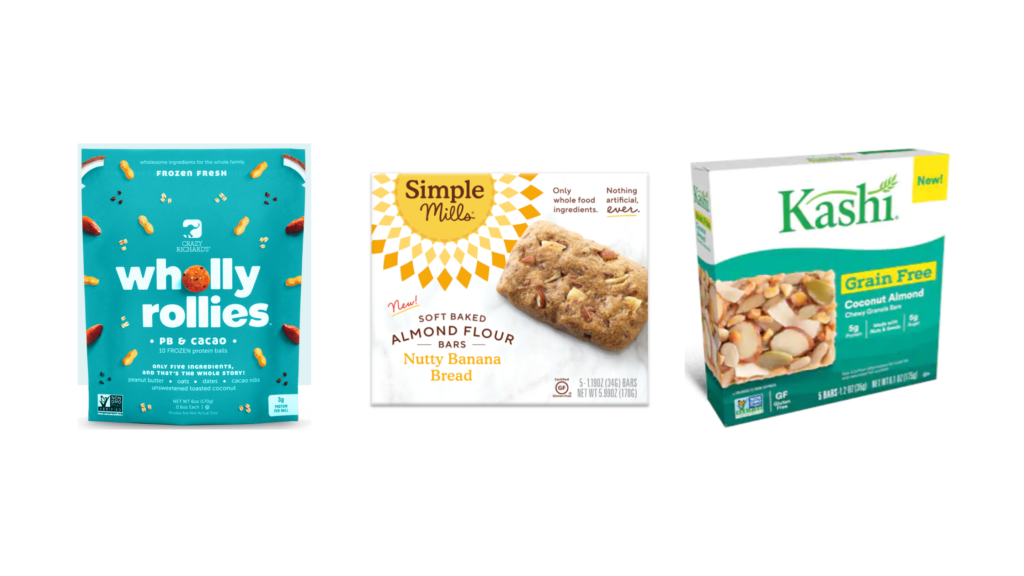 What are your favorite protein bars for diabetes, snack bars for diabetes, and energy bars for diabetes?