The almond flour glycemic index is what makes almond flour so blood sugar friendly!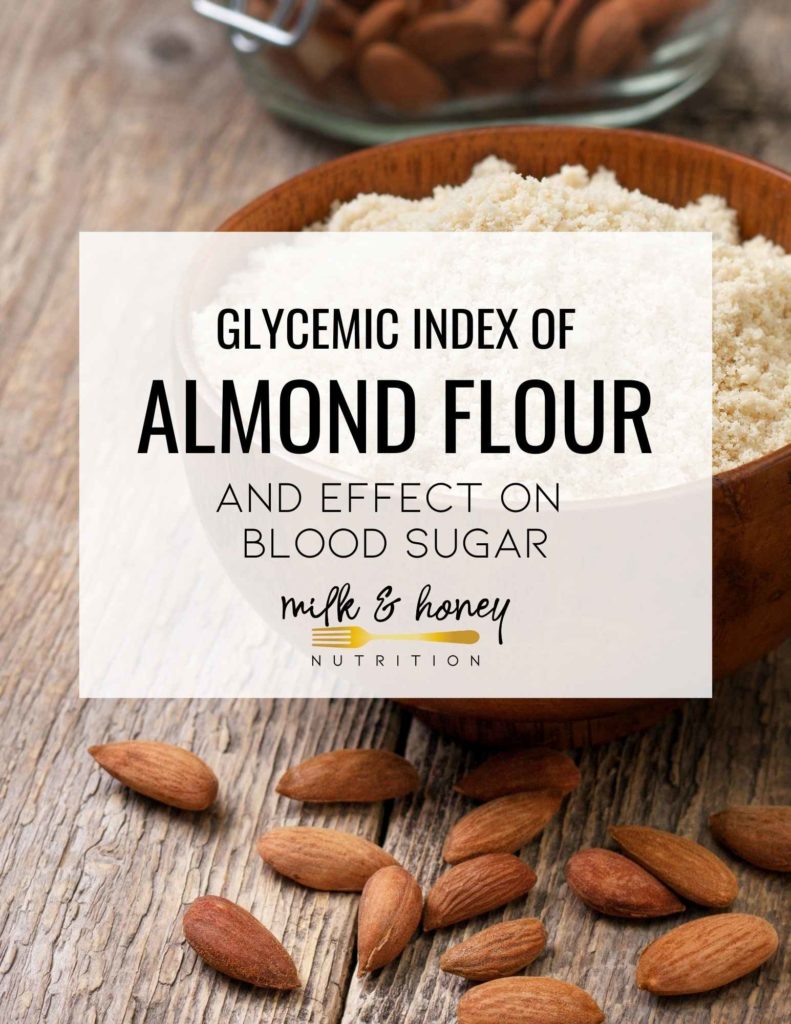 Almond flour is one of my favorite blood sugar friendly flours to work with! The combination of less carbs, and more protein and fat result in an almond flour glycemic index that's great for people looking to balance blood sugars.
Is almond flour good for you?
While there's never a black and white answer to something like this (I don't like to classify food as "good" or "bad"), almond flour can be a great option for people who need to pay attention to their blood sugar levels. Not only does it taste delicious, but it offers a nutrient profile that really helps promote stable blood sugars.
Almond flour glycemic index
Because of it's blood sugar friendly macronutrient profile, almond flour is a low glycemic ingredient. In fact, the glycemic index is so low, that it is difficult to measure accurately. Different sources vary on the exact number, but the general consensus is that almond flour is considered a low glycemic food. For more information on the glycemic index, check out this post.
Does almond flour have carbs?
Yes, almond flour does have some carbohydrate. 1/4 cup almond flour (24g) contains 6g carbohydrate. And, three of those six grams are fiber.
For comparison, 1/4 cup of wheat flour contains 24g carbohydrate. Almond flour may increase glucose a modest amount compared to wheat flour.
Does almond flour raise blood sugar?
Because almond flour does contain a modest amount of carbohydrate, it can raise blood sugar for some people.
The macronutrient profile of almond flour, though, means it most likely will not "spike" blood sugar levels but rather will support a slow and stable blood sugar response… which is exactly what we want for managing blood sugar levels!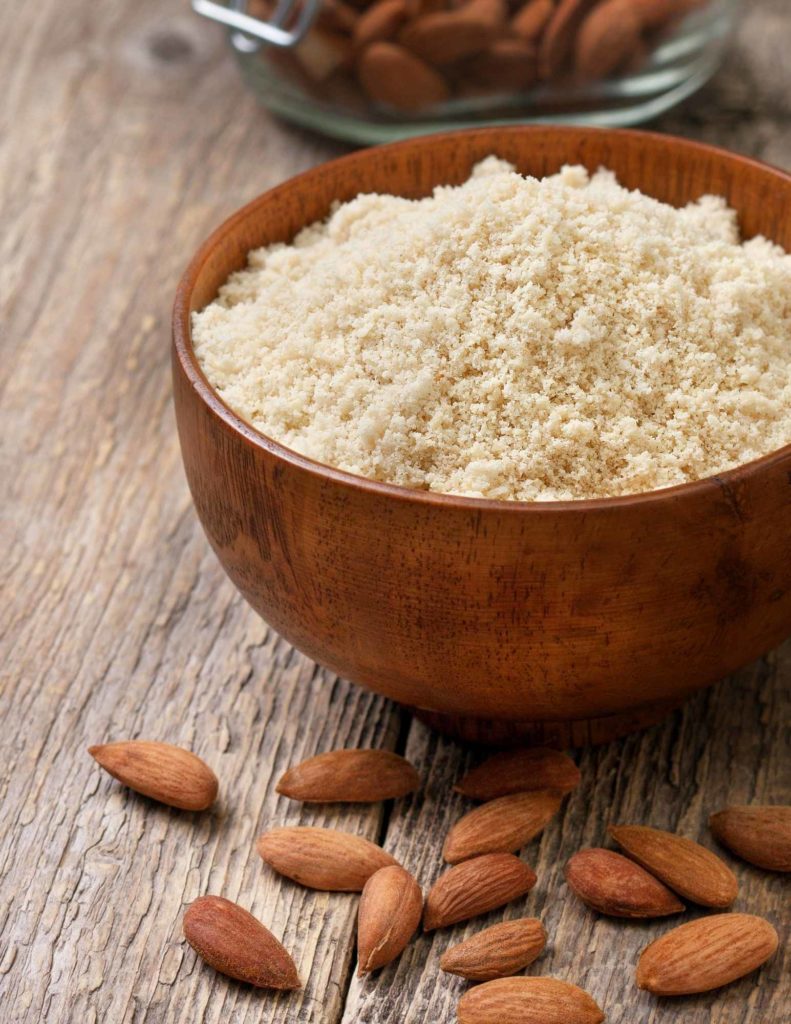 Is almond flour low carb?
Yes, because of the almond flour carbohydrate count and almond flour glycemic index, almond flour is considered a low carb food.
Almond flour carbs per cup
As I referenced above, one cup of almond flour contains roughly 25g carbohydrate. That is in stark contrast to the ~100g carbohydrate in a cup of wheat flour.
Almond flour fiber content
Half of the carbohydrate in almond flour is fiber. So, 1 cup of almond flour has roughly 12-13g carbohydrate.
Does almond flour have protein?
Yes, because almond flour is made from almonds, it's actually a high protein flour. One cup of almond flour has 20g protein.
How much fat is in almond flour?
One cup of almond flour contains 48g fat. And, if you're tempted to be concerned about that high of a number for fat, don't be. Remember, almond flour comes from almonds. An extremely nutrient dense food. The fat in almond four is a plant based fat, and is very rich in monounsaturated fats. Only a very small portion of the fat is saturated fat.
Is almond flour blood sugar friendly?
By now, I'm sure you've gathered that almond flour is in fact one of the most blood sugar friendly flours out there! It's lower in carbohydrate, and higher in fat, fiber, and protein (my three favorite nutrients!) than most other flours.
So, how can we use almond flour?
How do you use almond flour at home?
My favorite way to use almond flour is in baked goods! Some of my favorite recipes include: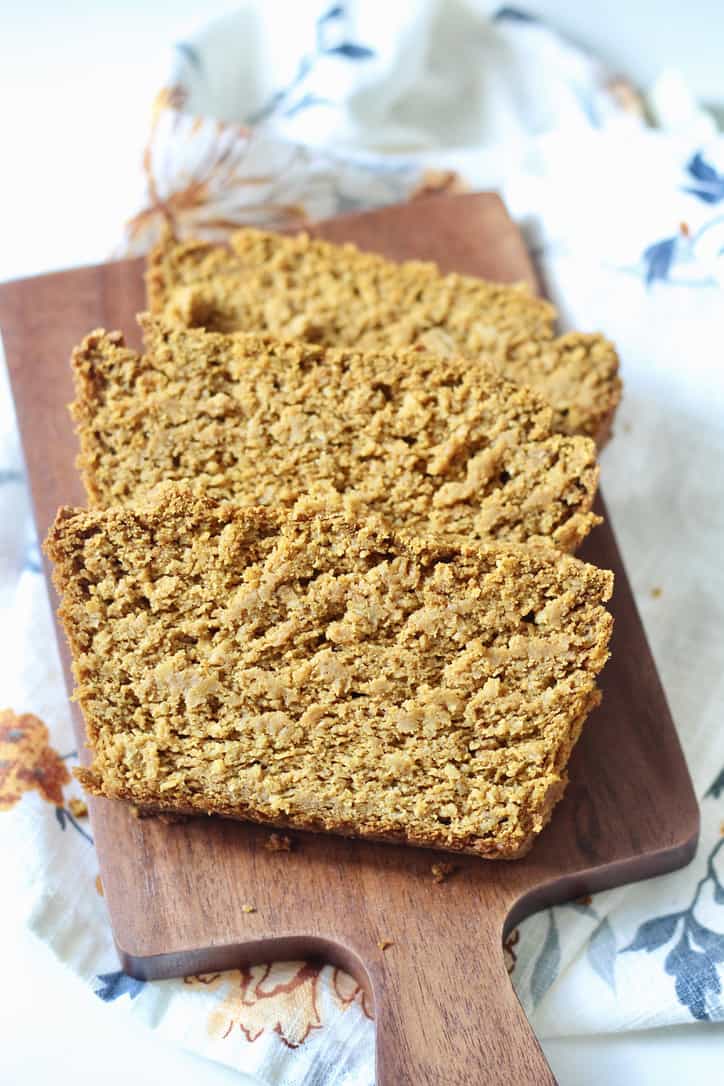 Diabetes Friendly Gluten Free Pumpkin Bread
View Recipe
You can also use it in energy bite recipes and overnight oats recipes!
How long does almond flour last?
Almond flour should be stored in an airtight container in a cool and dark environment, like your pantry. You can also store almond flour in your freezer. Assuming it is stored properly, almond flour should stay good for about one year.
What products are made with almond flour?
In addition to using it at home, almond flour is also being used more and more in packaged products and snacks. You'll find it as the star ingredient in everything from bars, to crackers, to cookies!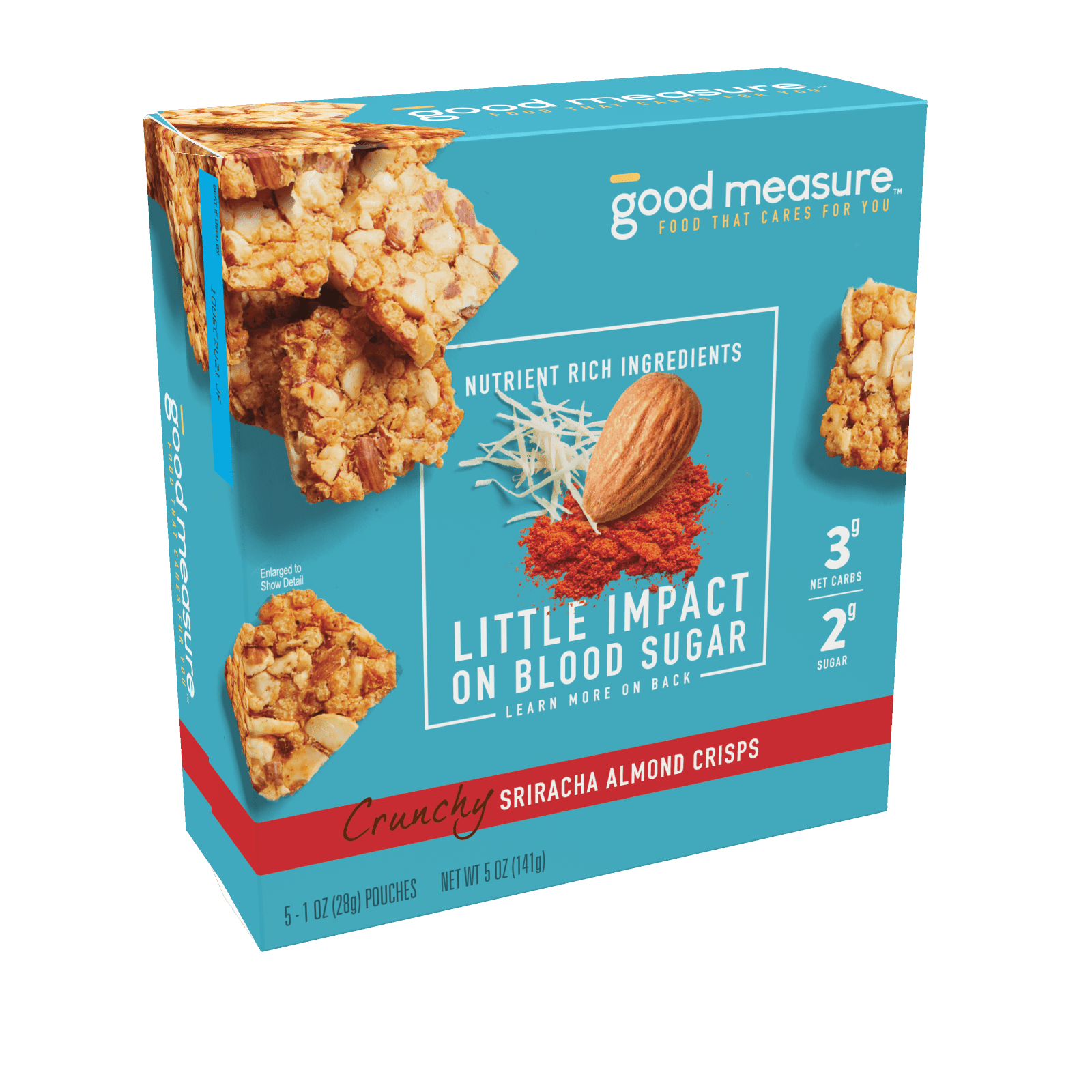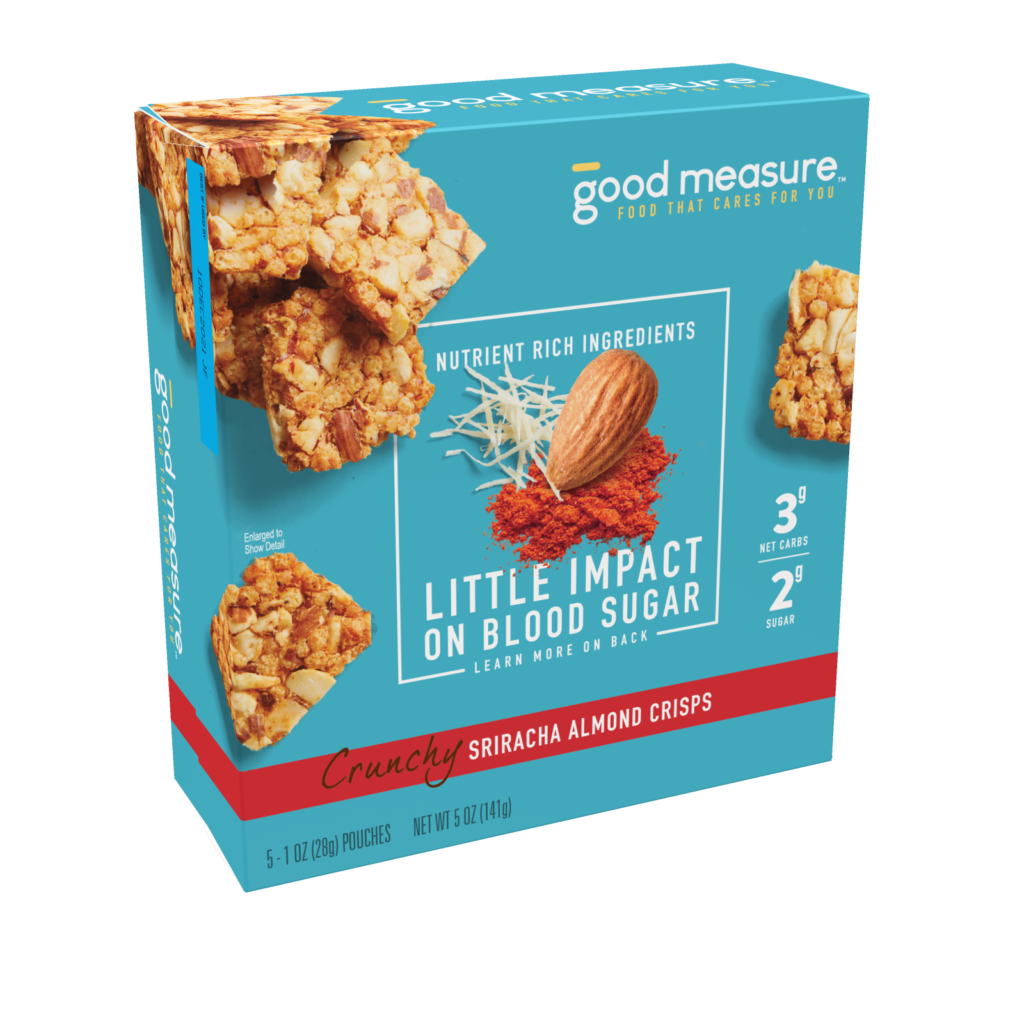 Almond cracker example
Good Measure (the same company that makes some of my favorite blood sugar friendly bars made with nutrient dense ingredients) just launched a brand new snack that is a perfect example to show how almonds and/or almond flour can help make a product more blood sugar friendly!
Their newest snack, Good Measure Almond Crisps, is some of the most delicious and crunchy crackers I've had. It comes in two flavors:
Cheddar Almond
Sriracha Almond
The Almond Crisps are made primarily from diced almonds plus parmesan and cheddar cheese. And, are just the perfect crispy, crunchy blood sugar friendly snack. Just like Good Measure Nut Butter Bars, the Almond Crisps are made with nutrient-rich ingredients and are super tasty, too! Get 20% off your first box on allingoodmeasure.com using my code MARYELLEN20 at checkout.