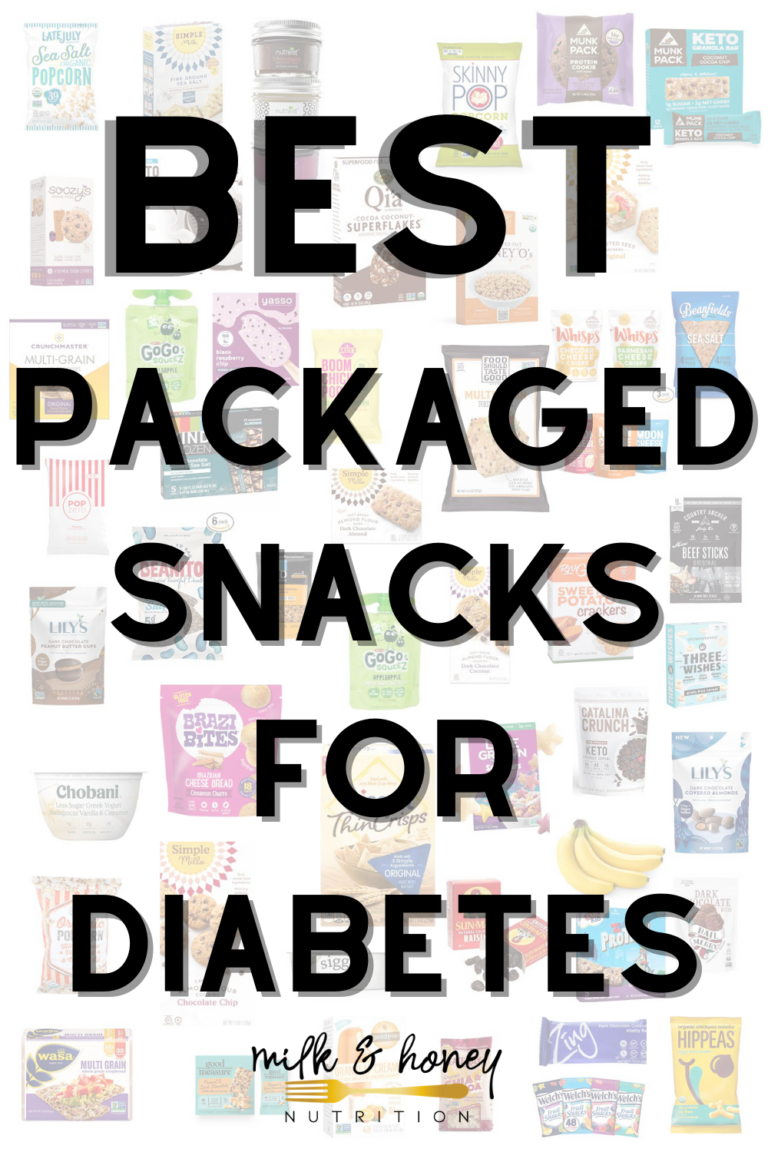 There are so many great packaged snacks for diabetes on the market, but you need to know what to look for! Here are 60+ best diabetes snacks you don't want to miss.
Having easy to grab, on-the-go snacks makes life a lot easier when you are managing diabetes. Keep reading for my comprehensive list of the best packaged snacks for diabetes!
*Disclaimer: This blog post is not sponsored in anyway. These are all truly my favorite packaged snacks for diabetes. However, I do work with some of these brands occasionally. That's actually one of my favorite things about my job… some of my favorite foods to eat are also my clients! And some of the links in this post are affiliate links. What does that mean? It means that if you click on a link and end up purchasing that product, I may get a small commission, but it doesn't cost you anything extra.
Also, this article is not intended to provide medical advice, diagnosis, opinion, treatment or services. This article and the links contained in it provide general information for educational purposes only. The information provided in this article is not a substitute for medical care and should not be used in place of the advice of your physician or registered dietitian.
What to look for in healthy snacks for diabetes?
Before we dive into healthy snacks for diabetes, I thought it would be good to review what to look for in recommended diabetes snacks to buy. There are a few factors I considered when choosing the recommended packaged snacks for diabetes below.
We want packaged diabetes snacks with the following criteria:
Have at least 4g of protein or 4g of fiber or both
Preferably contain some sort of plant-based fat source, though not required
Made from whole grains (if applicable)
Made from quality ingredients
Easy to consume on-the-go
Low in sugar relative to the overall carbohydrate count
Now, obviously there are going to be some exceptions to this and I will try to note those as best I can. But it's important to remember not to approach food with a list of black and white guidelines. Food has nuance. There is an ebb and a flow to what works sometimes and doesn't work at other times. Just something to keep in mind.
And, if you want to read more in depth on this idea of balancing blood sugars and choosing the right foods, make sure to check out my tips for blood sugar balance.
It's important to have some favorite healthy store bought diabetes snacks
Like I said above, it's important to have a list of good go-to options for packaged snacks. Whether you have diabetes or not, we all live busy lives at one point or another and people with diabetes deserve to have good options to choose from just like everyone else. And making everything from scratch at home just isn't realistic.
What's on my list of best diabetes snacks?
If you keep scrolling, you'll see the following categories of packaged snacks for diabetes: crackers, chips, popcorn, bars, cookies, desserts, eat with a spoon, breakfast cereals, low blood sugar treatments, kid-friendly and new snacks available in 2022. If you have another category you'd like to see me tackle, leave a comment at the end and I'll add it!
Category List of best packaged snacks for diabetes
Jump to one of the categories to see my top choices:
Diabetes snacks to buy
I've listed several options in each category for diabetes snacks. Does this mean these are all of the best out of every product on the market? No. In spite of how much research I do, there's just no way to know every single product that's on the market. Each category has my favorites for both "diabetes-friendliness" and flavor/taste/texture etc.
*As you'll see noted below, I decided to expand on the energy/protein/snack "bar" category and have a whole separate blog post on this packaged snacks for diabetes category. You can access that post here, and I'll link it again below.
Are snacks for type 1 diabetes different than snacks for type 2 diabetes?
Since I get asked pretty frequently if the products I recommend and recipes I develop are just for people with type 1 diabetes (probably because I myself have type 1), I want to clarify…
Just like all of the other content I put out here on my website and on social media, the recommendations for snacks in this post apply to people with all types of diabetes, and anyone looking to balance blood sugars and energy levels.
Snacks for diabetes type 2
All of the snacks below are appropriate for people with type 2 diabetes. How much and when to eat them is what will differ person to person. Choosing diabetes snacks (type 2 and prediabetes especially), will be impacted by the type of medications you take and your daily routine.
New packaged snacks for diabetes in 2023!
I originally wrote this post back in December 2020 and like to update it once/year. So, it was time for a 2023 update! These are some new products I've tried this year and highly recommend!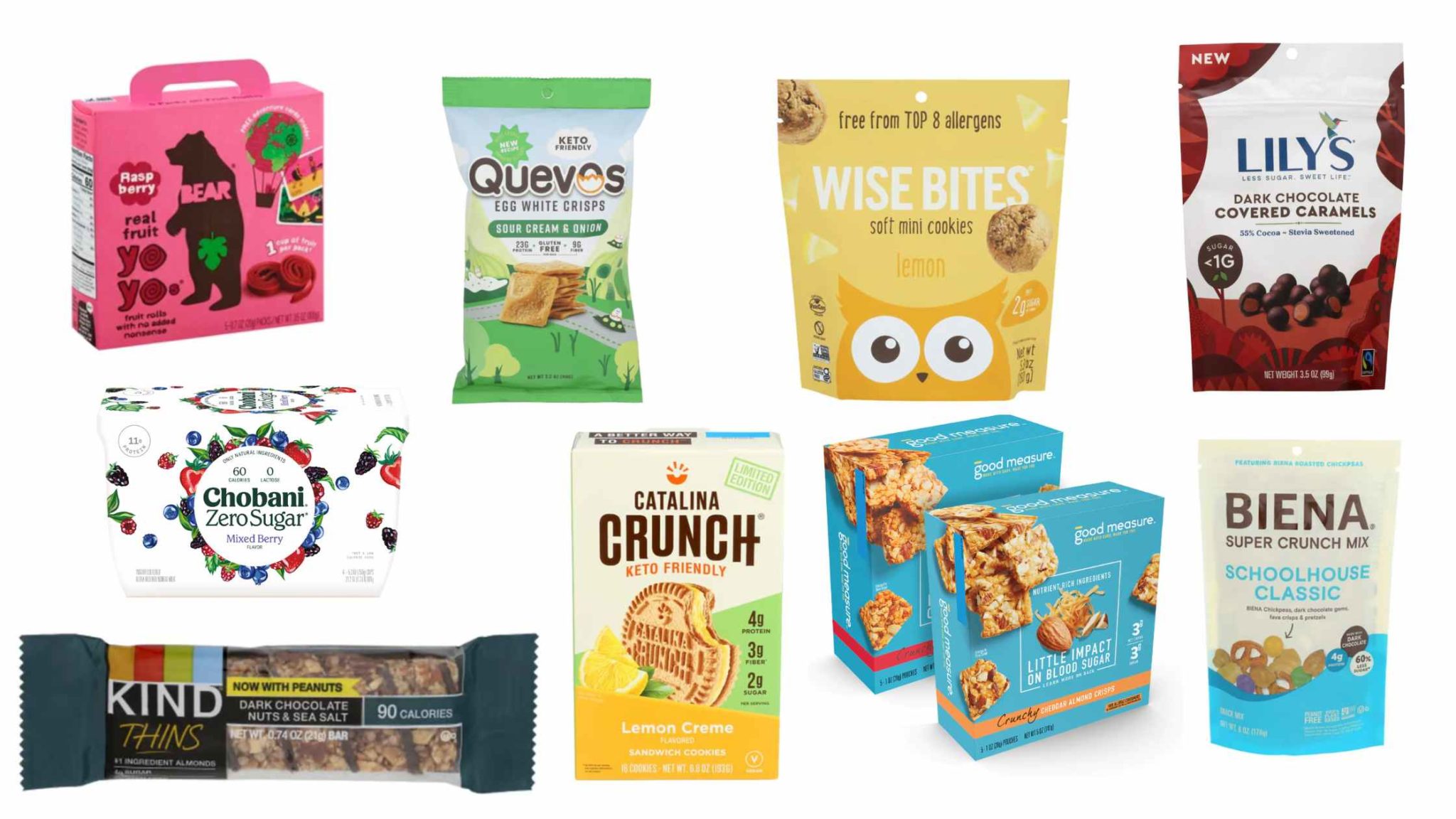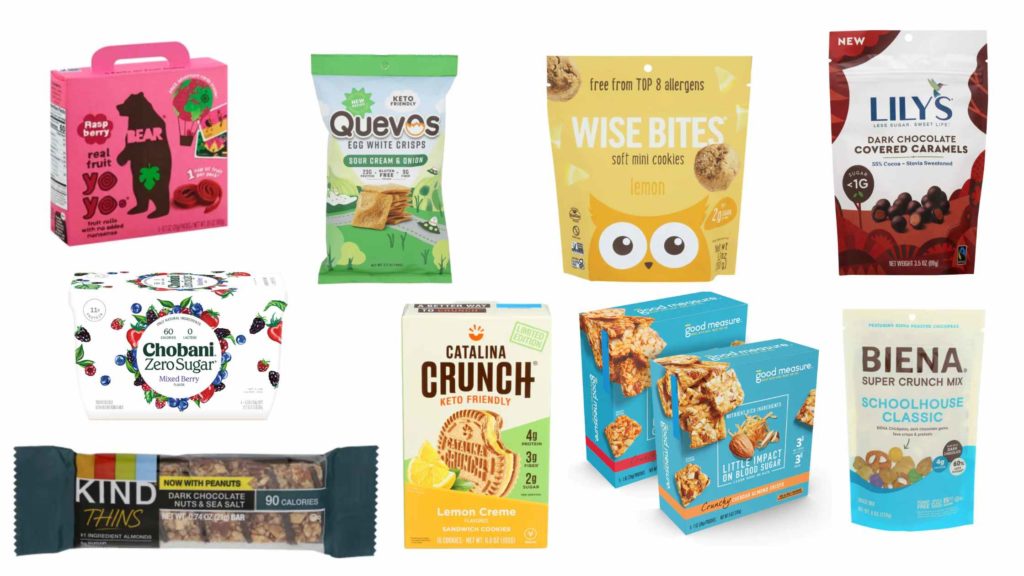 Best crackers for diabetes
I figured we'd start this list of best snacks for diabetes with my favorite food: crackers! As a general guide, try to choose crackers that are made from whole grains or nuts and seeds.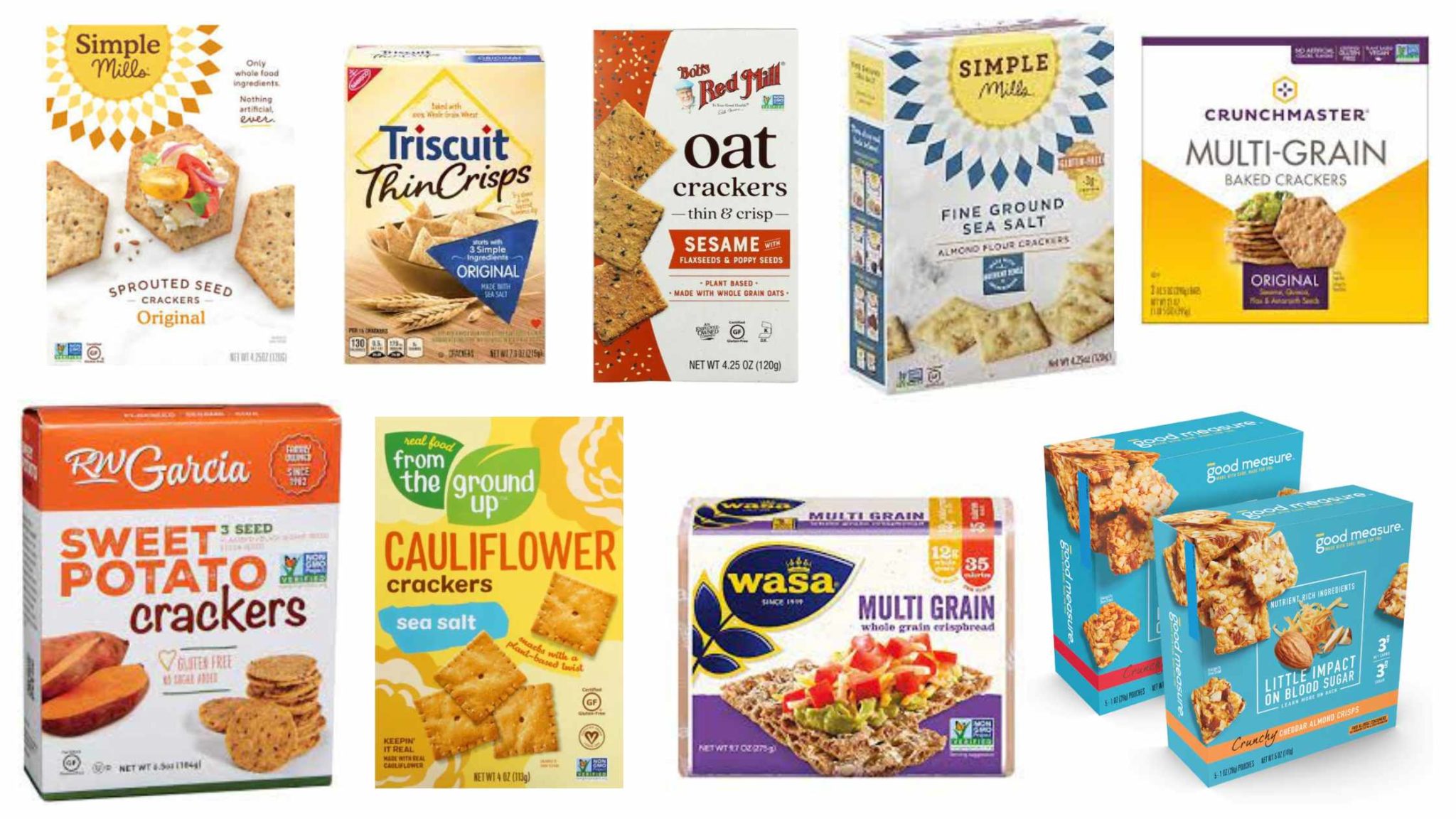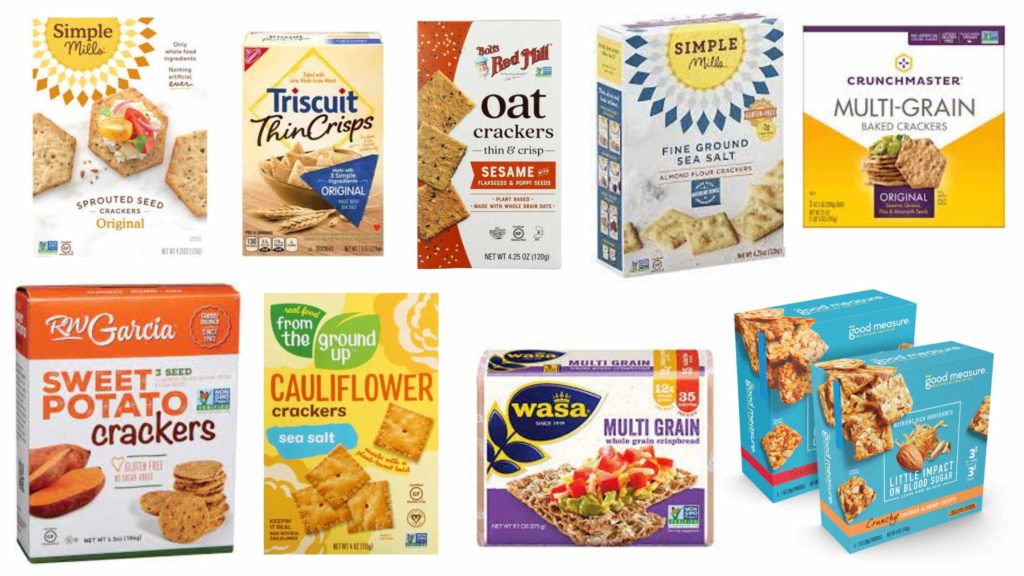 Best chips for diabetes
Many of the options below use beans as a base. This adds additional protein and fiber.
Best popcorn for diabetes
Popcorn is naturally higher in fiber than other crunchy/salty snacks (making it a must on this list of best sPopcorn is naturally higher in fiber than other crunchy/salty snacks (making it a must on this list of best snacks for diabetes), but when flavorings are added like caramel or kettle corn, it's important to pay attention to how much sugar is being added.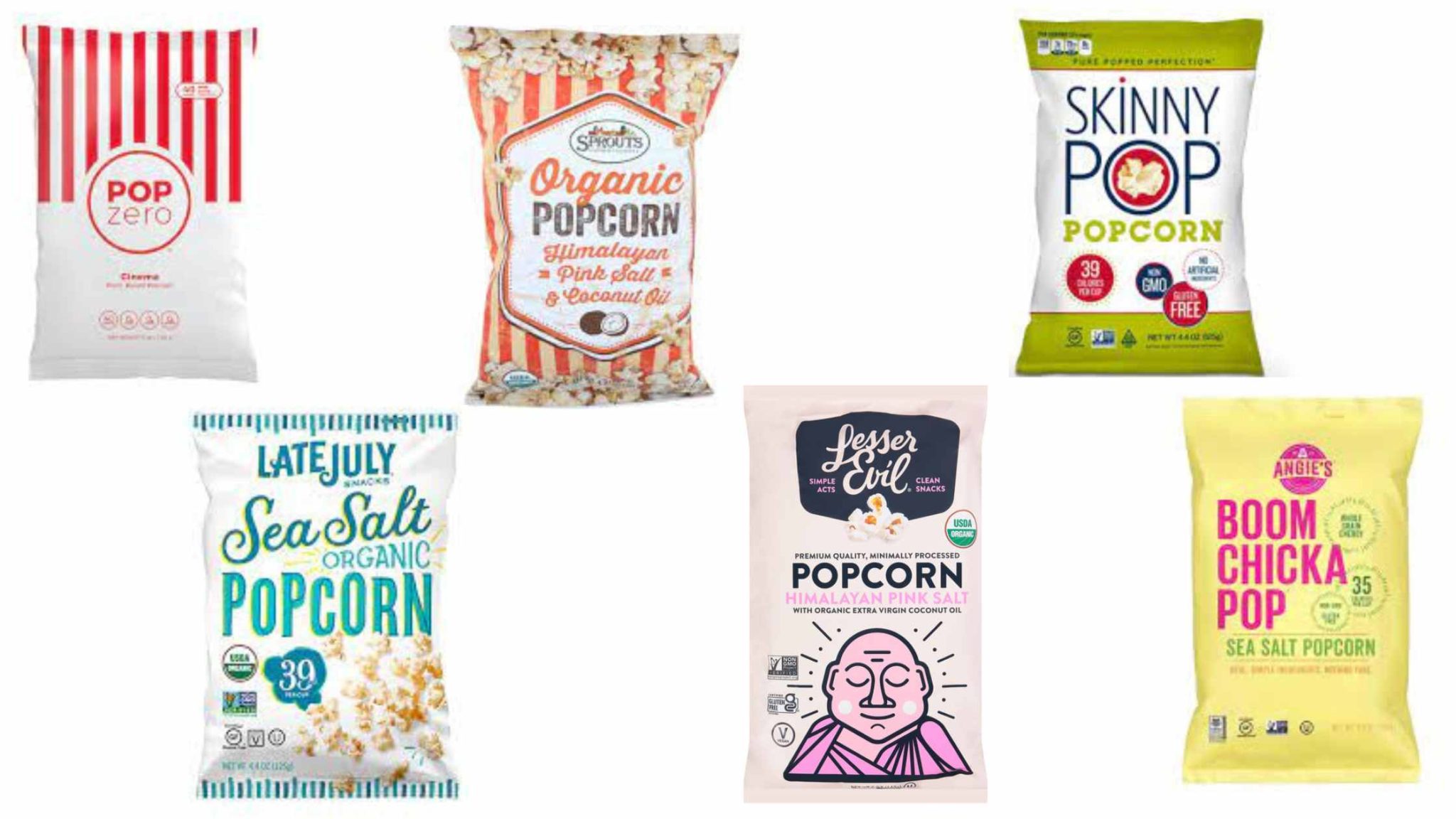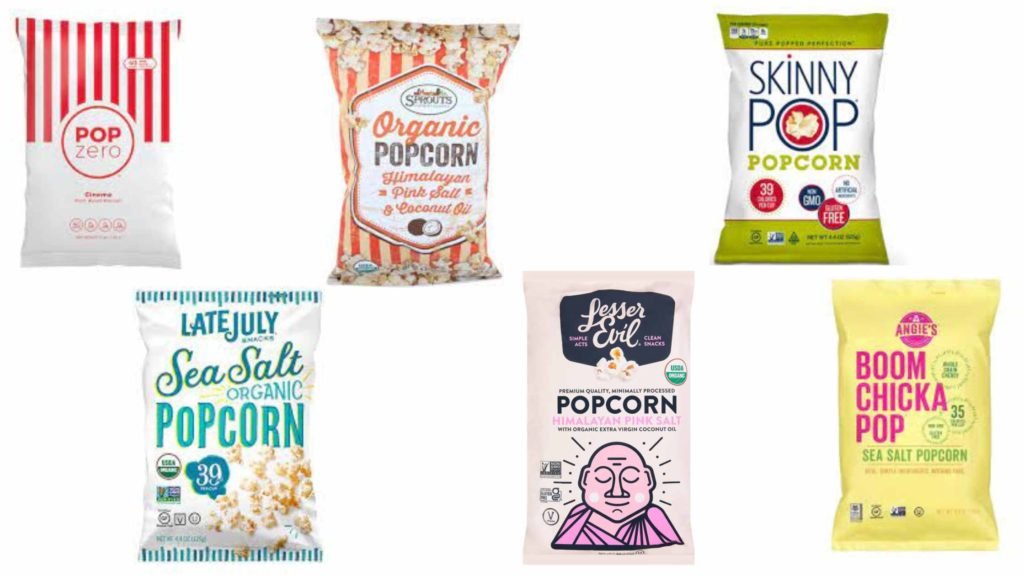 Best snack bars for diabetes
This was by far the most requested category! I've listed a few of my favorites below, but make sure to check out this full blog post here that breaks down every category of "bar."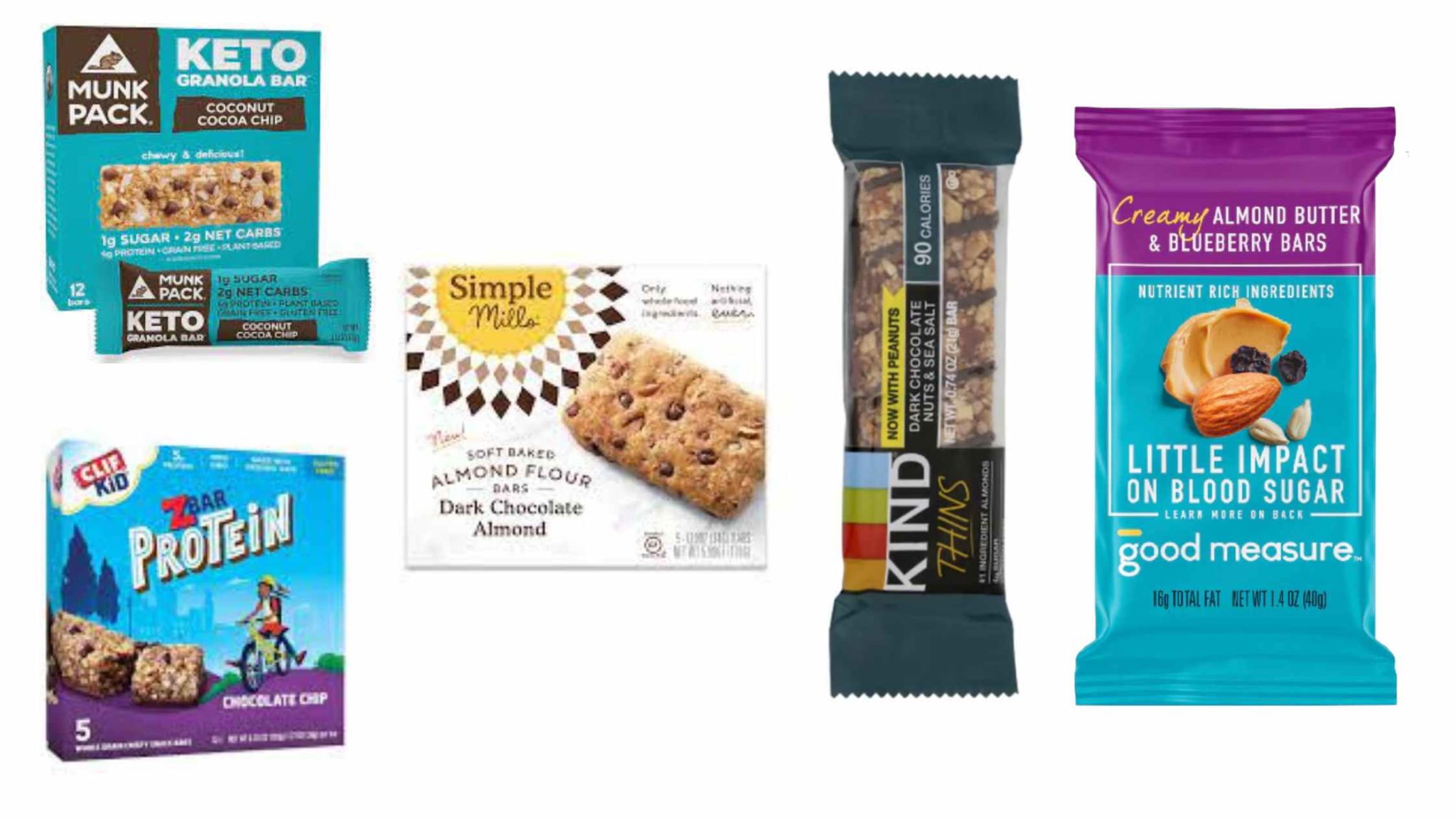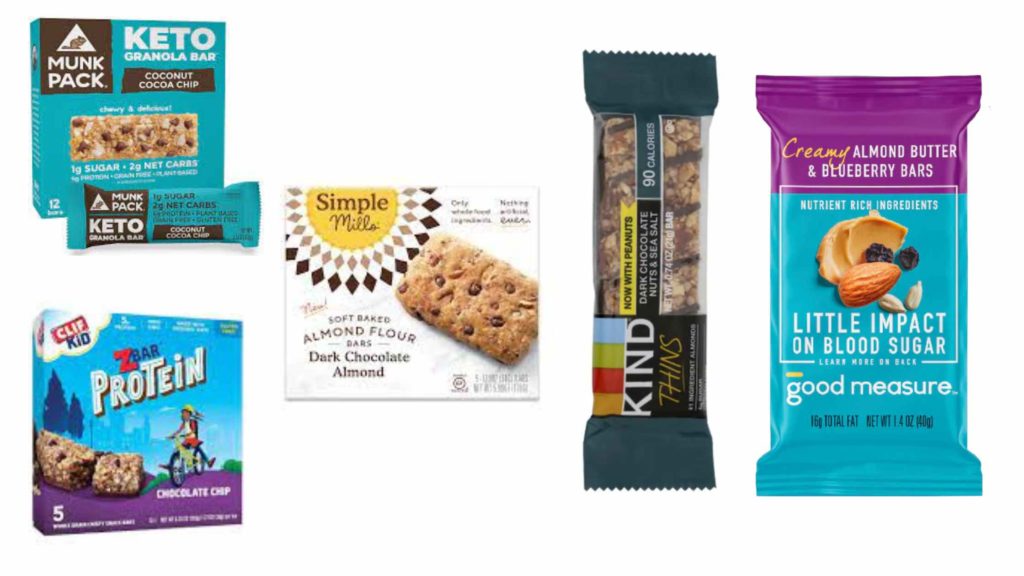 Sweet Snacks for diabetes
The next two sections will cover some of my favorite sweet diabetes snacks. Sweet snacks are not off limits with diabetes. Look for options, like the snacks below, that also have fiber and protein.
And if you're in the mood to make your own sweet snacks at home, make sure to check out my cookbook, The Easy Diabetes Desserts Cookbook!
Best store-bought cookies for diabetes
When it comes to cookies, we want to decrease the sugar as much as possible but still have a delicious cookie! One way to do this is to find grain free cookies made with nut-based flours so there's less carbs, and more protein and fat… but still a delicious cookie!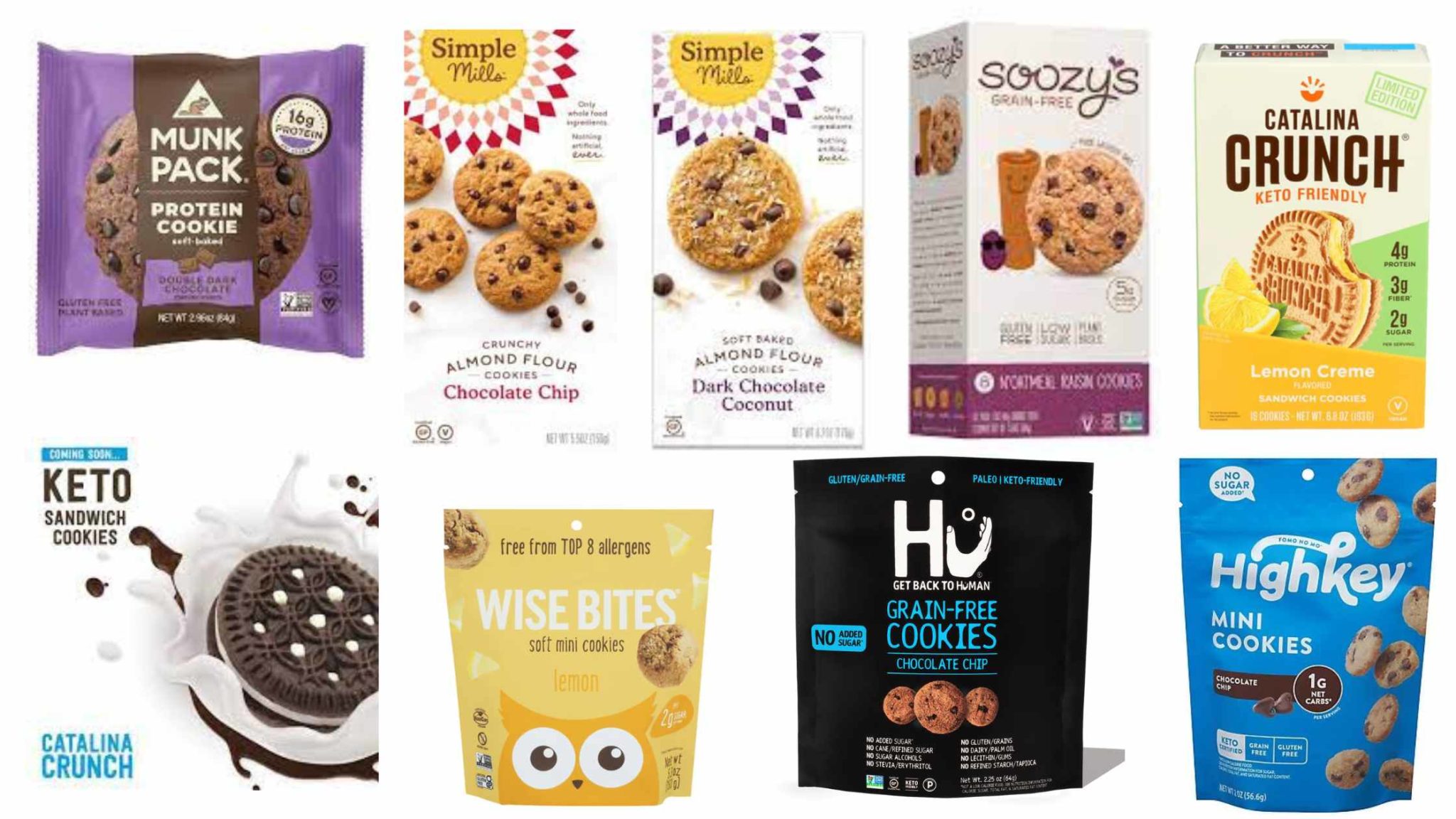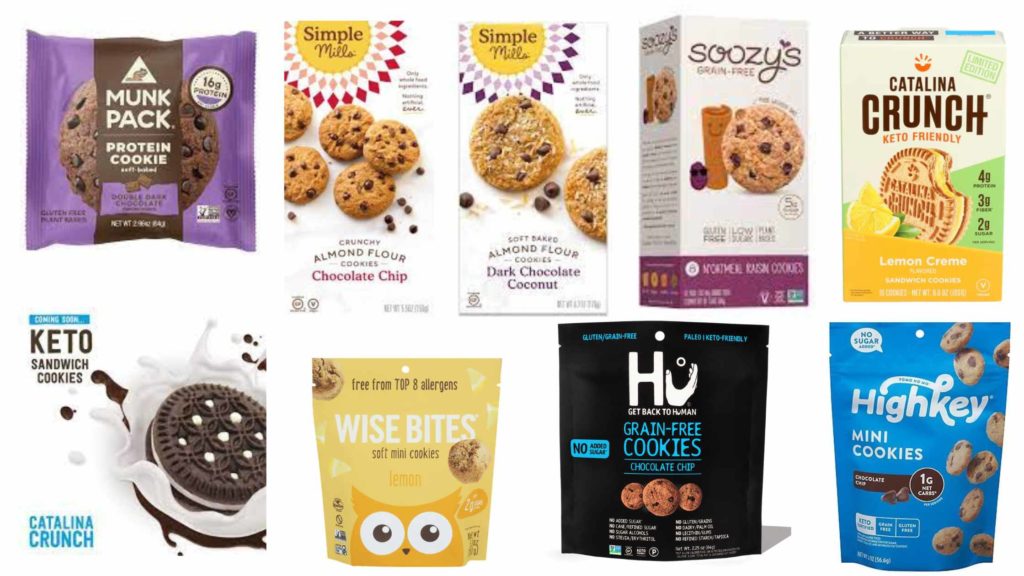 Best desserts for diabetes
The desserts below are an assortment of lower sugar and higher protein chocolates and candies, as well as some of my favorite lower sugar and higher protein frozen treats! Want more ideas? Check out this full post on the best desserts for diabetes!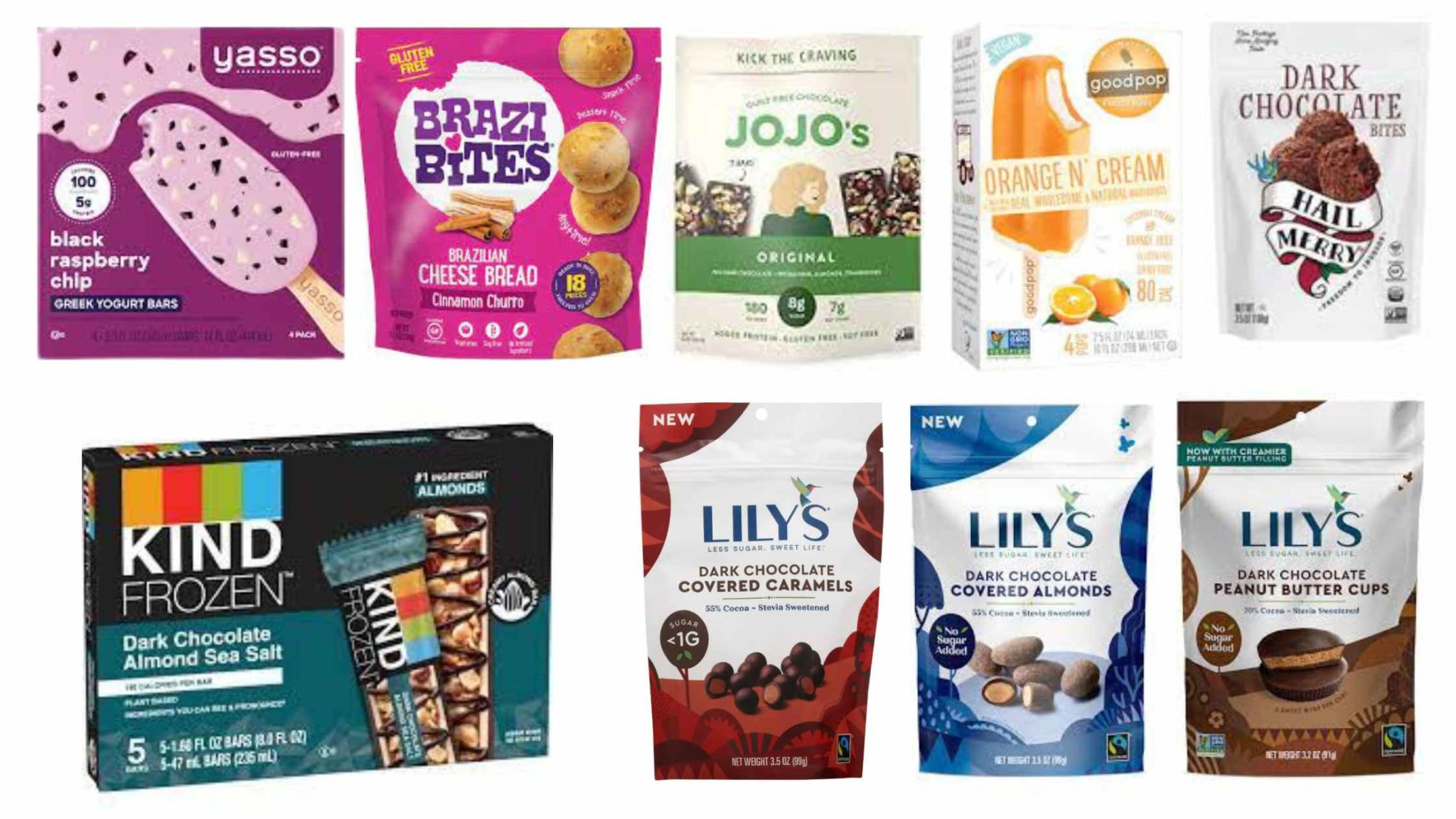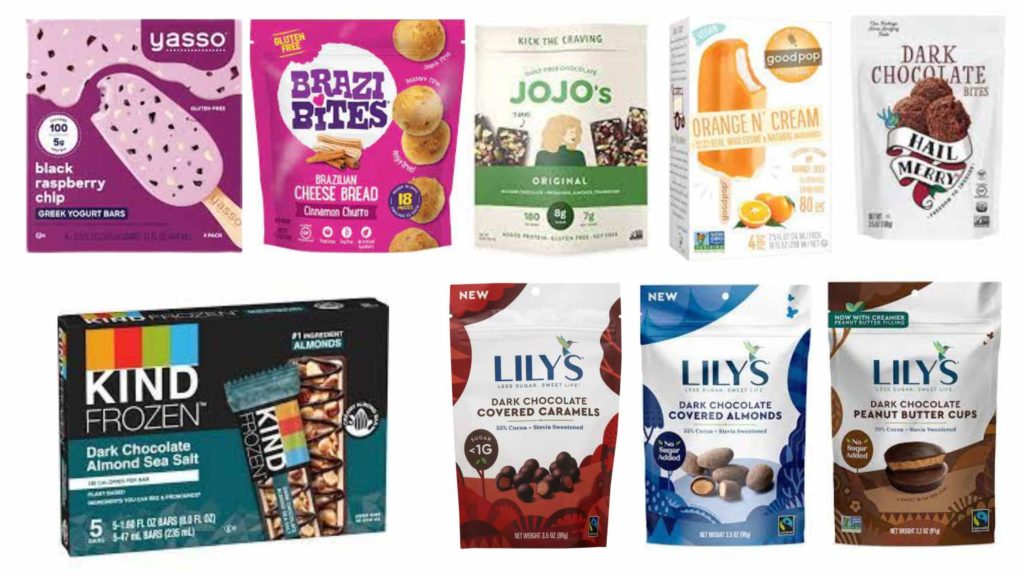 Best snacks you eat with a spoon for diabetes
From yogurts to puddings to everything in between, my favorite lower sugar and higher protein options are below.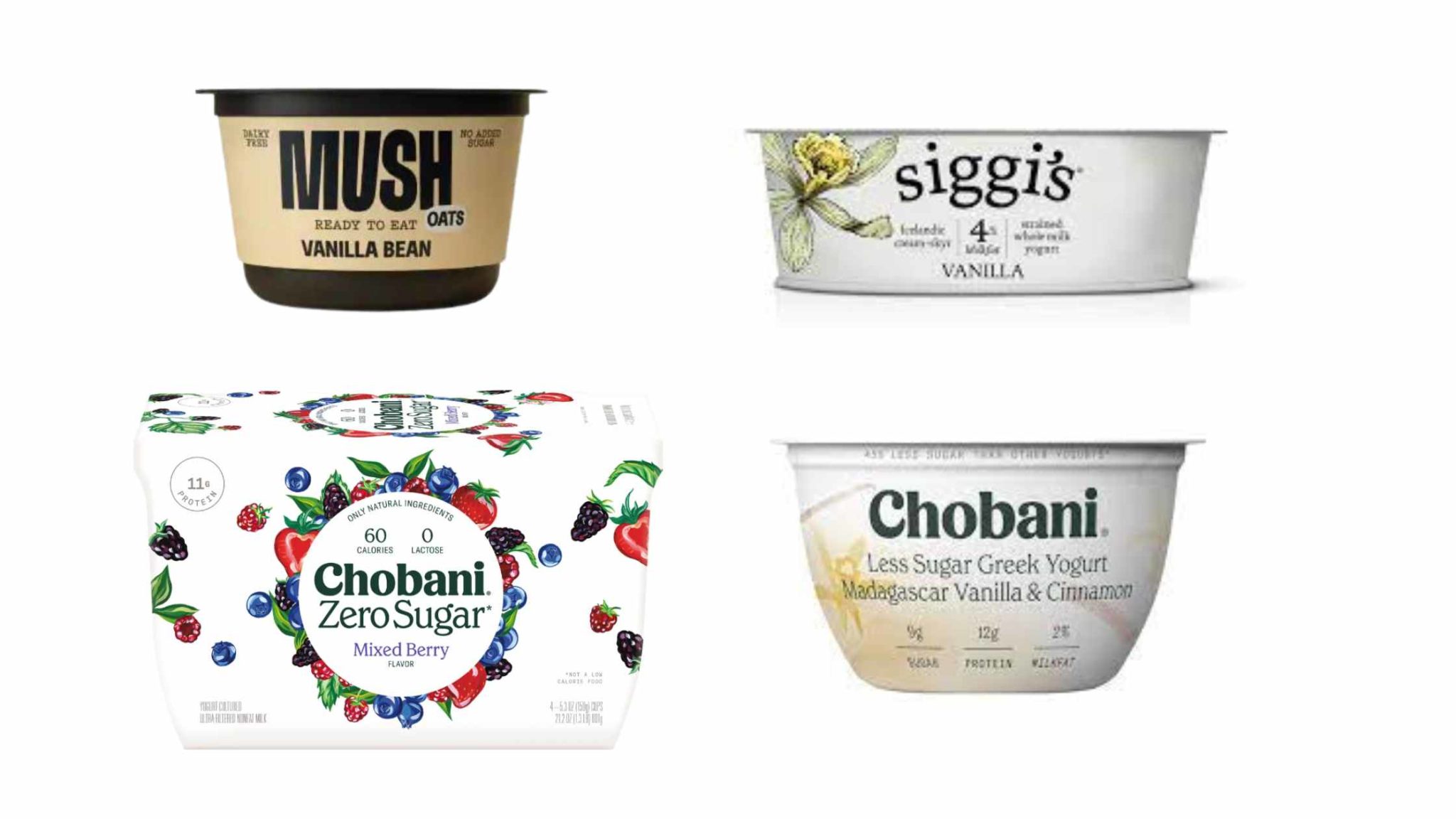 Best breakfast cereals for diabetes
These cereals below are higher in fiber and protein and lower in sugar than traditional breakfast cereals! Another option if you have a favorite breakfast cereal that's not exactly "blood sugar friendly" is to pair your cereal with plain 2% Greek yogurt instead of milk. The added fat and protein (and lower carbohydrate count) of the Greek yogurt compared to milk, may help balance blood sugars better. Want more ideas? Check out this post on the The Best Breakfast Cereals for Diabetes!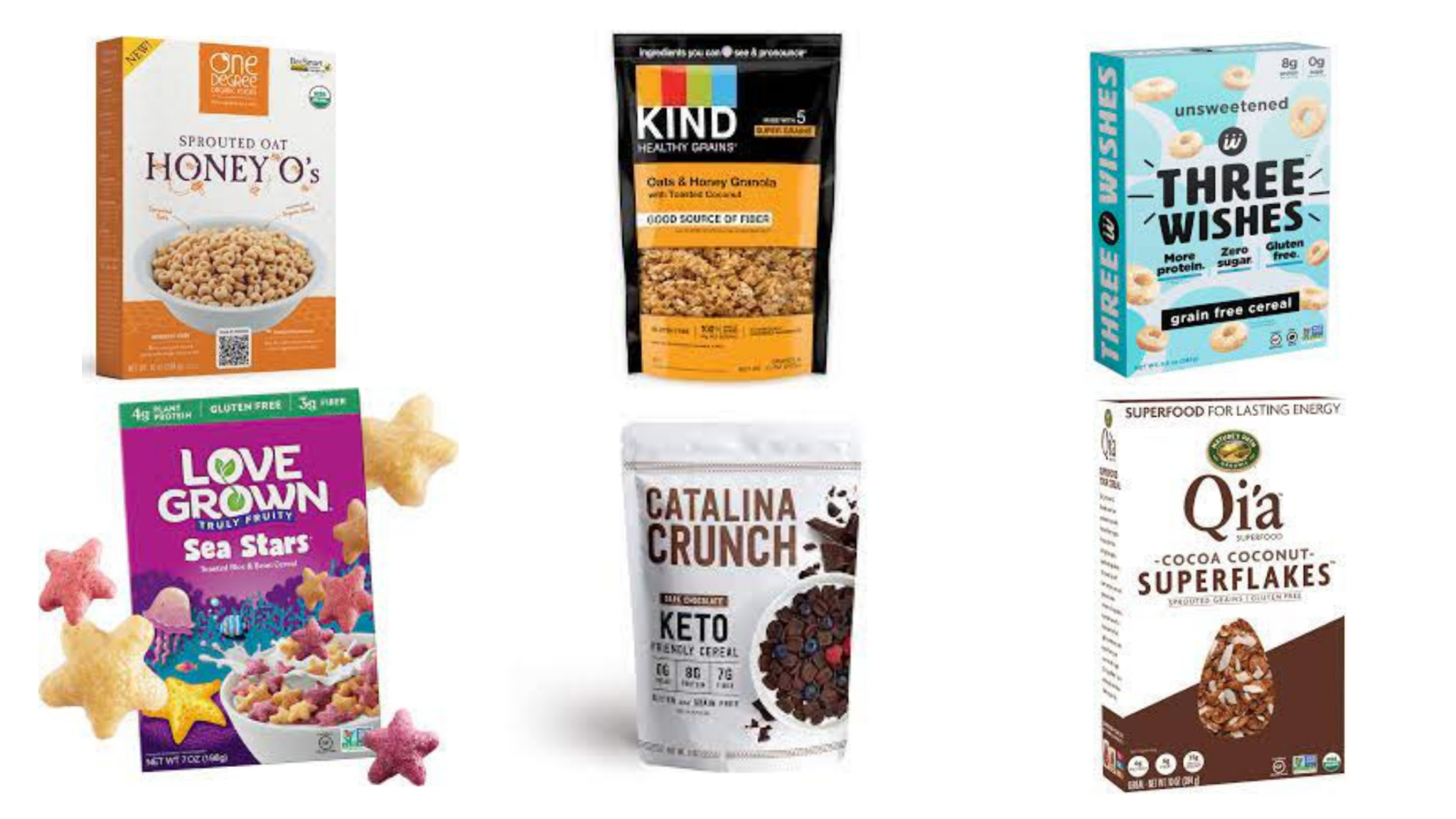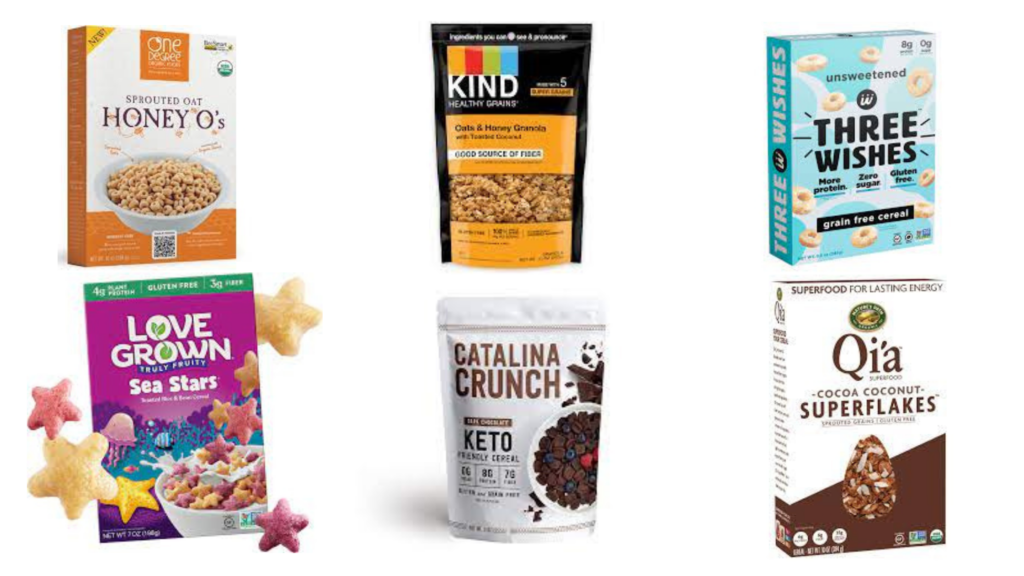 Best diabetes snacks for low blood sugar treatments
Did you know you can treat a low blood sugar with more than just candy and glucose gel? These are some of my favorite store-bought packaged options. (Check with your doctor to make sure they are ok with these options for you.)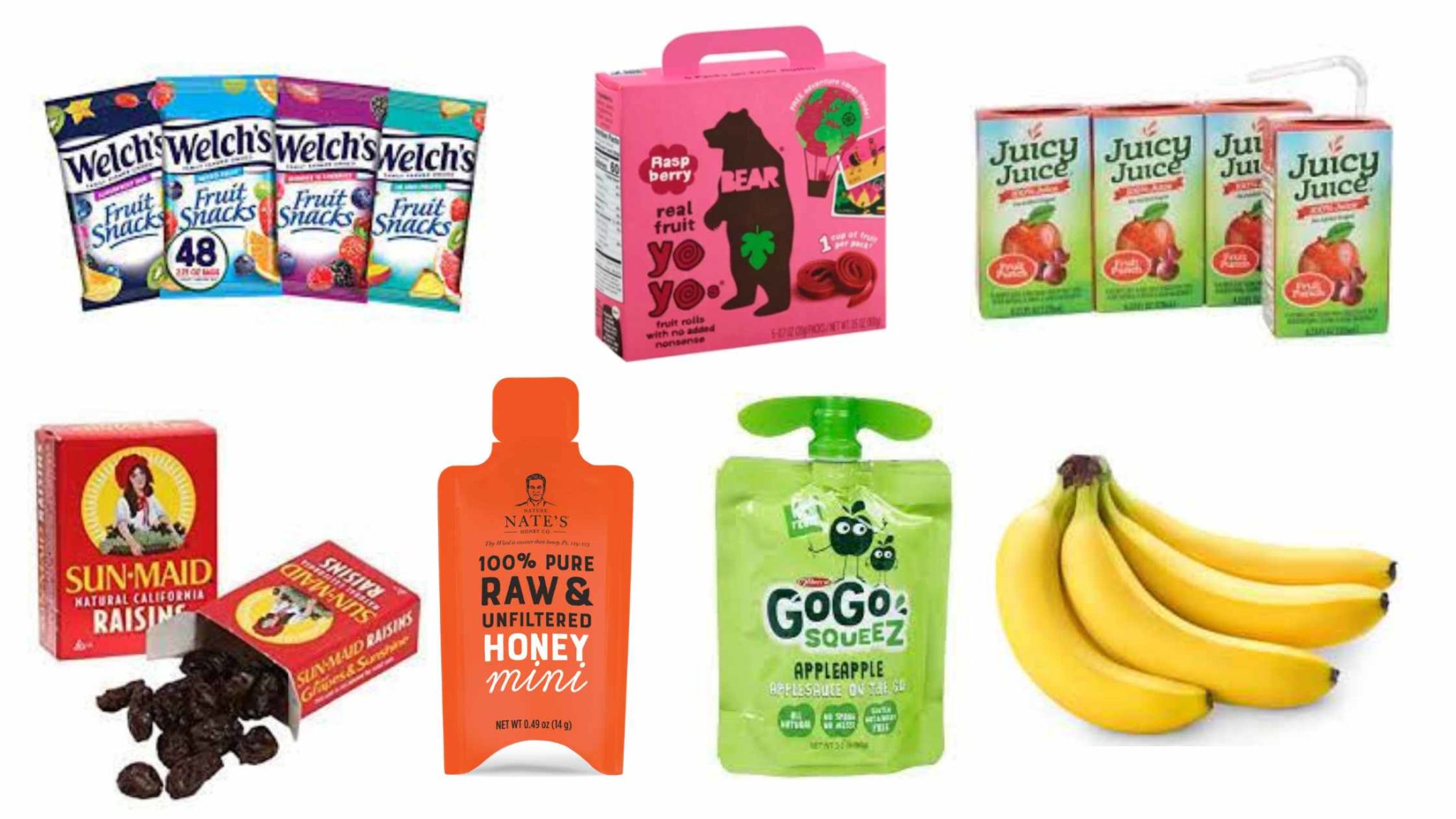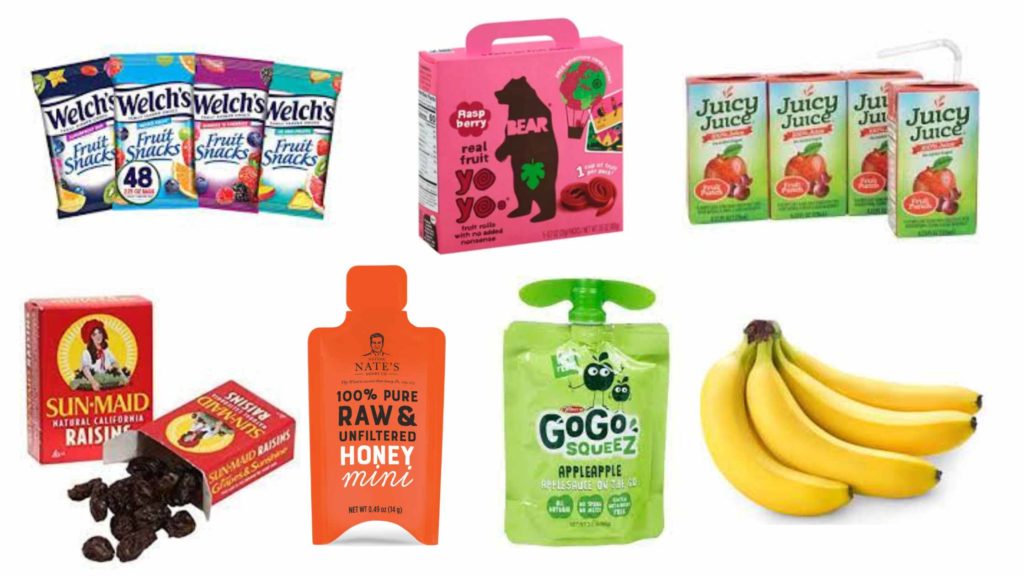 Applesauce pouches (I just grab the store brand unsweetened variety. Most are 12-15g carb/pouch)
Raisins (The mini boxes are typically 11-12g/box)
Juice boxes (Most stores offer shelf stable juice boxes that are 12-18g carb depending on the flavor you choose.)
Fruit snacks (So quick and easy, and cheap!)
Banana (Pre-packaged by nature, and highly portable!)
Nature Nate's Honey Co. honey minis: These are perfect for on the go easy low blood sugar treatments.
Bear YoYo's Real Fruit Rolls: Since treating a low blood sugar can be anything but fun, it helps to have some fun snacks ready to go.
Best snacks for kids with diabetes
Kids love salty, crunchy snacks it seems. These are some of my favorite lower carbohydrate crunchy options. (Note: I am not saying kids with diabetes need to eat low carb. All of the snacks in this post are good for kids, but sometimes a child's blood sugar might be high and they are hungry. These lower carb options are good for those situations.) Also great for adults too! And all of the snacks listed in this entire blog post are great for kids too!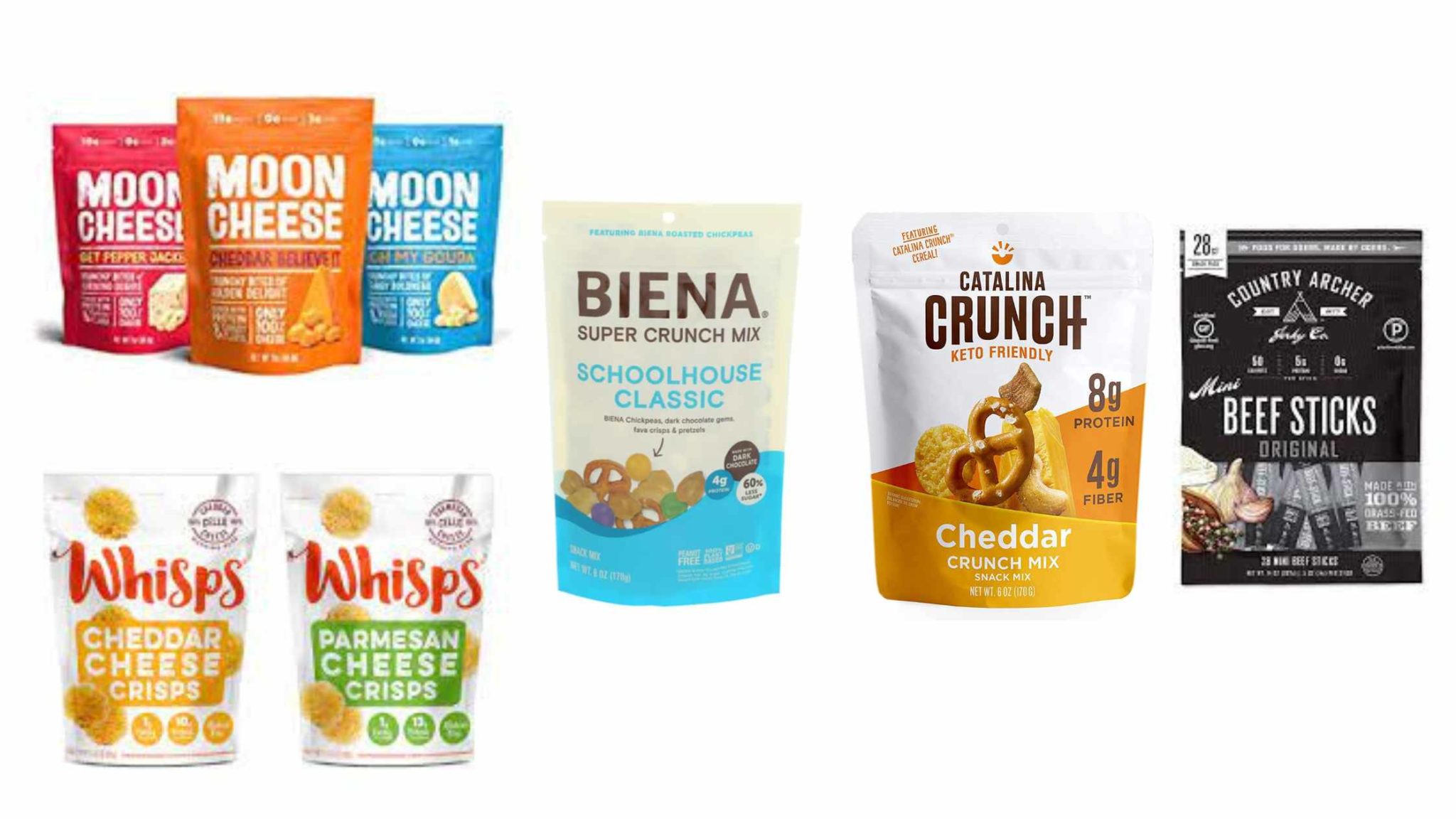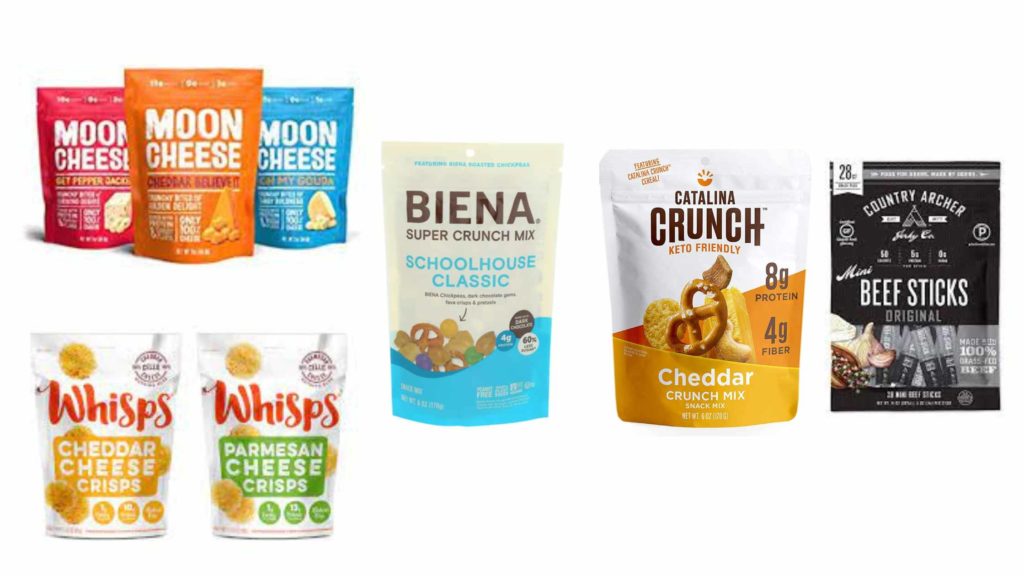 ---
What are you favorite packaged snacks for diabetes? Tell me in the comments below! And of course, feel free to share this with anyone you know who is in search of good diabetes-friendly snacks!
For more helpful tips about food choices with diabetes, here are some of my other popular articles:
Updated: March 2023.