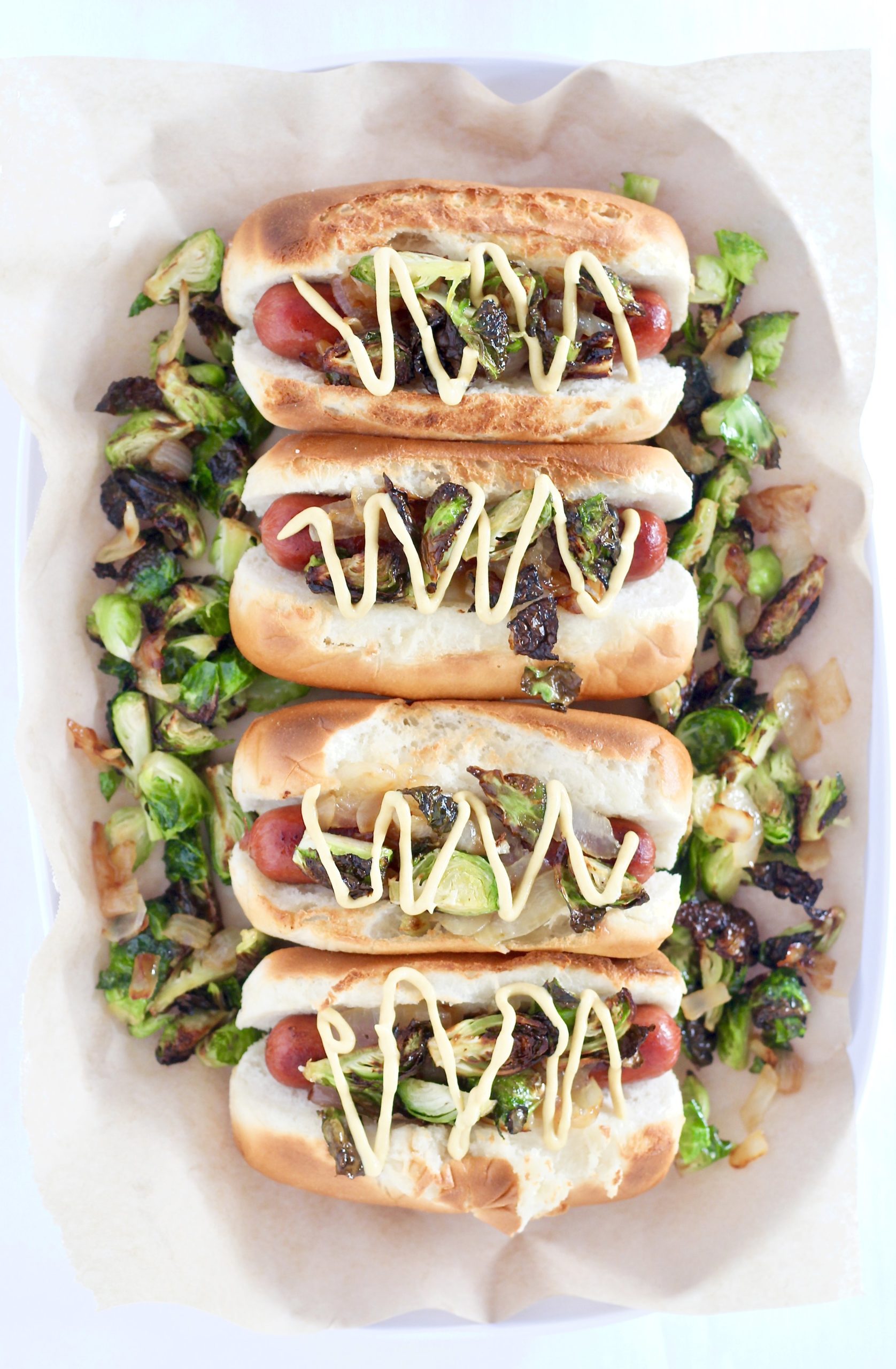 This post was sponsored by , a contractor to the Beef Checkoff. The North American Meat Institute (NAMI). All thoughts and ideas are my own.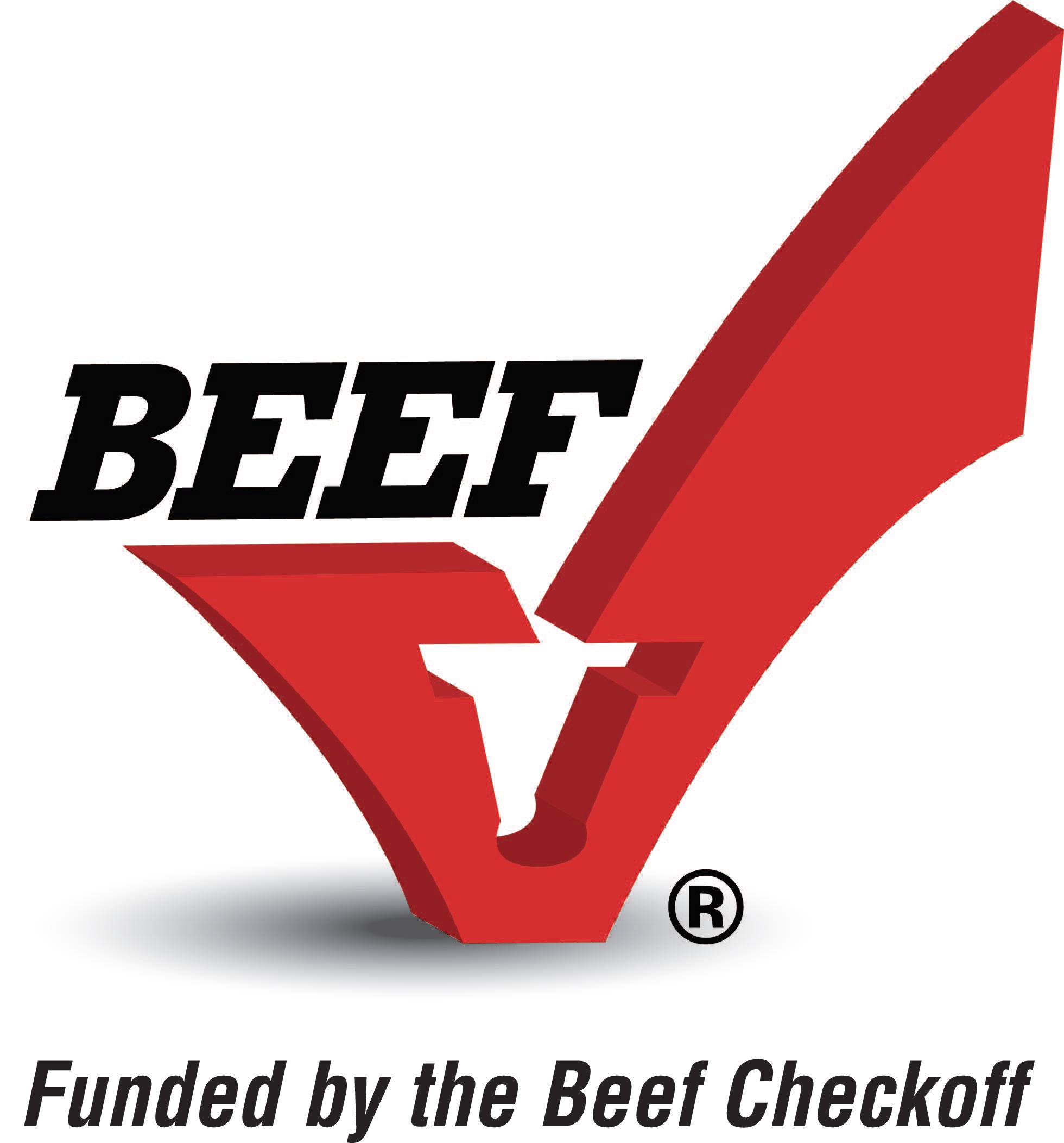 ---
Did you know July 17th is National Hot Dog Day?! No? Well, you're probably not alone. There are so many random food holidays it seems that it's hard to keep up… but this is one food holiday I have no problem celebrating!
As a dietitian and a type 1 diabetic, people often assume I eat a certain way, or that there are certain foods I'd never eat. But, in reality I eat almost any food. Some more than others, yes. But I'm a firm believer in enjoying what you like and eating a diet that provides both physical and emotional benefit… and hot dogs are one of those classic nostalgic foods that I love to enjoy from time to time.
And by loading it up with some of my favorite veggies, we're adding some fiber and flavor that make for a deliciously nutritious and FUN meal.
So, before we get to the recipe for Veggie Lovers' Beef Hot Dogs, let's look at some of the corresponding facts surrounding processed/prepared meat.
First, "processed" simply means "prepared." Processed meats are prepared at a plant – on a larger scale than you would at home. All meat must be prepared (or processed) before it is eaten. Whether preparation occurs at home or at a plant, similar processes are involved like cutting, chopping, grinding, seasoning, and cooking. And in the case of beef hot dogs, certain preservatives, some man made and some natural depending on what kind you buy, are added to create that classic hot dog flavor and prevent spoiling.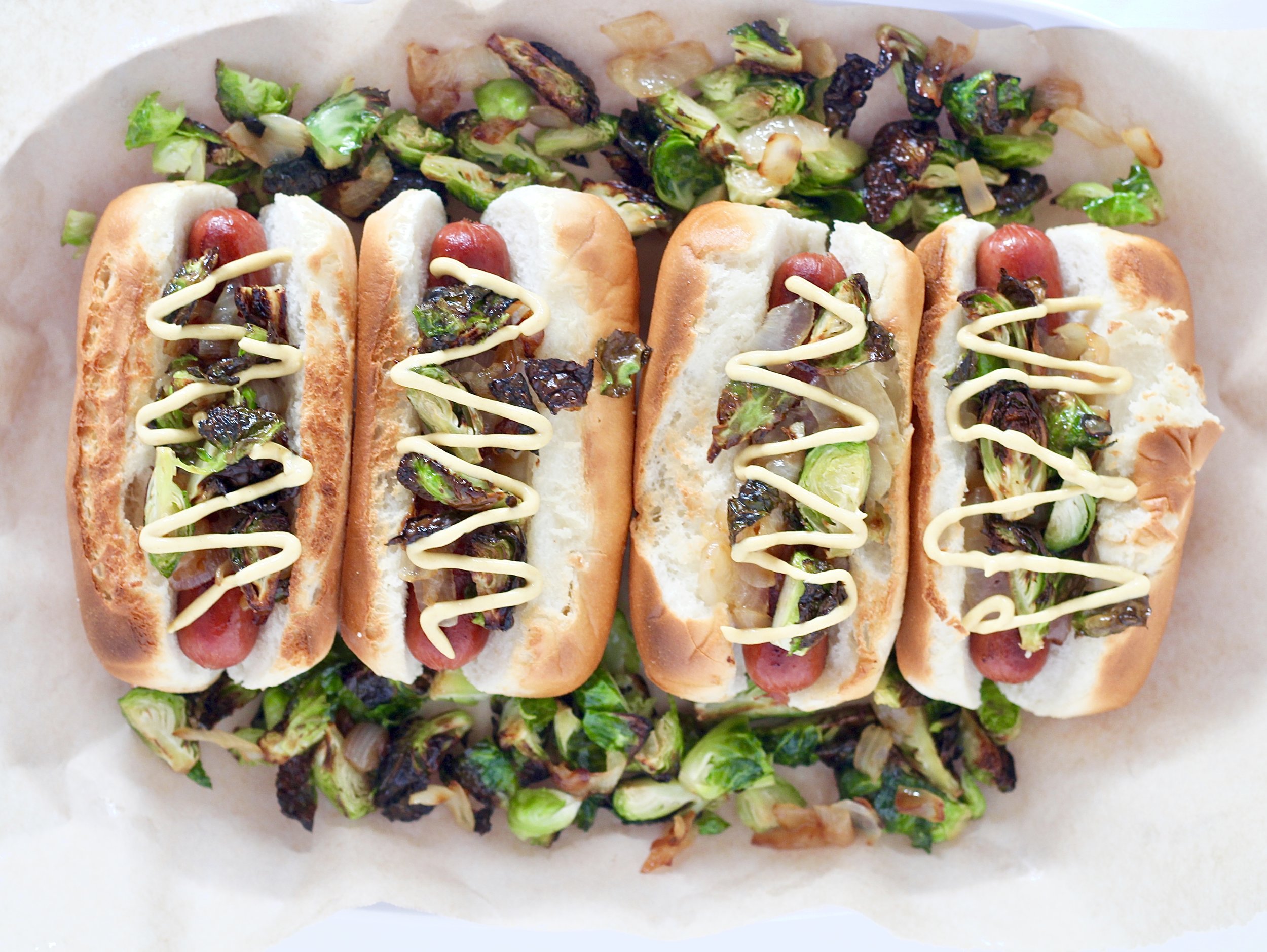 Second, any meat processed in a plant in the United States is subject to certain quality control standards. Meat processed in a plant must contain an ingredient statement and a nutrition label. All ingredients used in prepared meat products must be approved by the Food and Drug Administration (FDA) and accepted by the U.S. Department of Agriculture (USDA), which regulates and inspects meat and poultry products. Processed beef products are regulated and inspected by USDA inspectors before they can be sold.
And lastly, prepared meats have been a significant staple of global food cultures for centuries. According to studies evaluated by the 2015 Dietary Guidelines Committee, followers of the Mediterranean diet eat twice as much red and processed meat as followers of the standard USDA recommended pattern. (1) Meat processing began out of necessity before refrigeration was an option, by salting and drying as a means of preserving products and preventing spoilage. Processed meats have remained a favorite long after modern technology eliminated the need for them due to their beloved flavor and their ability to endure as a part of a balanced eating pattern.
For hot dogs, I prefer to buy 100% beef hot dogs.
1- USDA and DHHS. Dietary Guidelines for Americans, 2015-2020. 8th Edition, Washington, DC: U.S. Government Printing Office. https://health.gov/dietaryguidelines/2015/resources/2015-2020_Dietary_ Guidelines.pdf Accessed March 8, 2018.
And now, onto the recipe…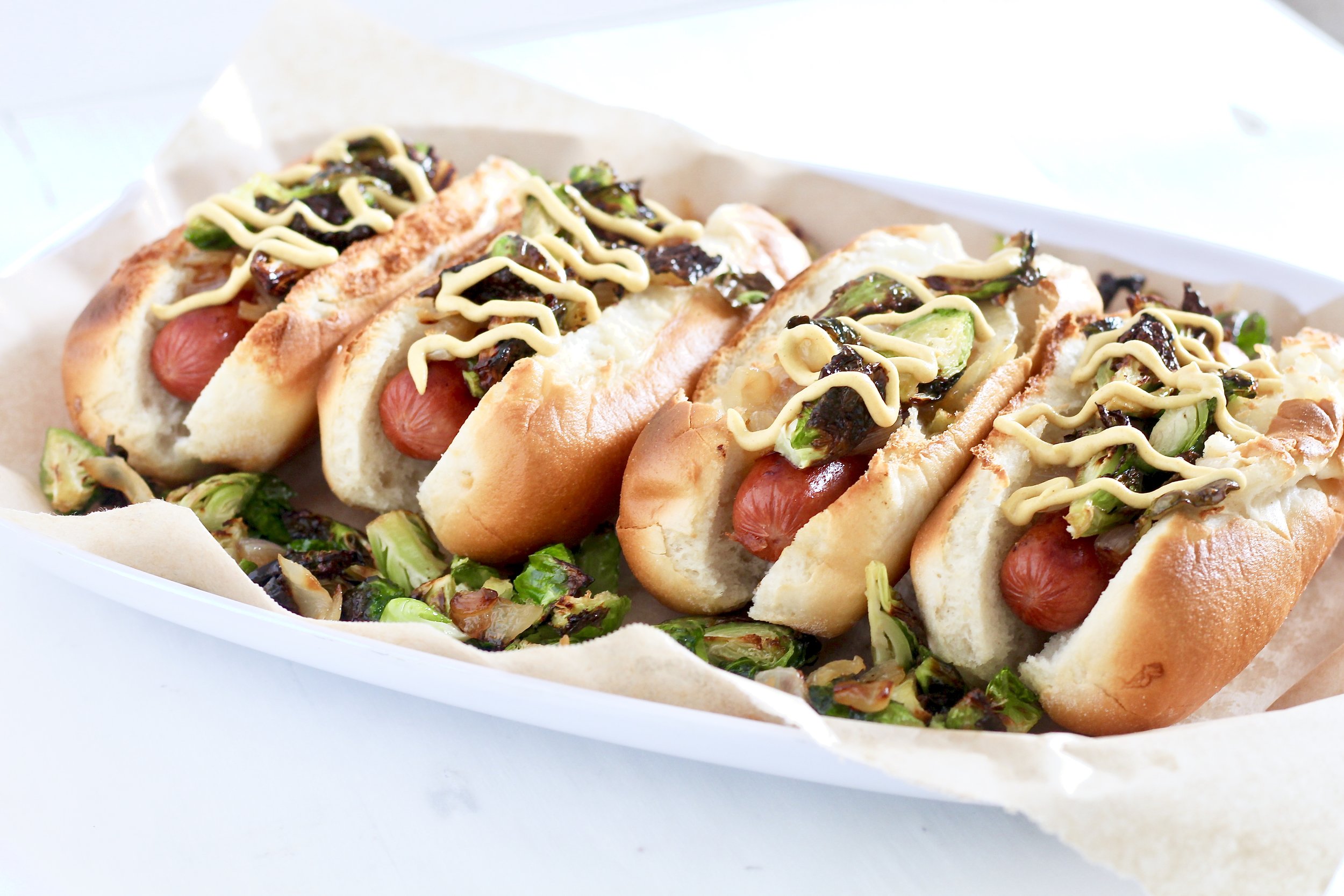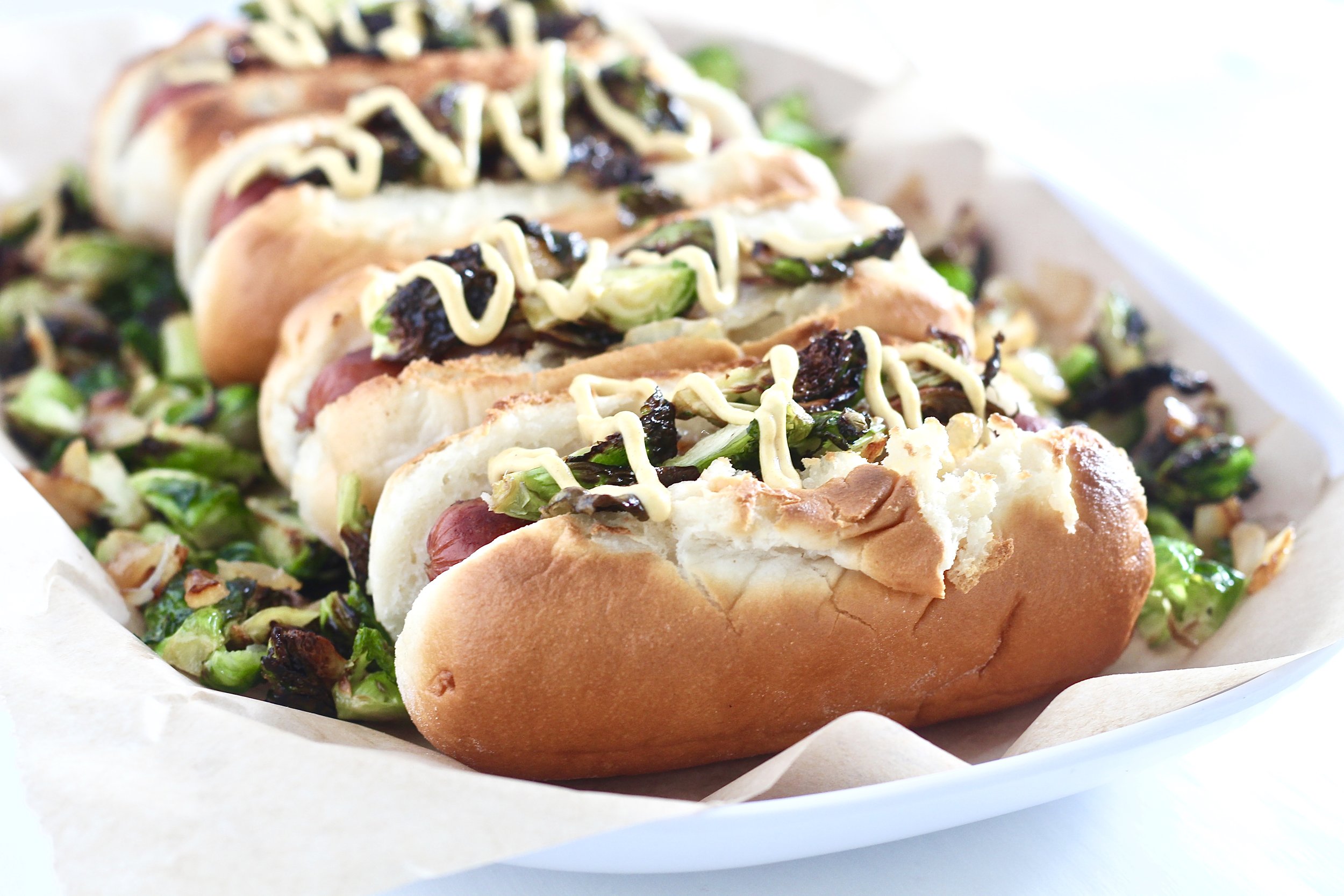 ---

Celebrate National Hot Dog Day: Veggie Lovers' Beef Hot Dogs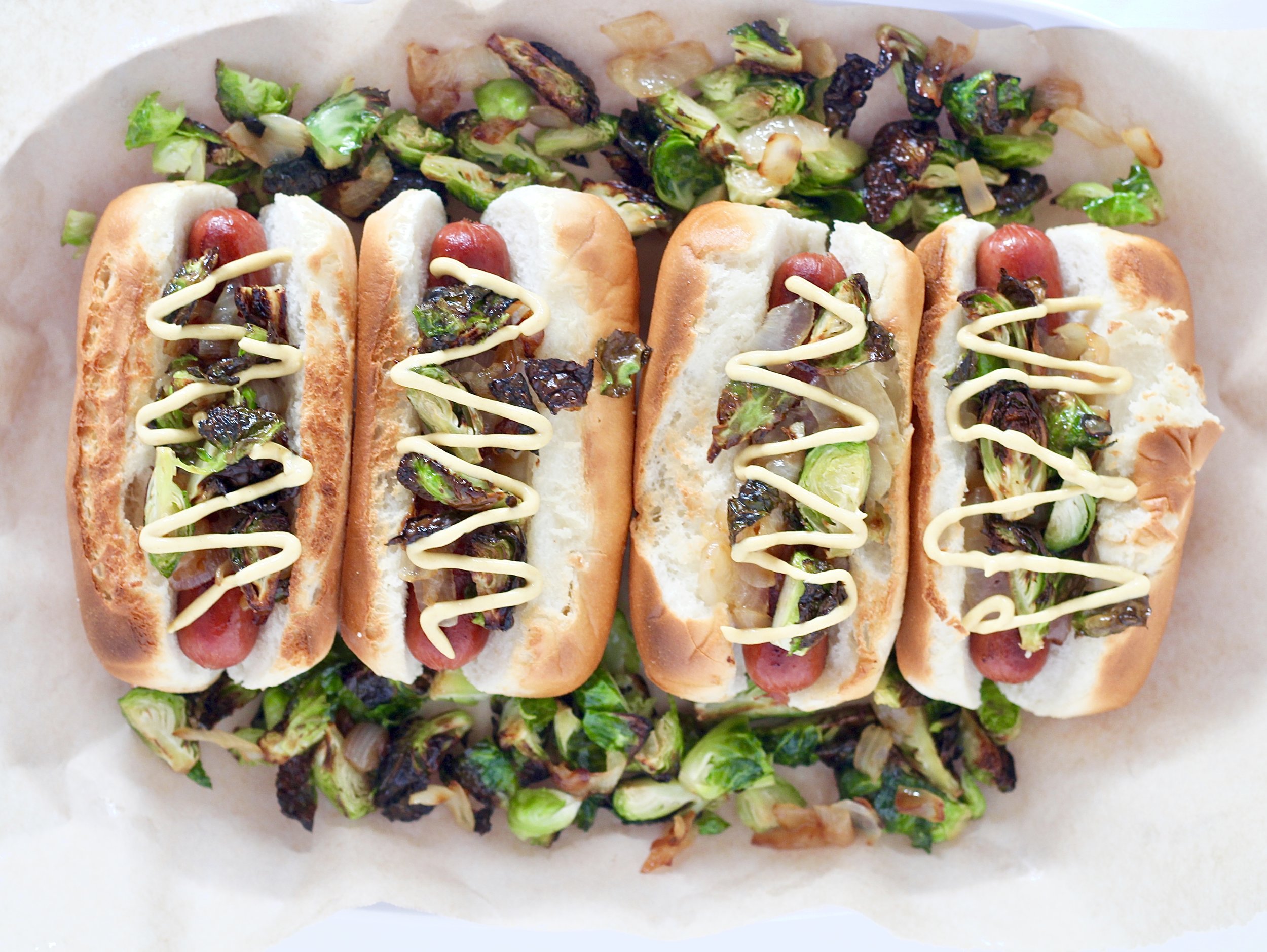 Ingredients
1/2

yellow onion

sliced

2

Tbsp

cooking oil

I use avocado oil

1

pound

Brussel sprouts

chopped

2

Tbsp

maple syrup

1/2

tsp

sea salt

1

Tbsp

cooking oil

4

100% beef hot dog links

4

hot dog buns

Dijon mustard
Instructions
Preparation
Add 2 Tbsp cooking oil to a medium skillet and warm over medium, high heat. Add the sliced onions and toss until well combined. Let the onions sauté (covered) for 15-20 minutes, stirring every 5 minutes.

Meanwhile, to prepare the Brussel sprouts, combine the chopped Brussel sprouts, maple syrup, 1 Tbsp cooking oil and sea salt in a bag and shake until the Brussel sprouts are well coated…
Air fryer method:
Add the Brussel sprouts to the basket of the air fryer and cook on 400 degrees for 9 minutes.
Oven method:
Arrange the Brussel sprouts on a parchment lined baking sheet. Bake on 425 degrees for 20 minutes.

While the onions and Brussel sprouts are cooking, cook the beef hot dogs as desired (grill, microwave, pan sear, etc.), and heat the buns. (I like to spray my hot dog buns with a little oil spray and place under the broiler for 2-3 minutes.)

Note: If you want even more veggies in the hot dog, you can swap the traditional bread bun for a sweet potato! Simply steam the whole sweet potato in the microwave and slice down the middle. (See picture.)
To assemble the hot dogs:
Place each hot dog in the bun

Top with onions and the crispy Brussel sprouts.

Drizzle with dijon mustard

Serve immediately and enjoy!!
Notes
The nutrition facts presented here are estimates only. The brands you use and product types chosen can change the nutritional information presented. To obtain the most accurate nutritional information, you should calculate the nutritional information with the actual ingredients you use.
Nutrition
Serving:
1
hot dog
|
Calories:
481
kcal
|
Carbohydrates:
43
g
|
Protein:
15
g
|
Fat:
29
g
|
Saturated Fat:
8
g
|
Fiber:
5
g
|
Sugar:
14
g