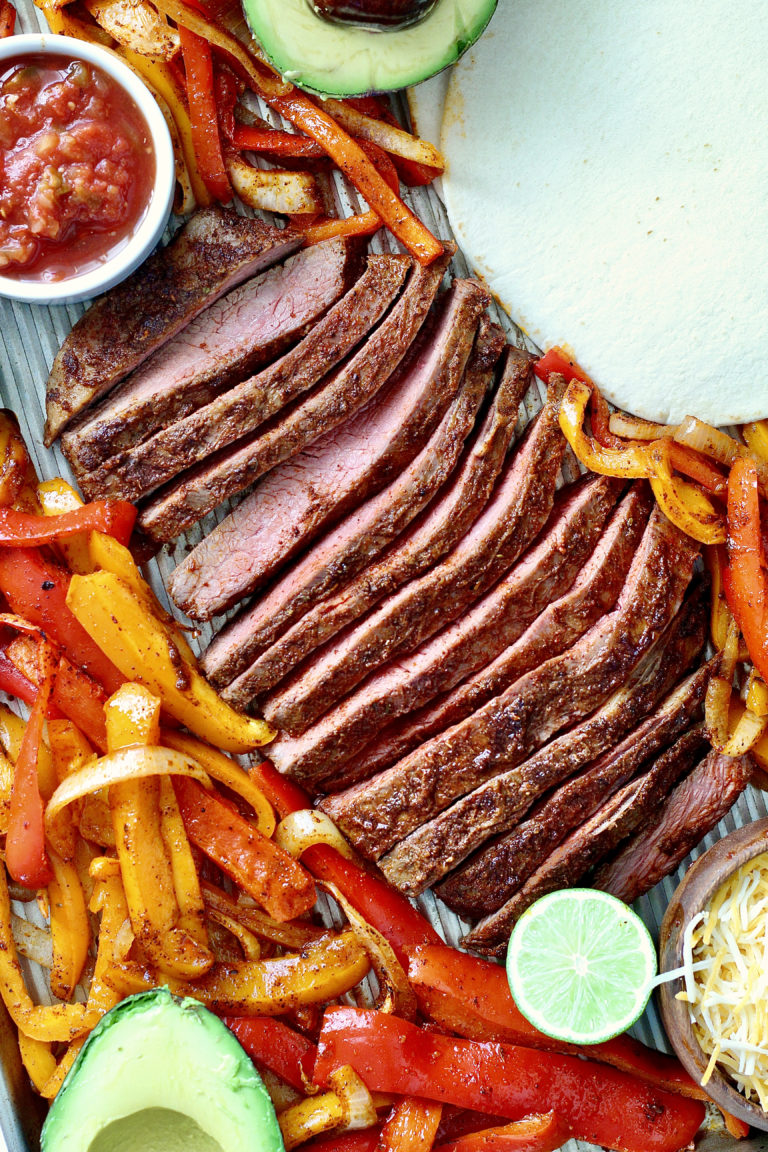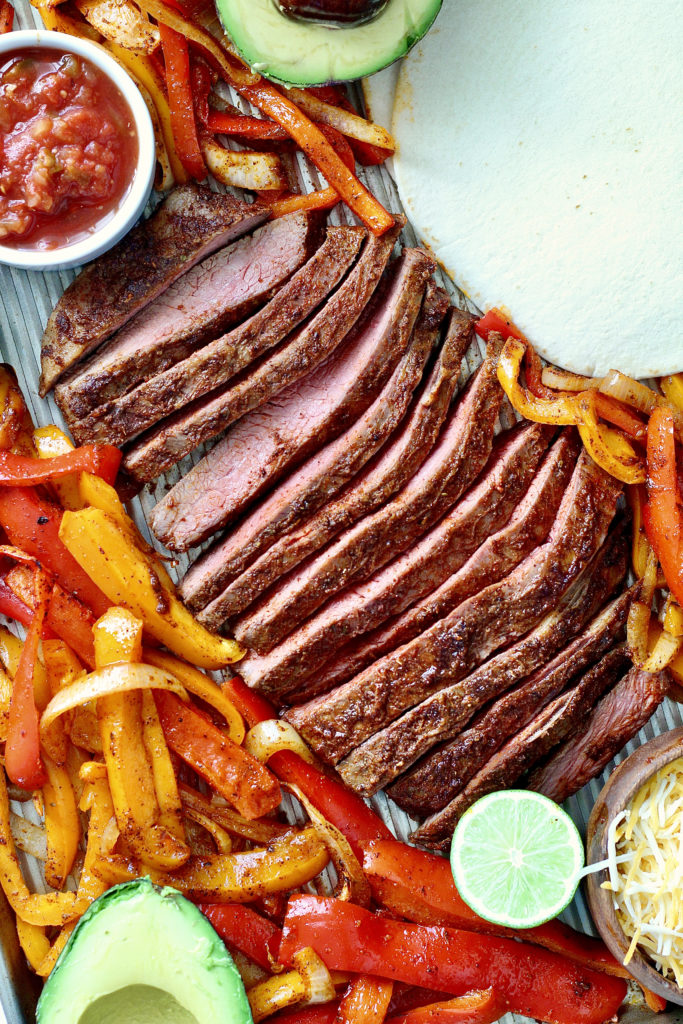 Easy Sheet Pan Steak Fajitas are the perfect simple and quick weeknight meal you need in your rotation!
Lean beef, seasoned to perfection, makes the perfect foundation for this easy dish. You'll be enjoying this sheet pan steak fajitas recipe for a long time to come!
Tasty beef sheet pan fajitas
Who doesn't love fajitas? And, easy-to-prepare fajitas at that! This recipe combines a perfect combination of spices, lime juice, and flavorful Flank Steak for a filling and satisfying meal.
Flank Steak is one of my favorite cuts of lean beef.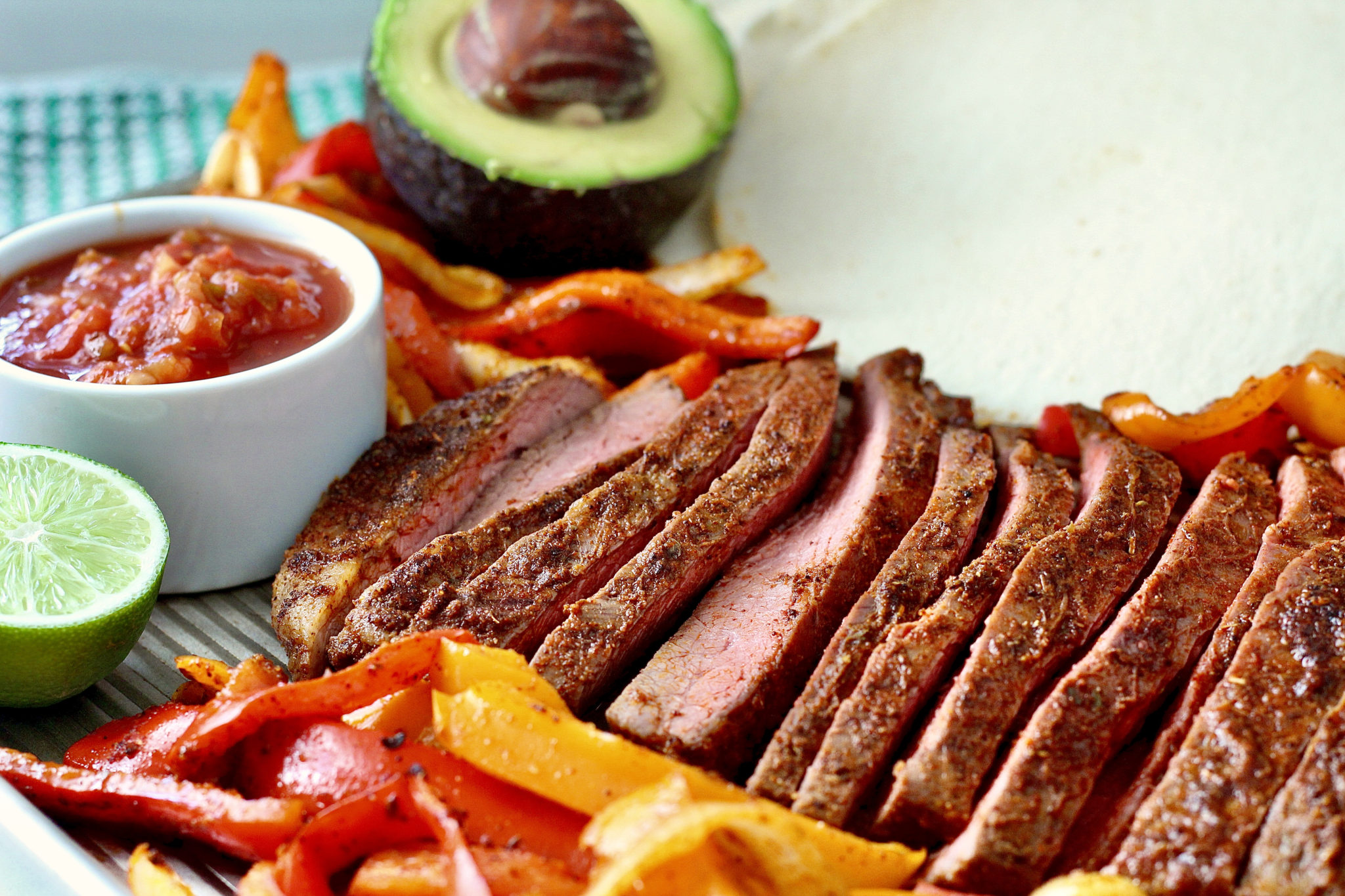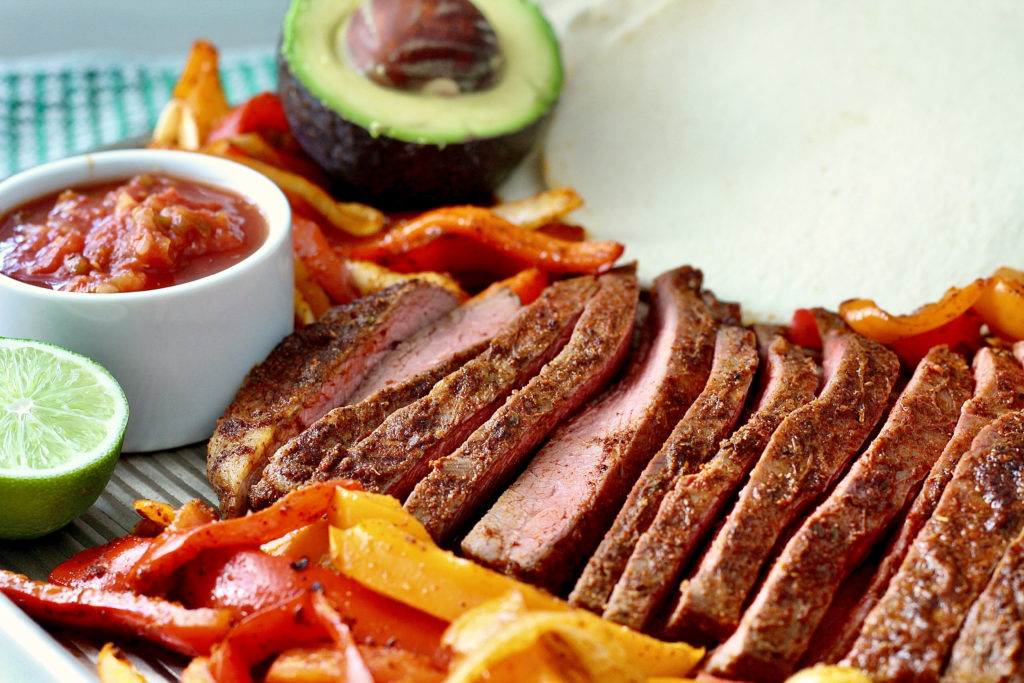 Is lean beef healthy? 
Lean beef is an excellent source of protein and supplies 10 essential nutrients including B-vitamins, zinc, and iron. These nutrients support a healthy lifestyle and provide our bodies with the strength to thrive throughout all stages of life.
Beef and heart health
People with diabetes should be mindful of their heart health. So, can a heart-healthy diet include beef? The answer is absolutely yes! You can eat a heart-healthy diet and still enjoy your favorite cuts of delicious lean beef. 
There are over 20 scientific studies that support the role of lean beef in a heart-healthy diet and lifestyle. For example, the Beef in an Optimal Lean Diet study showed that subjects who ate 4-5.4 ounces of lean beef along with a diet rich in vegetables, fruits, whole grains, and low-fat dairy were able to maintain normal cholesterol levels. 
Here are a few tips to enjoy beef while living with diabetes and being mindful of your heart health:
Choose lean beef at the meat counter.
Be mindful of serving size. A 3-oz cooked serving of lean beef is about the size of a deck of cards and super satisfying.
Trim away any visible fat from cooked beef before serving.
When cooking beef, try broiling, roasting or poaching and pair it with vegetables, fruits and whole grains.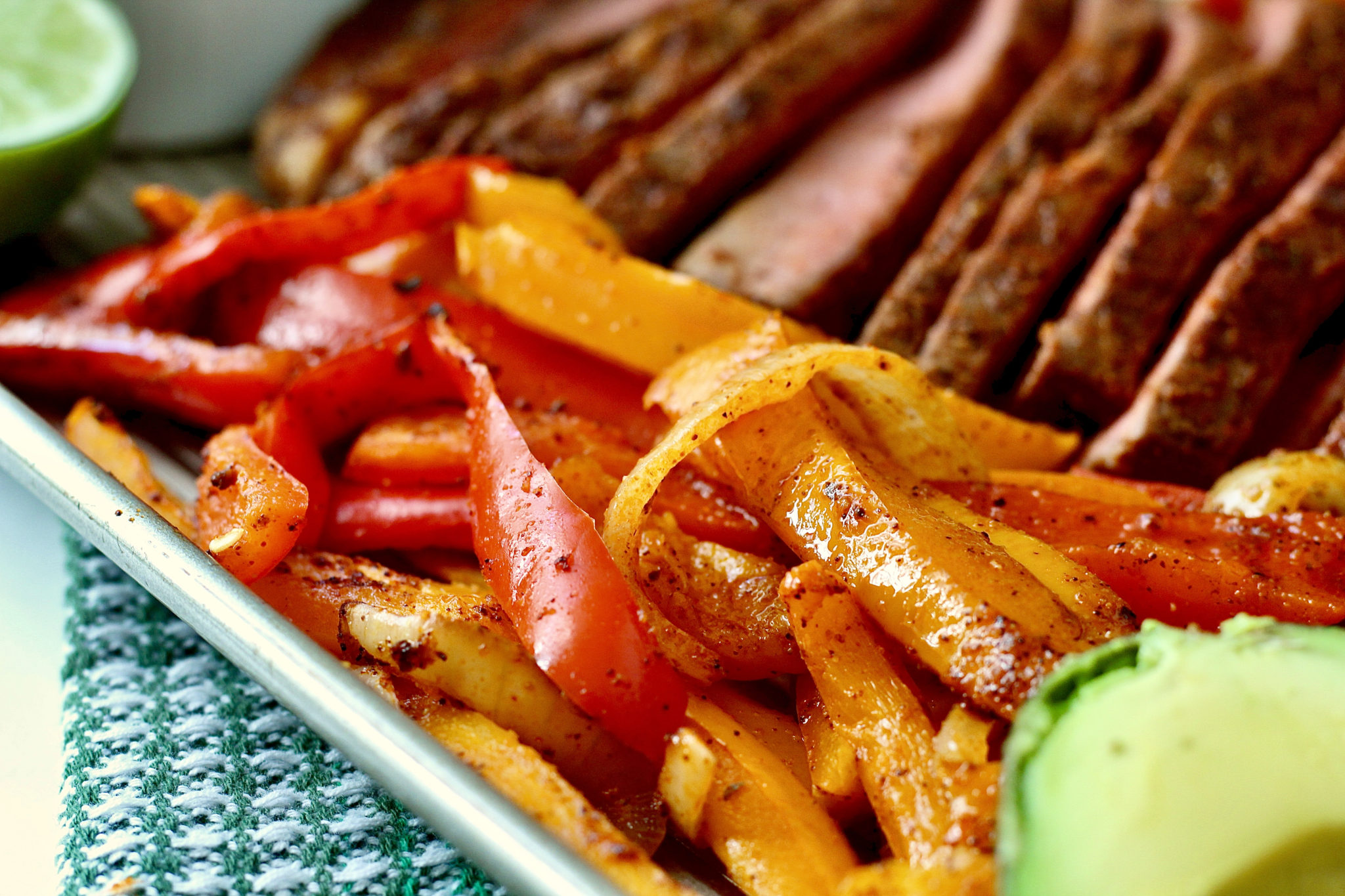 What are the lean cuts of beef?
There are more than 36 cuts of beef that meet government guidelines for lean. The easiest way to identify lean beef cuts is to look for the terms "round" or "loin" (e.g., Sirloin, Tenderloin, or Eye of Round).
Check out this helpful resource from Beef. It's What's for Dinner. for more information on lean beef cuts. You can scroll through all the cuts available as well as grab cooking tips and other recipe ideas. 
What is the best cut of meat for Steak Fajitas?
We will use Flank Steak in the recipe below. But Skirt Steak and Hanger Steak are also great cuts that can be used to make Sheet Pan Steak Fajitas at home.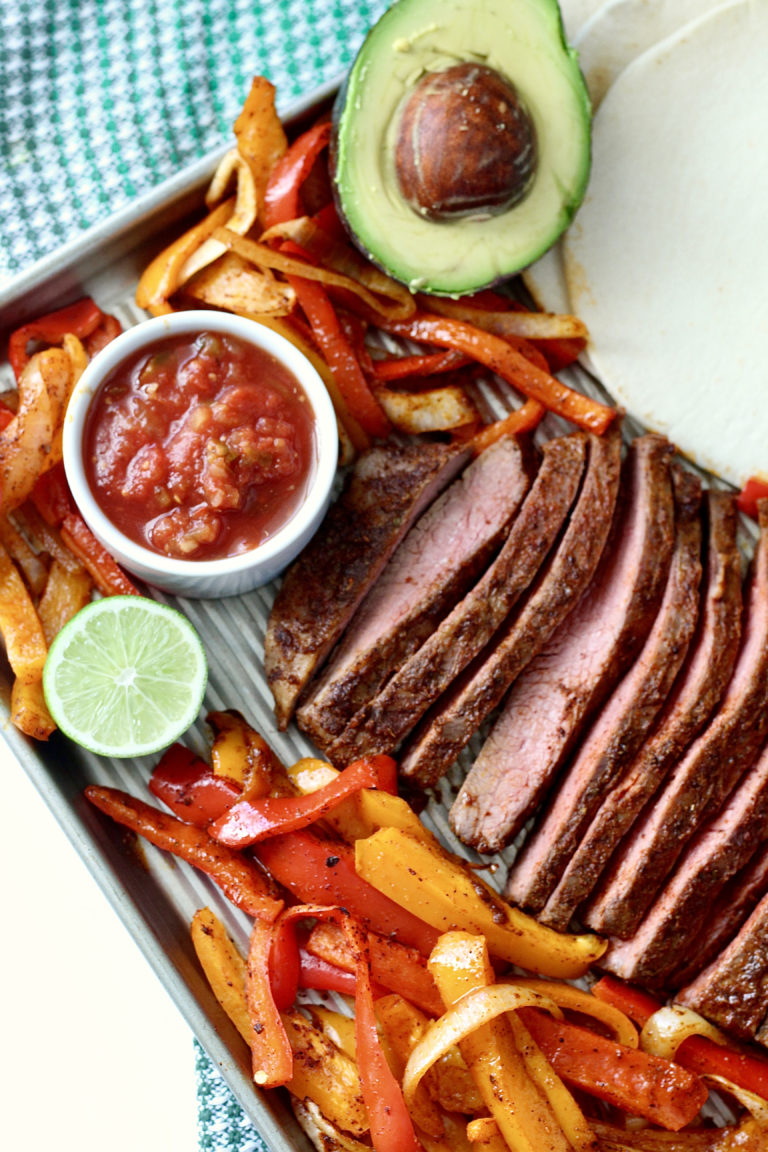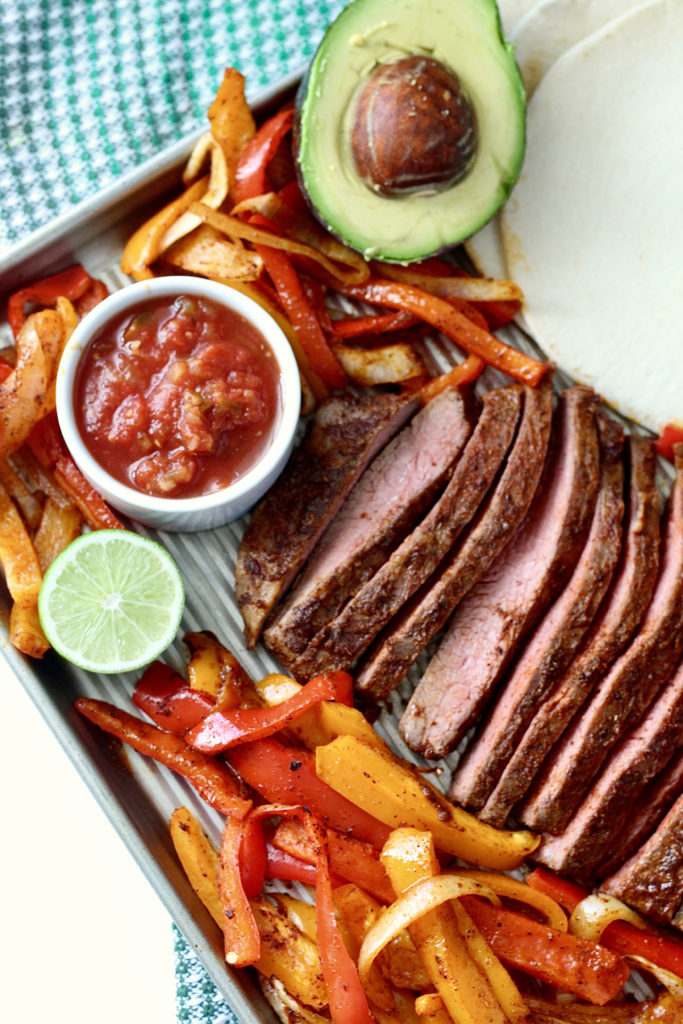 How do you cook fajita meat so it's tender?
Before we place our Flank Steak in the oven, we'll do a couple things to ensure it's tender once cooked. First, we massage it with oil. And second, we add an acid (lime juice in this recipe) to help break down some of the muscle fibers while cooking.
My seasoning recipe for steak fajitas
The seasoning mixture I like to use for Sheet Pan Steak Fajitas is very similar to my taco seasoning recipe, but with a couple changes:
1 Tbsp chili powder
1 Tbsp onion powder
1/4 tsp black pepper
1 1/2 Tbsp paprika
1 1/2 tsp garlic powder
1/2 tsp salt
1 1/2 tsp cumin
1 tsp oregano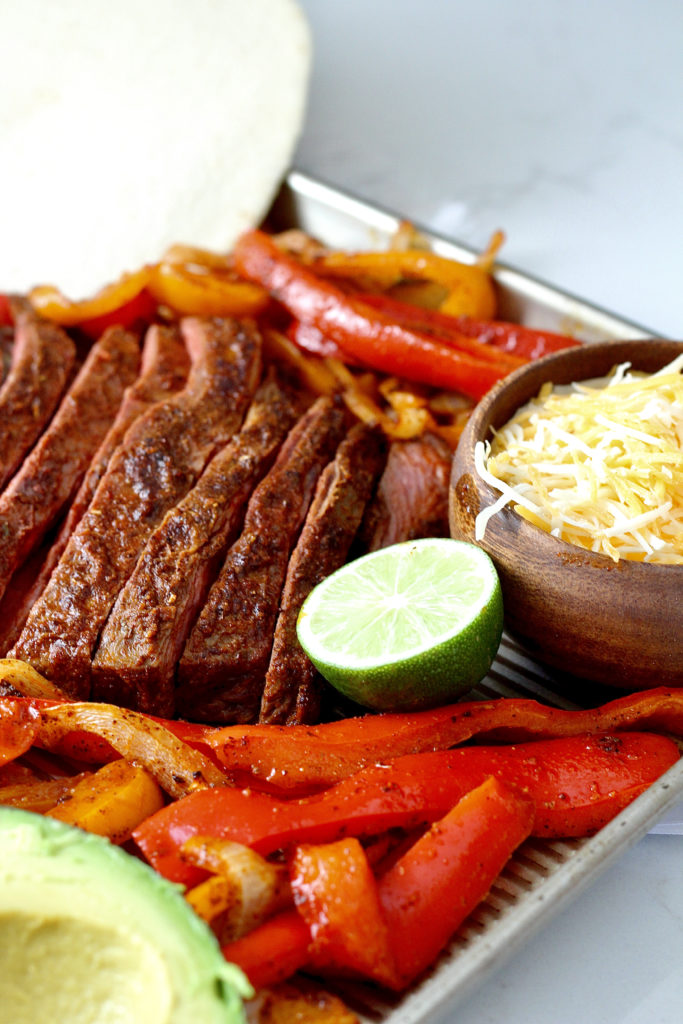 Should fajita meat be sliced before cooking?
No, you will want to cut your fajita meat after it is cooked. When cutting, we will cut against the grain of the meat. This ensures we get the most flavorful, tender and juicy final result.
How to cook fajitas in the oven
Cooking beef in the oven is very simple. For this recipe, first, you'll trim off any excess fat from the Flank Steak. Second, we'll marinate our meat in a combination of oil, spices, and lime juice. And then, we cook it! (See the recipe card below for full instructions!)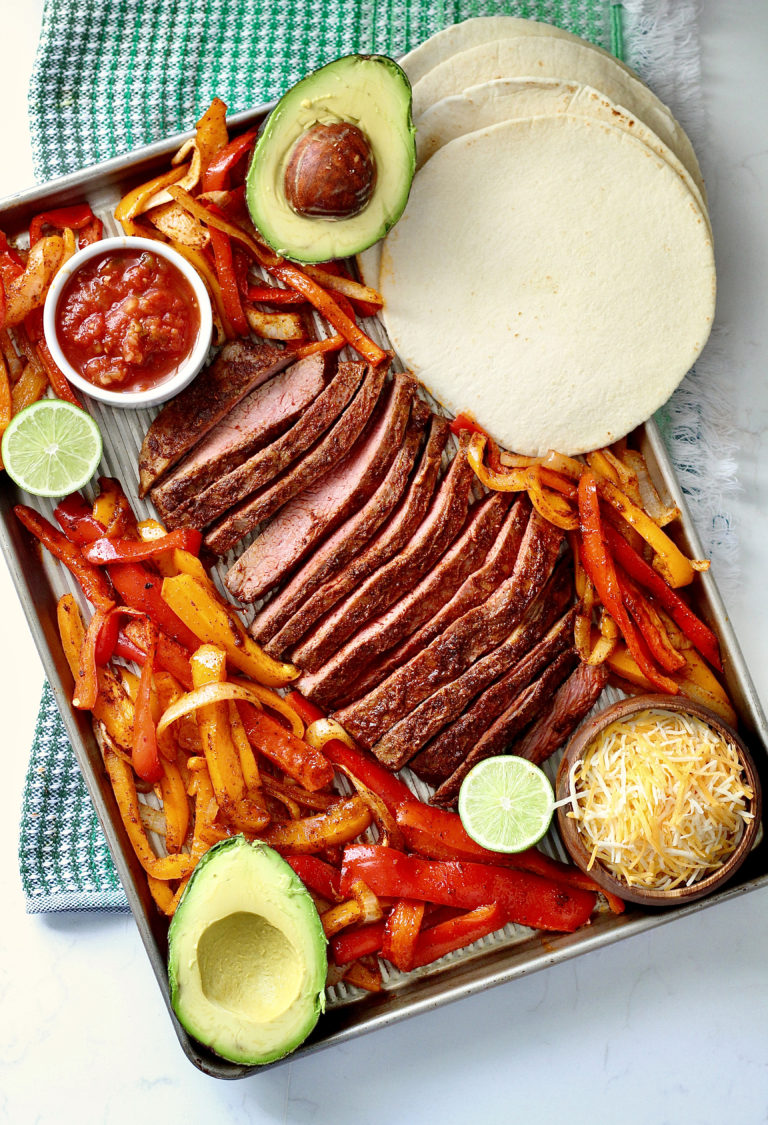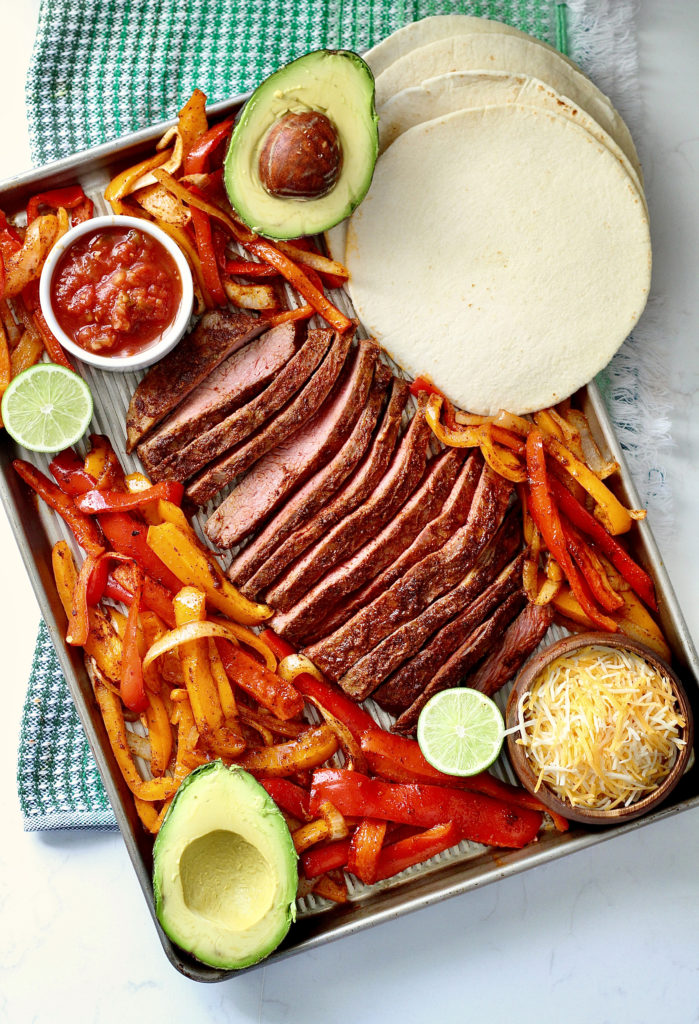 How long to cook fajitas in the oven
We want to cook our meat to an internal temperature of 145 degrees F for medium rare before removing it from the oven. How long to cook the Flank Steak in the oven will depend on how much meat you're trying to cook at one time. Generally, it should only take about 10-20 minutes on 425 degrees F.
Easy Steak Fajita recipe
This Sheet Pan Steak Fajita recipe is going to become a new weeknight favorite! It's simple, tasty, and a great way to enjoy one of my favorite cuts of lean beef.

Easy Sheet Pan Steak Fajitas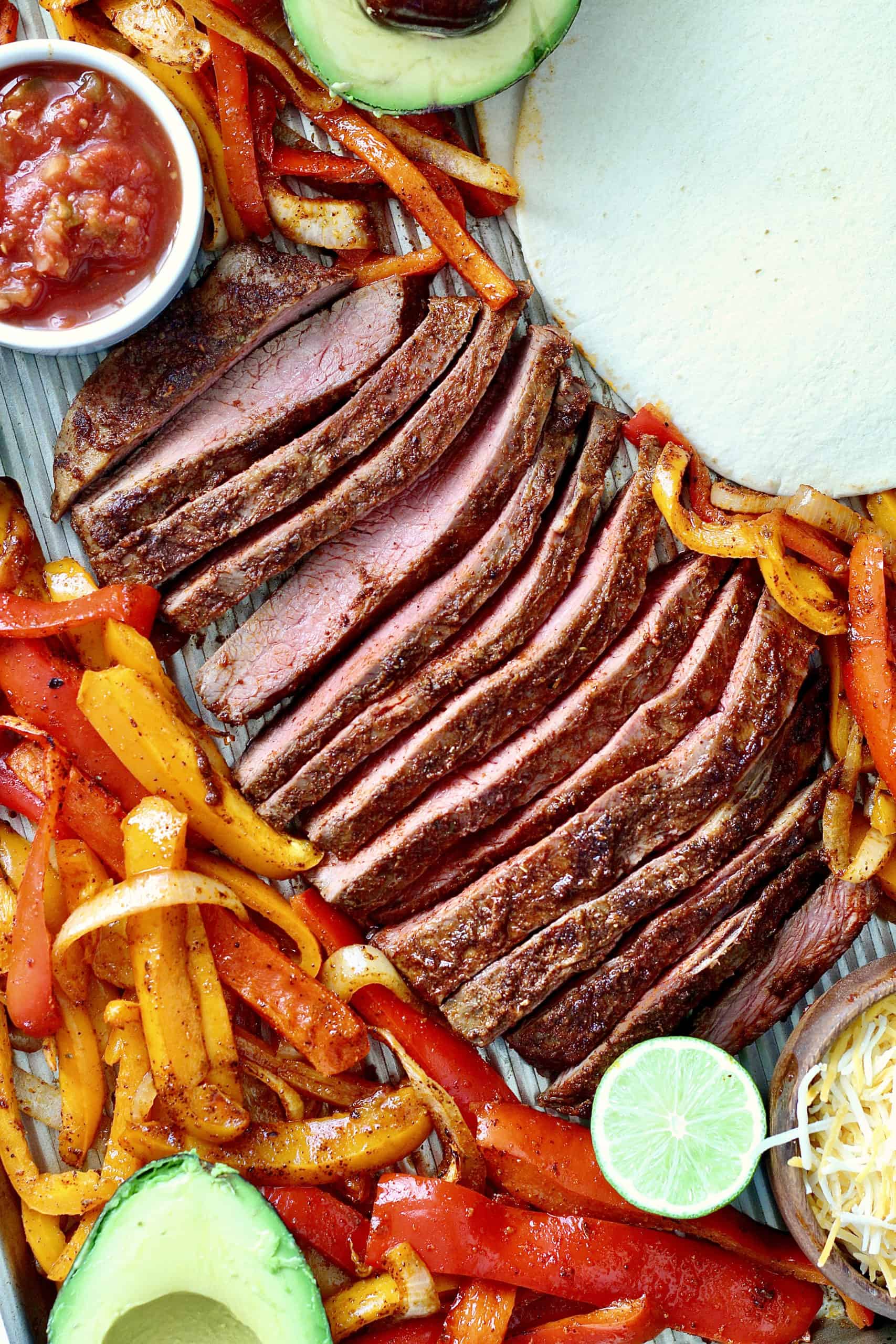 Ingredients
1

lb

Flank Steak

4

bell peppers

sliced into strips (I like to use orange and red)

1

sweet yellow onion

sliced into rings

1/4

cup

oil of choice

I prefer avocado oil

1

Tbsp

chili powder

1

Tbsp

onion powder

1 1/2

Tbsp

paprika

1 1/2

tsp

garlic powder

1 1/2

tsp

cumin

1

tsp

oregano

1/4

tsp

black pepper

1/2

tsp

salt

1

lime

juiced

Chopped cilantro

for garnish
Instructions
Preheat your oven to 425 degrees F.

Lay your Flank Steak flat on your sheet pan.

In a small bowl, gently mix your oil and seasoning spices until combined.

Add your sliced peppers and onions to a bowl and toss them with two Tbsp of the spice/oil mixture until fully coated.

Drizzle half of the remaining oil mixture over the Flank Steak. Then, drizzle half of the lime juice over the Flank Steak.

Rub this mixture into the face-up side of the Flank Steak. Flip the meat and pour the remaining oil mixture and lime juice on to the other side of the steak. Rub the mixture in until the beef is fully covered.

Carefully arrange your seasoned peppers and onions around the beef on the sheet pan.

Place the pan in the oven, and bake for ~15 minutes or until the internal temperature of the meat has reached 145°F for medium rare as measured by a meat thermometer

Remove the pan from the oven and let it rest for 15 minutes.

After 15 minutes, remove the steak from the pan and transfer it to a cutting board, and slice the meat against the grain into your desired size strips or pieces.
Notes
The nutrition facts presented here are estimates only. The brands you use and product types chosen can change the nutritional information presented. To obtain the most accurate nutritional information, you should calculate the nutritional information with the actual ingredients you use.
Nutrition
Serving:
1
serving
|
Calories:
236
kcal
|
Carbohydrates:
11
g
|
Protein:
17
g
|
Fat:
15
g
|
Saturated Fat:
3
g
|
Sodium:
250
mg
|
Fiber:
3
g
|
Sugar:
6
g