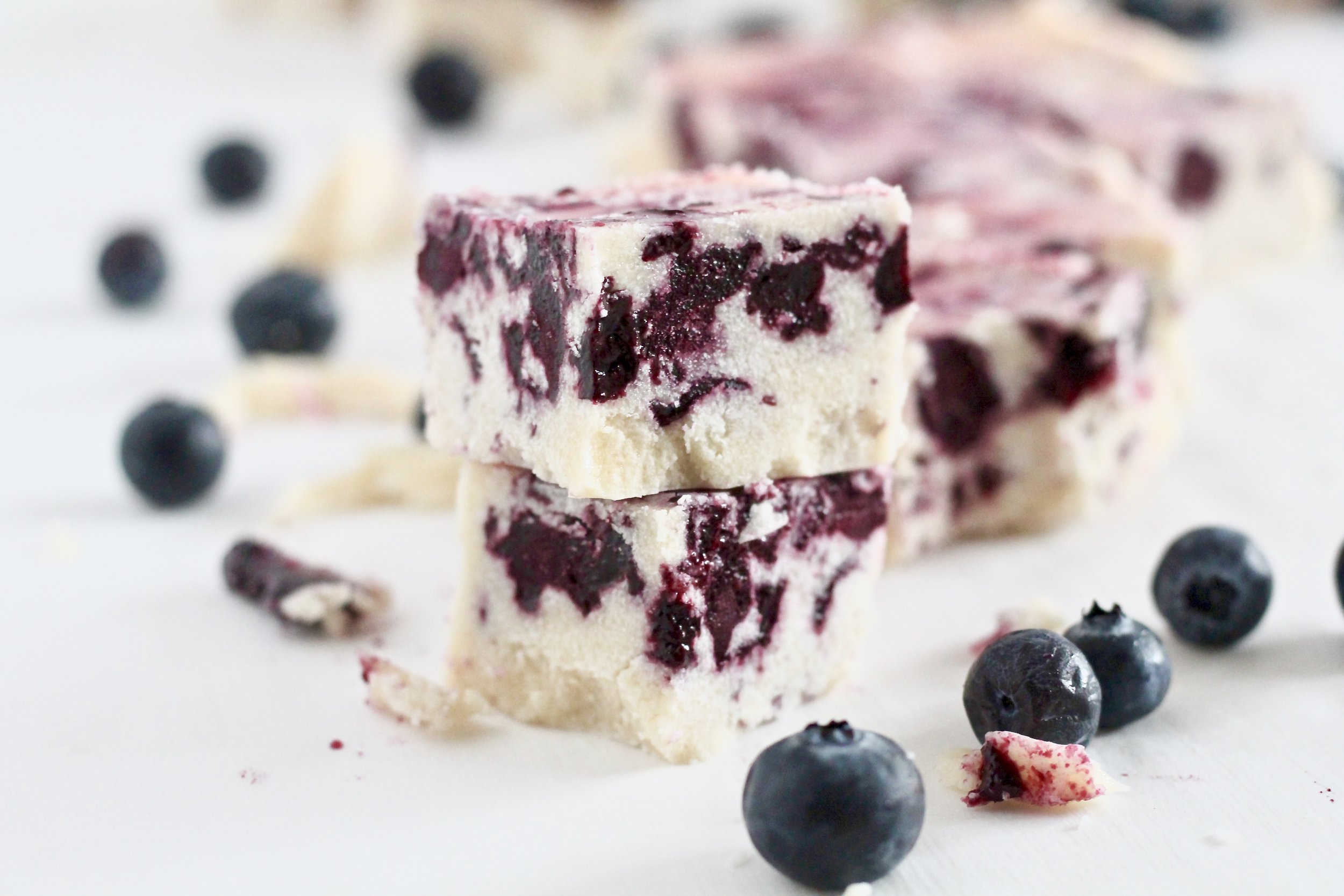 This article (No-Cook Blueberry Vanilla Fudge) was sponsored by The U.S. Highbush Blueberry Council. All ideas and thoughts are my own.
---
July is National Blueberry month!! And I'm celebrating with this newest recipe for No-Cook Blueberry Vanilla Fudge! This dessert is perfect for everyone and just the slight hint of sweet you need after dinner this time of year… and when it's 100 degrees out, the whole "no-cook" part is pretty awesome as well!
BUT… before we get to the recipe, there's even more reason to celebrate National Blueberry month this year… some pretty amazing research about blueberries was just published back in May in the American Journal of Clinical Nutrition!
New research shows blueberries could improve the heart health of 34% of Americans.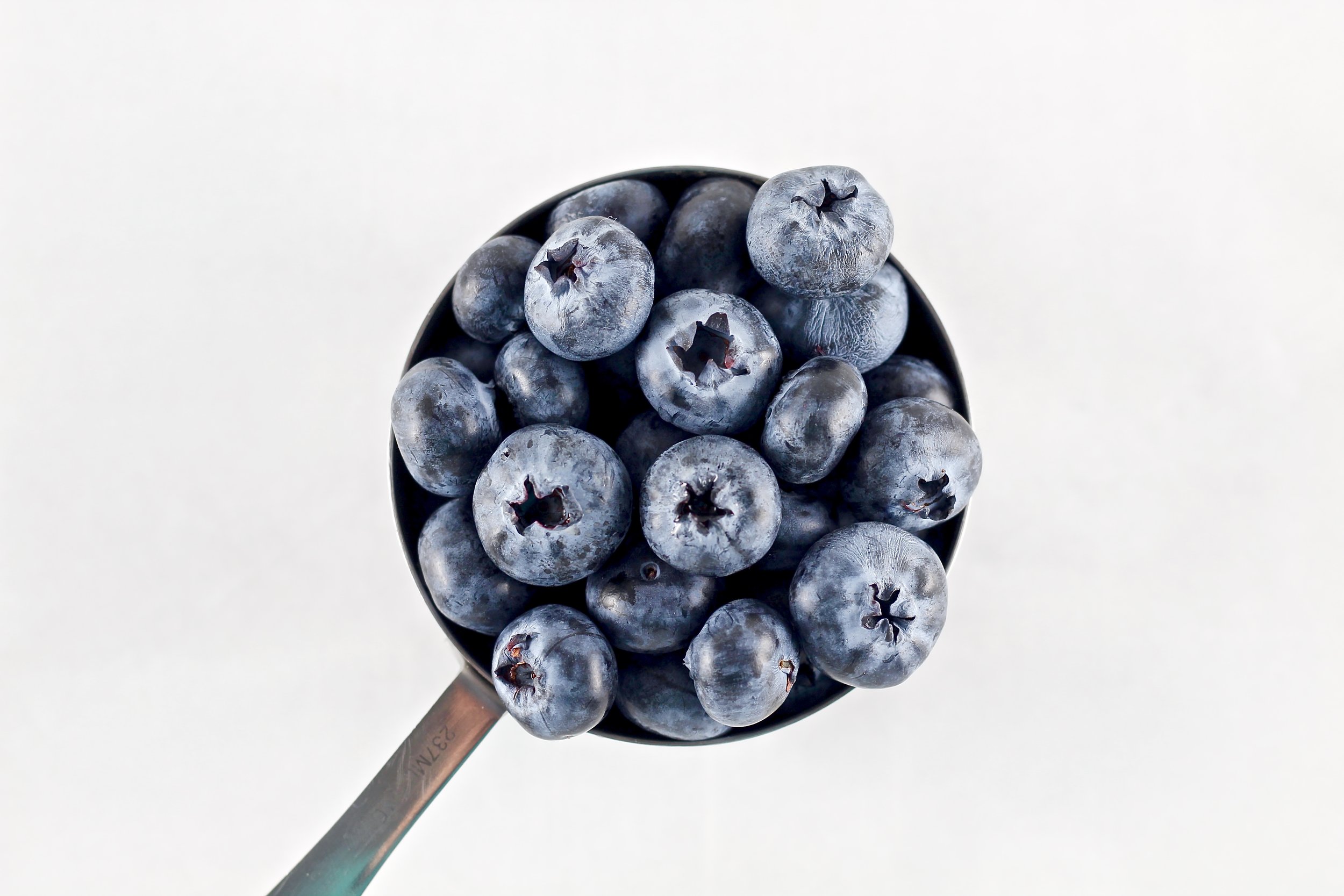 According to a new study published in the American Journal of Clinical Nutrition, people with metabolic syndrome could improve their heart health by eating one serving (one cup) of blueberries each day.
Some estimates show that 34% of Americans have metabolic syndrome, and even more are at risk. Doctors will diagnose someone with metabolic syndrome when they have any three of the following characteristics/conditions:
Waist circumference >35in for women, and >40in for men

Triglycerides > or = 150 mg/dL

HDL cholesterol < 40 mg/dL in men or <50 mg/dL in women

Blood pressure > or = 130/85 mmHg

Fasting blood glucose > or = 100 mg/dL
In this study, they took 115 people with metabolic syndrome and gave them one serving of freeze-dried blueberries (that was equivalent to 1 cup fresh blueberries) each day. They used freeze dried blueberries so that the study could be "blind". This means participants didn't know if they were getting freeze dried blueberries each day or an equivalent looking and tasting powder that was just a placebo. When a study is blind like this, where the participants don't know which treatment they've gotten, it significantly reduces the amount of potential bias in the study. This means these results can be better trusted and are more likely to reflect the truth than if people had known what they were eating.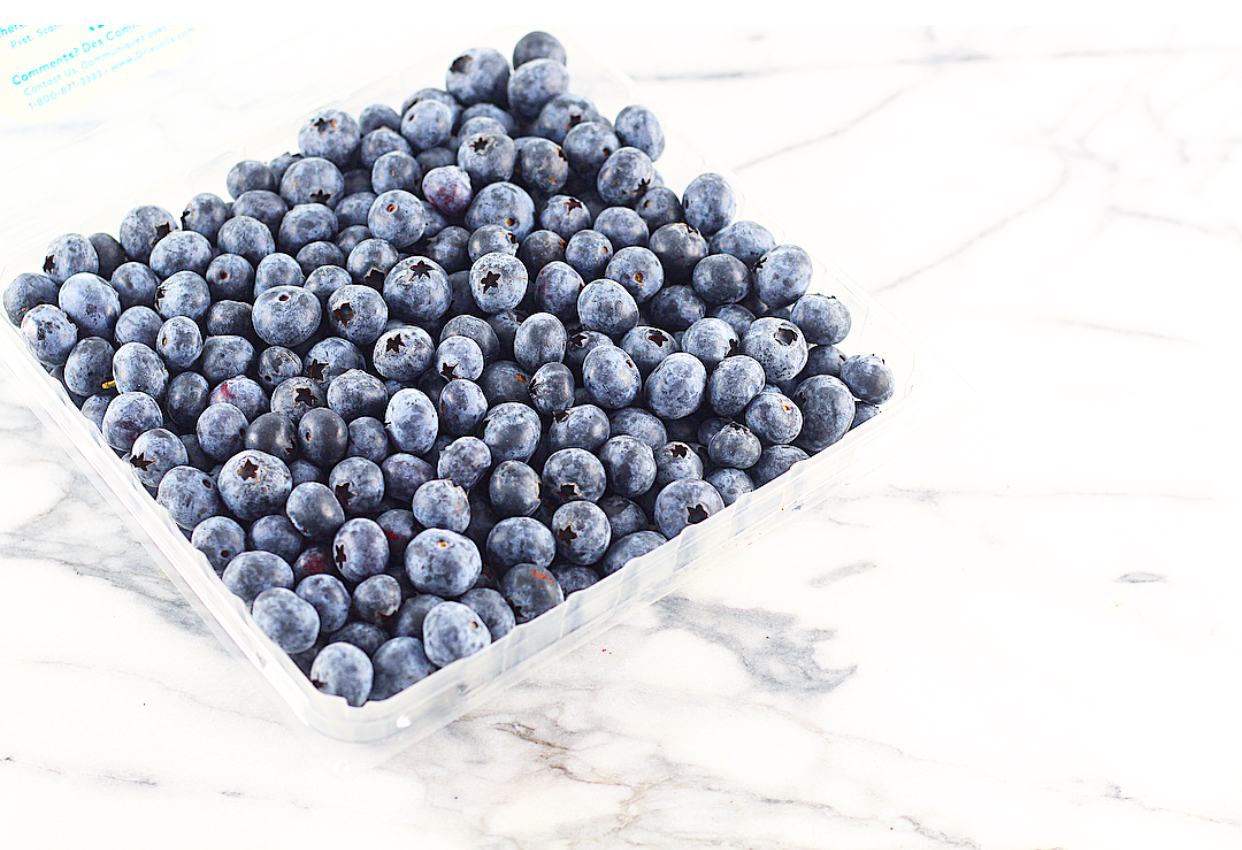 When participants consumed a serving of blueberries each day, they displayed clinically significant improvements in heart health measures, particularly the things that measure blood flow and blood vessel integrity. They also saw significantly increased HDL-C levels, aka "good" cholesterol, in these adults with metabolic syndrome, as well as other blood lipids that relate to heart health.
These results also showed what we call a "dose-response." Meaning as more blueberries were consumed, a greater benefit was seen. Researchers believe these results may be due to the anthocyanins found in blueberries. They're what make blueberries blue. One cup of blueberries contains 163.3mg anthocyanins.
This new study is just one more piece of evidence to show that blueberries, as part of a balanced diet, can improve heart health. Because the study was conducted on people with metabolic syndrome, the results can't be generalized to everyone, but with 34% of Americans having metabolic syndrome and even more being at risk, this research will be helpful for many people!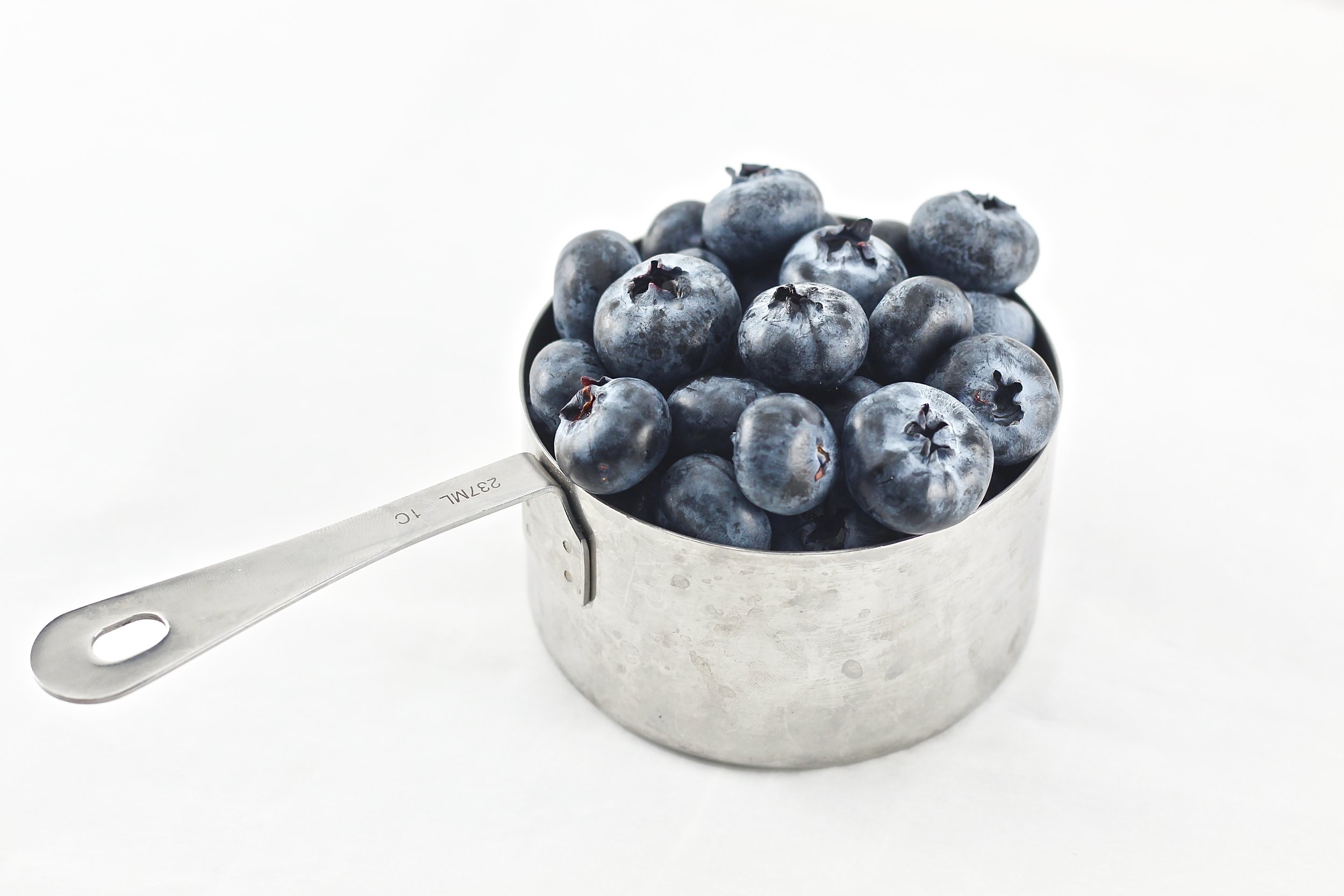 And now, onto this recipe… which quite intentionally is a great better-for-you dessert option for people with metabolic syndrome.
My No-Cook Blueberry Vanilla Fudge is lower in sugar than traditional fudge and uses the natural sweetness of orange juice, maple syrup, and BLUEBERRIES! It's naturally gluten free, dairy free, and can be made nut free (see the notes below)… so basically, anyone can enjoy it!
When I was testing this recipe, I had quite a few fails… but once I had this idea in my head, I was determined to figure out a way to make it work that resulted in not only a delicious fudge but one that was relatively easy to make. After about nine different attempts (yes, NINE), this final version is perfection!! Here's a few things I learned along the way that I would advise keeping in mind: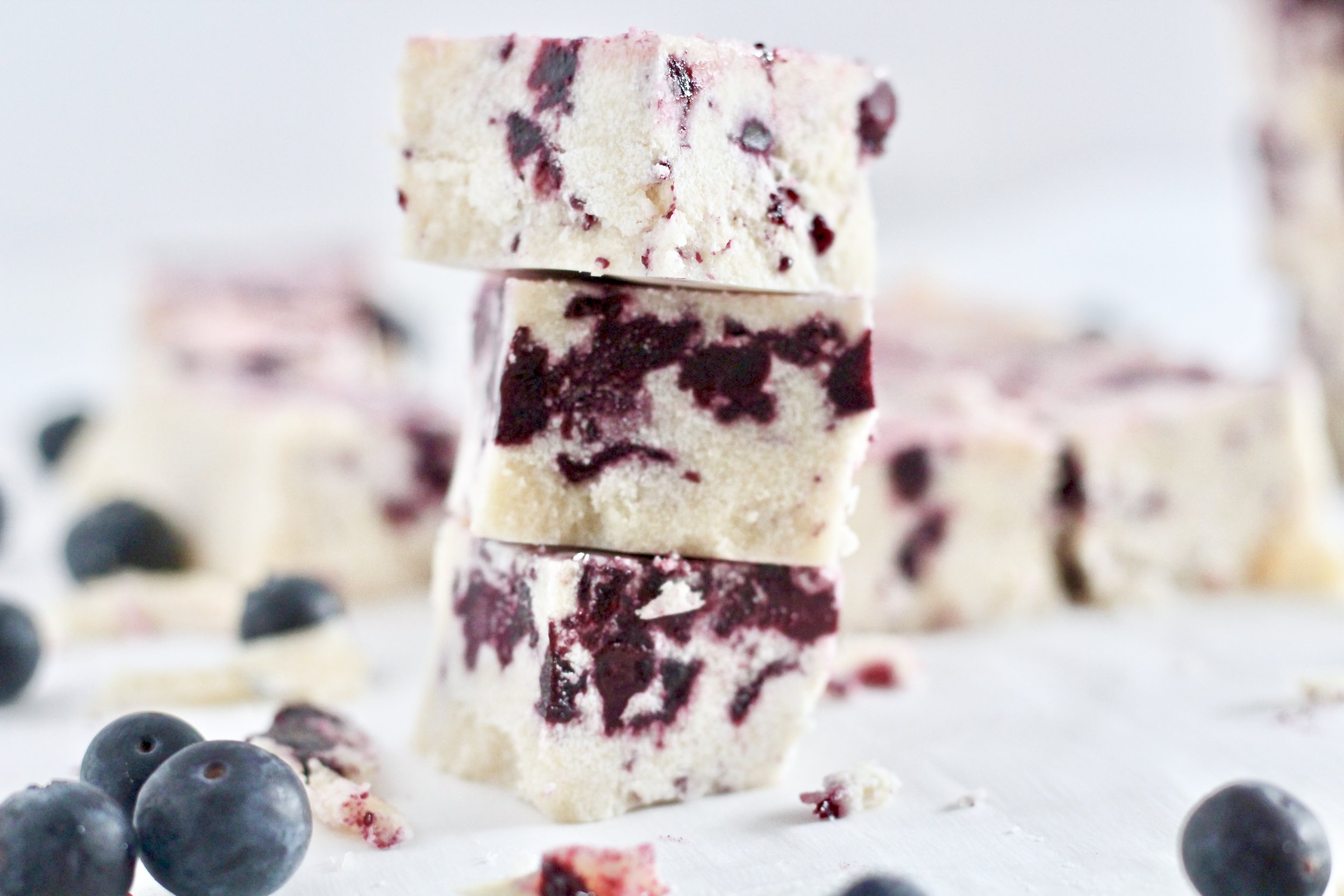 Notes/tips for No-Cook Blueberry Vanilla Fudge:
The frozen blueberries, OJ, and 1 Tbsp maple syrup make a blueberry compote recipe that is TO DIE FOR that I came up with last year and works perfectly stirred into this fudge… BUT if you want to skip some steps and time, just mix in 1 cup frozen or fresh blueberries and you're good to go.

If you do use the full recipe as written and make the compote, make sure it is completely cooled down to room temperature before you mix it in. If it's still hot or even warm it will cause the oil to separate out from the fudge mixture, and trust me when I say I made that mistake once and you don't want that many wasted ingredients.

If coconut butter is new to you or you don't want to bother finding it at your store (most stores carry it, just look by the other nut butters) you can sub any other nut butter you'd like.

You can sub butter for coconut oil.

For the cooking oil, any oil that is liquid at room temp will work just fine. In the many versions of this I tested, I used everything from avocado oil to grapeseed oil to algae oil (weird I know, but it was free, and needed to be used up)
So, now that you know all of those important little tips I learned from my many failures with No-Cook Blueberry Vanilla Fudge, here it is…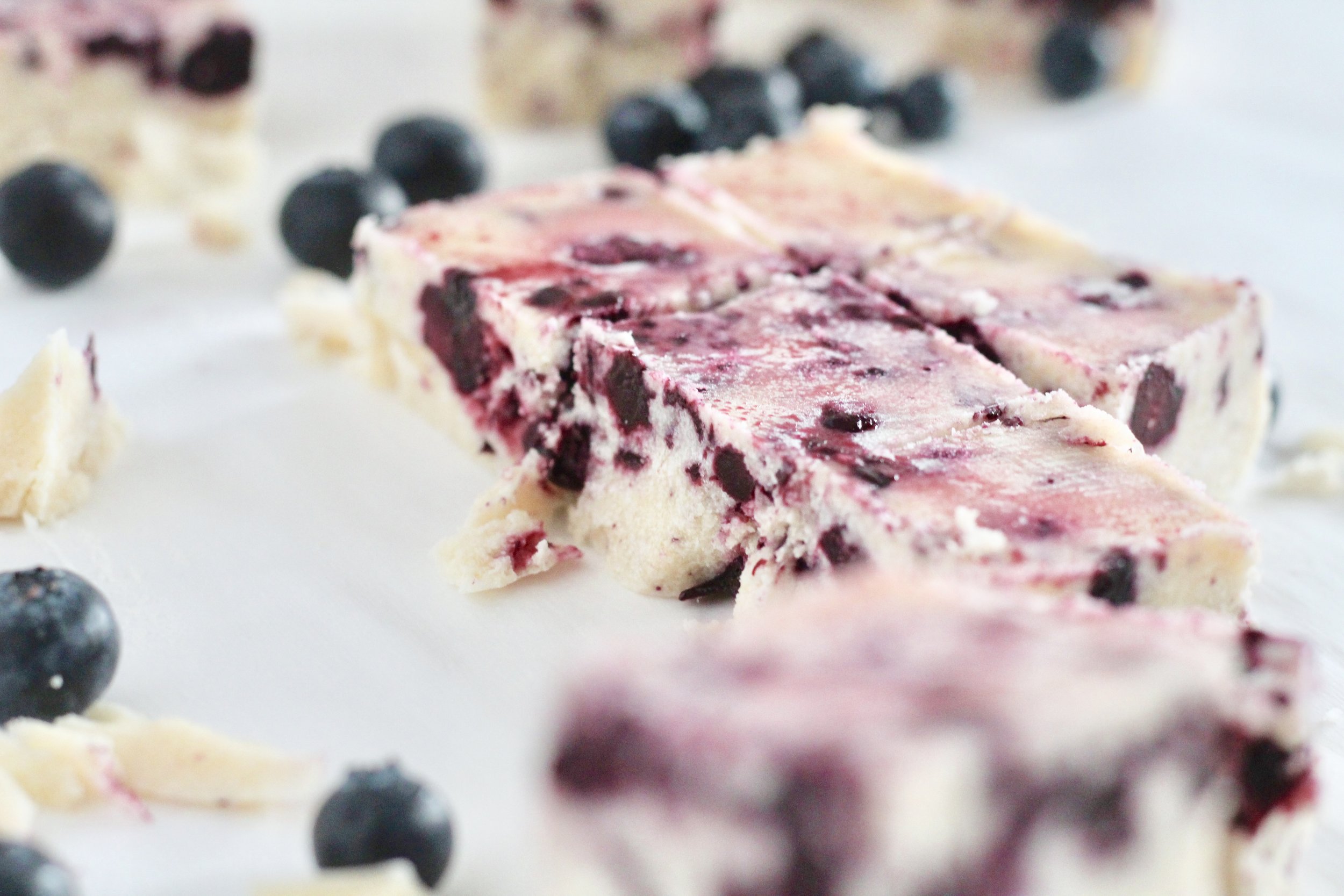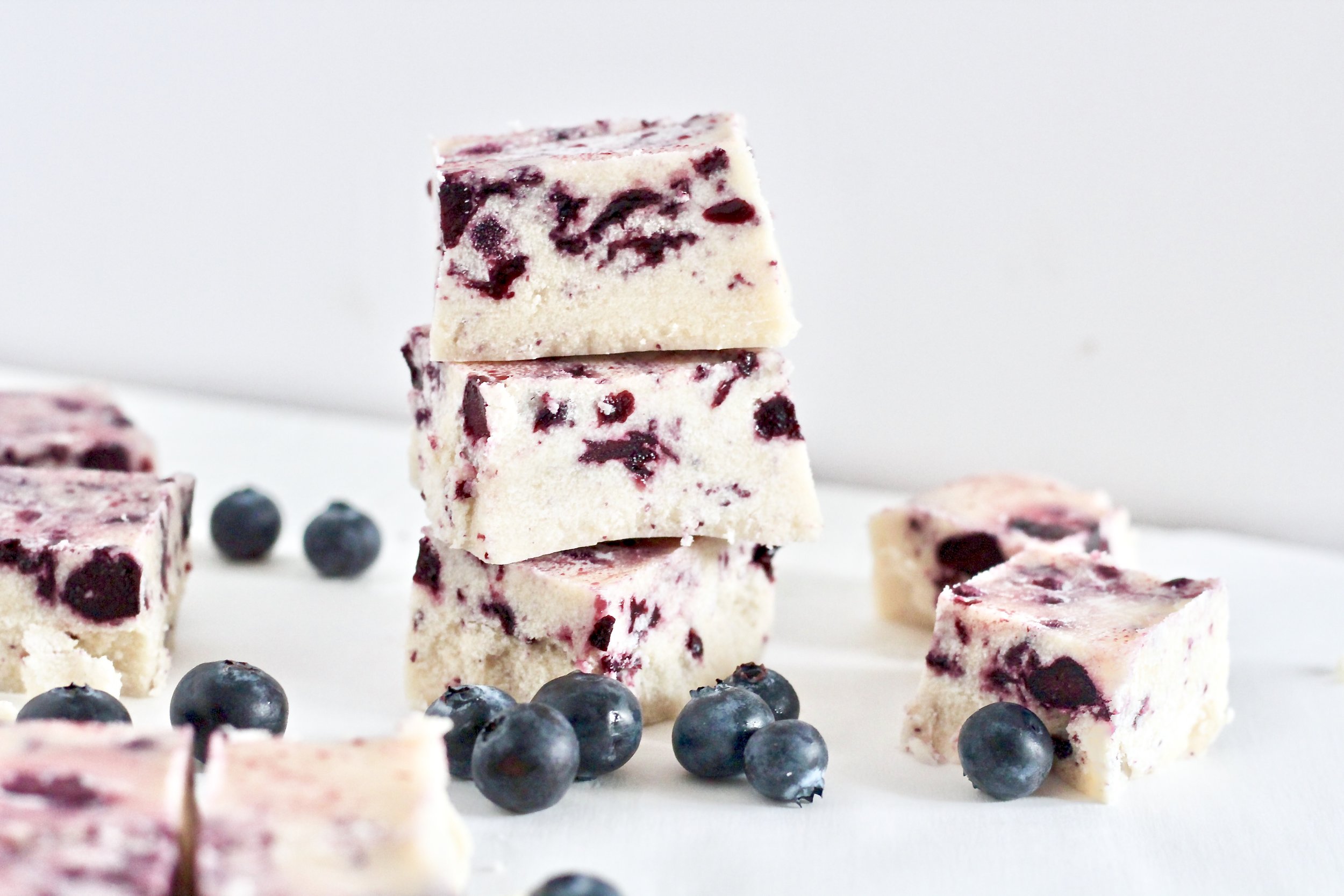 ---

No-Cook Blueberry Vanilla Fudge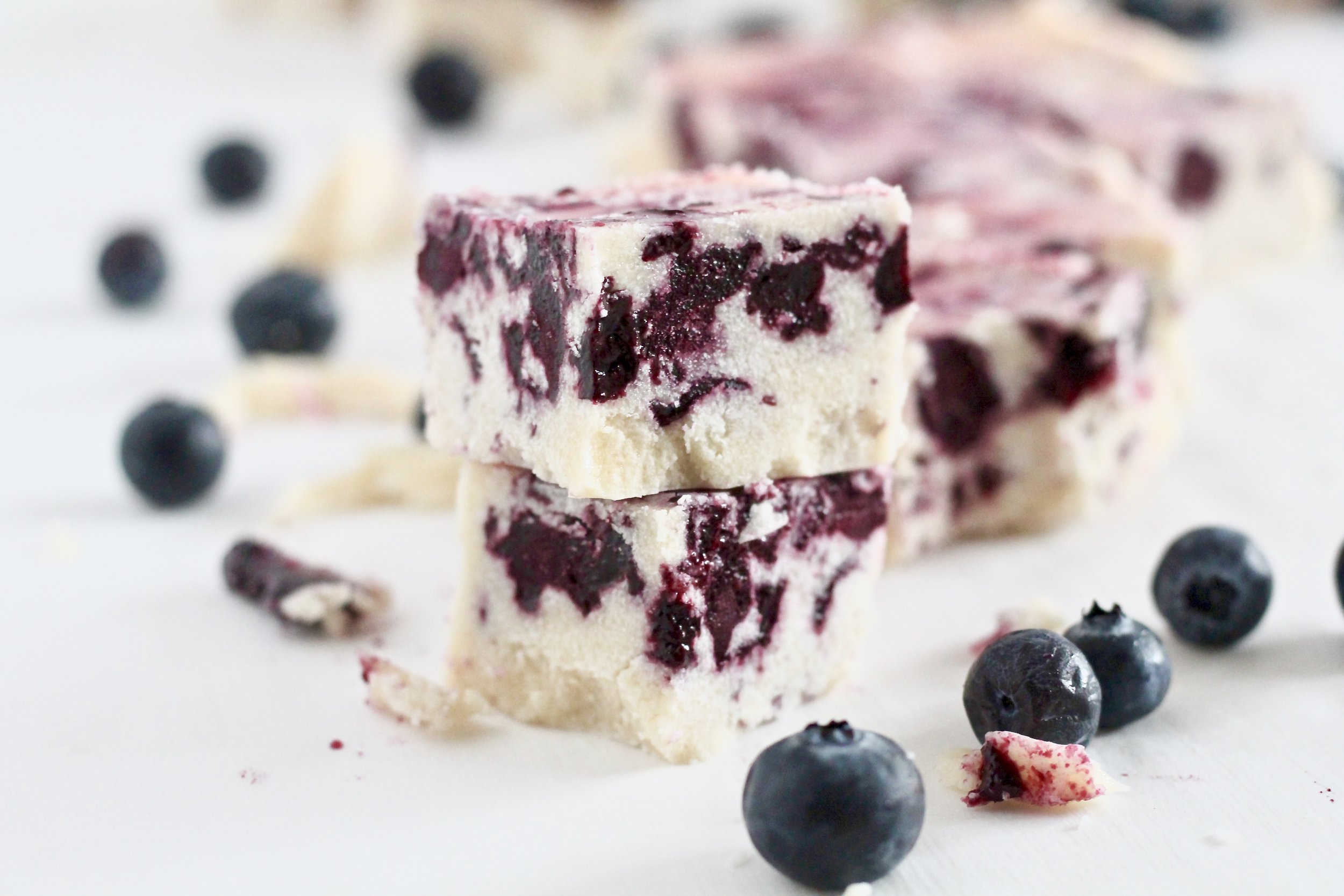 Ingredients
1

cup

frozen blueberries

2

Tbsp

orange juice

3/4

cup

+ 1 Tbsp maple syrup

3/4

cup

coconut oil

solid

1/2

cup

coconut butter

solid

1

Tbsp

vanilla extract

3

Tbsp

cooking oil
Instructions
Combine the frozen blueberries, orange juice, and 1 Tbsp maple syrup in a small saucepan over medium heat. Bring the mixture to a boil, reduce the heat, and simmer uncovered for 10-15 minutes, stirring occasionally. Set the mixture aside.

Combine the remaining ingredients (3/4 cup maple syrup, coconut oil, coconut butter, vanilla extract, and oil) in a food processor and process until smooth and no lumps remain.

*If you want a white base, use coconut butter and coconut oil, but if you don't mind a browner color, you can use any kind of nut butter and butter as substitutes.

Pour the coconut oil/butter mixture into a parchment lined loaf pan and gently tap it on a flat surface to bring any air bubbles to the top. Next, gently spoon the blueberry mixture (make sure it is completely cooled) on top of the coconut mixture. You can make a swirly pattern with a toothpick or mix it all in with a spoon.

Place the pan in the freezer for 2-3 hours. Once it is solid, slice it into desired shapes and enjoy!

Store in an air tight container in the fridge for up to 2 weeks. You can also store it in the freezer for a less chewy, more firm texture.
Notes
The nutrition facts presented here are estimates only. The brands you use and product types chosen can change the nutritional information presented. To obtain the most accurate nutritional information, you should calculate the nutritional information with the actual ingredients you use.
Nutrition
Serving:
1
piece
|
Calories:
225
kcal
|
Carbohydrates:
14
g
|
Protein:
0.5
g
|
Fat:
18
g
|
Saturated Fat:
14
g
|
Fiber:
1
g
|
Sugar:
12
g