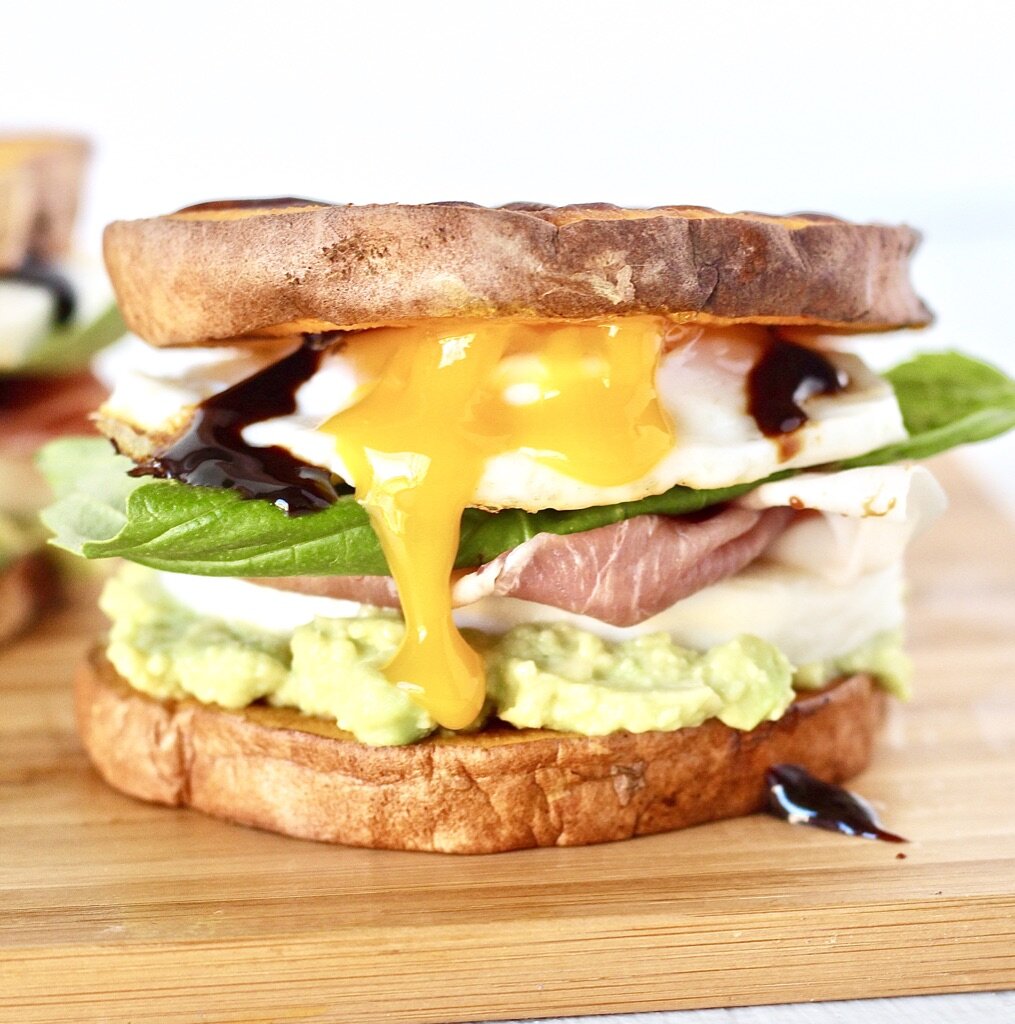 This recipe for Veggie and Egg Caprese Breakfast Sandwiches was sponsored by The Incredible Egg. All thoughts and ideas are my own.
Are you team runny yolk or cooked all the way? This recipe for Veggie and Egg Caprese Breakfast Sandwiches can be made with any style eggs and is sure to keep your taste buds and tummy happy!
I pretty much love eggs in all forms. And so does my family!
When I was a new mom and struggling to find that work-life balance as a full time working mom, I would prep scrambled eggs on the weekend and have them ready to go for the next few mornings for me, my husband, and my oldest daughter. She'd eat her egg and banana every morning when we got to daycare 🙂 and I always remember her teachers commenting how quickly she could devour her eggs, ha! And even now at 6 years old, she gets so excited when she sees the eggs come out for breakfast for dinner nights!
Now that I work from home and don't really need to prep meals ahead of time each week, I love to cook them fresh each morning! And more often than not, I find myself going for that deliciously runny yolk, though my kids still prefer the scrambled.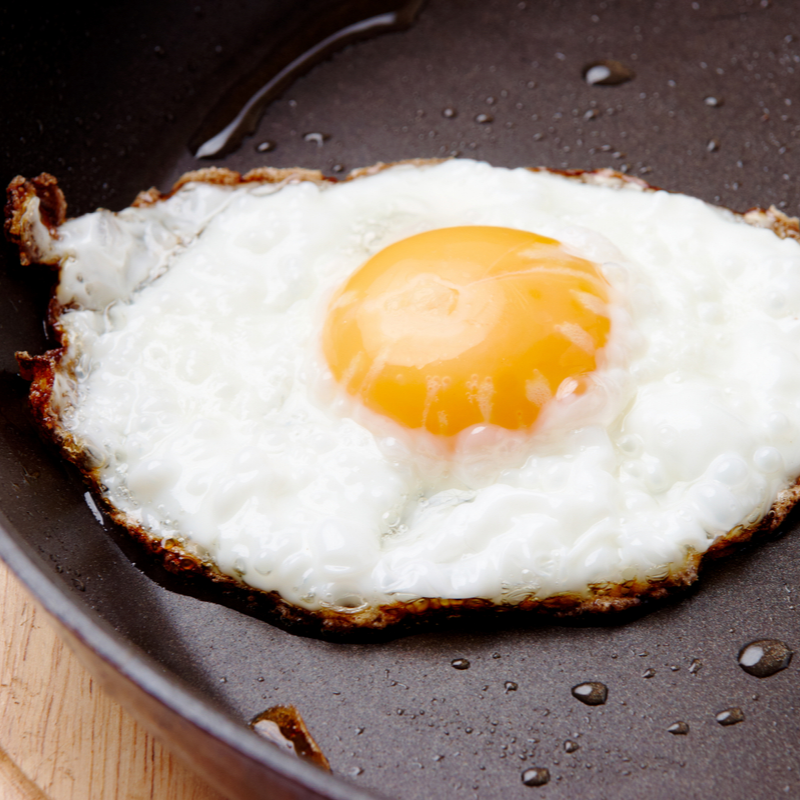 But regardless of how you prepare them, I love that eggs are a nutritional powerhouse, providing a good or excellent source of eight essential nutrients, including choline plus the carotenoids lutein and zeaxanthin, all for just 70 calories and only about 12 cents per egg! They are a perfect complement to any eating pattern … including Mediterranean and plant-based diets.
A large egg is an excellent source of vitamin B12, biotin, iodine, selenium and choline; and a good source of riboflavin, pantothenic acid and protein. Nearly all the vitamins and minerals are located within the egg yolk.
Eggs are one of the only foods that naturally has vitamin D (1 mcg per large egg), which along with calcium, is critical for building strong bones.
Eggs contain important nutrients for brain health, including choline and lutein.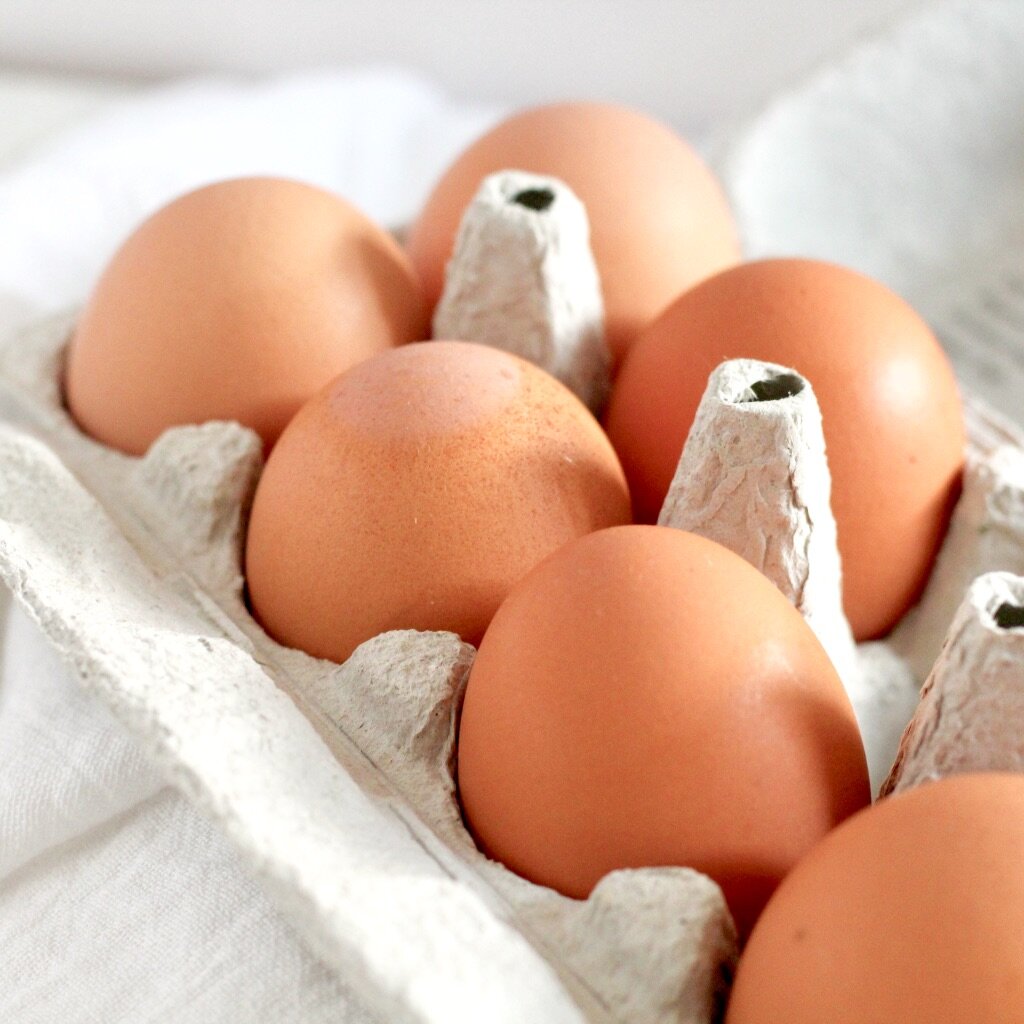 Choline
One large egg contains about 150 mg of choline. Choline is critical for brain development during pregnancy and infancy. However, more than 90 percent of Americans (including approximately 90 percent of pregnant women) don't get enough of this essential nutrient and it's not found in high quantities in many foods. Luckily, eggs are an excellent source! Two large eggs supply more than half of the recommended intake for pregnant women and can help them meet their needs.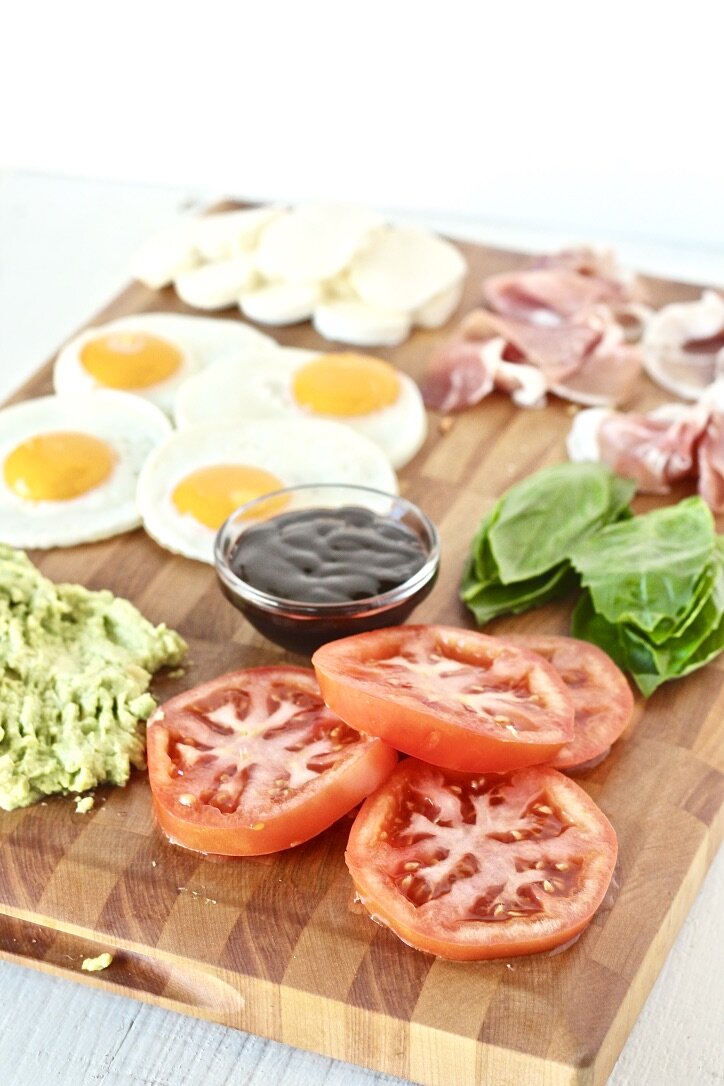 Lutein
One large egg contains 252 mcg lutein and zeaxanthin. Lutein has long been associated with eye health, but recent research has discovered lutein may also play an important role in brain health as well. Similar to how lutein accumulates in the eye, it's also present in the brain and has been positively associated with brain function in older adults and academic performance in children. Lutein and zeaxanthin are carotenoids (yellow pigment) found in egg yolks and may help protect our eyes from the harmful blue light emitted from computers and smartphones.
And now onto this recipe for your new favorite breakfast sandwich…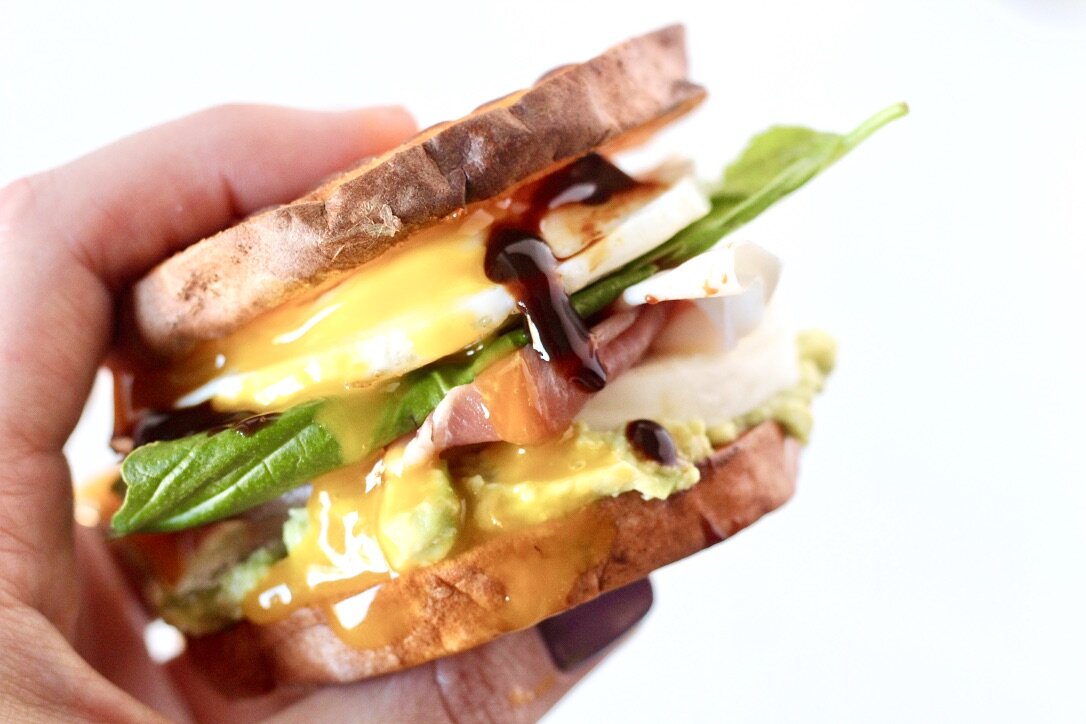 ---

Veggie and Egg Caprese Breakfast Sandwiches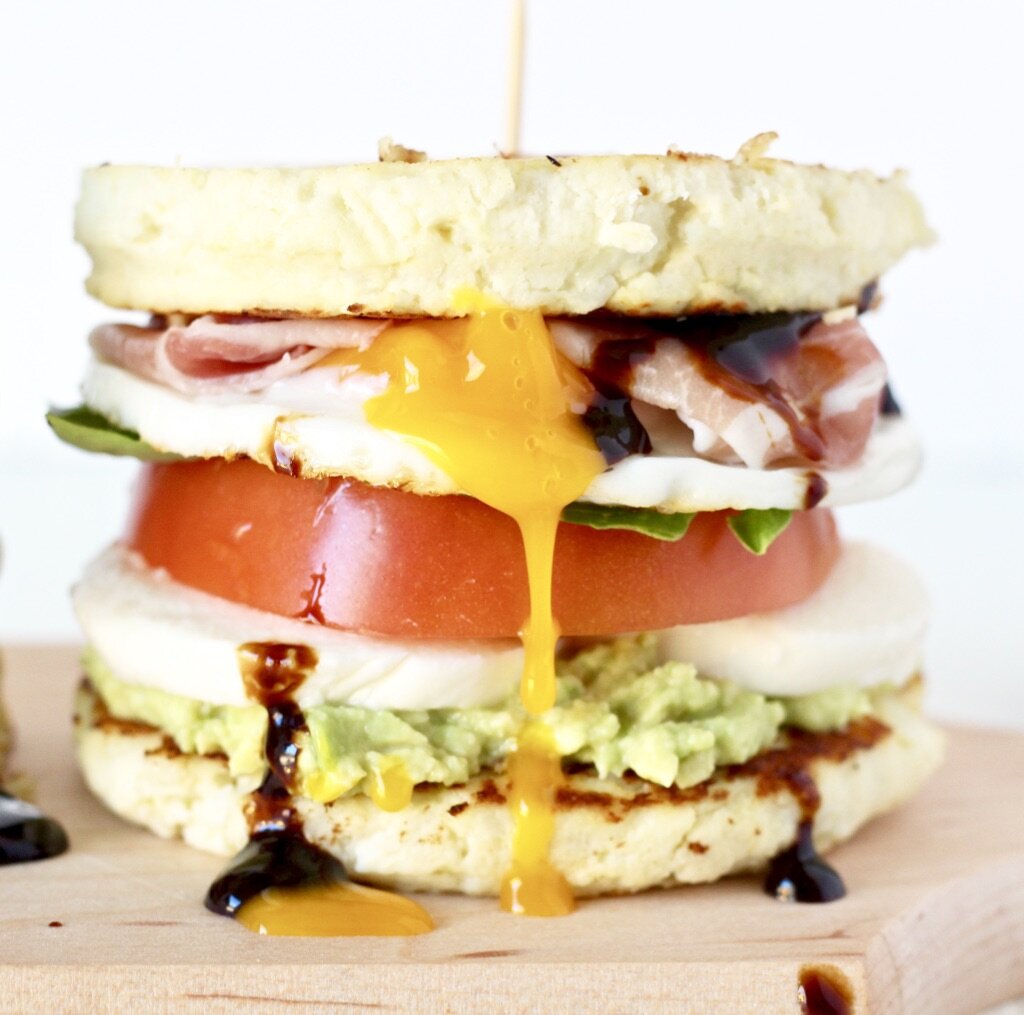 Ingredients
For the "cauliflower fritters":
1

head cauliflower

washed and chopped

2

large eggs

beaten

1/2

cup

shredded cheese of choice

3/4

cup

almond flour

2

Tbsp

avocado or olive oil
For Sweet potato toasts:
2

large sweet potatoes

Cooking oil spray
For the inside:
1

large avocado

mashed

4

oz.

fresh mozzarella

sliced

2

large tomatoes

sliced

2-3

Basil leaves

you can also use spinach if you prefer

4

large eggs

cooked as desired (fried or scrambled works best)

2

oz.

Prosciutto

Balsamic glaze

you can find pre-made glaze near the salad dressings in most grocery stores
Instructions
If making the cauliflower fritters:
Bring a medium pot of water to a boil. Add the cauliflower to the pot and cook in boiling water until tender, about 10 minutes. Drain and mash the cauliflower while it is still hot. Stir in the eggs, cheese, almond flour & salt.

Coat the bottom of a skillet with the oil over medium-high heat. Form the cauliflower mixture into patties about 4 inches across (I used an ice cream scoop to portion each patty).

Cook the cauliflower "bread" until golden brown & set, about 8 minutes per side. (Be gentle when flipping them!) Remove them from the pan and let them cool on a wire cooling rack. They will stick together even more during the cooling process so be gentle with them when they're hot or they may crumble on you!
If using sweet potato toasts:
Slice a large sweet potato horizontally so you have round sweet potato circles. You can pop these in an air fryer on 400° for 10 minutes (or in a toaster oven for 15-20 minutes) for perfect sweet potato toasts. Make sure to spray them with cooking oil before cooking them,
Once the bread pieces are cooked, assemble the sandwiches in the following order:
Cauliflower pancake or sweet potato toast

2 Tbsp mashed avocado

1 slice fresh mozzarella

1 tomato slice

2-3 basil or spinach leaves

Fried or scrambled egg

1oz. Prosciutto

Cauliflower pancake or sweet potato toast
Repeat this order for all 4 sandwiches. Then, drizzle each sandwich with your balsamic glaze. Serve and enjoy!
Notes
Nutrition info values reflected are using the cauliflower fritters. 
The nutrition facts presented here are estimates only. The brands you use and product types chosen can change the nutritional information presented. To obtain the most accurate nutritional information, you should calculate the nutritional information with the actual ingredients you use.
Nutrition
Serving:
1
sandwich
|
Calories:
527
kcal
|
Carbohydrates:
23
g
|
Protein:
29
g
|
Fat:
38
g
|
Saturated Fat:
10
g
|
Fiber:
10
g
|
Sugar:
10
g