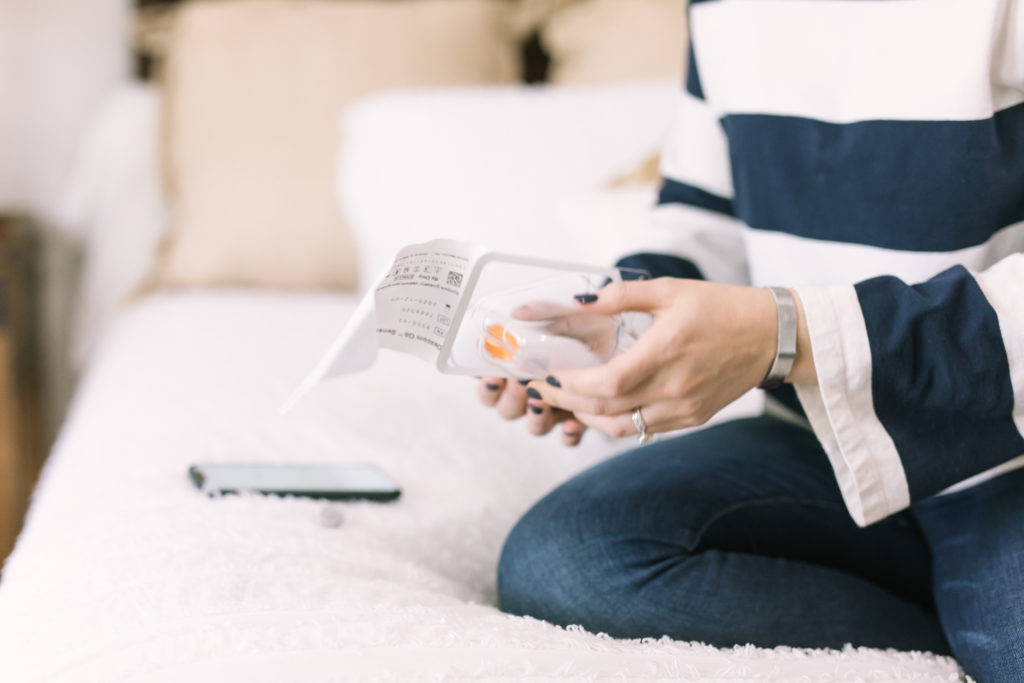 Continuous Glucose Monitoring Devices have come a long way in the last 10 years!
A continuous glucose monitoring device can reduce or eliminate the need for finger stick blood sugar checks. But, what device should you choose?
Checking your glucose levels is a vital part of managing all forms of diabetes. Knowing when to take medication and how much is needed is essential to reach your diabetes goals. That's where glucose monitors come in. Glucose monitors are used to measure the amount of glucose in your blood at a given time. Many of the monitors, until recently, required a finger stick and strips to test the blood.
***This article is not intended to provide medical advice, diagnosis, opinion, treatment or services. This article and the links contained in it provide general information for educational purposes only. The information provided in this article is not a substitute for medical care, and should not be used in place of the advice of your physician or registered dietitian.
How does a continuous glucose monitor work
A continuous glucose monitor (CGM) device reduces the need for finger pricks and strips by inserting a small sensor on the back of the arm or abdomen. Once the sensor is inserted you can get a new blood glucose reading at any time with a small handheld device or phone! This device or smartphone will give you the freedom to check your glucose levels at any time and anywhere without the hassle of a finger prick test. (For more information on insulin pumps make sure to check out this post.)
Below you will see three different continuous glucose monitoring devices to choose from. Let's get into what each one has to offer.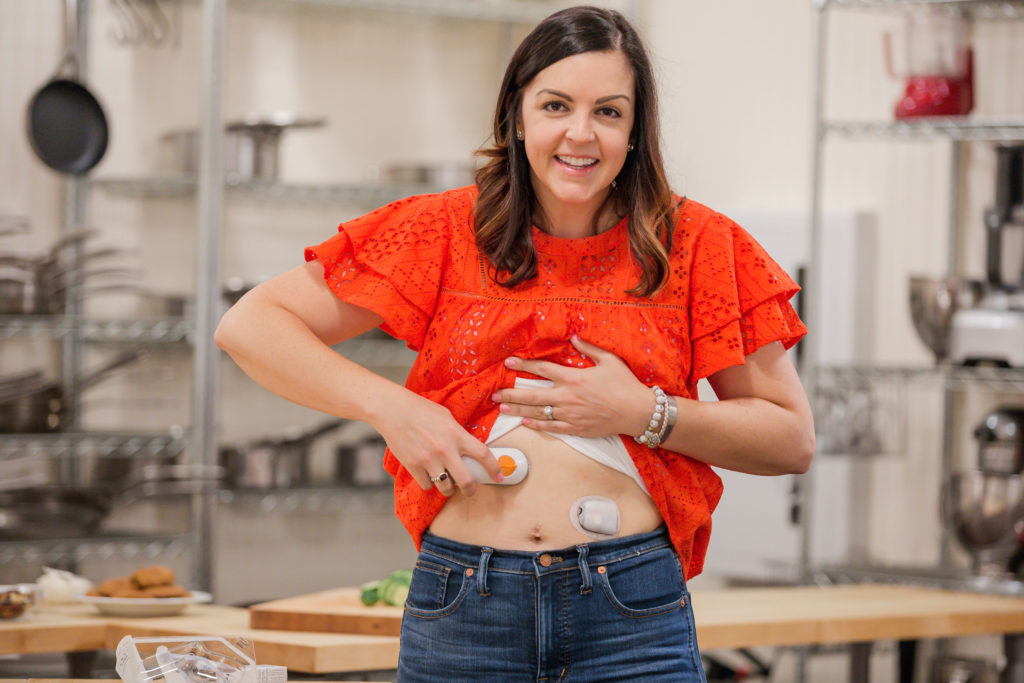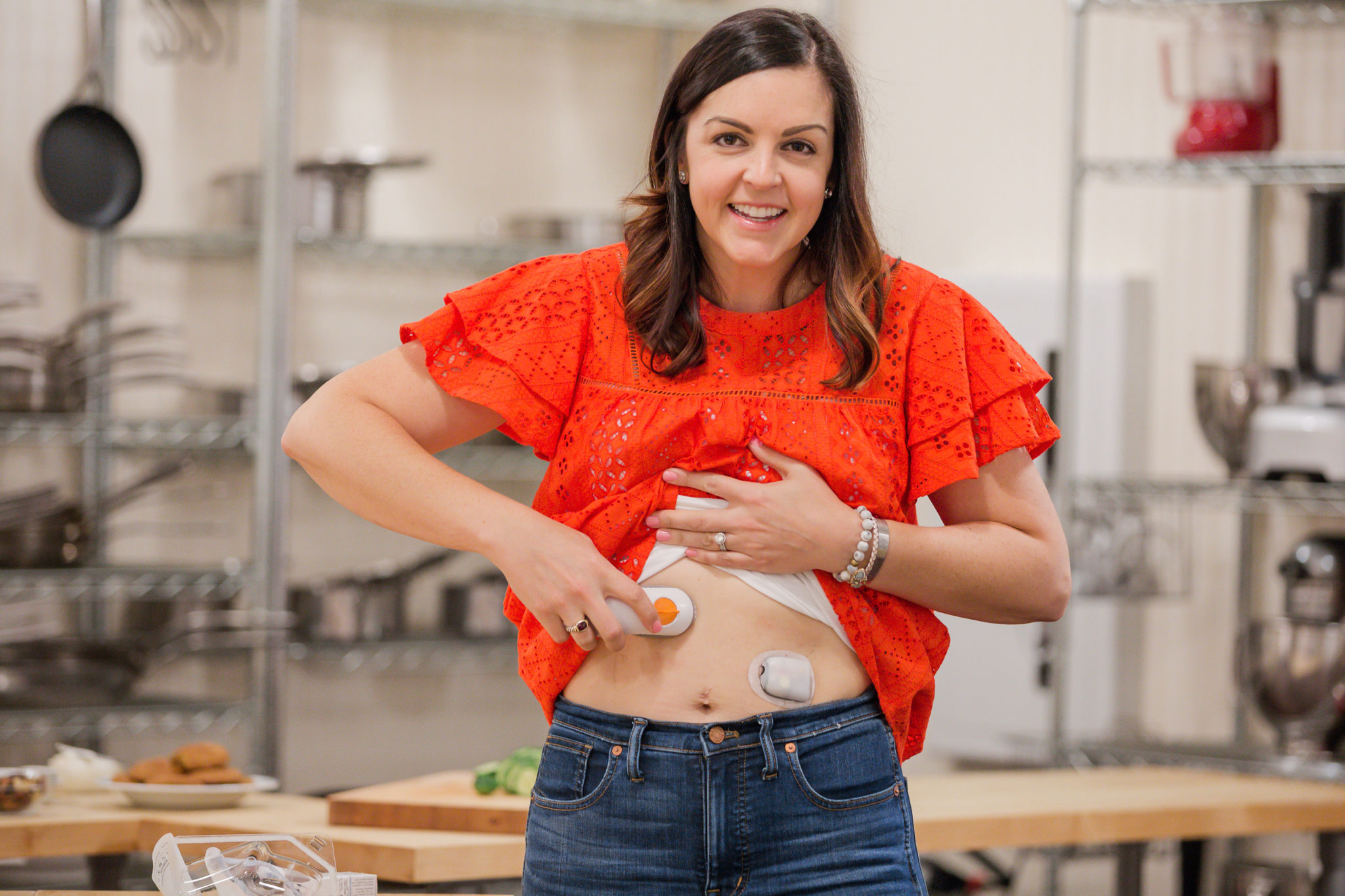 Freestyle libre continuous glucose monitor
Freestyle is a common name in blood glucose monitoring… many of their products are the finger stick and strip method, but they have come out with a continuous glucose monitoring device called Freestyle Libre. This is a device you can find in many pharmacies for purchase with insurance or self-pay.
When you first get started with this CGM system you will receive two boxes. One box will contain a device used to collect data and the other will contain a waterproof sensor and a sensor applicator. Applying the sensor is pretty simple. To set up the applicator simply open the package to the sensor, open the applicator, line it up and push down. That's it, now it is ready to be inserted! You insert the sensor using the sensor applicator on the back of the arm.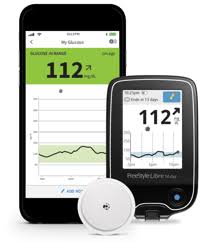 After inserting the small sensor into the upper arm you can set up the new sensor with the smart device by following the instructions on the touchscreen. After setting it up you will be able to get your first reading in one hour. The sensor will last 14 days before having to replace it.
To do a reading, you hold the device up to the sensor, about 1 ½ inches away, and wait for a ding. Scanning can be done through clothing. Once the reading is taken you will see your glucose level appear on the screen, along with a trend arrow and an 8-hour graph of glucose history. You even have the ability to add notes about things that may affect your glucose readings, like the amount of insulin used, food intake, and exercise.
Although the smart device is available for purchase, it is no longer necessary due to the LibreLink App. After downloading this app to your phone and creating an account you can start getting readings straight to your phone. Just like the smart device, you will hold your phone up to the sensor to get a reading within seconds. You will see a screen similar to what was described above with the reading, trend arrow, 8-hour graph, and the ability to add notes. In addition to the LibreLink App there is an additional app called LibreLinkUp. LibreLinkUp allows friends, family, and caregivers to help monitor glucose levels. These apps have helped continuous glucose monitoring with Freestyle Libre become easier.
Medtronic continuous glucose monitor
If you have read my previous blog about insulin pumps, you might be familiar with the Medtronic continuous glucose monitoring device. Like the Freestyle Libre, The Guardian sensor is a small monitor that is inserted into the skin for a continuous glucose reading. The Guardian can be inserted into the abdomen or the back of the arm with an insertion device called a Serter. The insertion takes a little more time to insert and must be held down with tape, so it is a little more complicated than the Libre insertion.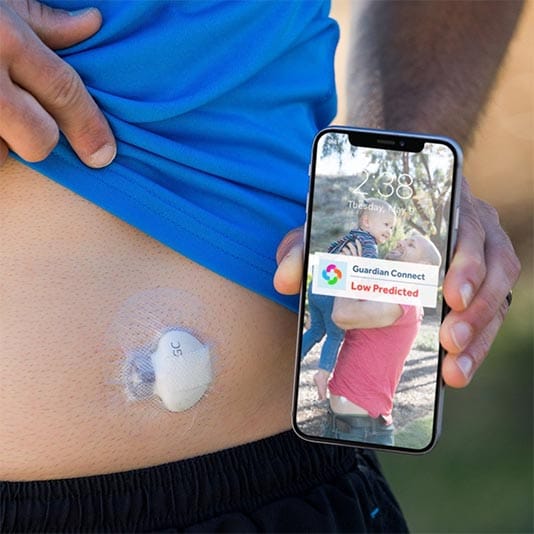 After the insertion of the sensor, a rechargeable Bluetooth transmitter is plugged into the sensor in order to get direct readings every 5 minutes. Readings will be recorded to your phone or device depending on if you are using the guardian with an insulin pump or not.
Before connecting your transmitter to the sensor (placed on the upper arm or abdomen), you need to download the app and connect by Bluetooth to the transmitter. The app is only available on Apple devices, so consider this before choosing this CGM. In the app store search for the Guardian Connect app and download. To get started you must have a Carelink account so either log in or create one. Once you are logged in you can begin the pairing of your transmitter by following the steps on the app. After pairing you can choose the carbohydrate measure that works best with your monitoring, whether it be exchanges or grams. Afterward, you can set up your notifications and alerts.
You will always receive an alert at 55 mg/dL or lower. Other alerts you are able to set yourself with the help of your healthcare team. These alert settings can always be changed as you learn more about your body and glucose numbers. You can set an alarm for when your levels are too high and/or low so you can manage your blood glucose levels with food or insulin depending on your treatment plan. You can also have alerts sent to another person like a spouse or caretaker. These alerts are not something that is included with the Freestyle Libre since you are manually getting glucose readings instead of an automatic reading every 5 minutes. The Guardian Sensor can also predict a low or high level as much as 60 minutes before it occurs.
The last thing we are going to talk about with the Guardian sensor is the Sugar.IQ Diabetes Assistant app. This technology helps uncover reasons why your glucose levels are high or low at a specific point in time and helps to discover patterns in your blood sugars. Along with the Guardian Connect App, you can analyze intake, insulin dosages, and daily routines. For example, exercise or strenuous activities can affect the amount of insulin being accepted into the cells. Understanding your own body's reaction to exercise can help you better prepare for the possible lows that come with exercise.
Dexcom g6 continuous glucose monitor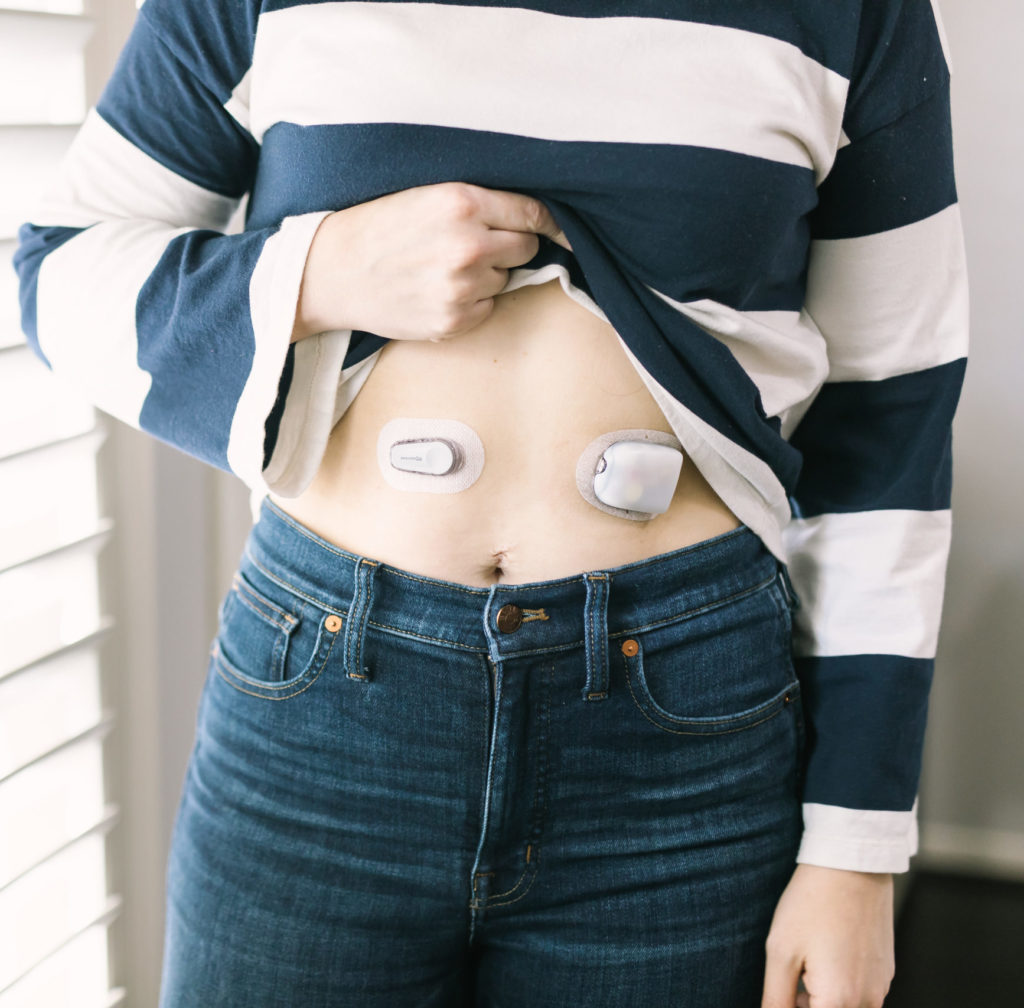 The last continuous glucose monitoring device we will be going over is the Dexcom G6. The Dexcom G6 is probably the most simple to insert out of the previous CGMs because the sensors are preloaded into separate insertion devices. After cleaning the insertion site (back of the upper arm or abdomen) with an alcohol wipe simply place the insertion device on the area and at a push of a button your sensor is inserted. After insertion, your transmitter (the piece that send the information to your smart device) is able to be attached to the sensor and you can begin getting glucose readings after a 2 hour warm up. The thin waterproof sensor will be able to last up to 10 days before a change is needed and the transmitter will need to be replaced after 3 months.
Glucose readings can be recorded and stored via the receiver provided by Dexcom, or an app installed on your smartphone. Whether you choose the receiver or the app, your setup process will be about the same. If you are choosing to use your smart-phone simply download the Dexcom G6 app from your app store. You will have to log into your Dexcom account or create one to continue.
After watching a few videos and getting a short tutorial you will be able to set your high and low alerts. This simply means when you have a low alert the circle with your glucose reading will turn red and a sound alert will go off. The same goes for a high alert, but the circle will turn yellow. Around the circle there is also a trend arrow. This arrow will inform you of the direction your glucose levels are heading. This arrow can help you combat the possible highs and lows you might experience.
After setting the alerts you will have to enter the number located on the sensor and the serial number on your transmitter. This will allow the transmitter to connect via Bluetooth to receive glucose readings. The glucose reading is taken every 5 minutes and can even be sent to your apple watch.
Like all of the continuous glucose monitoring devices listed above, you will be able to understand the trends of your glucose levels by an easy to read graph. You can also share all of the data from your glucose monitoring with friends, family, and healthcare professionals to help manage your diabetes.
Continuous glucose monitoring options chart
If you are crunched for time, check out the table below with information about each CGM.
| | | | |
| --- | --- | --- | --- |
| | Freestyle Libre | The Guardian Sensor | Dexcom G6 |
| Prescription Needed | Yes | Yes | Yes |
| Cash Cost* | Device: ~$65 Sensors: ~$68 | Transmitter:~$1000 Sensor: ~$600 (3) | Transmitter: ~$500 Sensor: ~$500 (3) |
| Covered by Insurance | Dependent on insurance | Dependent on insurance | Dependent on insurance |
| Automatic Reading | No | Yes | Yes |
| Alerts | No | Yes | Yes |
| Low/High Prediction | No | Yes | Yes |
| Age | 18 years + | 2 years + | 2 Years + |
| Waterproof | Yes | Yes | Yes |
| Sensor Life | 14-days | 7-days | 10-days |
| App Available for Android | Yes | No | Yes |
| App Available for Apple | Yes | Yes | Yes |
*Prices are estimates
---