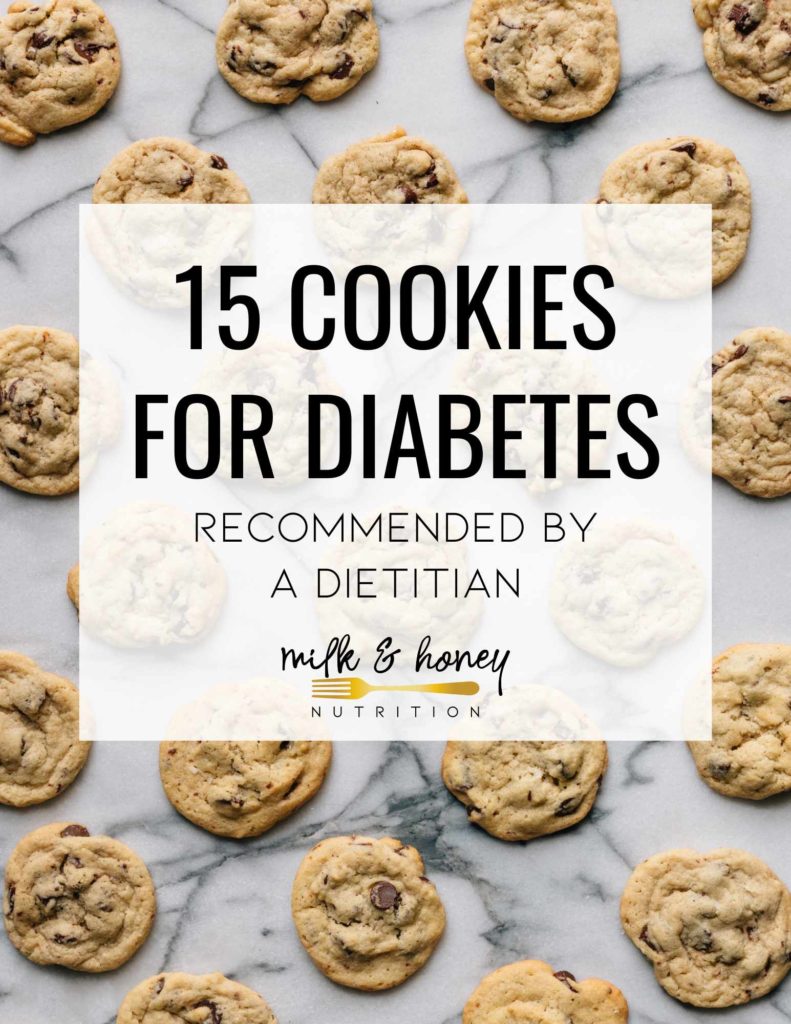 How can someone living with diabetes still enjoy a cookie, and what are the best cookies for diabetes? Here are my dietitian insights.
In this article, we discuss how someone with diabetes can still enjoy cookies. We also cover some of my favorite cookie recipes and store-bought cookies for diabetes.
Can people with diabetes eat any cookies?
Yes! People with diabetes can absolutely enjoy cookies. In fact, as a registered dietitian and someone living with diabetes myself, I wrote a whole cookbook covering diabetes friendly desserts and there's a whole chapter on cookies!
People with diabetes can enjoy regular cookies paired with sources of fat, fiber, and protein, like I talk about frequently… Or, they can enjoy more blood sugar friendly cookies made with different ingredients. We're going to talk about both of these scenarios below.
Carbs in cookies
When you say the word "cookie" a whole host of different options comes to mind probably. Cookies come in many different flavors and sizes, and are made with a wide variety of different ingredients. The carbs in a sugar cookie may be different than the carbs in an oatmeal raisin cookie.
All of these characteristics influence how many carbohydrates will be in a cookie. One cookie might have only 15g carbohydrate while another has 75g.
It's important to read nutrition labels and make informed choices about what is best for you when you're looking for the best cookies for diabetes.
Are zero sugar cookies good for diabetes?
If you like sugar free cookies, go for it! But, if you don't… don't worry, you don't have to seek out only recipes for sugar free cookies. If cookies have higher amounts of protein and fiber, the sugar in the cookies won't be able to raise blood sugar levels as quickly.
But, if you want to enjoy a regular cookie, you can pair it with a meal or a snack that has fiber and protein for a similar effect.
Diabetes-friendly cookies: What to look for
What cookies are good for people with diabetes? When looking for store-bought cookies for diabetes or a delicious blood sugar friendly cookie recipe, we ideally would want to see one or more of the following:
>5g protein
>3g fiber
<5g added sugar
Homemade cookies for diabetes
Making cookies at home is not only fun, but you have more control over what goes into your cookies. You can adjust ingredients as needed to taste the way you want them to and provide a nutrition profile that works for you.
You can also utilize some of my favorite strategies for adding sweetness without adding sugar:
Best cookies for diabetes
Now, what you've been waiting for…Below are some of my favorite blood sugar friendly cookie recipes and store bought cookies for diabetes. Jump to one of the sections below, or scroll to see cookies in each category:
My favorite cookie recipes for diabetes
My go-to strategy for making cookies for diabetes at home is to use a combination of almond flour and oat flour (ground up oats) instead of all-purpose flour. Not only does this combo give you a delicious and satisfying cookie, but it's also more blood sugar friendly. This flour combo has higher amounts of fat, fiber, and protein, and less total carbohydrate.
Many of the recipes below use this flour combination.
Diabetes oatmeal cookies
I love a good fluffy oatmeal cookie! Whether we're using a more blood sugar friendly flour, or one of my favorite sugar substitutes, there's lots of yummy ways to make oatmeal cookies for diabetes.
1. White Chocolate Cranberry Oatmeal Cookies
These white chocolate cranberry oatmeal cookies are lower in sugar and diabetes-friendly! I love how fluffy and flavorful they are.
2. Easy Oatmeal Breakfast Cookies
These oatmeal raisin breakfast cookies have no added sugar, are dairy-free, can be made gluten-free, and are great to bake ahead of time so you can just grab and go on those busy mornings!
Diabetes chocolate chip cookies
There's nothing better than a classic chocolate chip cookie! The two recipes below offer some delicious blood sugar friendly options. Depending on what type of cookie you prefer, one is fluffy and soft, and the other is crispy.
3. Almond Butter Chocolate Chip Cookies
There's something about these cookies that is just amazingly delicious, and they also have 3g protein in each cookie. Make these delicious fluffy cookies just once and everyone will be asking for them over and over again!
4. Grain Free Walnut Chocolate Chip Cookies
This flavor and nutrition-packed recipe is so simple! Only 7 ingredients, and you've got the best crispy, nutty chocolate chip cookies.
Diabetes sugar cookies
Whether you're decorating them for a special occasion or just want a simple sugar cookie, there's a few different ways to make them more blood sugar friendly. I love the recipe below that uses almond flour.
5. Low Carb Almond Flour Cookies
I love using almond flour in baked goods because it offers an amazing texture and lower carbohydrate count than grain-based flours. It's also the easiest to work with of the "nut based" flours.
Diabetes cookie dough
Below, I share some of my favorite store bought cookie dough options for diabetes, but you can also make your own at home!
6. Low Sugar Chocolate Chip Cookie Dough Bites
If you're looking for the perfect snack or dessert, these no-bake, egg free cookie dough bites are great for the whole family! Each bite has 2g protein and 2g fiber.
The best diabetes friendly cookies to buy at the grocery store
Now, onto store bought already made cookies for diabetes. Below are some of my favorite options available at most grocery stores. I recommend the options below because of their nutrition profile yes, but also because they're delicious!
Note: Some of the links below are affiliate links. This means I earn a small commission (at no extra cost to you) if you choose to purchase something through the links provided.
Grocery store diabetes friendly cookies
These cookies are ready to purchase at your local store and offer a variety of blood sugar friendly perks!
7. Simple Mills Crunchy Chocolate Chip Cookies
These Simple Mills Crunchy Chocolate Chip Cookies are hands down some of my favorite chocolate chip cookies. They remind me of Famous Amos cookies, but dare I say… I like these better!
8. Catalina Crunch Chocolate Vanilla Sandwich Cookies
These Chocolate Vanilla Cookies from Catalina Crunch are some of my favorite Oreo-like cookies. Now, they don't have that classic Oreo taste, but they have their own delicious flavor… and a significant amount of protein and fiber!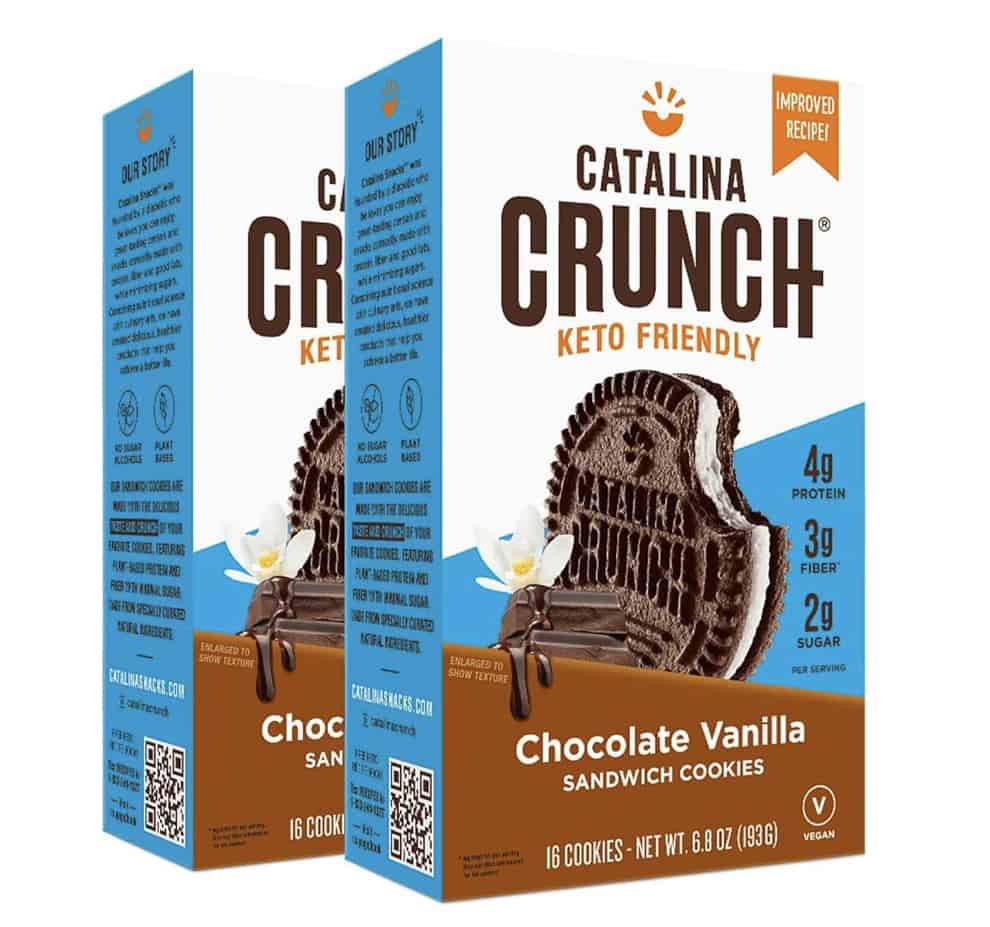 9. Fat Snax Mini Chocolate Chip Cookies
I love the buttery taste in these Fat Snax Mini Cookies! And, there's only 2g added sugar per serving.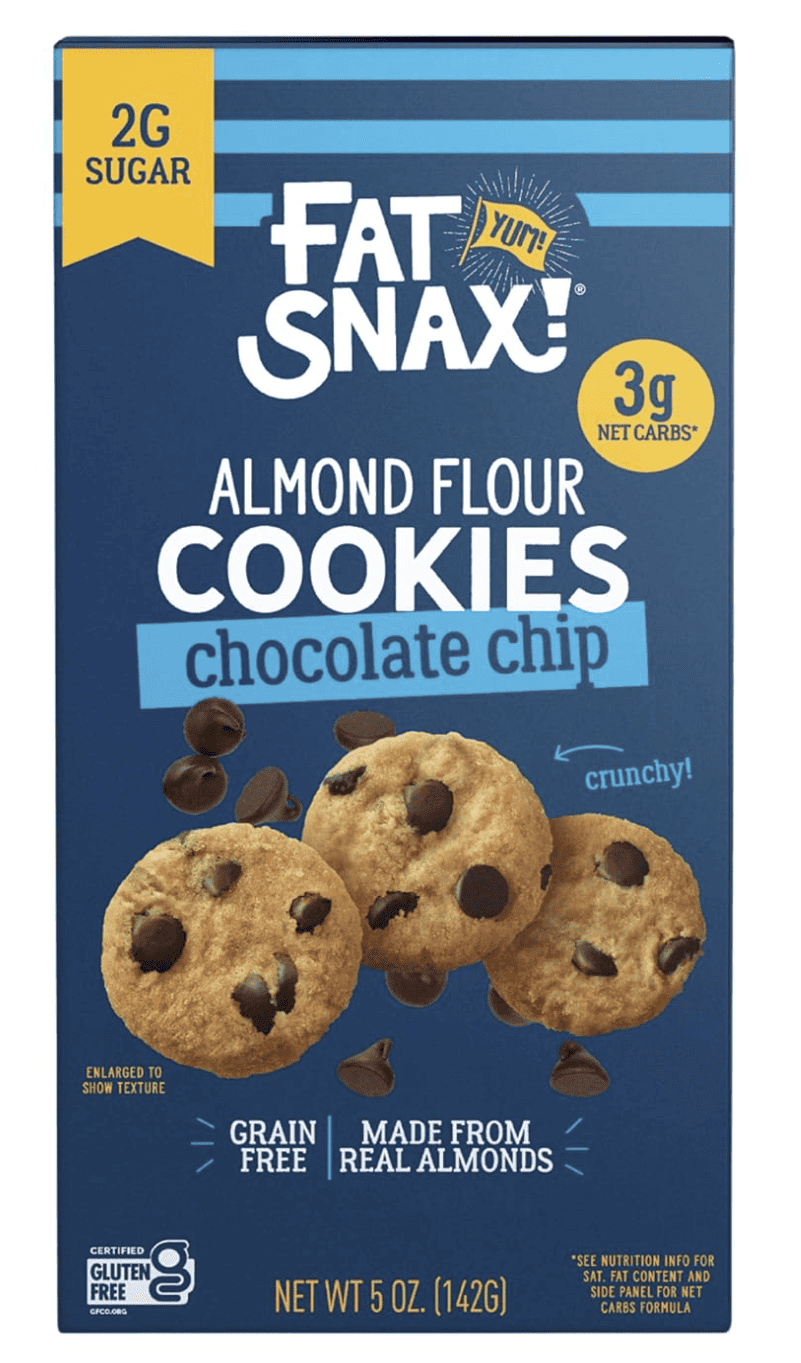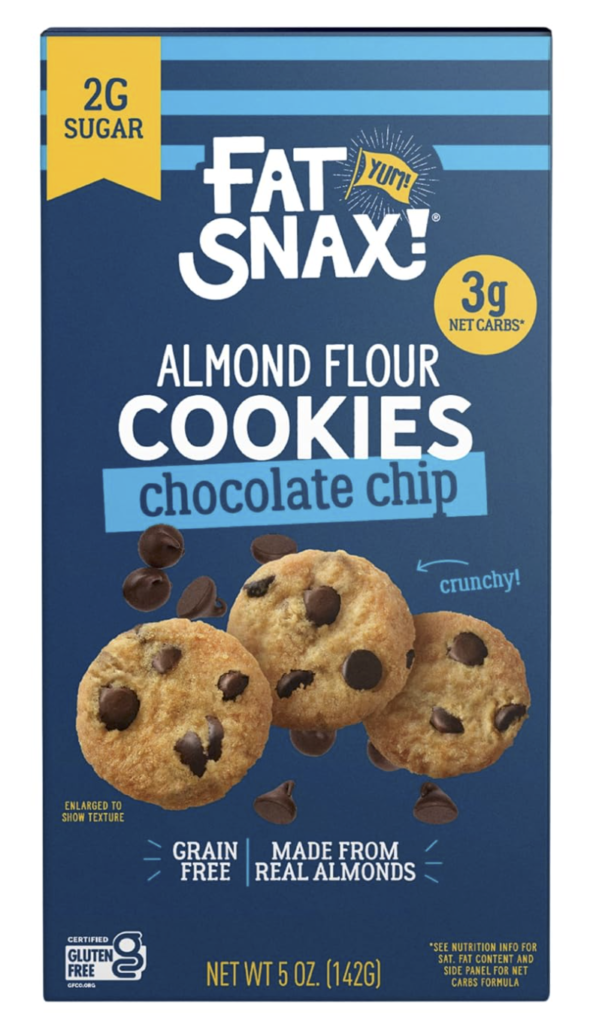 10. Lenny and Larry's Protein Chocolate Chip Cookies
Not only do these Lenny and Larry Mini Cookies taste delicious, but I love the single serving pouches they come in. Each bag has 6g protein and 4g fiber.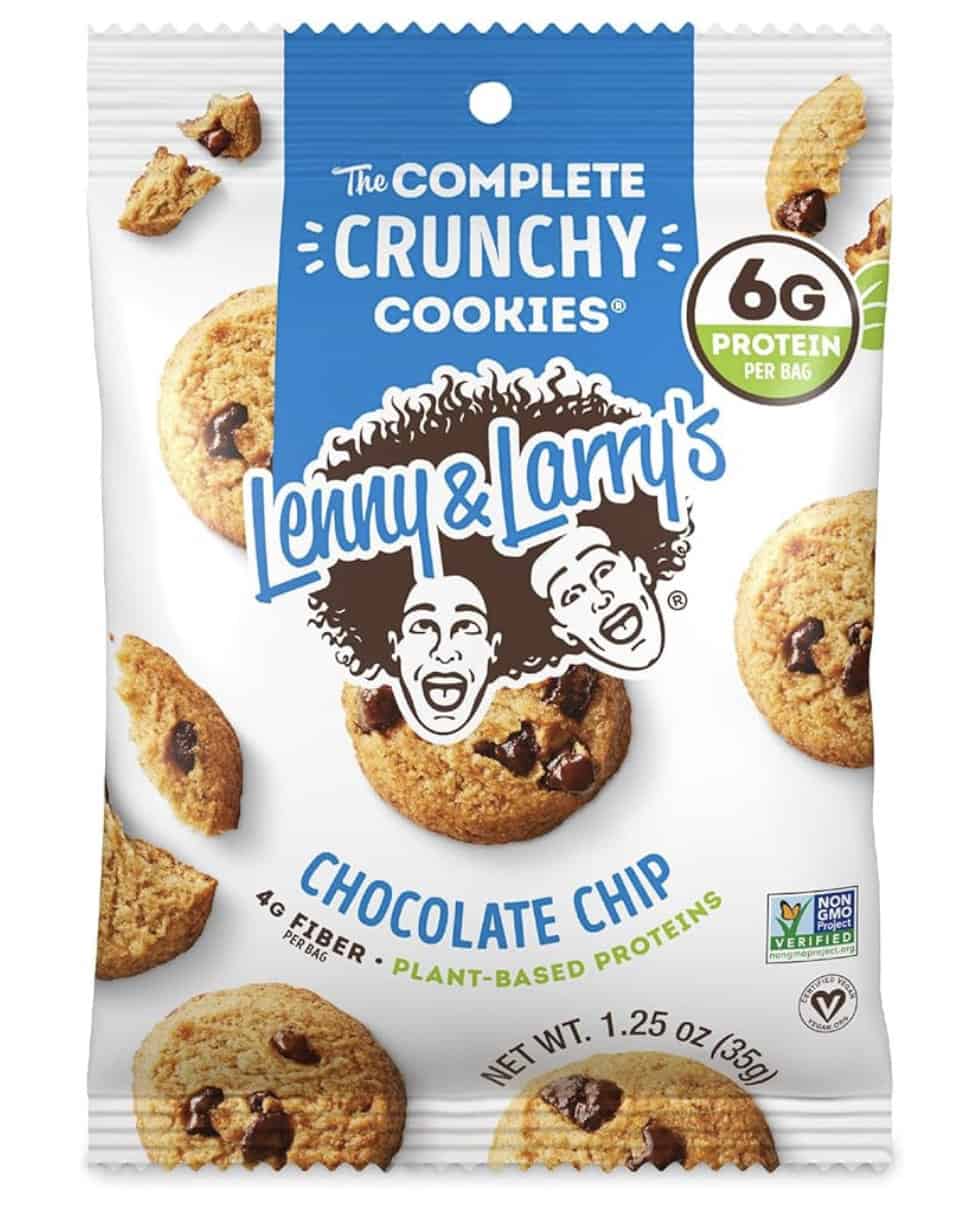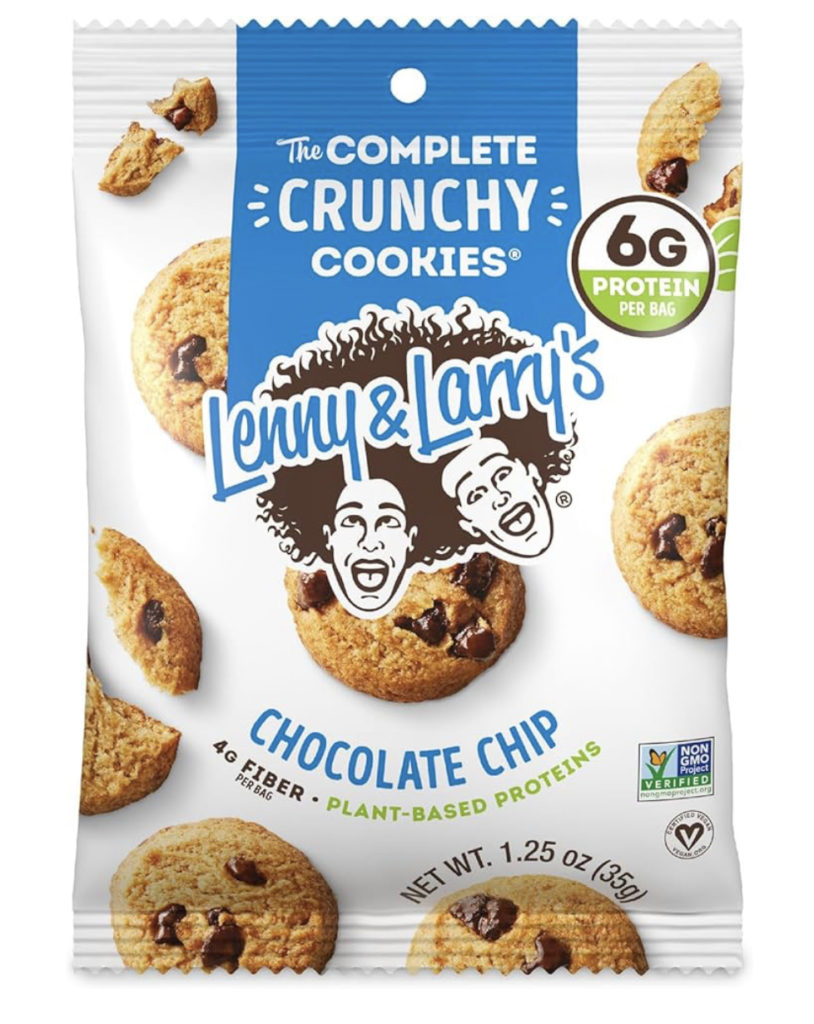 11. Emmy's Organic Vanilla Coconut Macaroons
I've been a fan of Emmy's cookies for years! The coconut flavor is incredible. The small size of the cookies also means you can adjust the serving size to fit your needs.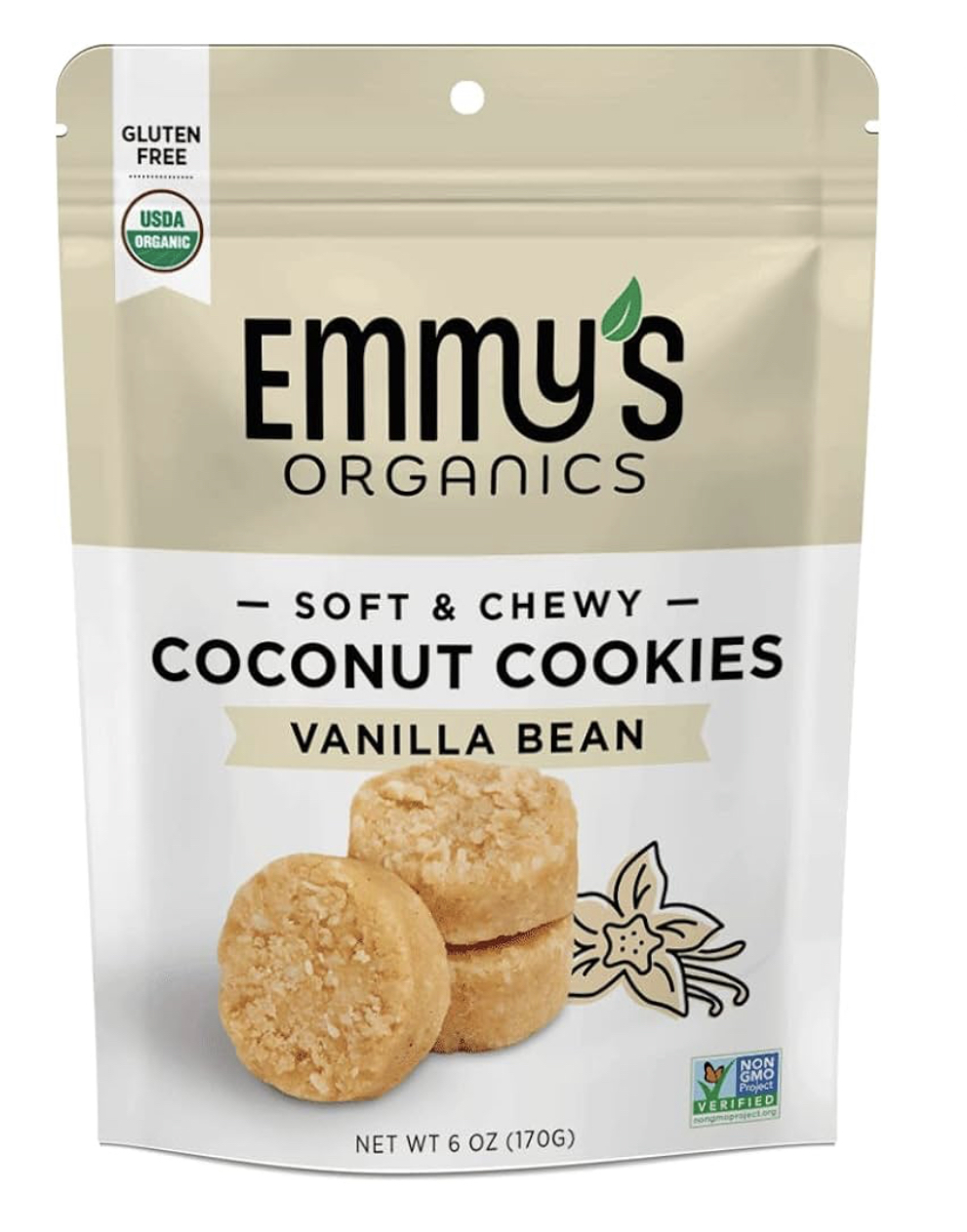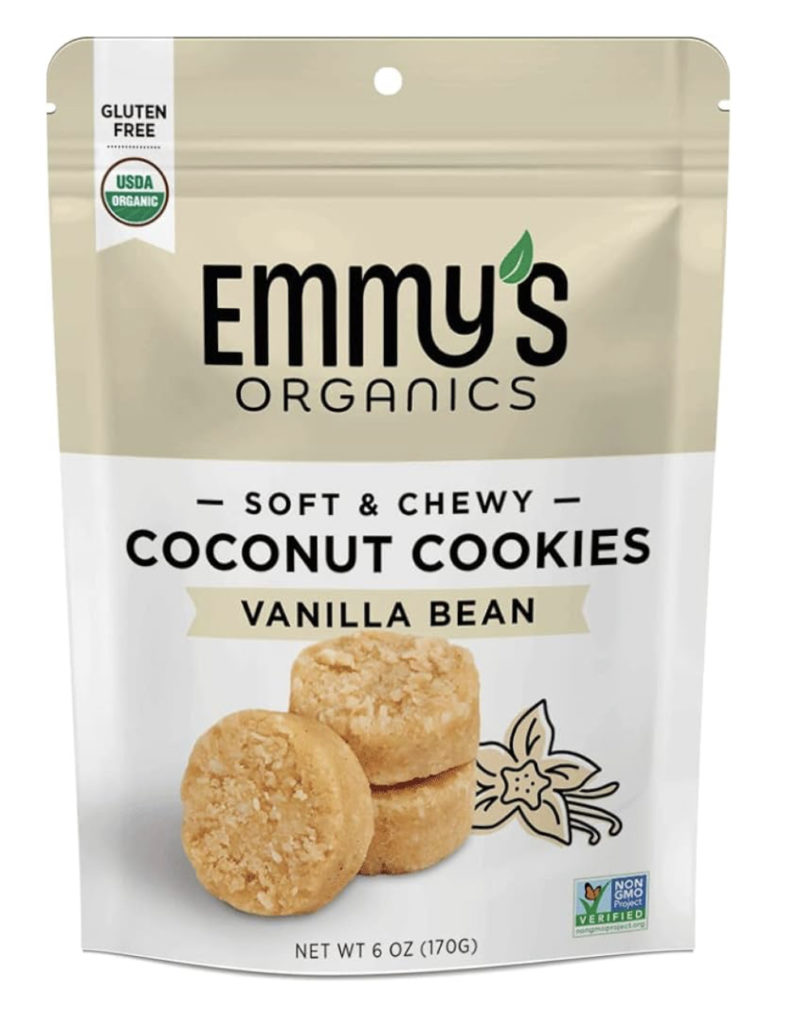 Grocery store diabetes friendly cookie dough
Below are some of my favorite store bought cookie dough options.
12. Sweet Loren's Low Sugar Cookie Dough
I recently discovered this line of lower sugar cookie dough from Sweet Loren's and they taste amazing! I've enjoyed freezing the dough and breaking off 1-2 chunks when I feel like something sweet. I bake them in my air fryer and they turn out delicious. They come in a chocolate chunk flavor and sugar cookie flavor.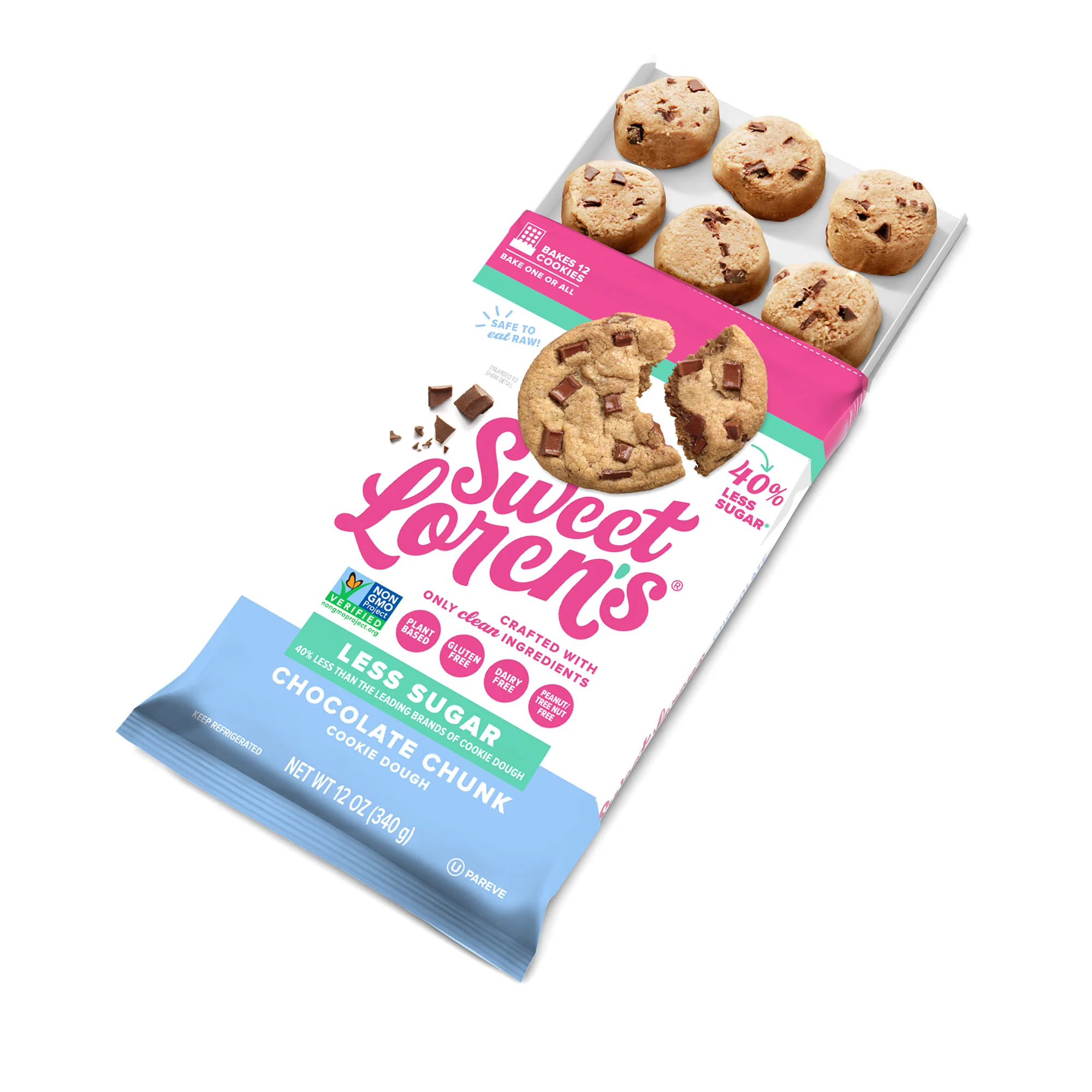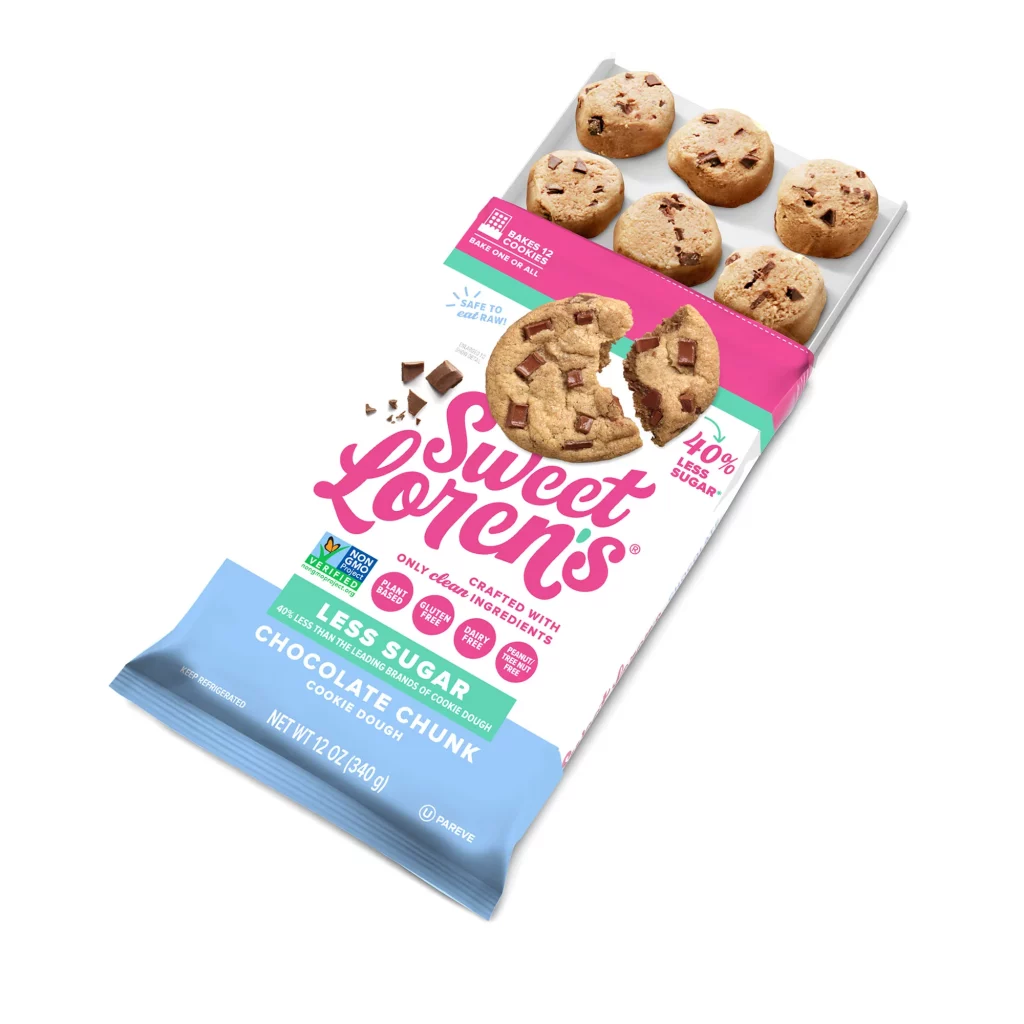 13. Cappello's Chocolate Chip Almond Flour Cookie Dough
Cappello's makes so many good products (I love their pasta!), and their cookie dough is no exception. It's got less sugar and more protein than comparable cookie doughs.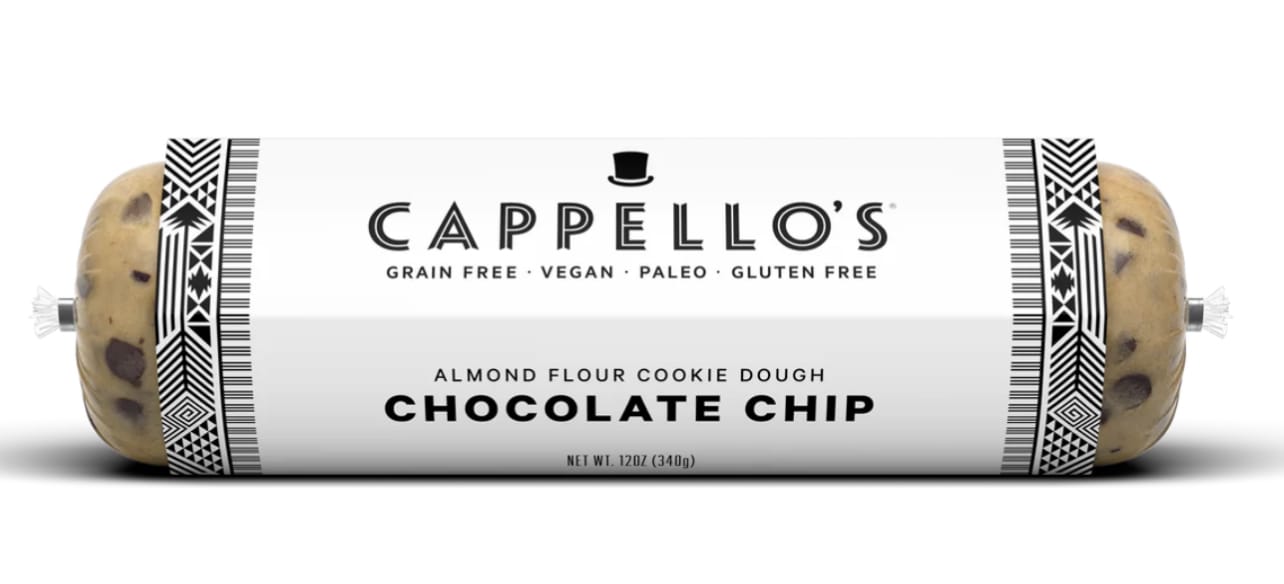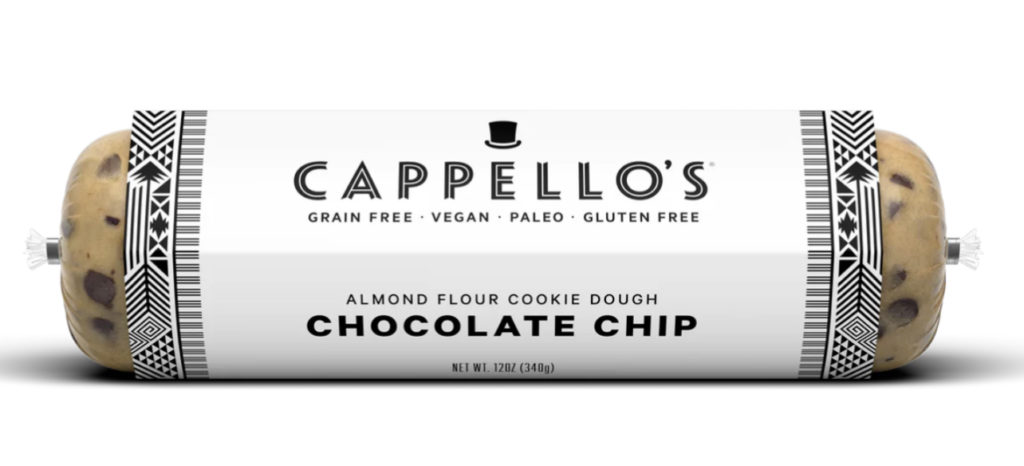 14. Miss Jones Chocolate Chip Cookie Mix
Just in case you wang something a little less than already made dough but not completely making cookies from scratch, I love this mix from Miss Jones. It has 50% less sugar, and all you have to do is add butter and an egg, and bake.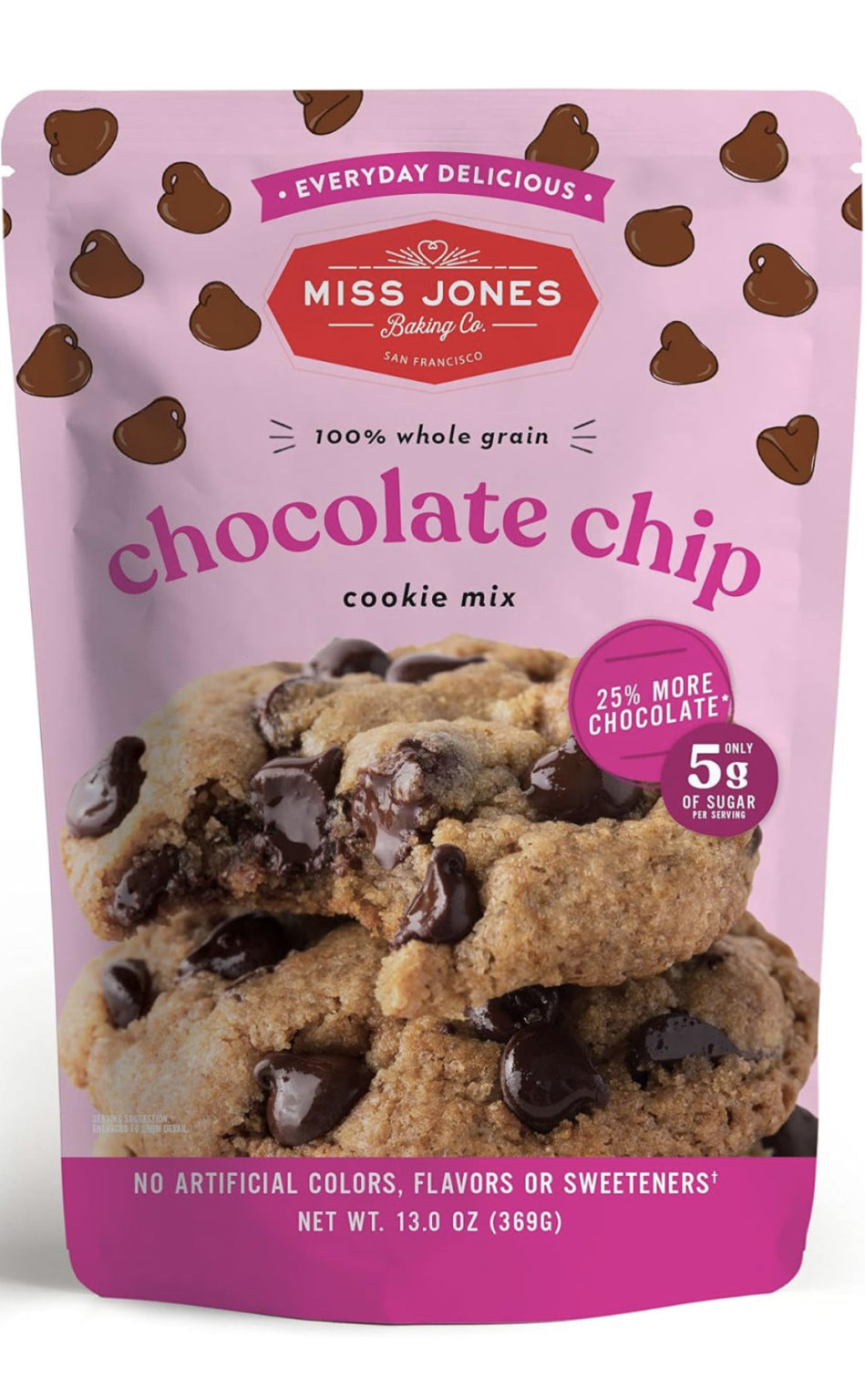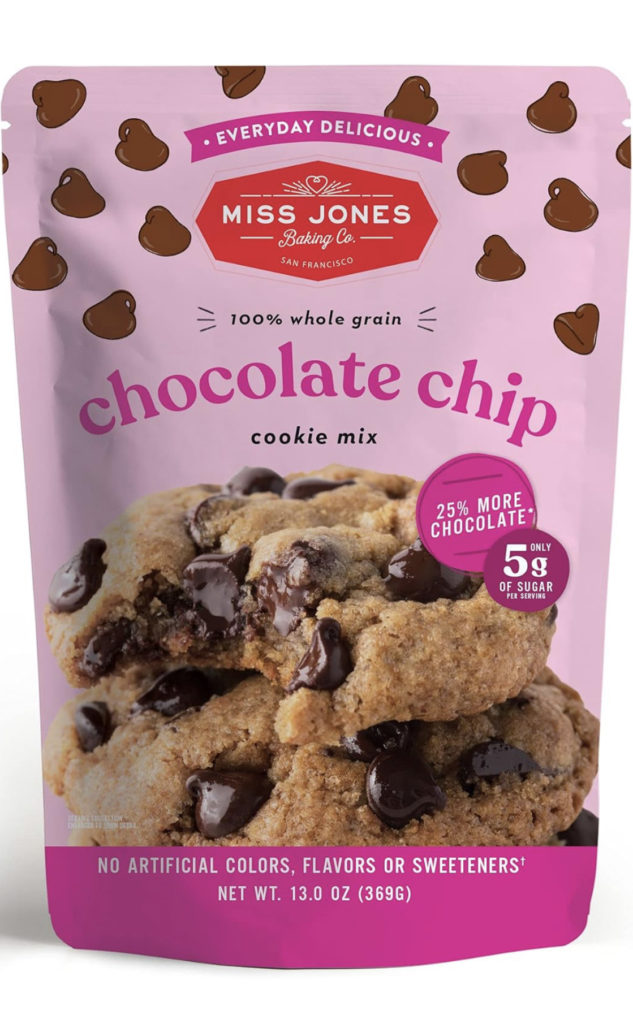 15. Lakanto Sugar Free Chocolate Chip Cookie Mix
And finally, Lakanto Sugar Free Chocolate Chip Cookie Mix is another tasty option. It requires a few more ingredients than the Miss Jones mix, but if you're wanting a sugar free cookie mix, this is my top choice!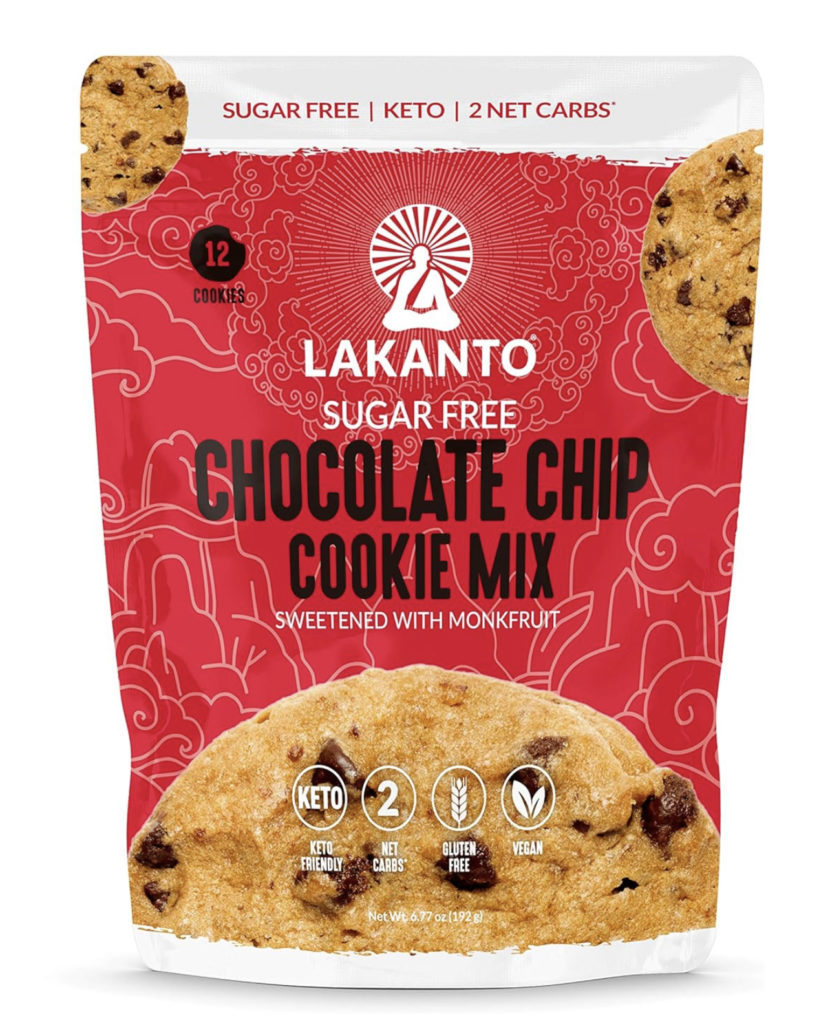 Diabetes desserts cookbook
And, if you're looking for even more recipes for cookies for diabetes, make sure you grab a copy of The Easy Diabetes Desserts Cookbook… There's a whole chapter on cookies!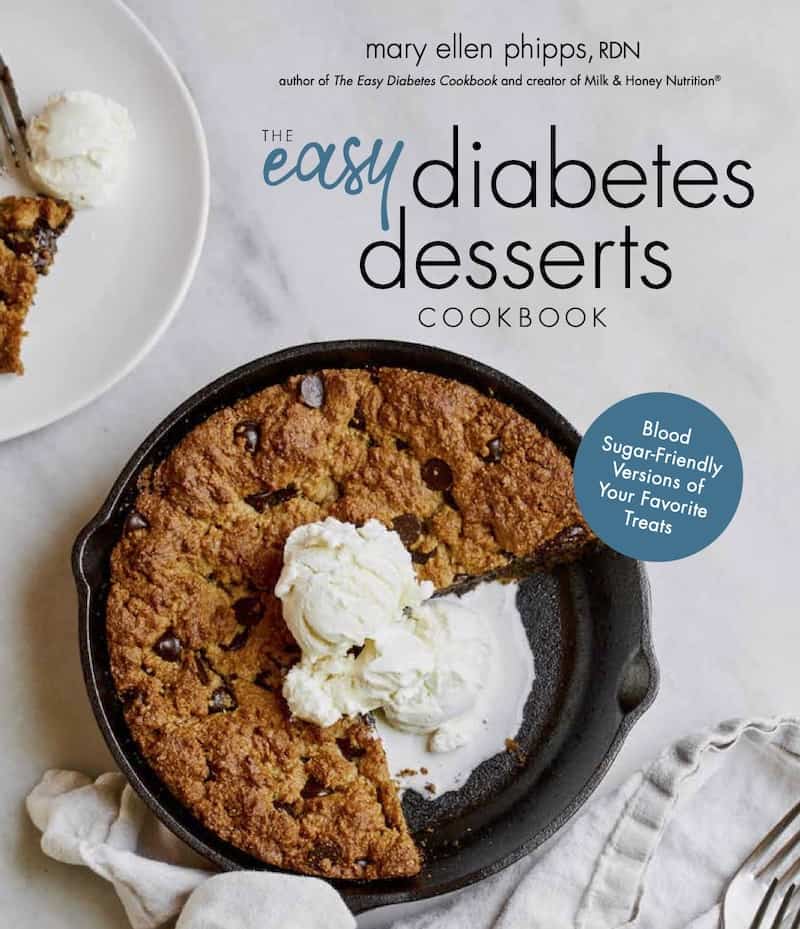 ---