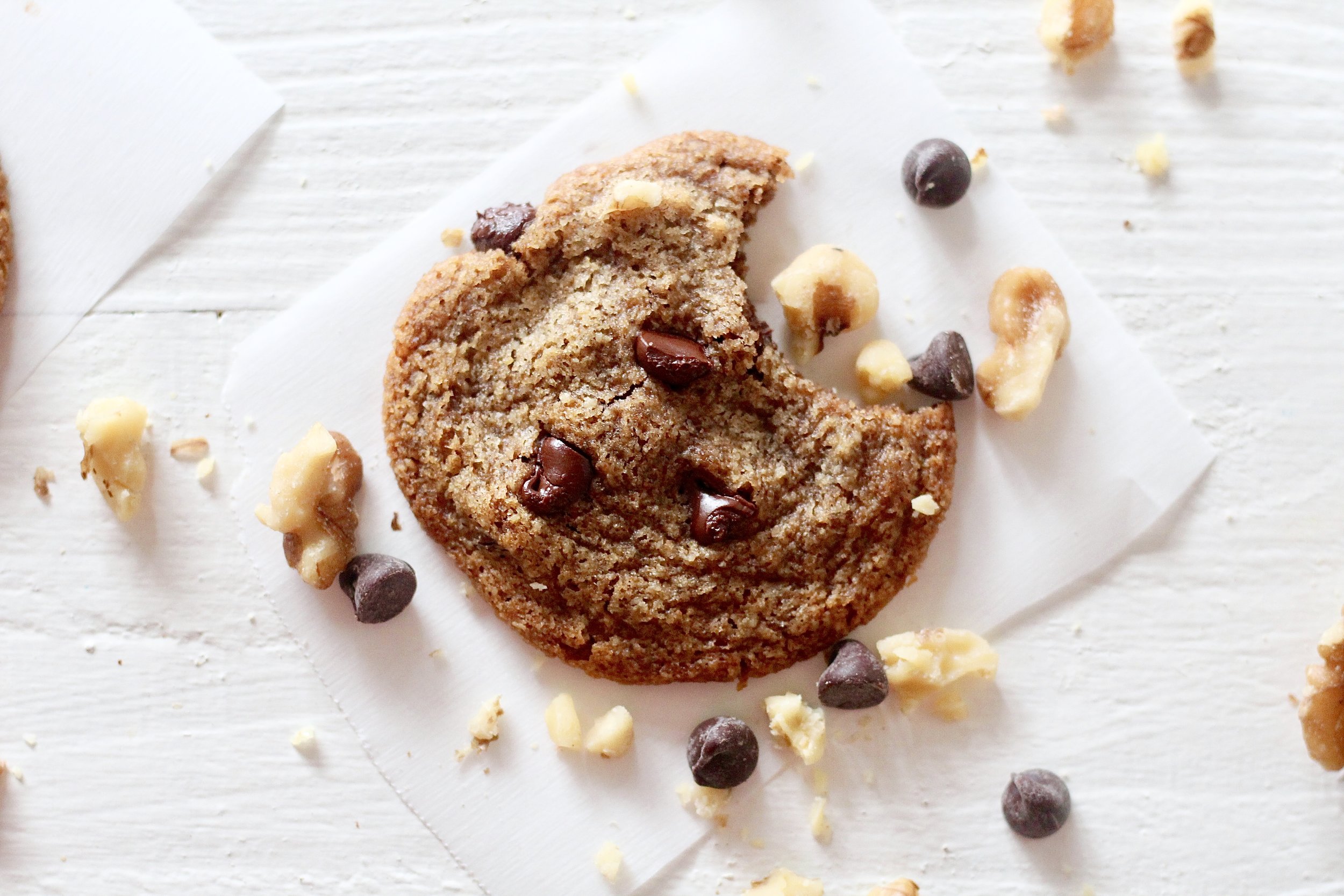 This post "Grain Free Walnut Chocolate Chip Cookies" is sponsored by California Walnuts. All thoughts and ideas are my own.
---
This flavor and nutrition-packed recipe is so simple! Only 7 ingredients, and you've got the best Grain Free Walnut Chocolate Chip Cookies. Each cookie contains 2 whole Tbsp of walnuts! They're a perfect addition to you or your kids' lunchbox.
Did you know? Taking time to recharge at lunch is the most important part of taking a lunch break for most Americans, yet only 27% of people choose to eat foods that give them energy to power through the rest of their day. For example, only 8% of people report that they choose foods that are shown to be good for our brains, only 5% of people choose foods that are good for our hearts, and only 3% of people choose foods with '"good" fats. In fact, only 15% of Americans say their lunch break includes a well-balanced meal.
One easy way to solve this problem?? Add some walnuts to your lunch each day!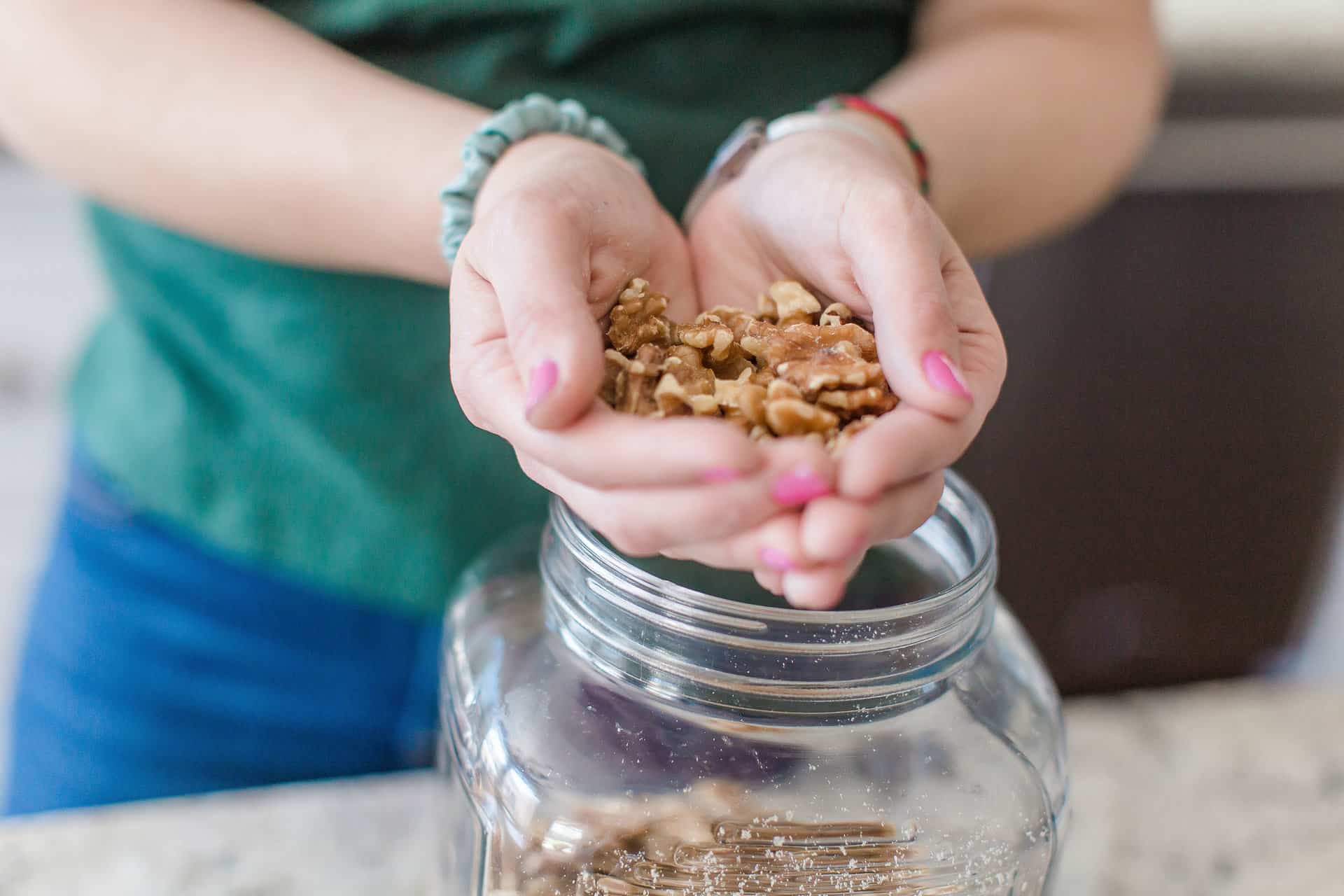 Why you should be eating walnuts at lunch everyday…
Walnuts are a quick, nutrient dense way to add some healthy fats to your mid-day meal. Walnuts are an excellent way to improve overall diet quality and are certified by the American Heart Association's Heart-Check mark. Walnuts have been researched for their potential role in a variety of health outcomes, including cognitive function, heart health, cancer, diabetes, gut health and reproductive health. Their protein, fiber, and fat content help you feel fuller longer, and when you add them to your lunch, they provide your brain with a steady supply of energy throughout the afternoon.
Just one ounce of walnuts comes packed with nutrition:
An excellent source of alpha-linolenic acid (ALA), a form of omega-3s (2.5g) – the most ALA of any other tree nut

4g protein

2g fiber

A good source of magnesium (45mg)

Grain Free Walnut Chocolate Chip Cookies; Image source: https://walnuts.org/nutrition/nutrition-information/
When you buy shelled walnuts at the store, either pre-packaged or from the bulk bins, you've got a no-waste food ready-to-go. There's no skin/shell to throw away, there's no prep work needed. You can enjoy them instantly as is.
Walnuts and Diabetes (source)
Research has shown us that people who eat walnuts can cut their risk for developing type 2 diabetes in half! One study that utilized data from over 34,000 people, noted that most people only ate 1 1/2 Tbsp of walnuts each day. Simply doubling that intake to 3 Tbsp walnuts each day was associated with a 47% lower prevalence of diabetes. Stated another way: people who ate more walnuts than average, had lower rates of diabetes. Researchers think this benefit is largely due to the ALA (a form of omega 3 fatty acids) content of walnuts.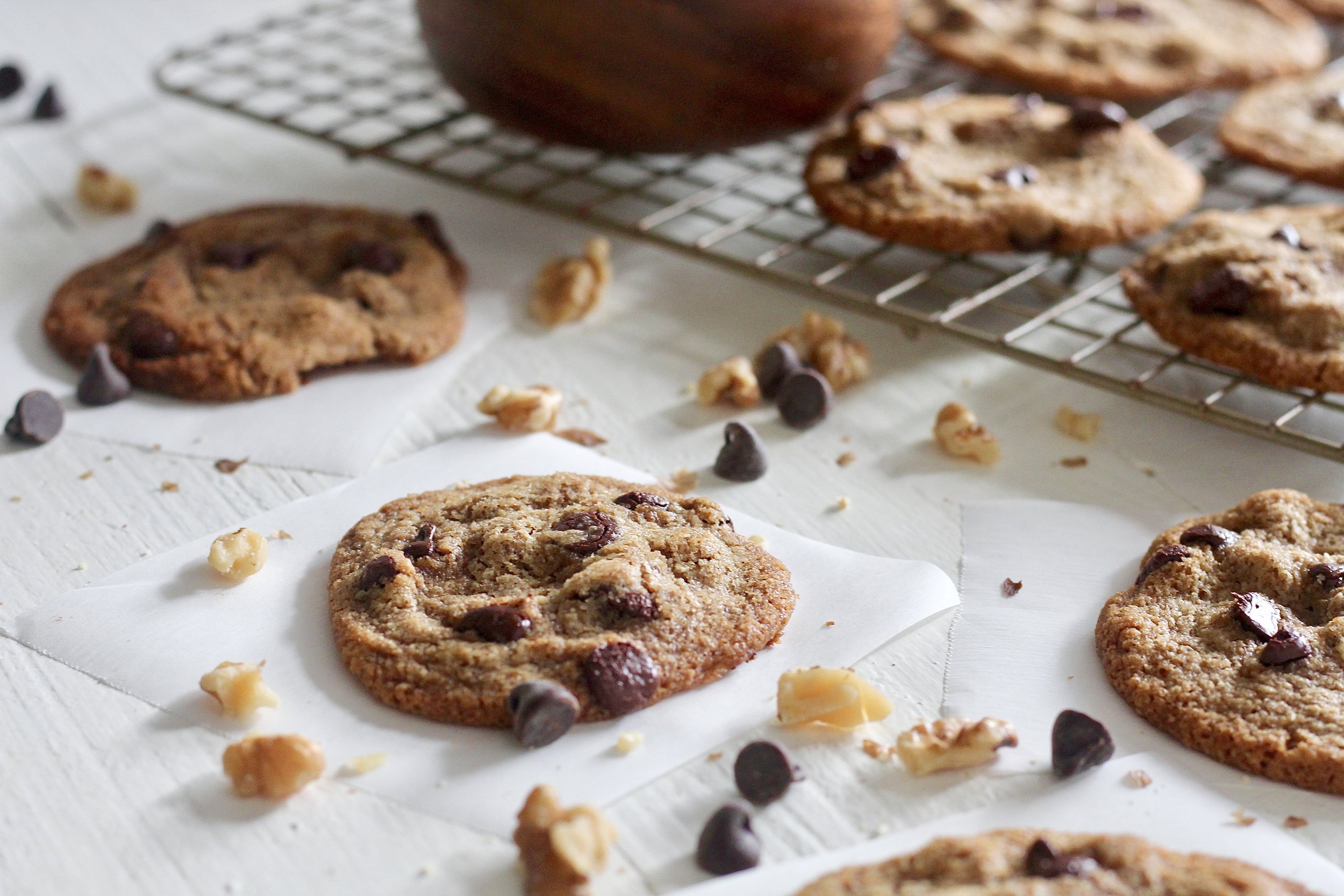 Walnuts and Heart Health (source)
There's a reason walnuts bear the American Heart Association's Check Mark. One recent study found that people who regularly eat foods high in polyunsaturated fatty acids (PUFA), like walnuts, could be better protected from the negative impacts of saturated fats. After eating a diet high in PUFAs for one week, healthy participants saw lower post-meal triglyceride levels when they ate a meal high in saturated fats. While improvements were seen for both men and women, women tended to benefit more from the PUFA-rich diet.
Here's some fun ways to add walnuts to your lunch:
Add them on top of a salad

Chop them up the night before and add them to a bowl of oatmeal (yes, I eat oatmeal for lunch sometimes 🙂

In the colder months, you can puree them into soups

Add crushed walnuts on top of any pasta dish for added crunch

Instead of using breadcrumbs, use crushed walnuts next time you're baking chicken or fish

Try using them in a sauce, like my Spinach, Walnut, and Feta Pesto Sauce

Make your own walnut butter at home. All you need is walnuts and a food processor or high powered blender

Combine walnuts, mushrooms, and cauliflower for an amazing meat substitute

Try the yummy Grain Free Walnut Chocolate Chip Cookie recipe below (each cookie contains 2 Tbsp of walnuts!)
---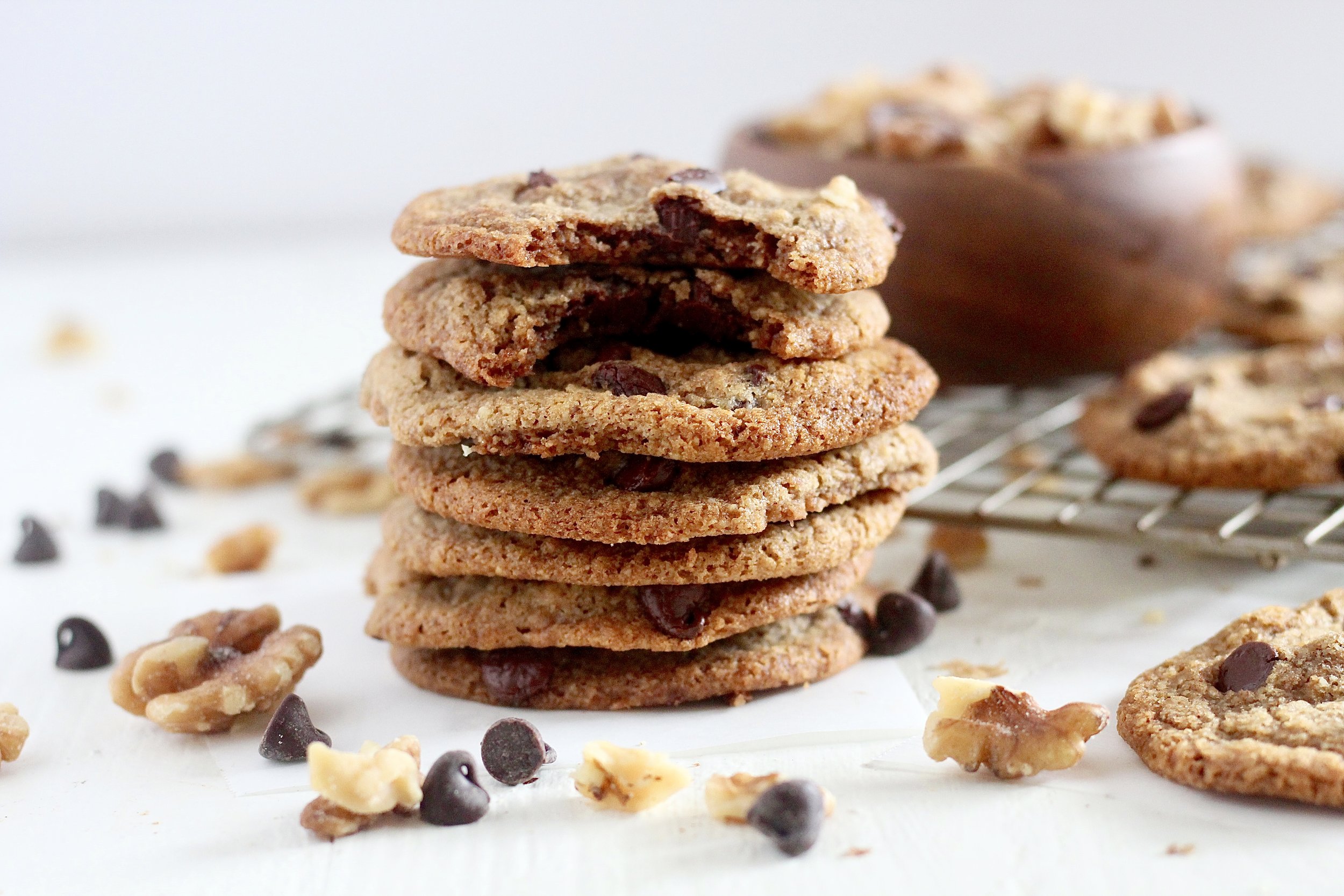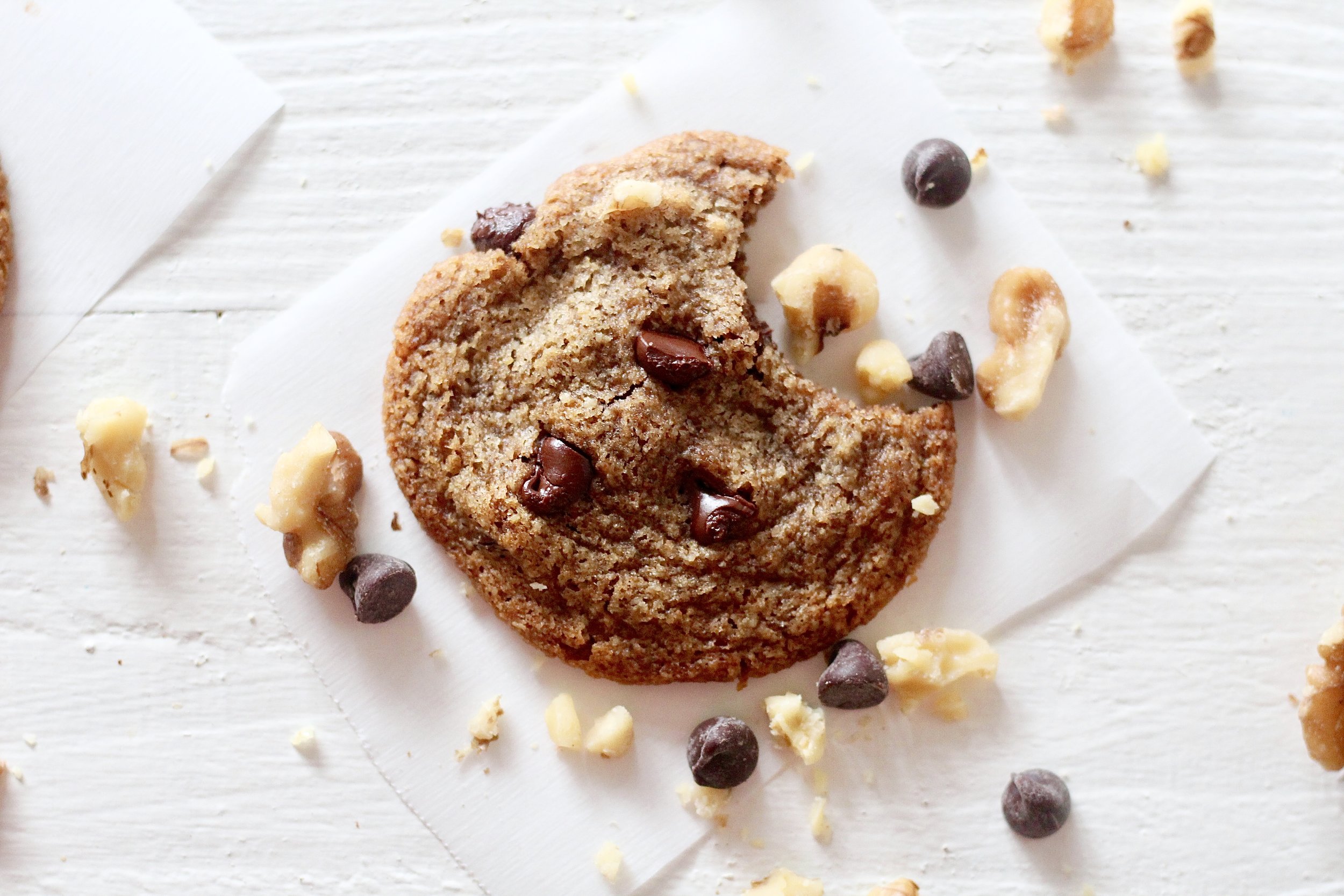 ---

Grain Free Walnut Chocolate Chip Cookies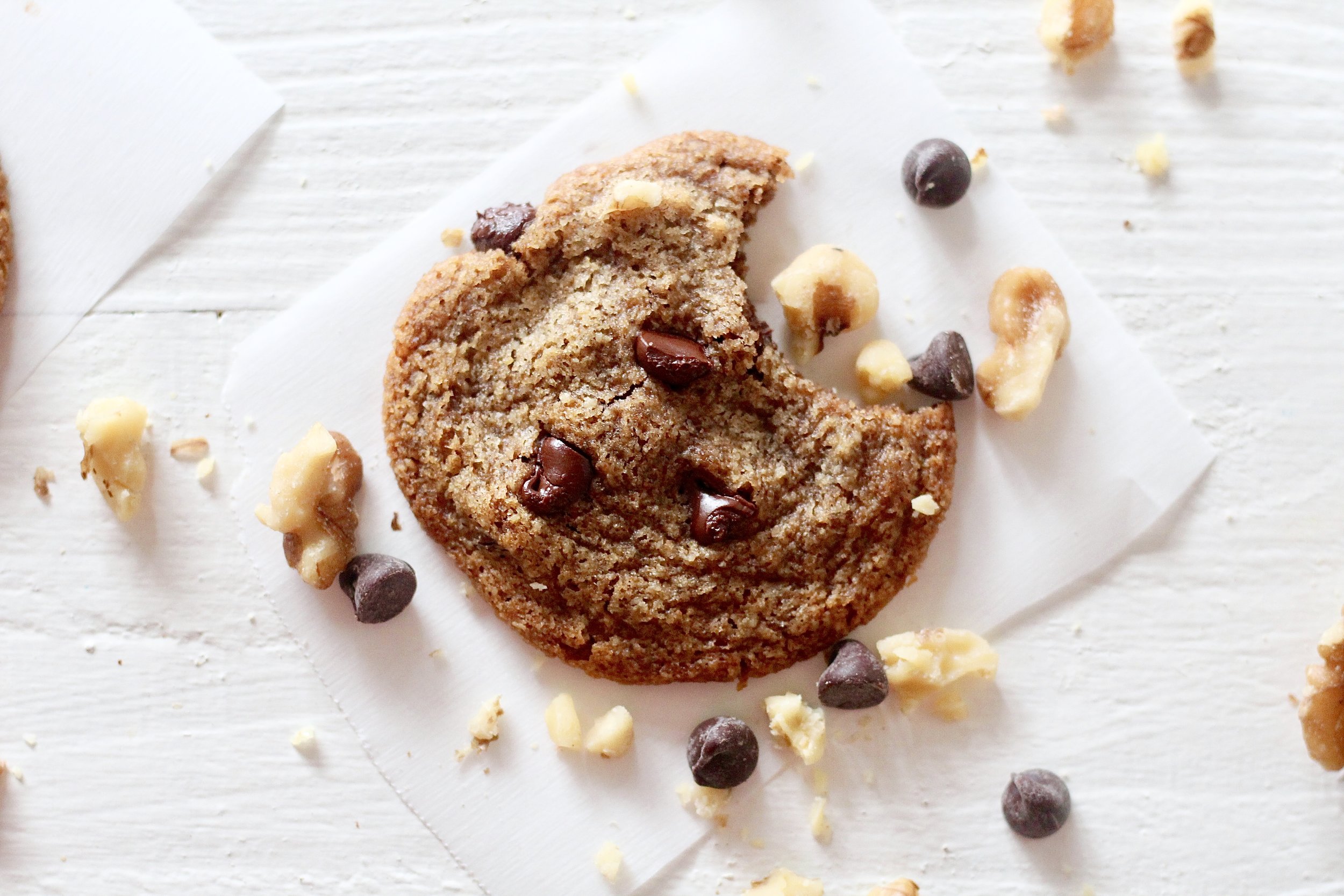 Ingredients
3

cups

walnut halves or pieces

1/3

cup

butter

can sub coconut oil if needed

1/3

cup

liquid sweetener

I like to use maple syrup

1/4

teaspoon

salt

1/2

teaspoon

baking soda

3

teaspoons

vanilla extract

1/2

cup

chocolate chips or chunks
Instructions
Preheat your oven to 350 degrees.

Line a baking sheet with parchment paper and set aside.

Add the walnuts to a food processor and process until a powder forms.

Add in the butter and pulse until well combined.

Next, add in all of the remaining ingredients except the chocolate chips.

Process for 20-30 seconds until a dough forms. Be careful not to over process the dough. Processing for too long can make the dough too wet because of the oils that separate out from the walnuts.

Carefully remove the blade from the food processor and stir in the chocolate chips by hand.

Note: You can go ahead and bake the cookies at this point but the dough will be slightly runny. I recommend refrigerating the dough for 1-2 hours or letting it sit in the freezer for 20 minutes before trying to scoop the dough onto your pan.

Using a cookie scoop or a tablespoon, scoop the dough into balls onto your parchment lined pan. These cookies will spread out a lot so make sure to leave ample room on the pan.

Bake for 12-14 minutes or until set and the tops start to turn golden. Remove the cookies from the oven and let cool for 4-5 minutes before carefully transferring to a wire rack to finish cooling completely.

Store in an airtight container with a paper towel underneath the cookies in the bottom of the container to absorb liquid/natural oils from the walnuts. Eat within 48 hours, or freeze.
Notes
The nutrition facts presented here are estimates only. The brands you use and product types chosen can change the nutritional information presented. To obtain the most accurate nutritional information, you should calculate the nutritional information with the actual ingredients you use.
Nutrition
Serving:
1
cookie
|
Calories:
163
kcal
|
Carbohydrates:
8
g
|
Protein:
3
g
|
Fat:
14
g
|
Saturated Fat:
3.5
g
|
Fiber:
2
g
|
Sugar:
6
g