I'm a registered dietitian who's been living with diabetes for 30 years and this is my Costco shopping list with healthy Costco foods!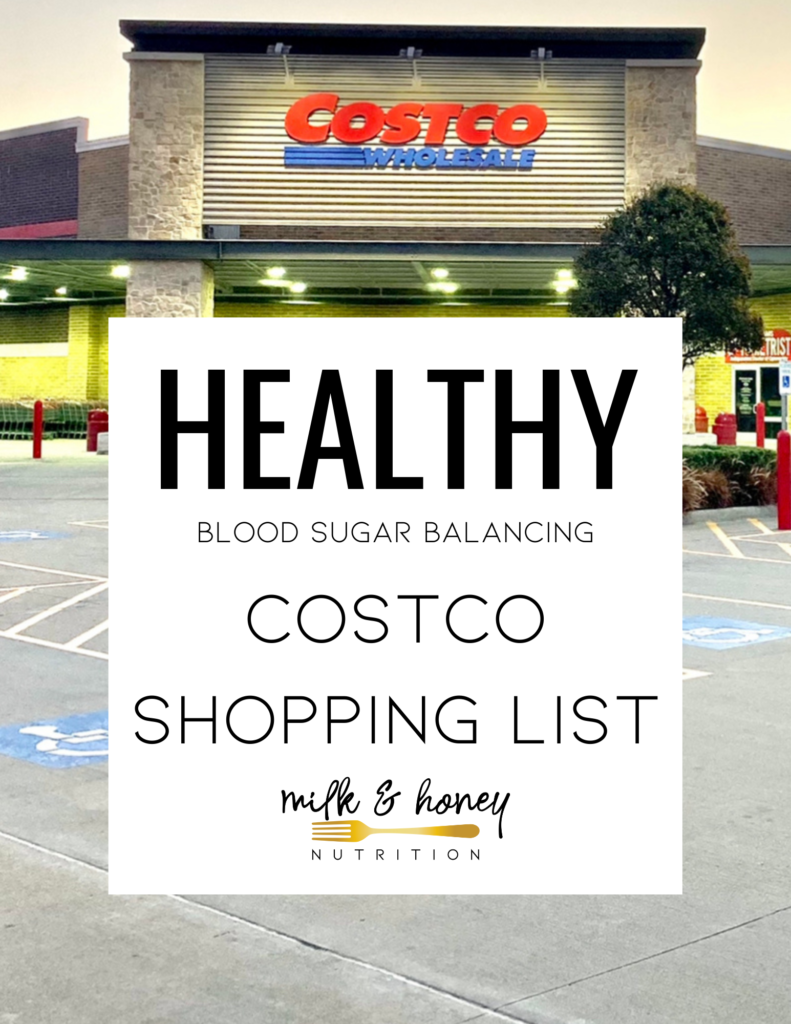 Costco can be a really intimidating store, and if you're also managing a chronic health condition like diabetes, celiac disease, or something else, it can be even worse! Having a go-to Costco shopping list you can rely on is extremely helpful!
Healthy things to buy at Costco
One of the most frequent questions I get both as a dietitian and as someone living with diabetes is what are the best things to buy at Costco that are healthy? Costco offers so many great products at really discounted prices. I'm going to share some of my favorite healthy Costco foods for people looking to balance blood sugars, manage diabetes, and/or follow a gluten free diet. 
Diabetes friendly foods at Costco
Costco sells lots of products that are diabetes friendly, as well as a great selection of low blood sugar treatments. The Costco shopping list below covers a great selection of foods rich in fat, fiber, and protein, as well as foods that are helpful when you need to raise blood sugar levels quickly. 
Costco healthy snacks
There are so many great healthy snack options at Costco. This is not an exhaustive list, but are some of my favorites I buy regularly. All of these offer some combination of fat, fiber, and protein.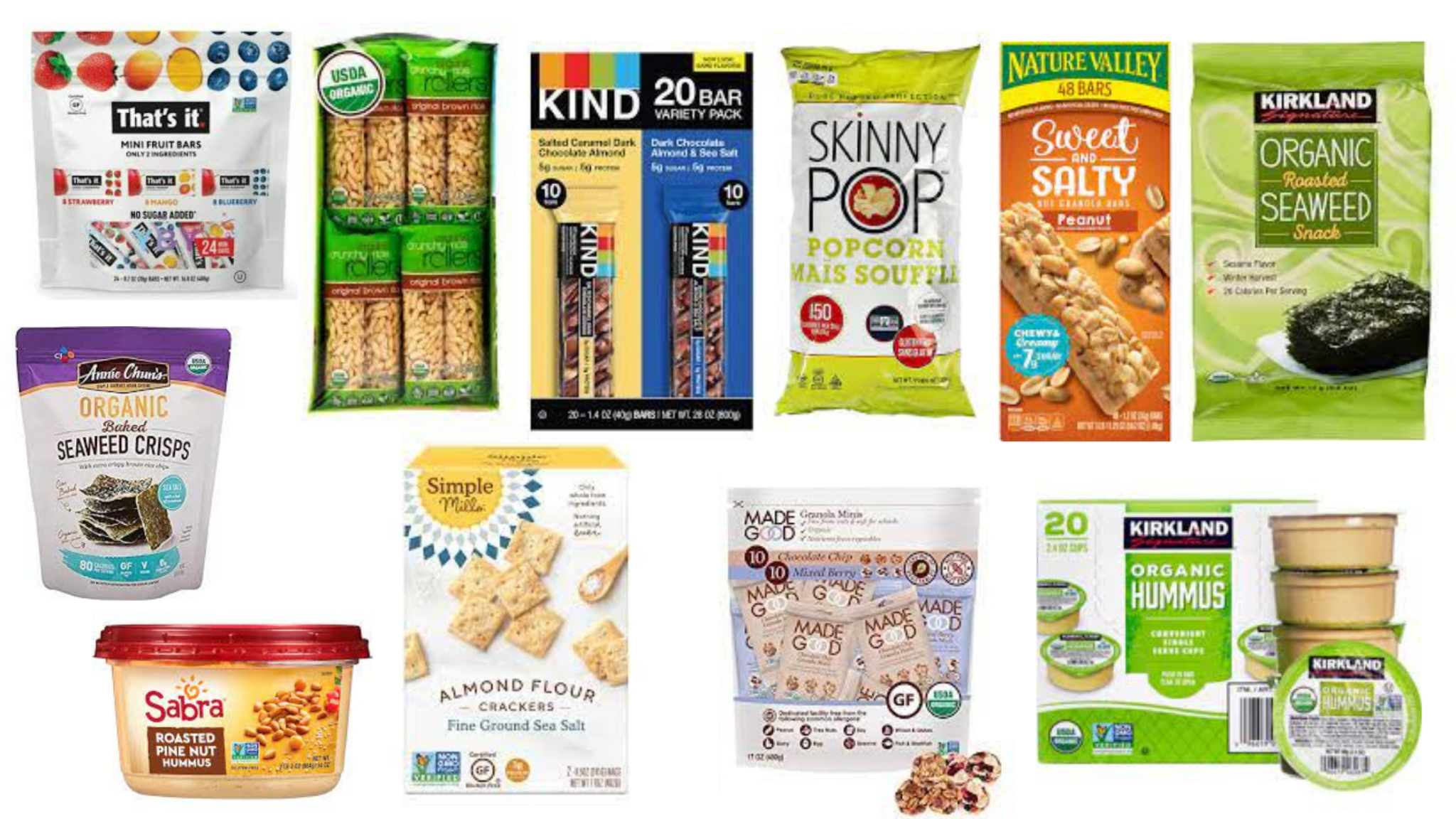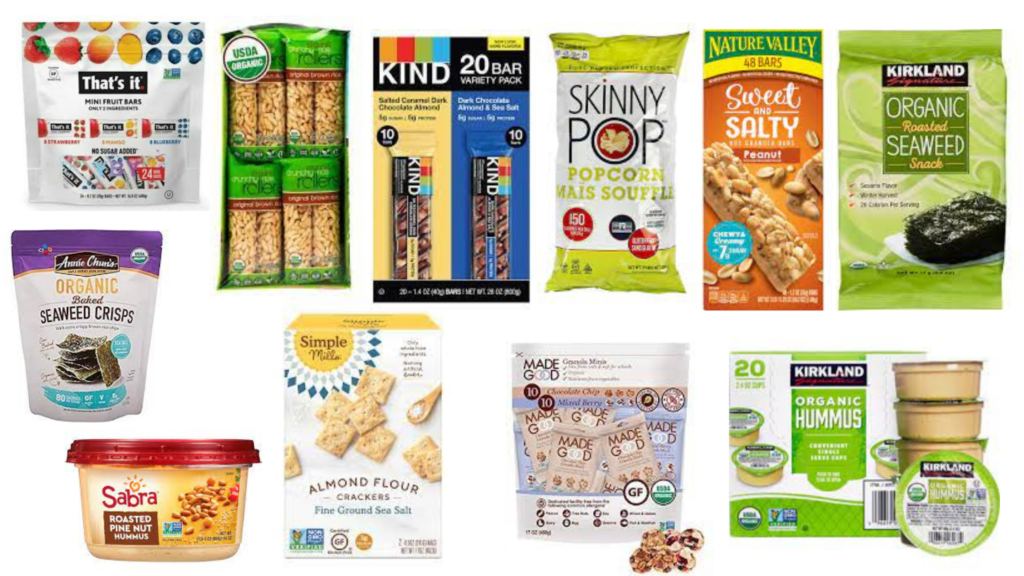 Made Good Bites
That's It Bars
KIND Bars
Nature Valley Sweet & Salty Peanut Bars
Skinny Pop popcorn
Simple Mills Almond Flour Crackers
Sabra Hummus
Lundberg Rice Cakes
Crunchy Rollers Snacks
Annie Chun's Seaweed Snacks
Best bars at Costco
Some snack bars that are always on my Costco shopping list include: Made Good Bites, That's It bars, KIND Bars, Nature Valley Sweet & Salty Peanut Bars. For more protein bar and energy bar recommendations, make sure to check out my post with my top 28 Protein & Energy Bar Recommendations.
Popcorn options at Costco
There's lots of popcorn options to choose from at Costco but my go to is the big bag of Skinny Pop Popcorn. It doesn't have high amounts of added oil or salt but still tastes amazing! Most Costco locations also have a box of single serve Skinny Pop bags if you prefer that.
Costco crackers
My go-to crackers to grab at Costco are the Simple Mills Sea Salt Almond Flour Crackers. They check all the nutritional boxes I look for in a cracker and the larger box at Costco is such a good deal. I also love grabbing the big tub of Sabra hummus they sell, or if you want single serve containers there's a box of Kirkland single serve hummus packages too.
Costco rice cakes options
Rice cakes make a perfect blank canvas for piling on any toppings you like. (Because no one should ever eat plain rice cakes, far too boring for my liking!) Some Costco locations offer Lundberg rice cakes. But, most Costco locations also have Crunchy Rollers if you would rather dip your rice cake in something. These hold together better in my opinion and are always on my Costco shopping list.
Seaweed chips at Costco
I love seaweed crisps as a great lower carb crunchy option with lunch or snack meals. Depending on where your Costco is located, your store might offer Annie Chun's Seaweed Snacks or Kirkland Organic Roasted Seaweed Snack.
Costco oats and other breakfast foods
The breakfast aisle at Costco offers lots of budget friendly and blood sugar friendly options. My favorites are…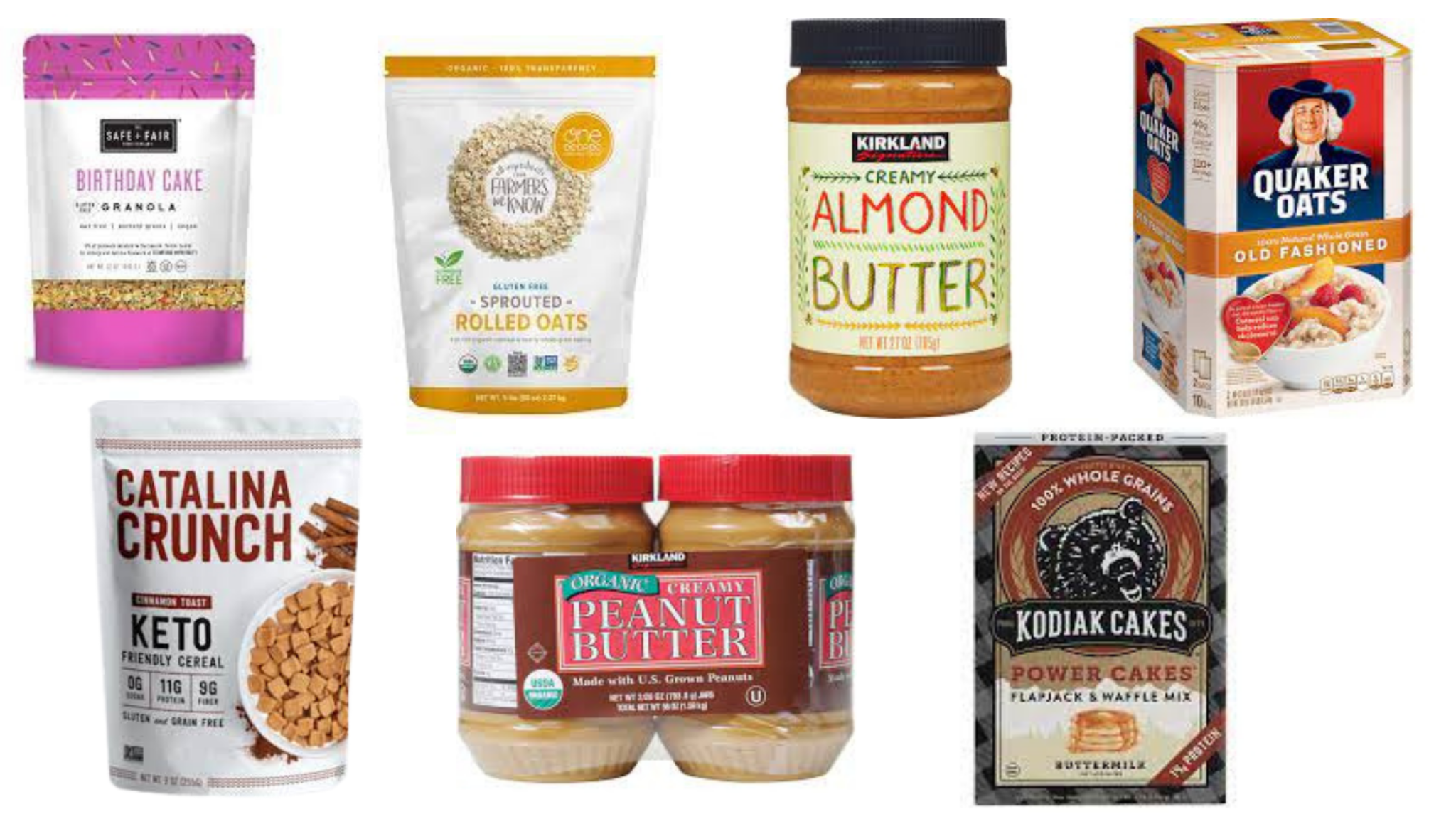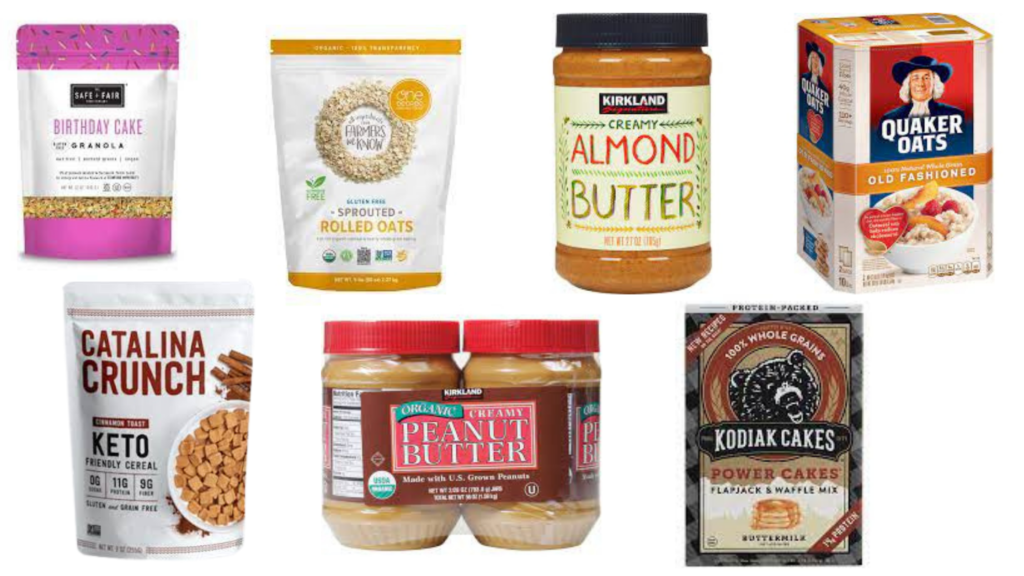 One Degree Organic Sprouted Oats
Quaker Oats
Kirkland Organic Almond Butter
Kirkland Organic Peanut Butter
Catalina Crunch Cinnamon Toast Cereal
Kodiak Cakes Pancake Mix
Safe and Fair Granola
Diabetes friendly baking supplies at Costco
I love to bake and specifically I love to bake blood sugar friendly recipes. In fact, my second cookbook (coming Spring 2022) is all about diabetes friendly desserts … so I got really good at finding the best prices on my favorite ingredients. Here is what I buy regularly at Costco…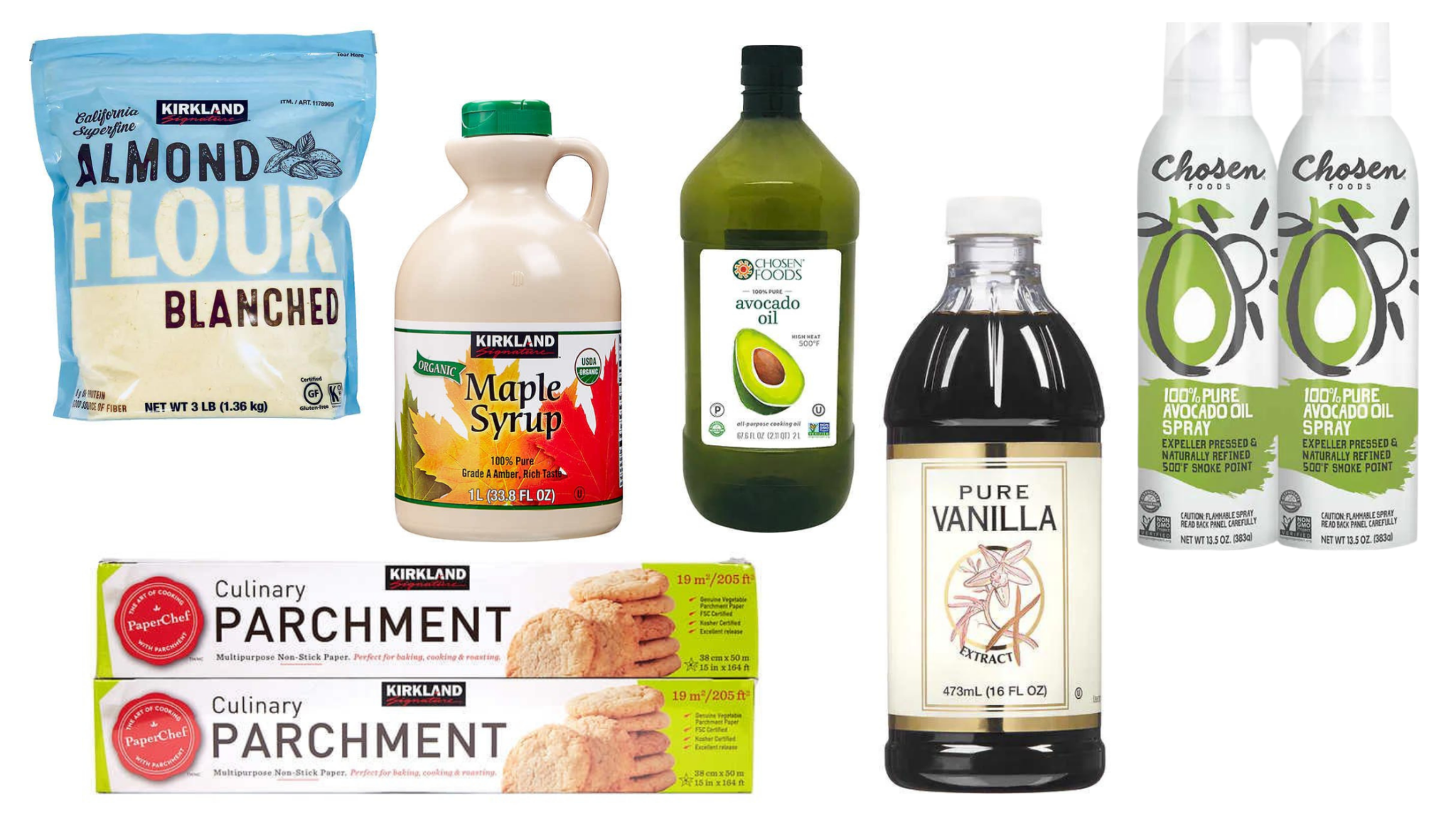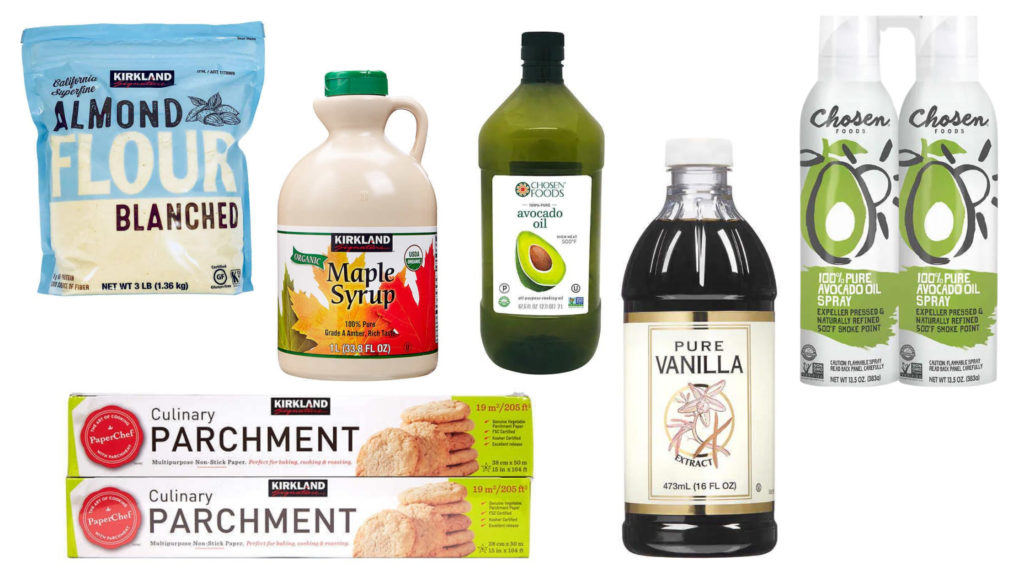 Kirkland Vanilla Extract
Kirkland Almond Flour
Chosen Foods Avocado Oil
Chosen Foods Avocado Oil Spray
Kirkland Organic Maple Syrup
Kirkland Culinary Parchment Paper
Convenience meat options at Costco
Costco has a huge selection of fresh meat but I often find it isn't much better priced than a traditional grocery store. If you don't have freezer space for that much meat and won't consume it before it goes bad, that can be problematic. But, Costco does have several canned and frozen protein options that are always on my Costco shopping list.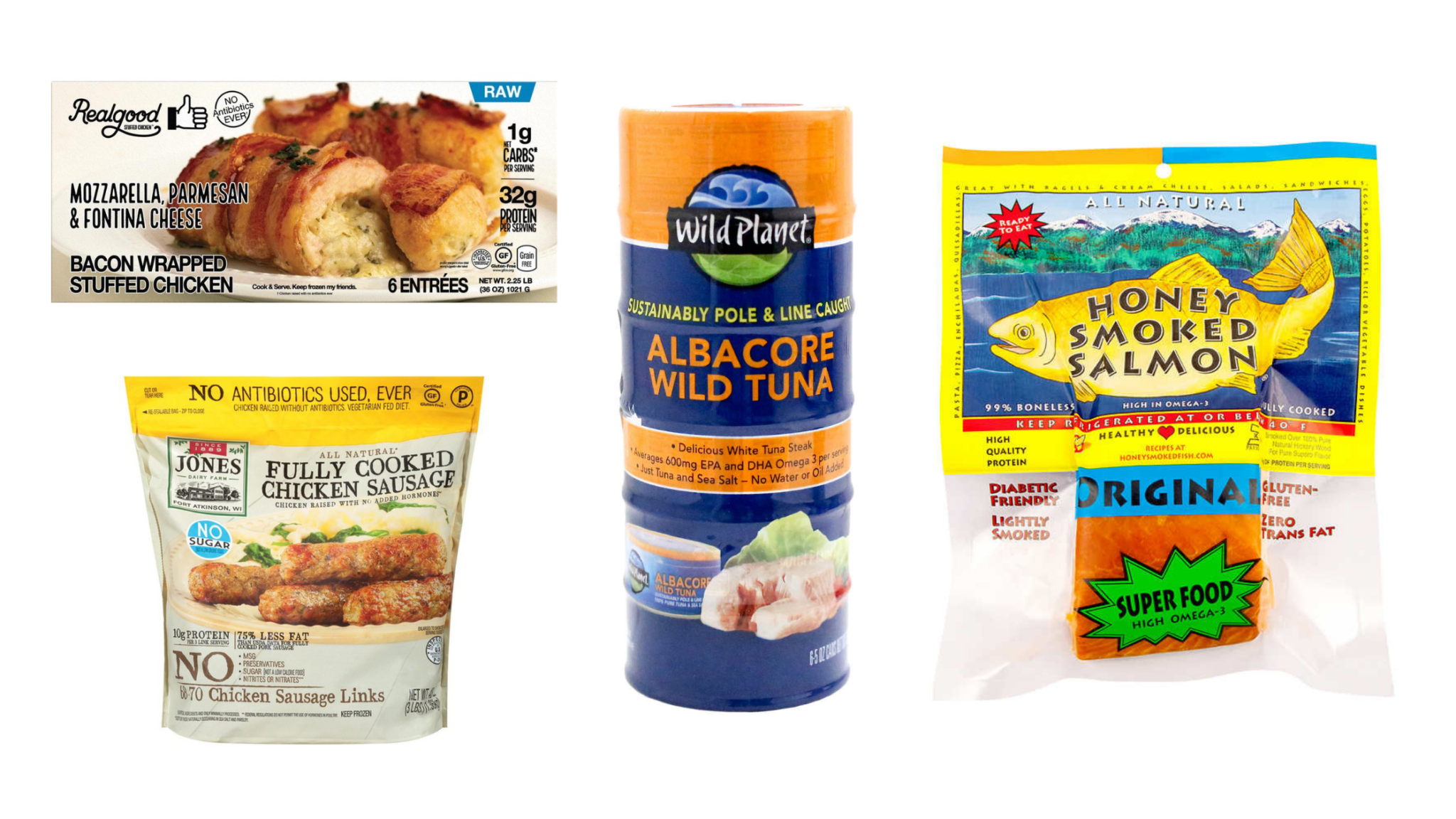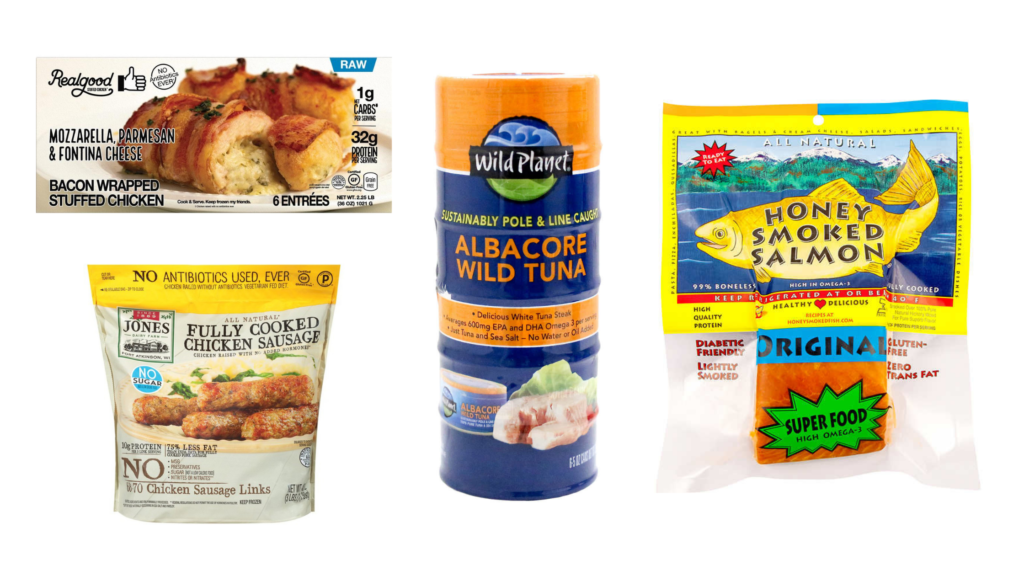 Wild Planet Canned Albacore Wild Tuna (grocery aisles)
Real Good Foods Bacon Wrapped Chicken (frozen)
Jones Dairy Farm Fully Cooked Chicken Sausage (frozen)
Honey Smoked Fish Co Smoked Salmon (refrigerated)
Top dairy finds at Costco
The dairy room at Costco always requires a quick entrance and exit since it's so cold but there's a ton of great options at really good prices when you get in there. These are my recommendations…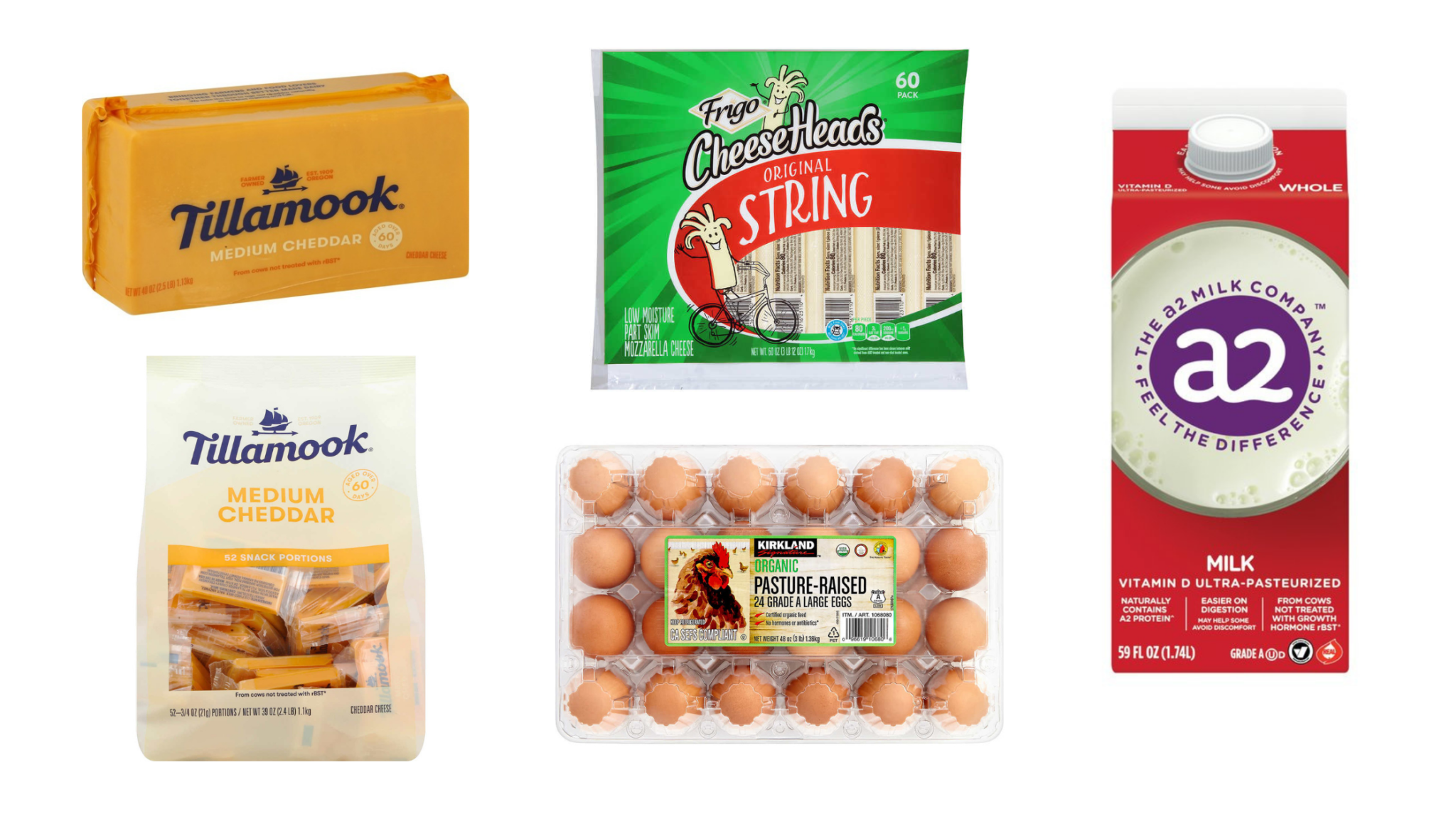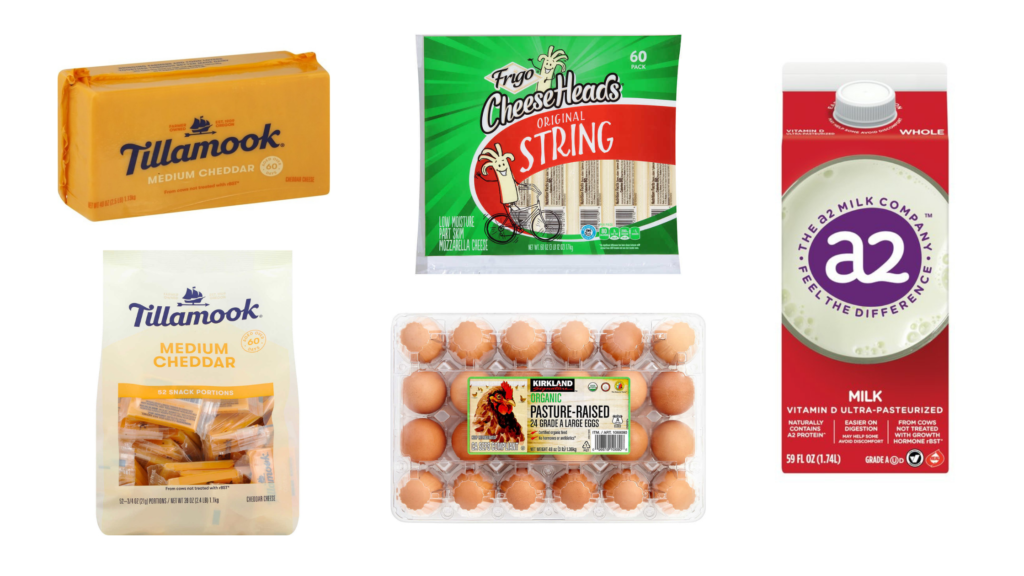 Tillamook Cheddar (whole block and snack portions)
Frigo string cheese
A2 Milk whole milk
Kirkland Organic Pasture Raised Large Eggs
Greek yogurt (various brands)
Best Costco gluten free finds
Many of the foods I've already listed are some of my favorite gluten free foods at Costco but there are several other gluten free products at Costco I want to make sure you know about!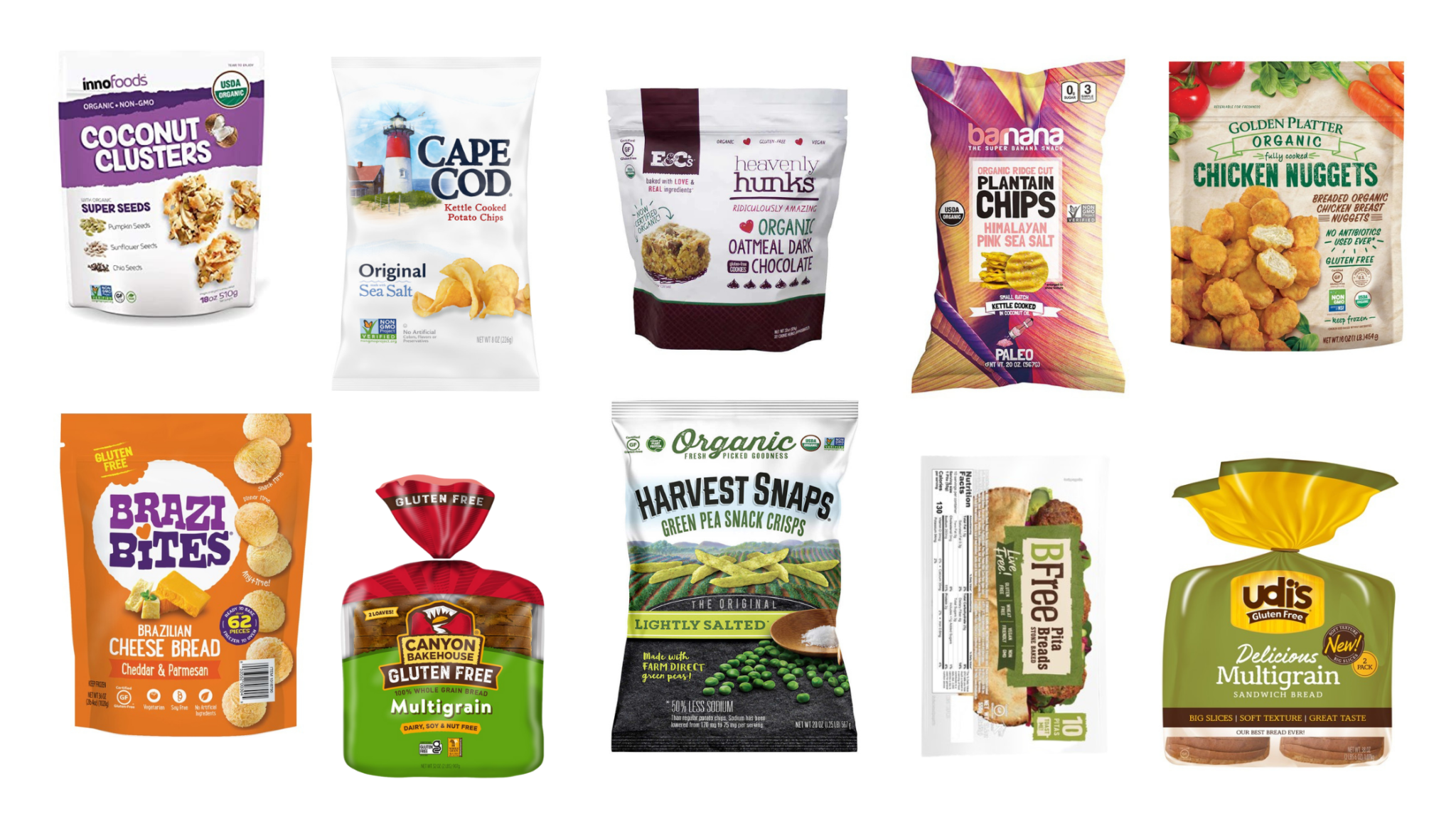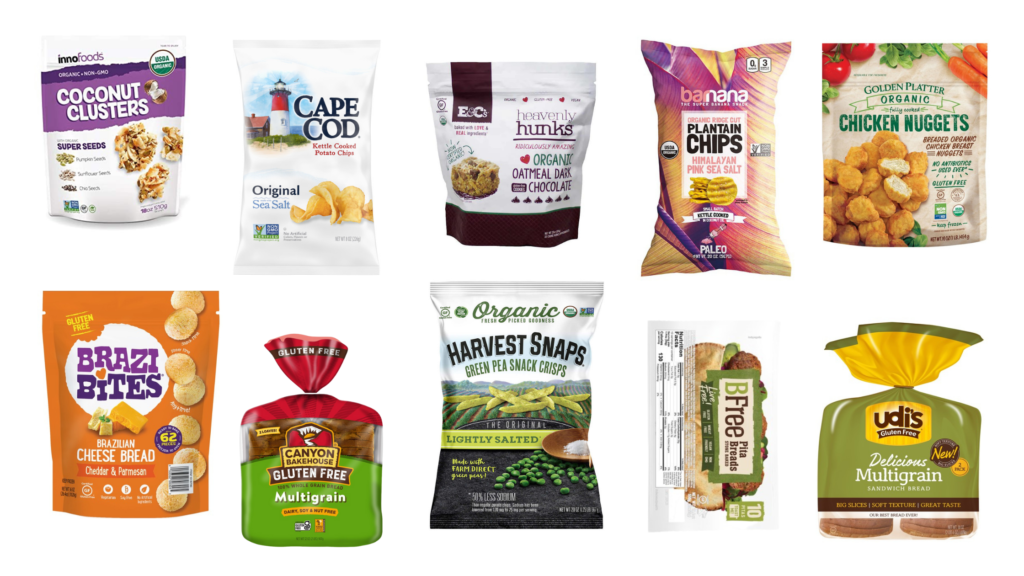 Barnana plantain chips
Cape Cod Potato Chips
Inno Foods Coconut Clusters
Harvest Snaps Green Pea Crisps
Heavenly Hunks Chocolate Chip Cookies
Canyon gluten free bread
Udi's Gluten free bread
B free gluten free pita bread
Brazi Bites Brazilian Cheese Bread (frozen section)
Golden Platter Organic Gluten Free Chicken Nuggets
Gluten free chips at Costco
My two favorite go-to chip options at Costco are Barnana plantain Chips and Cape Cod Potato Chips. Both options have minimal ingredients and aren't super greasy like a lot of chip options.
Gluten free snacks at Costco
If you're looking to try some new gluten free snacks, I highly recommend both the Inno Foods Coconut Clusters and Harvest Snaps Green Pea Clusters. They're both perfect for that gluten free crunch we all need sometimes.
Gluten free cookies at Costco
To say I'm obsessed with the Heavenly Hunks Cookies at Costco is the understatement of the year. They're just so so good! I even have my own copycat recipe I came up with if you want to try to make your own.
Gluten free bread at Costco
The fact that Costco offers gluten free bread at such a great price is incredible. When you need a gluten free bread option, it can be really discouraging to see the prices at your usual grocery store. Depending on where your Costco is located you may be able to find any of these on the bread aisle: Canyon Gluten Free Bread, Udi's Gluten Free Bread, and B Free Gluten Free Pita Bread. And, make sure to find Brazi Bites Brazilian Cheese Bread in the frozen section.
Gluten free chicken nuggets at Costco
If your house is like mine, you definitely need some form of chicken nugget in your freezer at all times. The Golden Platter Organic Gluten Free Chicken Nuggets from Costco are always on my Costco shopping list.
Low carb noodles at Costco and other grains
I always keep some easy to prep blood sugar friendly pasta and rice options on hand for quick and easy dinners. These are what I get from Costco…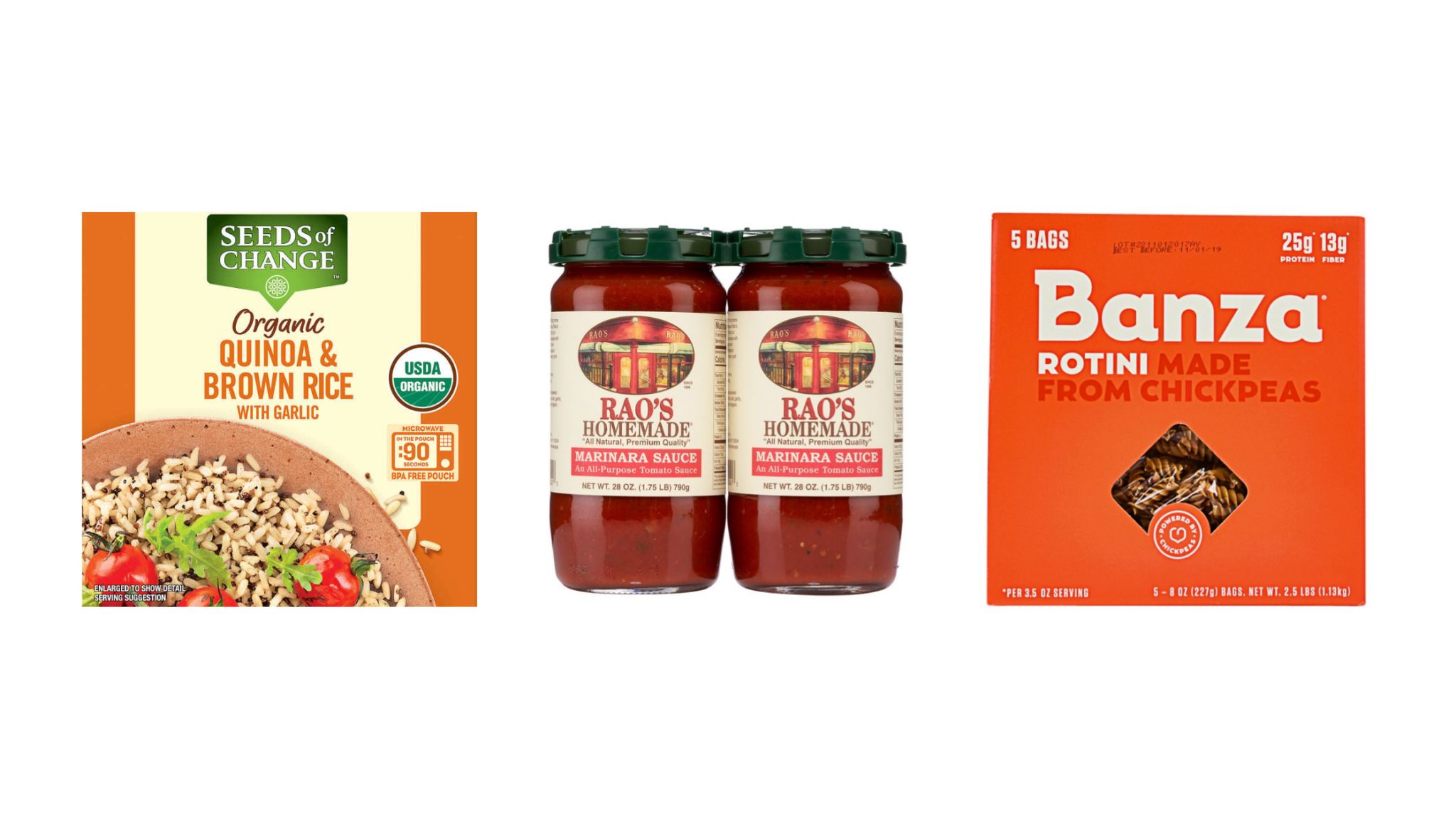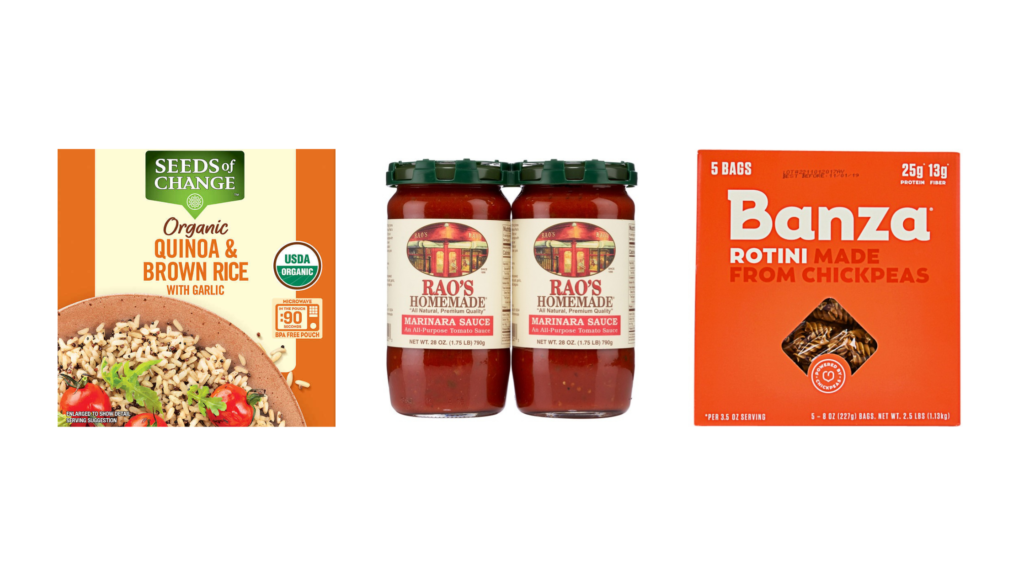 Seeds of Change Organic Brown Rice & Quinoa pouches
Banza Chickpea Pasta
Rao's Marinara Sauce
*I know the marinara sauce isn't the grain, but I highly recommend grabbing some. The price at Costco is unbeatable and is one of the few tomato sauces without added sugar that still tastes amazing.
Bulk foods to buy at Costco
One of the best things about Costco is their bulk selection and price of frozen fruits and veggies, fresh produce and nuts.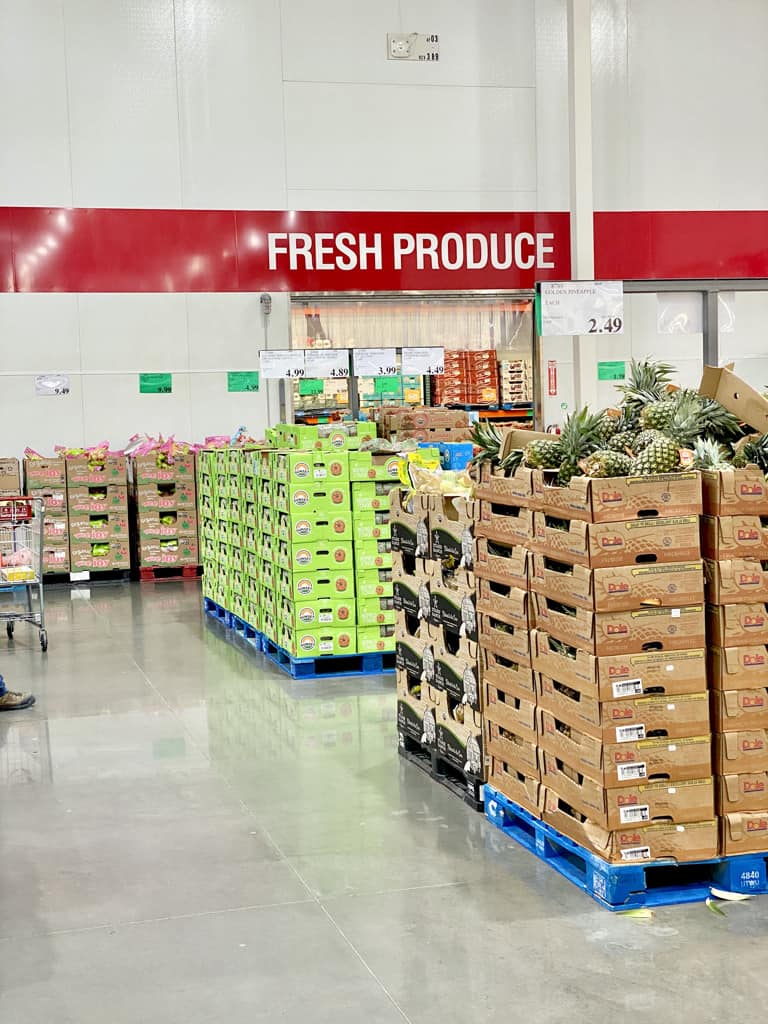 Frozen fruit
Frozen veggies
Fresh produce
Raw nuts
Frozen Fruit and Veggies at Costco
My top frozen fruit and veggies to buy from Costco are edamame, the vegetable stir fry blend, riced cauliflower, green beans, broccoli, strawberries, blueberries, mixed fruit smoothie pouches, and cherries.
Fresh produce at Costco
If you know you're going to eat it all before it spoils, you have to consider all the options in the fresh produce section at Costco. I typically buy Broccoli, Bananas, Apples, Avocados, Baby Carrots, Spinach, Blueberries, Grapes, Strawberries, Cucumbers, and Kale Salad Mix.
Nuts at Costco
Costco has bulk bags of several different types of raw nuts including almonds, walnuts, pecans, pistachios, and cashews.
Healthy canned drinks at Costco
I always have some form of no sugar, flavored sparkling water on my Costco shopping list. Depending on where your Costco is located, they will have any of the following: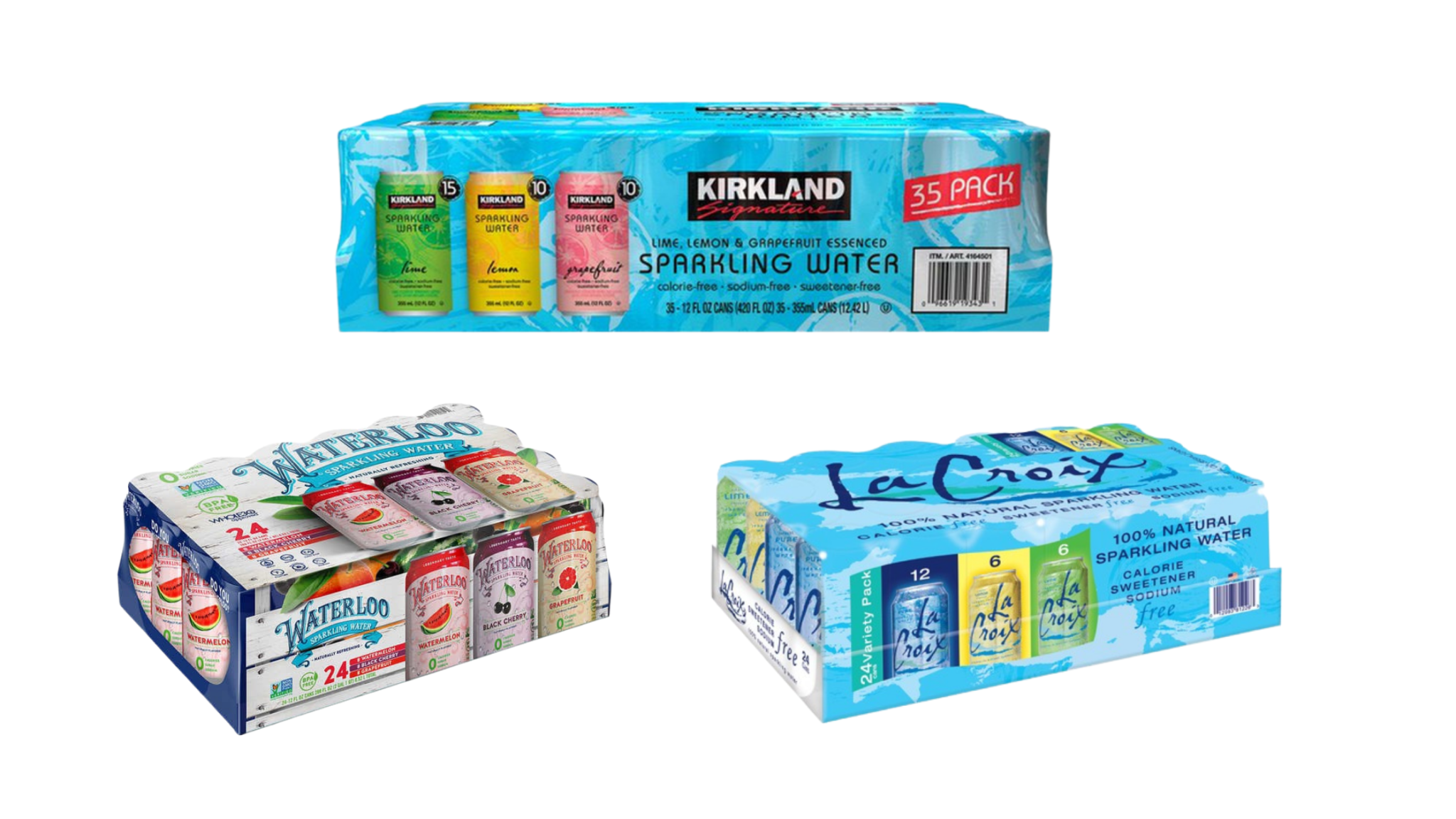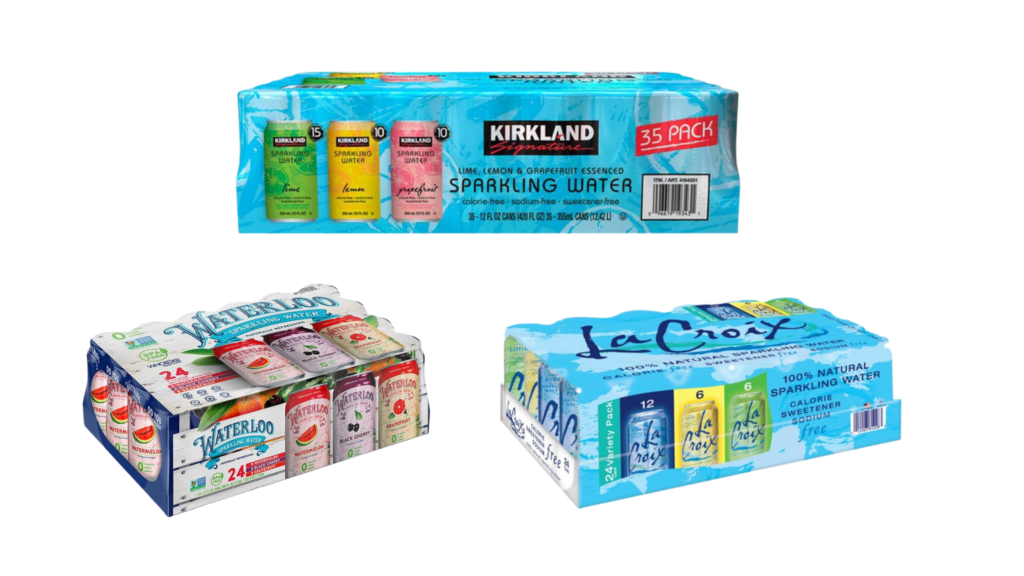 Waterloo sparkling water
LaCroix sparkling water
Kirkland flavored sparkling water
Low blood sugar treatments at Costco
All of the following items are available in bulk at Costco and are perfect to stock up on. Having low blood sugar treatments on hand at home, work, in the car, and other places you commonly visit is very important.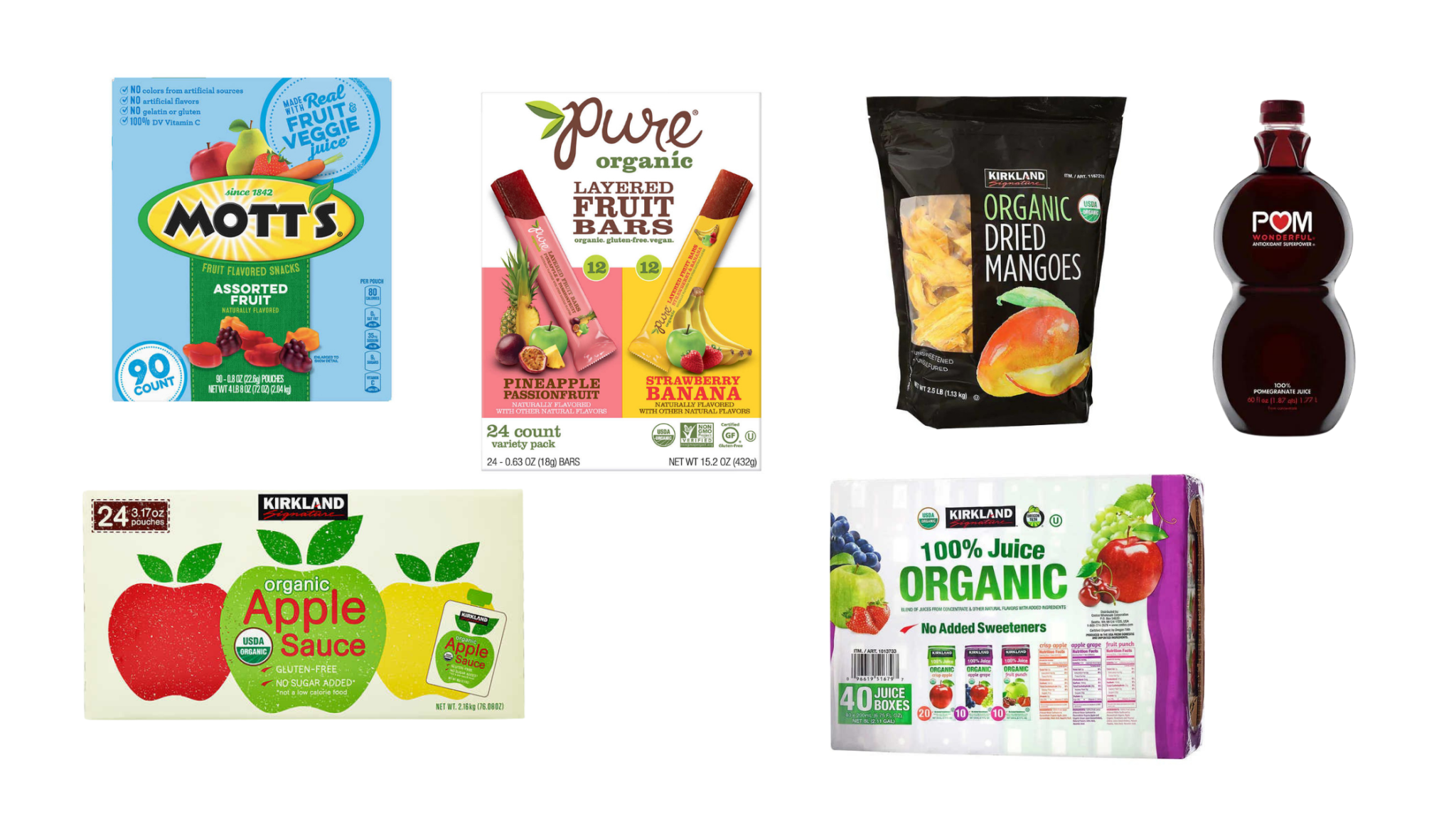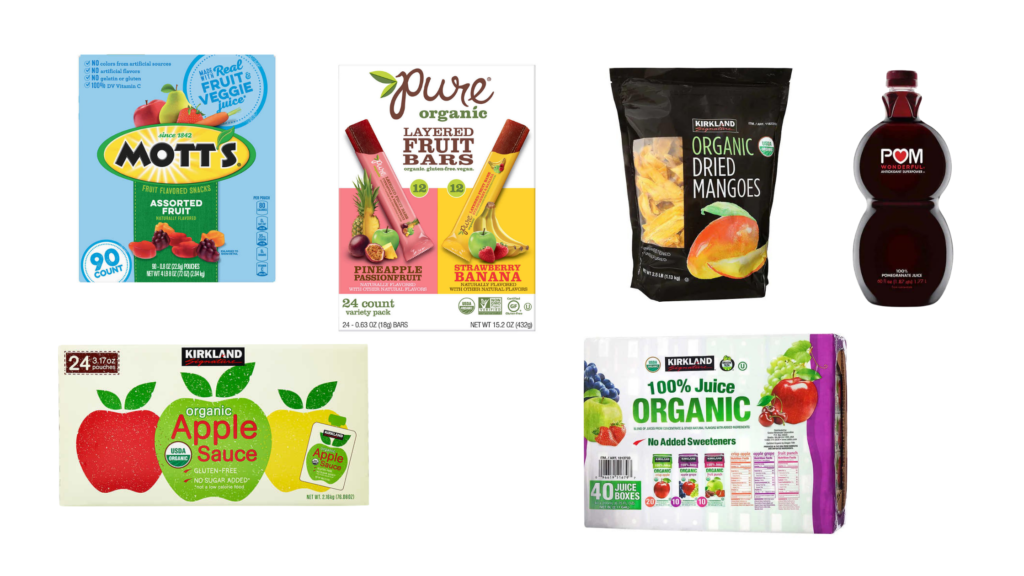 Pure Organic Layered Fruit Bars
Mott's Fruit Snacks
Kirkland Organic Dried Mangoes
Organic applesauce pouches
Kirkland Organic juice boxes
Pom Wonderful Pomegranate Juice
Dietitian approved Costco grocery list
If you'd like to see all my favorite Costco finds in one list, here's a printer friendly version of my Costco shopping list by aisle you can download.