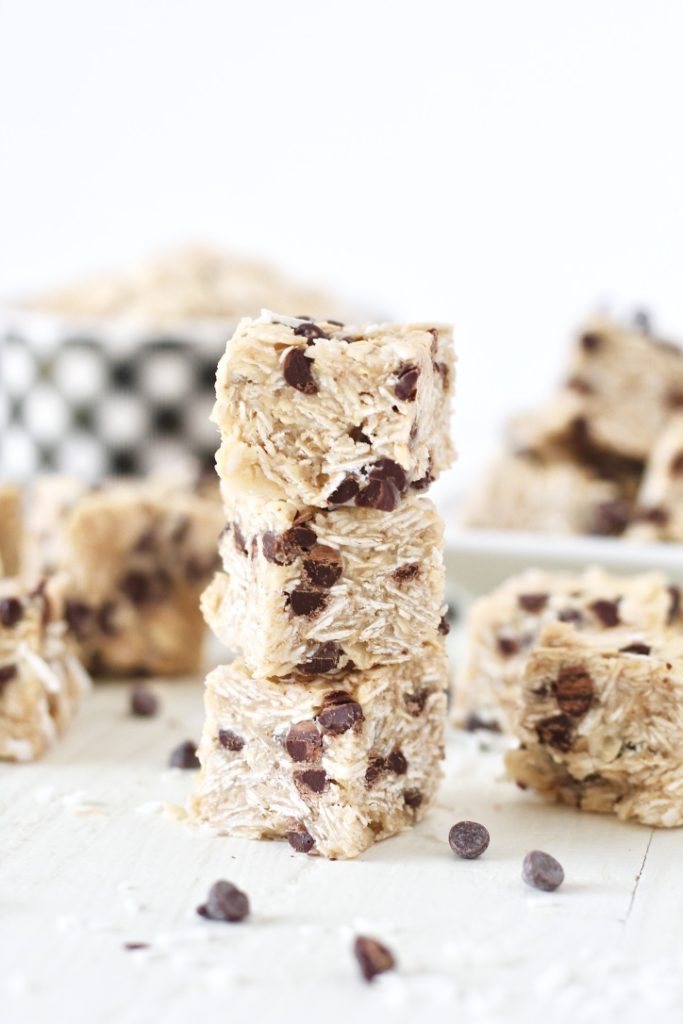 These deliciously simple no bake chocolate chip cookies are my copycat version of the delicious Heavenly Hunks recipe.
As I'm writing this, we're in the middle of the COVID-19 global pandemic, and it's safe to say that at one point or another over the last several weeks, you have gone to the store and not been able to find something you normally buy. Or, like me you're avoiding certain stores because they're just SO crowded all the time. I used to go to Costco at least once each week, and would always by those Heavenly Hunks cookies that come in the bag and taste AMAZING! Well, I'm not about to step foot in the Costco closest to me anytime soon (word on the street is ours has had a 2 hour line out the door each day at opening), and we are missing those cookies! Keep reading for my homemade attempt at the Heavenly Hunks recipe. I think I did pretty good if I do say so myself!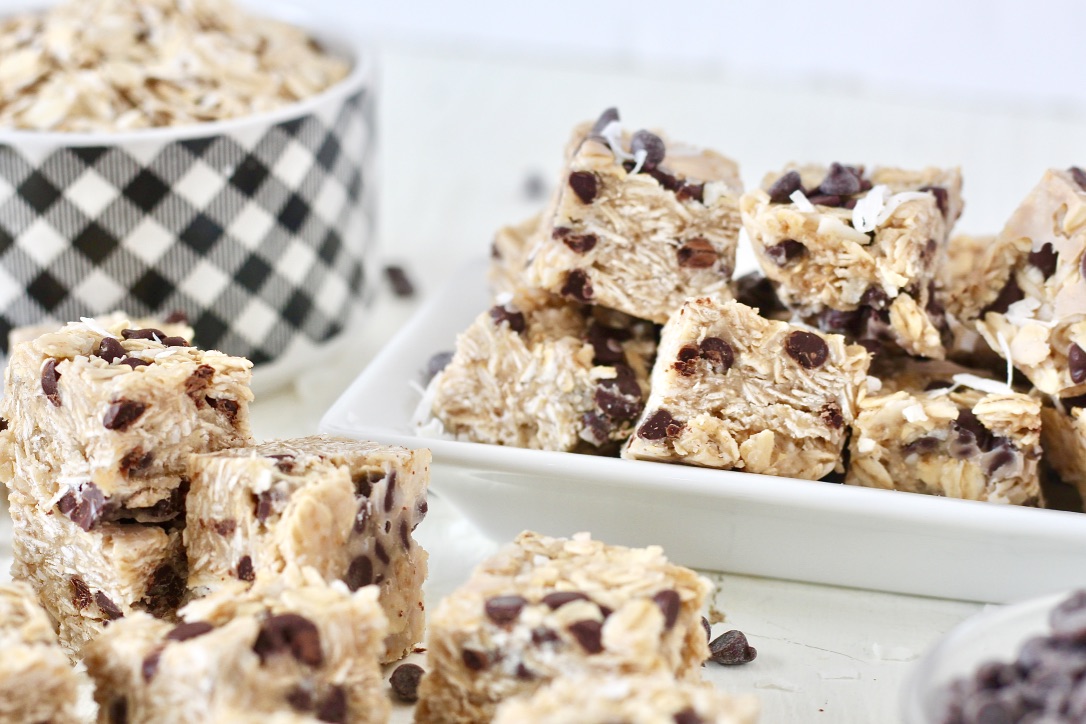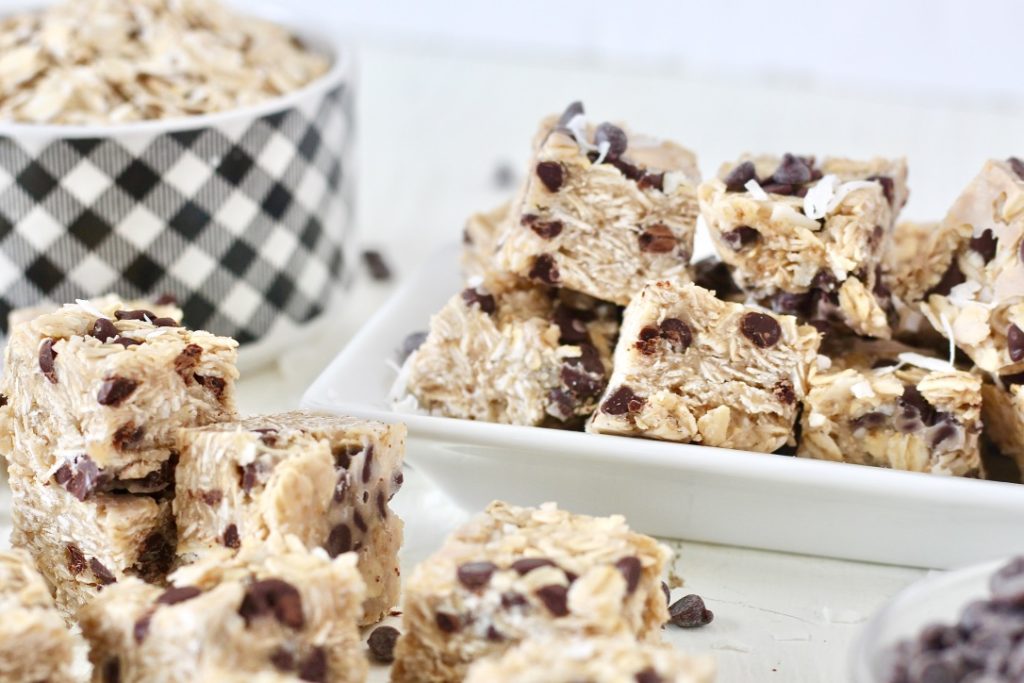 Why I love the Heavenly Hunks oatmeal dark chocolate cookies
Now, while I will be making this copycat recipe on repeat until this pandemic is over, you better believe the next time I step foot in a Costco, I'm grabbing a bag of these. I love their cookies because of the simple nutrient dense ingredients they use. There's no unnecessary ingredients, just the things needed to make a quality cookie. I also really like the smaller size. Just enough to satisfy that sweet tooth and let you move on with your day.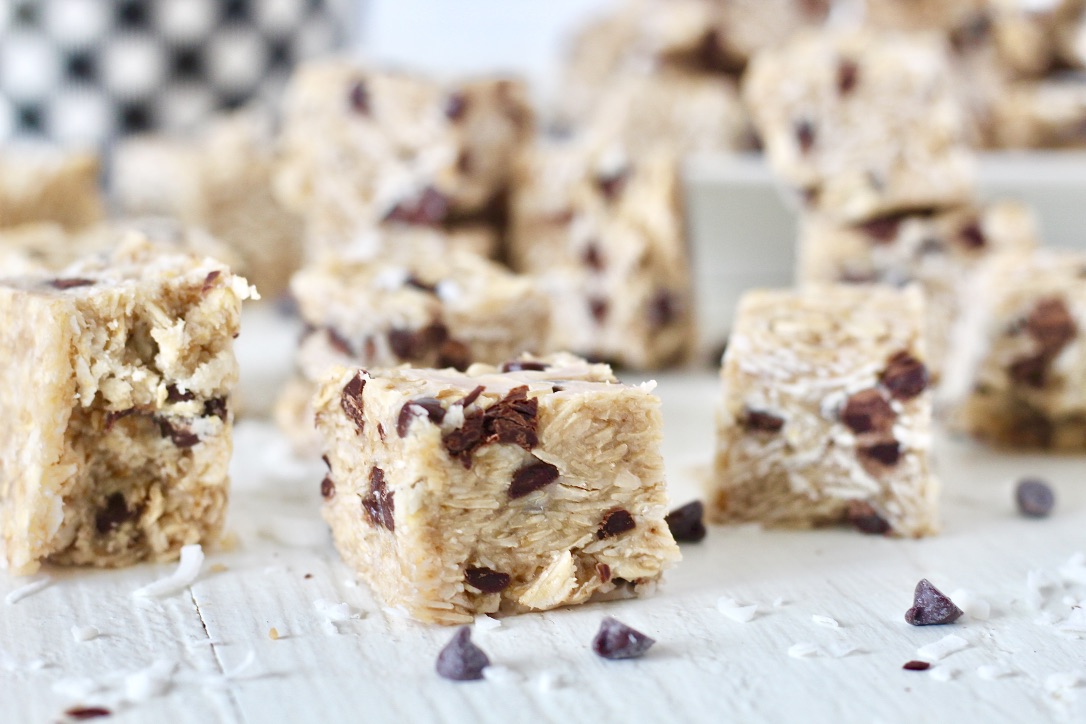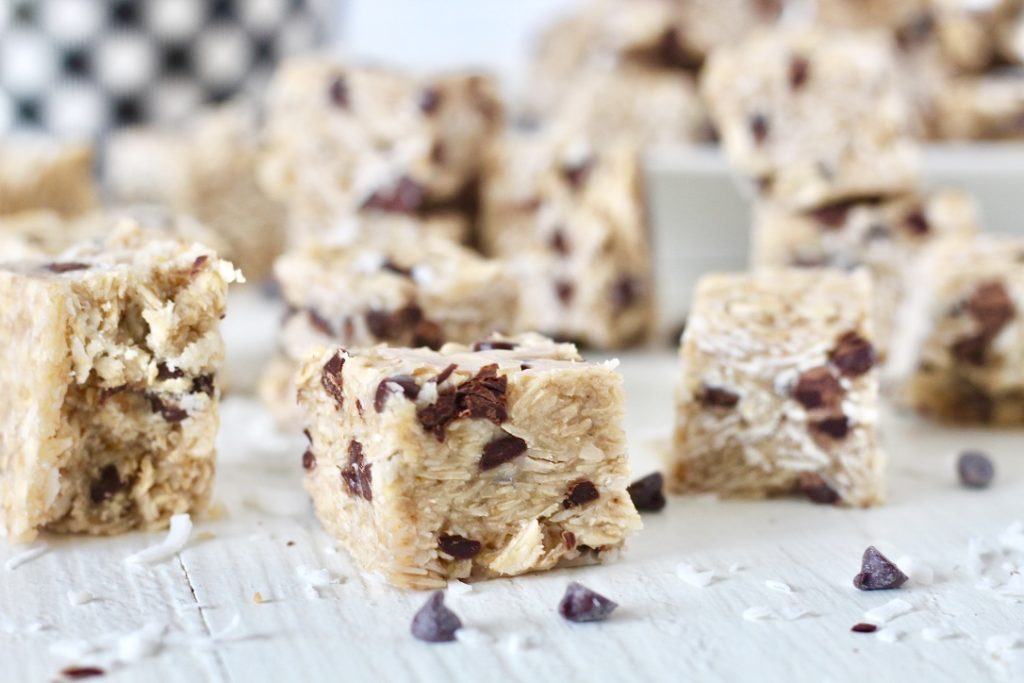 Tips for making this Heavenly Hunks copycat recipe
As I was trying to come up with this recipe, I went down the ingredient list on the bag and included the ingredients I know most people have on hand. The following ingredients are ones I subbed out for other things:
Sorghum flour: while some people may have this, it's not common in most pantries. I used oat flour (just ground up oats) instead in my copycat version.
Brown rice syrup: You can actually find brown rice syrup at most grocery stores, but there's also a number of other liquid sweeteners you can use (I list those below).
Palm oil: I subbed unrefined coconut oil, but you can also use refined coconut oil. You'll just have a richer coconut taste with the unrefined.
Potato starch: I omitted this.
Cane sugar: I just left it out.
Keep the following things in mind too when you read through my version of copycat oatmeal cookie Heavenly Hunks recipe:
If you don't have tapioca flour/starch, you can also sub in arrowroot starch or corn starch, but will then need to bake them as arrowroot starch and cornstarch should not be consumed raw.
If you want to cut the sugar or sweetness level down some, just omit the brown sugar.
For the coconut oil, don't try to sub in any oil that is liquid at room temperature. They won't hold together well. I haven't tested this, but I bet you could sub in peanut butter (or another nut butter) here and they'd work just fine too! And have another added flavor!
Liquid sweetener: there are so many options here… brown rice syrup, corn syrup, agave nectar, maple syrup. I tested this recipe (tough work , I know) with all of these and the best was the corn syrup. (Remember corn syrup, I buy this one, is completely different than high fructose corn syrup.) Agave nectar turned out well too, but you need to add 2 Tbsp more of tapioca flour because of the texture difference. While delicious, maple syrup has a strong flavor so they tasted good but not like the original Heavenly Hunks cookies I love so much.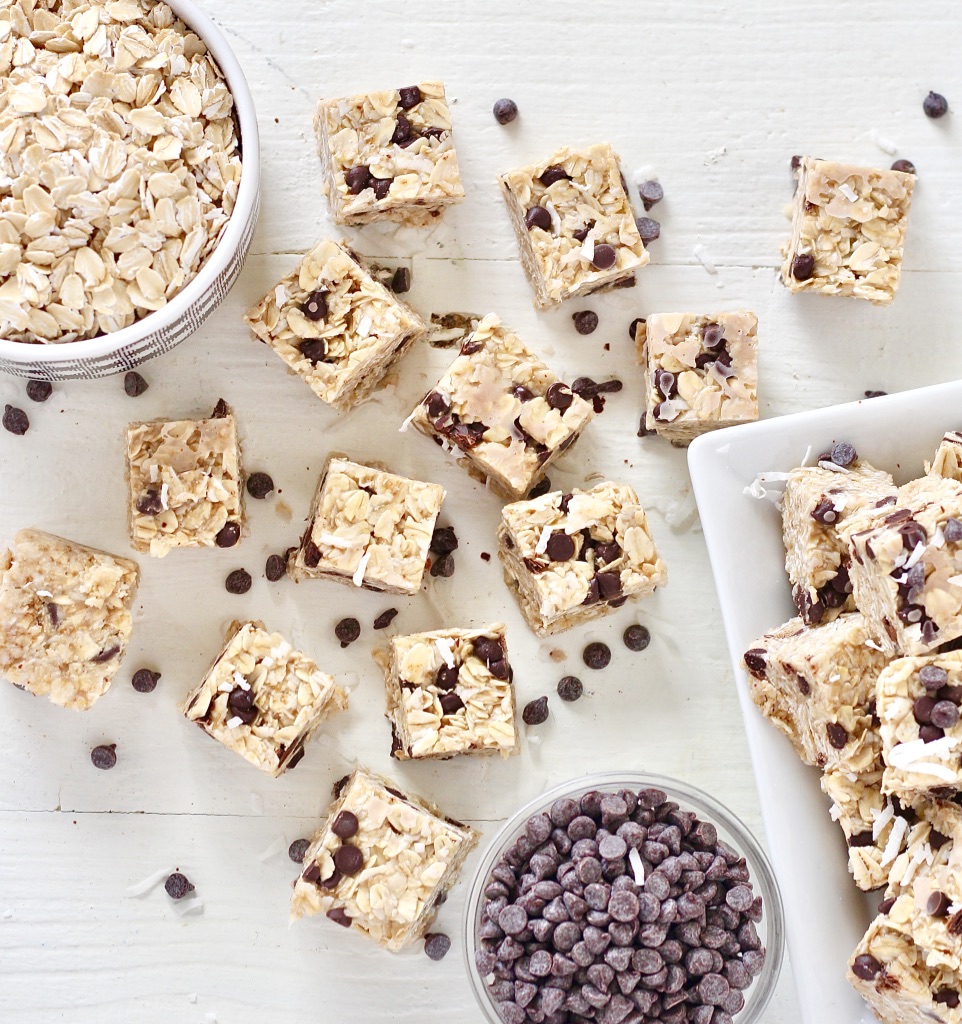 Also, if you're interested in any of my other no bake cookie-type recipes, make sure to check out my Low Sugar Chocolate Chip Cookie Dough Bites and my Low Sugar No Bake Brownie Bites!
And if you have zero interest in making my version of these cookies, you can also order Heavenly Hunks straight from their website too!

Copycat Heavenly Hunks Oatmeal Dark Chocolate Cookie Recipe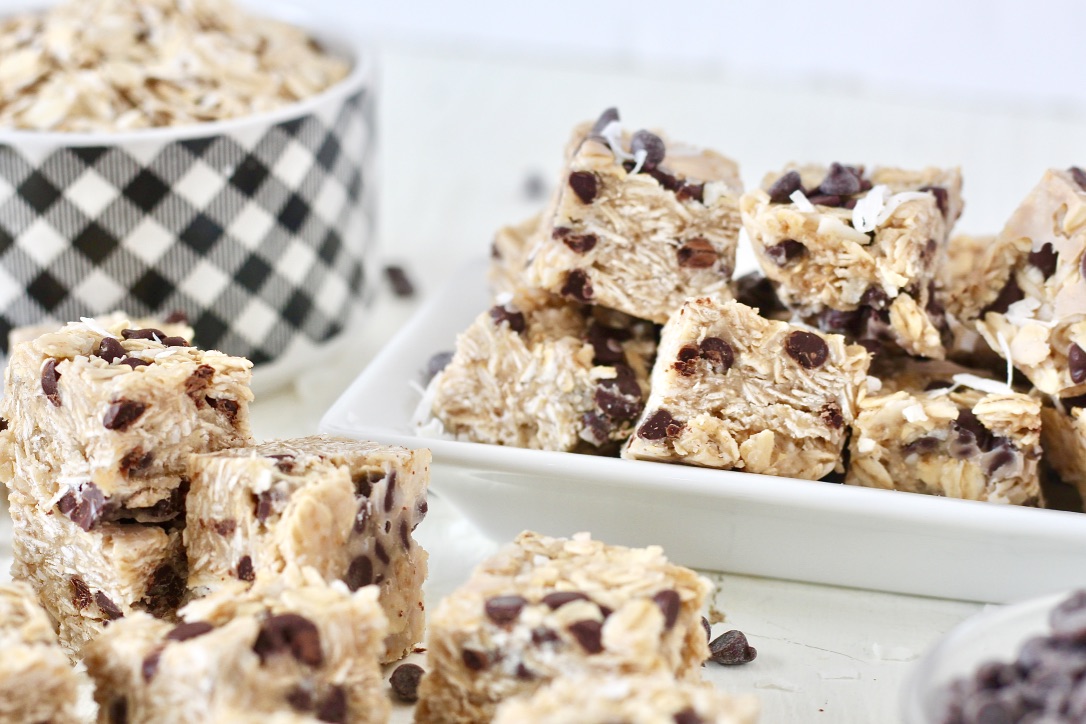 Equipment
Food processor

stand mixer

loaf pan
Ingredients
2 1/3

cups

rolled oats

divided

1/2

cup

unsweetened coconut flakes

1/3

cup

tapioca flour

2

Tbsp

brown sugar

1/2

tsp

salt

1/2

cup

light corn syrup or brown rice syrup*

See notes above about other sweeteners you can use

1/2

cup

coconut oil

melted

1/2

cup

chocolate chips

mini-size chips work better but any kind will do
Instructions
In a small coffee grinder or food processor, grind 1/3 cup of your oats into a fine powder.

In the bowl of a stand mixer, combine the ground oats with the remaining oats, coconut flakes, tapioca flour, brown sugar, and salt. Using the whisk attachment, mix the ingredients together for 15-20 seconds.

Next, mix in the melted coconut oil and the corn syrup (can sub agave nectar) until fully combined.

Remove the bowl from the mixer and stir in the chocolate chips by hand.

Now, you can either roll the batter into balls and refrigerate, or press the batter into a parchment lined loaf pan (like the kind you bake a loaf of bread in) and freeze it for 1-2 hours. I like the cube shape, so I freeze mine and then cut them. After you've cut them, you can store them in a sealed container in the fridge for up to 2 weeks.
Notes
*You can also use another liquid sweetener like maple syrup, brown rice syrup, or agave nectar. If using agave nectar, add an additional 2 Tbsp tapioca flour.
*Most commercially available tapioca flour/starch is considered safe to consume raw, however if you prefer to use another type of flour, you can substitute additional oat flour (ground up oats) or coconut flour.
Nutrition
Serving:
1
cookie
|
Calories:
102
kcal
|
Carbohydrates:
13
g
|
Protein:
1
g
|
Fat:
6
g
|
Saturated Fat:
4
g
|
Sodium:
40
mg
|
Fiber:
1
g
|
Sugar:
4.5
g