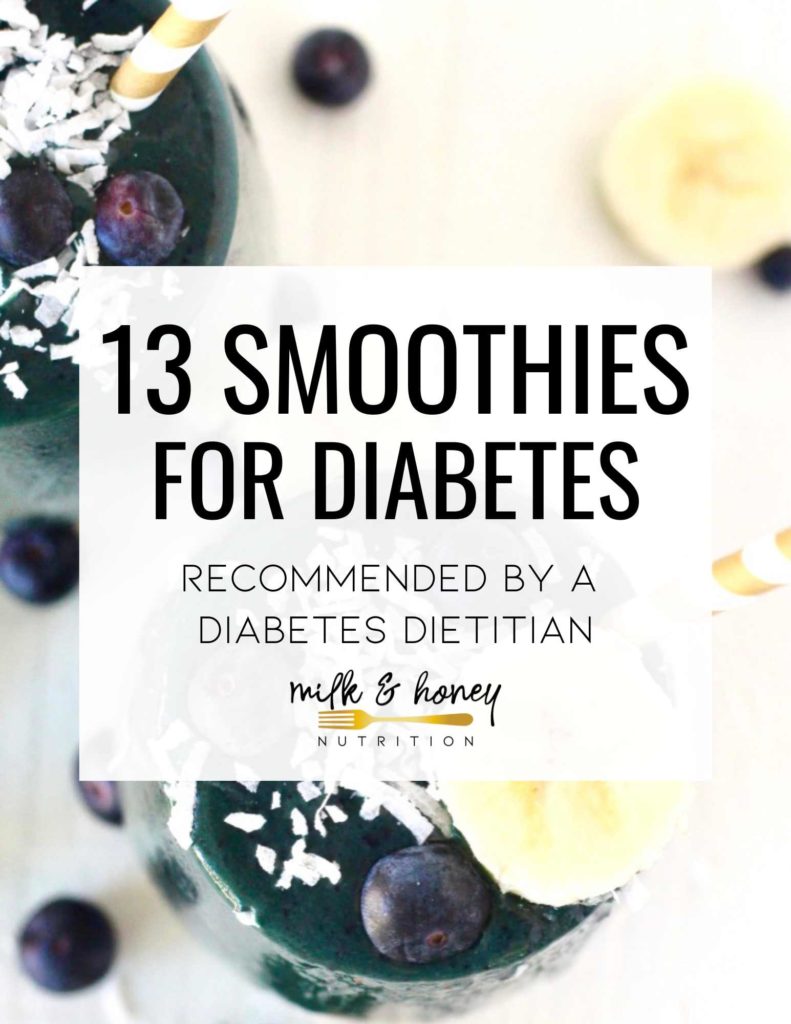 Smoothies for diabetes can be equally blood sugar friendly, refreshing, and delicious!
As a dietitian living with diabetes, I love a good smoothie as a meal or a snack since they can provide a well balanced meal option with fat, fiber, and protein. Let's look at what to include and look for in blood sugar friendly smoothies for diabetes.
Are smoothies good for diabetes?
Smoothies can definitely be part of a blood sugar friendly diet. And, if done properly can help make managing blood sugars easier while living with diabetes. Smoothies offer an easy and convenient meal or snack option that can alleviate some of the burden associated with preparing balanced meals.
Personally, I love doing smoothies with scrambled eggs as an easy family weeknight meal!
Do smoothies spike blood sugar?
Some smoothies can certainly spike blood sugars. Many of the smoothies you'll find at restaurants have large amounts of added sugar and not near as much fiber as we'd like to see. They do usually have a decent amount of protein though.
Because of all that added sugar and lack of fiber, they can send blood sugars a lot higher than we'd like.
But, when you're making a smoothie at home we can add all the necessary ingredients to make a great blood sugar friendly smoothie for diabetes.
Are smoothies bad for diabetes?
As you can see, there's no yes and no answer here. It all depends on what you put in your smoothie. Smoothies can be a great addition to your diabetes friendly meal plan and rotation.
What to look for in smoothie recipes for diabetes
Now, let's look at what I recommend as a diabetes dietitian to put in your smoothies. And, below I'll show you some of my personal favorite recipes.
But first, I want you to think about a few things:
Is your smoothie going to be a meal or a snack?
When is your next meal going to be?
What flavor preferences do you have?
All three of these questions are important for deciding what to put in a smoothie or what to look for in a smoothie recipe that meets your needs.
If you're going to have a smoothie for a snack, you don't really need to load it up with a ton of ingredients… but if you're having a smoothie as a meal, it's important to make it so it can keep you full and satisfied for a few hours at a minimum.
It's also important to note that you don't have to choose a low carb option if you don't want to. A smoothie for diabetes might be low carb… but, it might also have 45-50g carbohydrate along with 20+g protein, 5-10g fiber, and fat as well. There's many different ways to make a blood sugar friendly smoothie.
Here's a little formula I use:
Snack smoothie: Liquid + Fruit + Vegetable + Protein
Meal smoothie: Liquid + Fruit + Vegetable + Fat + Protein + Grain
Are fruit smoothies good for diabetes?
Fruit can serve a very important purpose in recipes for smoothies for diabetes. Especially if we're looking to reduce the amount of added sugar we use and up the fiber content. Fruit serves as a natural sweetener and a great source of fiber.
My favorite diabetes smoothie recipes
Using the smoothie formulas I listed above, here's some different options for the different categories I listed.
| | |
| --- | --- |
| Category | Ingredient options |
| Liquid | Water, juice, milk, unsweetened milks, coconut water, tea, coffee/espresso |
| Fruit | Banana, strawberries, grapes, blueberries, melon, apples, pears, peaches, pineapple |
| Veggie | Kale, spinach, carrots, cauliflower, cucumber, broccoli, pumpkin |
| Fat | Nut butter, coconut oil, chia seeds, hemp seeds, avocado, nuts, flax seeds |
| Protein | Plain yogurt or Greek yogurt, cooked quinoa, protein powder, beans |
| Grains | Oats, quinoa |
| Flavorings | Vanilla extract, almond extract, cinnamon, cocoa powder, pumpkin pie spice, orange zest, peppermint extract |
| Sweeteners | Honey, agave, maple syrup, stevia, dates, coconut sugar, low/no calorie sweeteners |
Looking for the best protein powder to add to your smoothie? Check out this post with the 9 Best Protein powders for Diabetes.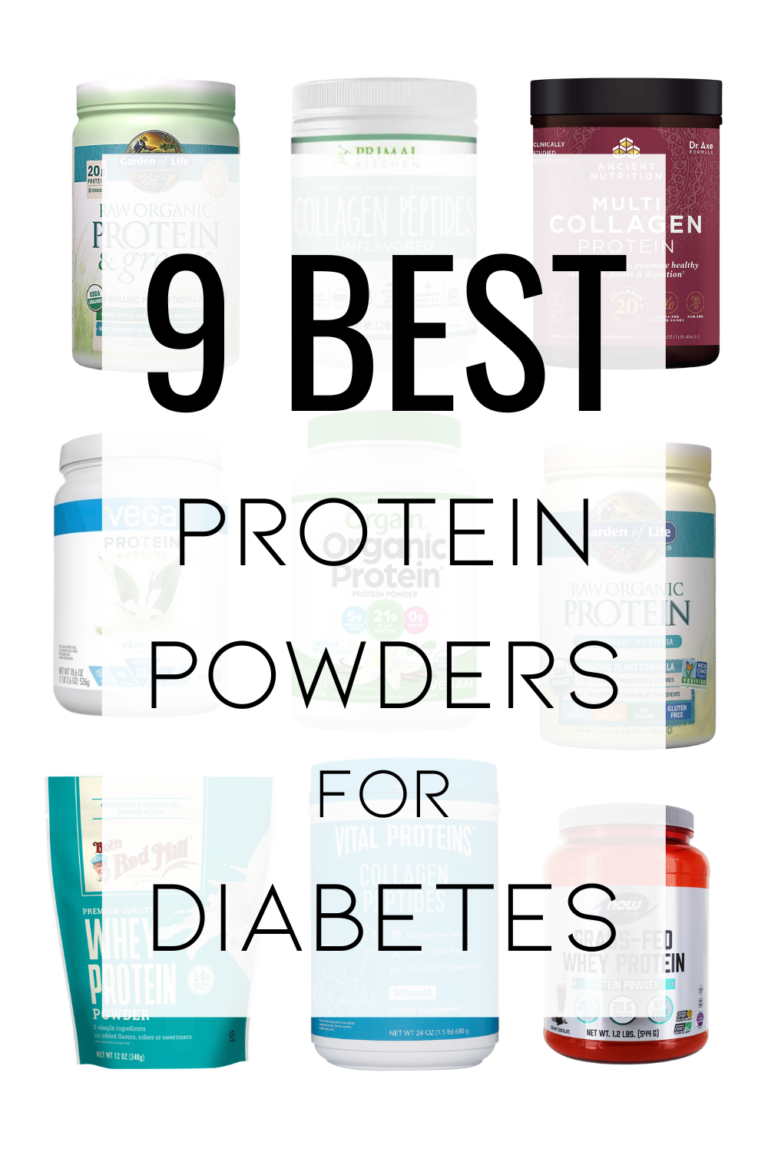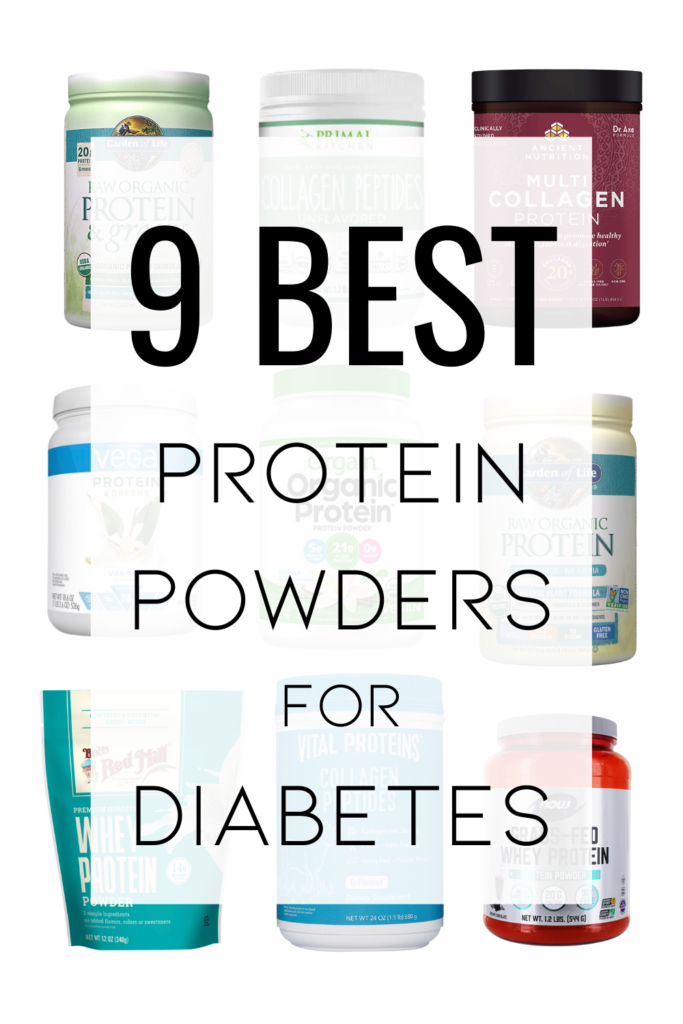 Some of my favorite meal-time smoothies for diabetes combos…
Some quick and easy combos I love for smoothies for diabetes are:
Banana Berry Kale: unsweetened almond milk, frozen banana, frozen blueberries, greens, peanut butter, vanilla protein powder
Pumpkin Pie: milk, frozen banana, pumpkin puree, ground flax seed, quinoa, pumpkin pie spice, vanilla extract, maple syrup
Pina Colada: Unsweetened coconut milk, frozen pineapple, spinach, hemp seeds, orange zest, vanilla protein powder
Healthy smoothies for diabetes
Below are some fo my favorite blood sugar friendly smoothies for diabetes.
Creamy Sweet Potato Kefir Smoothie
Easy No Added Sugar Raspberry Smoothie
Carrot Cake Smoothie
Healthy Blueberry Smoothie with Almond Butter
Peanut Butter and Banana Smoothie Bowls
Healthy Chocolate Frosty Smoothie
Prune Smoothie with PB&J Twist
Blood Sugar Friendly Spirulina Smoothie
Lean Green Smoothie
Pear Pomegranate Green Smoothie
The Best Low Carb Green Smoothie
Tropical Microgreens Smoothie with Collagen
Low Carb Strawberry Smoothie
1. Creamy Sweet Potato Kefir Smoothie
This sweet potato kefir smoothie is creamy and packed full of vitamins. With 18g protein and 5g fiber, you'll love how satisfied it leaves you. And, you can easily swap out the sweet potato for simple canned pumpkin too.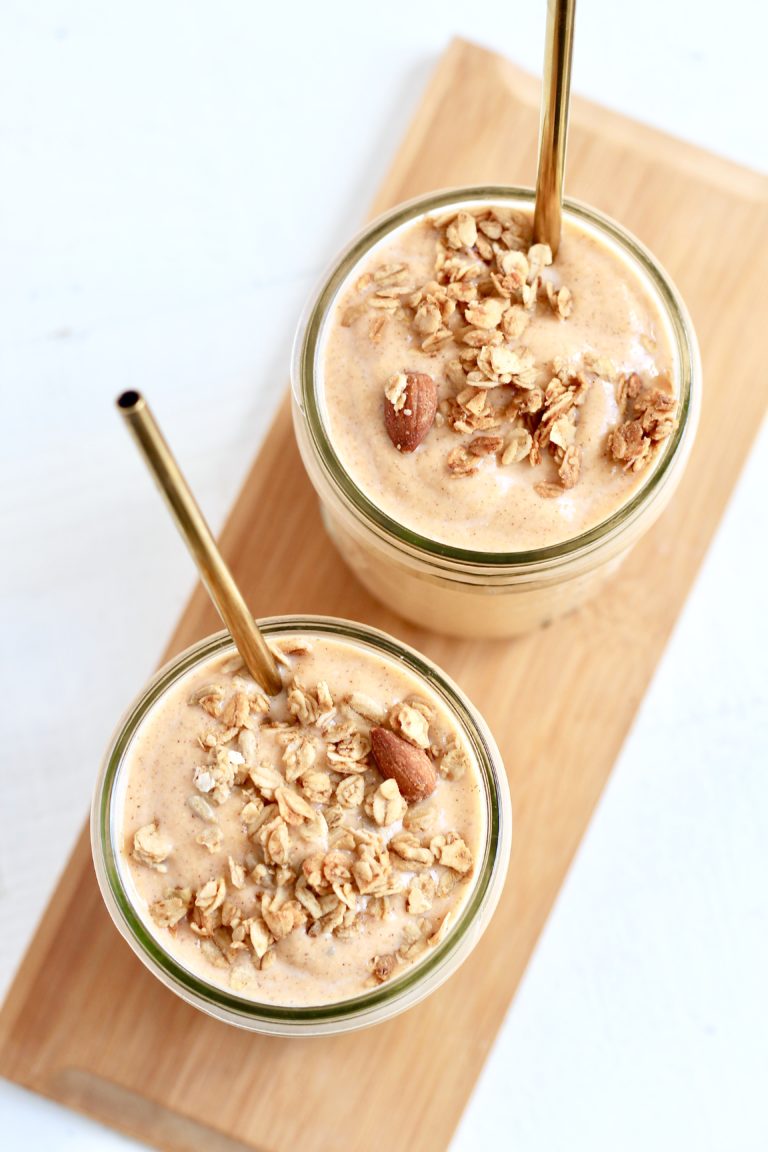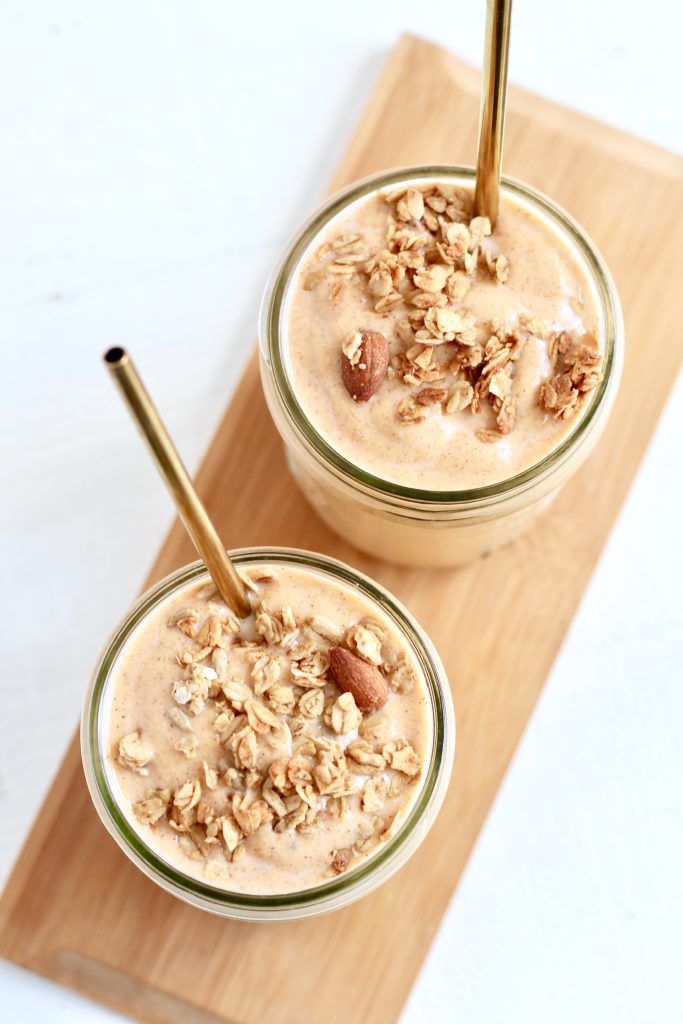 2. Easy No Added Sugar Raspberry Smoothie
When my kids were little they absolutely loved the YouTube show Blippi. This raspberry smoothie recipe came from an episode we saw all about frozen raspberries. There's instructions for how to make a snack version and a meal version depending on what you're in the mood for. It's blood sugar friendly and kid approved!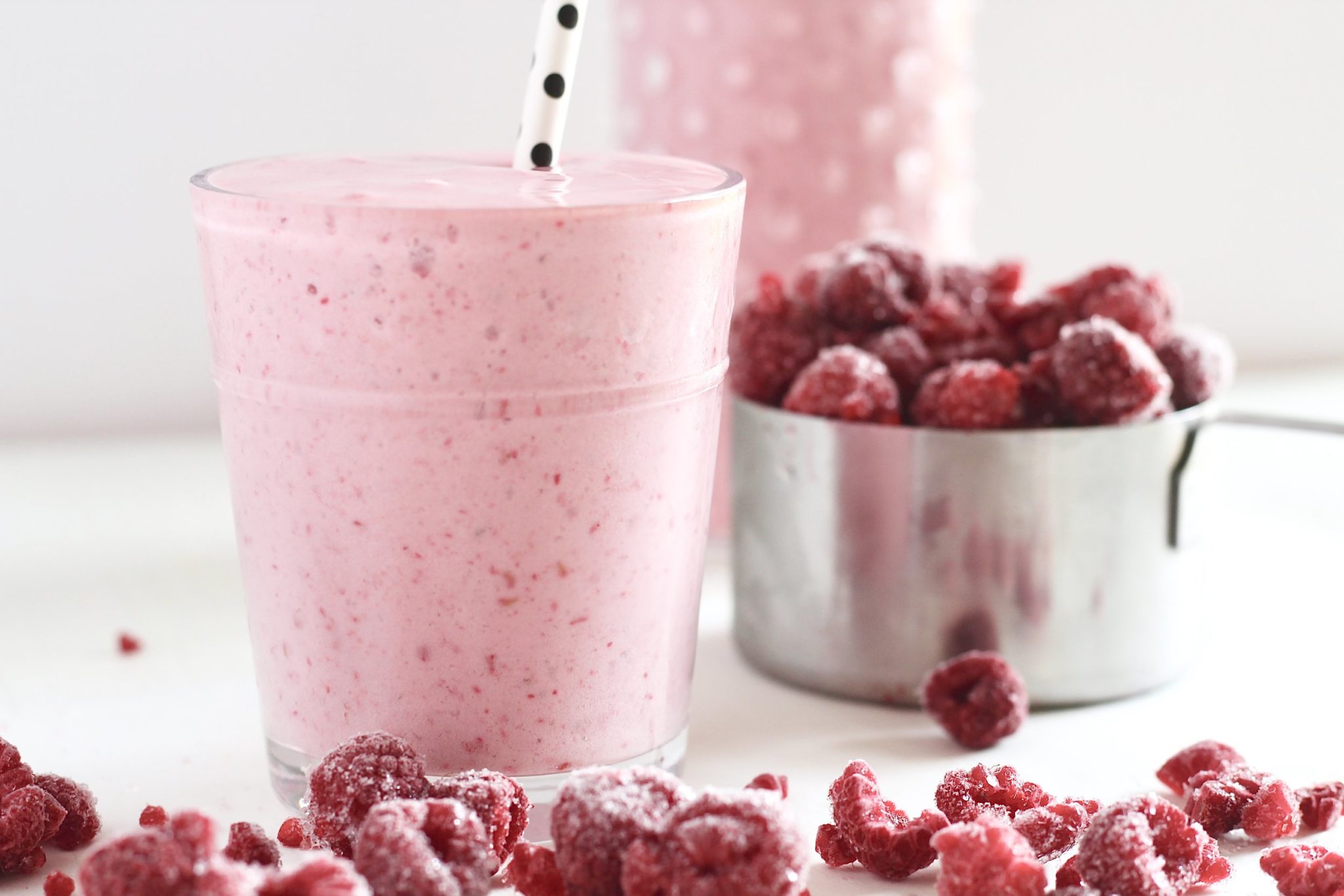 3. Carrot Cake Smoothie
Imagine a piece of carrot cake with 22g protein and 9g fiber… and super refreshing! I love this carrot cake smoothie for it's flavor and the fiber content.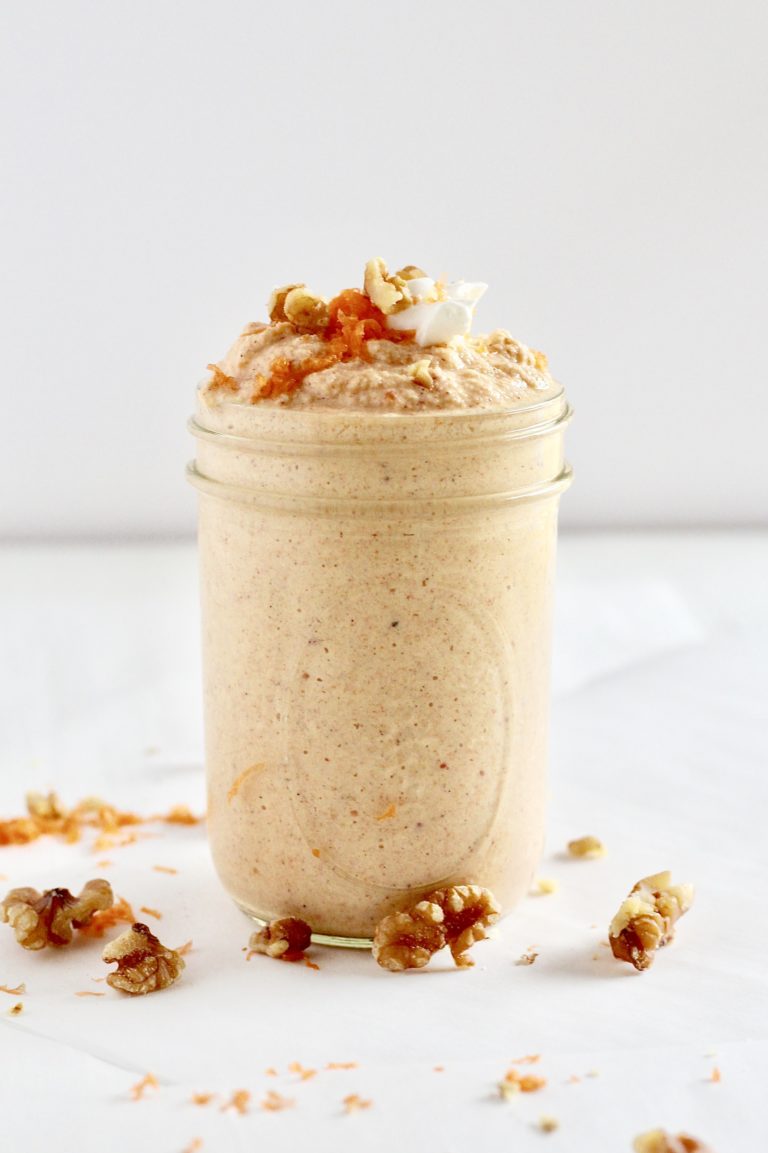 4. Healthy Blueberry Smoothie with Almond Butter
This smoothie is made from fresh fruit with soy milk and almond butter and has an estimated 12 grams of protein and 10 grams of fiber….plus it tastes great! (From: Melissa Traub)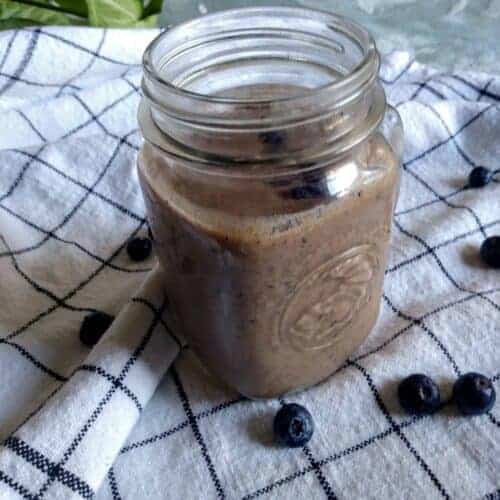 5. Peanut Butter and Banana Smoothie Bowls
These smoothie bowls pack 10g protein and 7g fiber! That's one heck of a blood sugar friendly combo. And, I love the blood sugar stabilizing power of peanut butter in a smoothie. (From: Liz's Healthy Table)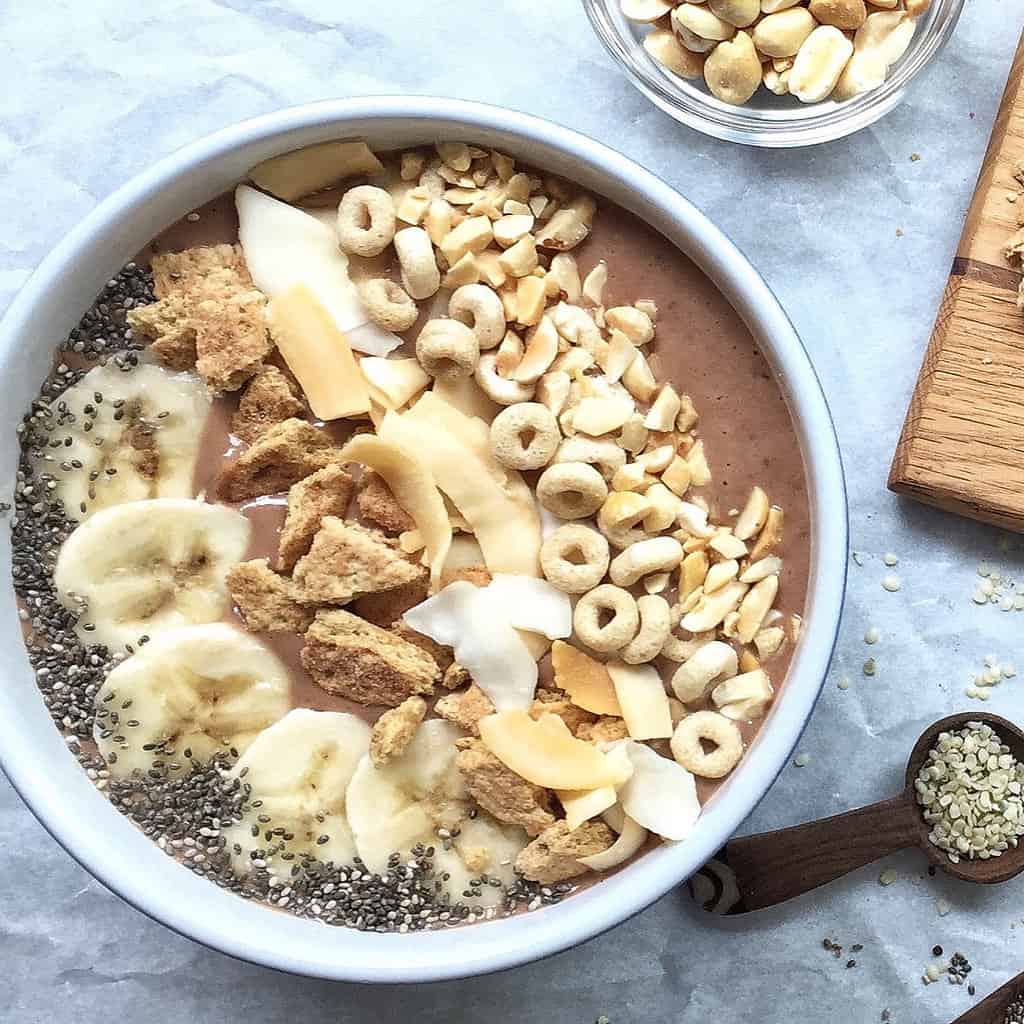 6. Healthy Chocolate Frosty Smoothie
Imagine a blood sugar friendly version of that classic Wendy's chocolate frosty. That's what you get with this delicious chocolate smoothie. It has more fiber and less than half the sugar of the original. (From: Once Upon a Pumpkin)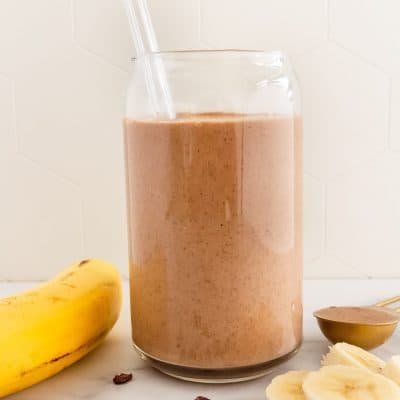 7. Prune Smoothie with a PB&J Twist
This smoothie is great for people with diabetes. It offers a blood sugar friendly twist on PB&J flavors with 11g protein and 4g fiber. And, we all are probably familiar with the GI benefits of prunes! (From: Shaw Simple Swaps)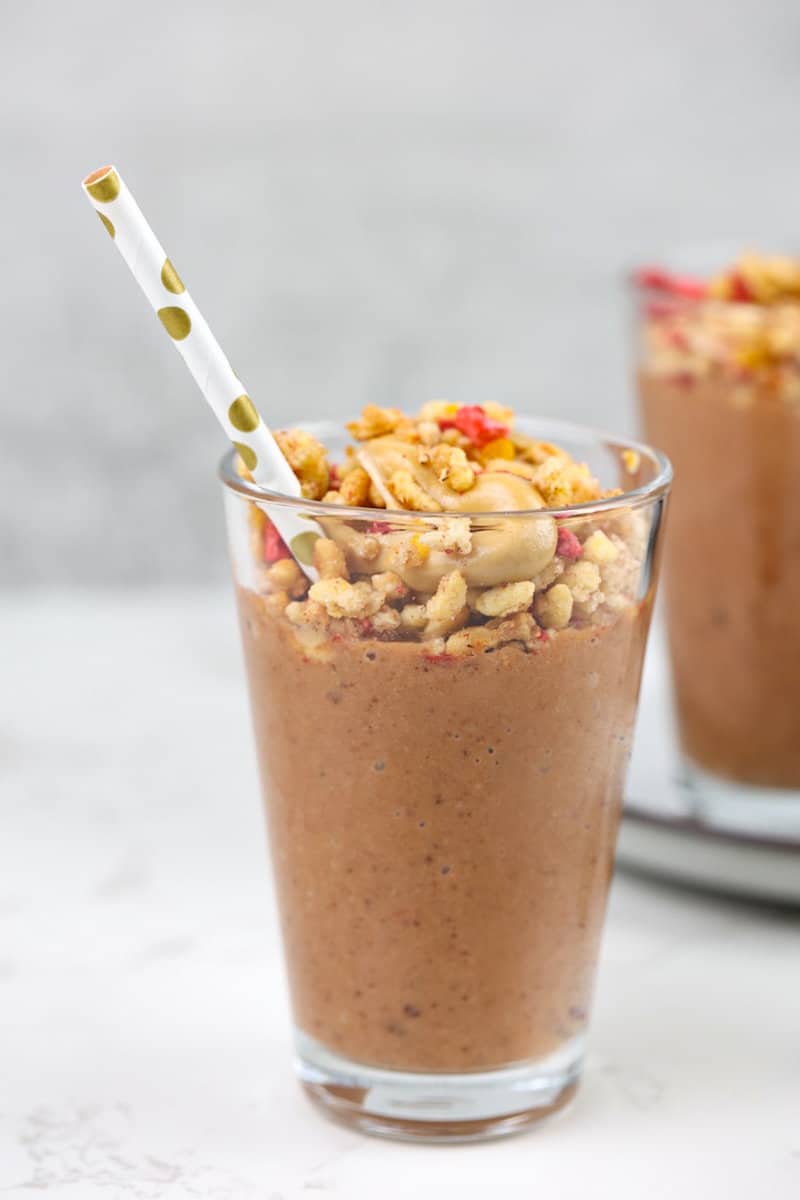 Green smoothies for diabetes
Green smoothies are all the rage and for good reason! They often have lots of veggies and vitamins present, but also a lot of added sugar sometimes. These recipes are lower in added sugar, and high on flavor, fiber, and protein.
8. Blood Sugar Friendly Spirulina Smoothie
Spirulina is used as a dietary supplement and comes packed with vitamins, minerals, and antioxidants. And, there may be some benefits for those of us with diabetes. Adding it to this smoothie adds a fun color, hearty flavor, and blood sugar benefits.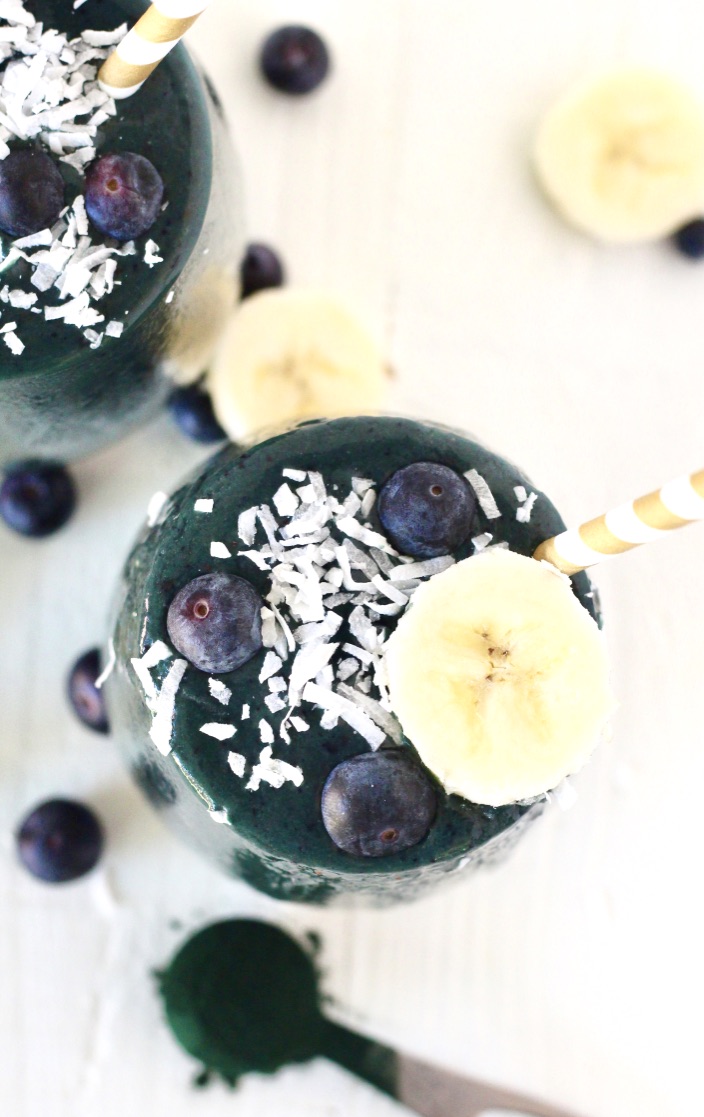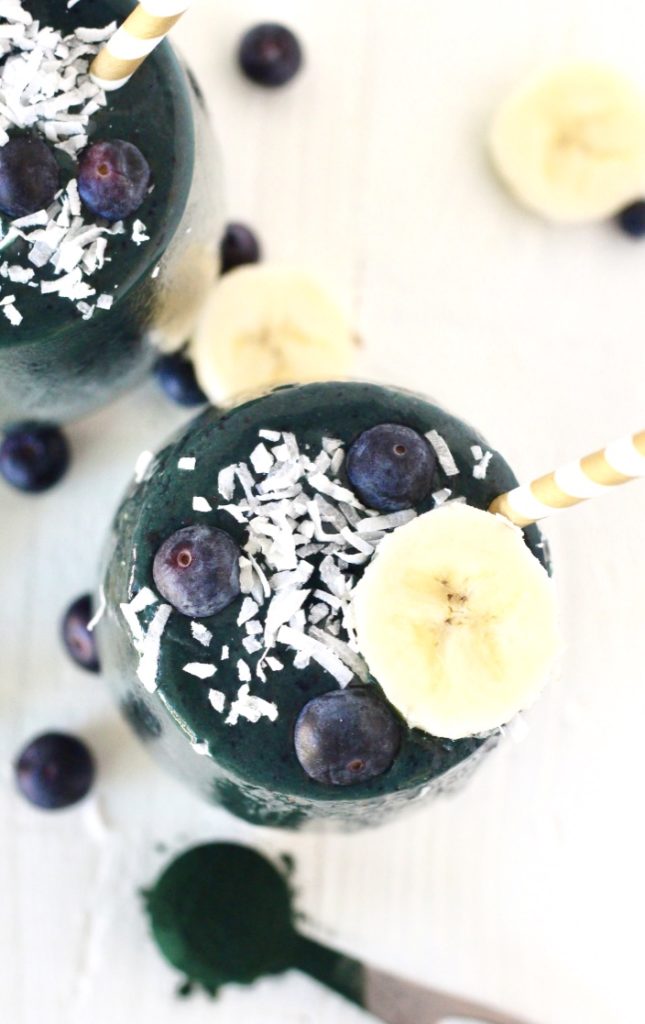 9. Lean Green Smoothie
This smoothie is loaded up on flavor and has such a pretty bright green color. Thanks to some pistachios and the natural sweetness of dates, you'll love this lean green smoothie option!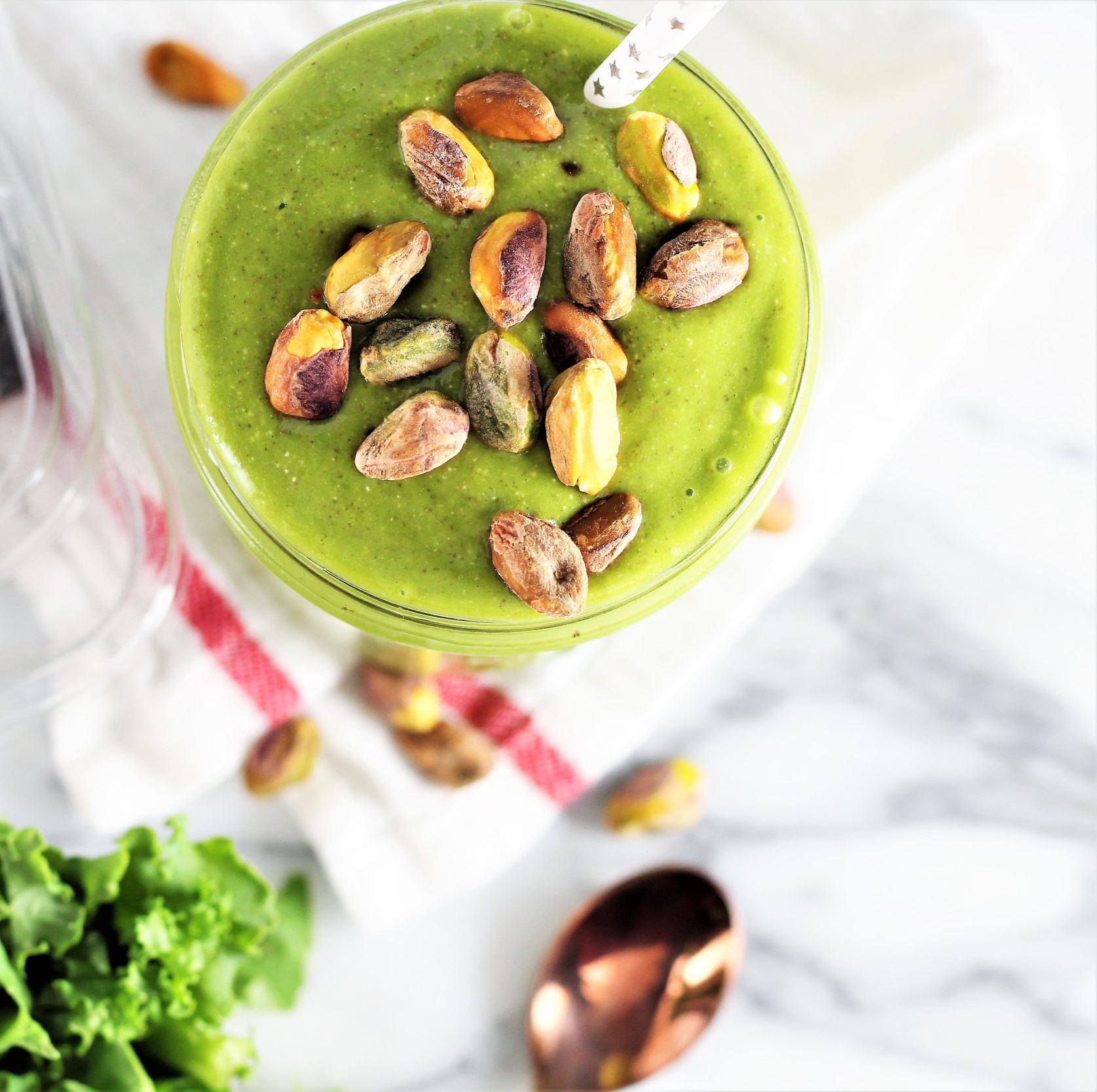 10. Pear Pomegranate Green Smoothie
Deliciously light and refreshing, this smoothie is perfect for warmer weather. Enjoy it as a snack or add a protein source and make a meal out of it. And, it's got 6g fiber/serving which makes it blood sugar friendly and a great option for people with diabetes. (From: Patricia Bannan)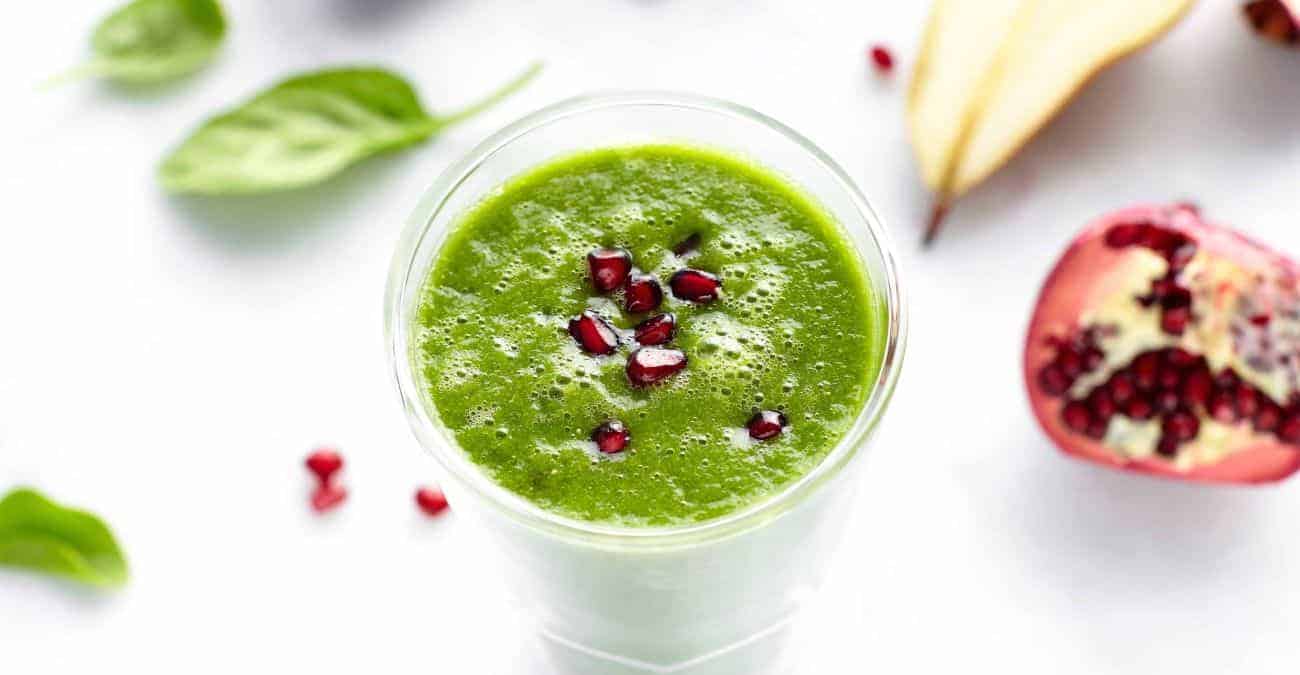 Low carb smoothies for diabetes
While smoothies for diabetes don't have to be low carb, there are some delicious lower carb recipes out there! These recipes rely on low or no calorie sweeteners, creamy low carb additions like avocado and plain greek yogurt, and lower sugar protein powders.
11. The Best Low Carb Green Smoothie
With a cheerful hue, a creamy-dreamy consistency, and a sweet vanilla flavor profile, this Healthy Banana Spinach Smoothie is an utter delight. With only 15 net carbs per smoothie, this baby is definitely diabetes friendly! (From: The Oregon Dietitian)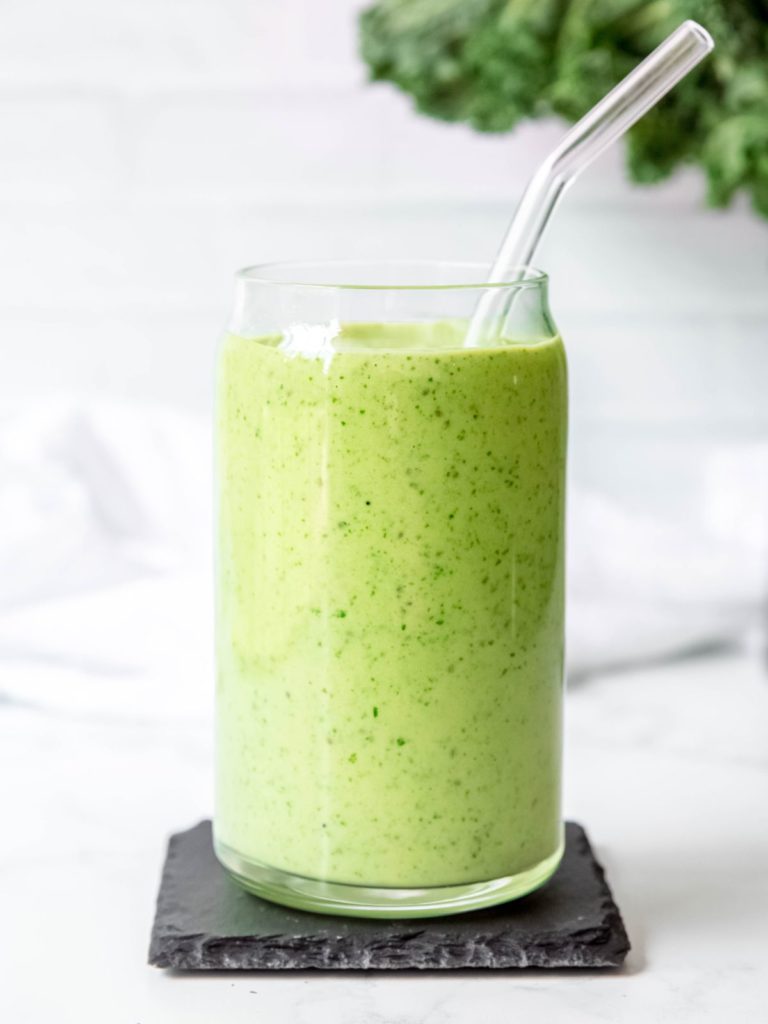 12. Tropical Microgreens Smoothie with Collagen
This nutrient dense smoothie is packed with antioxidants that may decrease complications associated with diabetes. It has just 15 grams of net carbs and 10 grams of fiber. This tropical treat is also high in fiber and healthy fats that support healthy blood sugars. (From: The Age Defying Dietitian)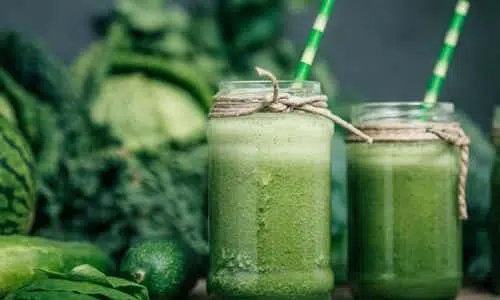 13. Low Carb Strawberry Smoothie
This delicious creamy smoothie packs a lot of flavor and only 5g carbohydrate. I love the addition of a small amount of cream (or coconut cream if you want dairy free) for the perfect creamy texture too.(From: Simply So Healthy)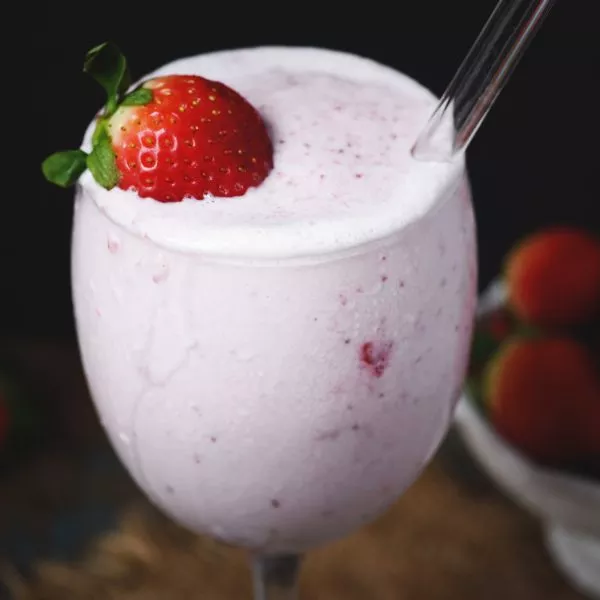 ---