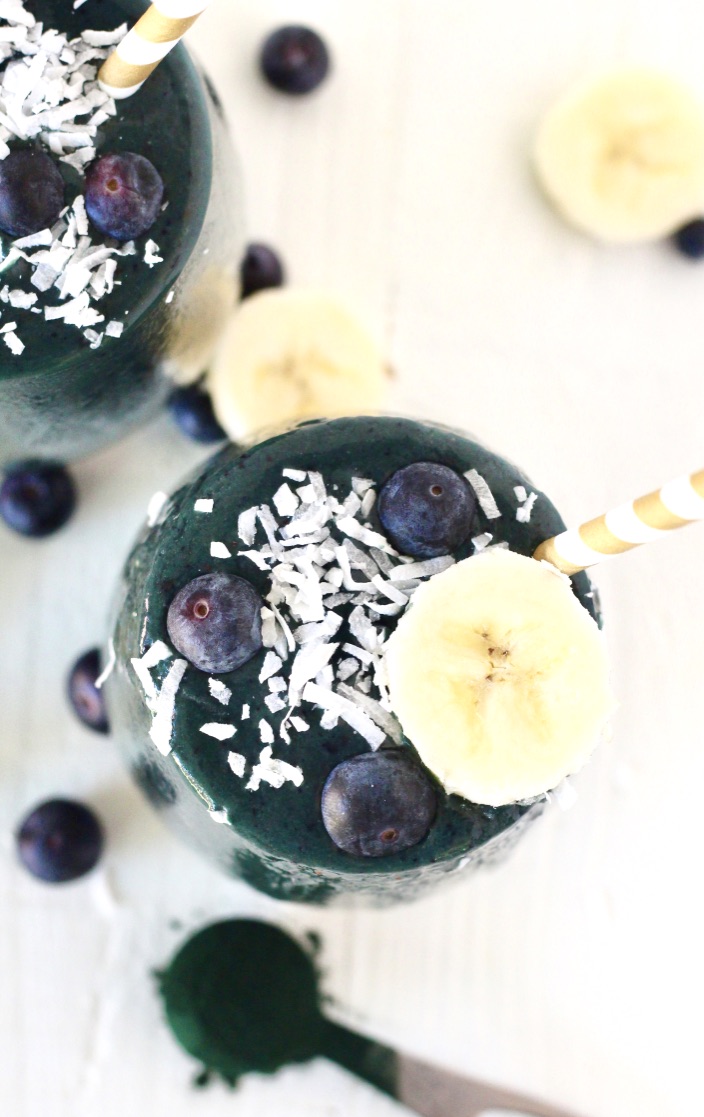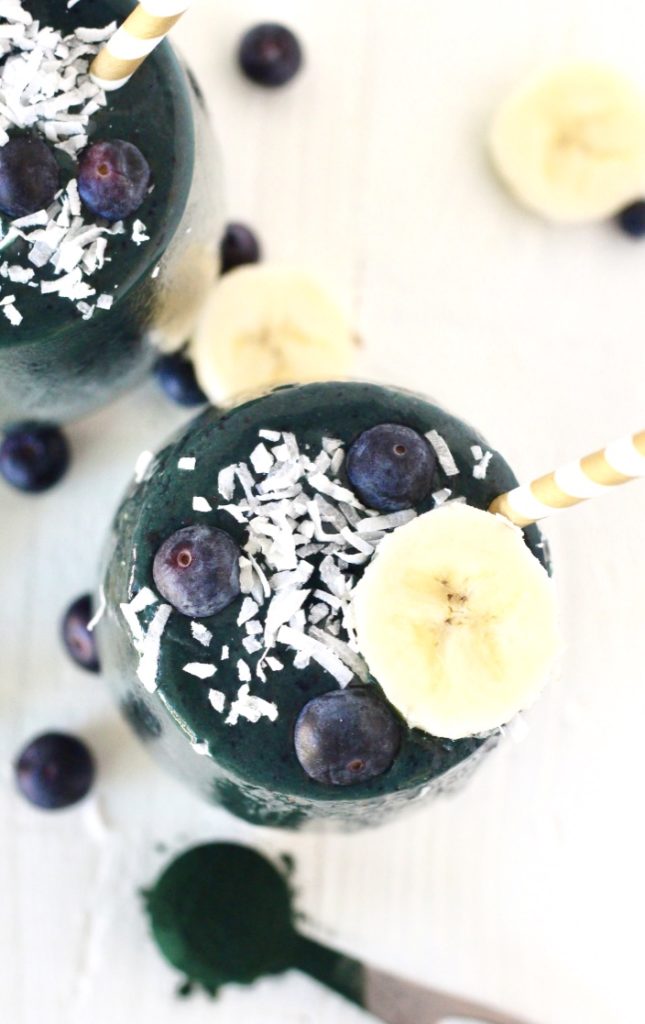 This spirulina smoothie is not only packed with blood sugar balancing nutrients, but it's also equally delicious and pretty to look at.
What is spirulina?
Spirulina's vivid blue-green color comes with some possible health benefits as well! Spirulina, though currently on the rise in popularity, has actually been used for centuries as a dietary supplement. It is packed with vitamins, minerals, and antioxidants. It is a form of blue-green algae and can grow in fresh or salt water. In it's powdered form, it is perfect for making a spirulina smoothie! You can find it at most health food stores or the supplement section of some grocery stores.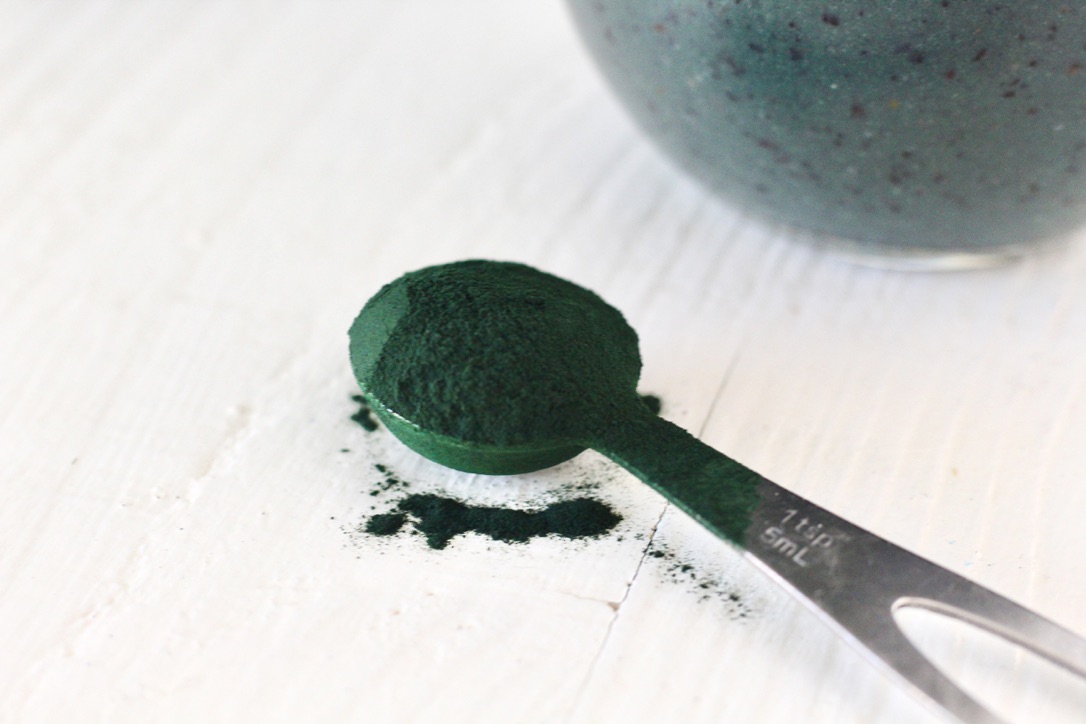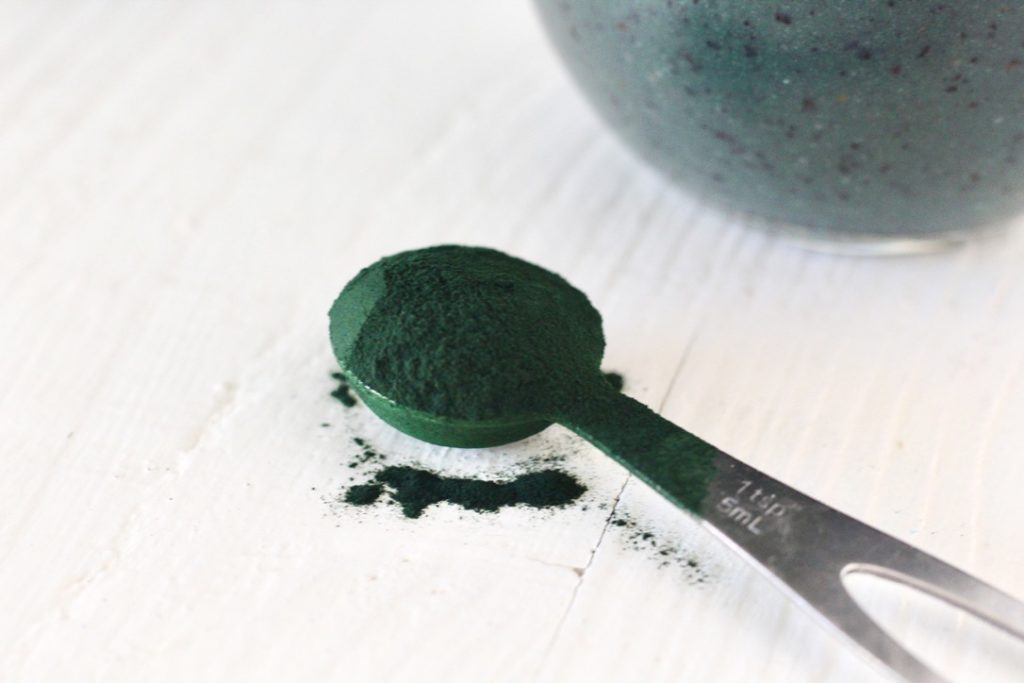 Green v. blue spirulina
You will see different versions of spirulina available and may wonder what the difference is between the two. Traditional spirulina is derived from blue-green algae as mentioned previously. To make blue spirulina, the antioxidant phycocyanin (the part responsible for the blue-green color) is extracted from the spirulina and then sold as a blue powder. In the next section that discusses possible spirulina health benefits and nutrients, we are referring to green spirulina or commonly, just "spirulina". You can read more about the differences here.
Possible spirulina health benefits
Spirulina contains many vitamins and minerals including: B vitamins, copper, iron, magnesium, potassium, and manganese… as well as many other nutrients. 1 Tbsp also contains 4g protein.
Research over the years has shown spirulina to be associated with: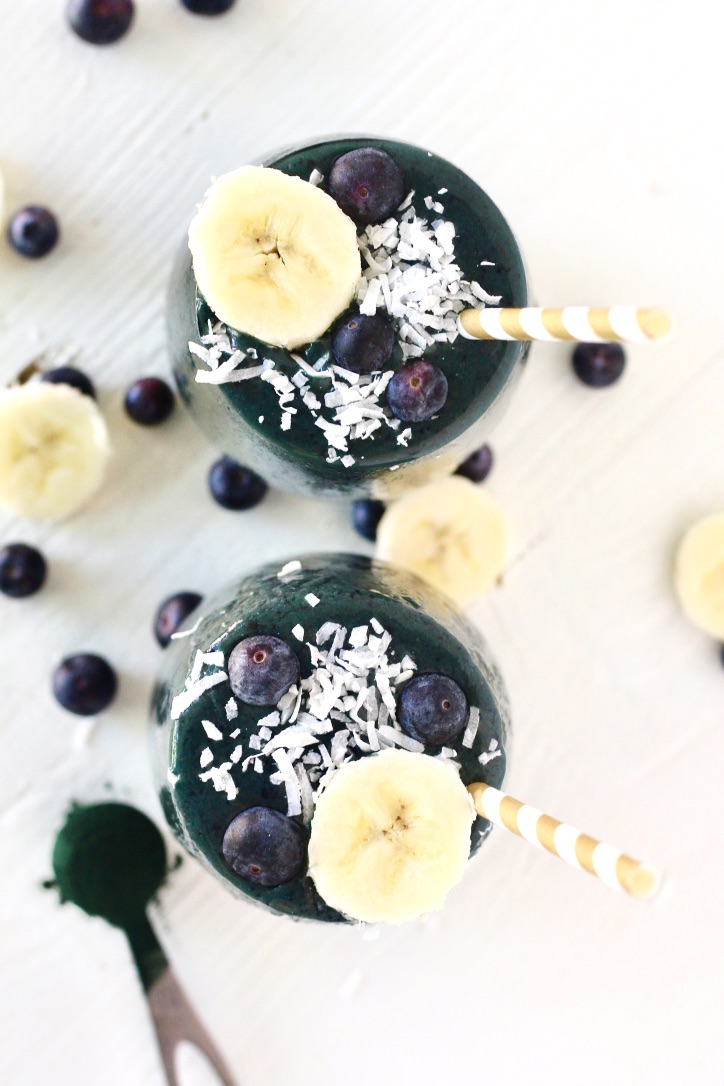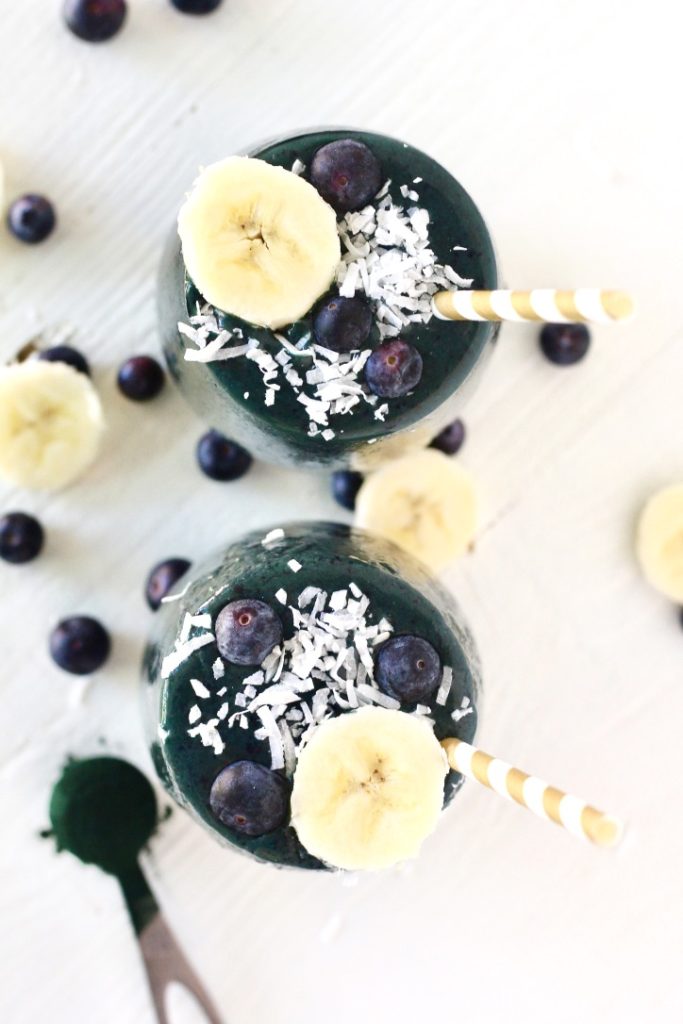 Spirulina and diabetes
But what about diabetes? Does research show us anything about Spirulina and diabetes and/or blood sugar control? Could it help?
Possibly.
Several animal studies have shown very promising results. Spirulina appears to be associated with a reduction in blood sugar values in mice.
Some smaller studies have been done in humans with promising results, but more studies are needed to accurately determine if Spirulina can help people with diabetes manage their blood sugar levels.
What makes this spirulina smoothie blood sugar friendly?
So, with some promising results related to diabetes and blood sugar control, AND all of it's antioxidant power, I knew I wanted to make a Spirulina smoothie recipe.
This smoothie specifically boasts 11g plant based fats, 10g fiber, and 7g protein. All three of these nutrients (fat, fiber, and protein) help slow down digestion and promote stable post-meal and post-snack blood sugars. You can read more about that here. And also this article too.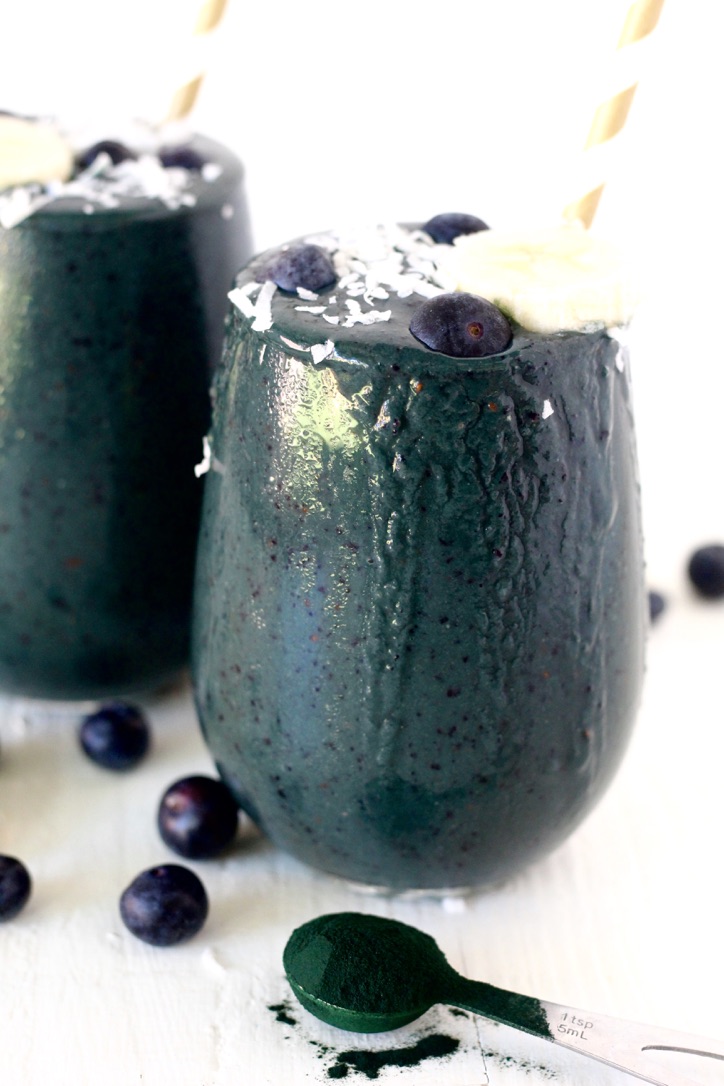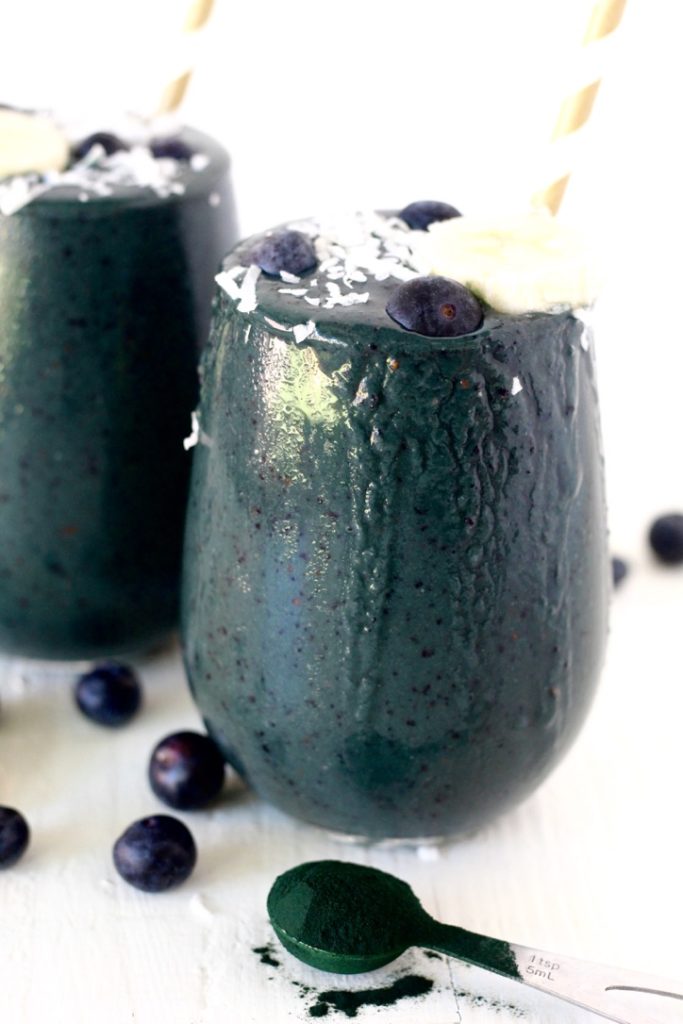 How to make a spirulina smoothie
This smoothie recipe is relatively simple. Just throw everything in the blender and you're good to go!
If the spirulina flavor is too much or too little for you (because trust me, you'll be able to taste it) you can adjust the spirulina anywhere from 1 tsp up to 1 Tbsp.
You can also increase the blueberries, banana, or pineapple for some extra sweetness; and the vanilla extract can be adjusted to your liking as well. The version below is my favorite and the perfect balance for a spirulina smoothie.

Blood Sugar Friendly Spirulina Smoothie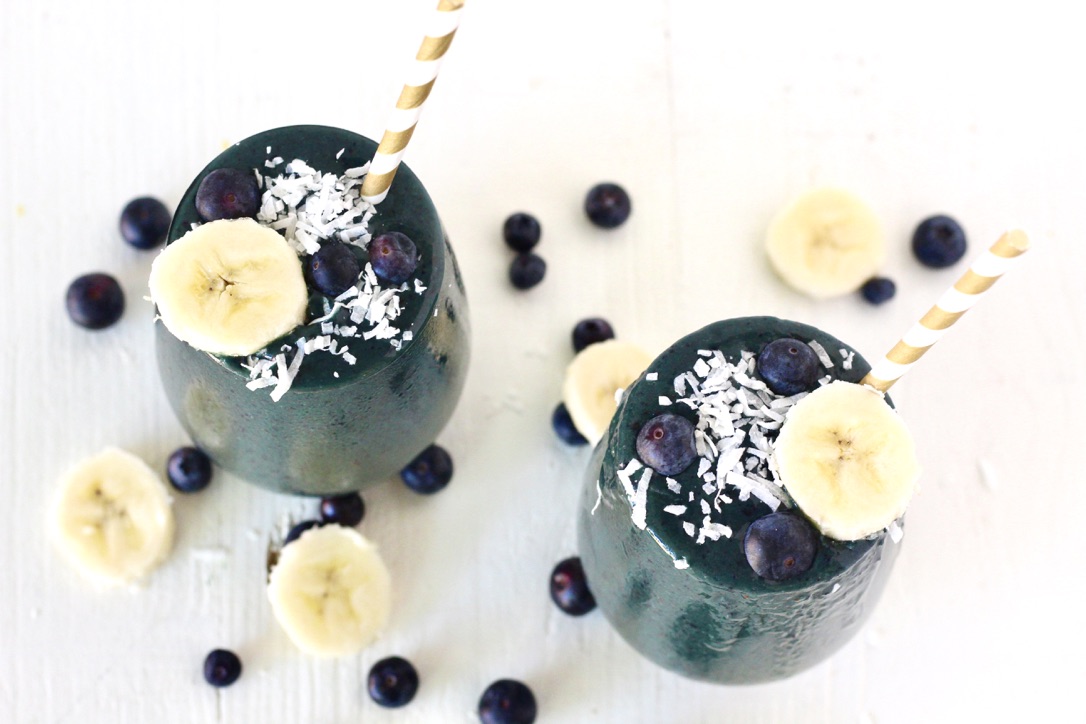 Ingredients
2

tsp

Spirulina powder

1/2

medium banana

1/4

small avocado

1/2

cup

frozen blueberries

3/4

cup

frozen pineapple

1

cup

unsweetened almond milk

1

tsp

vanilla extract
Instructions
Add all of your ingredients to a blender and process for 45-60 seconds until smooth. Enjoy immediately!
Notes
The nutrition facts presented here are estimates only. The brands you use and product types chosen can change the nutritional information presented. To obtain the most accurate nutritional information, you should calculate the nutritional information with the actual ingredients you use.
Nutrition
Calories:
308
kcal
|
Carbohydrates:
49
g
|
Protein:
7
g
|
Fat:
11
g
|
Saturated Fat:
1
g
|
Sodium:
214
mg
|
Fiber:
10
g
|
Sugar:
18
g