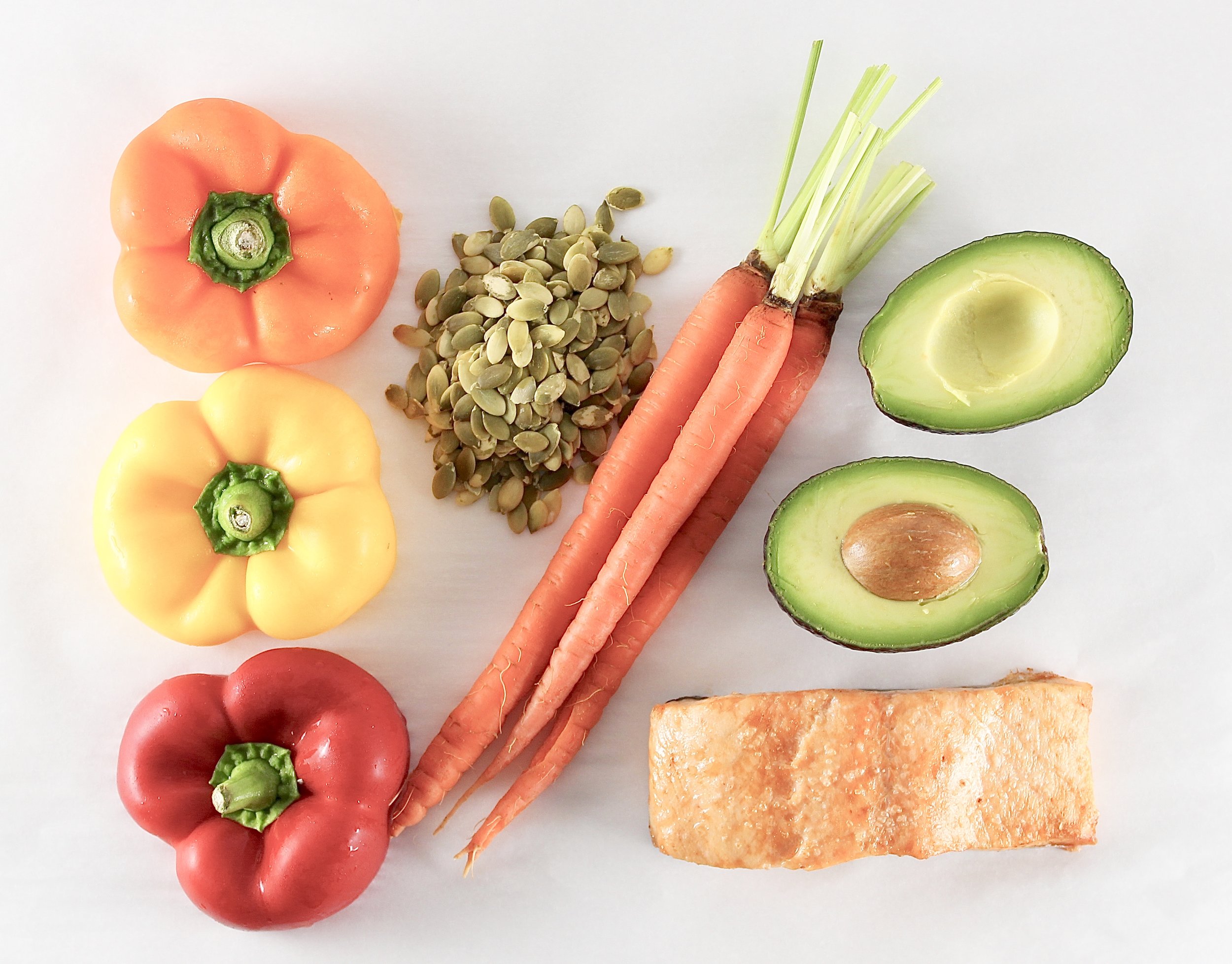 This article about the Top 5 Foods for Glowing Skin was written by Amanda Schroeder, dietetic intern. Prior to returning to school to become a dietitian, Amanda was a licensed esthetician and is a skincare expert. She's interning for Milk & Honey Nutrition this semester and has lots of great content planned for you! Stay tuned! 
As a former esthetician, I was always striving to help my clients achieve healthy, glowing skin. There are many foods for glowing skin, but I've listed my top 5 foods for glowing skin for you below!
Skin is one of the many things that make us unique; everyone has different skin issues. But after caring for and touching hundreds of different faces, all with different qualities, treatment plans and environmental stressors, I can tell you the one bit of advice that almost always fixes and/or helps any skin issue…
Exfoliate and hydrate! 
Whether you want your skin to be smoother, brighter, less wrinkled, softer, more supple, less congested, or with diminished acne and/or scarring; it is almost ALWAYS the answer. Just exfoliate and hydrate! There are many pricey ways to do this at a spa: acid peels, enzyme scrubs, tonics, serums, lotions, etc.
But, what about treating your skin from the inside out? There are specific foods that can help your body exfoliate and hydrate your skin naturally, without an expensive spa trip! Read further to learn more about my top 5 foods for glowing skin.
---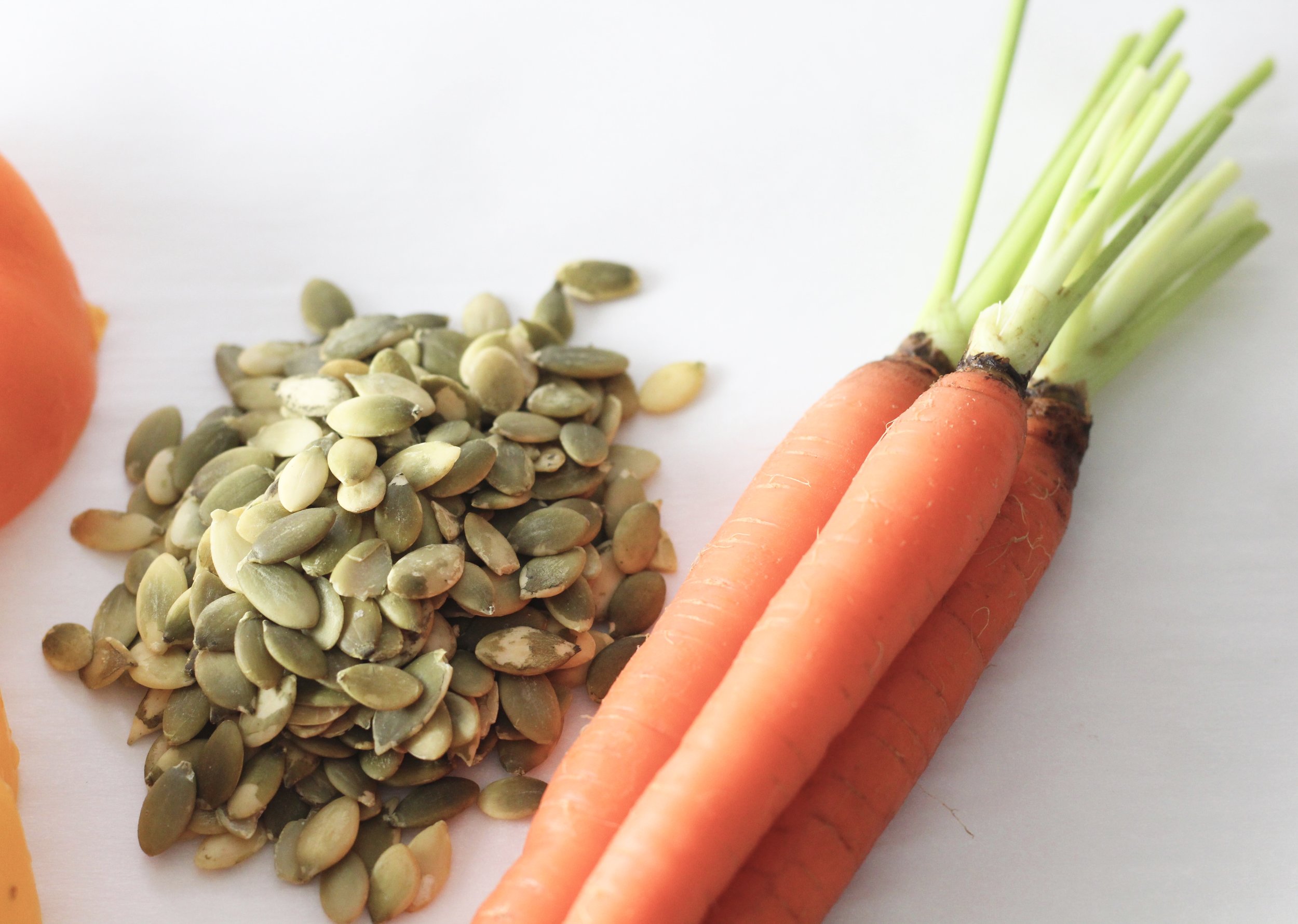 Foods for Glowing Skin: Carrots
Carrots are a rich source of beta-carotene, which is an antioxidant that not only protects your skin cells from damage, but also turns into vitamin A in the body. (Benefits of Beta-Carotene) Vitamin A is a fat-soluble vitamin, so it is best to eat your carrots with healthy fats, like olive oil or avocado, to make sure you absorb all the good stuff. Vitamin A has the wonderful ability to help your skin naturally exfoliate. (Benefits of Vitamin A) When your skin naturally knows when to let go of dead skin cells, you are left with smoother, more glowing skin. In fact, many medications for skin exfoliation are vitamin-A-based. (Ever heard of my dear friend, Retinol?) This natural exfoliation benefits all skin types, as exfoliated skin is softer, healthier, and ages more slowly, but it has serious benefits for acne sufferers. Getting rid of dead skin cells means that oil is less likely to get trapped under the surface and cause a breakout. But, not so fast – there is a reason retinol and other vitamin-A-based medications are offered by prescription. Any supplementation of what's called "preformed vitamin A" should be closely regulated by a doctor to make sure your body does not store too much of it. Beta-carotene, on the other hand, will never become toxic. Your body is so smart that it will never make too much vitamin A from beta-carotene, even if you ate 100 carrots every day! In fact, the only symptom of consuming "too much" beta-carotene is a slight orange tint to the skin. Hello, winter glow!
Try these recipes: Spiced Carrot Apple Slaw, No-Bake Carrot Cake Energy Balls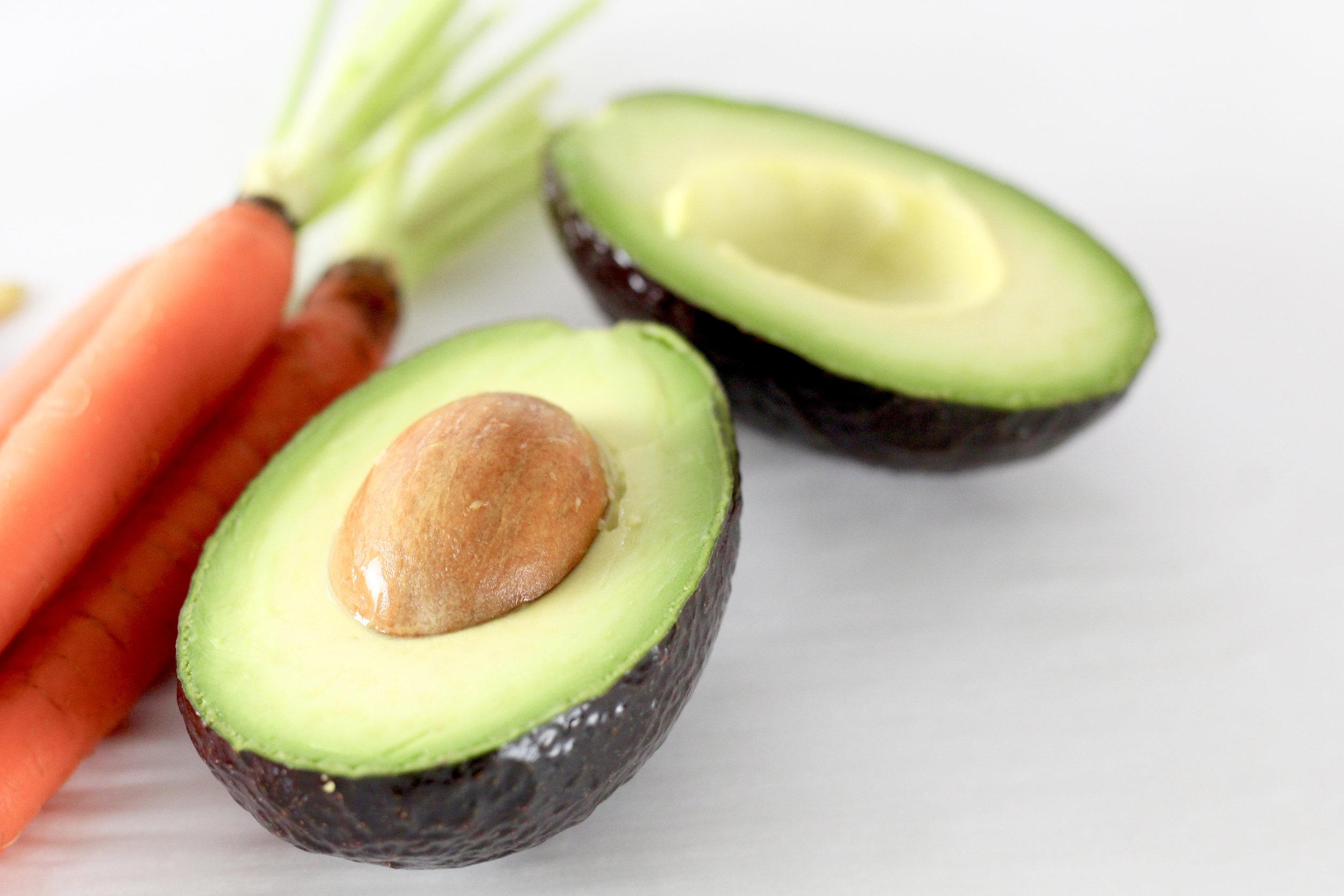 Foods for Glowing Skin: Avocados
Avocados are full of delicious, healthy fats that help keep your skin moisturized and glowing. Having moisturized skin helps to delay the aging process and can prevent premature wrinkles. Avocados are also a wonderful source of vitamin E, a nutrient that most of us do not get enough of in our diet. Vitamin E is a potent antioxidant that can act as a bodyguard within your skin to shield it from damage. It can also combat inflammation, a common concern for those with skin problems. Avocados are such a great choice to increase your vitamin E consumption because they also contain vitamin C. Vitamin C makes it easier for your body to absorb all of that delicious vitamin E, so you can be sure you will reap the glowy skin benefits! (Vitamin E for Skin)
Try these recipes: Avocado Kale Pesto, Avocado Cacao Mousse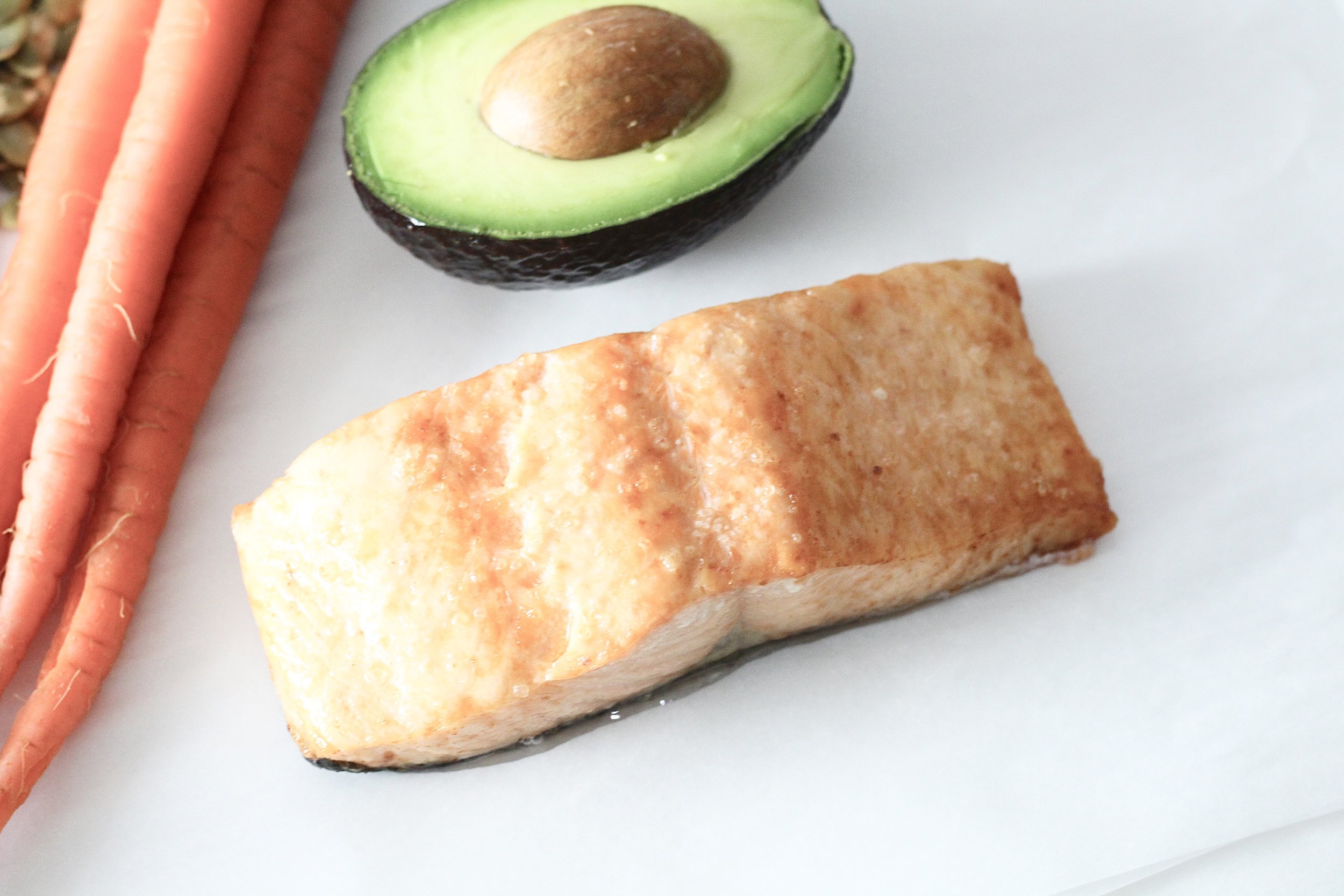 Foods for Glowing Skin: Salmon
Salmon, as most of us have heard by now, is a phenomenal source of omega-3 fatty acids. There are a few different types of omega-3 fatty acids. One of them, DHA, helps to make healthy cell membranes, which supports hydrated, supple, and glowing skin. Another type, EPA, has been shown to promote hydration in the skin by maintaining healthy oil levels. Basically, this works as your very own, personalized moisturizer inside your skin. Healthy oil production in your skin can slow the formation of wrinkles and even prevent acne. EPA also has this magical ability to help keep the collagen in your skin from breaking down after sun exposure. (Definitely don't skip the sunscreen, though!) (17 Science-Based Benefits of Omega-3 Fatty Acids) For reference, the recommended serving of salmon (or any fish) is about three ounces 2-3 times per week. Trust me, your skin will thank you!
Try this recipe: Mediterranean Cauliflower Rice Bowls with Norwegian Salmon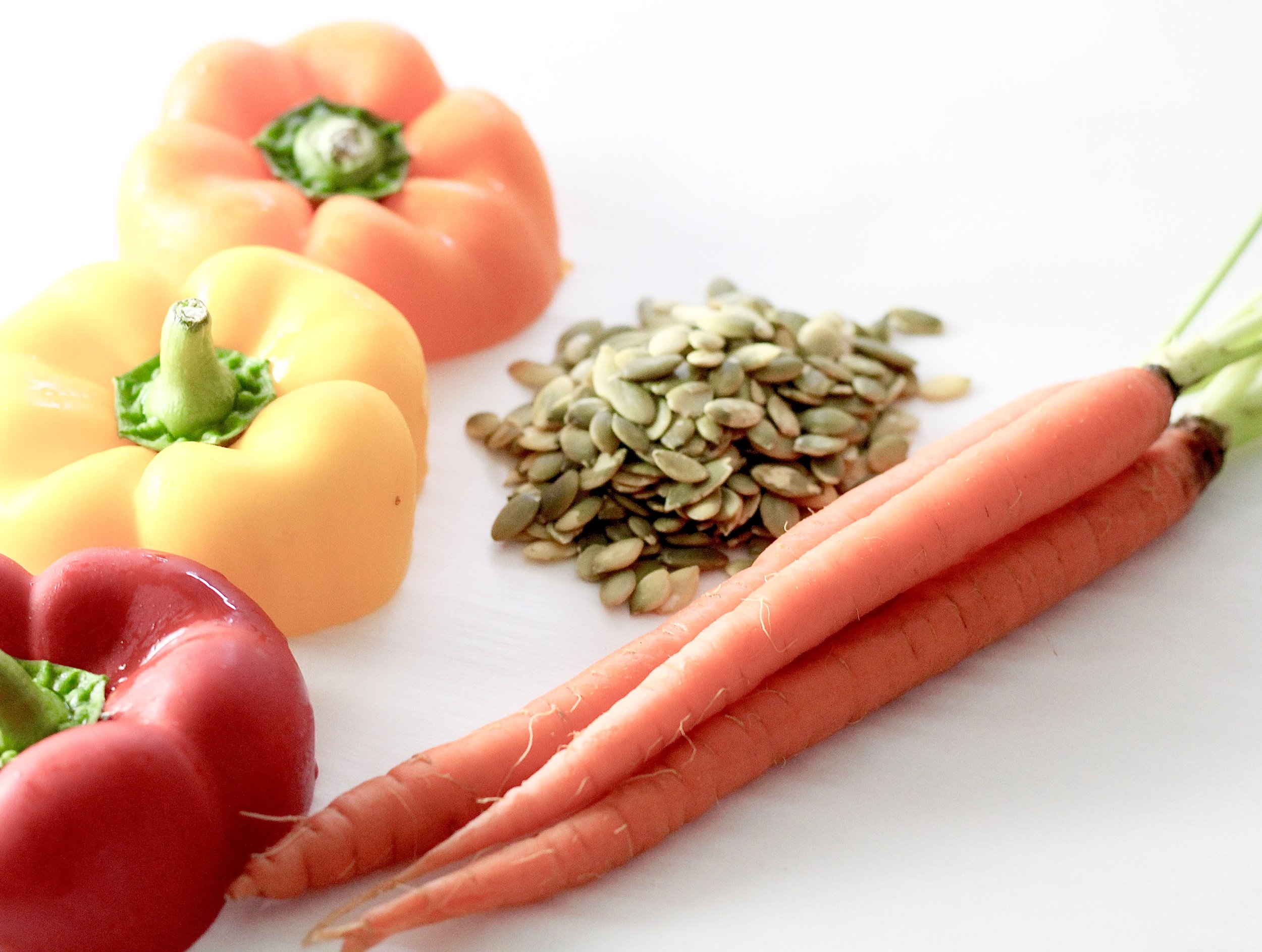 Foods for Glowing Skin: Peppers 
Peppers, both spicy and mild, are full of skin-loving nutrients, namely vitamin C! When you think about vitamin C, you probably picture some sort of citrus fruit…  (We all do!) But did you know that peppers actually have more vitamin C than some citrus? Pro tip: peppers that are red, orange, or yellow have the highest vitamin C content! (12 Foods with More Vitamin C Than Oranges) Vitamin C is an antioxidant, so it protects all of your cells from damage. On top of that, it is so important for your skin because your body uses vitamin C to make collagen! Collagen is what makes your skin firm and supple, but it naturally begins to break down as we age. You can slow down this process and prevent premature aging by making sure you are getting enough vitamin C in your diet. It can also help protect your skin from sun damage. (Vitamin C and Skin Health) As a bonus, bell peppers also contain a lot of beta-carotene, just like carrots!
Try this recipe: Red Pepper, Kale, Sausage Quesadillas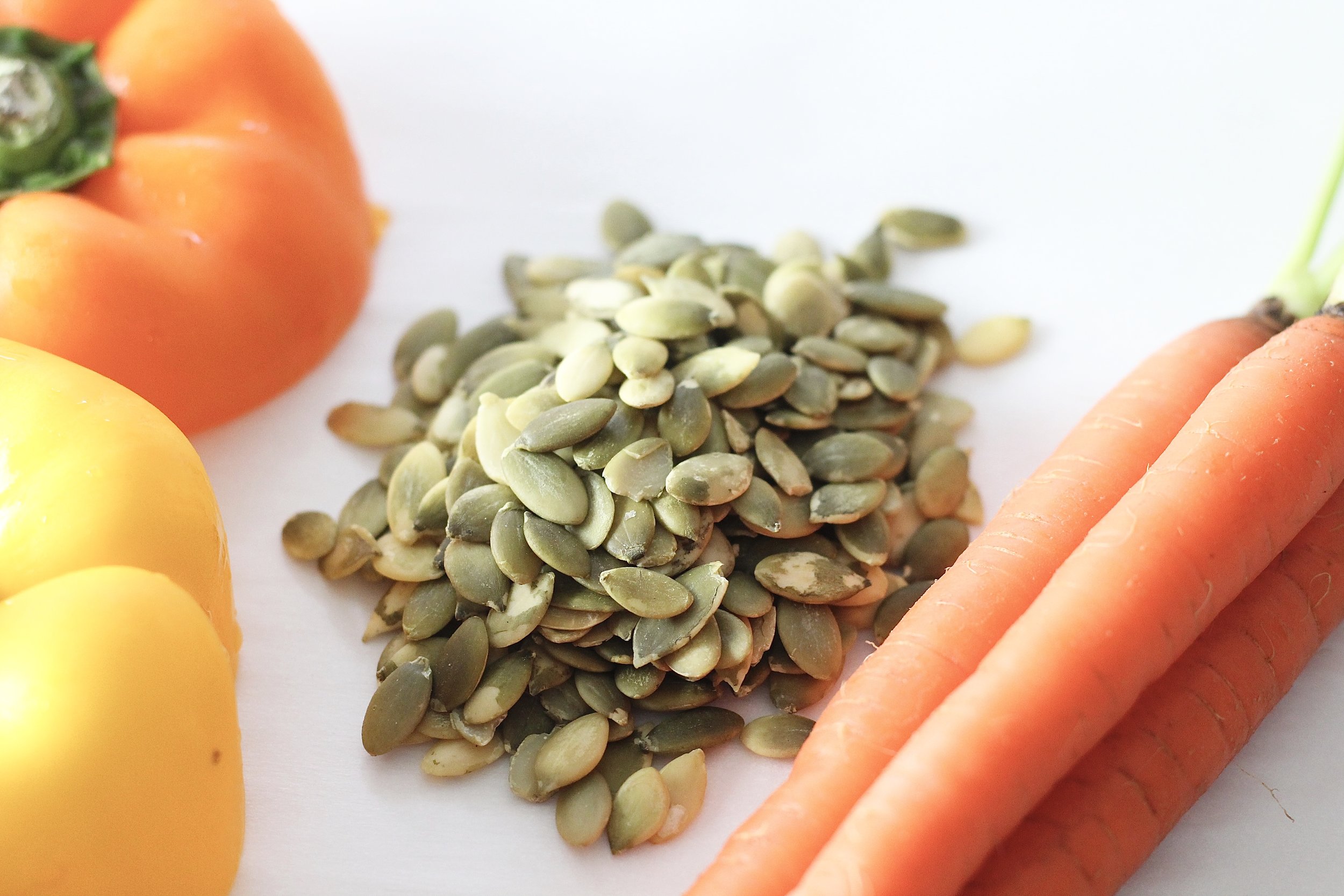 Foods for Glowing Skin: Pumpkin seeds 
Pumpkin seeds are full of healthy, skin-loving fats that help keep skin glowing and hydrated. They are also full of skin-protecting antioxidants, like vitamin E and beta-carotene, to fight against skin damage. But what makes these seeds extra special is their high level of zinc! Zinc has anti-viral, anti-bacterial, and anti-inflammatory benefits for the skin. This means that it is a great benefit to those who struggle with acne and might even help with acne scarring. It has also been researched as a treatment for melasma, rosacea, and eczema. (Zinc and Acne) Just one ounce of pumpkin seeds has about 3 mg of zinc, which is just under half of the typical adult recommendation of 8 mg/day!
Try these recipes: Berry Chocolate Toast, Peanut Butter Jelly and Feta Toast
---
Now that we've reviewed my Top 5 Foods for Glowing Skin, what questions do you have? Any foods you were surprised by?
Let us know in the comments!
---