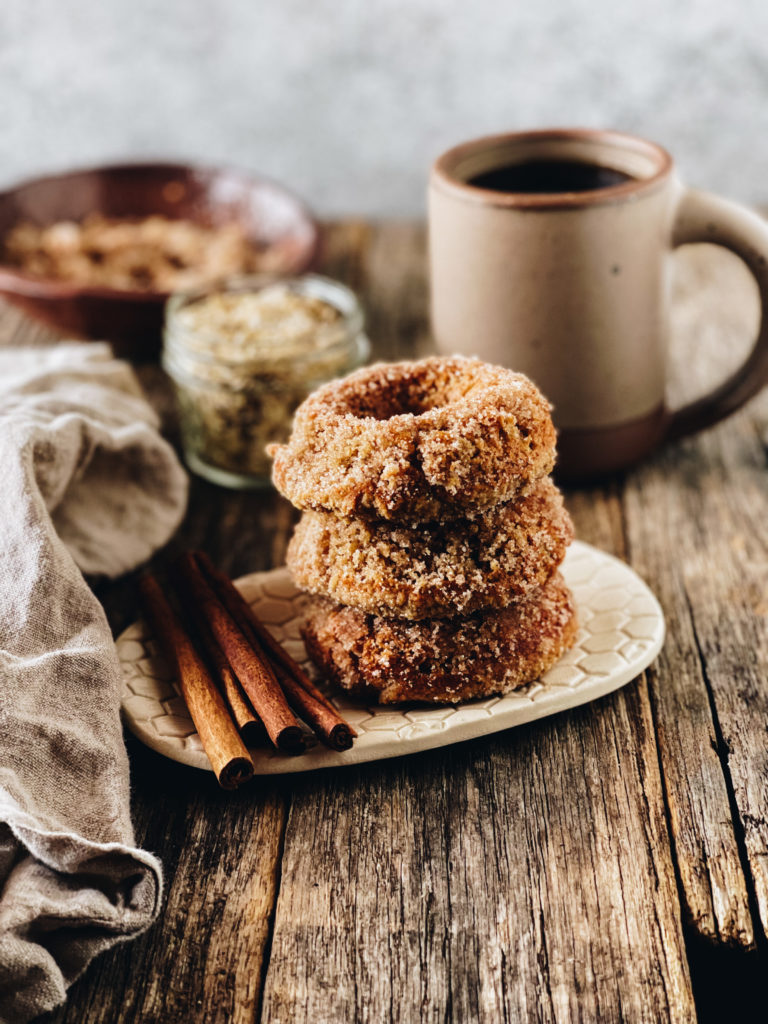 Say hello to your new favorite cinnamon sugar donut recipe!
These donuts are warm, sweet, tasty, and made with just the right amount of spice. They're blood sugar friendly cinnamon sugar donuts that pair perfectly with your favorite coffee or tea!
Simple baked cinnamon sugar donuts
This easy gluten free baked donut recipe is easy, delicious, and made without yeast. Skip the morning run to your local donut shop and impress your loved ones with your skills on how to make homemade donuts.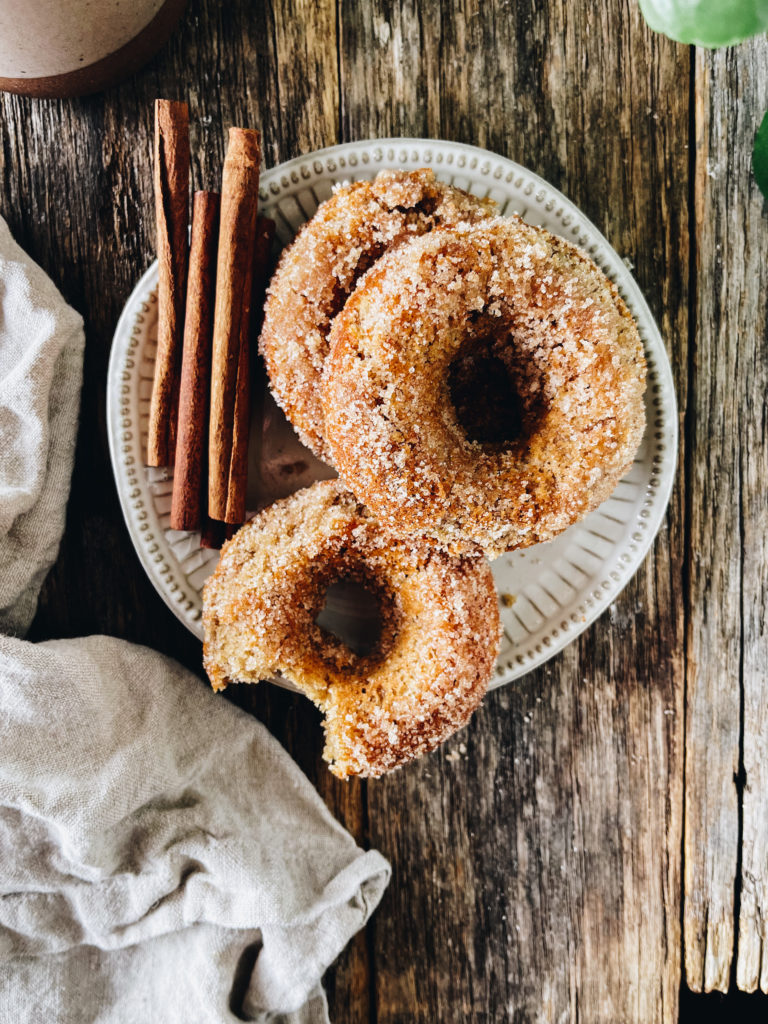 What makes these baked cinnamon sugar donuts diabetes friendly?
This recipe is not your average donut recipe. These homemade donuts are made with a mixture of ground rolled oats and almond flour which both provide more fiber and protein compared to conventional all purpose flour. These donuts are also made with greek yogurt which provides some healthy fats, protein, and calcium in the donut recipe.
Is it better to bake or fry donuts?
Traditional fried donuts are cooked from being submerged in a piping hot fat source while these donuts are cooked by the power of hot air in an oven. The baking method reduces saturated fat content used in the donut. This recipe is a great option when you want a more nutrient dense and blood sugar friendly option. And not to mention equally as delicious.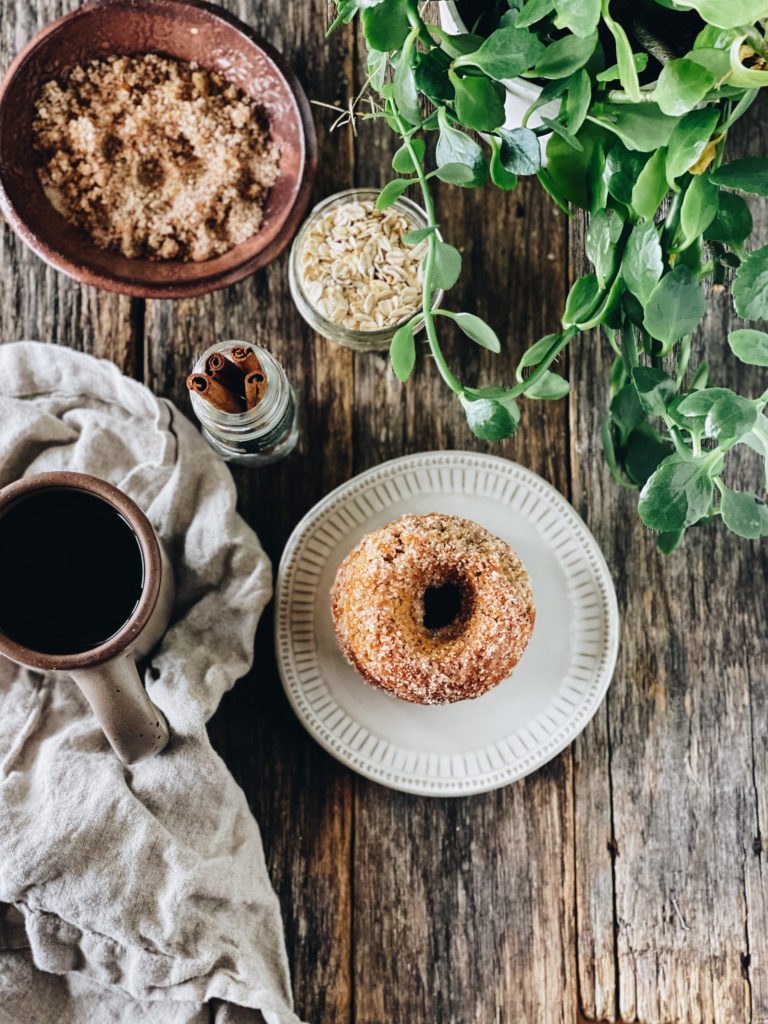 Reheat donuts in air fryer
These donuts will still be equally as fresh and delicious tasting the next morning if you just pop them into your air fryer for 5 minutes. Bonus: your kitchen will fill with that beautiful cinnamon aroma all over again.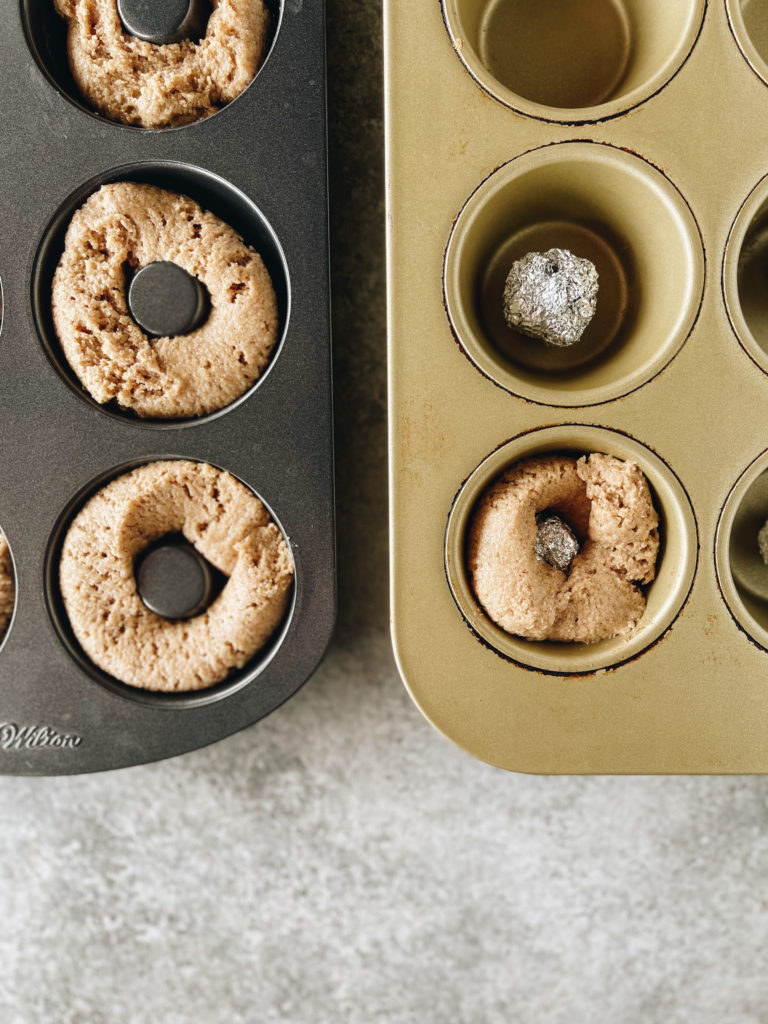 How to make cinnamon sugar donuts without a donut pan
If you have a metal or silicone donut pan, you're a donut making pro and are all set! However, if you're a donut making novice, no worries these can still be made without a donut pan! You can substitute a donut pan with a muffin tin in one of two ways.
Make the donuts in a muffin shape, they technically won't look like your traditional donuts, but I promise you they will still be equally delicious.
Place the donut batter in your muffin tins, but first roll a piece of foil or parchment paper into a 1-inch sized ball and place it in the middle of your muffin tin. Simply pipe the batter around the ball to create a "donut" shape. After baking, simply remove and discard the foil ball and a hole will be left creating a donut illusion.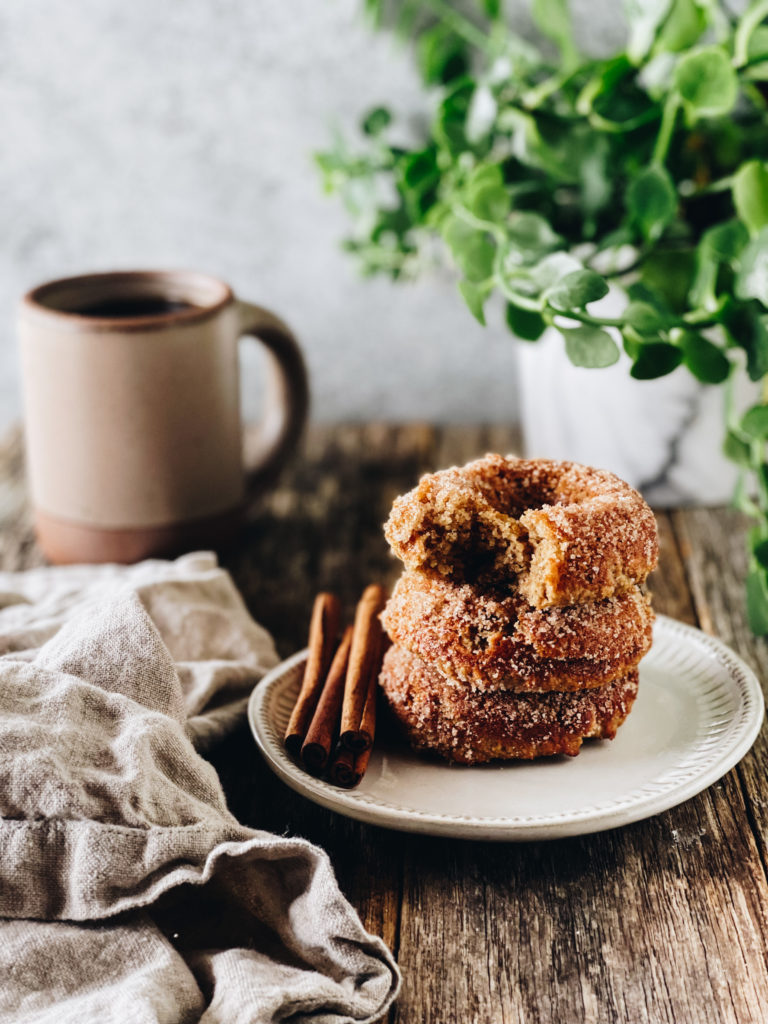 How can these homemade donuts fit into a balanced breakfast?
Since this baked donut recipe is not your average donut recipe they are already more balanced than the average glazed donut you get at your favorite donut shop. But pairing these donuts with other sources of protein, fat, and fiber will help create a complete blood sugar friendly breakfast. For instance, we can pair these donuts with a cheesy, sauteed veggie egg scramble, a spoon of nut butter, and some fresh fruit.
Special tips for Baked Cinnamon Sugar Donuts
If you have plain greek yogurt instead of vanilla greek yogurt, no worries! Just add a ¼ tsp of vanilla extract if you would like an added vanilla flavor and aroma.
There are several granulated all purpose sweeteners on the market. This is the one I use when I make this recipe!
When grinding your rolled oats, measure first and then blend. Measuring the oats after already ground will yield a different volume and might affect the recipe differently.
For a step by step and fun video on making these donuts, check out this!
Even if using a nonstick donut or muffin pan, still lightly grease the pans to avoid sticking to the pan and a mess!
A great non-stick donut pan can be found here.
These donuts would also be great in mini donut form! A mini donut pan can be found here, but these will bake quicker so we'll need to check on the donuts sooner to avoid overbaking them. Bake for 8 minutes instead of 12 minutes.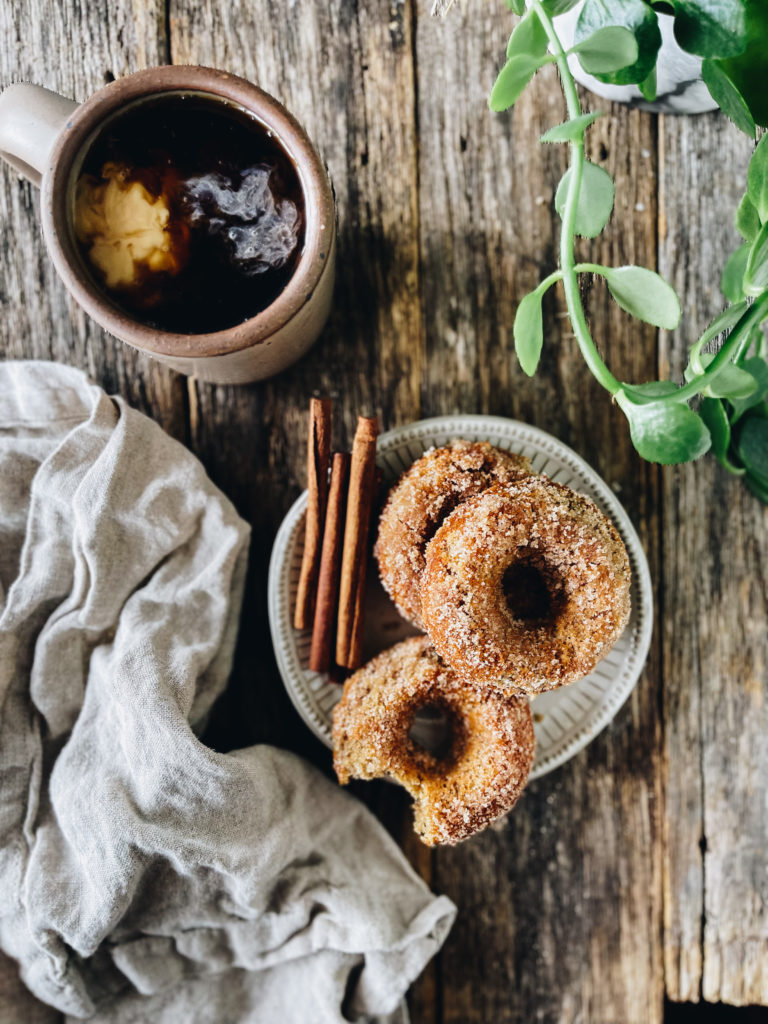 If you like these Baked Cinnamon Sugar Donuts, try these other great diabetes friendly baking recipes…

Baked Homemade Cinnamon Sugar Donuts (Gluten-Free)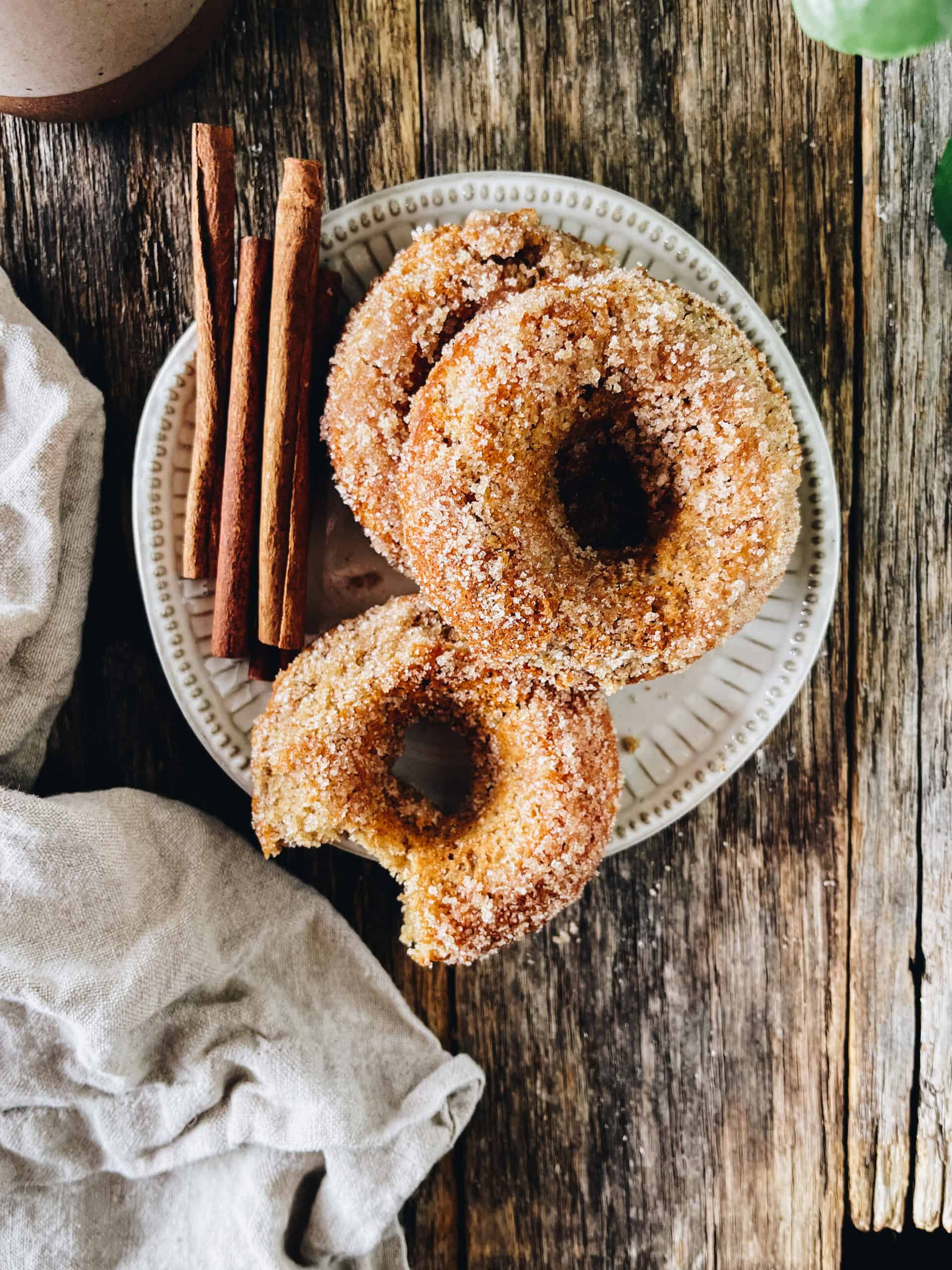 Ingredients
Donut Batter
1 ½

cups

rolled oats

ground

½

cup

almond flour

⅓

cup

granulated all purpose sweetener

1

Tbsp

Baking powder

½

Tbsp

Cinnamon

¼

tsp

Salt

⅔

cup

vanilla greek yogurt

¼

cup

cooking oil

1

large egg

1

tsp

Almond extract

Cooking oil spray
Cinnamon Mixture
2

tsp

Cinnamon

½

cup

granulated all purpose sweetener
Instructions
Preheat oven to 350 *F. Thoroughly grease your preferred donut pan. Set the pan aside.

Add your oats and almond flour to a blender and blend for 30 seconds until a powder has formed. Add this mixture to a large bowl along with the all purpose granulated sweetener, baking powder, cinnamon, and salt. Set this bowl aside.

In a separate bowl, combine the Greek yogurt, oil, egg, and almond extract. Mix this together until a uniform mixture has formed. Next, add this wet mixture to the dry mixture and gently start mixing using a rubber spatula until fully combined.

Transfer donut batter to a large plastic bag or a piping bag. Carefully cut a corner of the bag odd, and pipe the batter into your donut wells. This method makes it much easier to fill the donut wells in your pan.

Bake donuts in a preheated oven for about 12 minutes or until they have turned golden brown. Then, remove the donuts from the oven.

In a small bowl, combine the remaining granulated sweetener and cinnamon and mix to combine.

Once the donuts have cooled, spray the top of your donuts with your favorite cooking oil spray

Gently dip the sprayed top of the donuts in the cinnamon mixture to coat the donuts. Enjoy!
Notes
The nutrition facts presented here are estimates using Truvia Sweet Complete and contain 10g erythritol. (The 26g Total Carbohydrate includes the 10g of erythritol.)
The brands you use and product types chosen can change the nutritional information presented. To obtain the most accurate nutritional information, you should calculate the nutritional information with the actual ingredients you use.
Nutrition
Serving:
1
donut
|
Calories:
146
kcal
|
Carbohydrates:
26
g
|
Protein:
5
g
|
Fat:
9
g
|
Saturated Fat:
1
g
|
Sodium:
223
mg
|
Fiber:
6
g
|
Sugar:
2
g