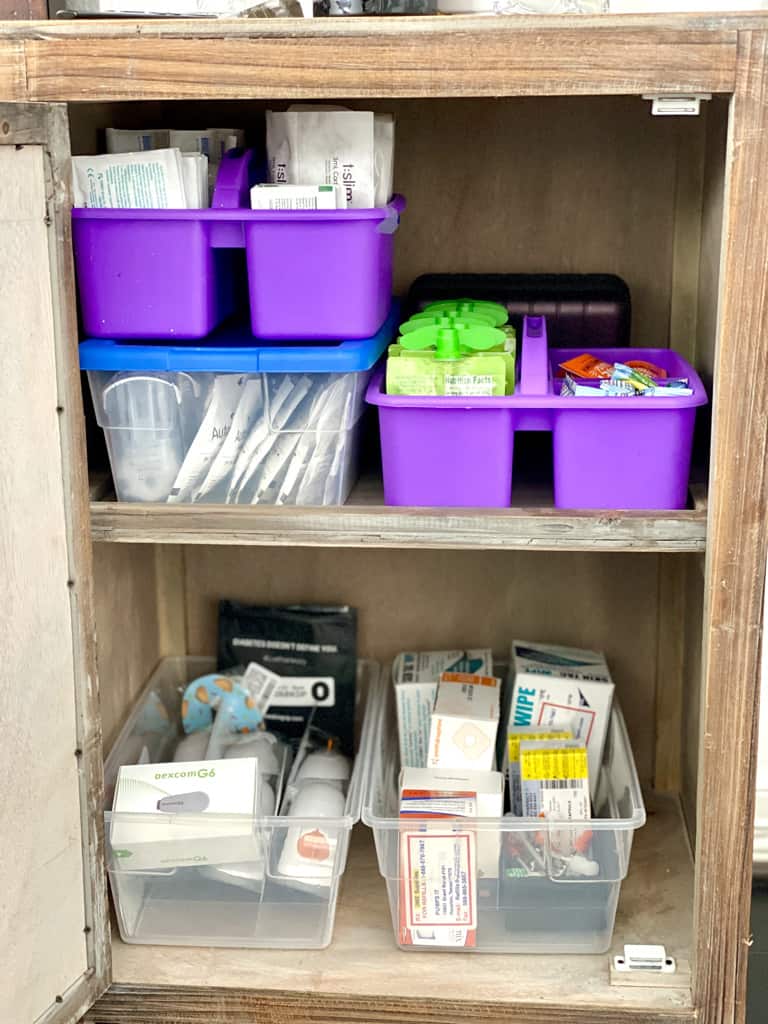 Having all of your diabetes supplies organized can make diabetes management a lot easier.
Managing diabetes comes with a lot of supplies to keep track of. Keeping your diabetes supplies organized and protected, both at home and on-the-go, saves time and energy.
This post contains affiliate links. This means if you choose to purchase some of these diabetes supplies through the links I provide, I will earn a small commission, at no extra cost to you.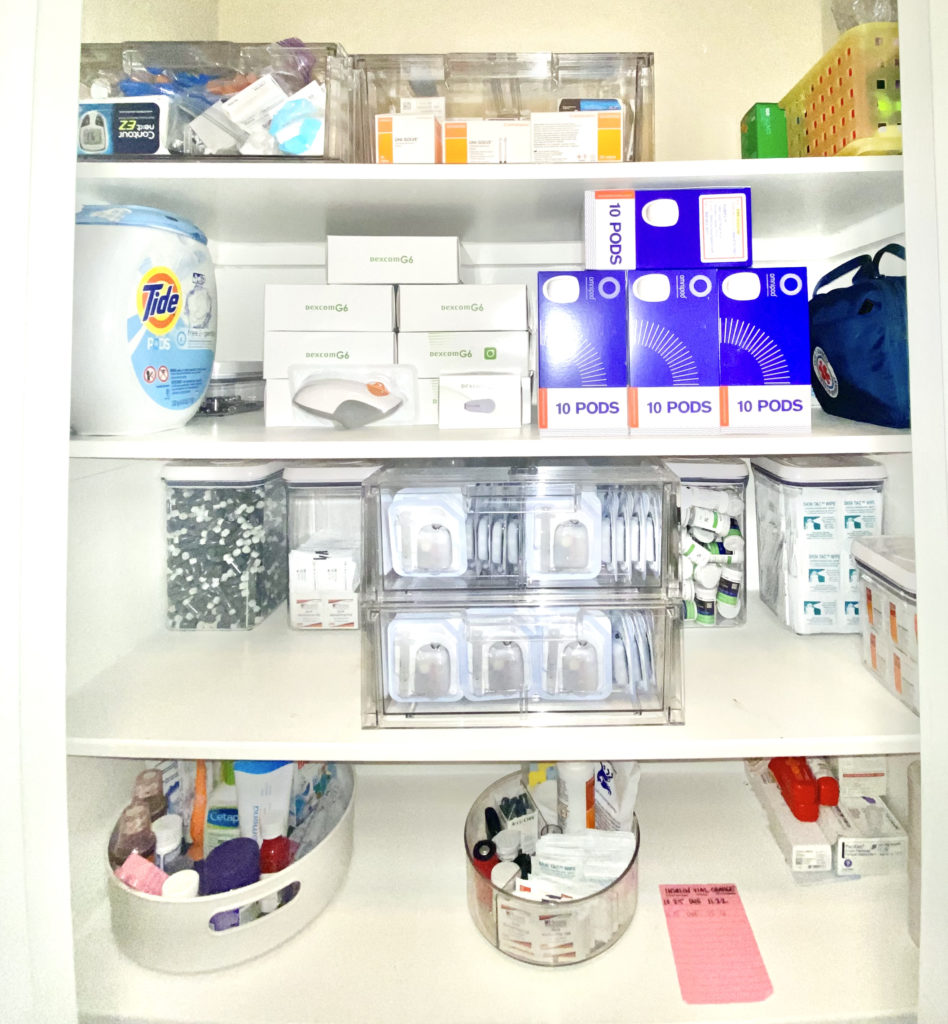 Helpful tips to organize diabetes testing supplies
Having your diabetes supplies organized and stored in an easy to access location can make it a lot easier to manage your diabetes. It's also important to keep track of what supplies you have so you know when to re-order or purchase more. Here are a few helpful tips I've learned over the years when it comes to storing diabetes supplies:
Choose a temperature controlled closet or cabinet that is easy to access.
Don't store insulin in the bathroom. Bathrooms tend to get overheated and can be too hot for insulin.
Keep an inventory list of what you have on hand so you don't run out.
Have your at home supplies organized, but also keep an on-the-go kit stocked.
Choose storage supplies that have an aesthetic you enjoy. It sounds silly, but having a visually appealing storage area can help keep your diabetes outlook positive.
What to use as a diabetes supply organizer at home
I'll share some of my favorite cases and products designed specifically for diabetes supplies below, but you can also use non-diabetes specific supplies and storage options and get creative with them! I've linked all of the products individually below, but you can view them all at one time on my Amazon shop as well!
Products to use as a diabetes organizer
Craft buckets
Clear storage bins
Plastic baskets
Clear plastic or acrylic drawers
Pill organizers
Empty first aid kit box
Lazy susans
Hard plastic pencil boxes
Craft buckets like the purple caddies in the picture below are great for keeping supplies that go together separate but together.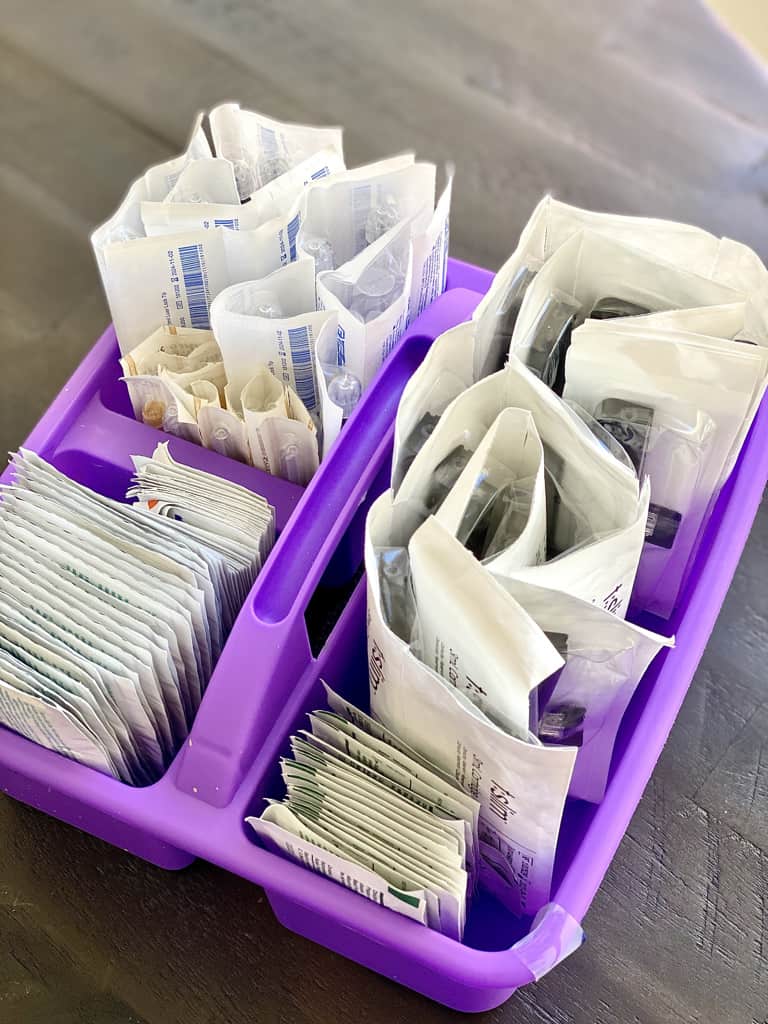 Clear stage bins or shoeboxes with lids are great for storing and stacking surplus supplies.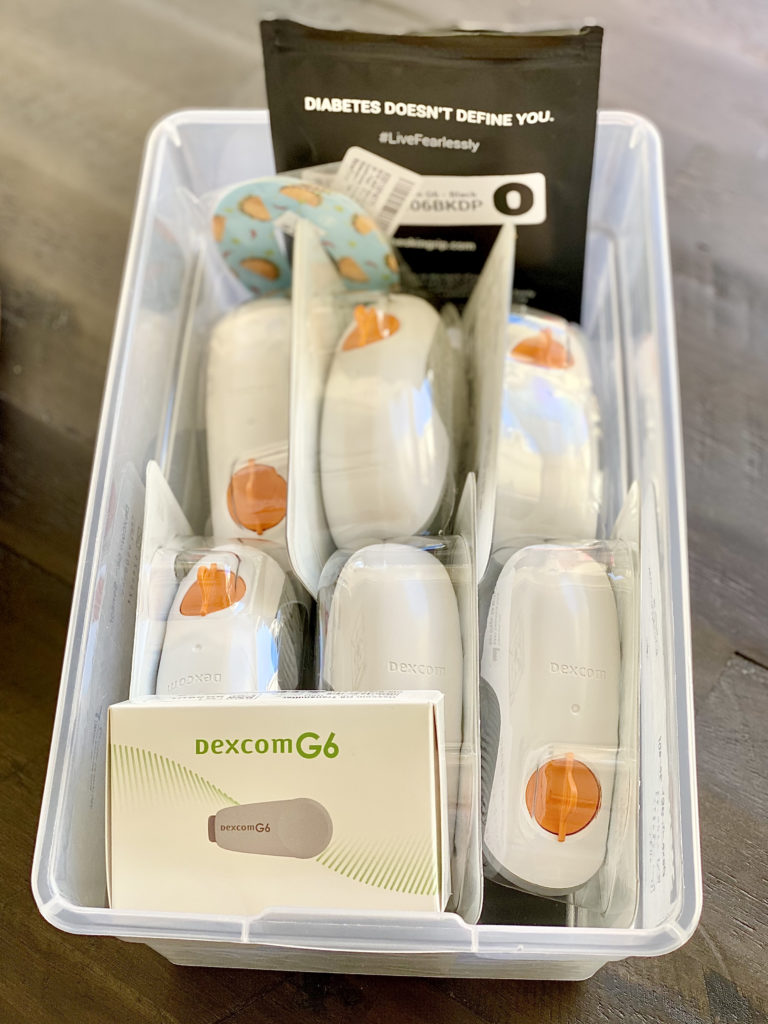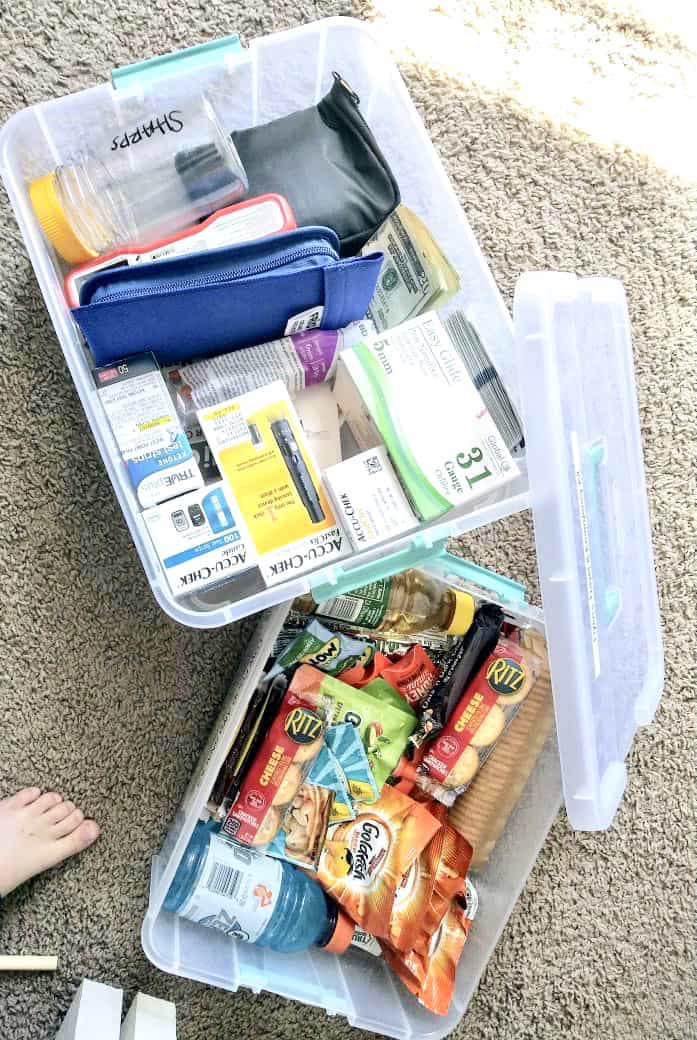 Plastic baskets are nice for moving things around when needed.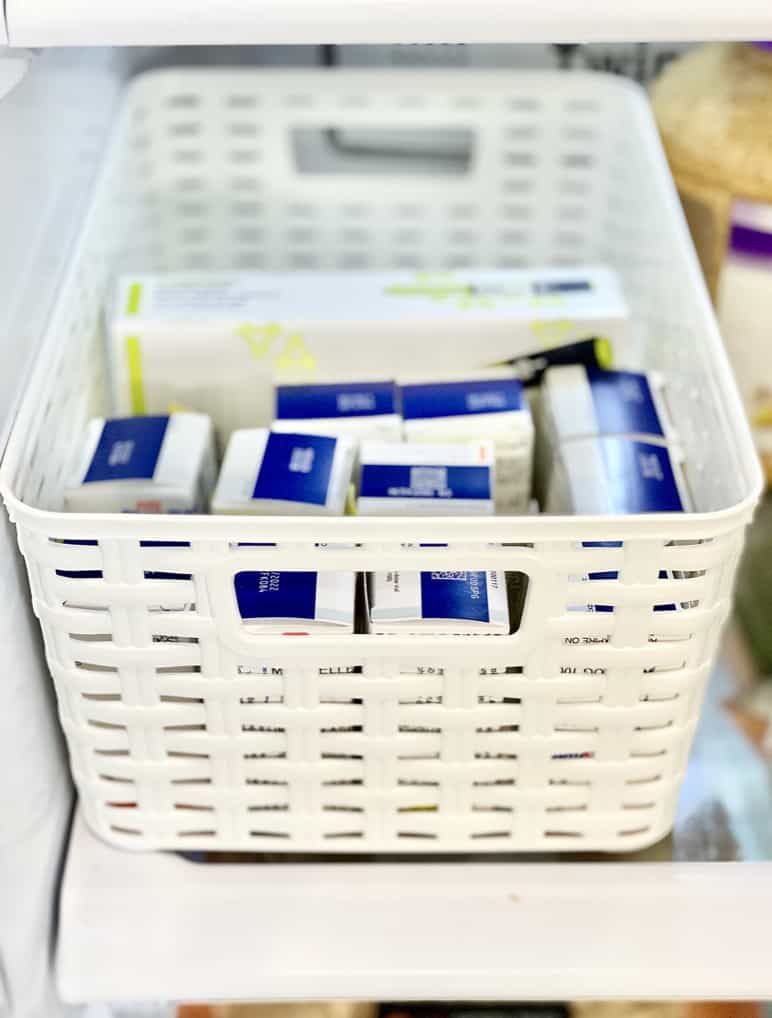 Clear plastic or acrylic drawers allow you to see what you have while also having a really nice aesthetic appeal!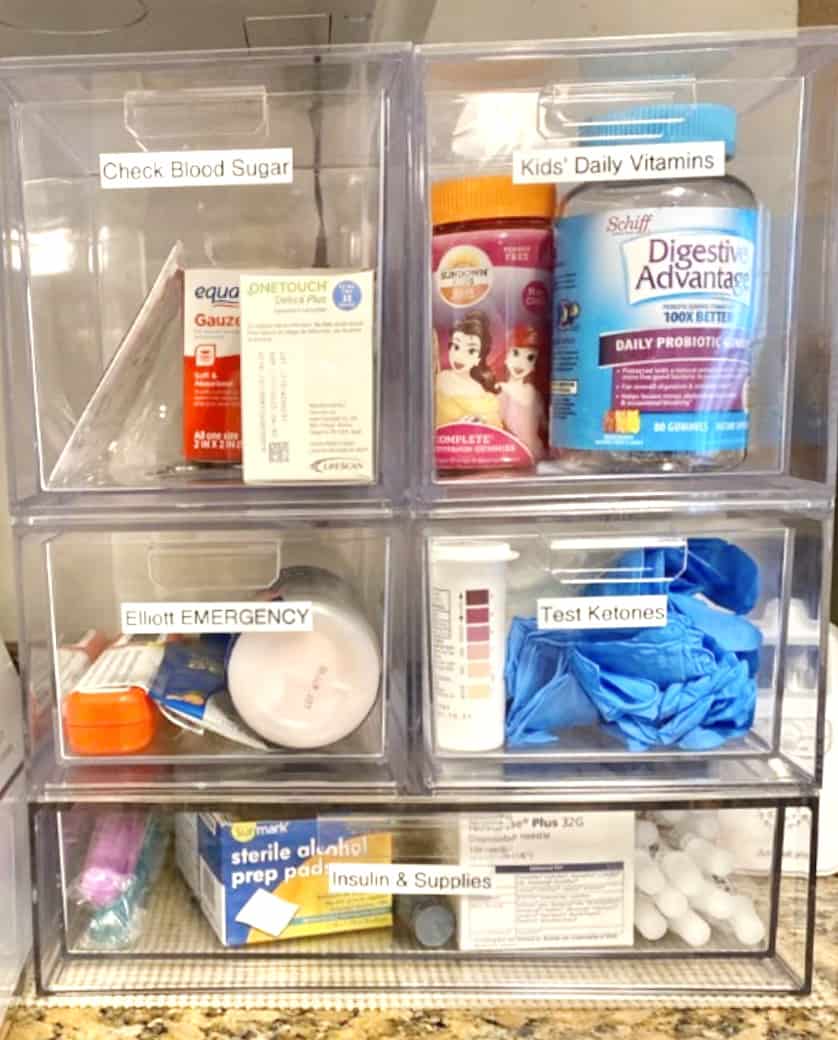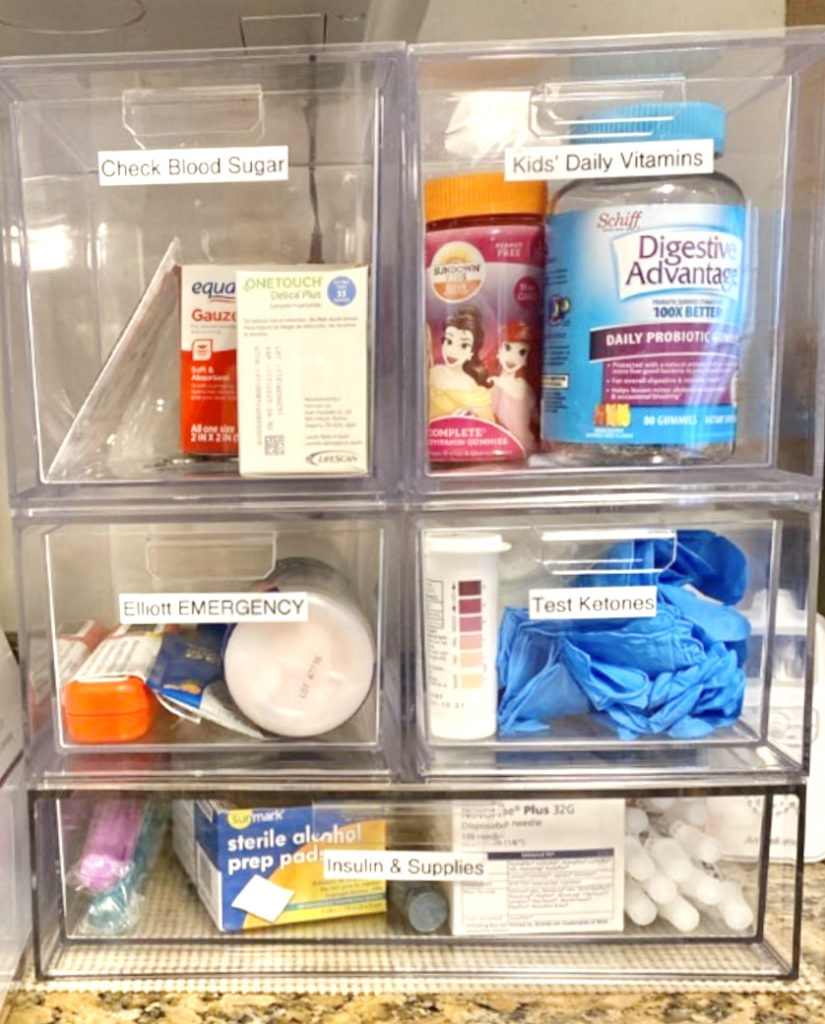 Pill organizers are super helpful for oral medications and helping you remember if you've already taken your meds or not.
An empty first aid kit can be a great vessel for a portable supply kit.
Lazy susans allow for easy access of any and all supplies and help you still be able to see what you have.
Under the bed clear boxes allow of easily accessible but out of the way storage.
Hard plastic pencil boxes are a very economical solution for storing surplus diabetes supplies as well.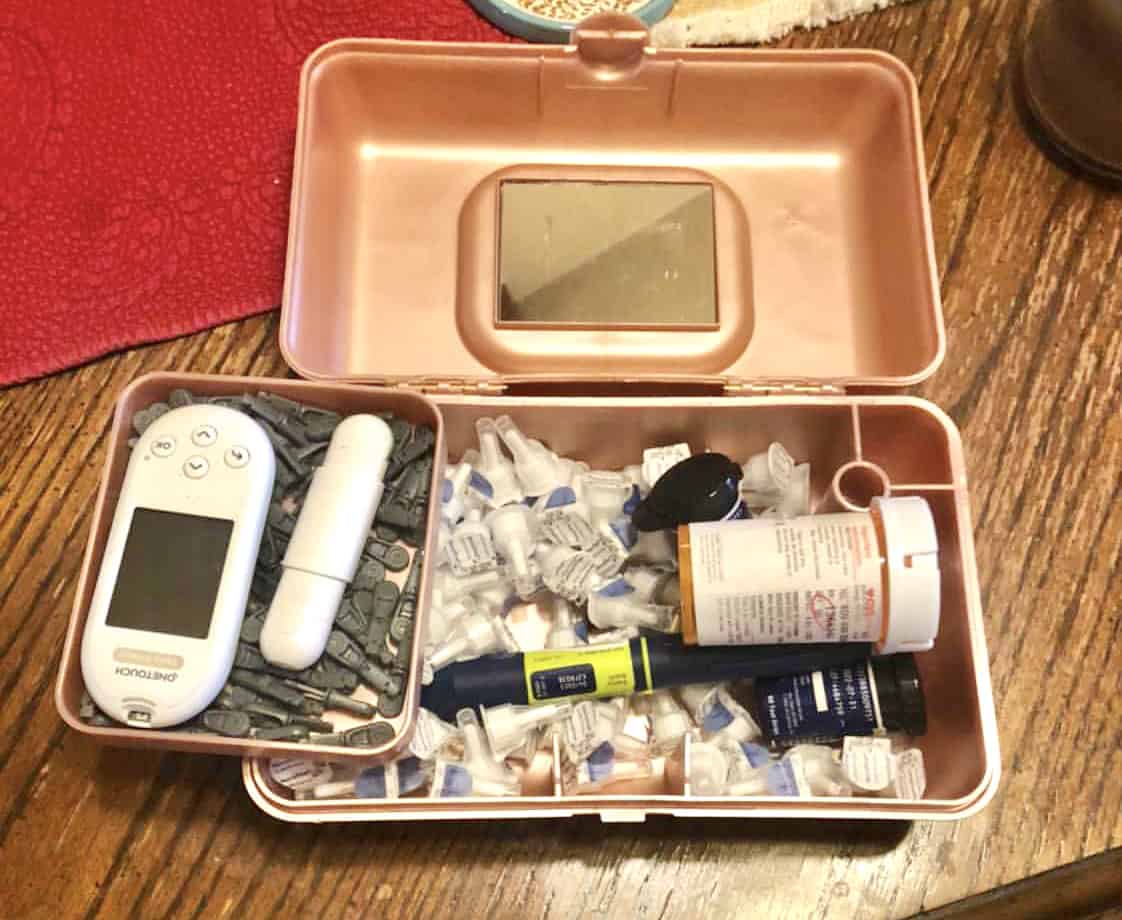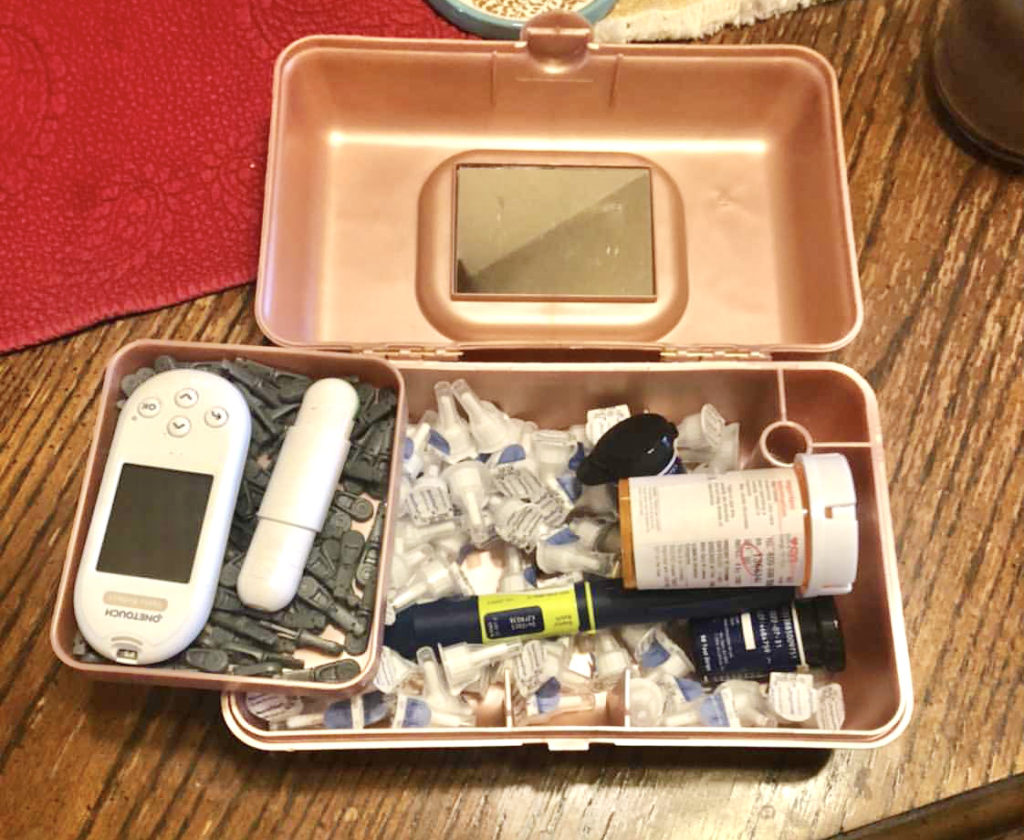 Best on-the-go diabetes supply bag
Clear plastic pouches and/or make up bags are great for keeping what you need while away from the house in a purse or bag.
Fashionable diabetes bag and diabetes supply carrying case
And, if you want to get fashionable with your everyday diabetes bag, make sure to check out Myabetic for some super cute options! Their backpacks are especially great for moms with kids who have type 1 diabetes.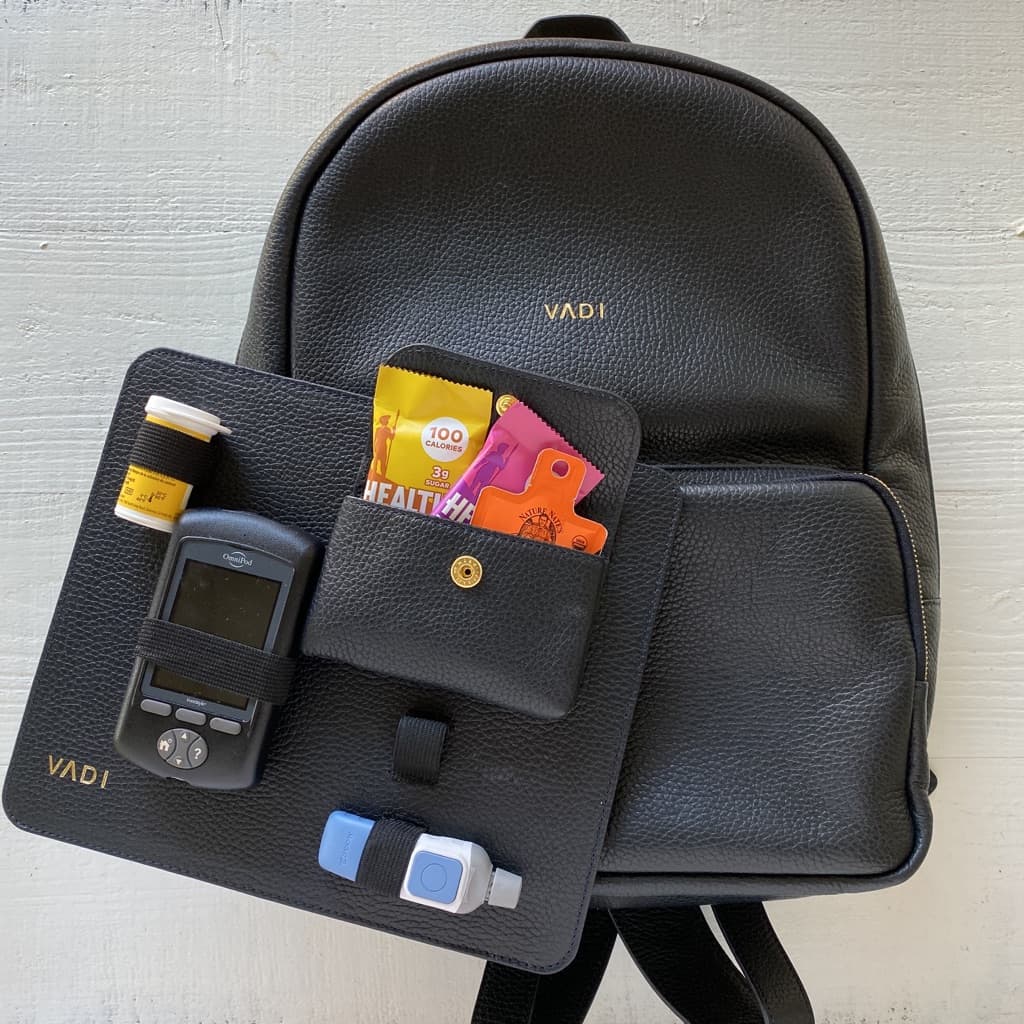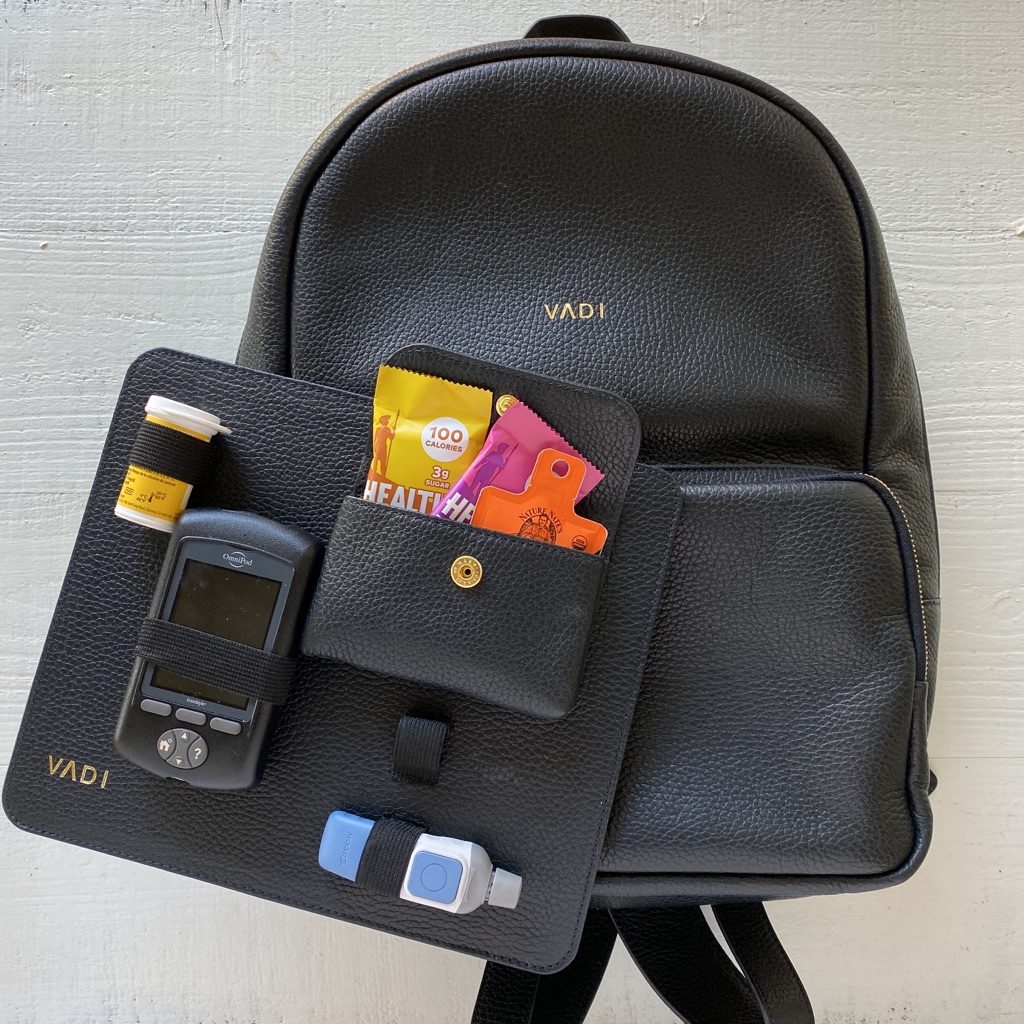 Do you need a diabetes travel case?
Yes! If you invest in nothing else for your diabetes supplies, please invest in a quality travel case. Traveling with diabetes is already stressful, but imagine if some or all of your supplies got lost, stolen, or damaged.
The non-diabetes diabetes case I use to travel
I use this hard case from Away Travel to store my supplies in a duffel bag or carry on bag. (Never put diabetes supplies on a bag you are checking and will be stored under a plane, unless you are 100% certain you also have enough supplies in a carry on bag. Pro tip: Most airlines allow people with diabetes to have an extra carryon bag just for medical supplies.)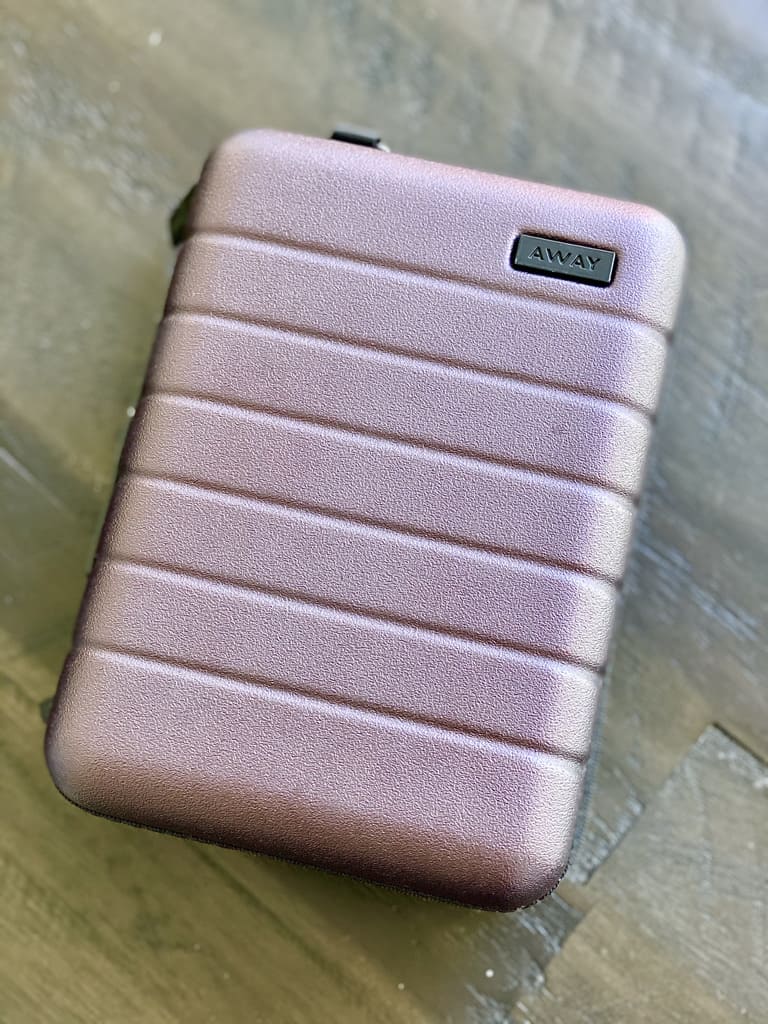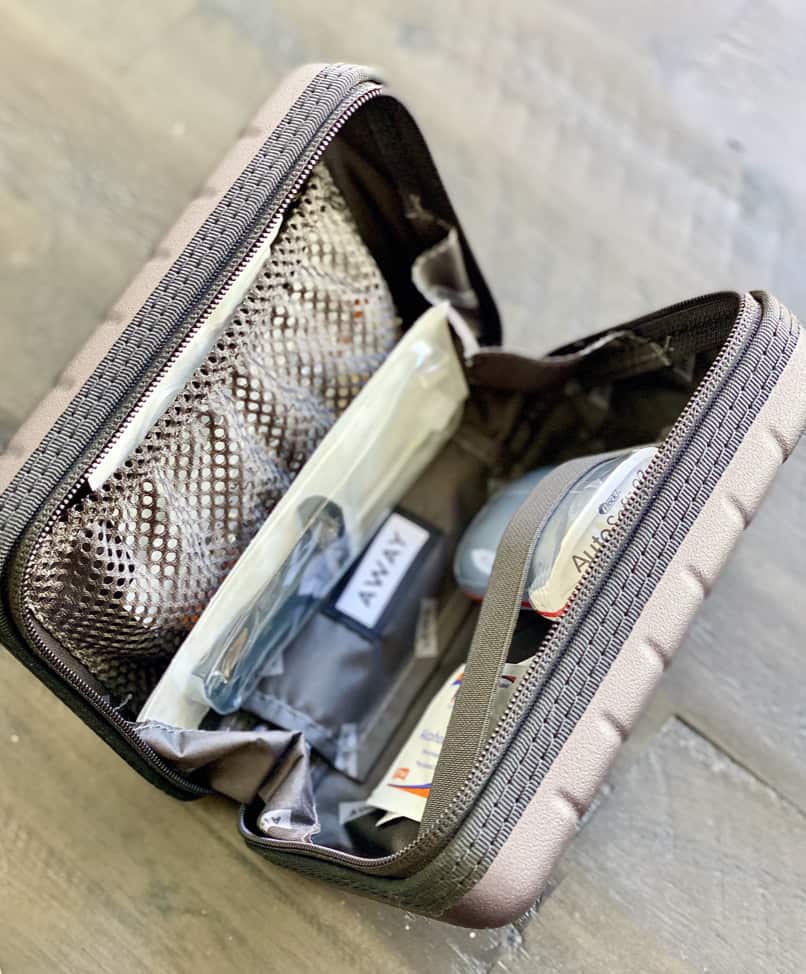 This makeup bag was also recommended to me and looks amazing! It slips right over your suitcase handle for easy access, and you can adjust the dividers inside to the exact sizes you want.
Best insulin travel case
There are a lot of portable insulin cases on the market, but hand down the best and most recommended case is the Frio cooling case. It can keep insulin chilled for up to 45 hours!
A unique insulin travel case idea
And, if you want a pretty cool idea (this wasn't my original idea, I can't take credit for how genius this is…) to store unopened insulin pens and vials, put them in a Yeti or RTIC style tumbler with a secure lid. You can even stuff some tissues or paper towel down in there to keep them from banging around, but it should keep the insulin temperature stable for around 12 hours.
Other great diabetes accessories
Other great options for storing diabetes supplies are cute diabetes themed bags like my Lows snacks bag pictured below (just search Etsy, you'll find a ton!), or using silicone Stasherbags so you can see what you have on hand.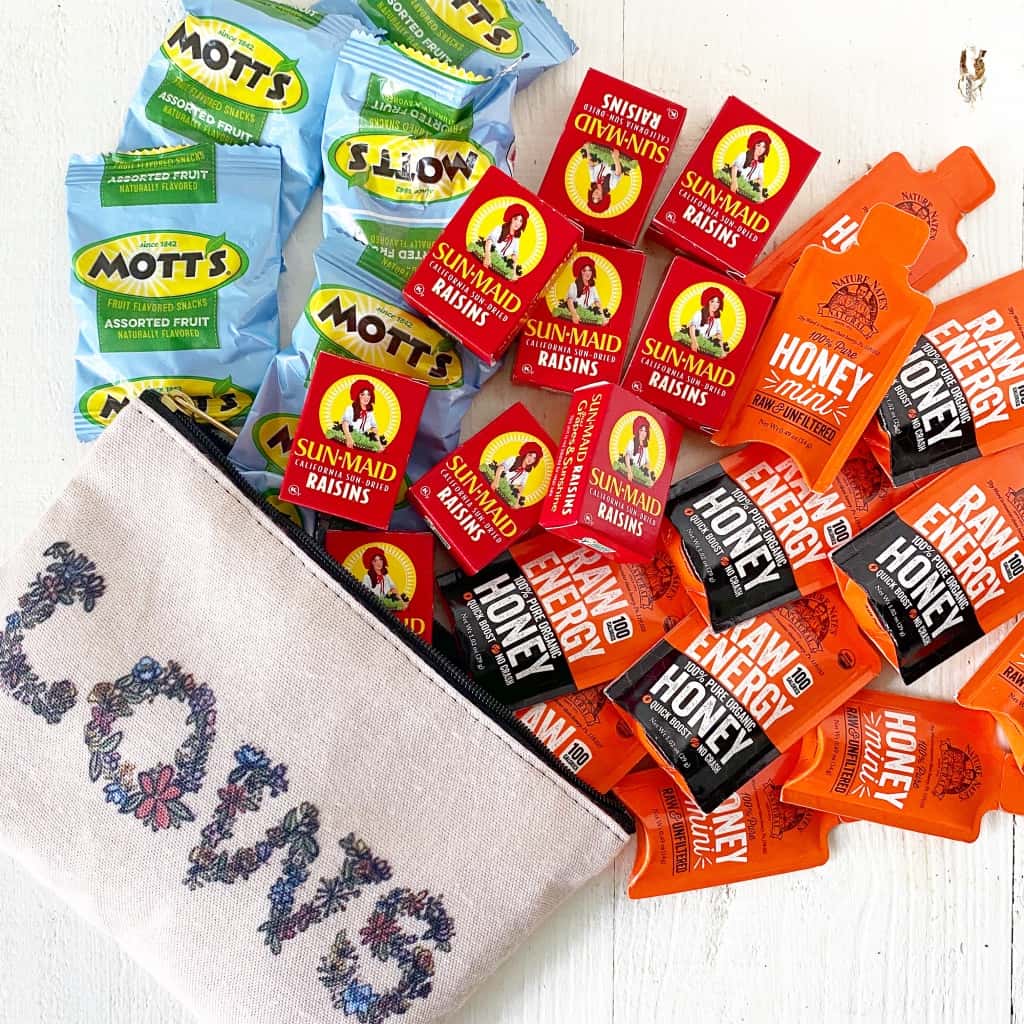 I also just discovered this cool company that designs storage containers specifically for diabetes supplies!
Looking for more information?
Don't forget to check out these other posts for more information on diabetes tools & resources: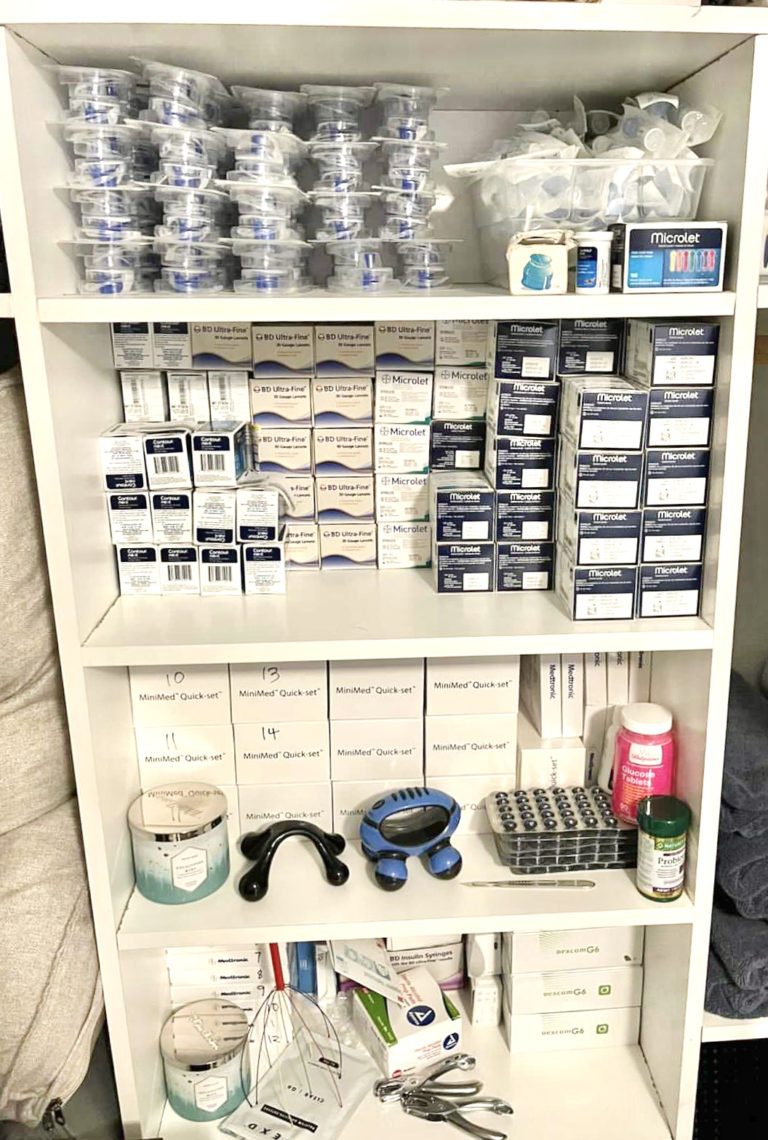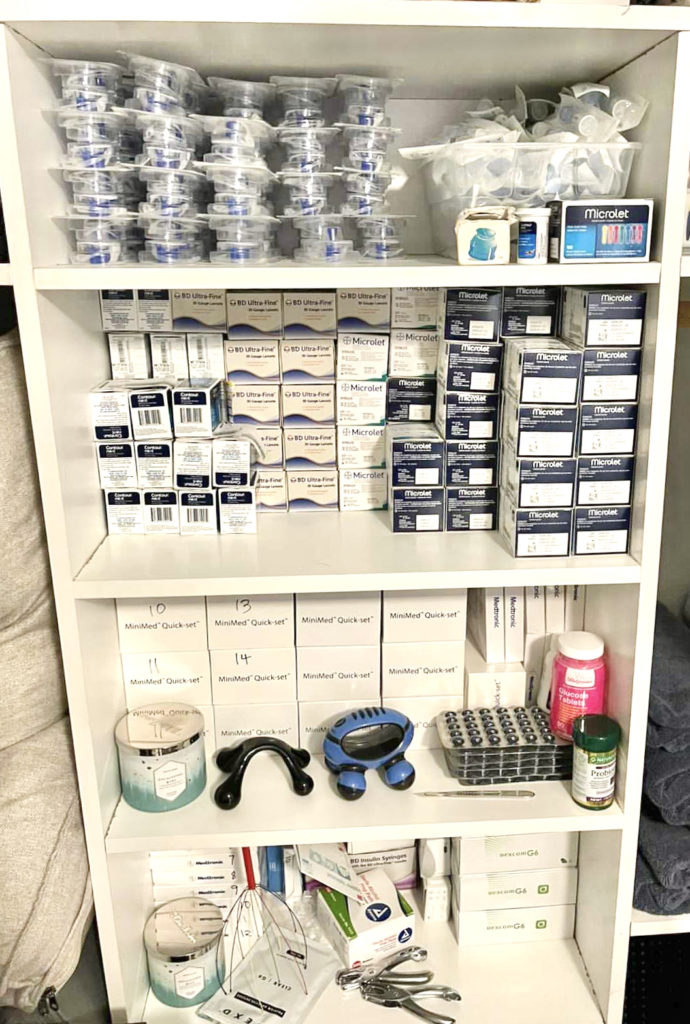 And make sure to order a copy of my diabetes cookbook, The Easy Diabetes Cookbook!