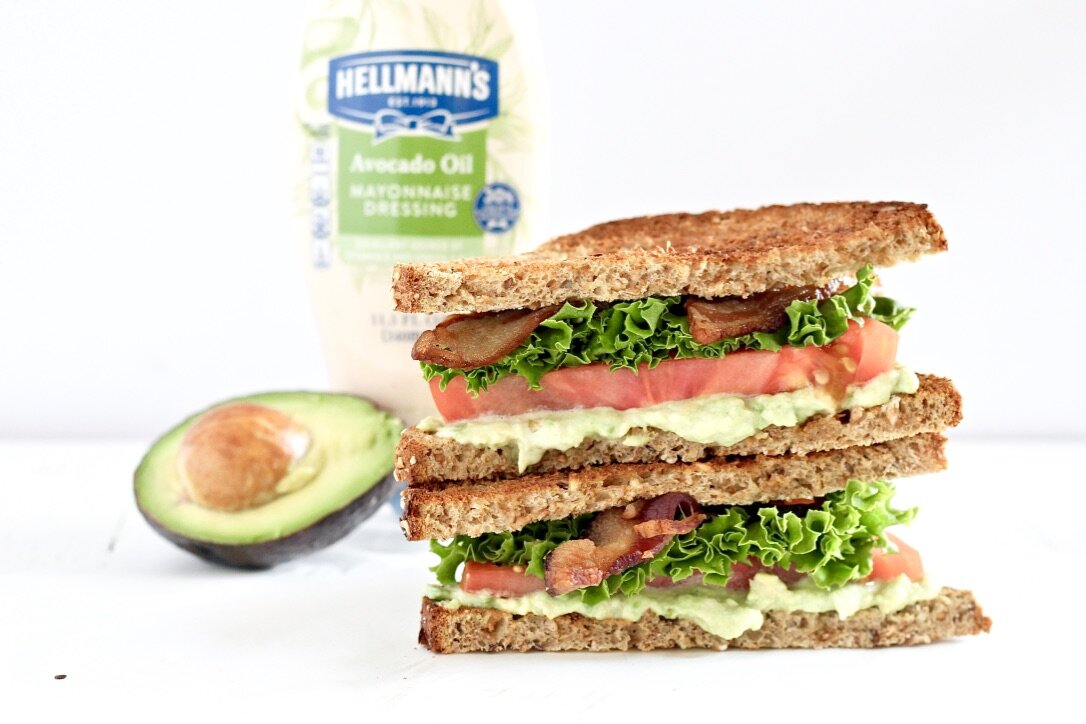 This Avocado Lime BLT Sandwich recipe was sponsored by Hellmann's® and Unilever®. All thoughts and ideas are my own.
---
Aren't we all looking for an easy dinner option for a busy weeknight? Why not try this Avocado Lime BLT Sandwich?? You can even set them up as a build your own sandwich bar!
Having quick and easy meals you can throw together in under 30 minutes makes life easier on all of us and makes it more likely that everyone will get to sit down and enjoy a family meal together. It doesn't have to be a big elaborate meal. A simple sandwich, some crackers, and a side of fruit is a great way to keep stress levels down and tummies full!
Scroll on down to the bottom of this post for Avocado Lime BLT Sandwich Recipe.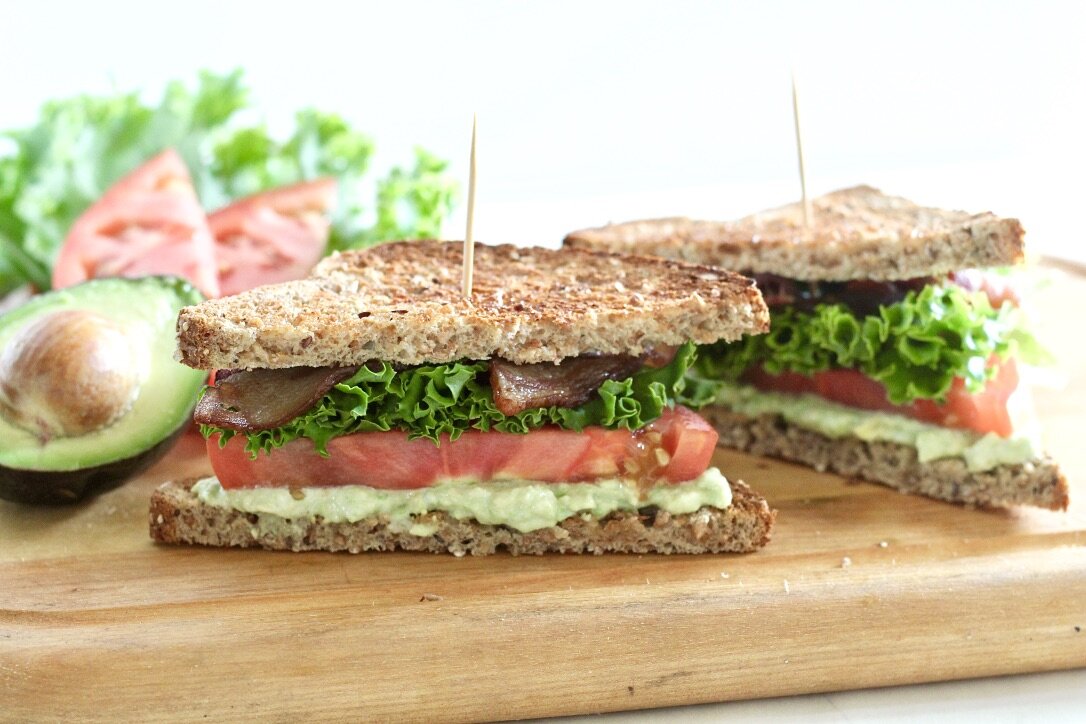 Did you know that September is National Family Meals Month™? It's a food retail industry-wide movement to raise awareness of the benefits of frequent family meals. There's a simple goal, eat one more meal together as a family, at home, each week.
Research shows that eating meals as a family can have far-reaching health and wellness benefits to individuals and the community. Family meals have been associated with increased diet quality, as well as improved mental health, academic performance, and more. In fact, numerous studies show that home-cooked meals nourish the spirit, brain and health of all family members.
The difficult part though, is the practical aspect of making this happen. 63% of Americans decide what to eat less than an hour before eating. This is where a good loaded sandwich recipe comes in handy. What if getting dinner on the table (and yes, I mean a dinner you can be proud to serve your family) was as simple as sandwiches and some sides?
Before I give you the recipe for this specific sandwich, let's look at some of my tips for building a perfectly delicious and nutritious sandwich, so you are equipped to make whatever type of sandwich you and your family desires.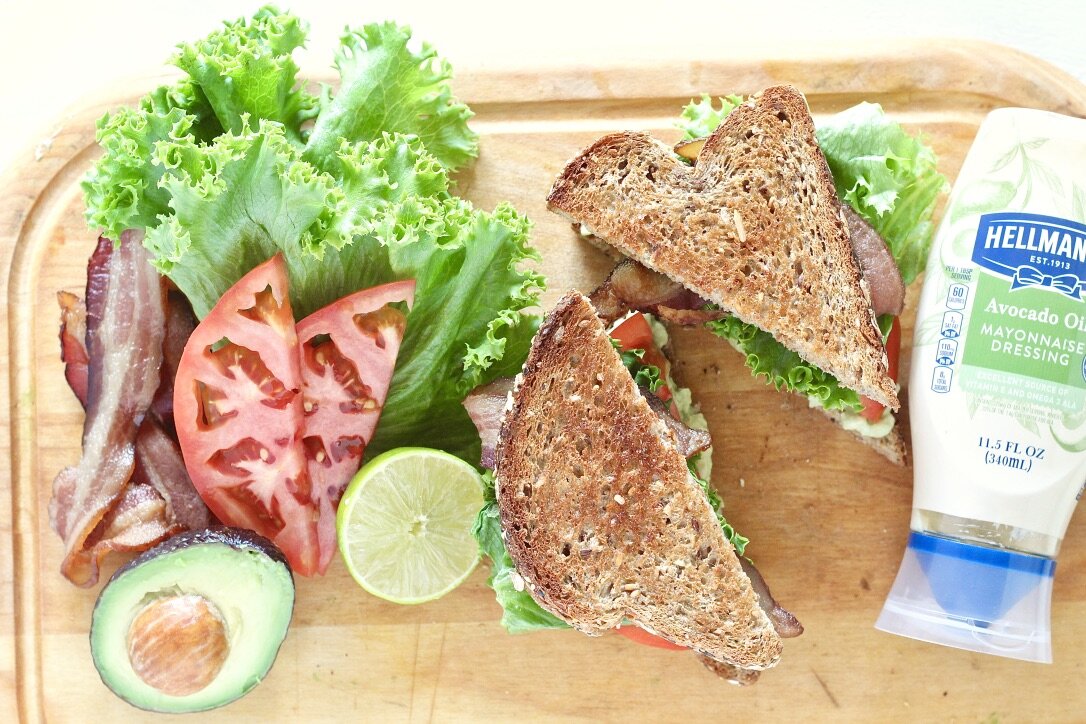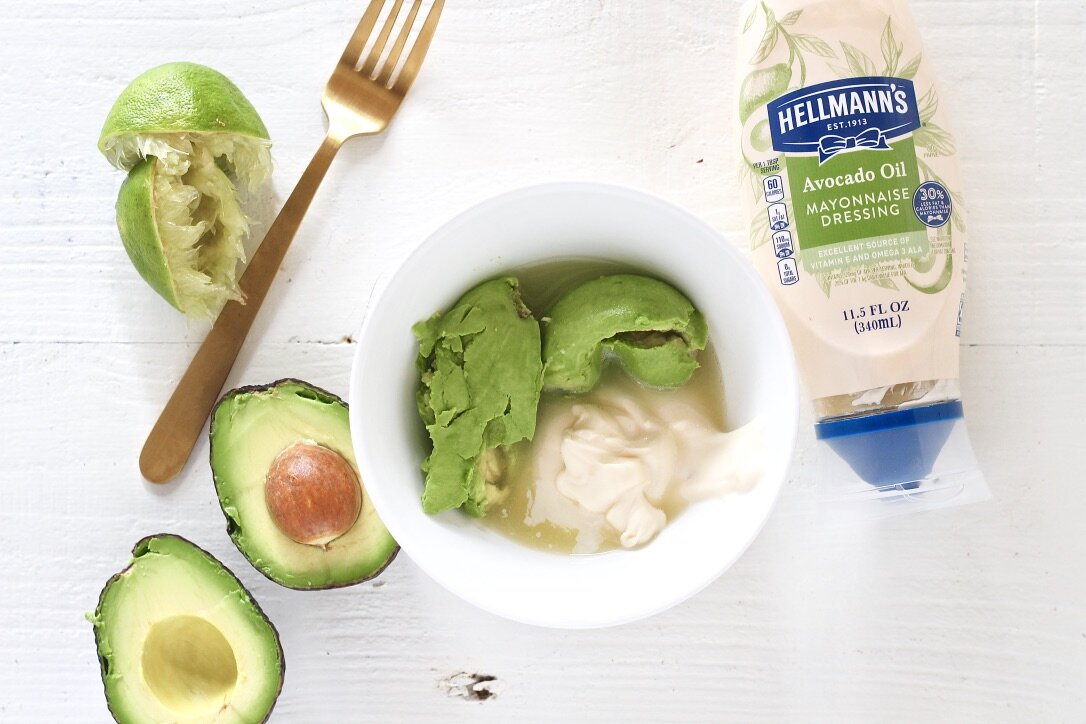 How to Build Nutritious and Delicious Sandwiches
Bread: Choose a whole grain bread. Ideally the first word in the ingredient list should have the word "whole" in it. If it just says "wheat flour" or "stone ground wheat" or something equivalent, this is not a whole grain bread. Whole grain bread will be made with "whole wheat flour" or another whole grain.
Condiments: There's a wide range of options here from mustard to mayo, salad dressing to hummus. Choose a condiment that's made with quality ingredients. A new favorite of mine is the Hellmann's® Avocado Oil Mayonnaise Dressing . (You guys know how I love avocado oil!) It combines the creamy, rich taste of traditional mayonnaise and quality oils. It's high in omega-3 ALA* and vitamin E and is also gluten-free and certified kosher.
*Contains 320mg of ALA per serving, which is 20% of the 1.6g, daily value for ALA.
Proteins: Choose anything from lunch meat to rotisserie chicken to canned tuna. Or if you're keeping it vegetarian, consider cheese, tofu, tempeh, or other plant-based alternatives.
Veggies: Sandwiches are a great opportunity to load up on veggies! No need to stick with just the basic lettuce. Try adding tomatoes, cucumbers, onions, green beans, and so on. Get creative!
Good fats: To make a sandwich that truly satisfies, there's got to be some fat in there. Fat is what helps us feel full and satisfied for longer. This could be nut butters, the new Hellmann's® Avocado Oil Mayonnaise I mentioned above, avocado, hummus, etc.
Download the Healthy and Delicious Sandwich Guide
Now on to this Avocado Lime BLT Sandwich I keep talking about…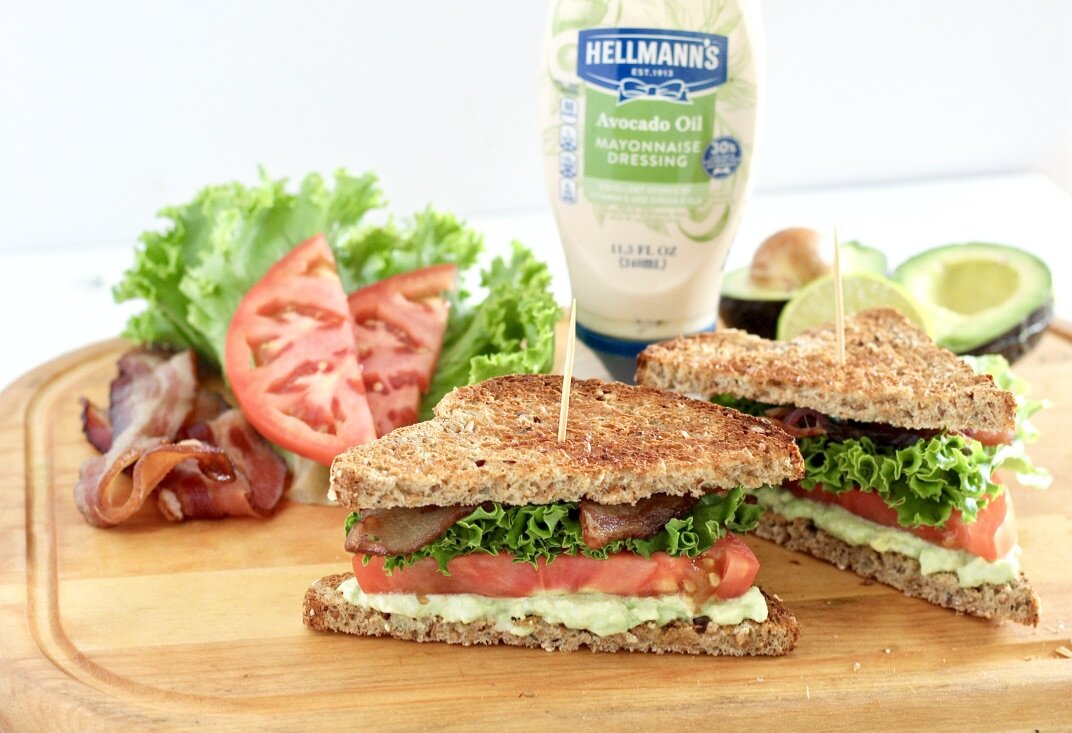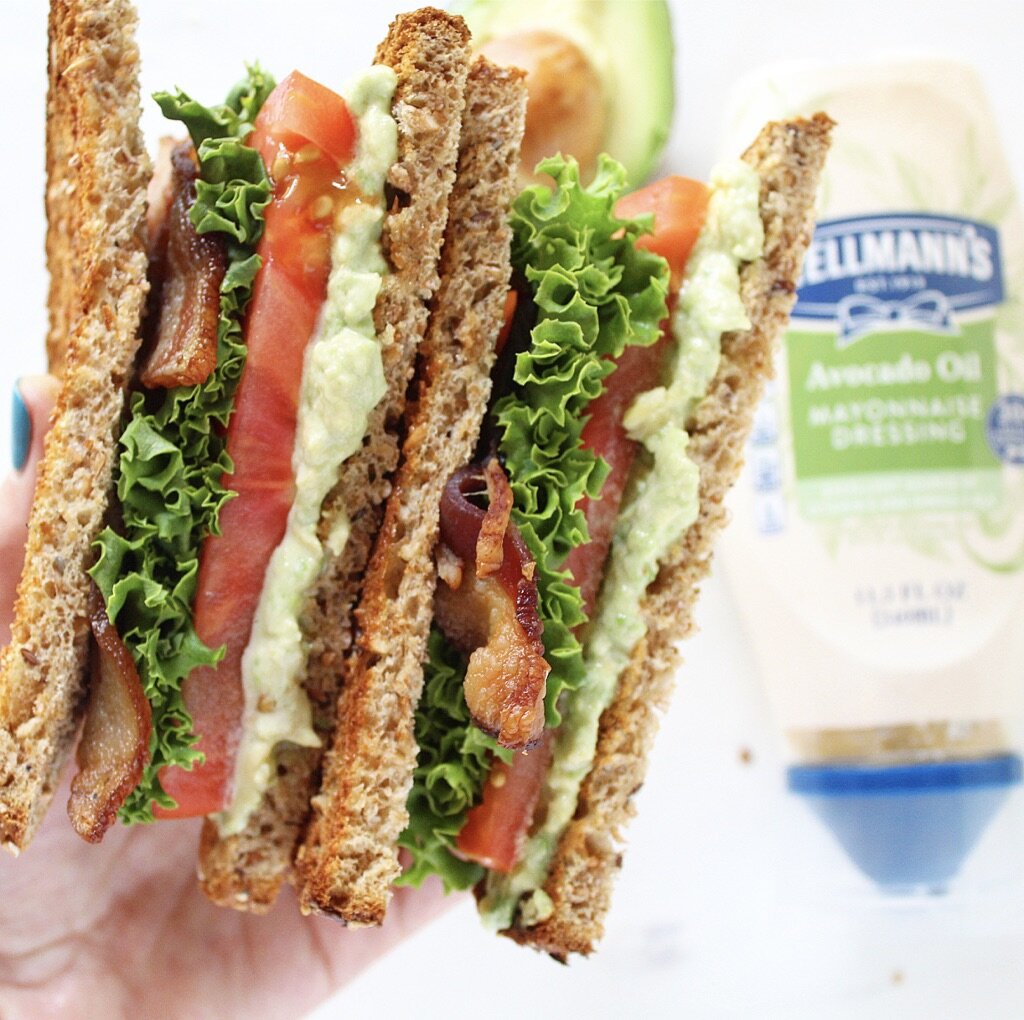 ---

Avocado Lime BLT Sandwich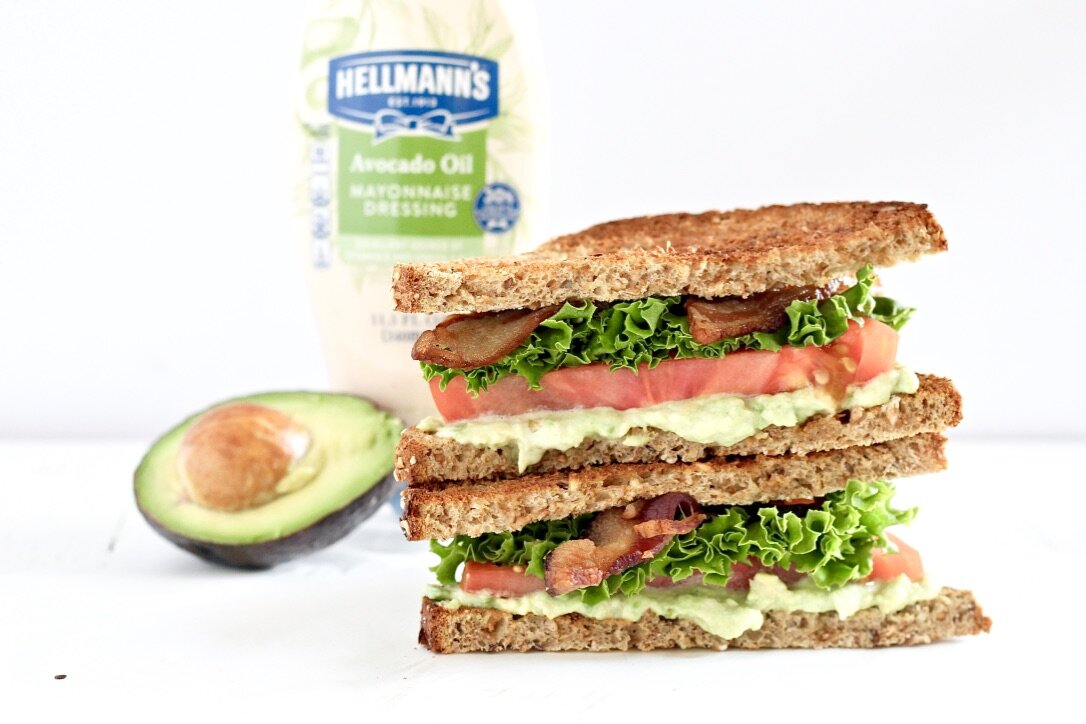 Ingredients
2

slices

whole grain bread

1/2

Tbsp

butter

1/2

small Hass avocado

1

Tsp

lime juice

1-2

slices

of green lettuce

2

slices

of bacon

cooked

1

large tomato slice
Instructions
Toast the two slices of bread to your desired level of crispiness. Divide the butter in half and spread on each slice of bread. Set the bread aside.

Note: You can also sub Hellmann's mayonnaise for the butter on your toast!

In a small bowl, combine Hellmann's® Avocado Oil Mayonnaise Dressing, lime juice, and avocado.

Using a fork, mash them together until well combined. Spread mixture onto the un-buttered side of both slices of bread.

Add the lettuce, tomato, and bacon on one of the slices of bread and top it with the other slice of bread.

Serve with fruit, veggies, or crackers and enjoy!
Notes
The quantities listed above are for one sandwich. Multiply as needed for the quantity of sandwiches you'd like to make. 
The nutrition facts presented here are estimates only. The brands you use and product types chosen can change the nutritional information presented. To obtain the most accurate nutritional information, you should calculate the nutritional information with the actual ingredients you use.
Nutrition
Calories:
496
kcal
|
Carbohydrates:
38
g
|
Protein:
14
g
|
Fat:
33
g
|
Saturated Fat:
8.5
g
|
Fiber:
11
g
|
Sugar:
5.2
g