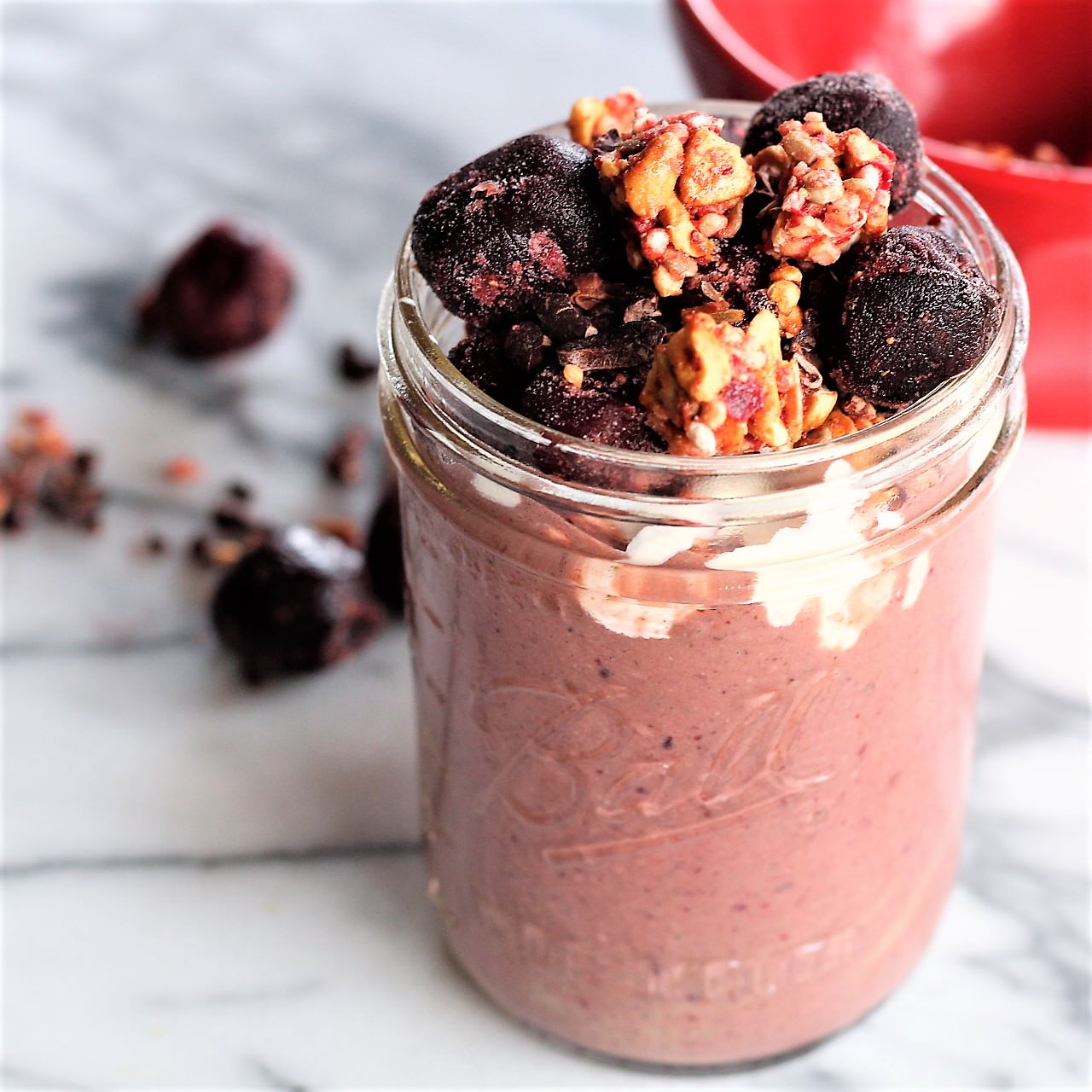 Confession: inspiration for this Cherry Superfood Smoothie recipe came straight from the frozen produce section at my Costco. They have quite an extensive selection of frozen organic fruits and vegetables for way cheaper than my usual grocery store. So, a couple weeks ago when I was strolling through said frozen produce aisle, while also trying to keep my two toddlers from fighting over their growing stash of Costco samples (while they may not always be the healthiest, mamas gotta do what mama's gotta do), I spotted a massive bag of organic cherries for less than $10… and thus the idea for this Cherry Superfood Smoothie was born!
I love it's red color, and how well it pairs with other flavors. I've made it several times now and my favorite way to top it off is with Cashew Cranberry Orange Frontier Bites and some cacao nibs. They add the perfect crunch!
I'm also a big fan of the added protein from The Natural Citizen. I'd love if I had time to cook up some eggs to go along with this smoothie each morning, but that usually doesn't happen, so getting all of the carbohydrate, protein, and fat I need in one smoothie is perfect! The Natural Citizen Organic Protein has only 4 ingredients. It's vegan, non-GMO, nut-free… and completely free of added flavors, sweeteners, and preservatives. You can read more about my thoughts on it and why it has become a staple in our house (for kids and adults alike) by downloading the Milk & Honey Nutrition Smoothie Guide here.  (And as always, use code MILKANDHONEY for 15% off your purchase from thenaturalcitizen.com)
---
Cherry Superfood Smoothie
1 cup unsweetened almond milk
2 Tbsp Chosen Foods organic chia seeds*
1 large handful kale leaves
2 cups frozen cherries
1/2 banana, frozen
2oz. aloe juice
1 tsp vanilla extract
1 Tbsp all natural peanut butter
2 Tbsp Natural Citizen Organic Protein
1oz. Young Living Ningxia Red (optional)
Blend all ingredients in a high speed blender for 60 seconds until smooth. Enjoy from a cup or in a bowl with toppings. 
*Use code milknhoney20 for 20% off at chosenfoods.com
---
Check out these other Superfood Smoothies!