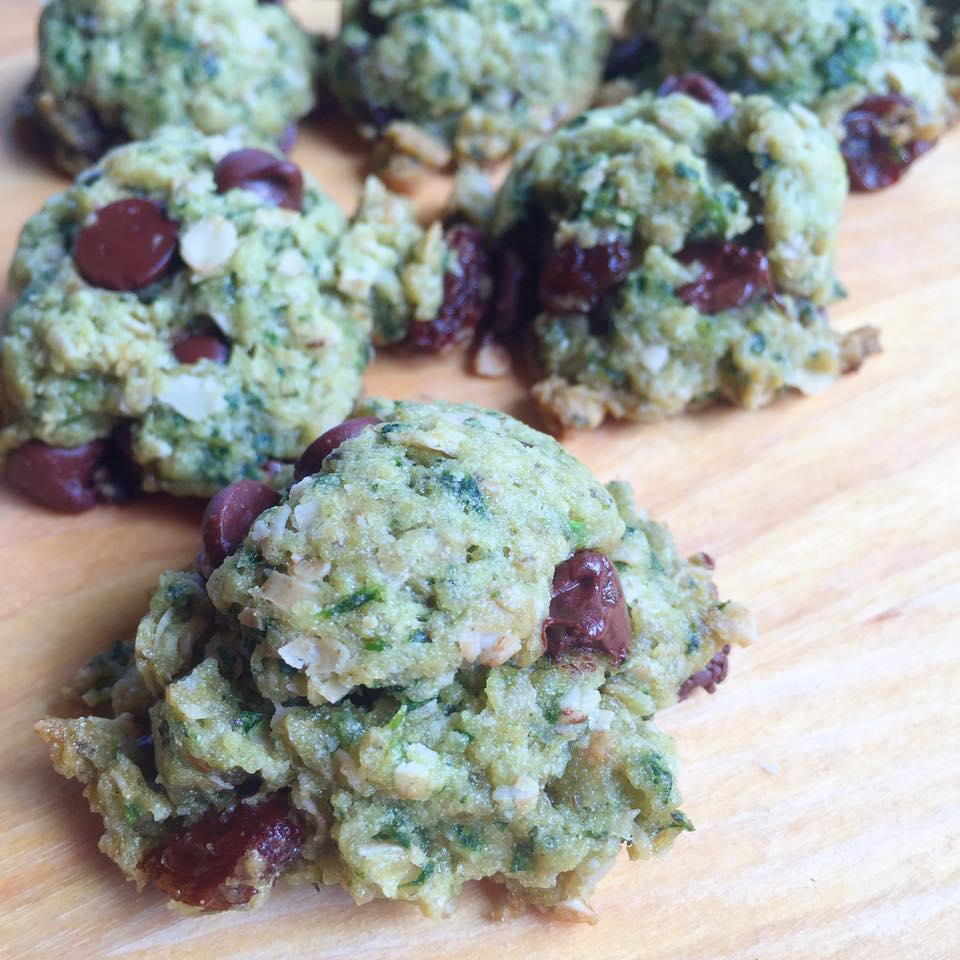 I can't believe I'm saying this but the avocado cookie has some stiff competition!
I adapted this recipe from The Colorful Kitchen using ingredients I had on hand.
Chocolate Chip Kale Cookies
1 Tbsp ground Nutiva chia seeds
3 Tbsp warm water
1 cup Namaste Foods gluten free perfect flour blend
1 cup Bob's Red Mill gluten free quick oats
1/3 cup sugar
1/3 cup brown sugar, packed
1/2 tsp baking soda
1/8 tsp salt
2/3 cup melted coconut oil
2 tsp vanilla extract
1/4 cup unsweetened vanilla almond milk
2 cups kale leaves, shredded
2 Tbsp (or more) Nutiva coconut flour
3/4 cup dairy free chocolate chips
1/2 cup raisins
Preheat oven to 350 degrees. Mix ground chia seeds and water in small bowl and set aside. Combine flour, oats, sugars, baking soda, and salt in a large mixing bowl. Add in melted coconut oil, vanilla, almond milk, chia seeds/water mixture ("chia egg") and kale (make sure your kale is as shredded and as tiny as possible.)* Stir in enough coconut flour so that the dough is wet but can be formed into balls. Stir in chocolate chips and raisins. Drop tablespoon sized balls onto a lined or greased cookie sheet. Bake for 14-15 minutes until edges are browned. Cool on a wire rack. Wait to enjoy them until fully cooled (they'll firm up a bunch as they cool)
*I used my Cuisinart food processor to shred it… If the pieces are too big, your cookies will be a mix of chocolate and kale chips, and as much as I love kale, nobody wants that.