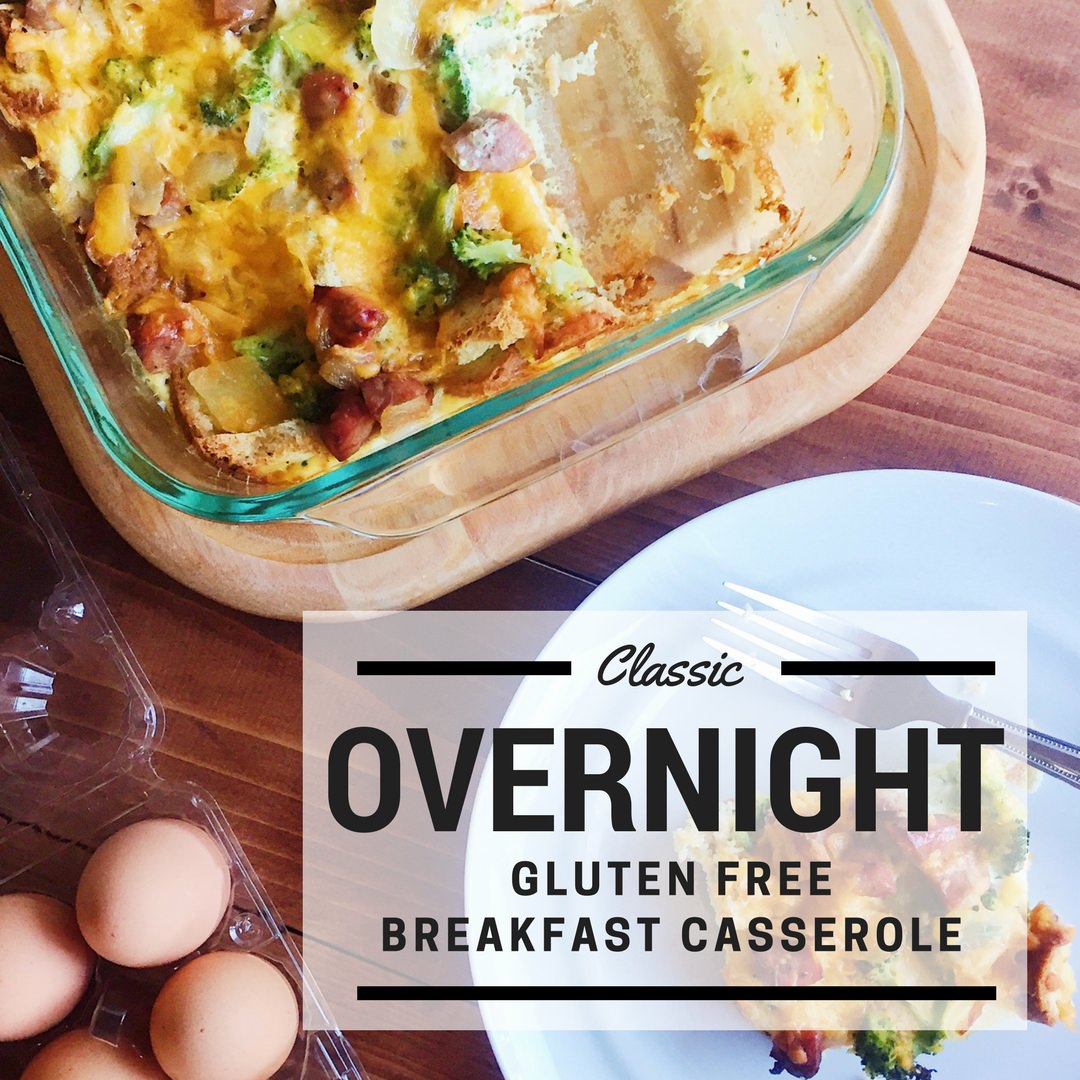 Classic Overnight (Gluten Free) Breakfast Casserole always reminds me of Christmas morning when I was a kid! I could smell it baking in the oven begging me to come downstairs. Mouthwatering and delicious, it was something to look forward to every year.
So, needless to say, I'm not too keen on making it "healthy". But what I AM interested in, is making it with real,quality ingredients, so I don't have to feel guilty about making it more than once a year for my own family.
You can customize this recipe with your favorite vegetables, meat, and cheese, but just keep these recommendations in mind:
Always try to have two vegetables. I usually do onions and broccoli.

Only one type of meat, and if you use a processed meat like sausage or bacon, make sure it's nitrate free.

Stick to a cheese that is free of preservatives. This usually means buying organic cheese or shredding a block of cheese yourself, rather than buying it already shredded from the store.

Use whole grain bread.
Classic Overnight Breakfast Casserole
Avocado Oil (or your favorite cooking oil)
1/2 yellow onion, chopped
4oz. Nitrate free chicken sausage, cooked
2 cups cooked green vegetable of choice
6 slices of whole grain bread (use gluten free if needed)
2 cups whole milk
6 eggs
1 teaspoon dry mustard
1/2 teaspoon salt
Pepper to taste
1/2 cup shredded cheese
Heat a large pan over medium heat. Add oil and onions to pan and sauté until starting to brown, stirring occasionally, about 15 minutes. Add sausage and green vegetable, stir, and set aside.
In a large bowl, combine the milk, eggs, dry mustard, salt and pepper. Whisk until combined. Set aside.
Grease a 9 x 13 casserole dish. Tear bread into large chunks and spread it in an even layer on the casserole dish. Top with onion, meat and veggies mixture. Spread evenly over the bread. Then pour the egg and milk mixture evenly over the dish. Top with shredded cheese of choice.
Cover and let sit in refrigerator overnight.
In the morning, bake at 350 for about 45 minutes or until all of the egg has been cooked. Enjoy!