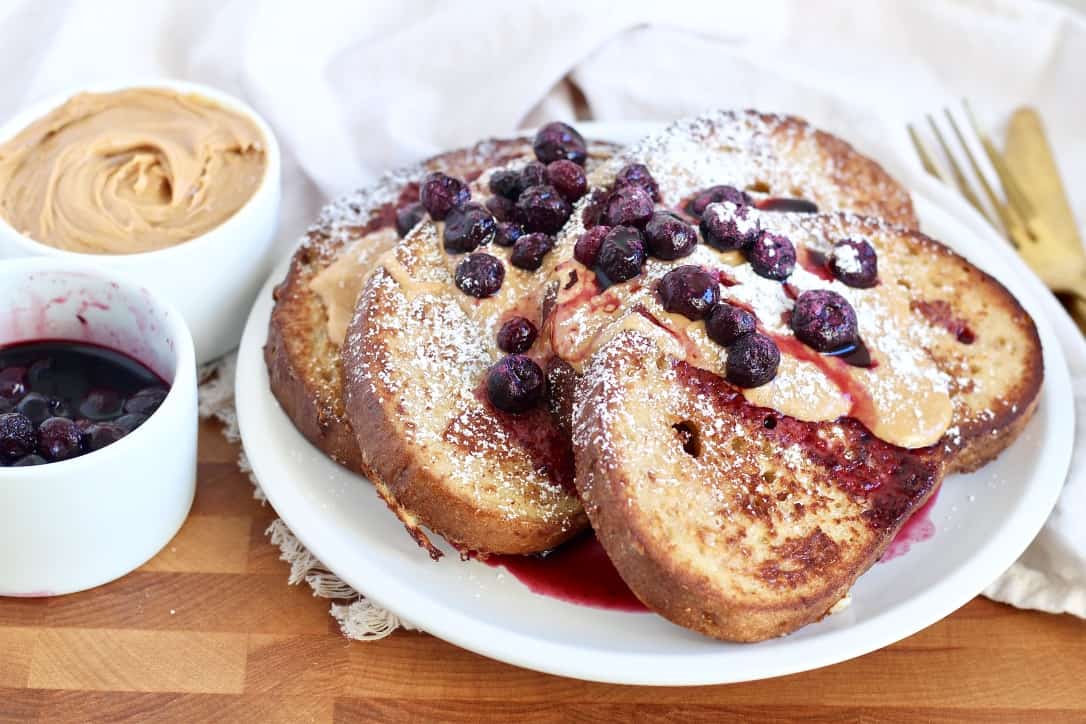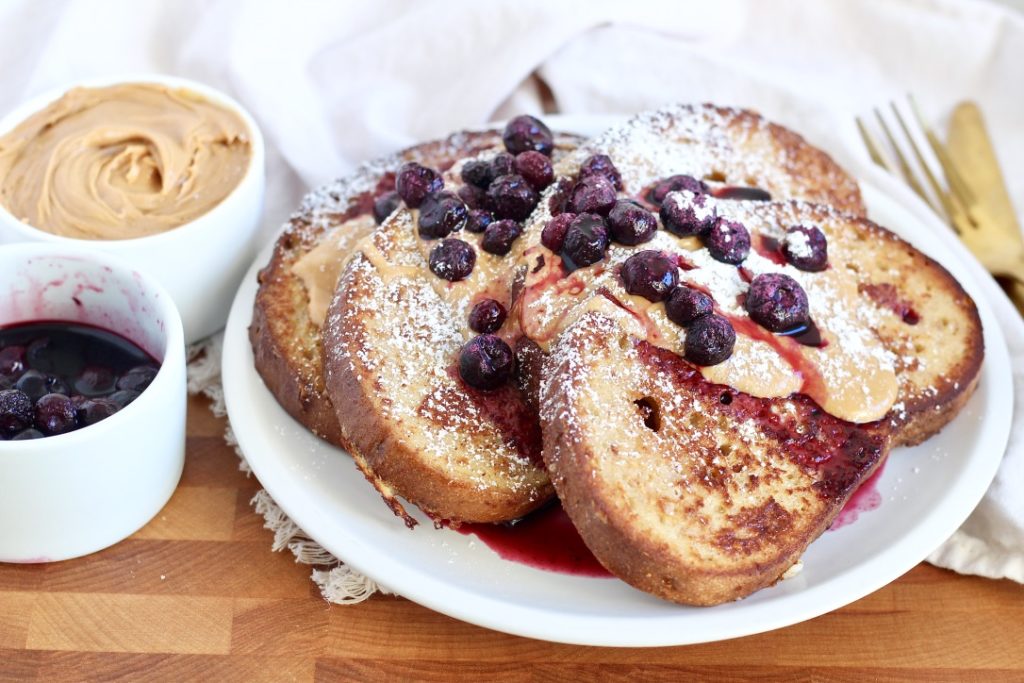 This post is sponsored by Truvía® sweetener. All thoughts and ideas are my own.
This recipe is a diabetes-friendly sourdough French toast that everyone will love!
There are so many dishes that people with diabetes often find themselves thinking they can't have, and French toast is definitely one of them. This sourdough French toast recipe is here to change that thanks to a few strategic ingredient swaps that make for a perfectly balanced and delicious way to start your day!
Can you make French toast with sourdough bread?
Yes! Using sourdough bread to make French toast adds a unique flavor and makes a dense and more filling end result!
But, why sourdough… what are some sourdough bread benefits?
Sourdough bread has risen in popularity in recent years, and especially during 2020 when many people took to trying to make their own sourdough starters at home during quarantine.
Sourdough bread is comparable in nutrients to yeast-leavened bread and it may even allow for better mineral absorption due to the additional reduction of phytates in the sourdough bread versus a traditional yeast bread.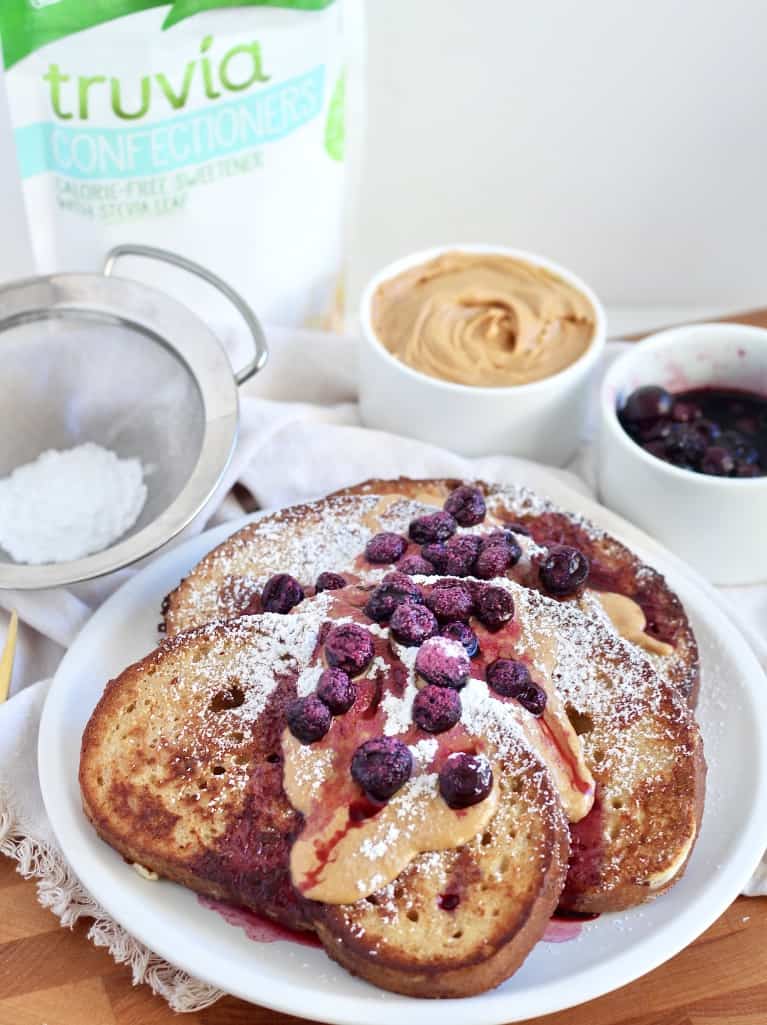 What is the secret to good French toast?
I believe the true secret to good French toast is getting it nice and crispy on the outside and making sure it's nice and fluffy and warm on the inside. But how do we do this? Cook it longer! Many people don't cook their French toast long enough to let it get crispy on the outside.
How long should you soak French toast?
To get a truly dense and fluffy French toast you need to soak your bread for at least 10 minutes.
You'll also see in the recipe below, we cook the French toast for about 5 minutes on each side, but if you don't feel like it's crispy enough by that point, you can definitely cook it for longer.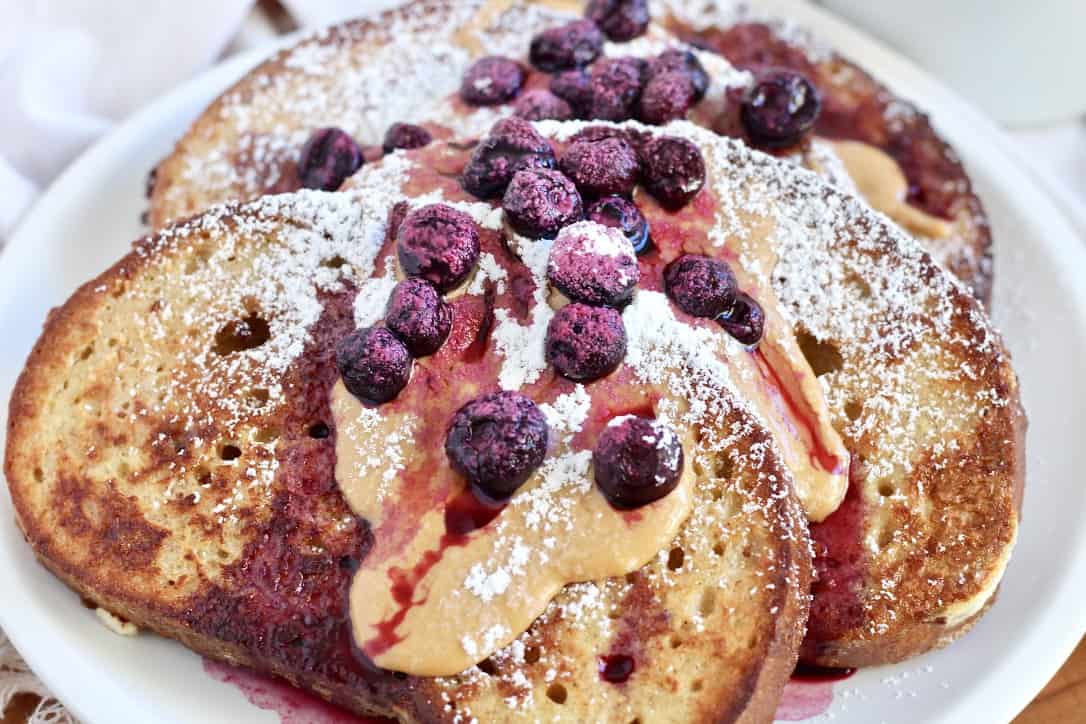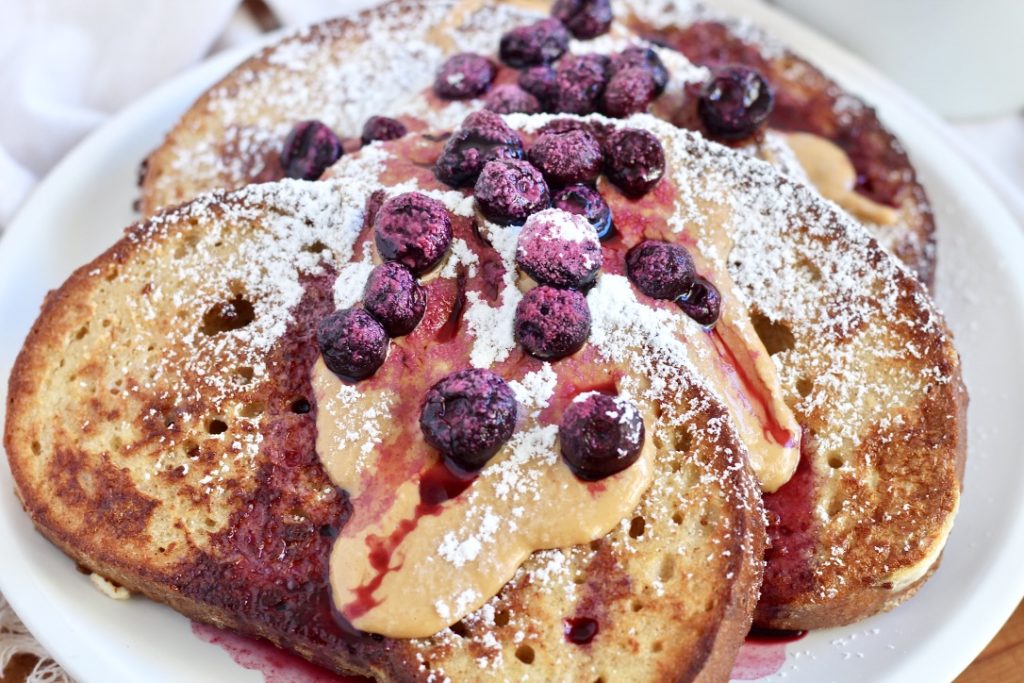 How to make diabetes-friendly French toast?
The key to make any dish diabetes-friendly, including this sourdough French toast, is to think about balancing your plate. Most French toast recipes are higher in sugar and carbohydrates and don't include additions such as fruit, protein or plant based fat.
In the recipe below, we use frozen fruit and peanut butter instead of syrup. Frozen berries and peanut butter provide an extra boost of protein, fiber and deliciousness.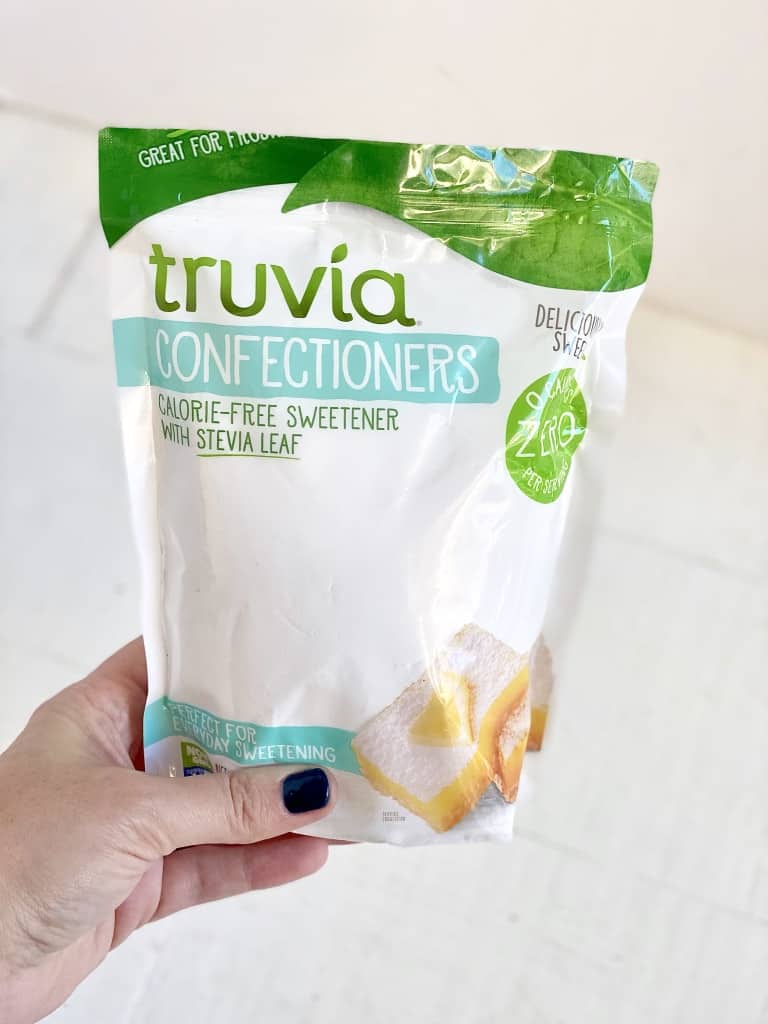 We also use two of my favorite Truvia® products. Instead of regular sugar and powdered sugar, I decided to use Truvia® Sweet Complete™ All-Purpose Sweetener and Truvia® Confectioners Sweetener.
Truvia® Sweet Complete™ All-Purpose Sweetener bakes and browns in recipes and sweetens and measures like sugar. I added some to the mixture we soaked our bread in to help our sourdough French toast get that classic golden-brown crisp on the outside…without adding any additional sugar.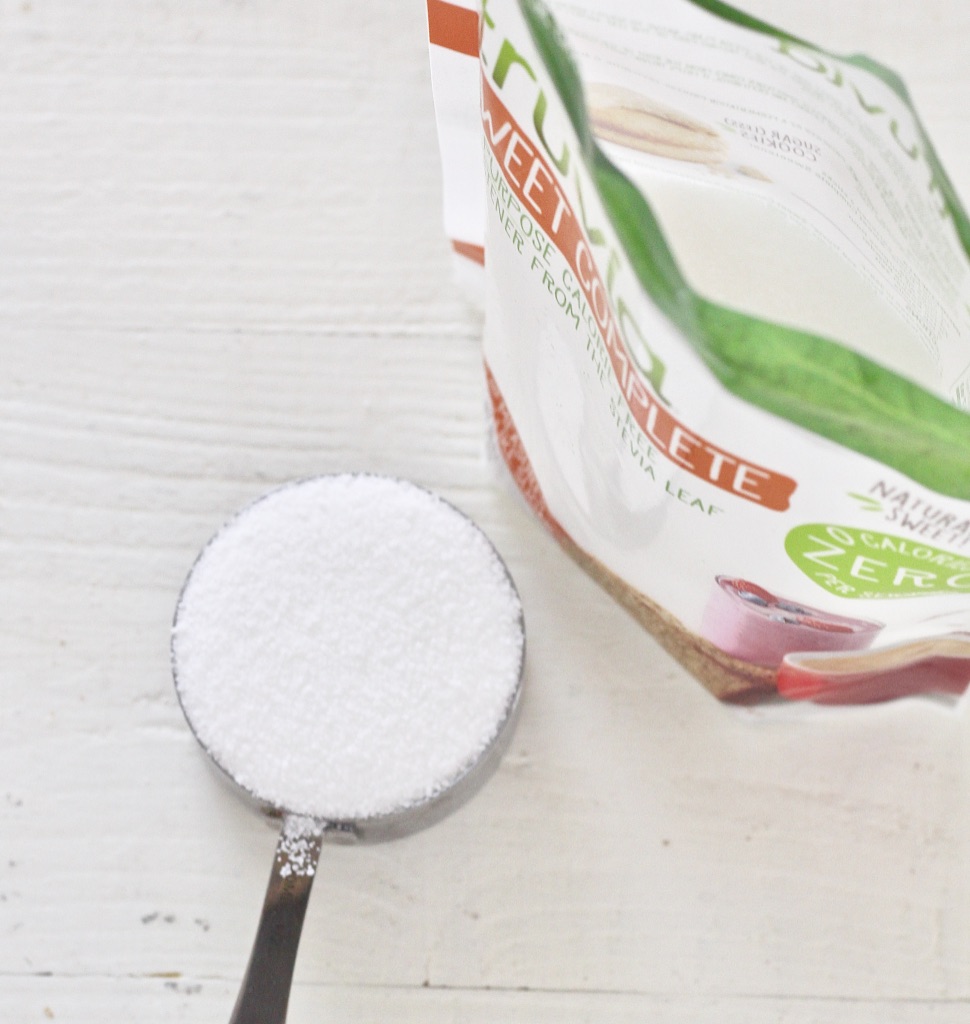 And you can't have French toast without a little powdered goodness on top, and Truvia® Confectioners Sweetener allows us to still enjoy that classic powdered sweetness without adding sugar.
Make sure to check out these other recipes using Truvia® sweeteners: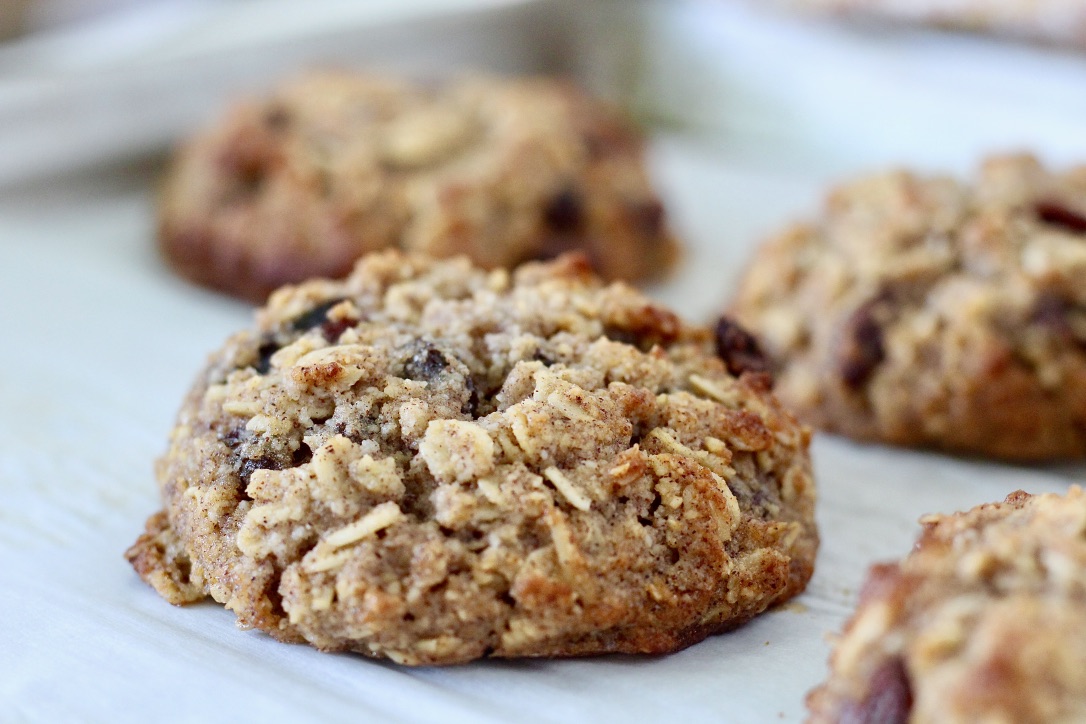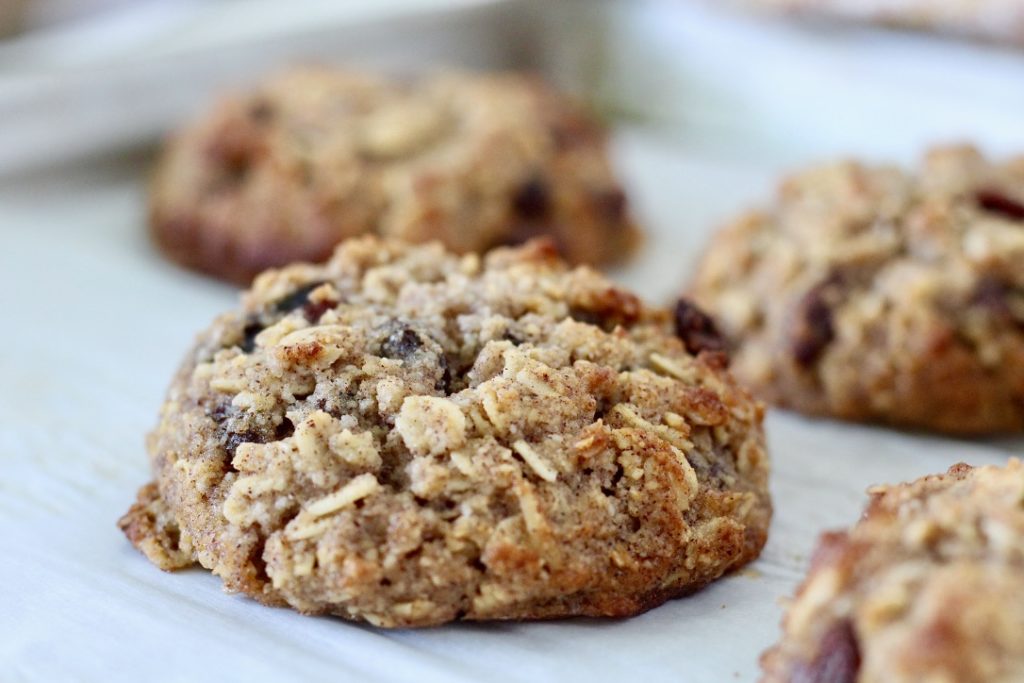 My favorite toppings for sourdough bread French toast
Some of my favorite diabetes-friendly toppings for sourdough French toast are:
Peanut butter
Cashew butter
Frozen blueberries
Hemp seeds
Chia seeds
Pumpkin seeds
Walnuts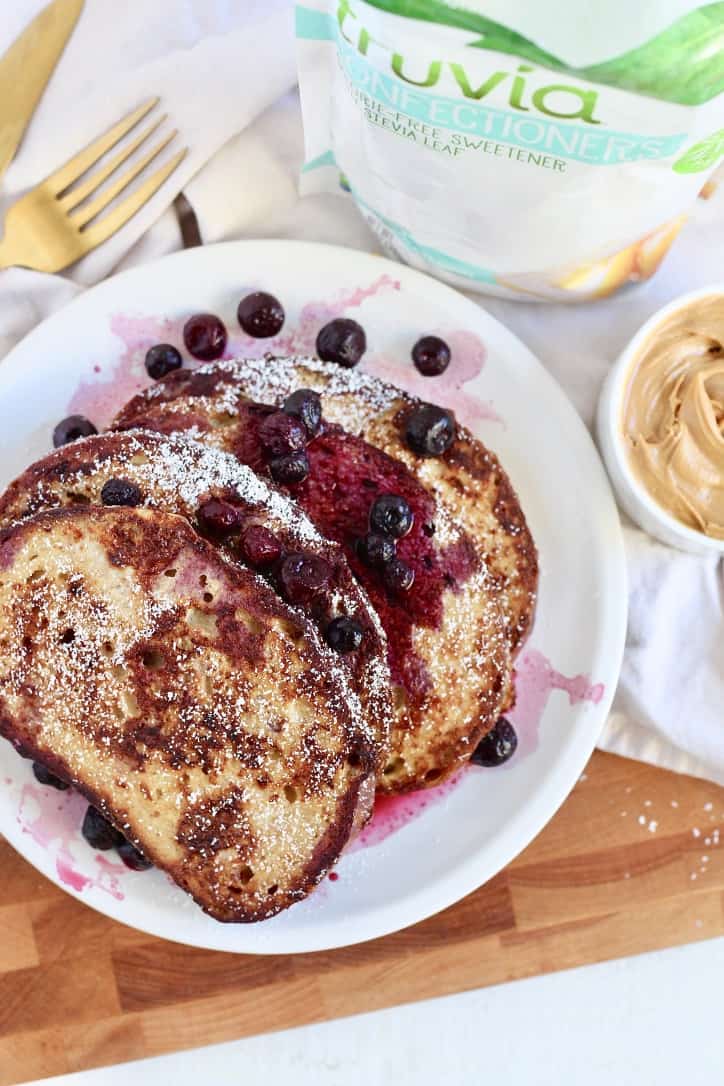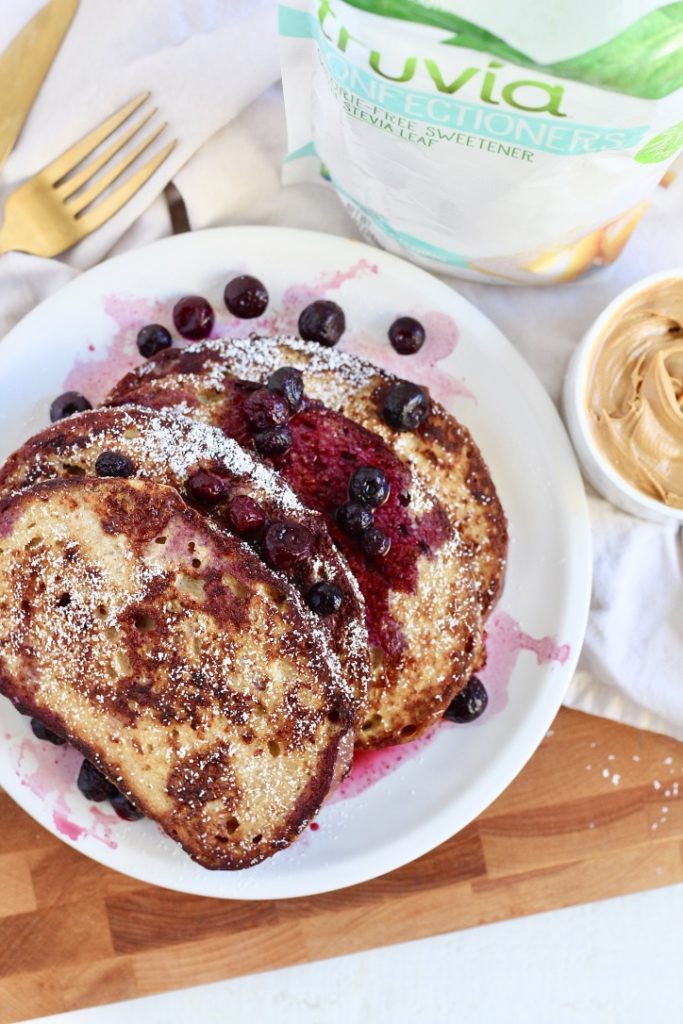 How do you make French toast crispy and not soggy when you reheat it?
Instead of heating your sourdough French toast in the microwave, use your air fryer, toaster oven, or toaster. These appliances will make your French toast crispy and not soggy.

Diabetes-Friendly Sourdough French Toast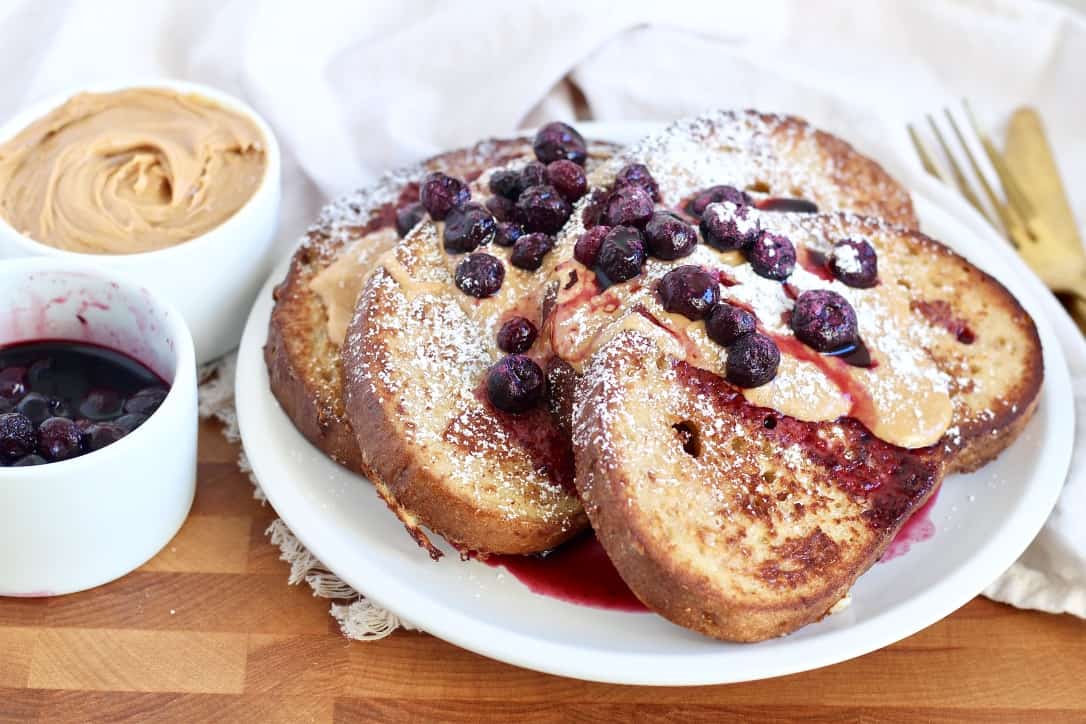 Ingredients
1

large

egg

beaten

¼

cup

whole milk

1

tsp

vanilla extract

1

tsp

almond extract

½

tsp

ground cinnamon

4

slices

sourdough bread

use gluten free sourdough if needed

2

Tbsp

unsweetened peanut butter

1

cup

frozen berries

thawed
Instructions
Have all of your ingredients out and ready to go.

Combine the egg, milk, Truvia® Sweet Complete™ All-Purpose Sweetener, vanilla extract, almond extract, and cinnamon in a bowl. Carefully whisk the mixture together until fully combined.

Layer your pieces of bread in a large baking dish or in a wide shallow bowl. Pour the egg mixture over the bread slices making sure to evenly cover them. Soak for 5 minutes and then rearrange the bread slices to ensure even saturation, and then soak for 5 more minutes.

While the bread is soaking, heat a large skillet over medium heat on your stovetop. (Make sure the pan is good and hot and has been heating for at least 5 minutes before moving on to the next step.)

Spray the pan with your preferred cooking oil spray.

Remove the bread from the dish, making sure to shake off any excess milk/egg mixture. Place the pieces of bread in the pan and cook for 4-5 minutes with a lid on the pan to help hold the heat in.

After 4-5 minutes, flip the French toast and cook for another 3-4 minutes with the lid on the pan.

Remove the French toast from the pan and transfer to two plates. Top your French toast evenly with the peanut butter, berries, and Truvia® Confectioners Sweetener.

Enjoy!
Notes
The nutrition facts presented here are estimates only. The brands you use and product types chosen can change the nutritional information presented. To obtain the most accurate nutritional information, you should calculate the nutritional information with the actual ingredients you use.
Nutrition information below was calculated using standard values for sourdough bread.
Truvia® Sweet Complete™ All-Purpose Granulated Sweetener contains chicory root fiber. This recipe has 6 grams of dietary fiber per serving.
This recipe contains 10g Erythritol (a sugar alcohol).
Nutrition
Serving:
2
slices
|
Calories:
460
kcal
|
Carbohydrates:
78
g
|
Protein:
20
g
|
Fat:
13
g
|
Saturated Fat:
2.5
g
|
Sodium:
650
mg
|
Fiber:
6
g
|
Sugar:
14
g