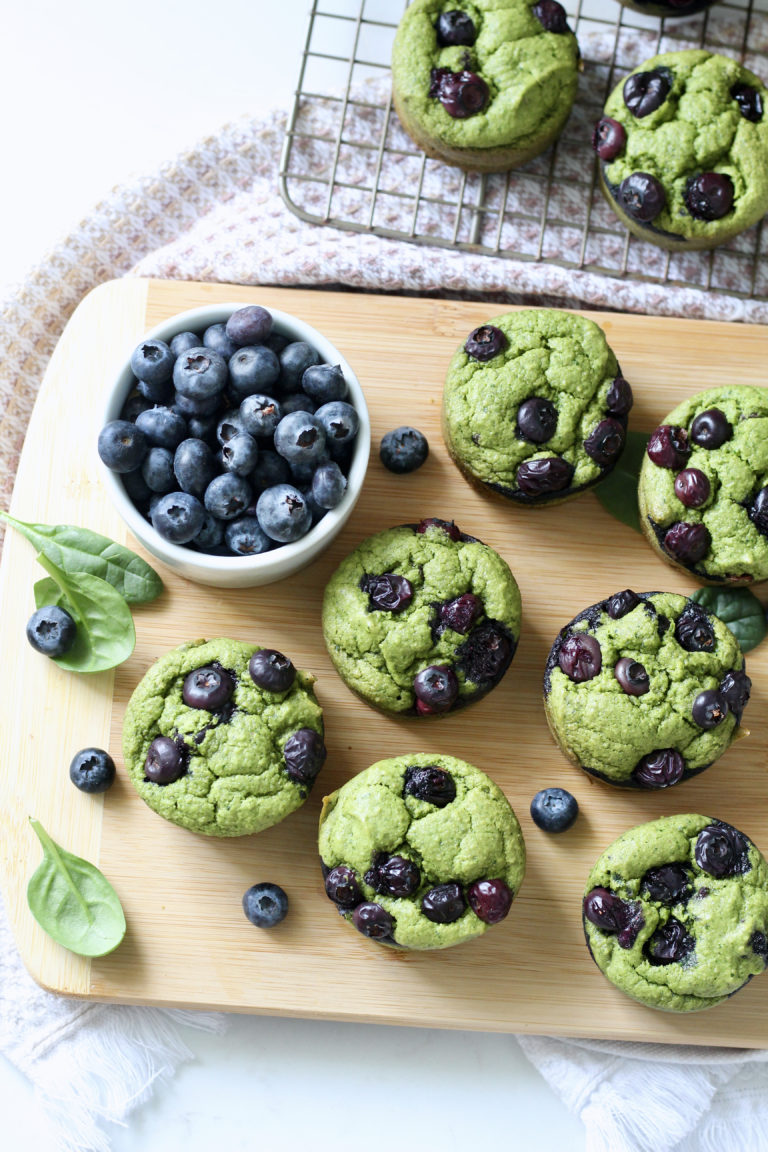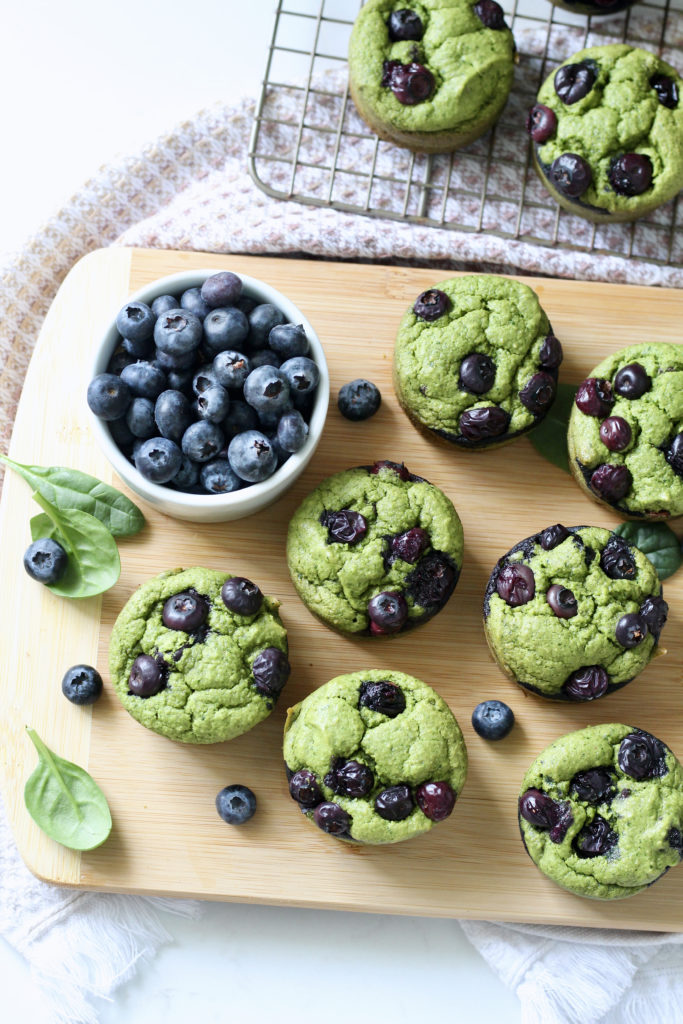 This post was sponsored by Sprouts Farmers Market. All thoughts and ideas are my own.
These spinach muffins with blueberries are made in the blender and come together so fast!
Light, fluffy and beautifully green, spinach muffins are such a fun way to add veggies to a muffin recipe! And with 5g protein and 3g fiber in each muffin, they are incredibly satisfying!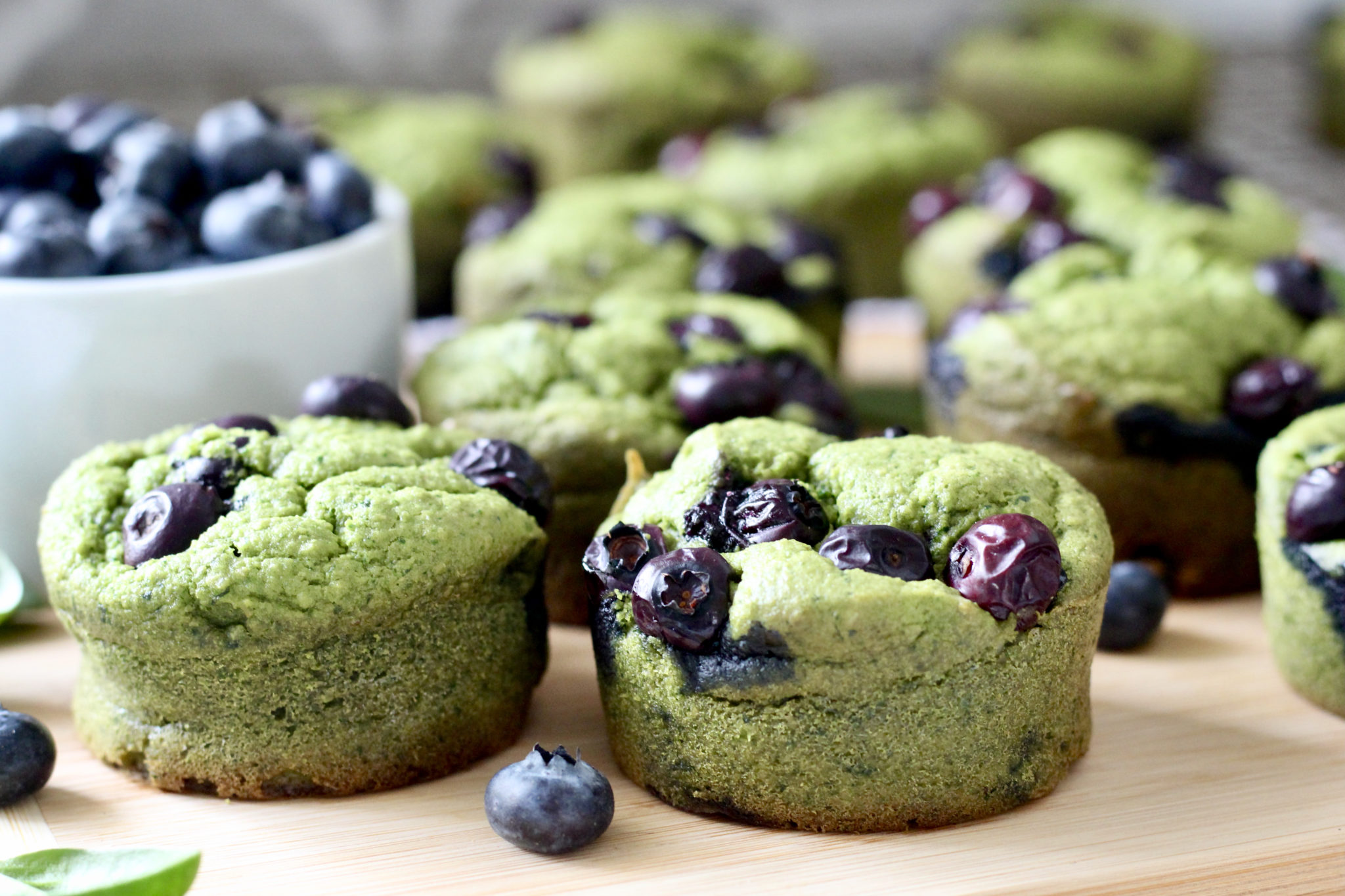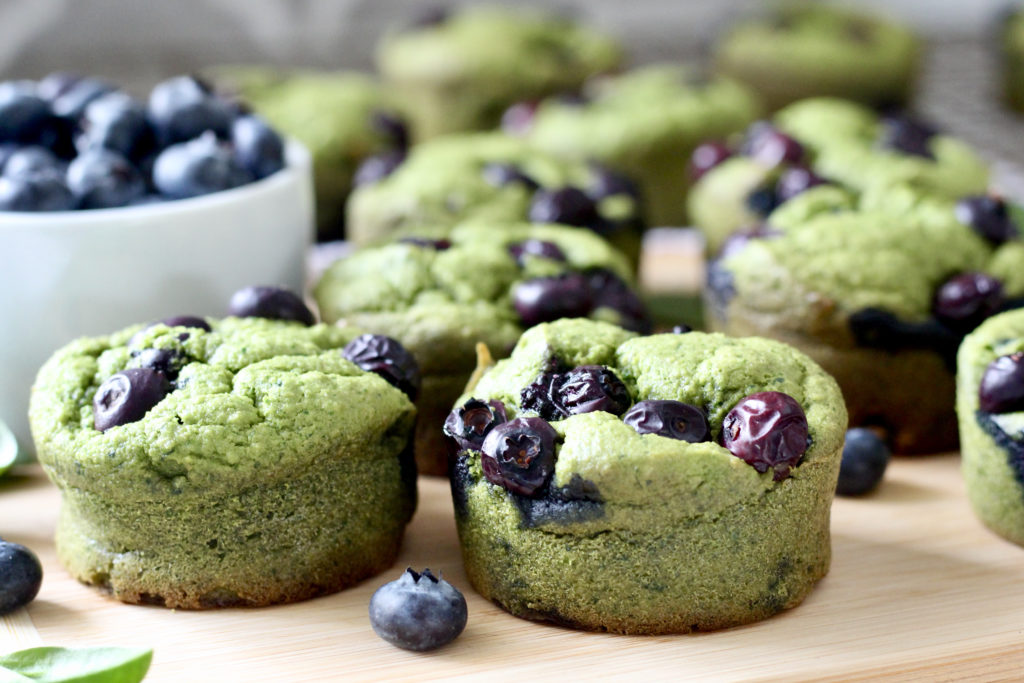 Blender muffins are so easy
I love when I find a good blender muffin recipe! It doesn't get much simpler than that! Just throw everything in the blender and mix it up, then pour into your muffin tin. So easy! And, it also make mixing up pancake batter easier as well.
Spinach blender muffins are easy for kids to help with too
Another reason I love blender muffin recipes is they make making spinach muffins super easy too. Because no one wants a thick leaf of spinach in their muffin, especially my kids! But, when we can blend them up nice and smooth and make a cool green muffin, both mom and kids are very happy about that. And, my kids (ages 6 and 7) can easily help me measure ingredients and add them to the blender.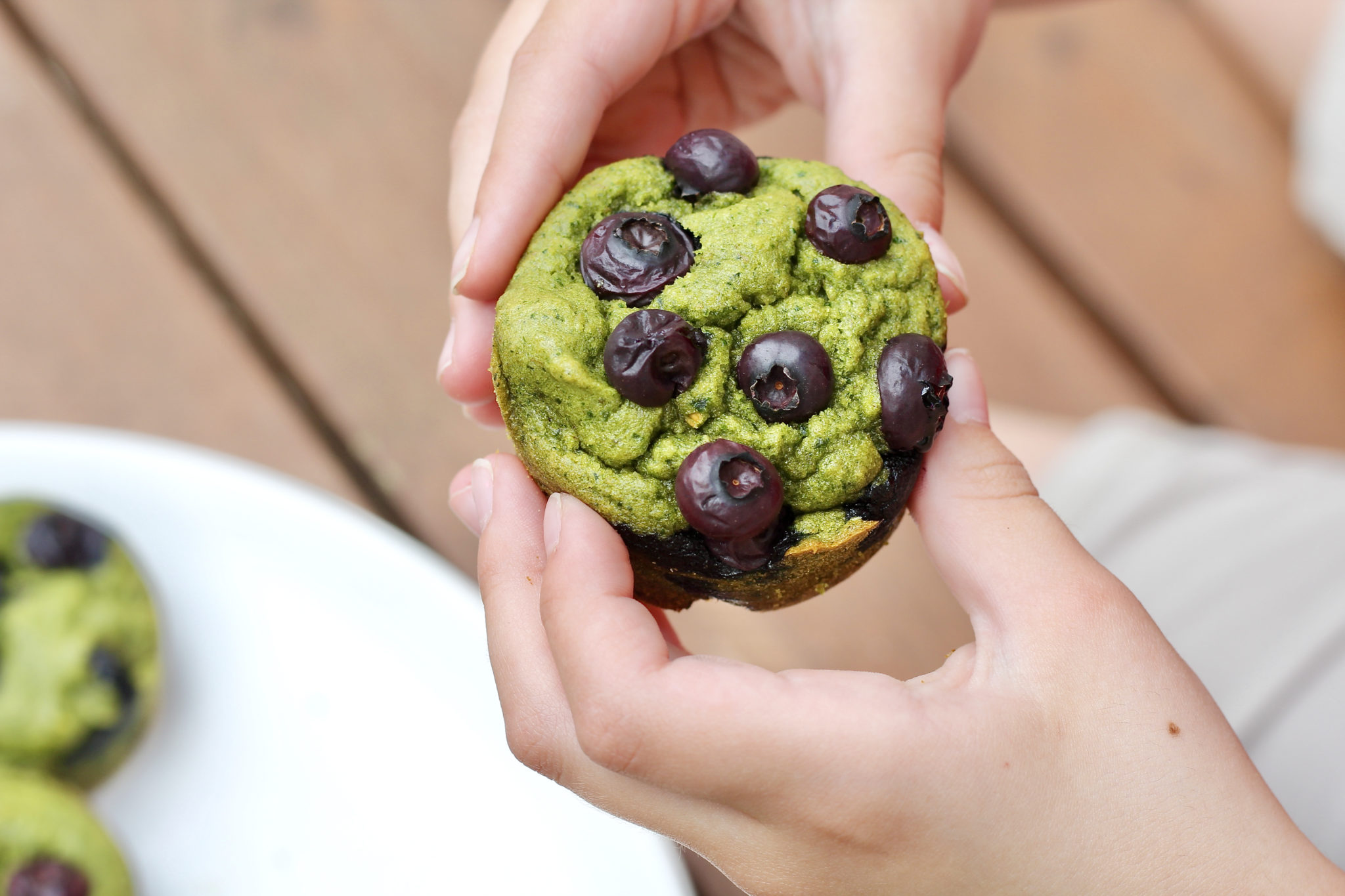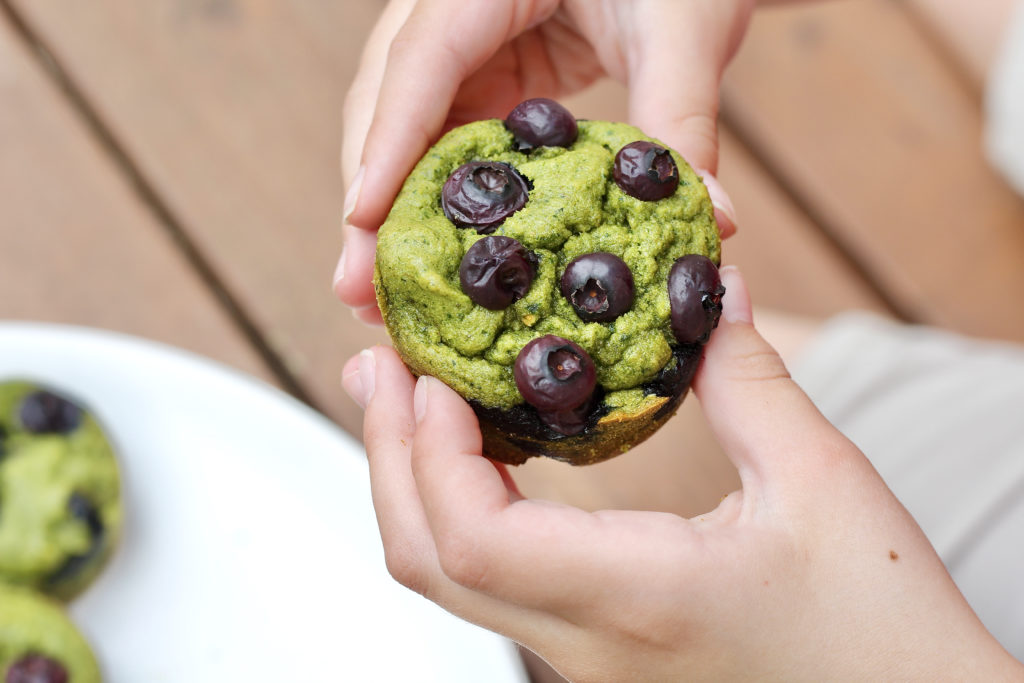 Spinach nutrition
When we are thinking of veggies to add to muffins, spinach is a great one! Adding spinach to muffins adds fiber, vitamin A, vitamin C, and other antioxidants!
Spinach benefits for Earth Day
I purposely picked the ingredients for this recipe to be blue and green for Earth Day! Spinach muffins with blueberries added, with their fun green and blue colors, are such a fun teaching moment for my kids to talk about our planet and everything we can do as humans to protect it.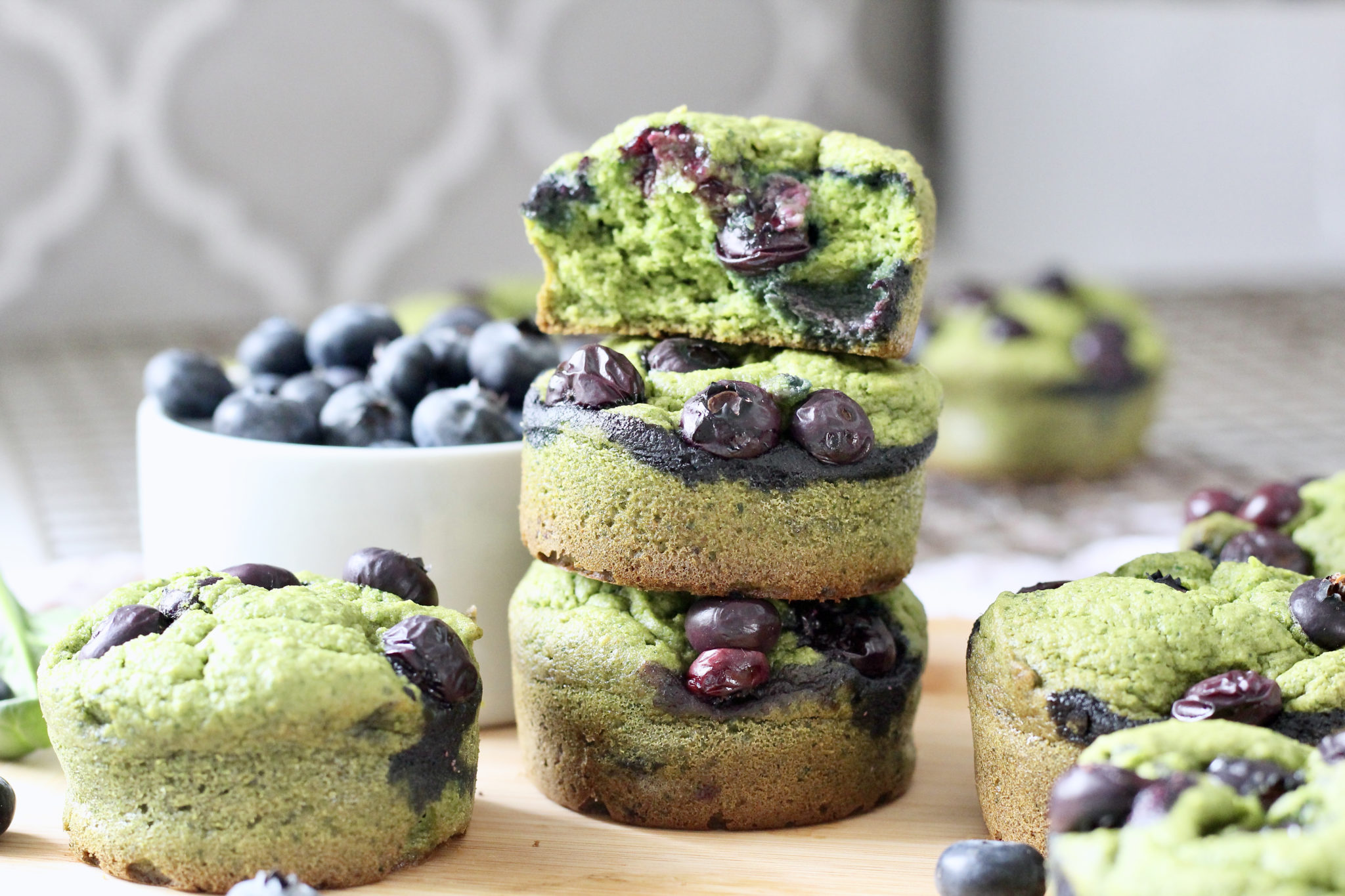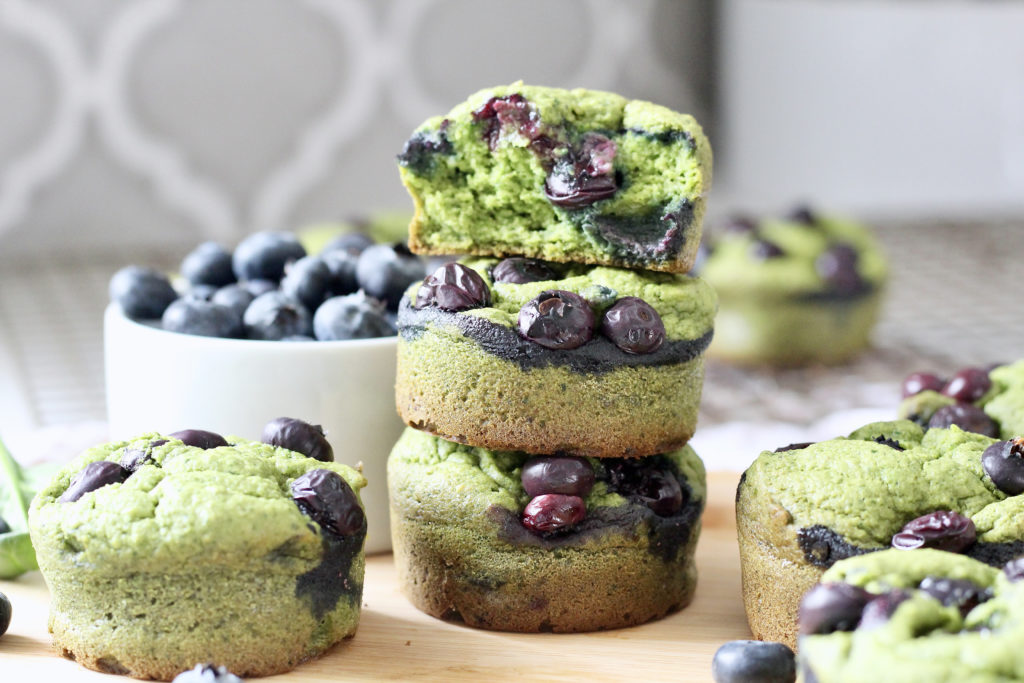 Celebrating Earth Day with spinach muffins
I love shopping at Sprouts because of their commitment to taking care of our planet. They make it easy to shop sustainable brands and choose products that serve a greater purpose (shopping local, in bulk, etc.)
Sprouts also makes a direct impact through the Sprouts' Healthy Communities Foundation . The aims to help children and their families live healthier lives by funding programs with a focus on nutrition education and fresh food access. Their nonprofit partners teach children both how to grow and prepare fresh foods, as well as why these foods are important to their bodies.
Even though my own kids are still young, it's important to teach them the importance of giving back to our community and to our planet from an early age.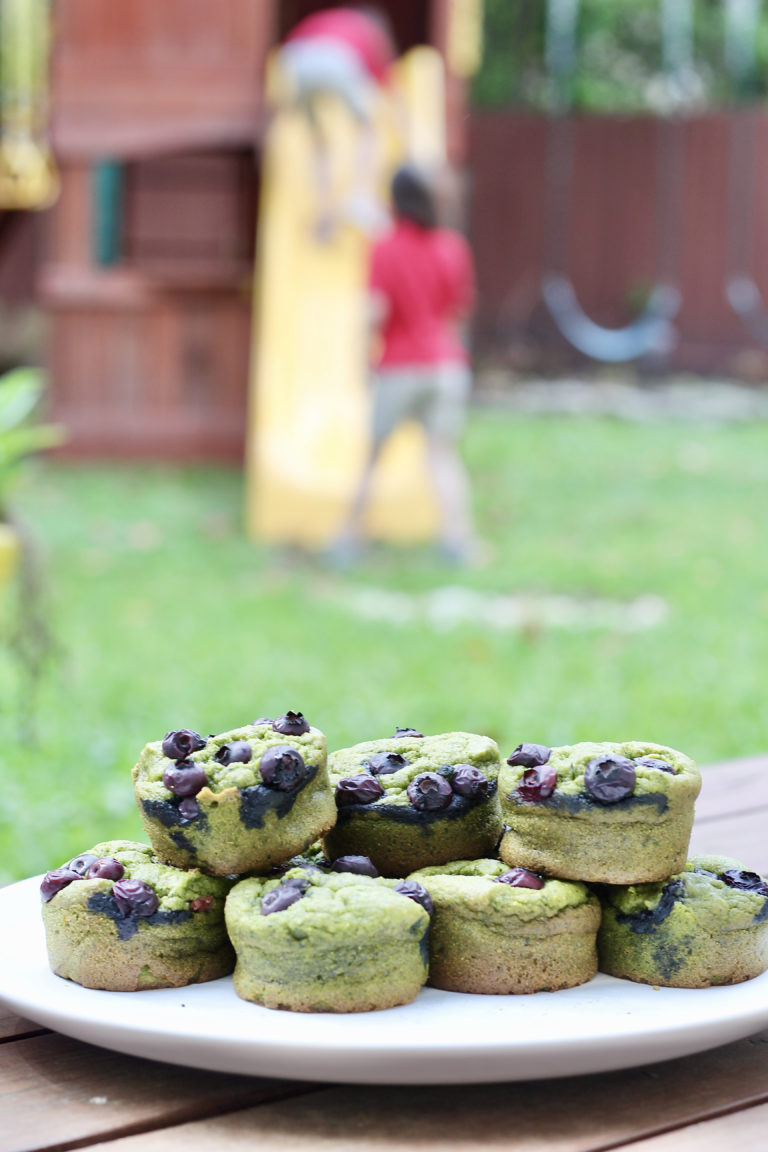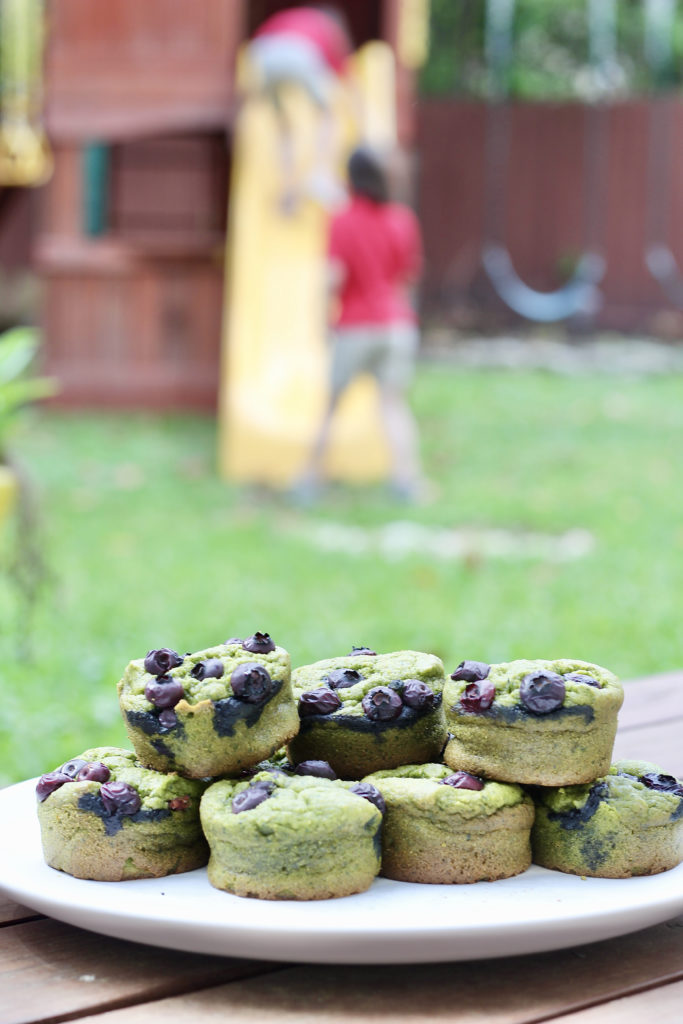 My spinach muffins recipe
Before you start making these spinach muffins, make sure to have all of your ingredients out and ready to go. (I found everything I needed at my Sprouts Farmers Market!) If you want to let your kids help, definitely let them practice measuring and pouring into the blender. And you can also get some great math and fraction practice in there as well!
The green color will brown slightly in the oven but they should still come out a nice beautiful green color with pops of purple/blue from the blueberries!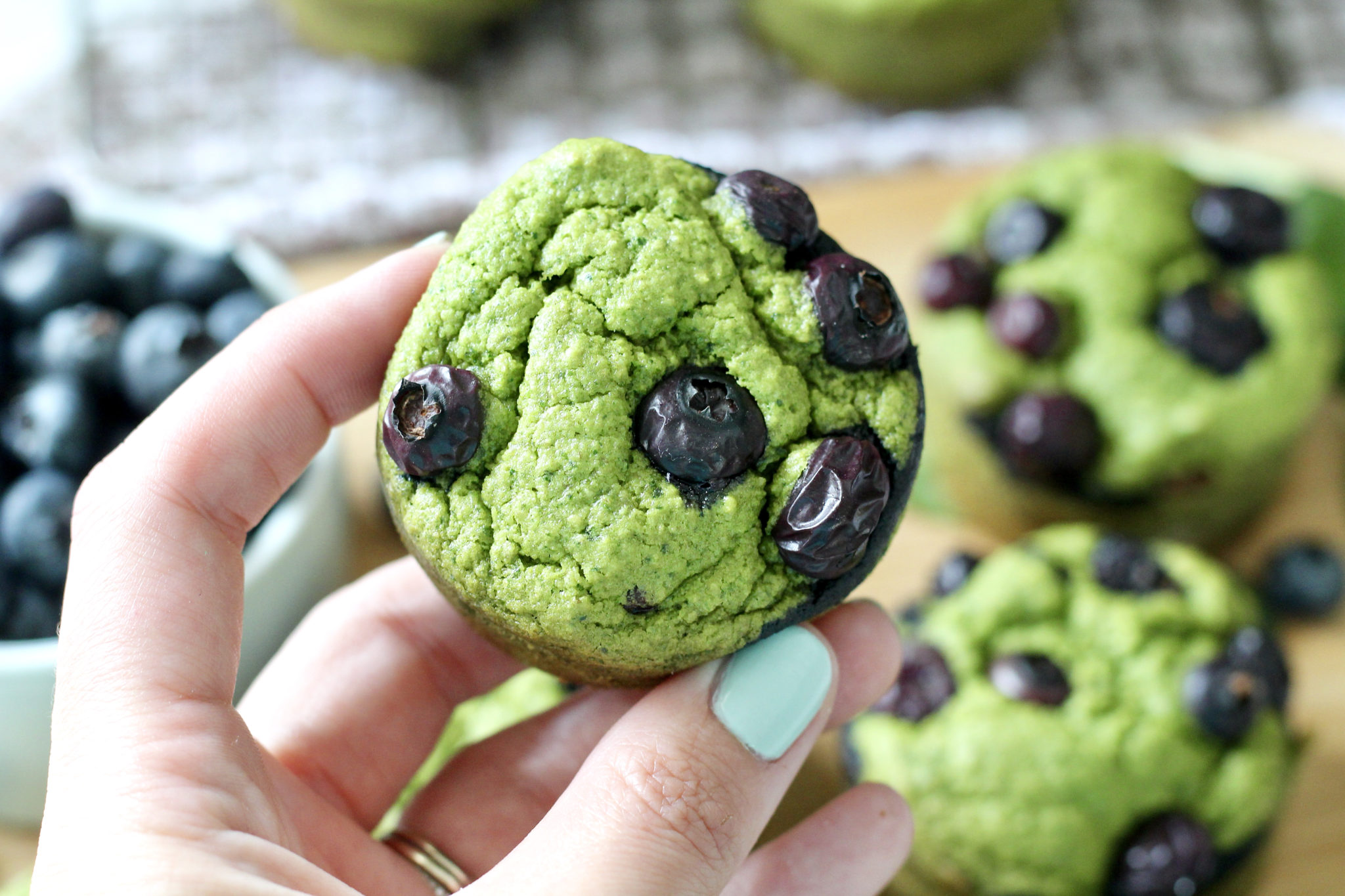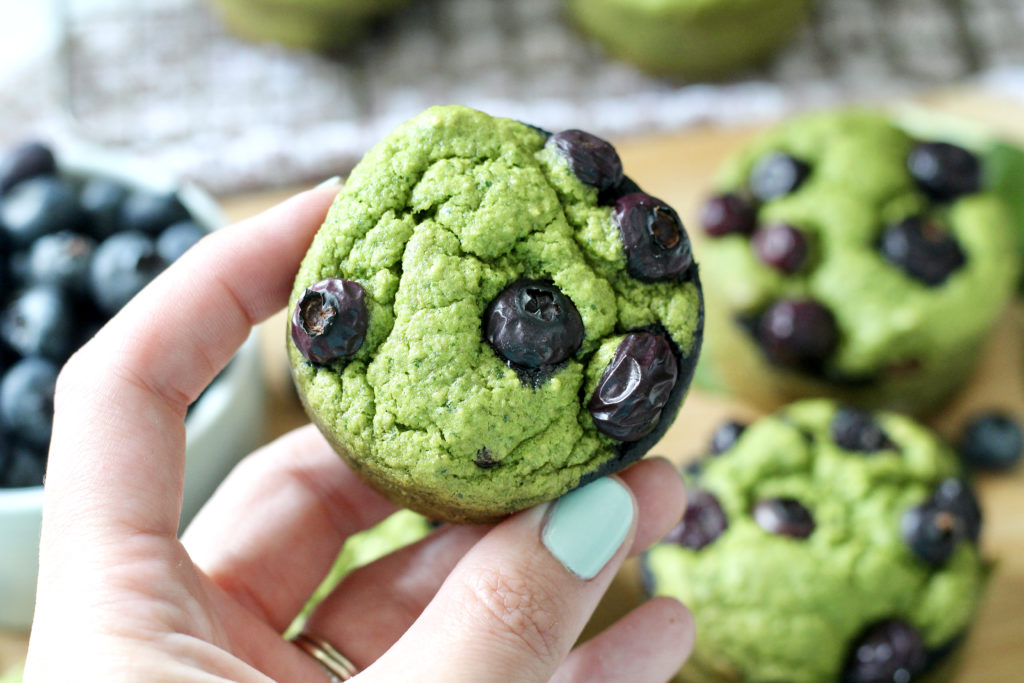 How to make sweet spinach muffins
Now, as much as I'm talking up these spinach muffins, we do need a sweetener of some sort, otherwise these muffins won't be all that desirable to you or your kids.
The best tip for no sugar added muffins
My go to sweetener when I need just a little sweet and don't want an overwhelmingly strong sweet taste is unsweetened applesauce! If we skip the maple syrup listed below, these spinach muffins would have no added sugar. And if you have young toddlers at home I'd definitely recommend doing that. Otherwise, I think the small addition of maple syrup is the perfect hint of sweetness along with the applesauce.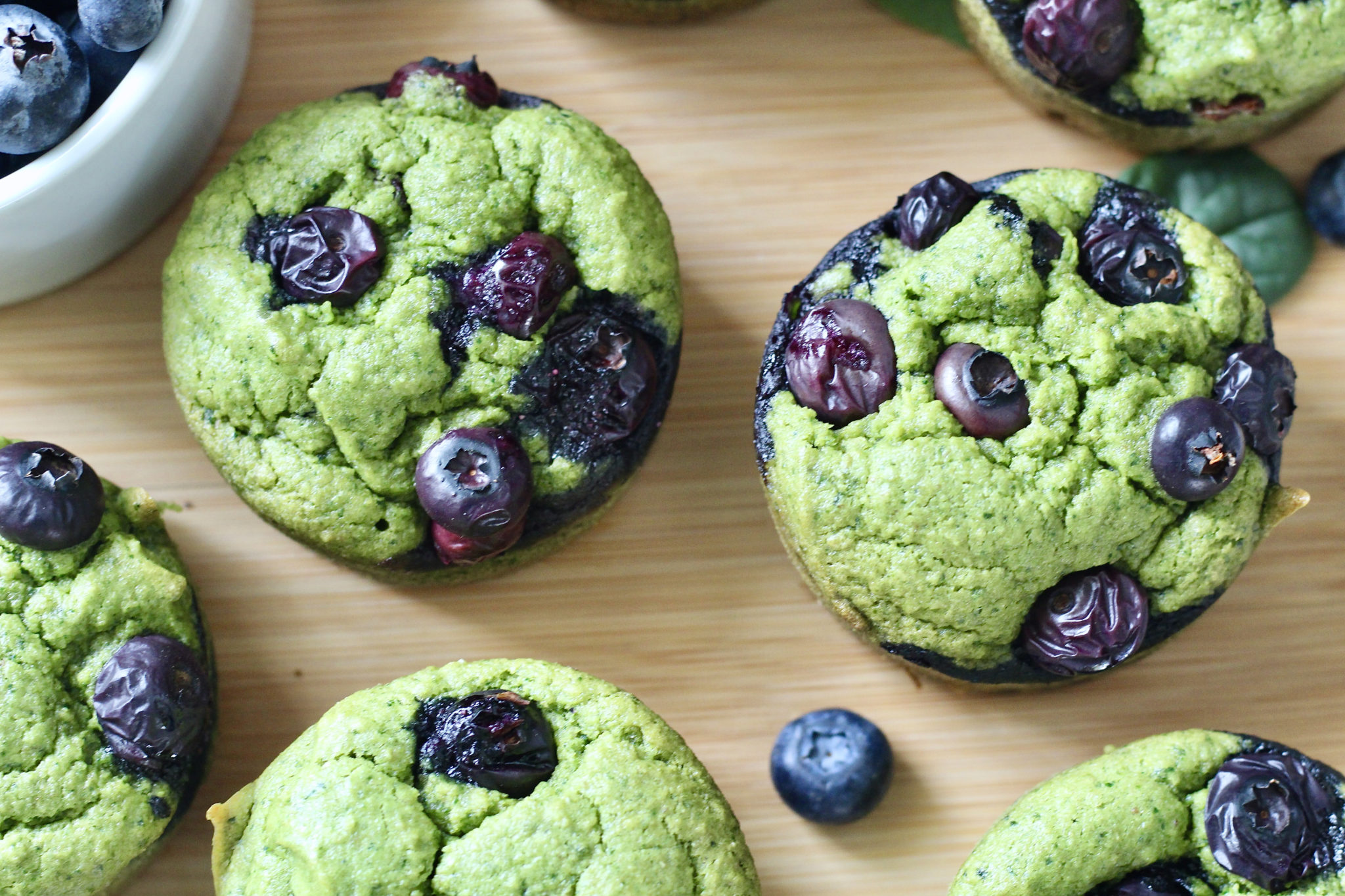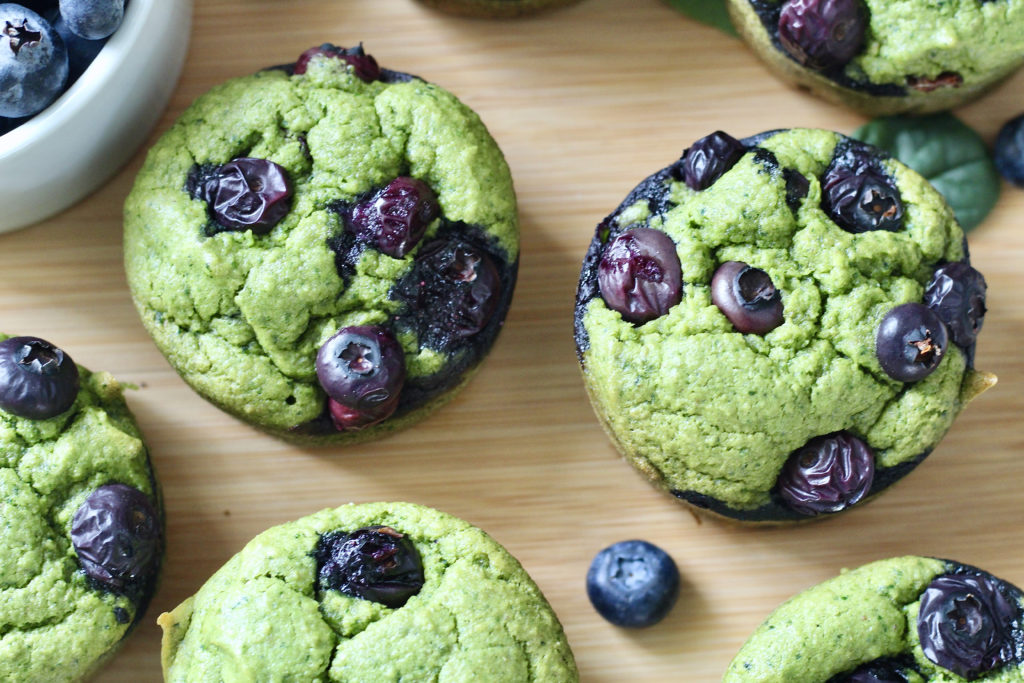 Other blood sugar friendly muffin recipes to try
If you're looking for more muffin ideas, make sure to check out these recipes, or grab a copy of my cookbook!

Easy Spinach Blender Muffins with Blueberries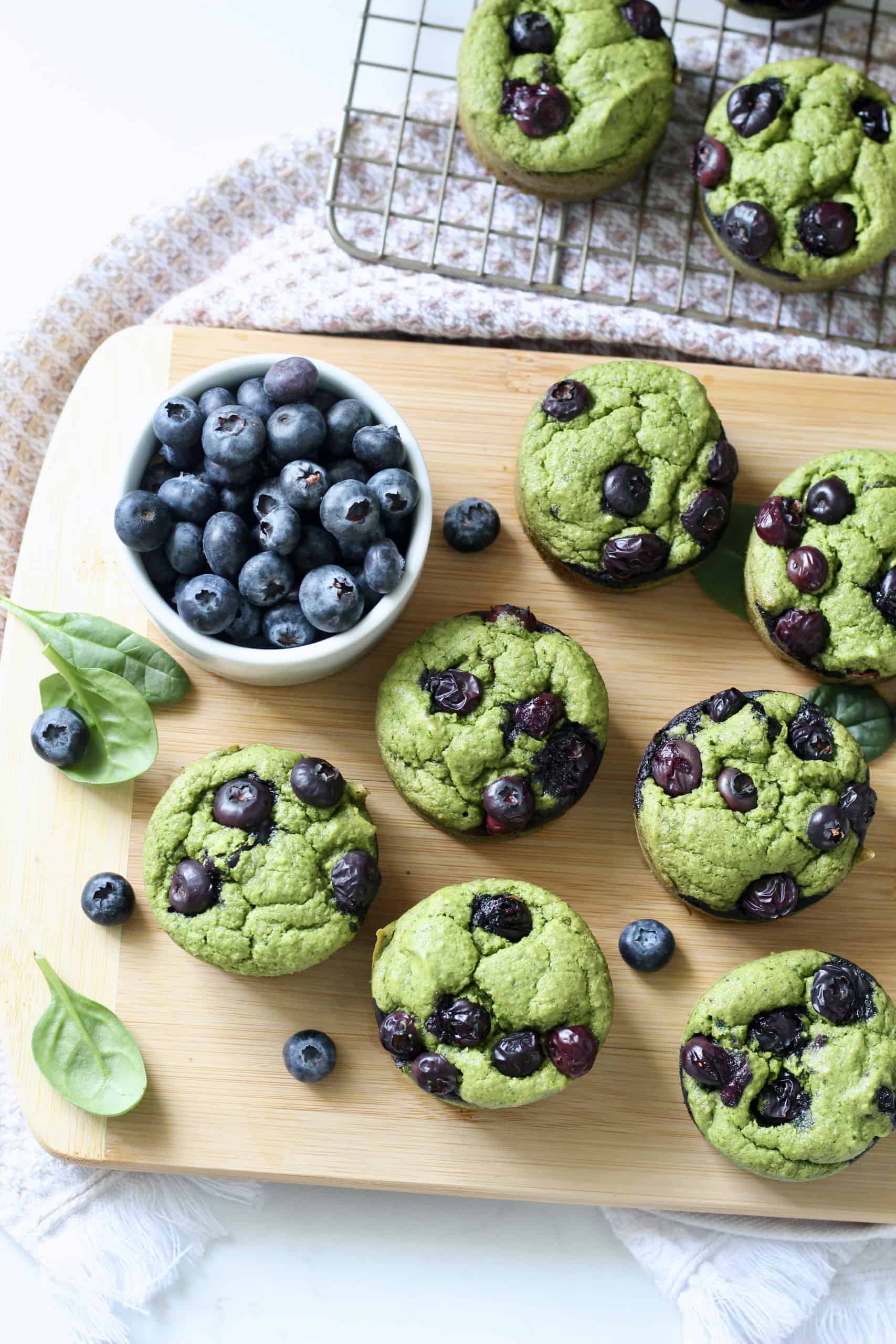 Ingredients
1

cup

unsweetened applesauce

¼

cup

maple syrup

2

large

eggs beaten

½

cup

cooking oil

2

tsp

vanilla extract

2

cups

almond flour

1 ¼

cups

rolled oats

1

tsp

baking soda

½

tsp

baking powder

4

oz.

baby spinach

1

cup

fresh or frozen blueberries
Instructions
Preheat your oven to 350 degrees F.

Add all of your ingredients to a high powered blender, except for the blueberries.

Process the batter on high for about 60-90 seconds.

Add 1/2 of the blueberries to the batter and mix gently.

Pour the batter into muffin tins. This recipe will make about 16 muffins.

Drop the remaining blueberries evenly on to the top of the muffins.

Bake the muffins for 25-30 minutes until a toothpick inserted in the center comes out clean.

Store leftover muffins in an airtight container or freeze for up to 6 months.
Notes
The nutrition facts presented here are estimates only. The brands you use and product types chosen can change the nutritional information presented. To obtain the most accurate nutritional information, you should calculate the nutritional information with the actual ingredients you use.
Nutrition
Serving:
1
muffin
|
Calories:
196
kcal
|
Carbohydrates:
14
g
|
Protein:
5
g
|
Fat:
13
g
|
Saturated Fat:
2
g
|
Sodium:
100
mg
|
Fiber:
3
g
|
Sugar:
6
g