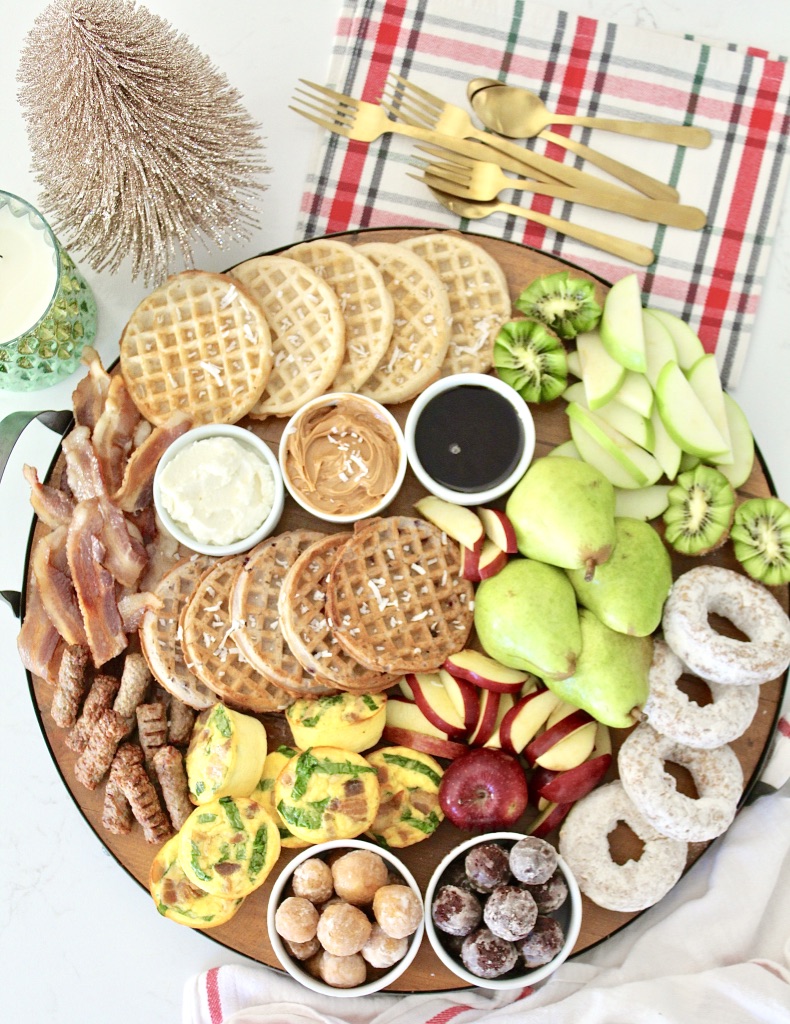 The post was sponsored by Sprouts Farmers Market. All thoughts and ideas are my own.
This breakfast charcuterie board is perfect for those joyous holiday mornings when you want to serve a yummy breakfast but don't want to spend a ton of time in the kitchen!
Regardless of what holidays you celebrate, we all have those holiday mornings that we want to make extra special without a ton of labor in the kitchen. This breakfast charcuterie board combines some of my favorite ready-to-eat holiday options from Sprouts Farmers Market for the perfect easy breakfast!
What is a breakfast board?
Imagine all your charcuterie dreams, with all your favorite charcuterie foods… but make it breakfast! A breakfast charcuterie board can have all this classic breakfast foods you love: eggs, beacon, sausage, waffles, yogurt, pancakes, fruit, and more!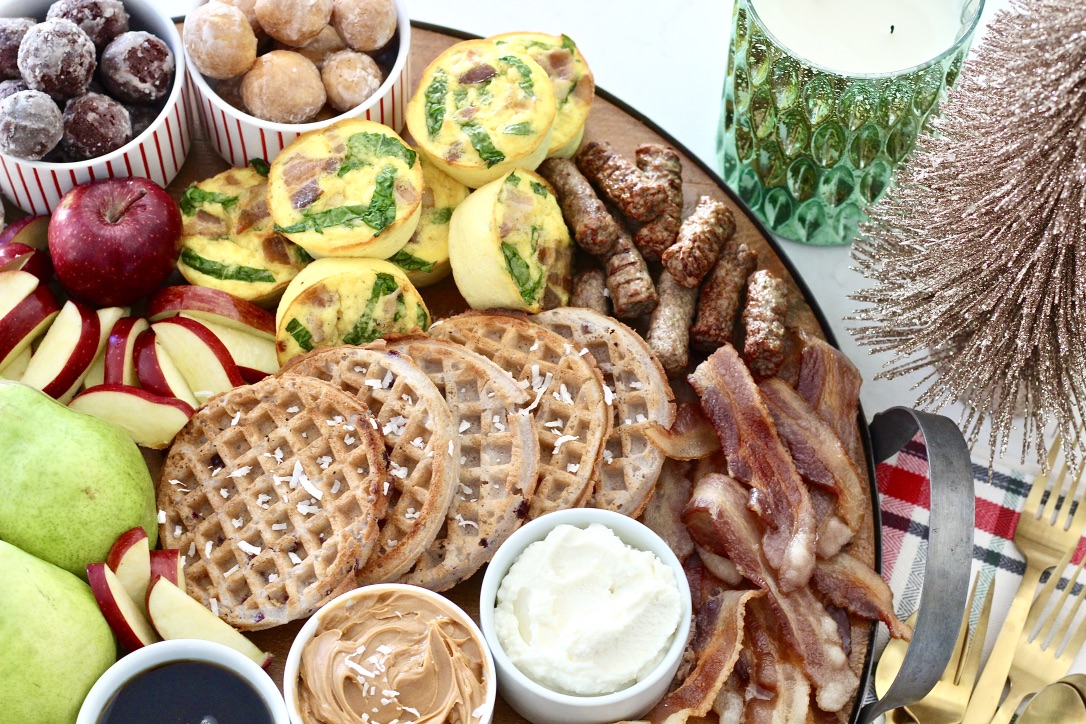 What's on this waffle charcuterie board?
So, what did I put on THIS breakfast charcuterie board? WAFFLES! And all the other yummy breakfast foods I found at my local Sprouts Farmers Market. I link all of the foods you see pictured below, so keep reading for those if you're interested!
Since, my family will be enjoying some form of this board on Christmas morning (and I hope yours will too!), I wanted something that was easy to throw together and wouldn't mean me spending an hour in the kitchen while my kids open presents that morning.
All of the items you see are pre-prepared items I found at Sprouts. (Except for the egg bites, which I made using this recipe.) They have so many great specialty gluten free items at affordable prices. Some of these I buy regularly, like the waffles… and others are special treats for Christmas morning, like the donuts!
Make sure you don't forget the seasonal produce too! Sprouts has the best prices on seasonal produce! I chose some red and green favorites: red apples, green apples, green pears, and kiwis!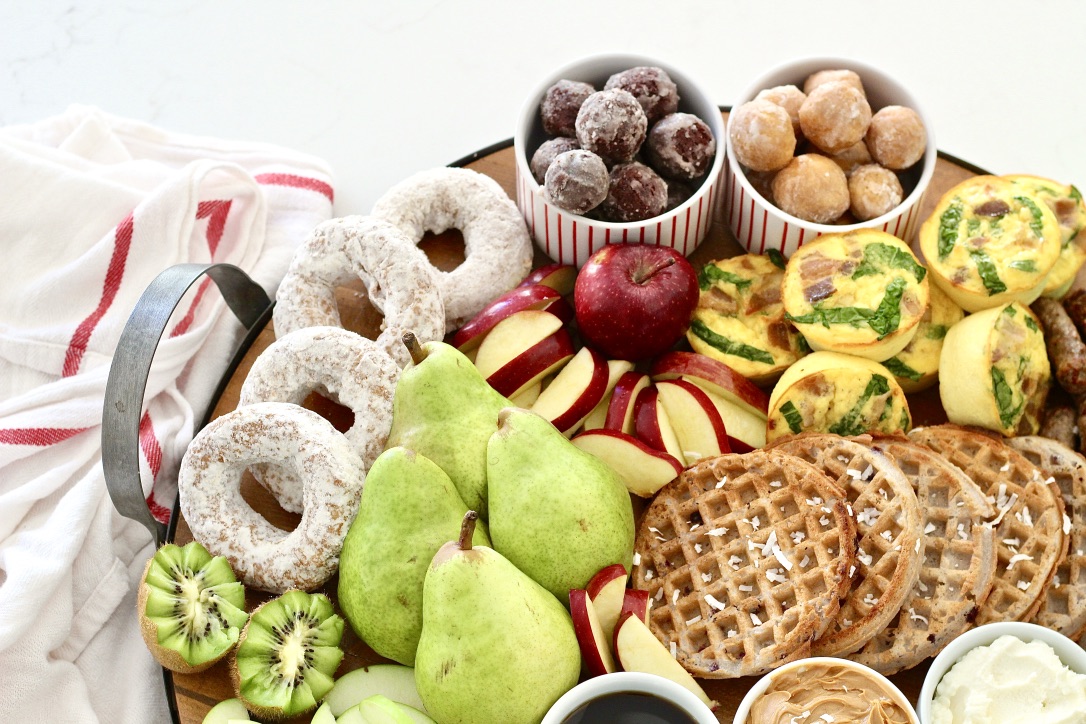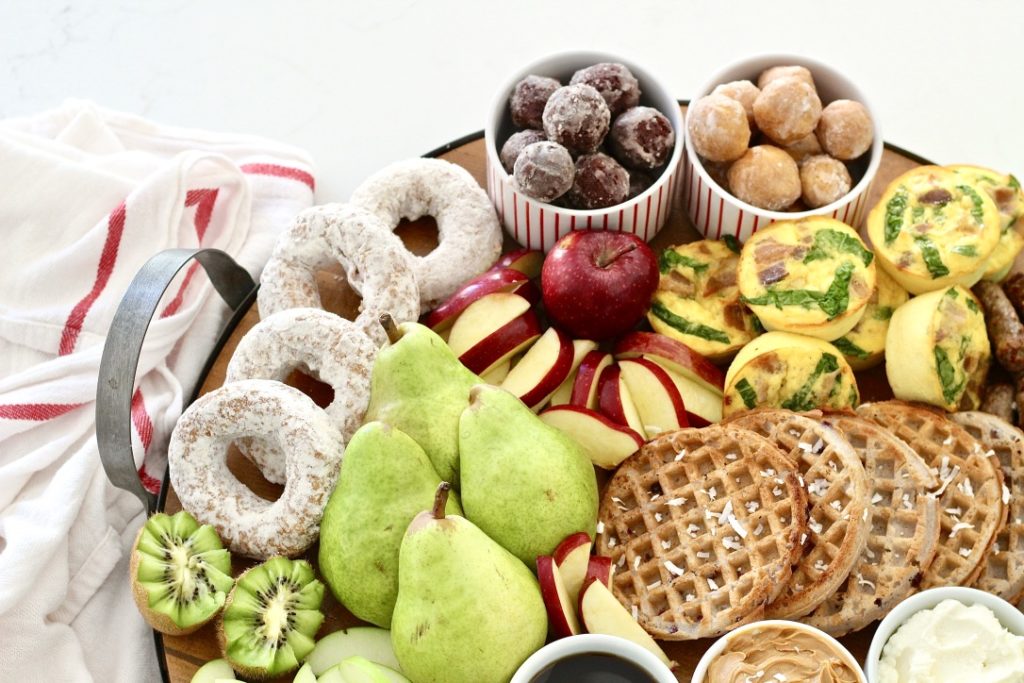 Other things you can put on a breakfast board…
You can also add in some other waffle toppings like sliced almonds, shredded coconut, or even chocolate chips! Don't like waffles on your breakfast charcuterie board? No problem. Try pancakes! Or even toast!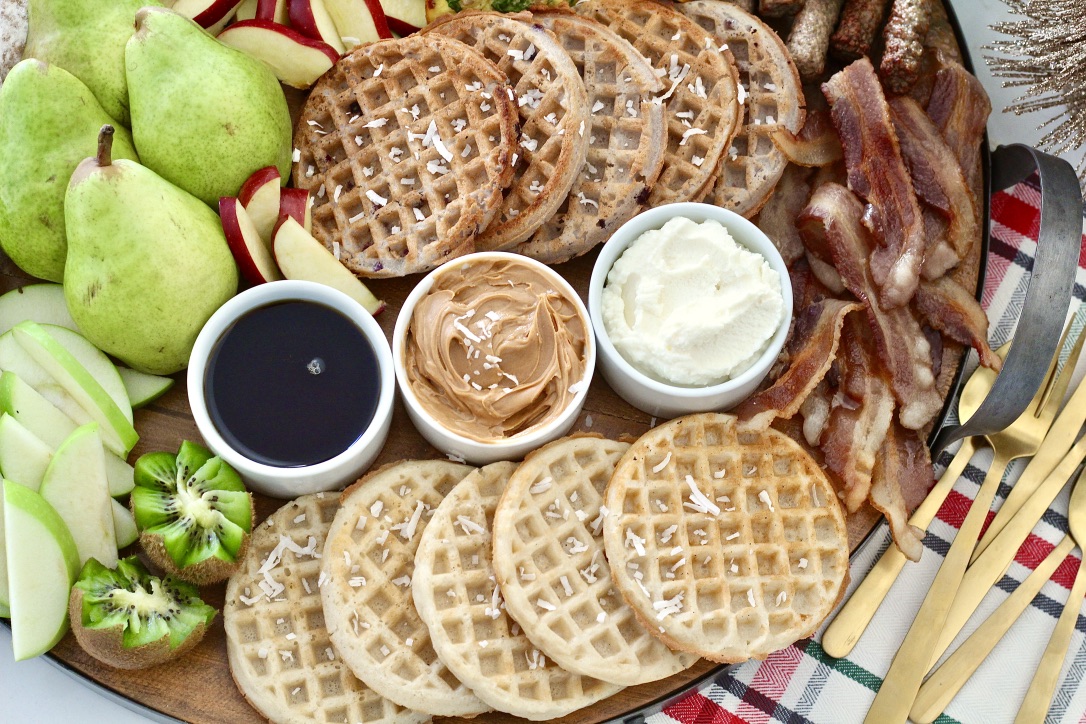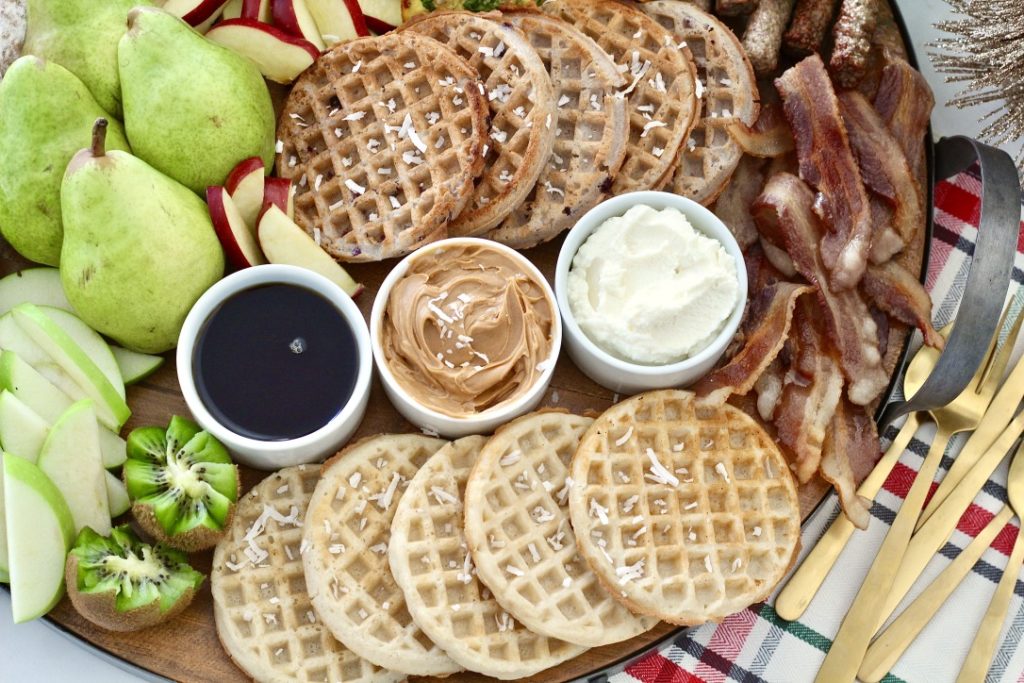 Make sure to add these things if you're doing a brunch board
If you're doing a brunch board, I like to add in some savory options like smoked salmon, greens, and maybe some sort of sandwich option.
You may prefer this as a brunch platter
Since we all tend to sleep in a little bit on a holiday, don't be afraid to make this bigger or smaller depending on your family's hunger level at that time of day!
A note on what makes a healthy charcuterie board
As always, anytime you make a charcuterie board, even a breakfast charcuterie board, we want to make sure we're getting a good selection of fruits/veggies, protein sources, and some plant based fats.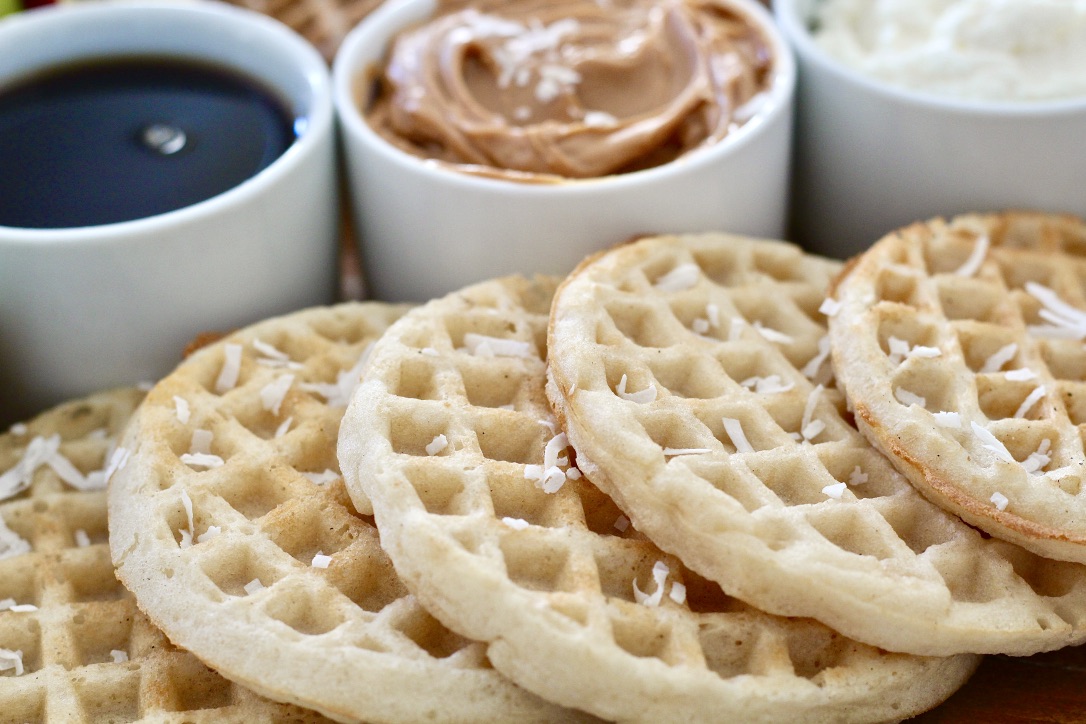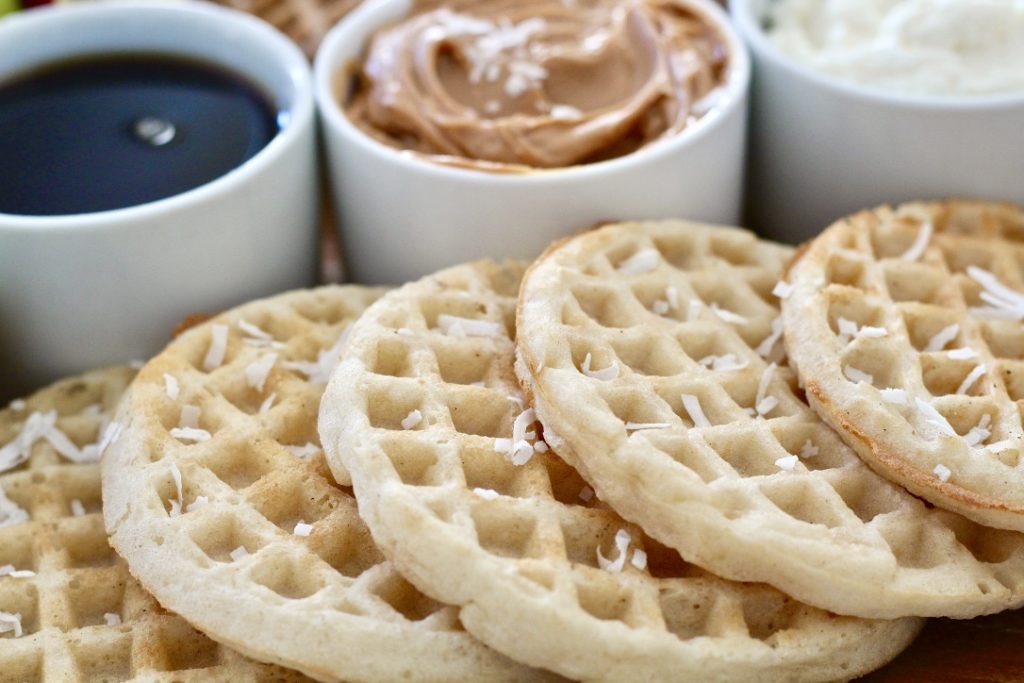 How to make this breakfast or brunch charcuterie board
The beauty of this board is all you have to do is assemble the board! I did make the egg bites ahead of time as I mentioned, but Sprouts also has the pre-prepared ones I linked below.
Here's what you need:
Ricotta cheese
Katz gluten free donuts: powdered sugar, plain donut holes, chocolate donut holes
Sprouts butcher shop uncured bacon
Homemade egg bites or Vital Farms egg bites
Fresh fruit: apples, pears, kiwi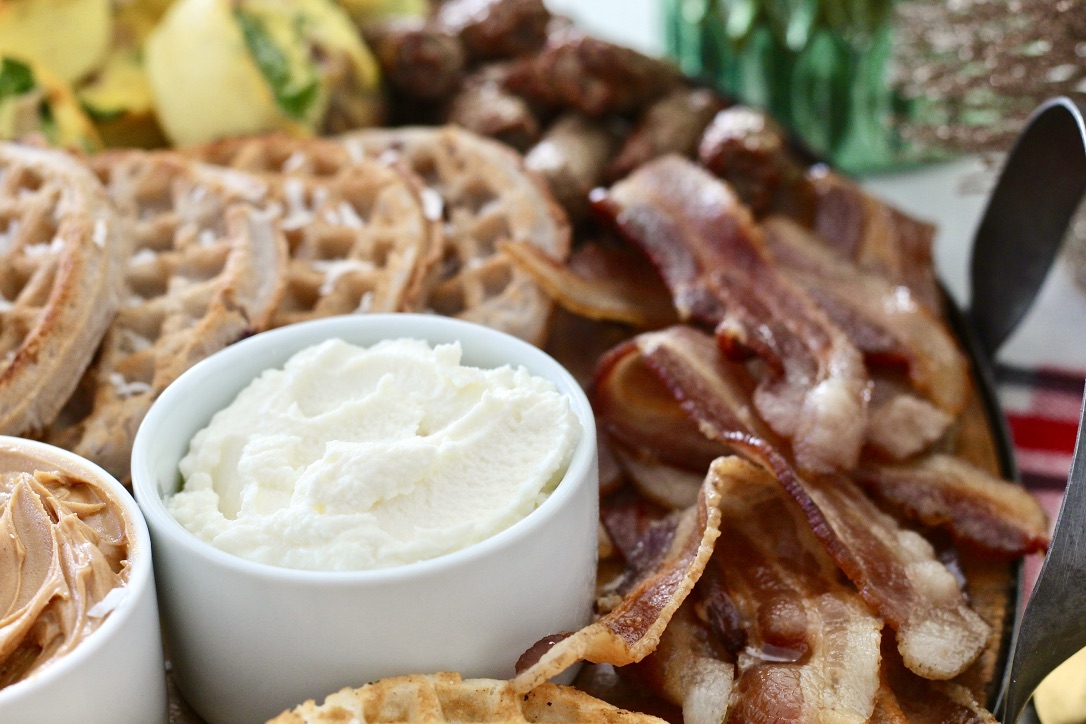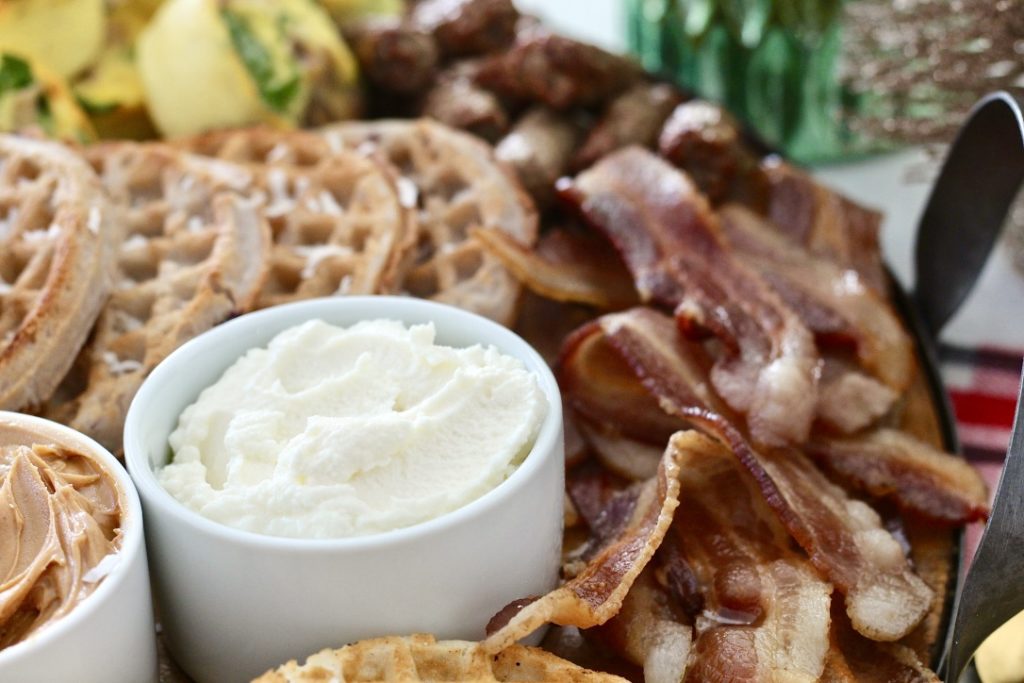 Holiday Breakfast Waffle Charcuterie Board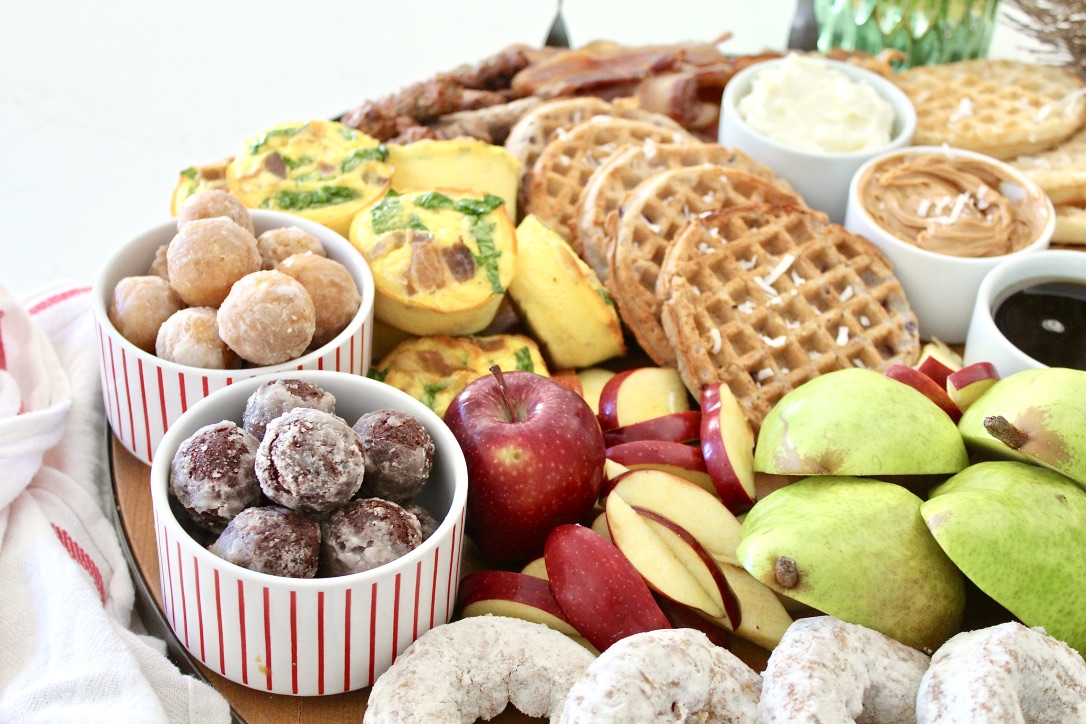 Instructions
Assemble all of the ingredients on your board as shown in the photo.
Notes
The nutrition facts presented here are estimates only. The brands you use and product types chosen can change the nutritional information presented. To obtain the most accurate nutritional information, you should calculate the nutritional information with the actual ingredients you use.
Nutrition facts below are a rough estimate for: 1 waffle, 1/2 Tbsp ricotta, 1/2 Tbsp PB, 1/2 Tbsp syrup, 2 slices bacon, 1 sausage link, 1 egg bite, 1 apple
Nutrition
Calories:
594
kcal
|
Carbohydrates:
55
g
|
Protein:
27
g
|
Fat:
31
g
|
Saturated Fat:
11
g
|
Sodium:
1083
mg
|
Fiber:
5
g
|
Sugar:
28
g