This post for Homemade Chocolate Bark with Maple Pumpkin Seed Topping was sponsored by Health Warrior . All thoughts and ideas are my own.
Tis the season for thankfulness, gift giving, and showing our loved ones just how much they mean to us. And this Homemade Chocolate Bark with Maple Pumpkin Seed Topping is the perfect way to give a little happy this holiday season. It's super simple to make, very allergy friendly, and only has three ingredients.
Before we get to this amazingly simple, and equally tasty, recipe, let's chat about how you can share something even better with your friends and family this year… the gift of healthy habits and healthy thoughts about food. And I don't just mean physical health, or advice on how to eat healthy… I mean joy, happiness, empathy, kindness… you get the idea.
Holidays this time of year all revolve around food usually. Nearly every culture in the world celebrates with food. It's part of us. It gives us life and brings joy to the table and any gathering. What if we encouraged friends and family to truly enjoy food this time of year? Let it bring the emotional joy and comfort that it's supposed to. Instead of lamenting about how awful it is that everything revolves around food, let's focus on eating real food and celebrating with friends and family. Isn't that the greatest gift we can give them? Pick the occasions that you know a certain food indulgence will truly add to your celebration, and let it bring you and your loved ones joy.
---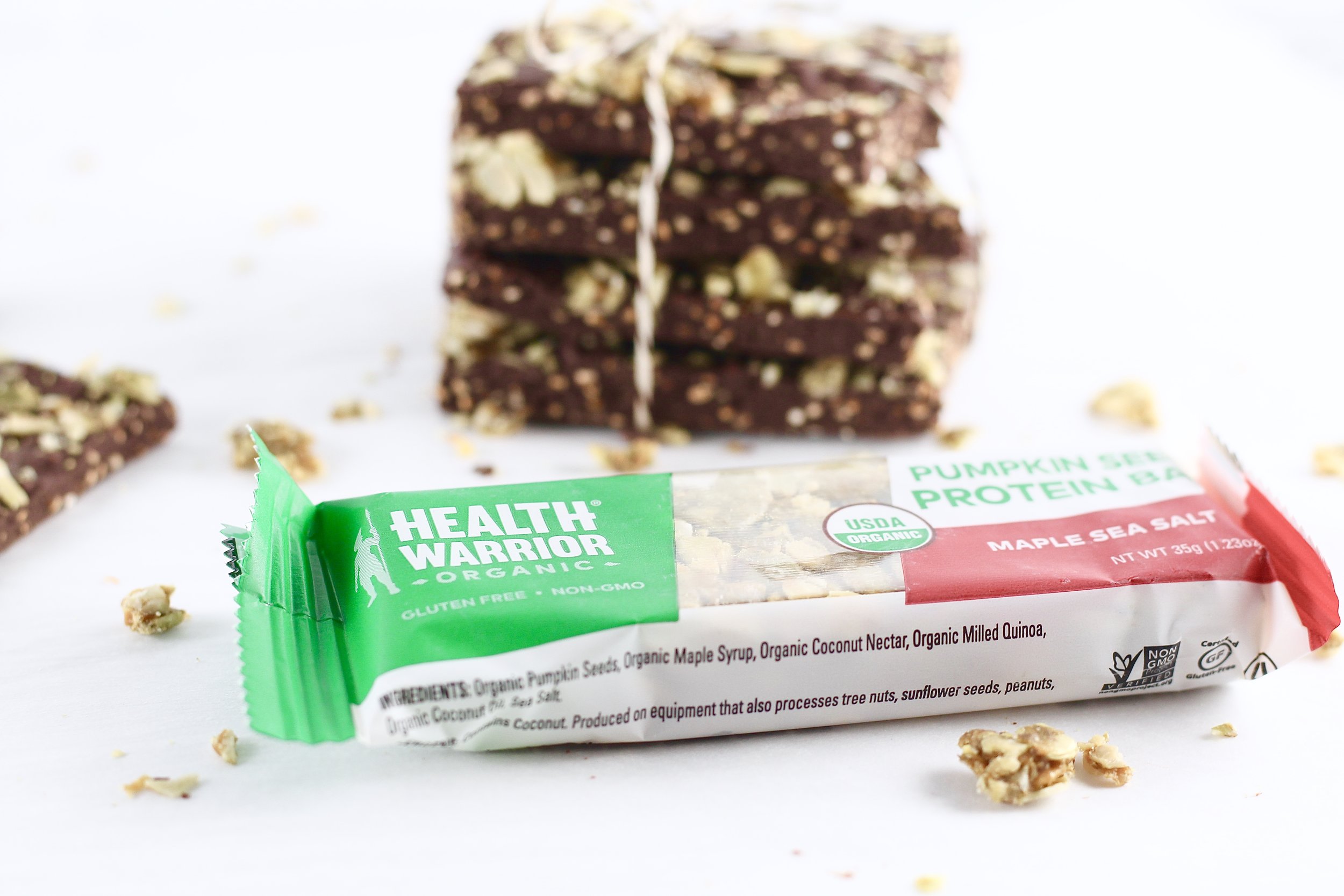 The beauty of this recipe is not only is it a fun, delicious, and joy-filled food to be enjoyed by you and your loved ones… it also happen to pack a nutrient-dense punch too.
Pumpkin seeds are a quality source of healthy fats, magnesium, and zinc. Research has found that pumpkin seeds, pumpkin seed extract, and pumpkin seed oil are associated with reduced cancer risk, and improved prostate function and can help support a number of body functions:
Immune system

Skin health

Heart health

Pregnancy

Urinary health

Digestion

Liver health
1oz of pumpkin seeds contains: 7g protein, 42% of your daily needs for manganese, 37% of your daily needs for magnesium, and 23% of your daily needs for iron.
Pumpkin seeds (also known as pepitas) are easy to add to your diet: salads, trail mix, smoothies, ice cream/yogurt toppings, Health Warrior bars, roasted, spiced, crusted on meats, granola, seed butter, etc.
Quinoa offers complex carbohydrates and some more protein. It also provides some more texture variety, adding to the overall eating experience.
Dark chocolate (>60% cacao) is loaded with antioxidants and typically contains less sugar than semi-sweet or milk chocolate varieties. If you're looking for a vegan, or allergy friendly option, there are many dark chocolate options available at grocery stores to meet your needs.
So, now the question is: How many batches will you make??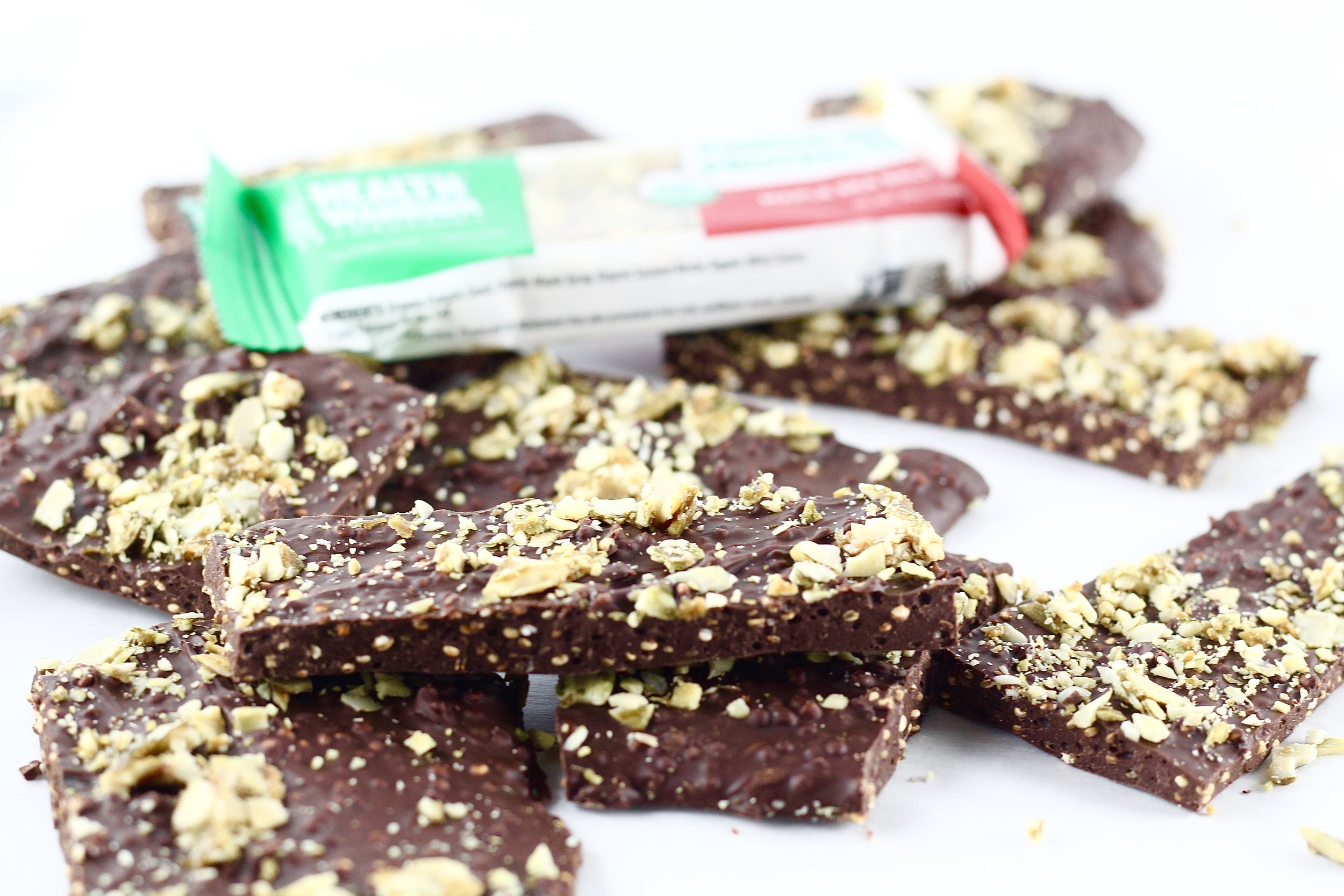 ---

Homemade Chocolate Bark with Maple Pumpkin Seed Topping
Instructions
Combine the puffed quinoa and melted chocolate in a bowl and stir to combine.

Spread evenly on a parchment lined baking sheet to desired thickness. I recommend 1/4 inch.

Crumble the pumpkin seed bar on top of the chocolate mixture and press lightly with hands or the back of a spoon to ensure it sticks to the chocolate.

Place in freezer for one hour. Remove it from the freezer and break into pieces. Place in an airtight container and store in refrigerator for up to one month.
Notes
*You can puff your own quinoa on the stove top or buy it already puffed. To puff your own quinoa, add a small amount of quinoa to a hot skillet and gently shake the skillet until the quinoa starts to pop (about 30 seconds). Repeat until all of the quinoa has been puffed.
*Health Warrior Website
The nutrition facts presented here are estimates only. The brands you use and product types chosen can change the nutritional information presented. To obtain the most accurate nutritional information, you should calculate the nutritional information with the actual ingredients you use.
Nutrition
Calories:
110
kcal
|
Carbohydrates:
12
g
|
Protein:
2
g
|
Fat:
6
g
|
Saturated Fat:
3
g
|
Fiber:
2
g
|
Sugar:
7
g