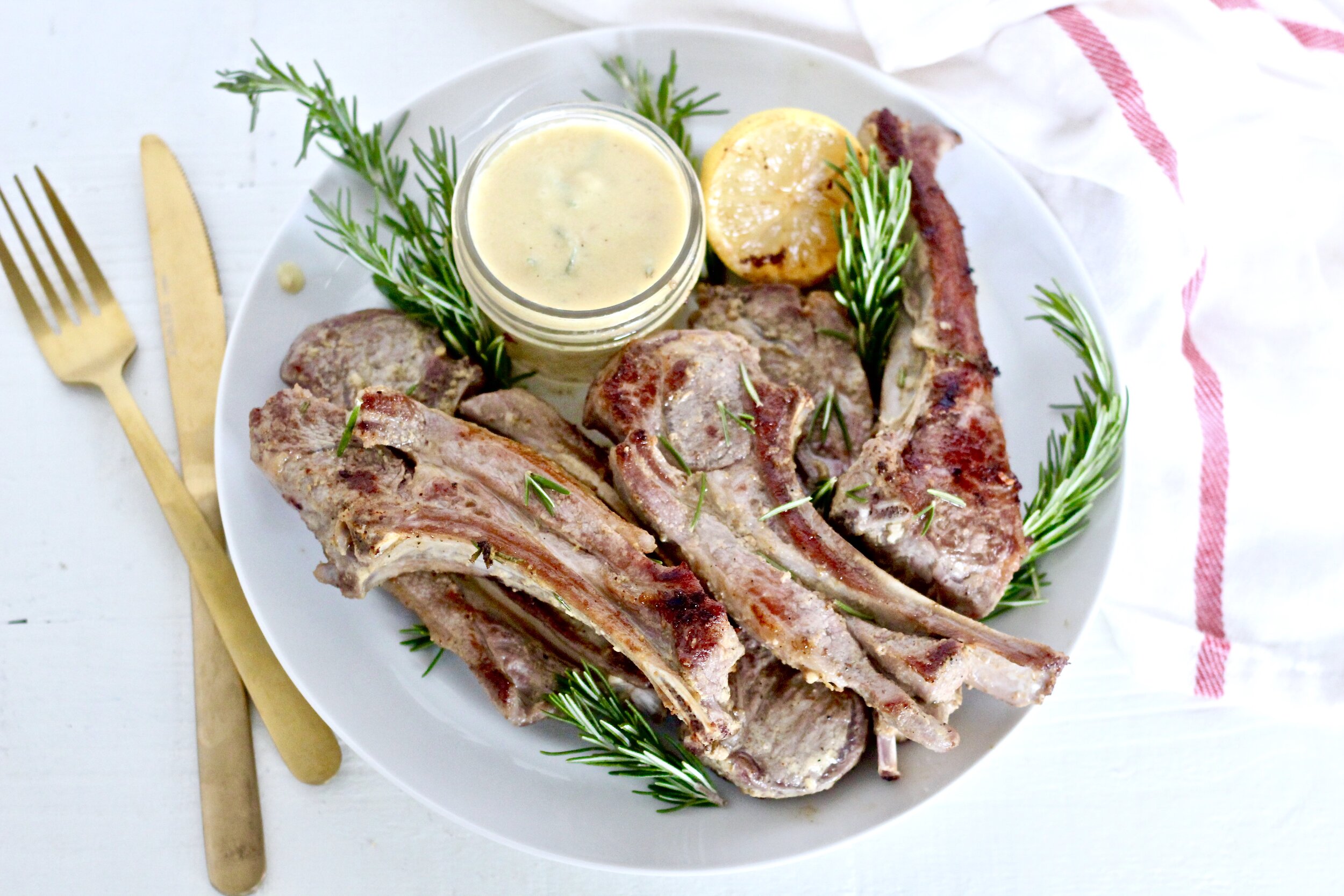 This post for Super Simple Lamb Lollipops was sponsored by The American Lamb Board . All thoughts and ideas are my own.
Regardless of what holidays you're celebrating this year, I'm willing to bet food plays a big role in the celebration right?! I love that food has the power to bring us together at one table, for one meal, and so many good conversations! It's such a powerful vehicle to bring people of all walks, faiths and beliefs in life to one table to eat, converse, and love on each other.
I wanted to share this super simple lamb lollipop recipe with you, 1) so you can impress your friends and family, and 2) so you can know how great American lamb is for both the environment and your body.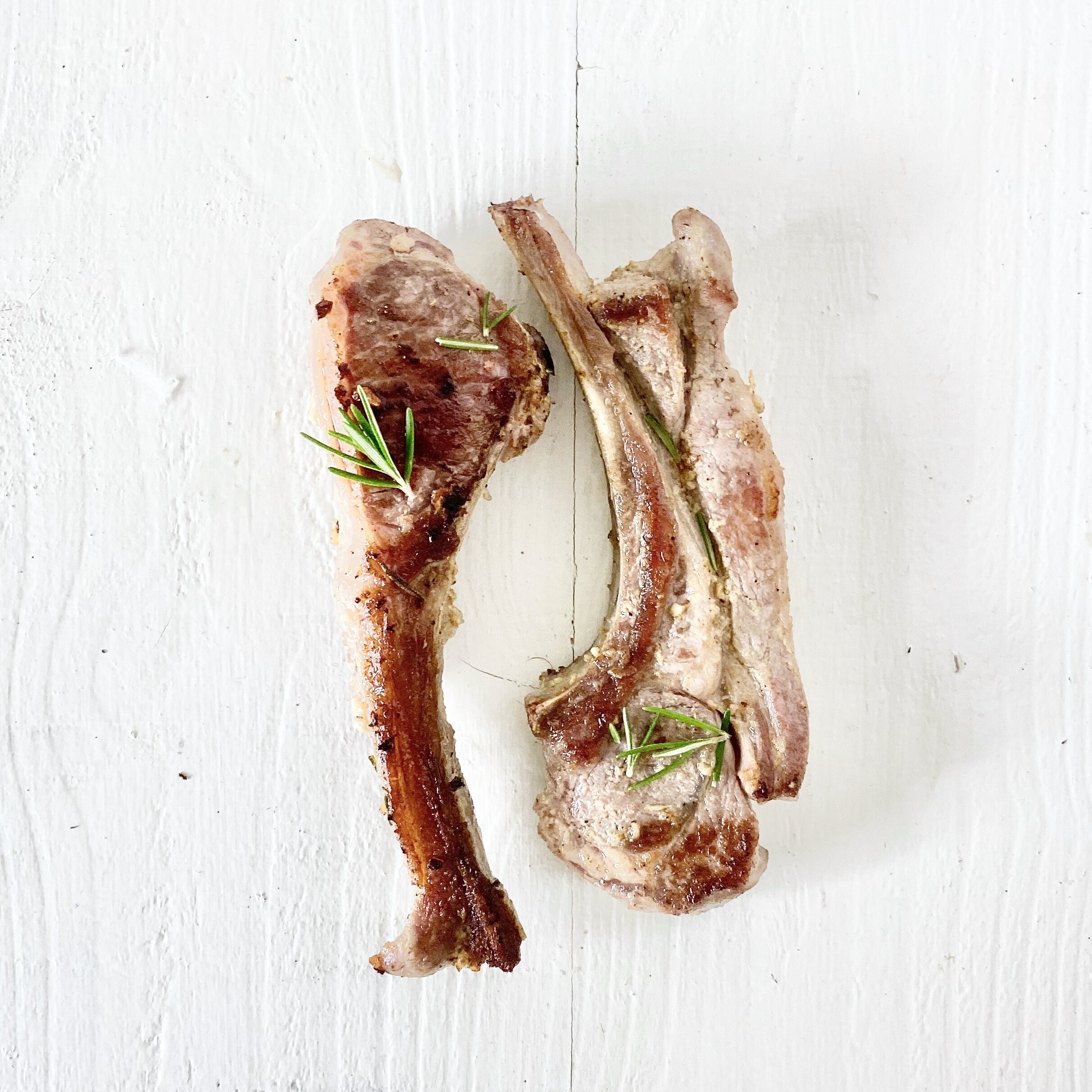 Why lamb is good for the environment:
High quality lamb farmers tend to be a small-operation family business situation usually. Their goal is not mass profits or mass production, but rather to sustain the industry, support their communities, and preserve their land and resources for future generations.

American lamb farmers make sure the animals have natural grazing compatible with the environment, a clean water source, and protection from predators.

Sheep's natural grazing skills make them ideal for controlling weeds naturally and for preventing fires by clearing undergrowth in forests and woodland areas.

Many wineries are using sheep to graze weeds without the use of herbicides.

Sheep improve pasture and rangeland quality by recycling nutrients back into the soil, minimizing erosion and encouraging native plant growth.
Why lamb can be part of a balanced diet:
A 3 oz. serving of American lamb contains 3 grams of monounsaturated fat, a "good" fat.

57% percent of the fat in lean cuts of lamb is monounsaturated, the same kind of fat found in olive oil.

American Lamb is a flavorful, nutrient-rich food and an excellent source of protein, zinc, selenium, riboflavin, niacin, vitamin B12, and vitamin B6.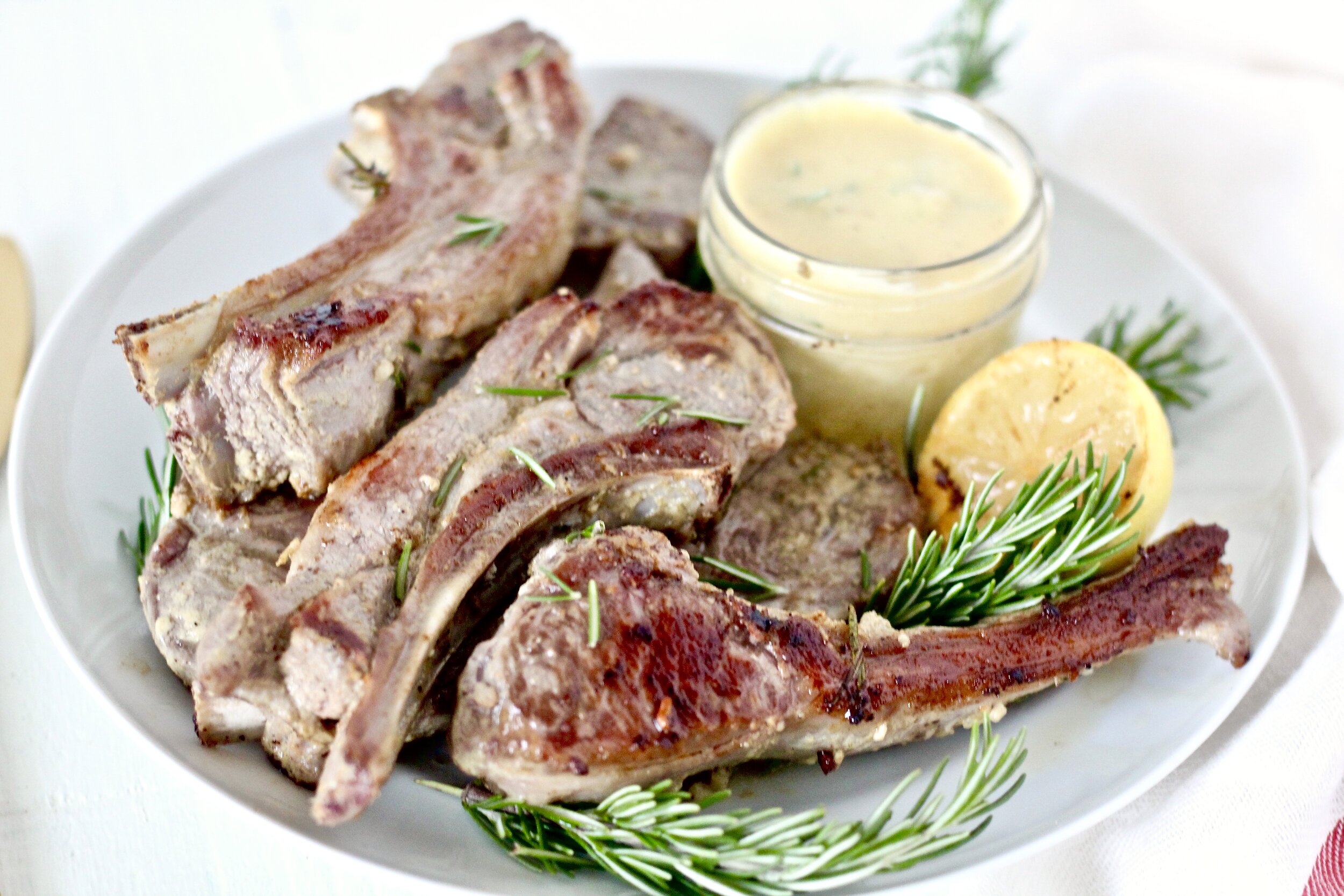 Yes, lamb may be more expensive when you look at the per ounce cost, but you don't have to eat a lot to get the nutritional benefits I mentioned above.
And let's be honest, everyone will be so impressed when you say you're serving lamb for dinner!
I had the opportunity to travel to Park City, Utah in September with the American Lamb Board. I got to tour several farms and see firsthand how much our American shepherds love and care for these animals. It was a beautiful thing to witness and I'm grateful for the experience. I also like knowing that my food purchases are helping American men and women provide for their families. My local store stocks pasture-raised lamb from a shepherd in North Texas (I'm in Houston).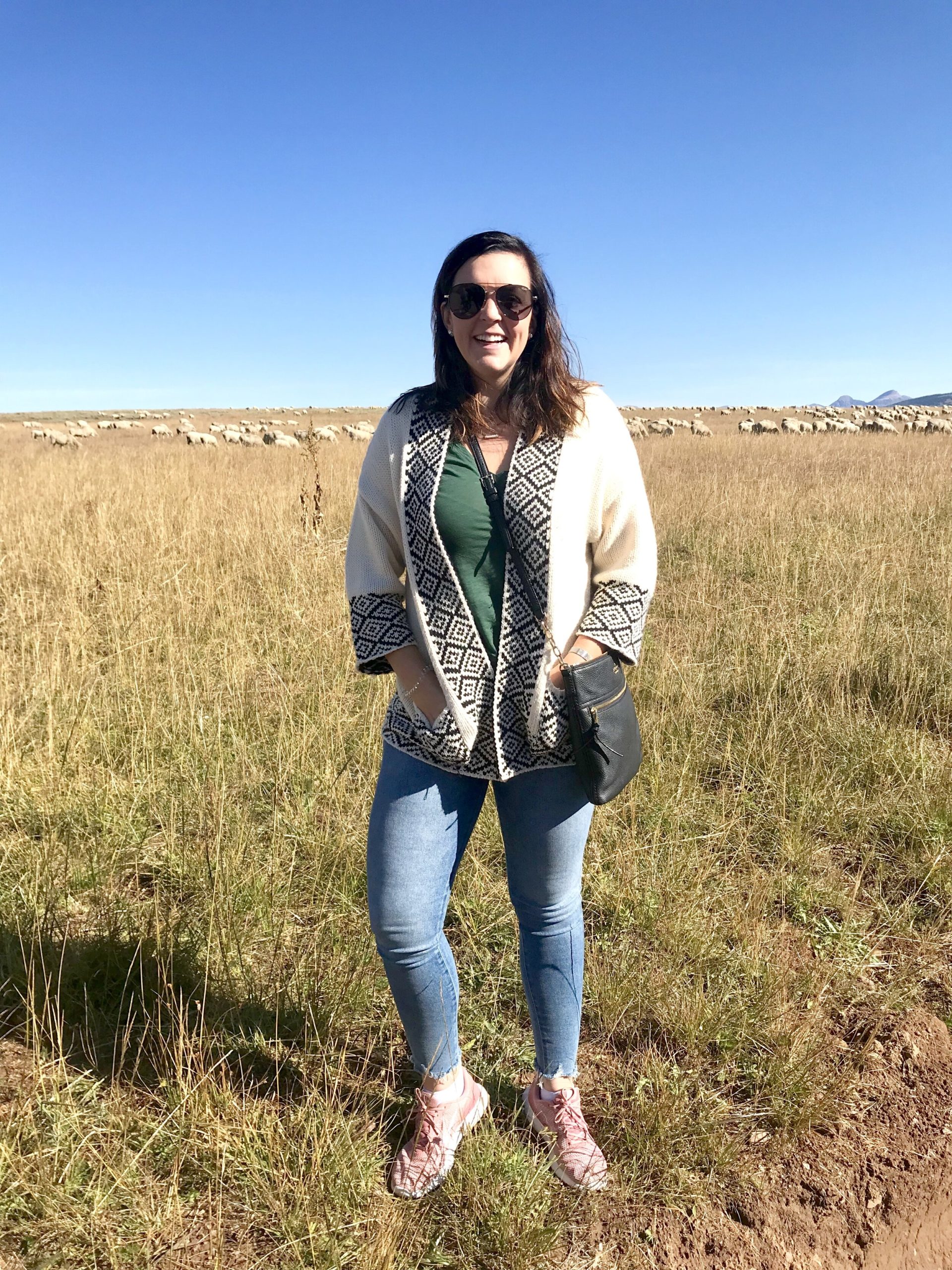 So, now onto these lamb lollipops. You'll want to ask your butcher for Lamb Rib Chops, aka, lamb lollipops. An average lollipop has 3-4oz of meat. This recipe is not only flavorful, but super simple, as promised.
---

Super Simple Lamb Lollipops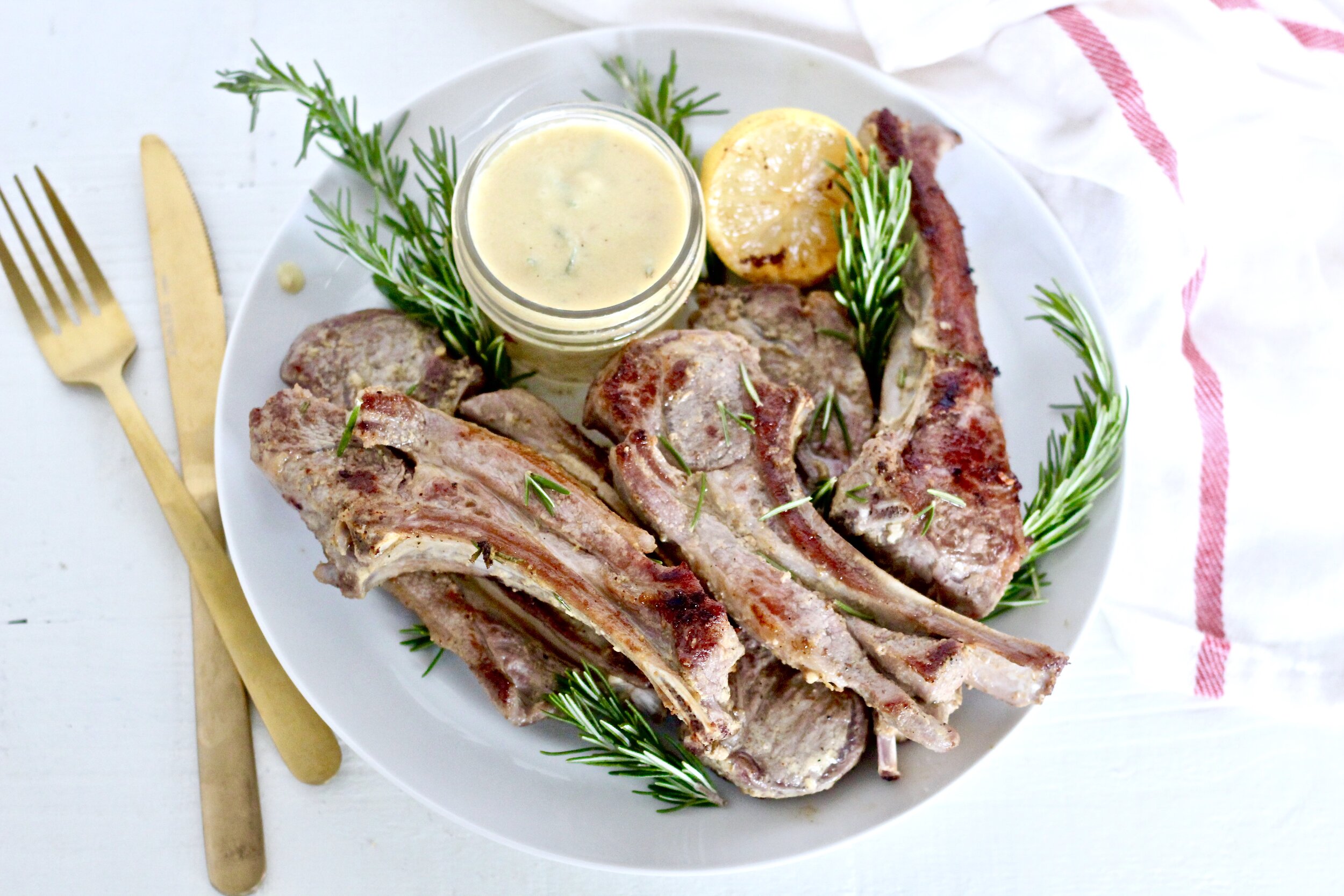 Ingredients
6

American lamb rib chops

aka, lamb lollipops; make sure to ask your butcher for American lamb

2

cloves

minced garlic

Zest from 1/2 lemon

2

tablespoons

dijon mustard

1

tablespoon

minced fresh rosemary

2

Tbsp

butter

melted

1/2

tsp

salt

1/4

tsp

black pepper

1/4

cup

dry white wine

2

tablespoons

avocado oil
And if you want a little extra sauce for garnish mix together the following:
2

cloves

minced garlic

Juice from 1/2 a lemon

2

Tbsp

Dijon mustard

1

Tbsp

fresh rosemary

4

Tbsp

butter

melted

1/2

tsp

salt

1/4

tsp

black pepper
Instructions
Combine the garlic, lemon zest, Dijon mustard, rosemary, butter, salt and pepper, and white wine in a bowl. Whisk to combine. Add the lamb lollipops to a sealable container (like a plastic bag or glass Tupperware container) along with marinade and let them sit for 3-4 hours in the refrigerator.

Once ready to cook, allow your lamb rib chops to reach room temperature before you start cooking them.

Heat your avocado oil in a large cast iron skillet. Once the oil is good and hot, gently add your lamb rib chops to the pan and cook for 4 minutes. Flip. Cook for an additional 4 minutes.

Remove the lamb lollipops from the pan, and let them sit for 10ish minutes before cutting in. Garnish with extra rosemary and enjoy!
Notes
The nutrition facts presented here are estimates only. The brands you use and product types chosen can change the nutritional information presented. To obtain the most accurate nutritional information, you should calculate the nutritional information with the actual ingredients you use.
Nutrition
Calories:
243
kcal
|
Carbohydrates:
0.5
g
|
Protein:
10
g
|
Fat:
22.5
g
|
Saturated Fat:
9
g
|
Fiber:
0
g
|
Sugar:
0
g