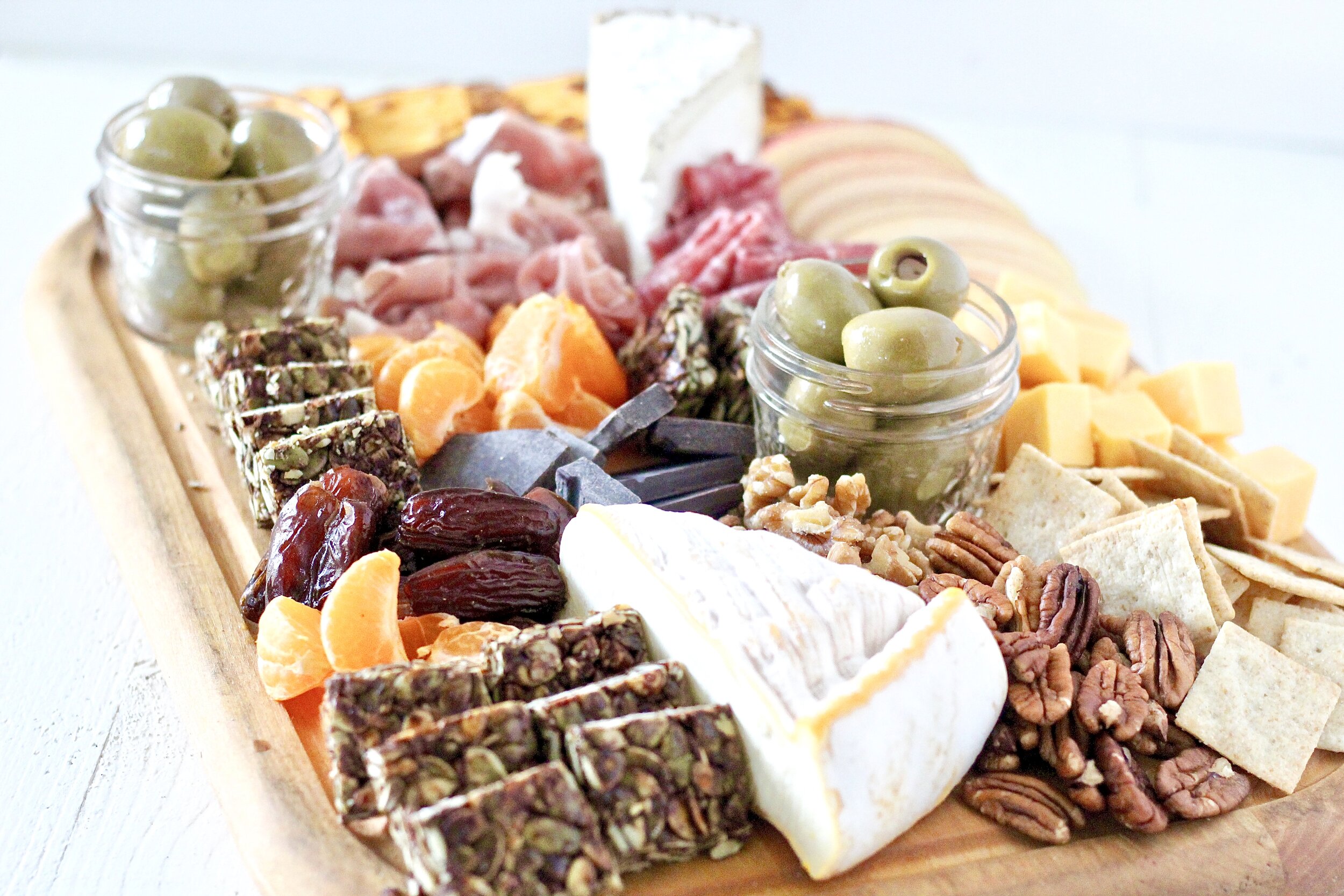 This post for Thanksgiving Charcuterie Board for Daytime Snacking was sponsored by Health Warrior . All thoughts and ideas are my own.
Who wants a Thanksgiving Charcuterie Board for Daytime Snacking?? I know I do! If your family is like mine, we don't eat our Thanksgiving meal until closer to dinner time so we all need some good snacks leading up to the big meal!! Keep reading for my ideas for your Thanksgiving Charcuterie Board for Daytime Snacking.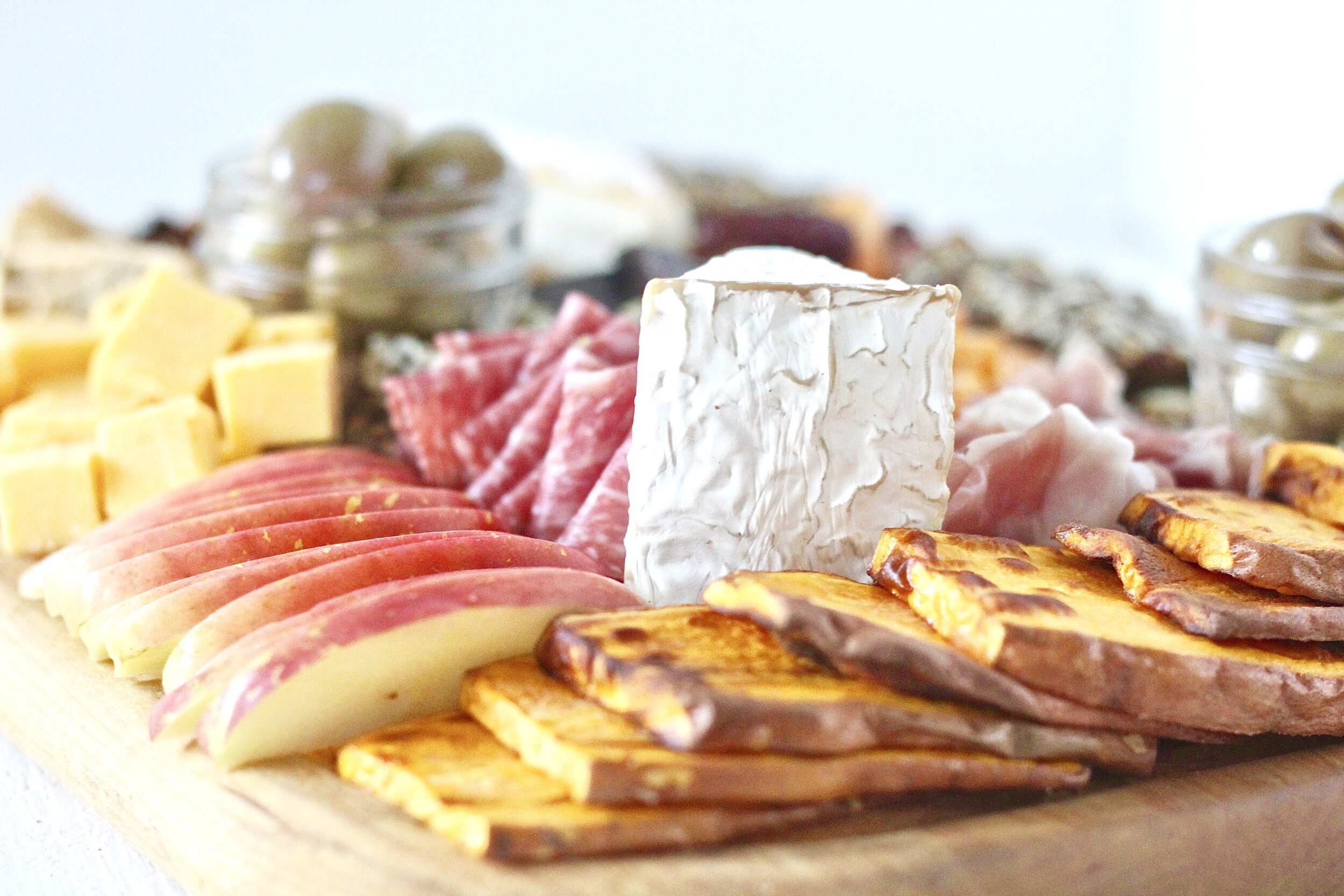 Don't fall victim to the idea that you need to starve yourself all day before the big meal. You need to eat, regardless of what day it is. But, cooking or preparing something else may not exactly be high on your priority list. This Thanksgiving Charcuterie Board is ideal for snacking during the day before. It's loaded with nutrient dense foods like:
Pumpkin seeds (from the Health Warrior Pumpkin Seed Protein Bars) are a quality source of healthy fats, magnesium, and zinc. Research has found that pumpkin seeds, pumpkin seed extract, and pumpkin seed oil are associated with reduced cancer risk, and improved prostate function and can help support a number of body functions:
Immune system

Skin health

Heart health

Pregnancy

Urinary health

Digestion

Liver health
1oz of pumpkin seeds contains: 7g protein, 42% of your daily needs for manganese, 37% of your daily needs for magnesium, and 23% of your daily needs for iron.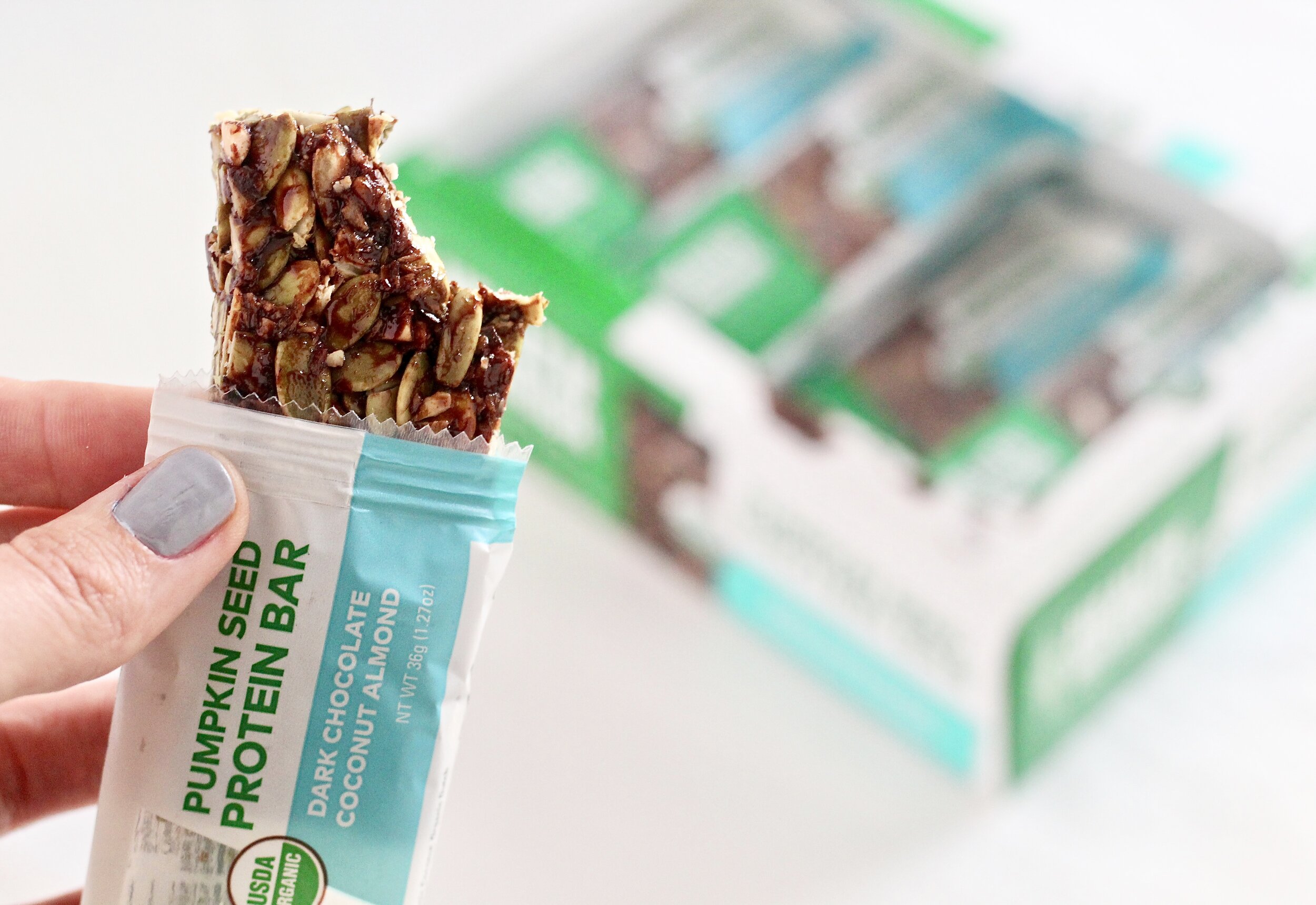 Dark chocolate (>60% cacao) is loaded with antioxidants and typically contains less sugar than semi-sweet or milk chocolate varieties. If you're looking for a vegan, or allergy friendly option, there are many dark chocolate options available at grocery stores to meet your needs.
Various cheeses offer protein and fat for satiety and energy to keep you cooking in the kitchen.
Crackers and fruit for added fiber and micronutrients like b vitamins.
So, now the question is: How many boards will you make?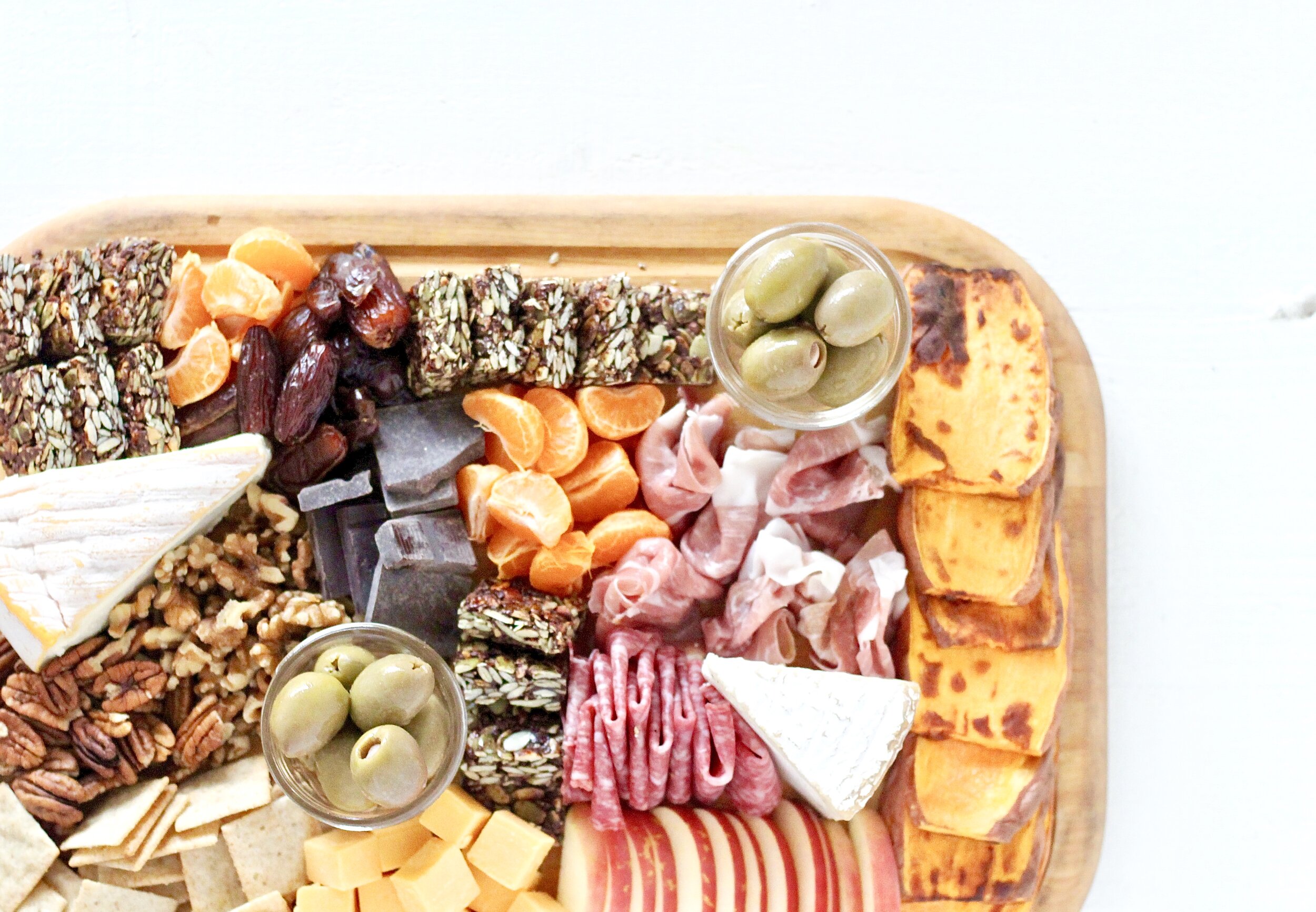 ---
Thanksgiving Charcuterie Board for Daytime Snacking
Add the following to your favorite cutting board. Quantities will depend on the number of people you're hosting and how hungry you are!
Various cheeses
Raw nuts (pecans, walnuts, cashews, etc.)
Uncured meats: hard salami, Genoa salami, prosciutto, etc.
Olives: Green and Kalamata
Whole grain or grain free crackers
Roasted sweet potatoes
Apple slices, orange slices
Dates
Hummus
Trail Mix
Dark chocolate
Health Warrior Pumpkin Seed Protein Bars, chopped (Use code milknhoney20 on healthwarrior.com for 20% off) )
Combine the puffed quinoa and melted chocolate in a bowl and stir to combine. Spread evenly on a parchment lined baking sheet to desired thickness. I recommend 1/4 inch.
Crumble the pumpkin seed bar on top of the chocolate mixture and press lightly with hands or the back of a spoon to ensure it sticks to the chocolate. Place in freezer for one hour. Remove it from the freezer and break into pieces. Place in an airtight container and store in refrigerator for up to one month.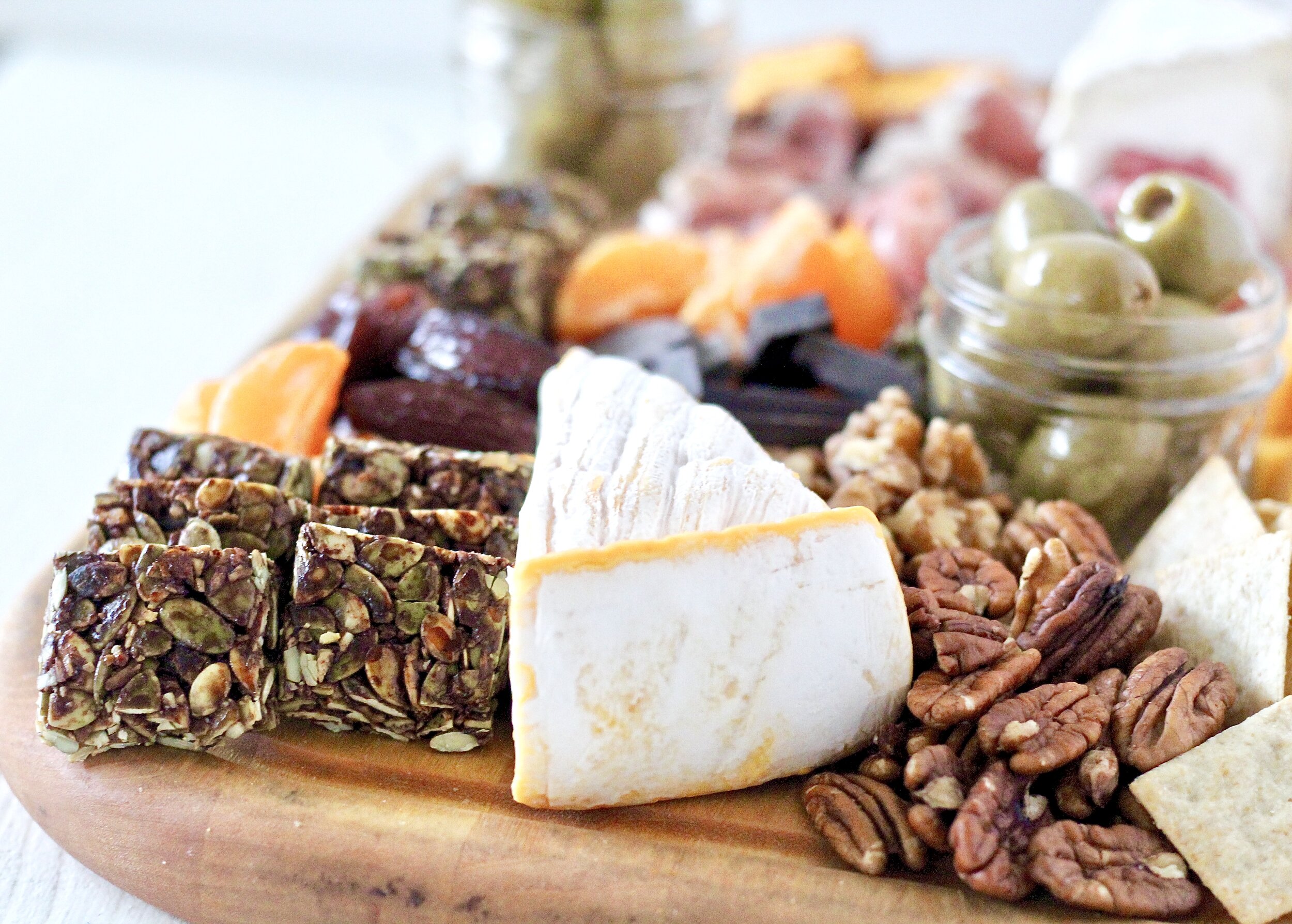 ---