This recipe was sponsored by Beef Loving Texans. All thoughts and ideas are my own.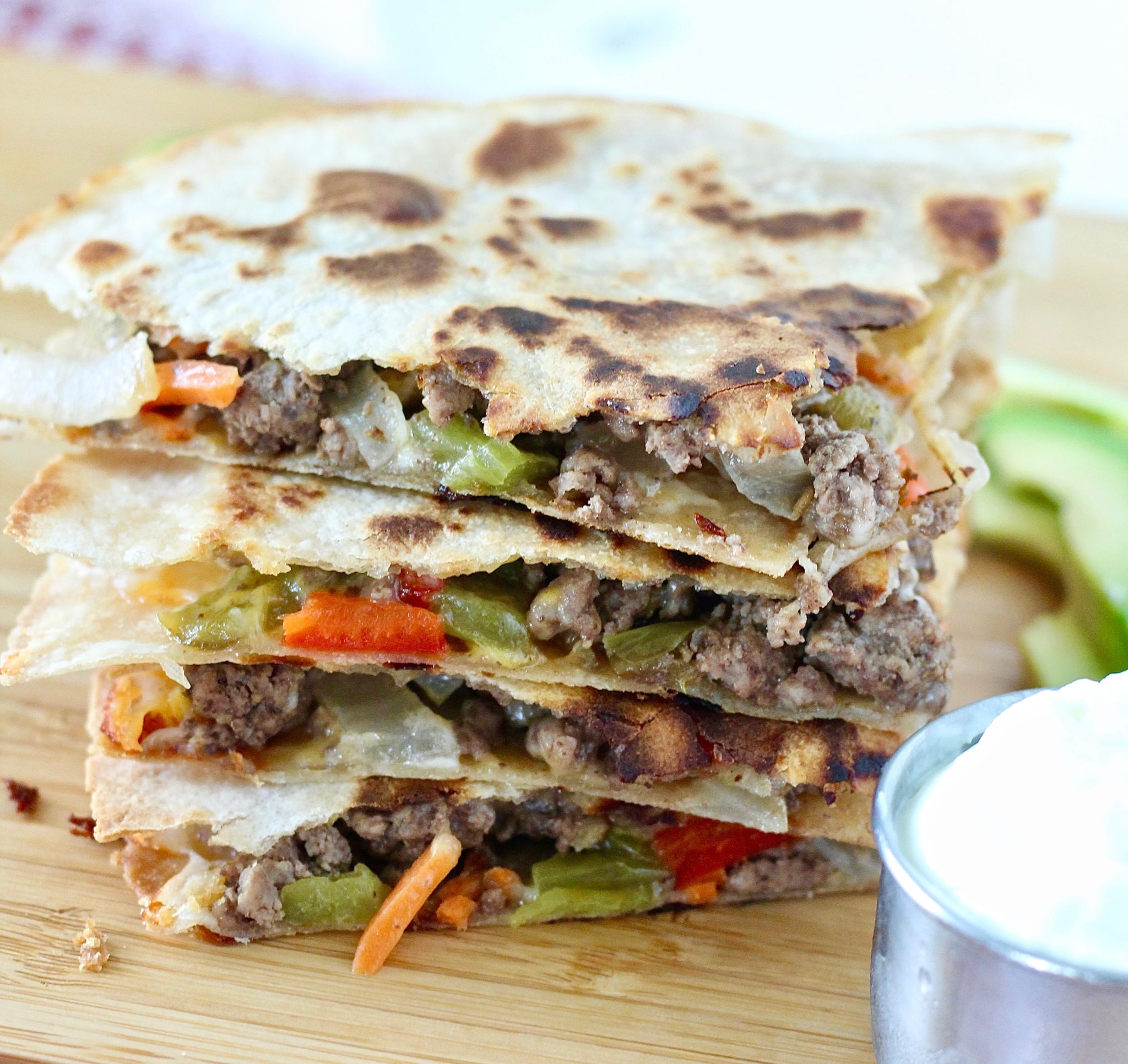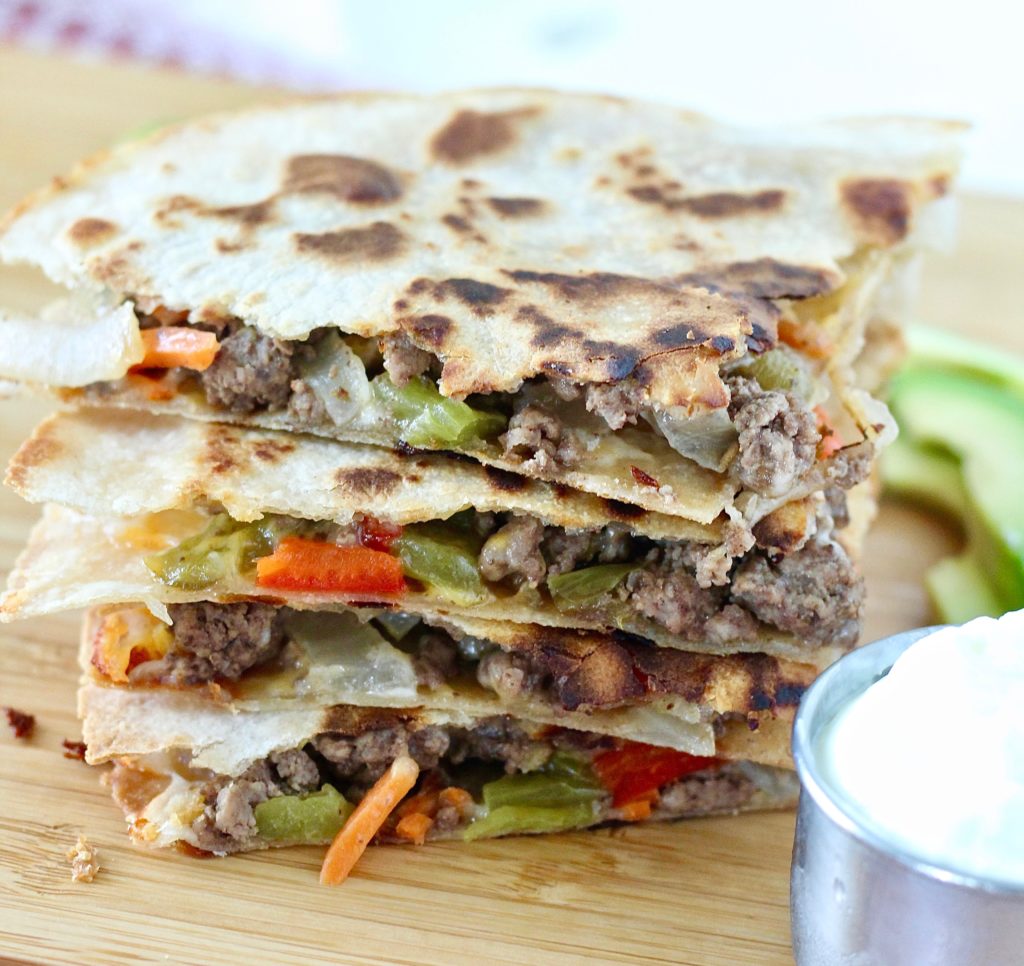 These Cheesy Veggie & Ground Beef Quesadillas are the perfect, easy weeknight meal filled with lots of veggies and flavorful ground beef!
Quesadillas are such an easy weeknight meal. We have them at least 1 night per week in our house. This ground beef quesadilla recipe packs some delicious flavor thanks to the lean ground beef and cheese, and also includes veggies for added nutrition.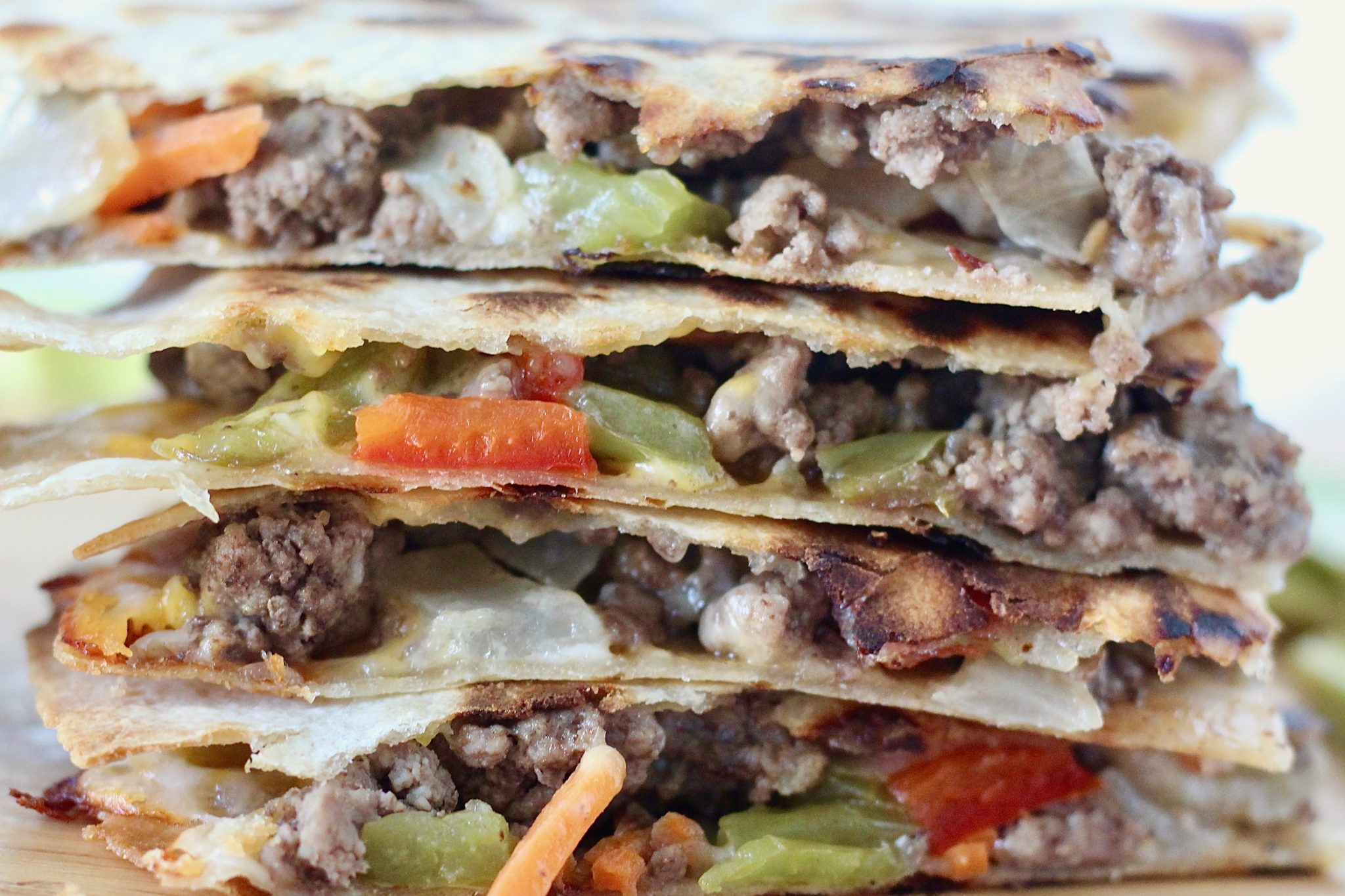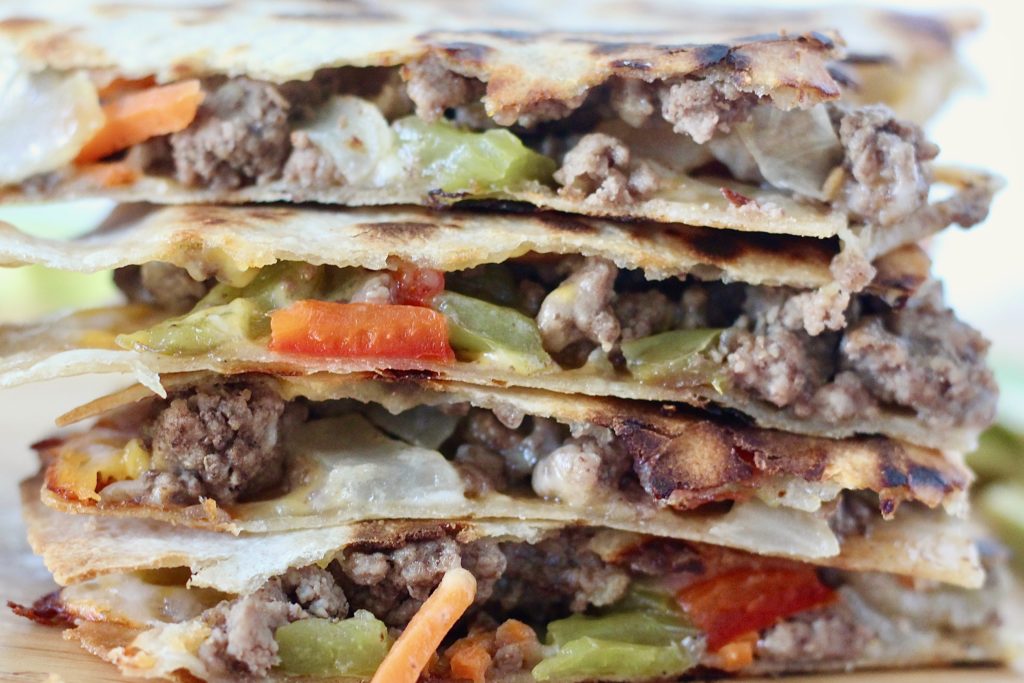 Lean ground beef nutrition
Pairing produce and other whole foods with a family favorite like nutrient-packed lean ground beef like we do in these ground beef quesadillas, makes for some delicious and nutritious meals! Beef's high-quality protein, iron, and zinc can strengthen a balanced diet and are a perfect complement to the nutrients found in produce and whole grains.
Just one 3-ounce serving of cooked ground beef contains about 25g of protein and 10 essential nutrients including: zinc, iron and B vitamins.
Research from randomized controlled trials (the best type of study we have!) continues to demonstrate that lean beef can be the predominant protein source in DASH (Dietary Approaches to Stop Hypertension), Mediterranean, and fruit and vegetable rich eating patterns.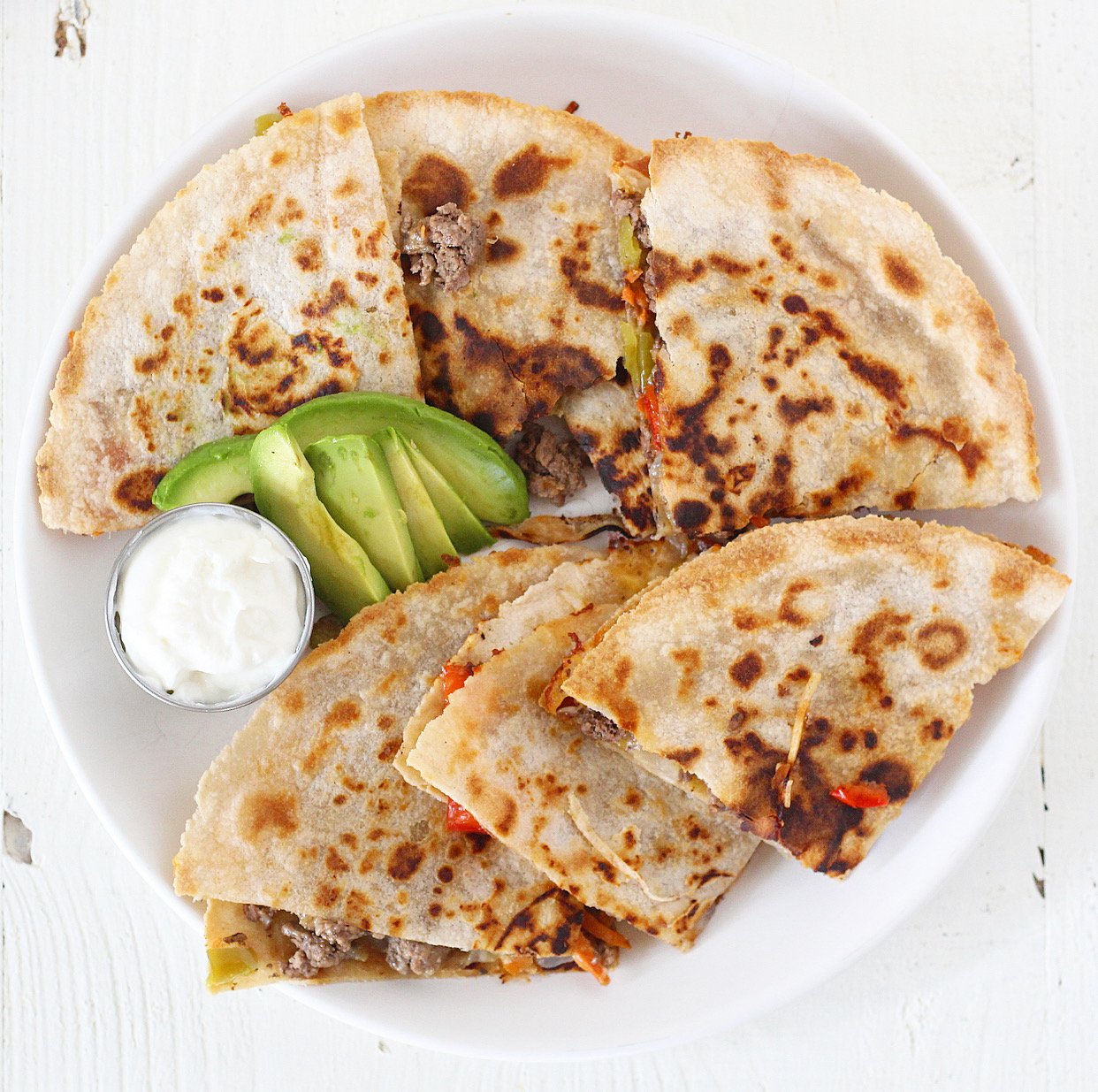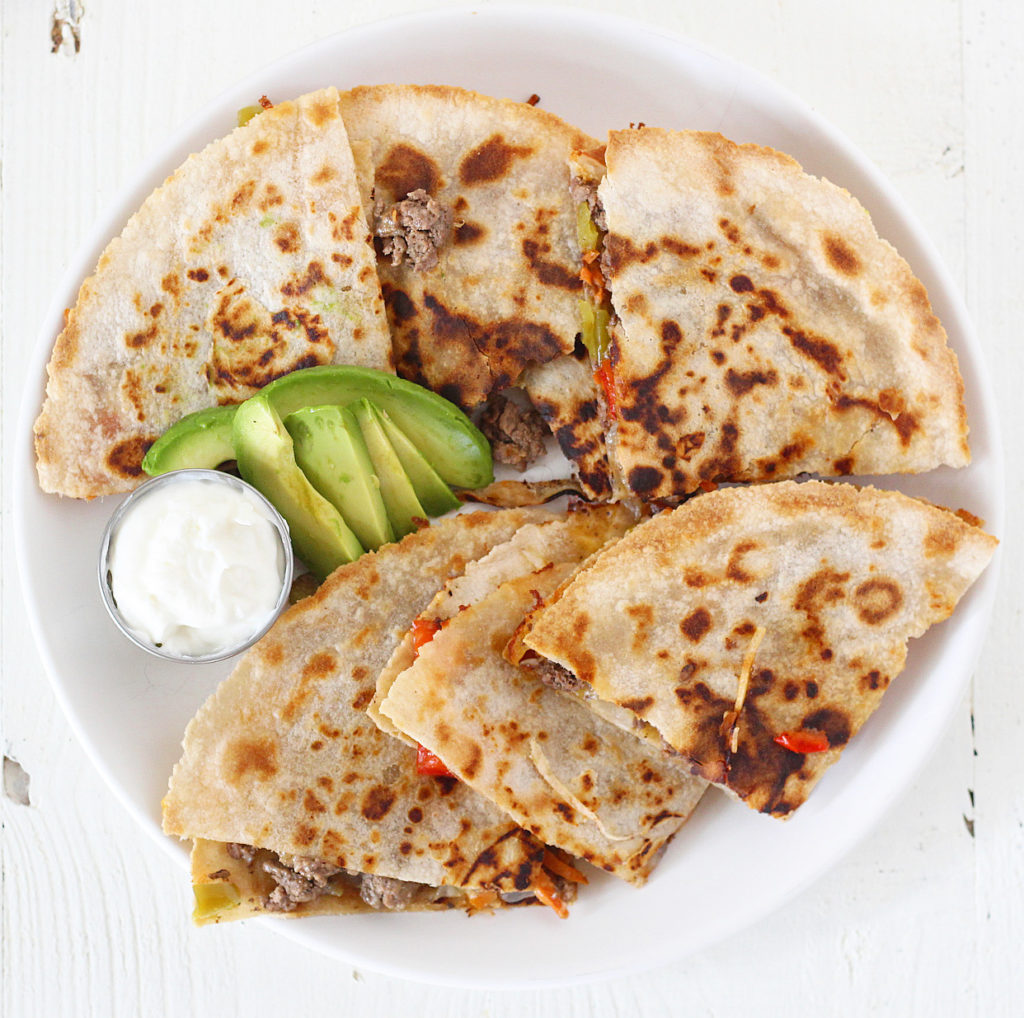 How do you make a quesadilla on the stove?
When it comes to how to make a quesadilla on the stove, I find there's two camps of people:
Team two tortillas and put all your filling in between the two
Team one tortilla and put all your fillings on one half of the tortilla and then fold the other half over
Which team are you?
If I'm being honest, I think both taste the exact same delicious way, but I've always made them the first way.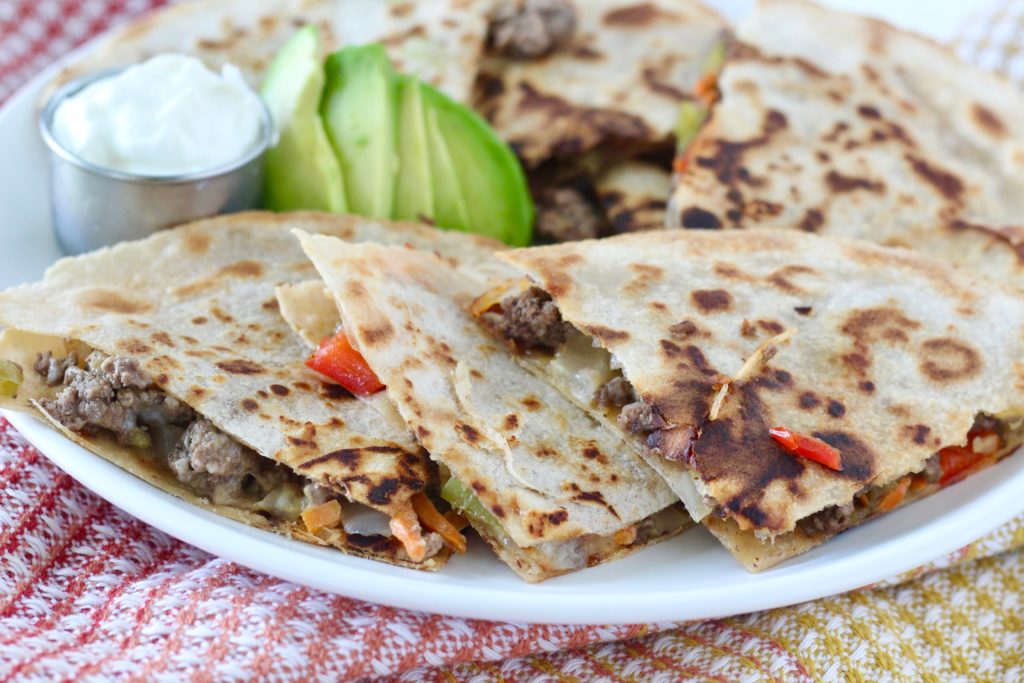 What's the best cheese for quesadillas?
The best cheese for quesadillas definitely depends on your preferences, but I love a classic blend of cheese in quesadillas and the ones labeled "Mexican cheese blend" at the store seem to be the best for this and also the easiest. If I had more time each night at dinner, I'd probably make my own combo of quest fresco, Colby jack, and a few others.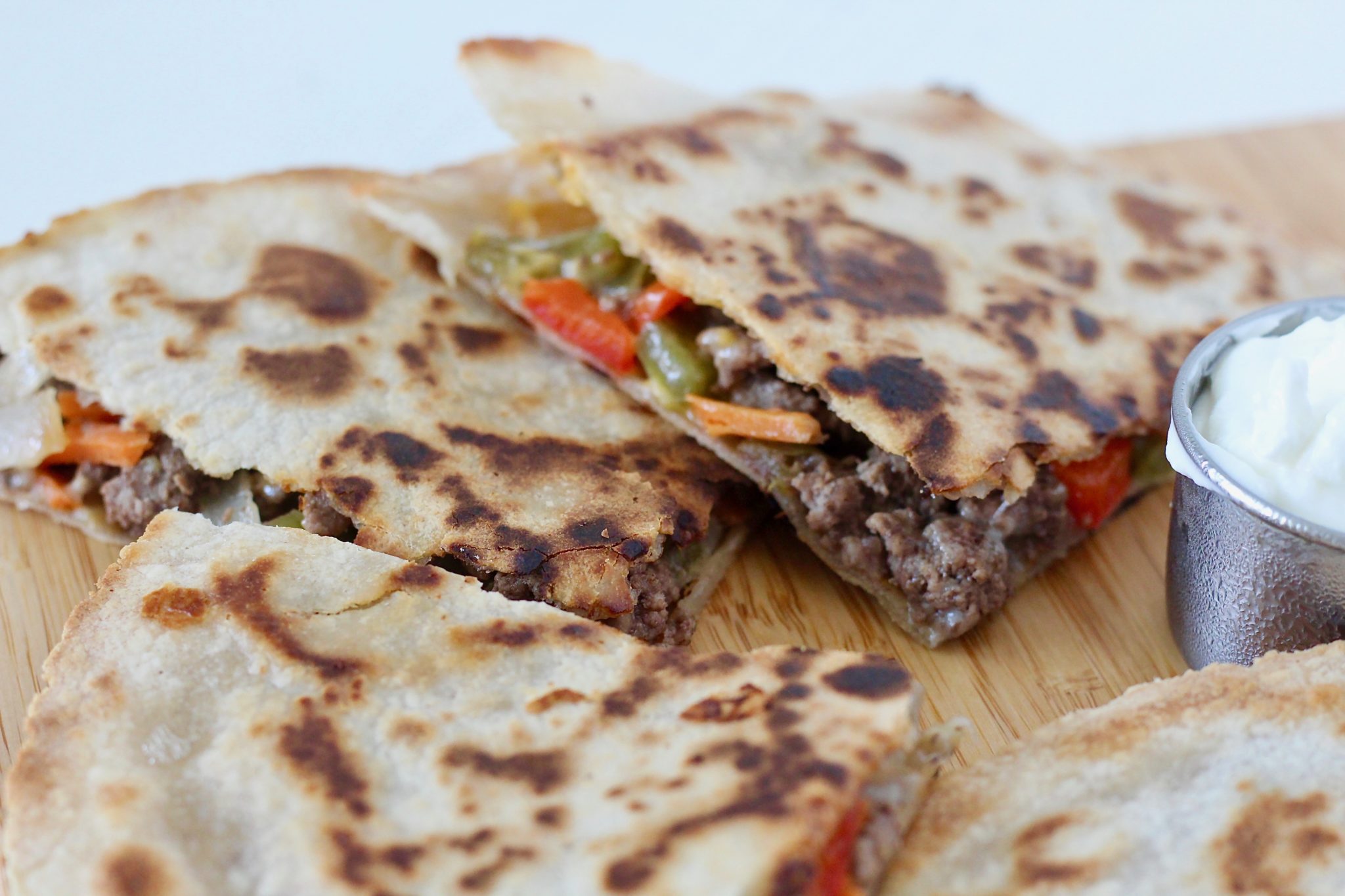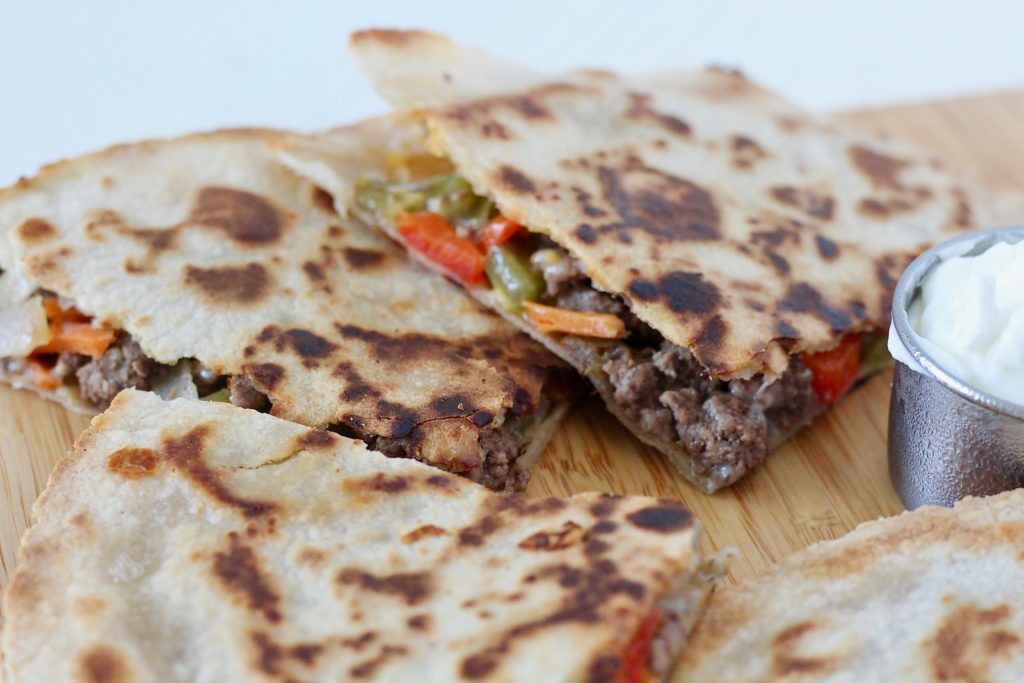 What we like to use for quesadilla toppings and dips
Our favorite quesadilla topping and dip is plain Greek yogurt! It tastes just like sour cream but with an extra kick of protein. And with the amount of greek yogurt my youngest enjoys with her quesadilla, I'm glad to have a slightly healthier option for her to go with these Cheesy Veggie & Ground Beef Quesadillas.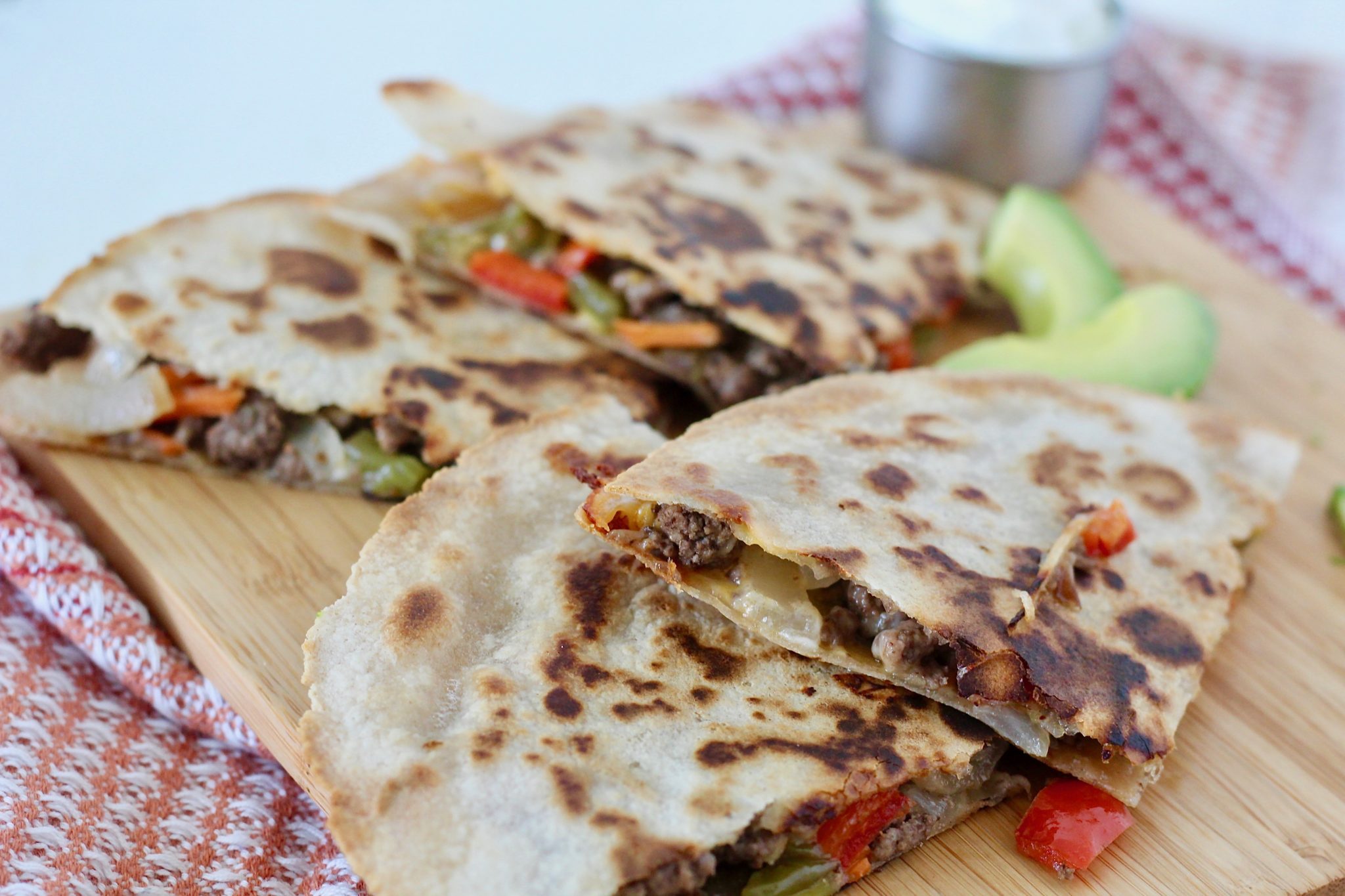 The best ground beef quesadilla recipe
The lean ground beef and veggies come together so well in these quesadillas that I know you're going to love them! Making these ground beef quesadillas is pretty straightforward but here are a few tips:
If you want to save some time, buy your veggies pre-chopped.
You don't have to cook the veggies until they are soft, you could just throw them in raw if you want a bit more crunch.
How long they take to cook will depend totally on what kind of tortillas you use so make sure to watch them so they don't burn!
You can use more cheese if you want to.
These are great as leftovers too! Just store them in a sealed air tight container and throw them back in a skillet for 2-3 minutes to reheat!
And for more delicious ground beef recipes, make sure to check out my Cheesy Beef & Kale Pasta Bake and my Homestyle Beef & Bean Chili.
Also, check out Beef Loving Texans – a one-stop shop for recipes, stories, and information brought to you by the Texas Beef Council. Beef Loving Texans celebrates the pride and values deeply rooted in Texans through family, community and tradition. Texas pride is like nowhere else on earth (trust me on this one!), and beef is a big part of that pride. You can visit www.beeflovingtexans.com for more recipes and inspiration!

Cheesy Veggie & Ground Beef Quesadillas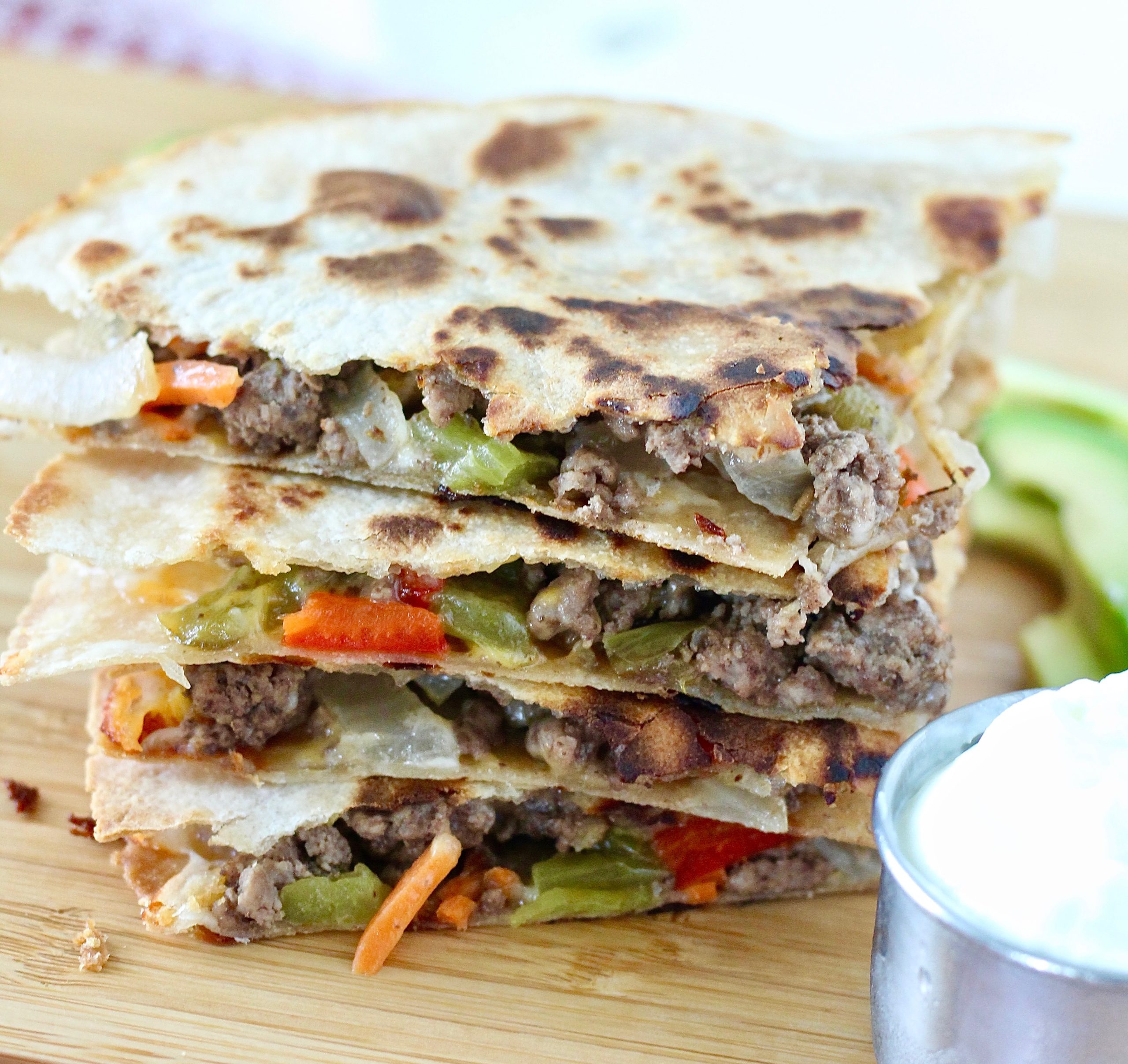 Ingredients
1

Tbsp

+ 1 tsp avocado oil

divided

1

medium

red bell pepper

diced

1

medium

green bell pepper

diced

½

medium

yellow onion

diced

½

cup

shredded carrots

1

lb.

90% lean ground beef

8

whole grain or grain free tortillas

1

cup

shredded Mexican cheese blend
Instructions
Heat a large skillet over medium-high heat on your stove top. Add 1 Tbsp of the avocado oil to your skillet and let it heat up until you can coat the bottom of the pan with it.

Add the diced bell peppers and onion to the pan. Stir, and let them sauté for about 10 minutes until the onions start to brown, stirring frequently. Add the carrots to the skillet, stir, and cook for an additional 5-7 minutes until the carrots start to soften.

Add the ground beef to the skillet with the veggies and break the meat into crumbles with a spatula, mixing it with the veggies. Cook the meat until it is fully browned, about 8-10 minutes. Carefully drain off any excess fat and set the veggie/meat mixture aside.

Heat another medium sized skillet over medium-high heat on the stove top.

While that skillet is heating, assemble your quesadillas. Top one tortilla with 1/2 cup of the veggie meat mixture and 1/4 cup cheese, being careful to spread both out evenly on the tortilla. Top with a second tortilla. Repeat this process three more times.

Once the skillet is heated, add the remaining 1 tsp avocado oil to the pan and carefully coat the bottom of the pan.

Place the quesadillas in the pan and cook on the first side for 5-7 minutes until they start to crisp up. Flip the quesadillas and cook for an additional 4-5 minutes until crispy.*
Notes
*Cooking time will vary based on the type of tortillas you choose.
**The nutrition facts presented here are estimates only. The brands you use and product types chosen can change the nutritional information presented. To obtain the most accurate nutritional information, you should calculate the nutritional information with the actual ingredients you use.
Nutrition
Serving:
1
quesadilla
|
Calories:
558
kcal
|
Carbohydrates:
45
g
|
Protein:
38
g
|
Fat:
26
g
|
Saturated Fat:
10
g
|
Sodium:
708
mg
|
Fiber:
8
g
|
Sugar:
4
g