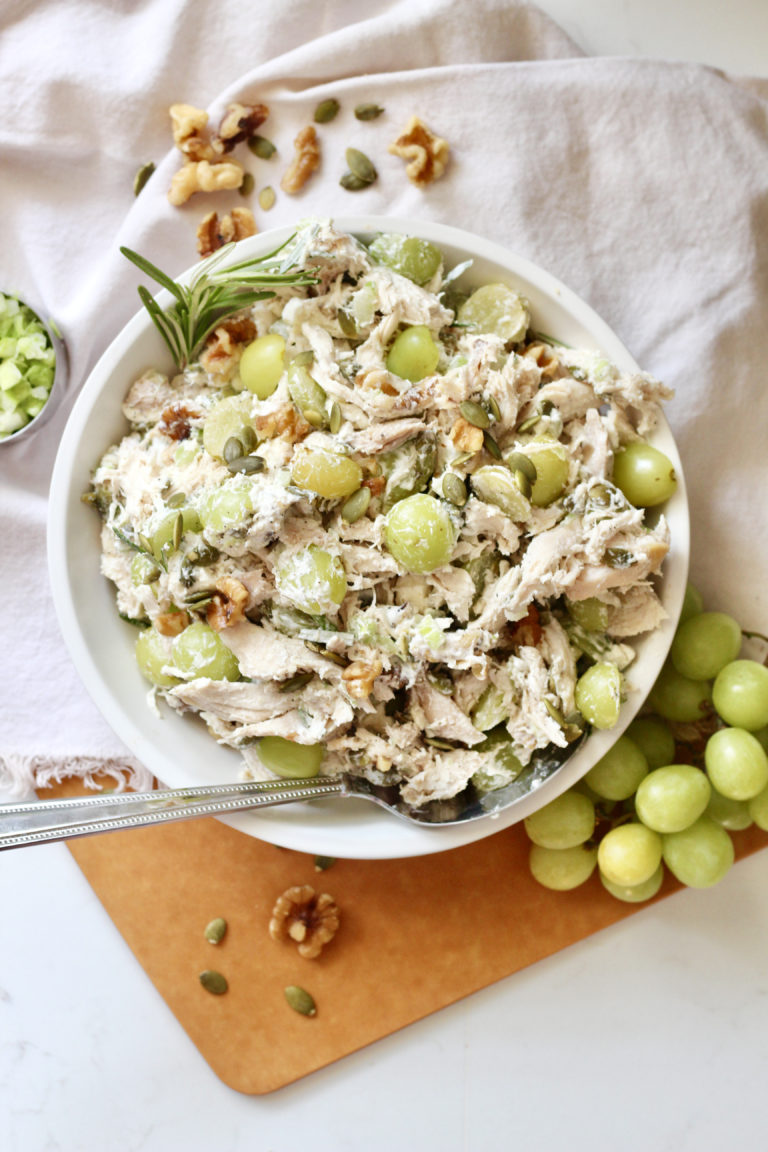 Easy Chicken Salad with Grapes and Walnuts is a protein-packed recipe you must add to your lunch and dinner recipe rotation!
This recipe takes boring and plain chicken salad to a whole other level. Chicken salad with grapes and walnuts is perfect for lunch at the office or an easy weeknight meal, and will leave your tummy full and satisfied.
This post is sponsored by the California Table Grape Commission.
What's so special about chicken salad with grapes?
My homemade chicken salad with grapes is easy to make and I know your whole family will love it. It offers a simple lunch or dinner option that's convenient. And, the flavor profile is salty-sweet perfection.
Healthy chicken salad with grapes
One of the things I love about this recipe is how loaded it is with protein. Not only the chicken, but the Greek yogurt too! Protein is one of my favorite nutrient tools for balancing blood sugars.
We also have quality, nutrient rich carbohydrates in this recipe thanks to California grapes. Grapes also offer potassium, vitamin K, and a super convenient source of hydration.
The pairing of protein from the chicken and Greek yogurt, and carbohydrates from grapes, make this a great blood sugar balancing recipe.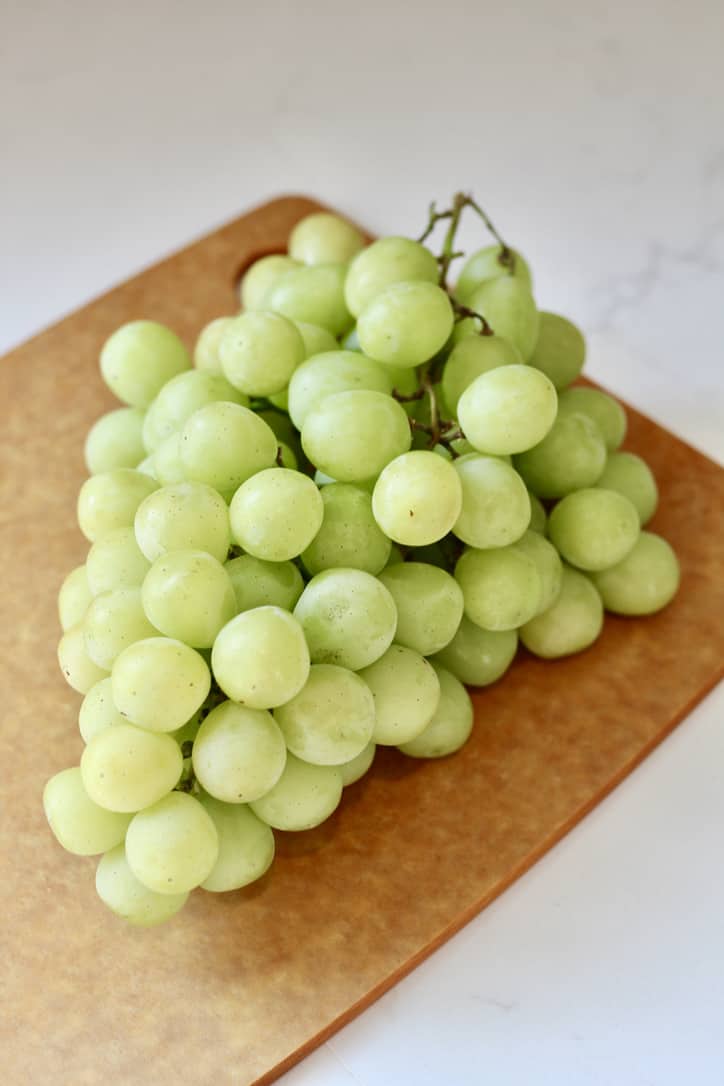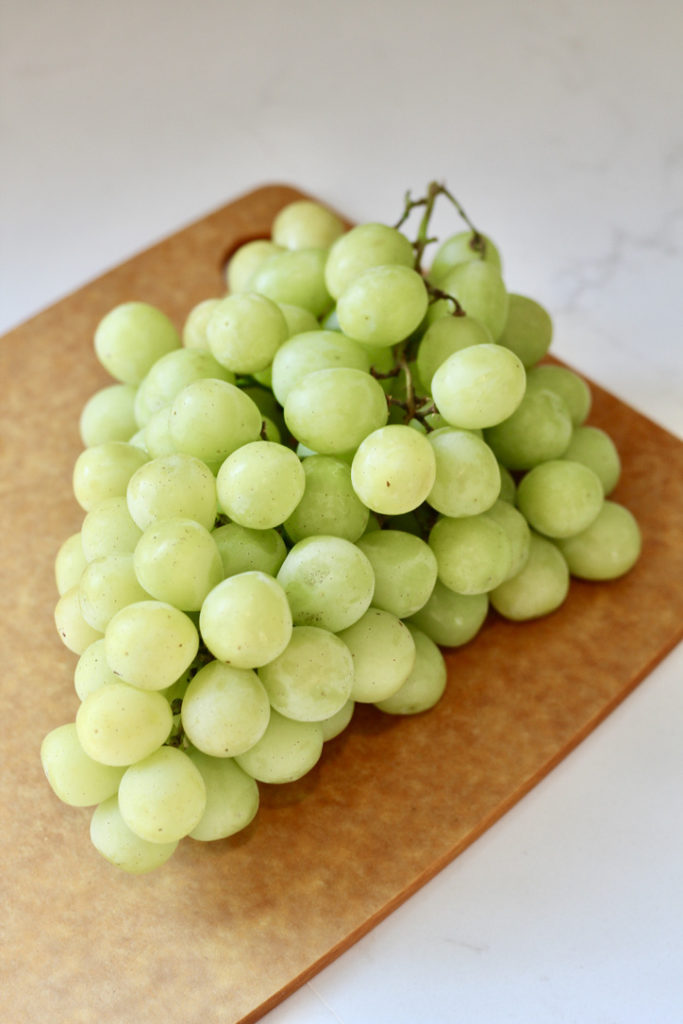 What to use for chicken salad seasoning
I love using fresh rosemary in this chicken salad with grapes and walnuts, but you can also use dried rosemary. It pairs really well with the feta cheese too!
How to make chicken salad at home
Pretty sure this is one of the simplest recipes you'll ever make! You can use rotisserie chicken that's already cooked from your local grocery store, or some other form of cut up chicken as well. Whatever's easier and saves you time is a-ok for this recipe.
Also, remember if you have young kids at home, to make sure you cut the grapes properly before putting them in the chicken salad.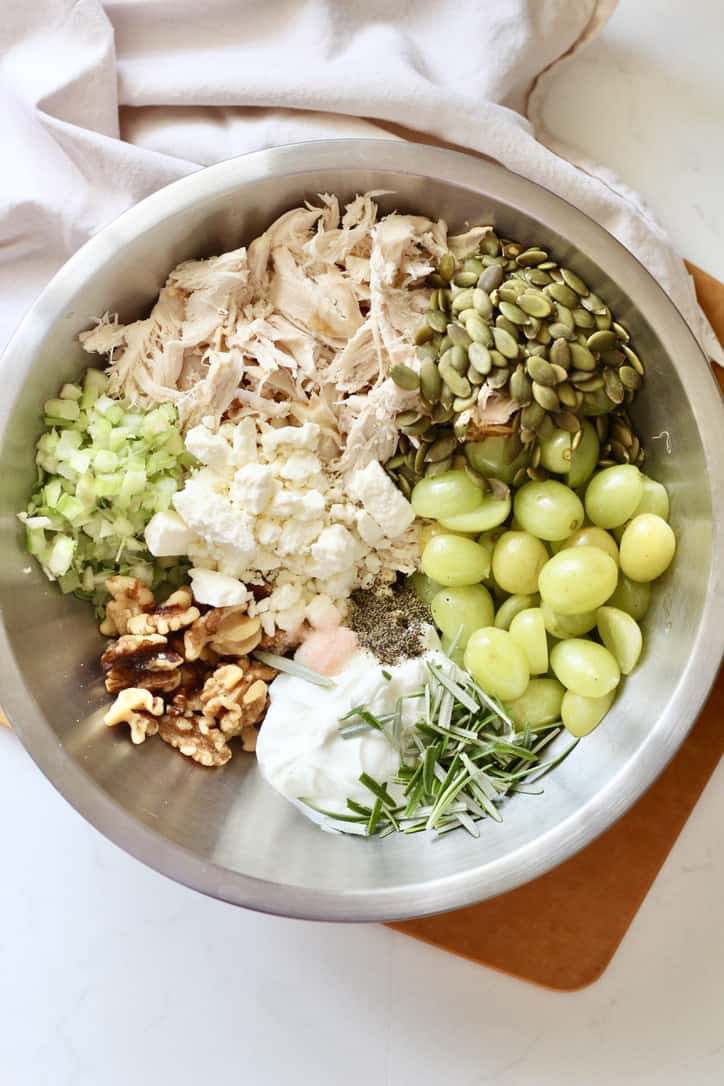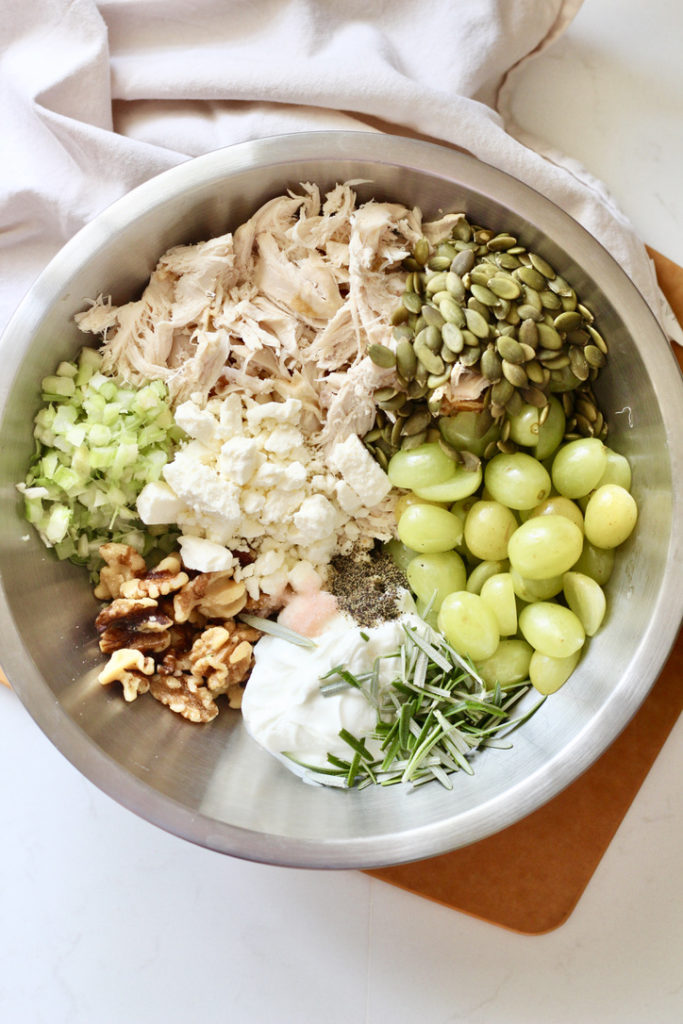 Let's make my chicken salad recipe with grapes and walnuts
The actual preparation of chicken salad with grapes and walnuts is quite simple. Just mix all the ingredients together in a bowl, and that's it. I like to let mine chill for a few hours for all the flavors to meld together, but you don't have to if you want to enjoy it right away!
A good chicken salad recipe without eggs
I grew up eating chicken salad with eggs in it, and I do have a recipe for chicken salad with eggs… but, I wanted to leave them out of this recipe to really let the flavor of the grapes and walnuts shine through!
This chicken salad with grapes and walnuts recipe also uses all Greek yogurt instead of mayonnaise which offers a tangier flavor profile that I think pairs better with the feta.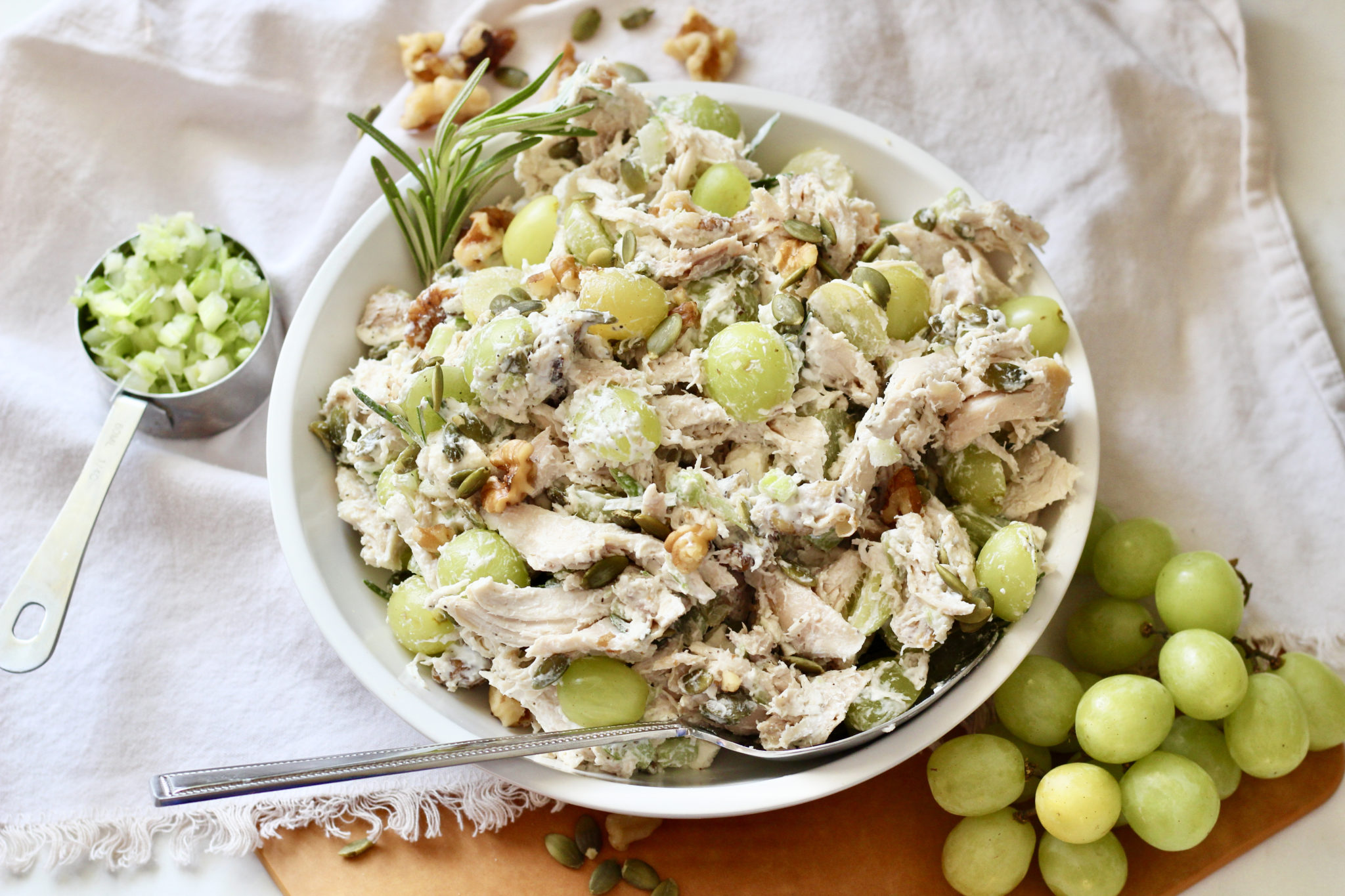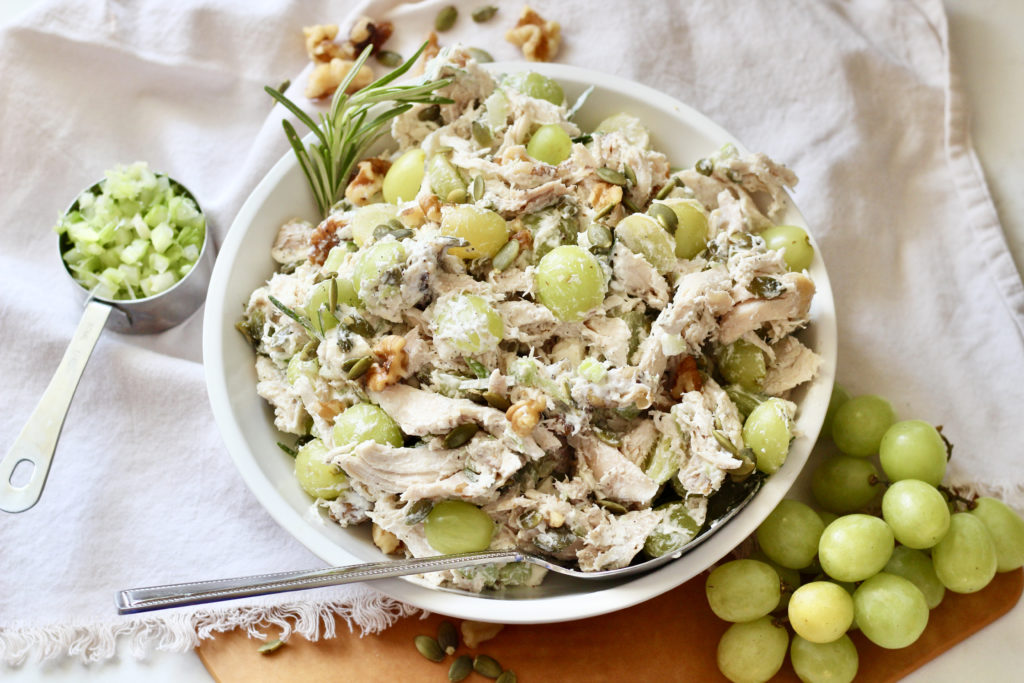 Chicken salad with grapes and walnuts nutrition facts
One serving of this delicious chicken salad recipe packs 41g protein! It also only has 12g carbohydrate, with 2g of that being fiber.
Can you make a chicken salad sandwich with grapes?
This is actually my favorite way to enjoy this recipe! Grab whatever your favorite sandwich roll or bread is and spread a generous layer of chicken salad in between. It's so filling and satisfying, you don't even need a side dish.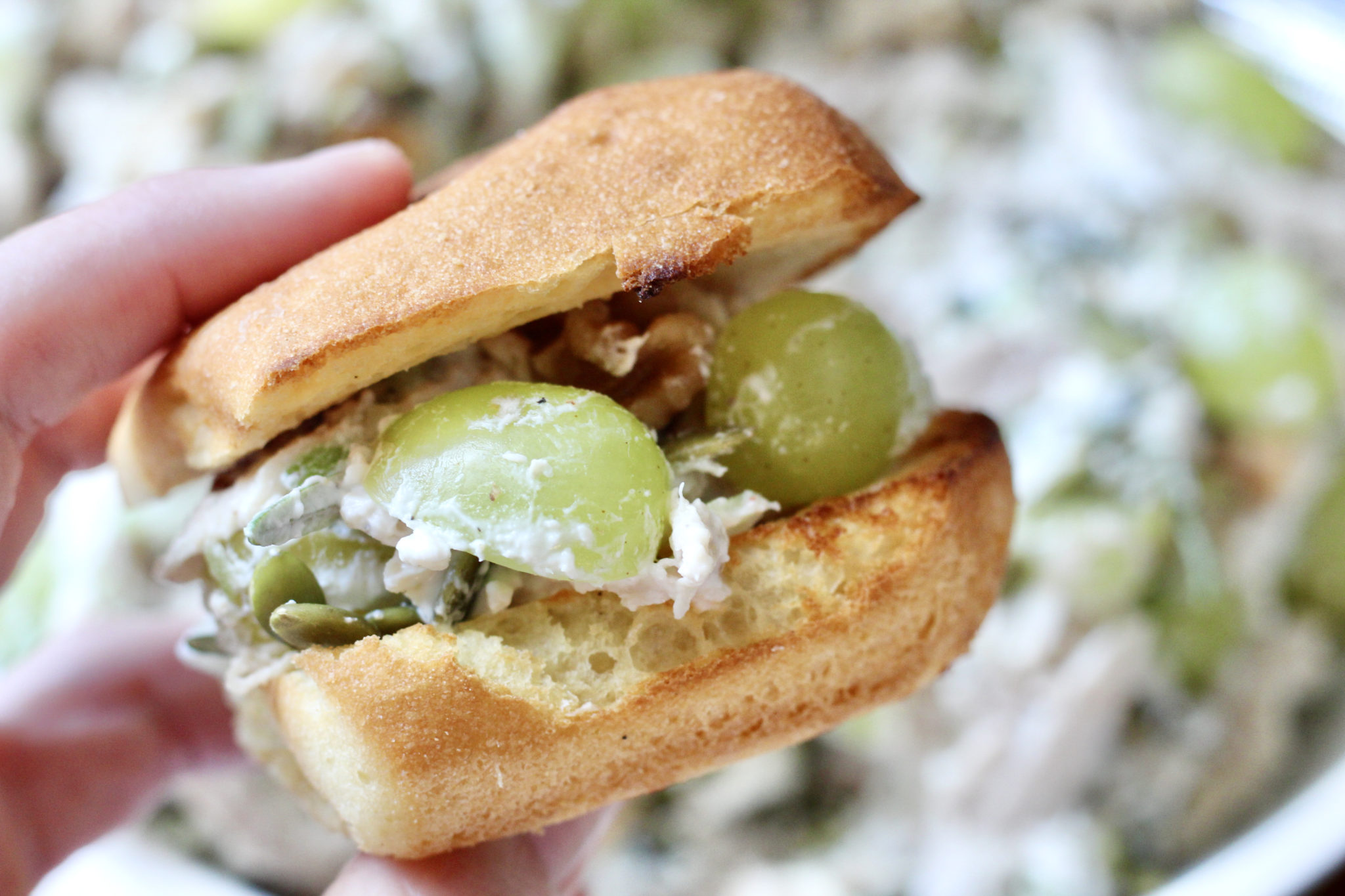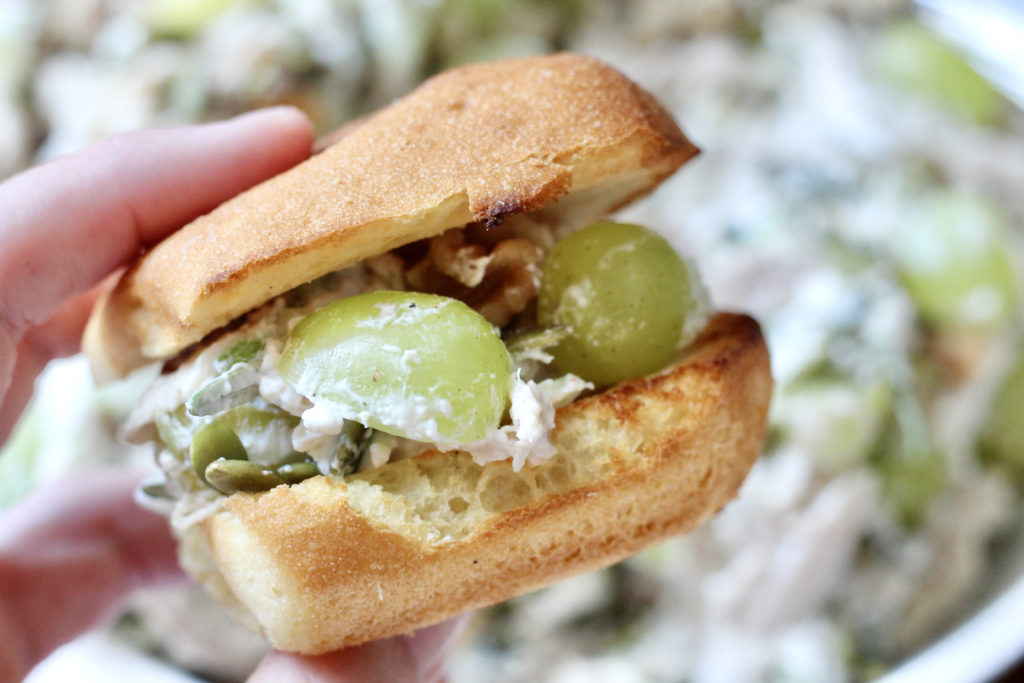 Is this recipe similar to the Chicken Salad Chick grape salad?
Chicken salad with grapes and walnuts is actually quite different than the famous grape salad from Chicken Salad Chick. Their salad acts more as a side dish or even a dessert since it's quite sweet. My recipe is meant to be the main dish and primary protein source of your meal.
Another great chicken walnut salad
Once you try this chicken salad recipe and decide you love the combination of grapes, walnuts, and chicken (which I know you will!), you have to check out the Nutty Deconstructed Salad recipe in my diabetes cookbook, The Easy Diabetes Cookbook!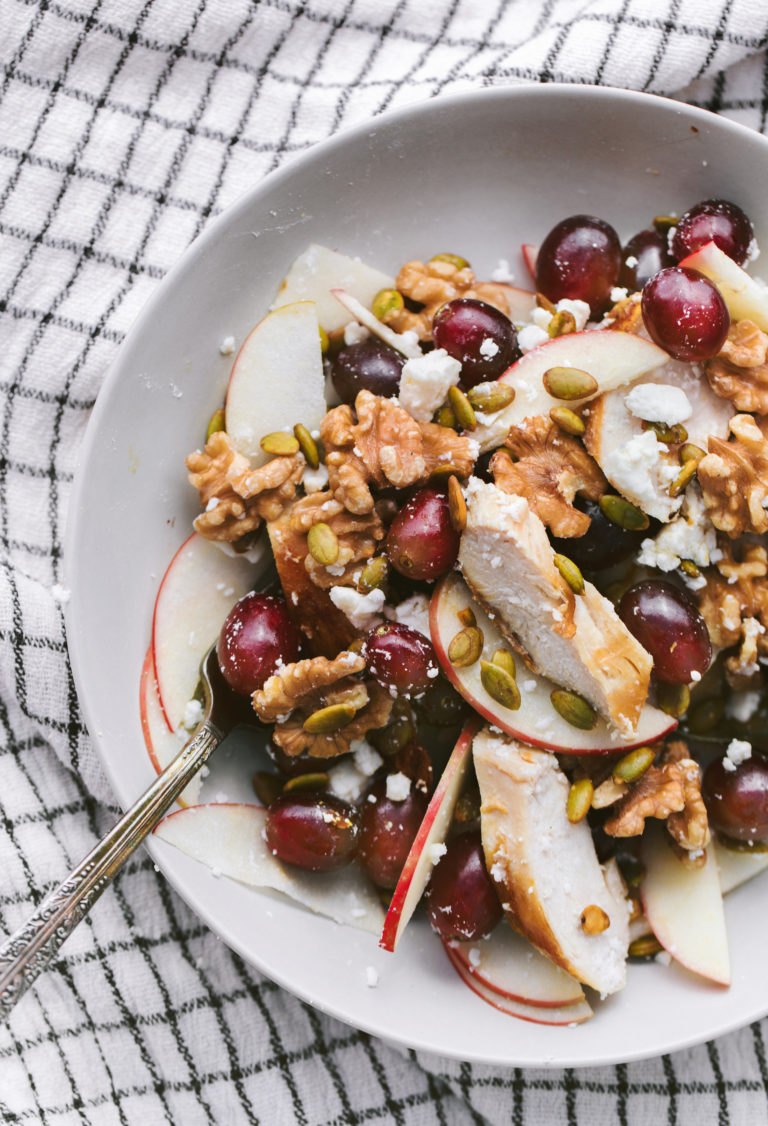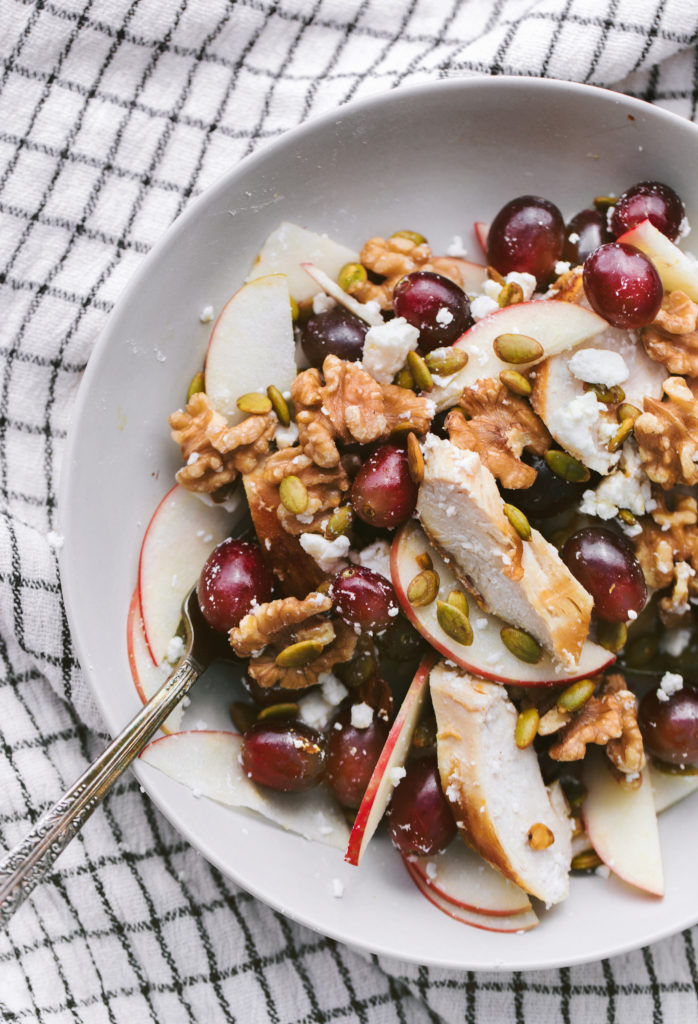 Easy Chicken Salad with Grapes & Walnuts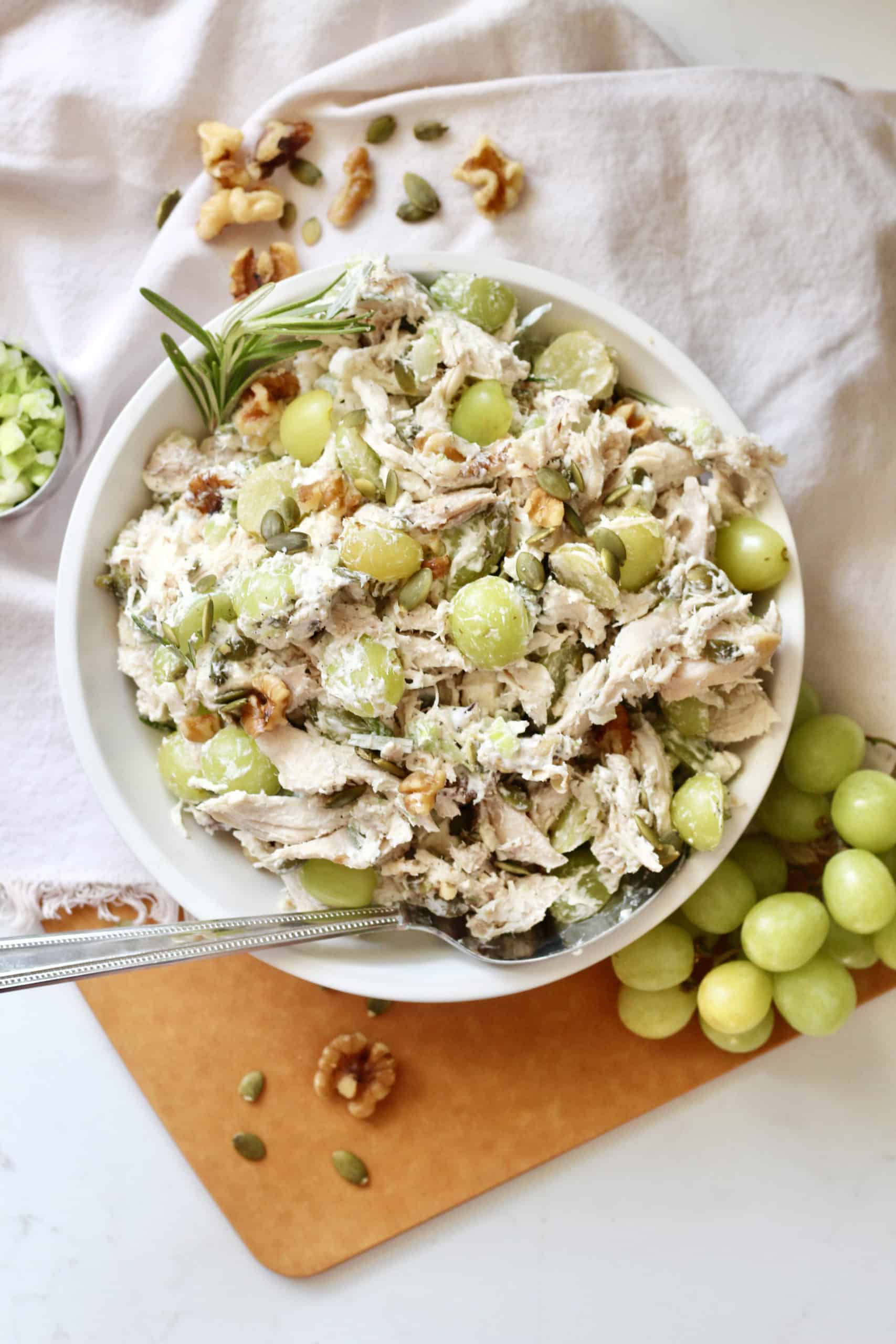 Ingredients
1

lb.

cooked chicken breast

shredded

½

cup

plain Greek yogurt

1

cup

green or red California grapes

⅓

cup

chopped celery

⅓

cup

walnut halves

¼

cup

pumpkin seeds

¼

cup

feta crumbles

½

tsp

salt

½

tsp

black pepper

1

Tbsp

dried rosemary

or 3-4 sprigs fresh
Instructions
Combine all of your ingredients in a large bowl and mix until thoroughly combined.

You can enjoy your chicken salad with grapes and walnuts right away or store it in the refrigerator for a few hours to let it chill.
Notes
The nutrition facts presented here are estimates only. The brands you use and product types chosen can change the nutritional information presented. To obtain the most accurate nutritional information, you should calculate the nutritional information with the actual ingredients you use.
Nutrition
Serving:
1
serving
|
Calories:
363
kcal
|
Carbohydrates:
12
g
|
Protein:
43
g
|
Fat:
16
g
|
Saturated Fat:
4
g
|
Sodium:
500
mg
|
Fiber:
2
g
|
Sugar:
8
g