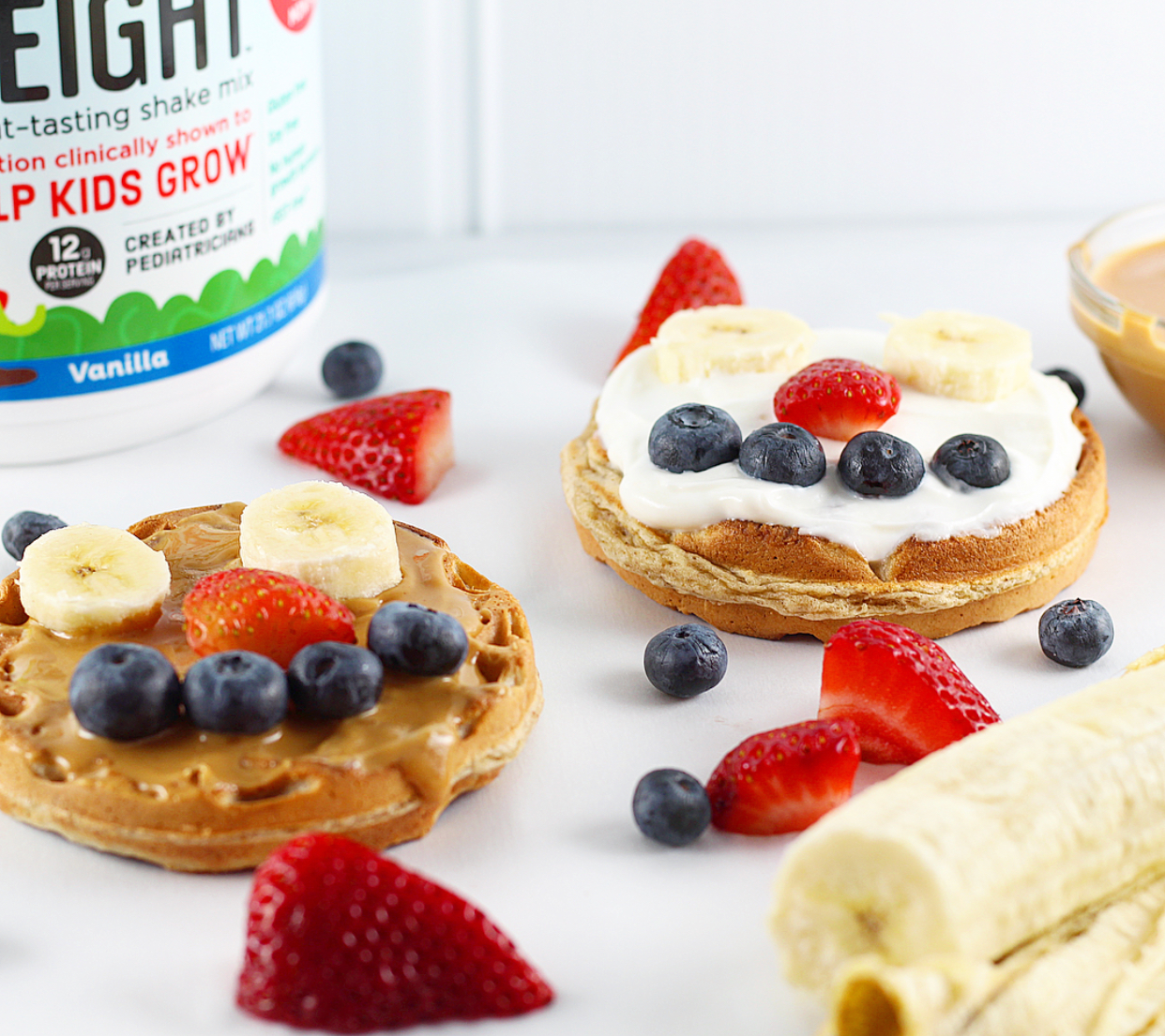 This recipe for Homemade Toaster Waffles for growing kids was sponsored by Healthy Height. All ideas and thoughts are my own.
What was your favorite breakfast as a kid? Or what was the thing you ate every morning before school? I'm gonna guess that for most of you it may have involved one flavor or another of Eggo waffles. I mean what kid DIDN'T love those things?! Personally, I was always a fan of the blueberry ones… but I digress…
Fortunately, our food culture here in the States has turned around a bit since we were all kids and we all are a little bit more aware of what is in the food we eat and how it's made. AND, even better, food manufacturers have wised up and started to offer much better options in their product lines.
We know that a sugar-laden breakfast isn't going to do our kids much good at school (or whatever other activity they have) that day. In fact, without adequate nutrition in the morning, research has shown kids have poorer performance in school (academically), aren't able to focus well, and may exhibit behavior issues in the classroom. Not to mention, if your child is already on the lower end of the growth charts (for height or weight or both), an inadequate breakfast won't help there either.
So, what's a parent to do?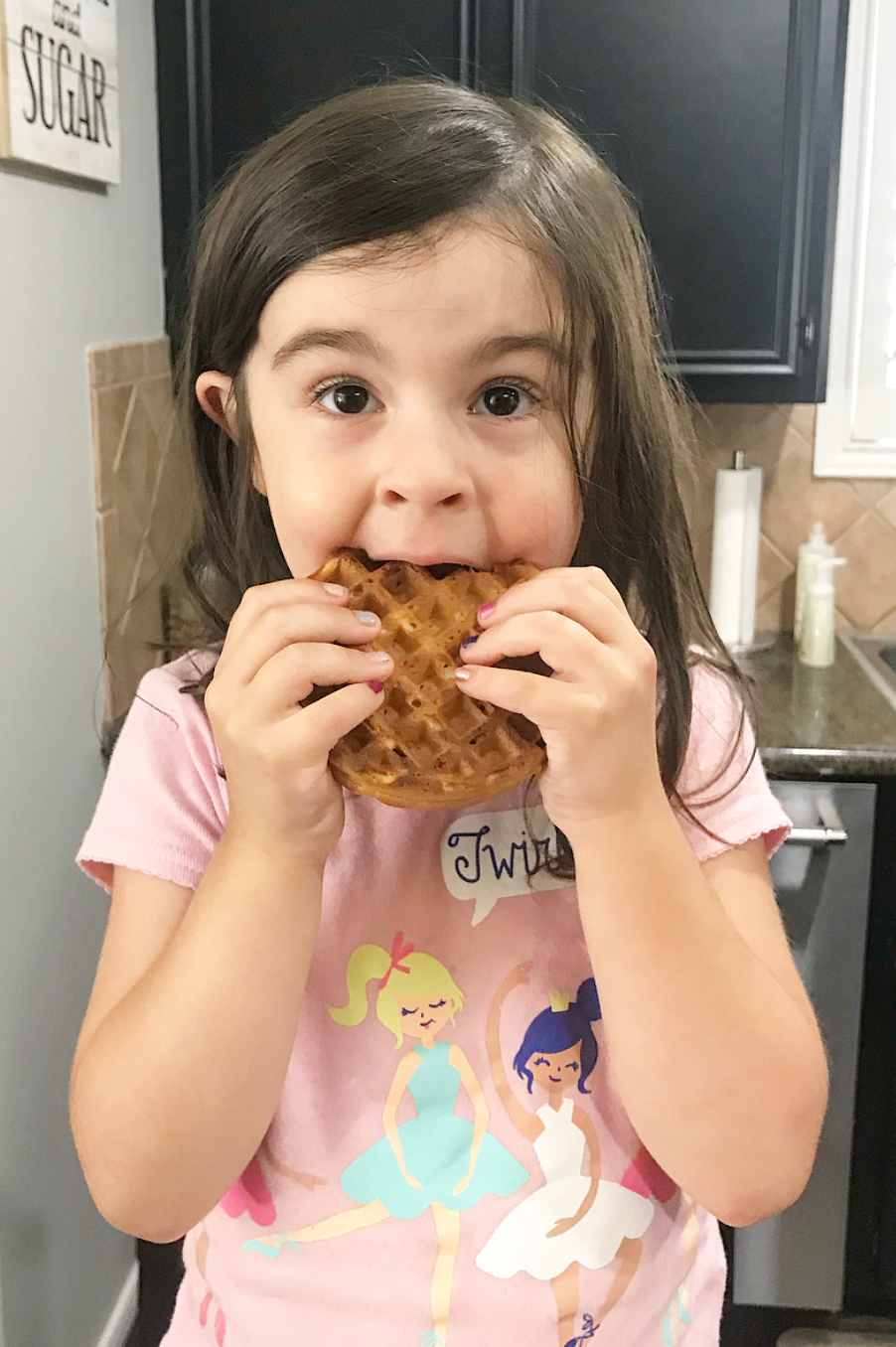 My 4-year-old caught in the act sneaking a waffle!
Well, I'm glad you asked… (ok, I know you didn't really ask, but I'm going to tell you anyways)… Here are some key nutrients and/or food groups I recommend to always serve your kids at breakfast. (Side note: I say "serve" because as a mom of 3 and 4 yr old girls, I'm well aware that sometimes kids just flat out won't eat. In our house, it's rare that that will happen at breakfast… it's usually lunch or dinner… but sometimes it does. And in that case, there's not much you can do because I do not promote forcing your kid to eat anything… just keep offering those well-balanced meals… and maybe pack a really good snack!)
3 things to serve growing kids at breakfast
Fat- Fat plays so many critical roles in the growth of a child, but probably the single most important thing it does is to help our kids' little brains continue to grow. The most rapid brain growth occurs from when they are born until about 2 years old, but even after that… rapid brain growth occurs until about age 5, and then while we do see a little slowdown, brain growth will continue well through the teen years and early 20s. (In fact, did you know the adult brain isn't considered "mature" until age 25?!)
Anyways, fat also plays a role in blood sugar stabilization and satiety… that's basically just fancy speak for the fact that it can help stabilize mood and potential mood swings, and keeps them full and satisfied for longer.
Fiber- Fiber also helps to keep us fuller for longer and can potentially prevent any blood sugar spikes that may result in mood swings or an inability to concentrate in the classroom. It's also great for gut health and helping our gut microbiota (aka, all that good bacteria in our GI tract) stay healthy and keep our immune system strong.
Protein– Protein, very similar to fat, keeps us (and our kids) fuller for longer and also helps aid in brain growth. Even more, it's essential for muscle, tissue, and bone growth, and contributes to a healthy immune system. If your child is on the lower end of the growth charts, or you feel like they struggle to eat traditional protein sources, incorporating a protein powder created specifically for kids that contains key ingredients to support child growth, like Healthy Height, is a good idea.
Here are some meal ideas for your kids (or you) in the morning that incorporate all three of these:
scrambled eggs (fat and protein) with fruit (fiber)

Plain whole milk Greek yogurt (fat and protein) with low sugar granola (fat and fiber)

Homemade pancakes or waffles (like the ones below… fiber and protein) and nut butter (fat)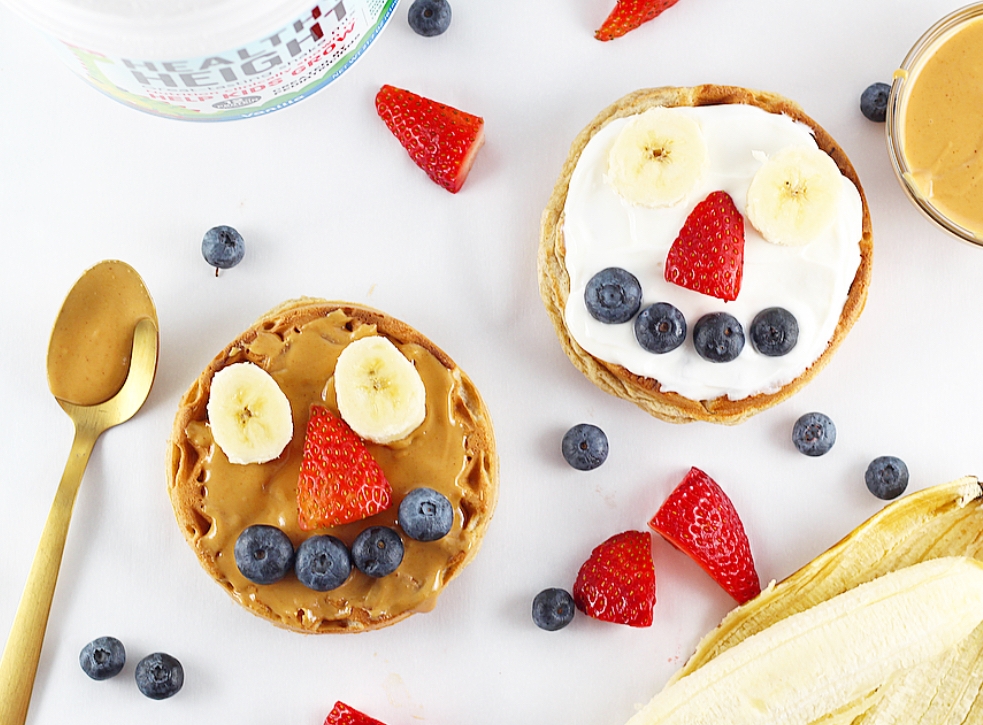 Top your homemade toaster waffles with unsweetened peanut butter or whole milk yogurt and use some fresh produce to make fun faces!
So now let't talk about these waffles and why I love them so much…
First, they taste AMAZING! They're a bit of a spin off from my Pina Colada Almond Butter Pancakes if you remember those?
But these have more protein thanks to Healthy Height Vanilla Shake Mix (though you could use the chocolate if you want). Meaning one waffle will last your child a little bit longer in their belly, keeping them fuller and satisfied for longer. I also recommend topping them with some nut or seed butter for extra fat as well.
If you'd like to read more about the positive growth impact of Healthy Height, you can do that here. As a dietitian, I'm trained to evaluate research articles and value scientific evidence when making recommendations. If your child is considered lean or short stature to the point of needing a growth hormone therapy or your pediatrician has recommended a protein or calorie supplement for your child, Healthy Height is worth investigating and talking to your pediatrician or dietitian about. (If you're interested in trying it out, use code MilkNHoney15 for 15% off on their website!)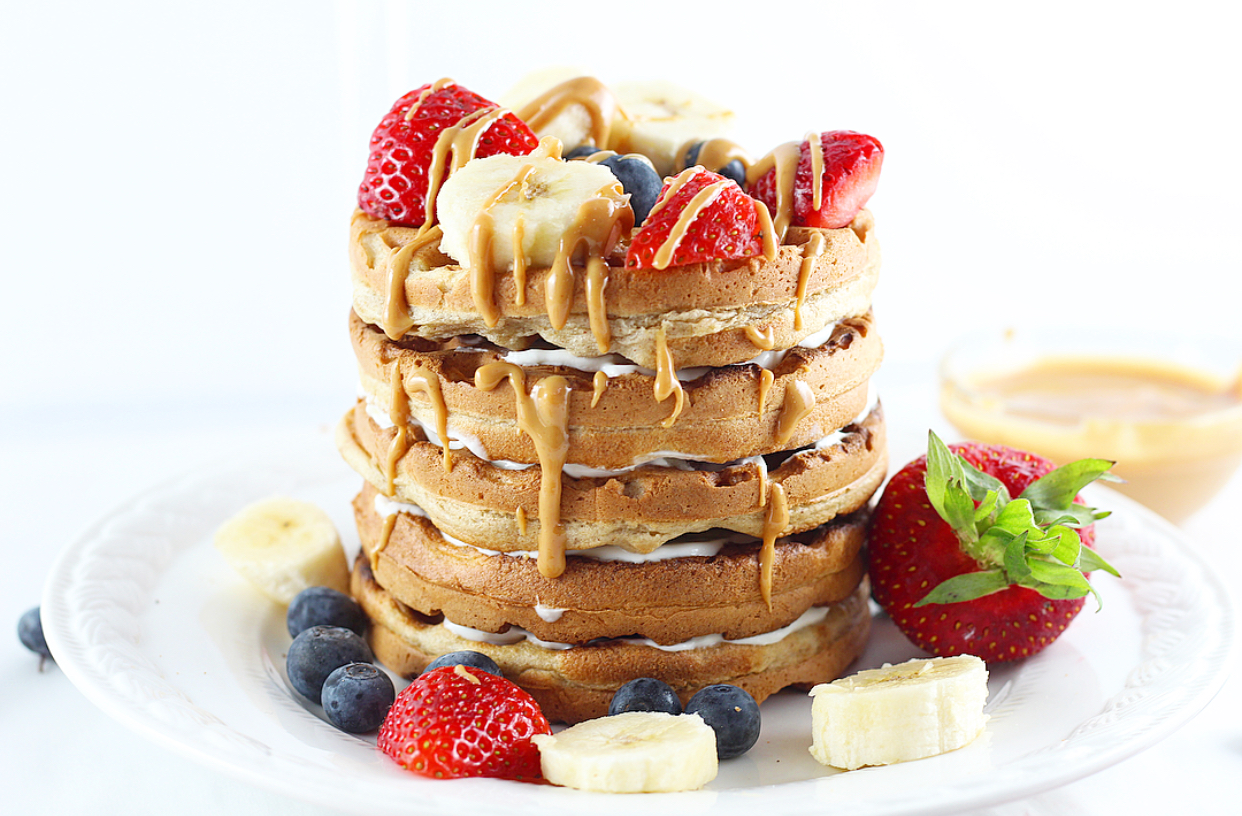 ---

Homemade Toaster Waffles for Growing Kids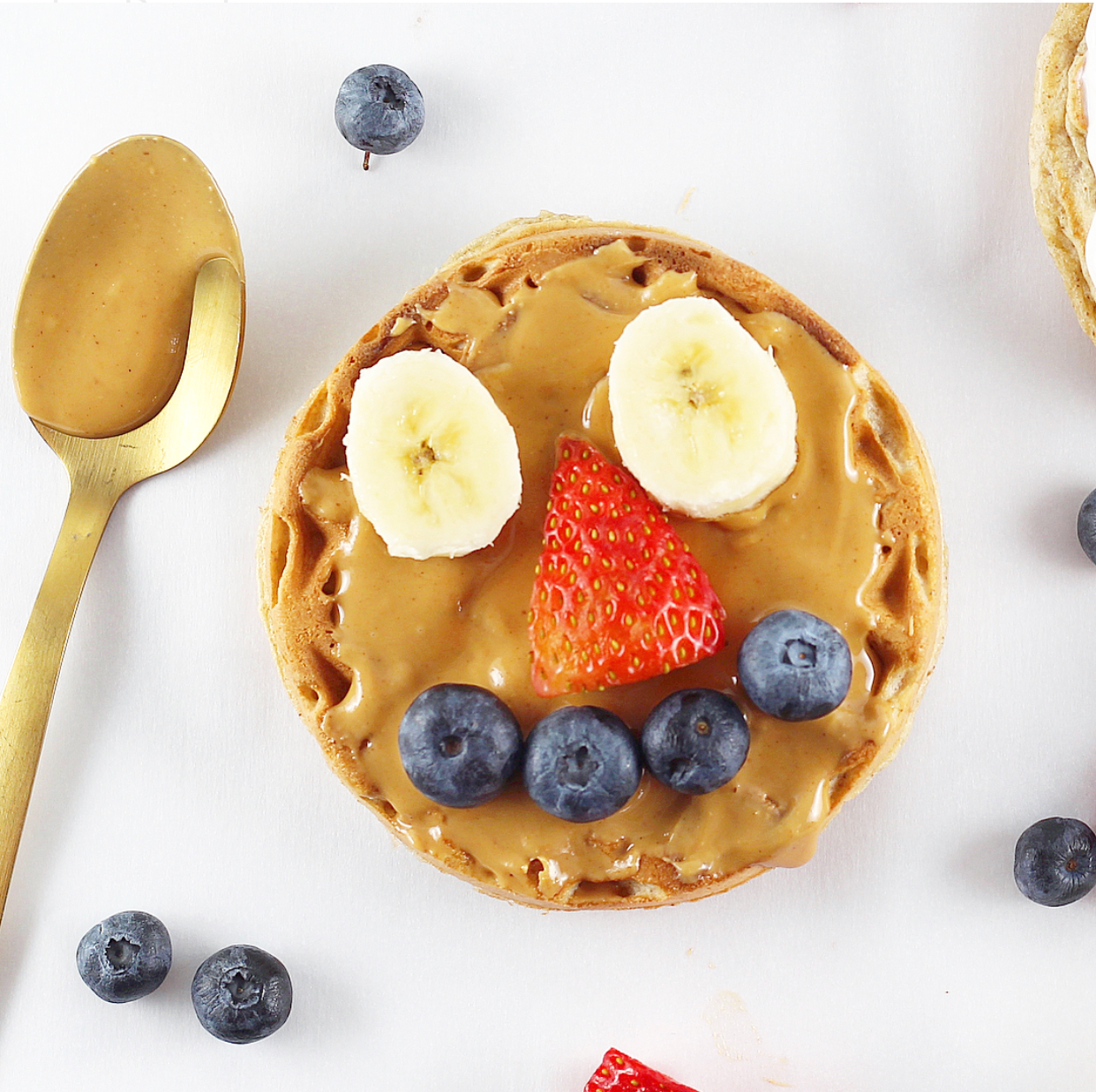 Ingredients
1/2

cup

Healthy Height Shake Mix

or other protein powder of choice

1

cup

flour

I use Namaste Foods Gluten Free flour blend

1

Tbsp

baking powder

1/4

tsp

salt

1 1/4

cup

coconut water

1/4

cup

all-natural nut or seed butter

I use Crazy Richard's

2

eggs

1

Tbsp

avocado oil
Instructions
Preheat a small waffle iron like this one below*, or a large skillet over medium heat.

Combine all of the dry ingredients in one bowl and lightly stir to combine.

In a separate bowl, combine the wet ingredients and whisk thoroughly to combine. The nut butter is thick, so you will need to stir it very well or you can use a mixer.

Next, add the dry ingredients to the wet ingredients and whisk to combine. Let the batter sit for 5-7 minutes before cooking.

Using an ice cream scoop, scoop batter onto the heated waffle iron or skillet (for pancakes).

For waffles: Cook according to waffle iron instructions and to desired doneness.

For pancakes: Cook for 4-5 minutes, flip, and then cook for an additional 2-3 minutes.

To freeze: Set waffles (or pancakes) out to cool on a wire rack. Once completely cooled to room temperature, stack the waffles, layering parchment paper in between each of the waffles so they don't stick together. Store in a plastic freezer-safe ziplock in the freezer.

In the morning: Grab 1-2 waffles, pop them in the toaster and cook to desired crispiness!
Notes
*Small waffle iron
The nutrition facts presented here are estimates only. The brands you use and product types chosen can change the nutritional information presented. To obtain the most accurate nutritional information, you should calculate the nutritional information with the actual ingredients you use.
Nutrition
Serving:
1
waffle
|
Calories:
163
kcal
|
Carbohydrates:
22
g
|
Protein:
6.5
g
|
Fat:
5
g
|
Saturated Fat:
1
g
|
Fiber:
1
g
|
Sugar:
6.5
g