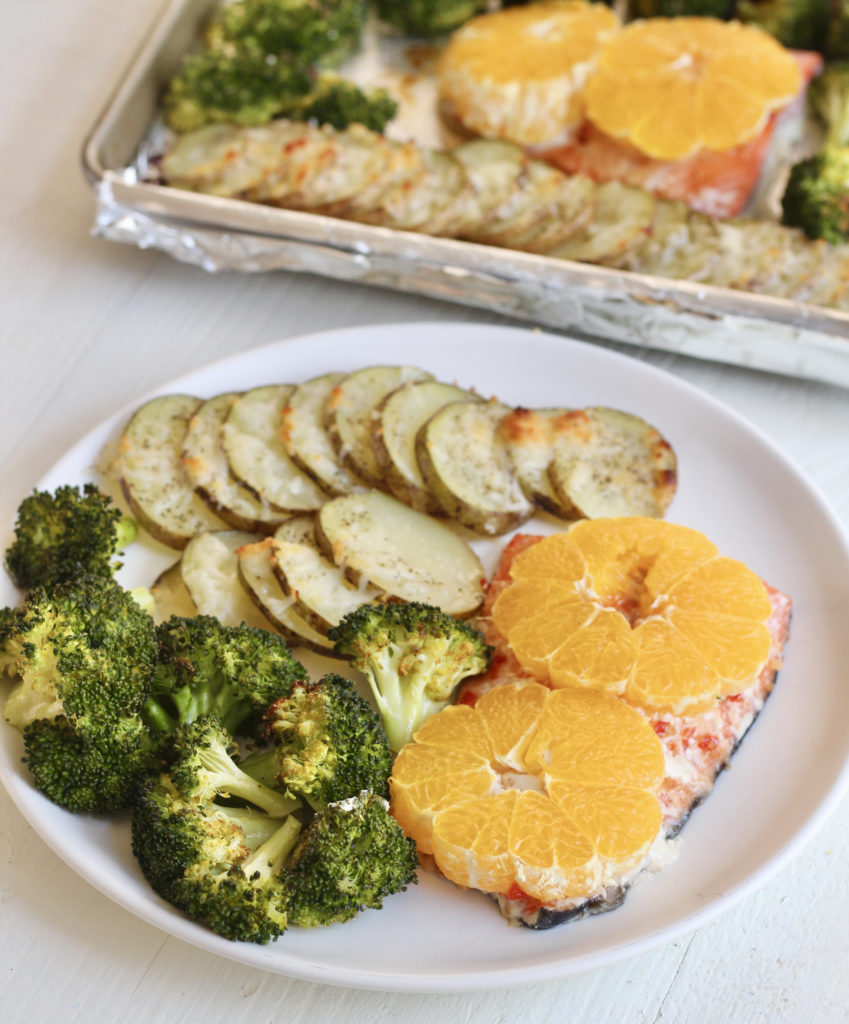 This post was sponsored by Sprouts Farmers Market. All thoughts and ideas are my own.
Dinner time doesn't get much easier than a one pan salmon and veggies meal!
'Tis the season for citrus! The delicious flavors of sumo citrus infused into this one pan salmon and veggies meal will have your whole family asking for more!
Simple sheet pan salmon and broccoli
This dinner is about as simple as it comes for prep and clean up, but the flavor is far from simple! The way the juices from the sumo mandarin combine with the sweet chili sauce and everything else on the pan are just perfect!
And it's also got a great balance of fat, fiber, and protein… you're sure to be full and satisfied after this one pan salmon and veggies meal.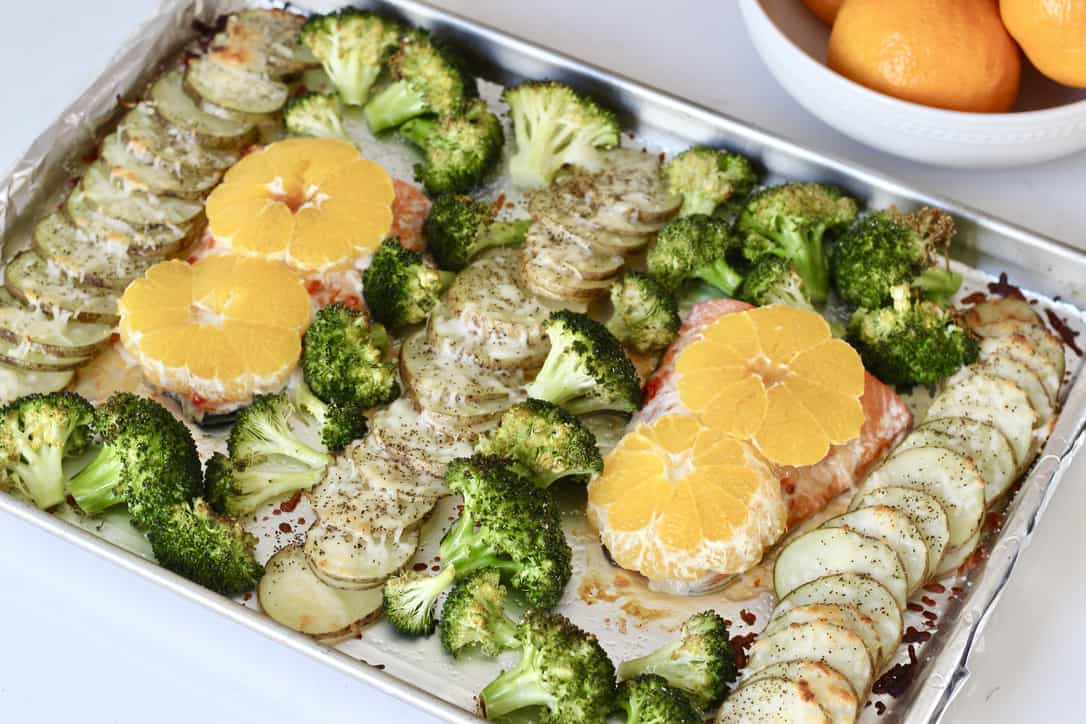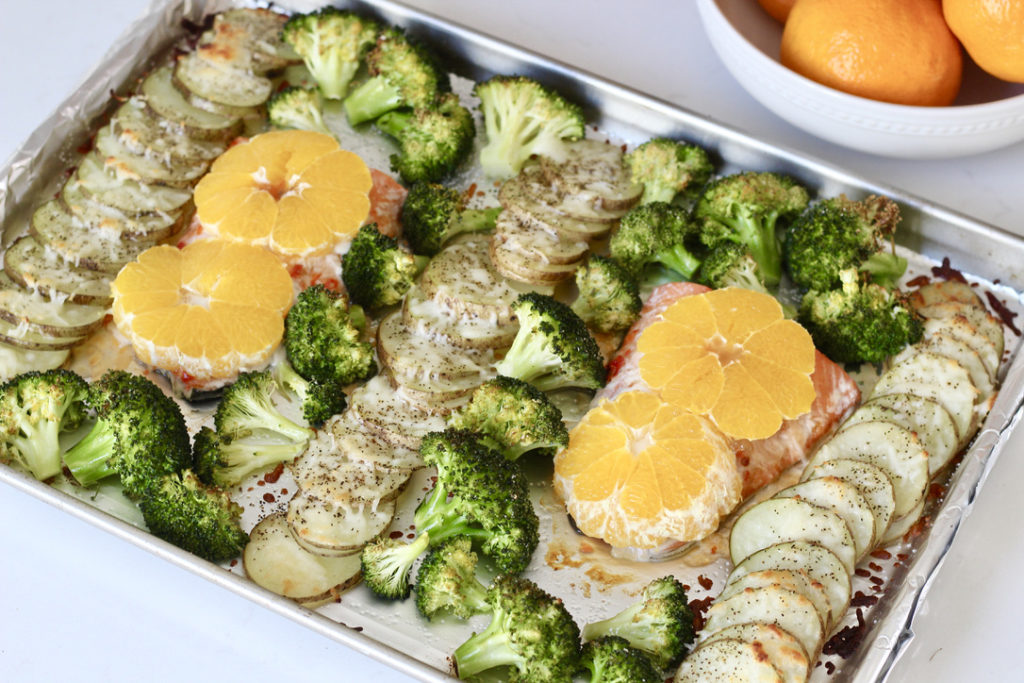 Why does the citrus glazed salmon flavor combo work so well? 
Citrus and fish were just made for each other! And right now (Jan/Feb) is the PERFECT time to get ripe flavorful citrus. Sprouts Farmers Market always has all of the classic varieties of citrus I'm looking for, plus an incredible selection of unique citrus, like Sumo Mandarins, that I can't find anywhere else. I know I can always find the produce I'm looking for at Sprouts at affordable prices!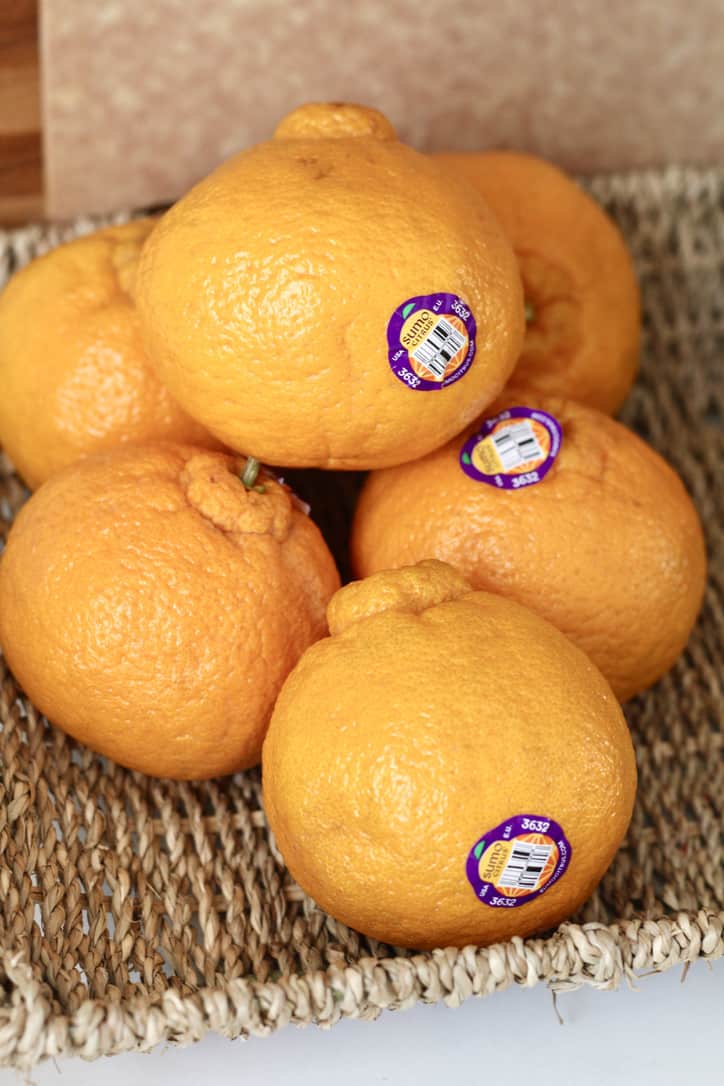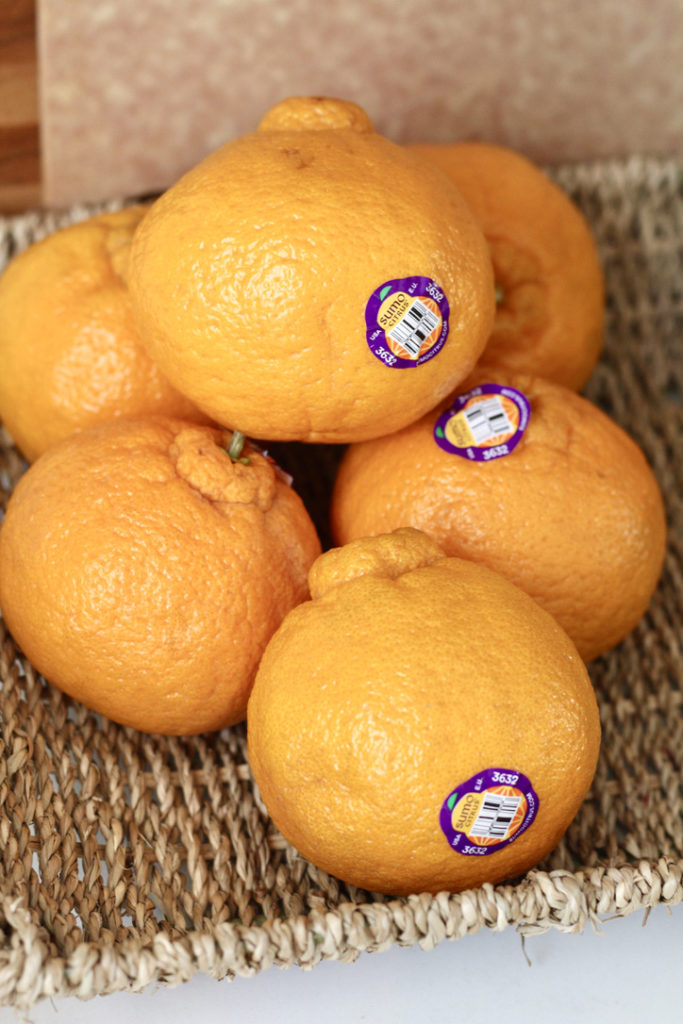 And when you combine that sumo mandarin burst of flavor with some sweet chili sauce, it makes for the perfect one pan salmon and veggies! (I found the sweet chili sauce shown below at Sprouts as well.)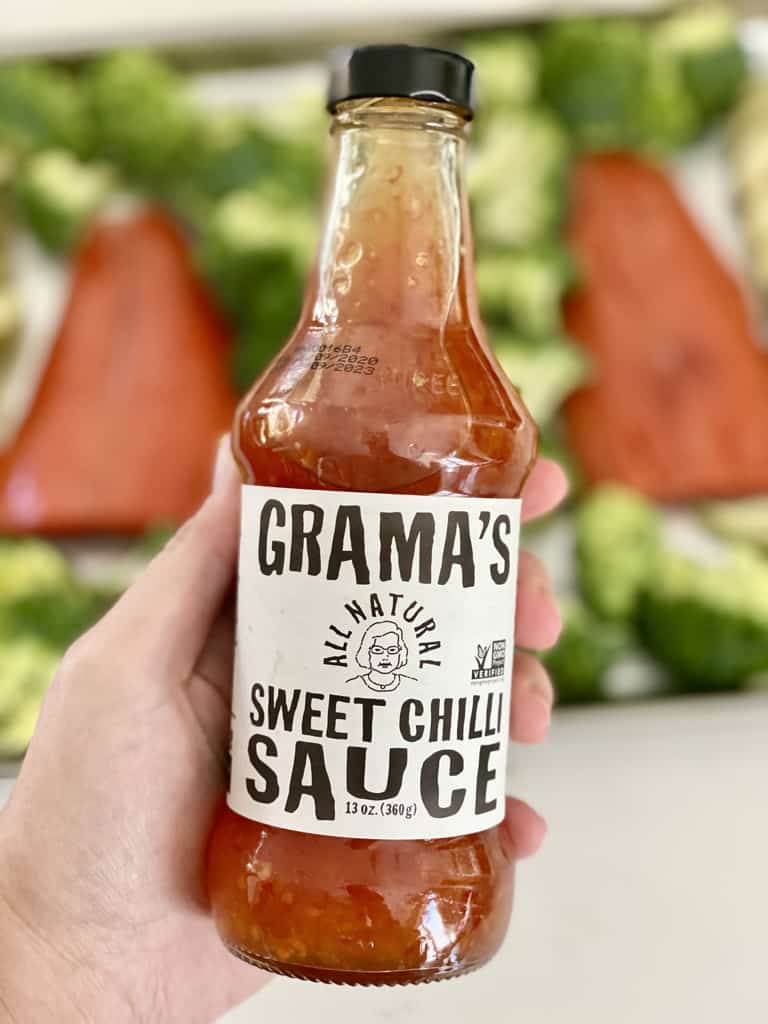 Number 1 tip for baked salmon with potatoes and vegetables
The veggies, potatoes, and salmon we use in this recipe all have about the same cook time. So, the best tip I can give you is to make sure you slice your potatoes thin enough so they'll be done cooking within about 15 minutes.
What kind of potatoes should you use for roasted potatoes and broccoli?
You can actually use any kind of potato you'd like for a one pan salmon and veggies recipe: russet potatoes, sweet potatoes, red potatoes, etc. The key, as mentioned above, is to make sure they're sliced thin enough, about 1/8-1/4in at the thickest.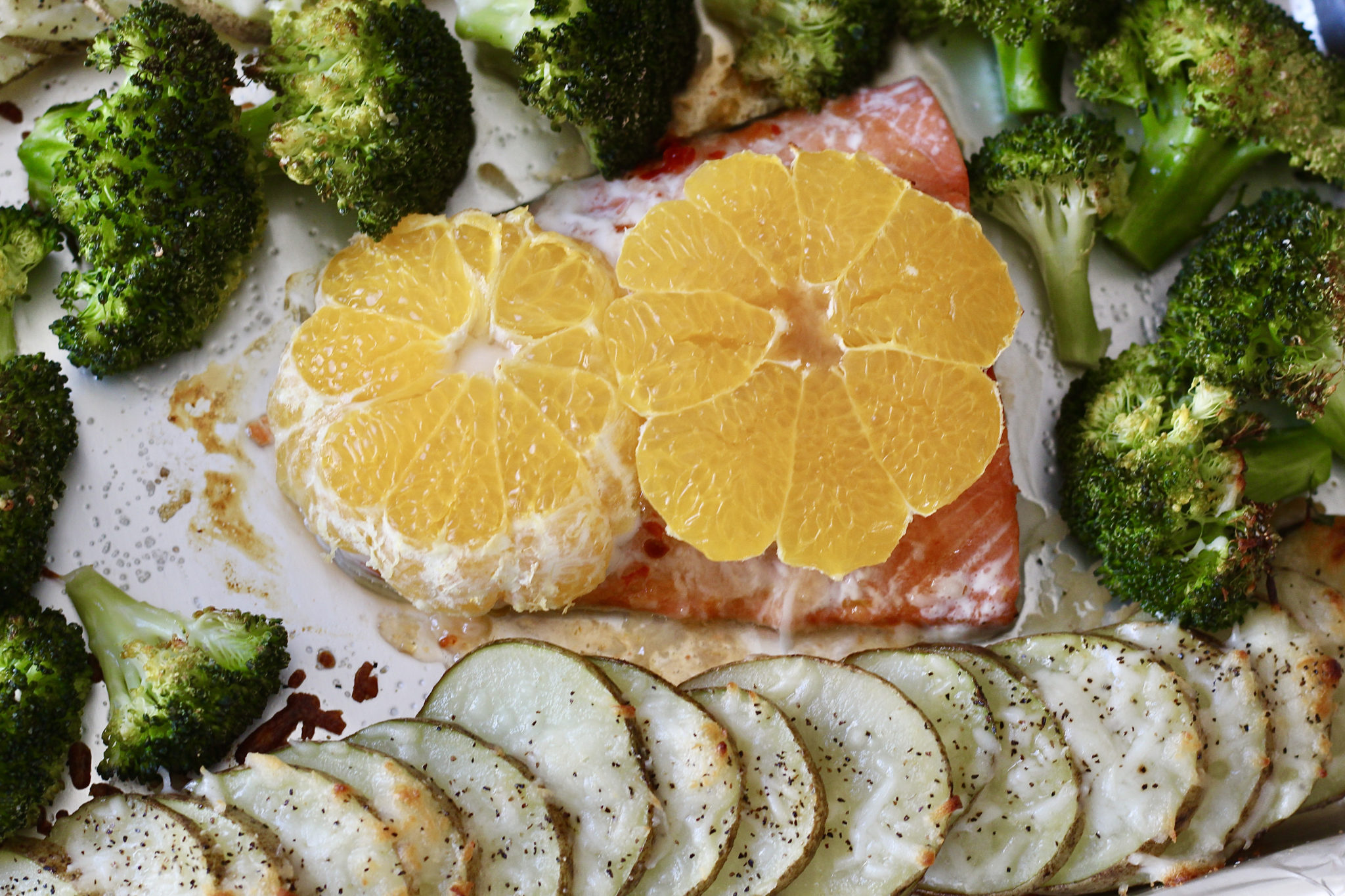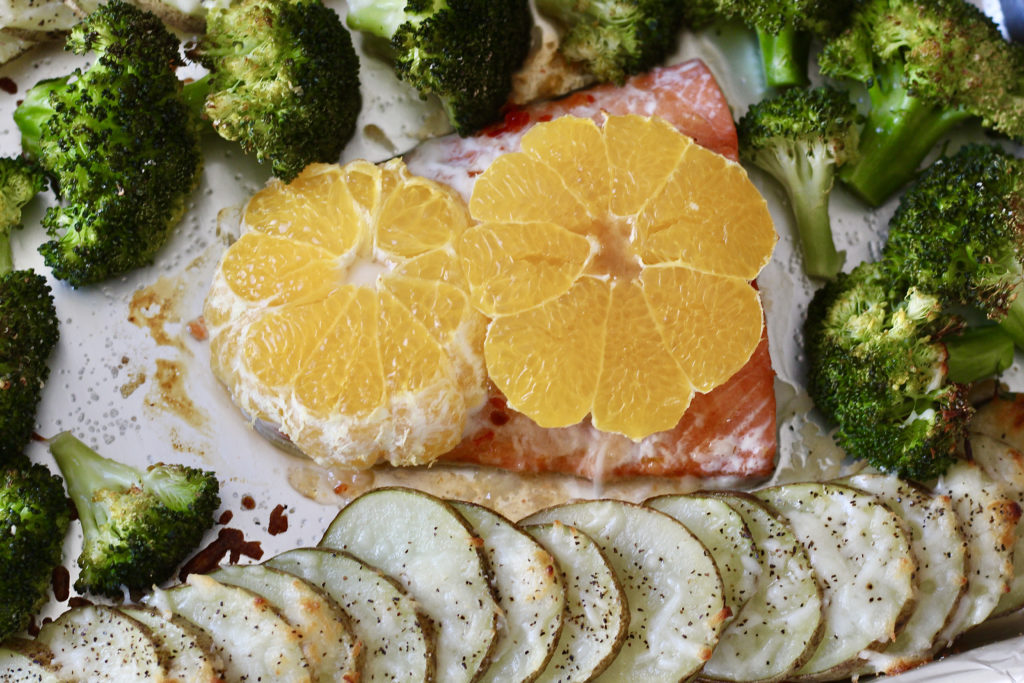 Common questions when prepping your sheet pan fish
What veggies go best with salmon?
Choose veggies with a similar cook time to salmon such as broccoli or cauliflower.
Should I bake salmon covered or uncovered?
You can bake it either way. I prefer uncovered for this recipe.
How do you cook salmon without drying it out?
Using a marinade will help the salmon not to dry out (as we do here), and also not baking it for too long. Again, this is why it's best to slice those potatoes thin!
How do you know if salmon is cooked?
You'll know the salmon is done when it is pink all the way through and easily flakes when you poke a fork in it and twist.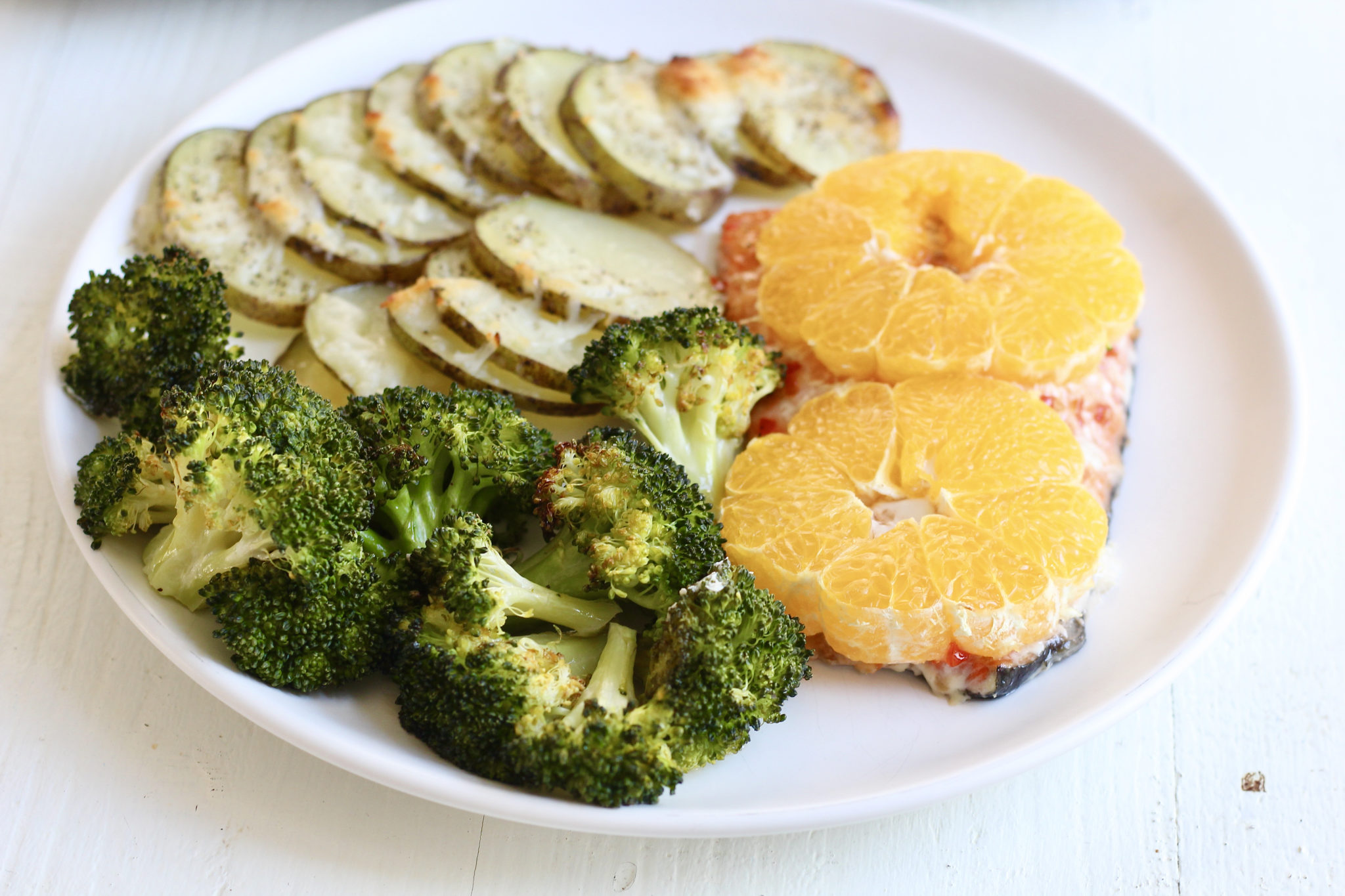 Other low sodium salmon recipes to try 
And since I know you'll love the idea of one pan salmon and veggie meals after making this recipe, make sure to try these other salmon recipes as well:

One Pan Citrus Glazed Salmon, Broccoli, & Potatoes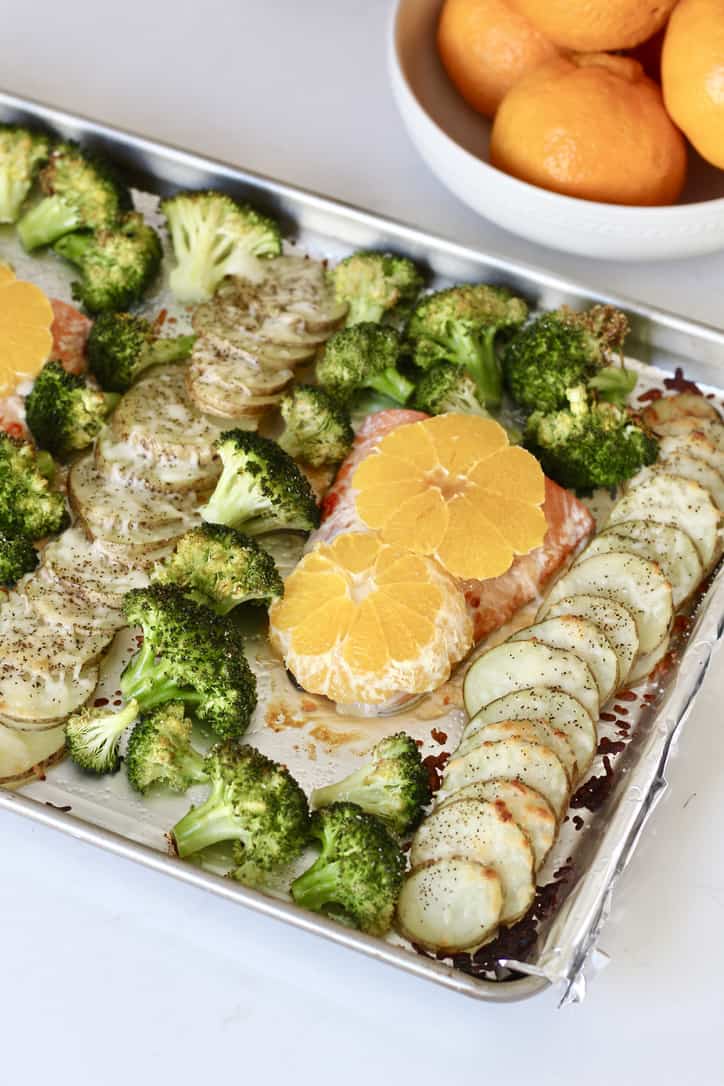 Ingredients
Oil spray of choice

2

4-6oz

Atlantic Sockeye Salmon filets

2

small heads of broccoli

cut into medium sized florets

3

small russet potatoes

sliced into thin rounds

Salt and pepper to taste

6

Tbsp

shredded mozzarella cheese

2

Tbsp

sweet chili sauce

1

sumo mandarin

peeled and sliced into rounds
Instructions
Preheat your oven to 400°F. Line a standard baking sheet, with edges, with foil.

Spray the foil with your preferred cooking spray.

Place your salmon fillets in the middle of the pan as shown. Next, arrange your potatoes and broccoli however you like, I prefer to keep them in groups as shown in the photos above.

Next give the entire pan and all of the food another good spray with your cooking oil spray.

Sprinkle salt and pepper as desired on the broccoli, potatoes, and salmon.

Next, sprinkle the mozzarella cheese evenly over the potatoes.

And finally, top each salmon fillet with 1 tablespoon of sweet chili sauce each, and two slices from your sumo Mandarin each. (See the photos above for what this looks like.)

Place the pan in the oven and bake for 15 to 20 minutes. Serve and enjoy!
Nutrition
Serving:
0.5
pan
|
Calories:
581
kcal
|
Carbohydrates:
52
g
|
Protein:
48
g
|
Fat:
19
g
|
Saturated Fat:
5
g
|
Sodium:
361
mg
|
Fiber:
6
g
|
Sugar:
15
g