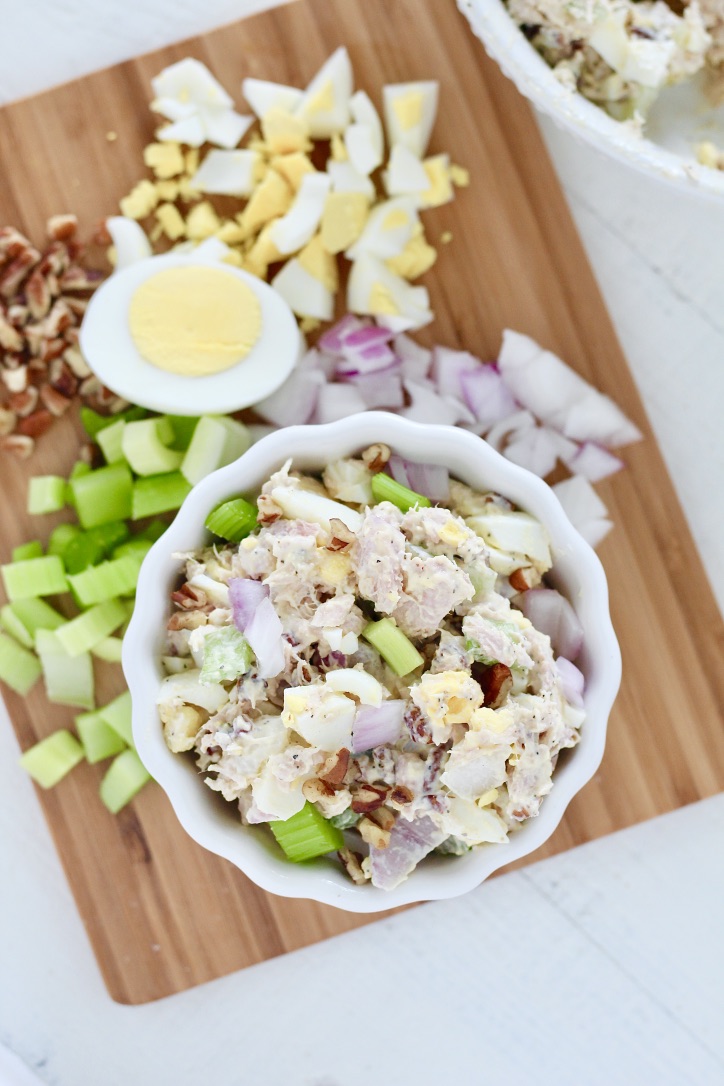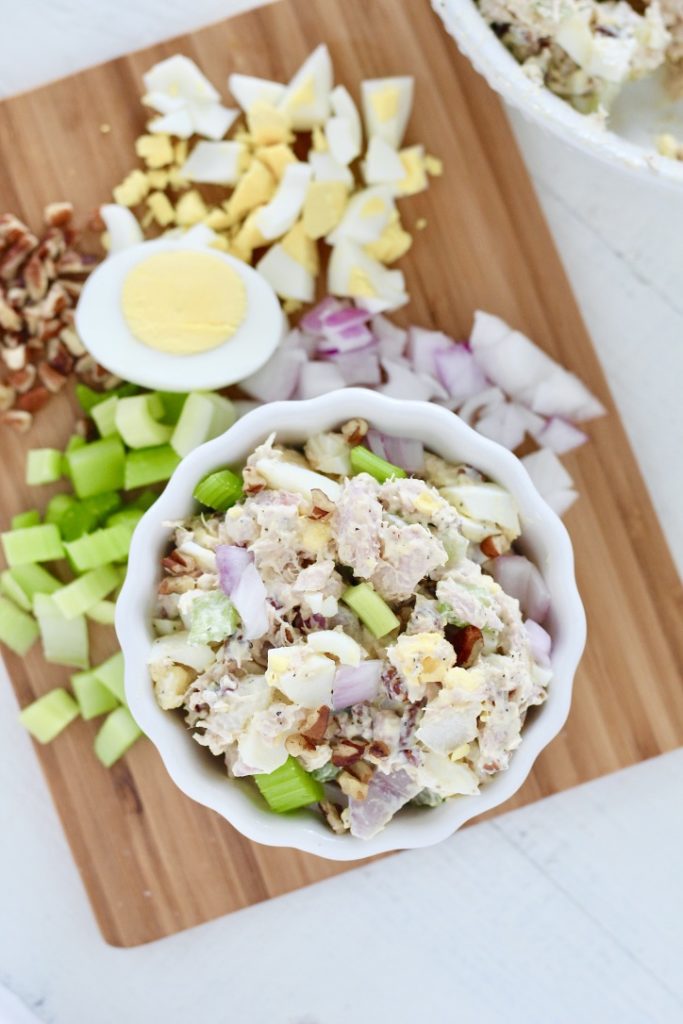 This post was sponsored by Egg Nutrition Center. All thoughts and ideas are my own.
This tuna salad with egg recipe is loaded with flavor, and quite simply… it's the best tasting tuna salad you'll ever have!
This recipe has veggies and nuts for added texture and fiber, and is a great source of protein thanks to the eggs and tuna. It's also lightened up a bit compared to other tuna salad with egg recipes, thanks to the Greek yogurt!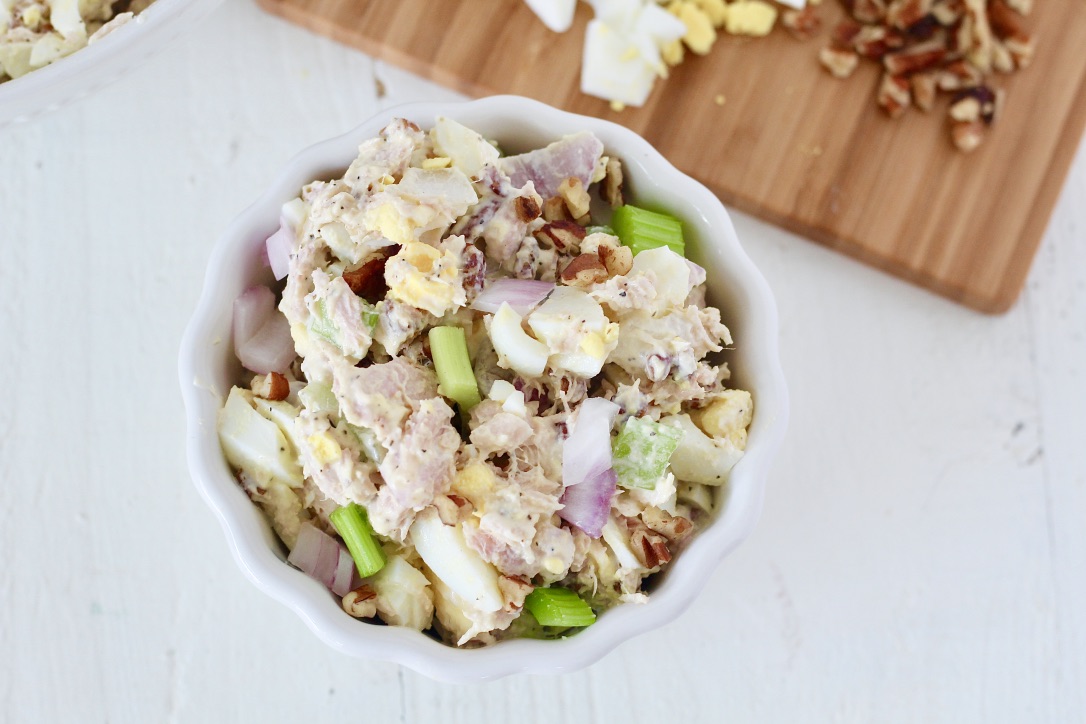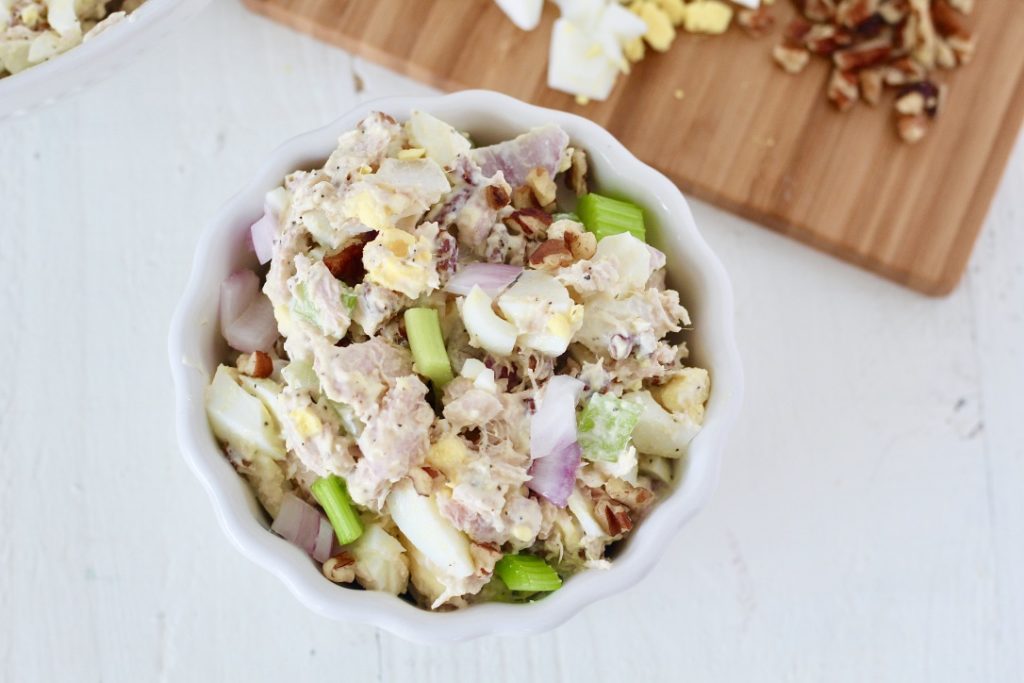 I grew up eating a simple version of tuna salad with egg
I didn't realize until my early 20's that some people don't put hard boiled eggs in their chicken salad or tuna salad! It blew my mind! Growing up, my mom made a pretty basic combo of chicken or tuna, hard boiled eggs, pickles, mayo, and seasonings, and it was SO good! Over the years I've added some of my more adult preferences to the recipe to make the tuna salad with egg recipe you see below. (If you'd like to see my chicken salad version, click here.)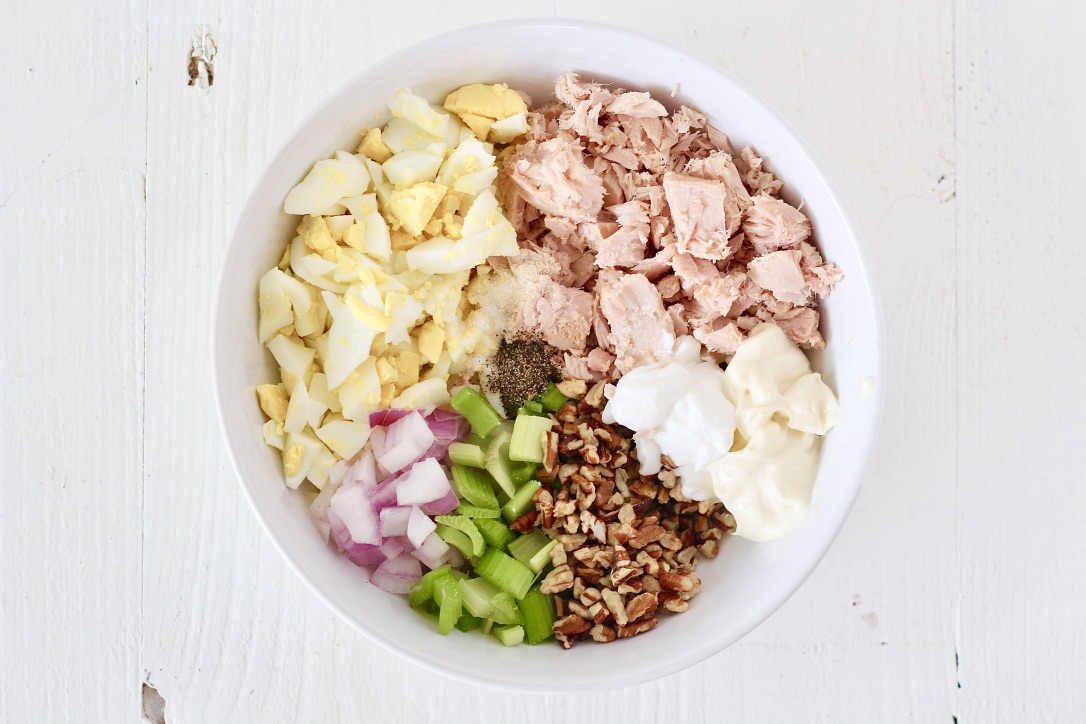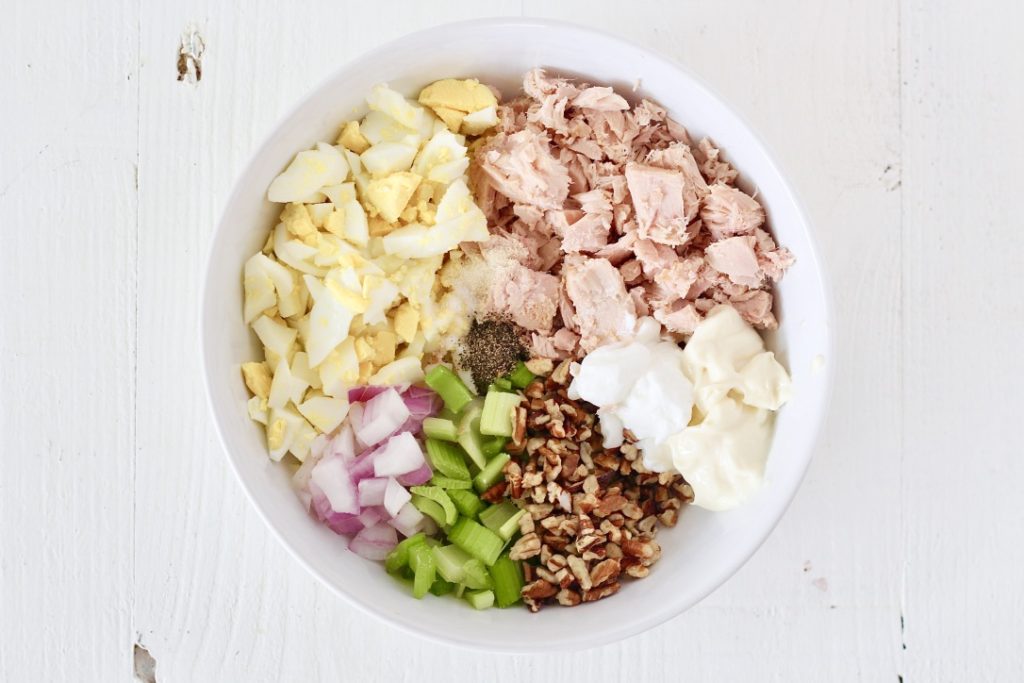 Why I eat eggs almost everyday
Eggs not only offer a quality source of protein, but they also come with a whole host of other nutrients and health benefits…
Brain health and cognition
The two main nutrients responsible for making eggs a key player in supporting brain health and cognition are lutein and choline.
Lutein is a carotenoid found in the yolk of eggs, and other foods. Newer research shows that lutein accumulates in the brain and higher levels of lutein are associated with improved academic performance in children and improved cognition in older adults. (Source 1,Source 2) Some research also shows that the lutein in egg yolks is more readily absorbed than other lutein sources due to the fat content in eggs. Other sources of lutein include: green vegetables, like asparagus, kale, green beans, broccoli and spinach, orange pepper, pistachios, and corn.
Choline is essential for brain health. It plays a role in early brain development, both during pregnancy and after birth in young infants. Choline has been linked to brain development, neurotransmission, memory, and our ability to learn (Source). Most Americans though, including pregnant women, do not consume enough choline (source). But, a balanced diet that includes eggs can help meet choline needs. Two large eggs provide almost 300 mg of choline – that's over half the daily AI (adequate intake) of choline. Other food sources include: liver, beef, chicken, fish, nuts, beans, peas, Brussel sprouts, and wheat germ.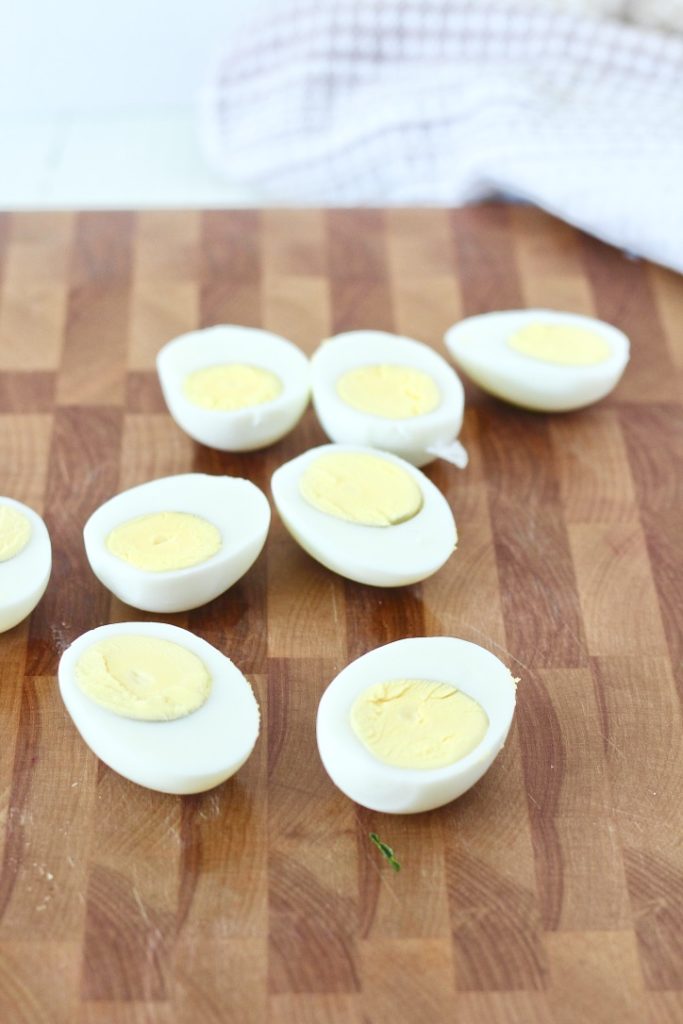 Heart health
Research has shown that eggs, when consumed as part of a healthy diet, do not increase your risk for heart disease. In fact, the American Heart Association Nutrition Committee published a recent science advisory on Dietary Cholesterol and Cardiovascular Risk in late 2019 that recommended looking at the overall dietary pattern instead of setting specific limits on cholesterol. Specifically, the advisory concluded:
Healthy individuals can include up to a whole egg daily in heart-healthy eating patterns.
Older individuals can consume up to two eggs per day within the context of a heart-healthy eating pattern.
Vegetarians may include more eggs within the context of moderation.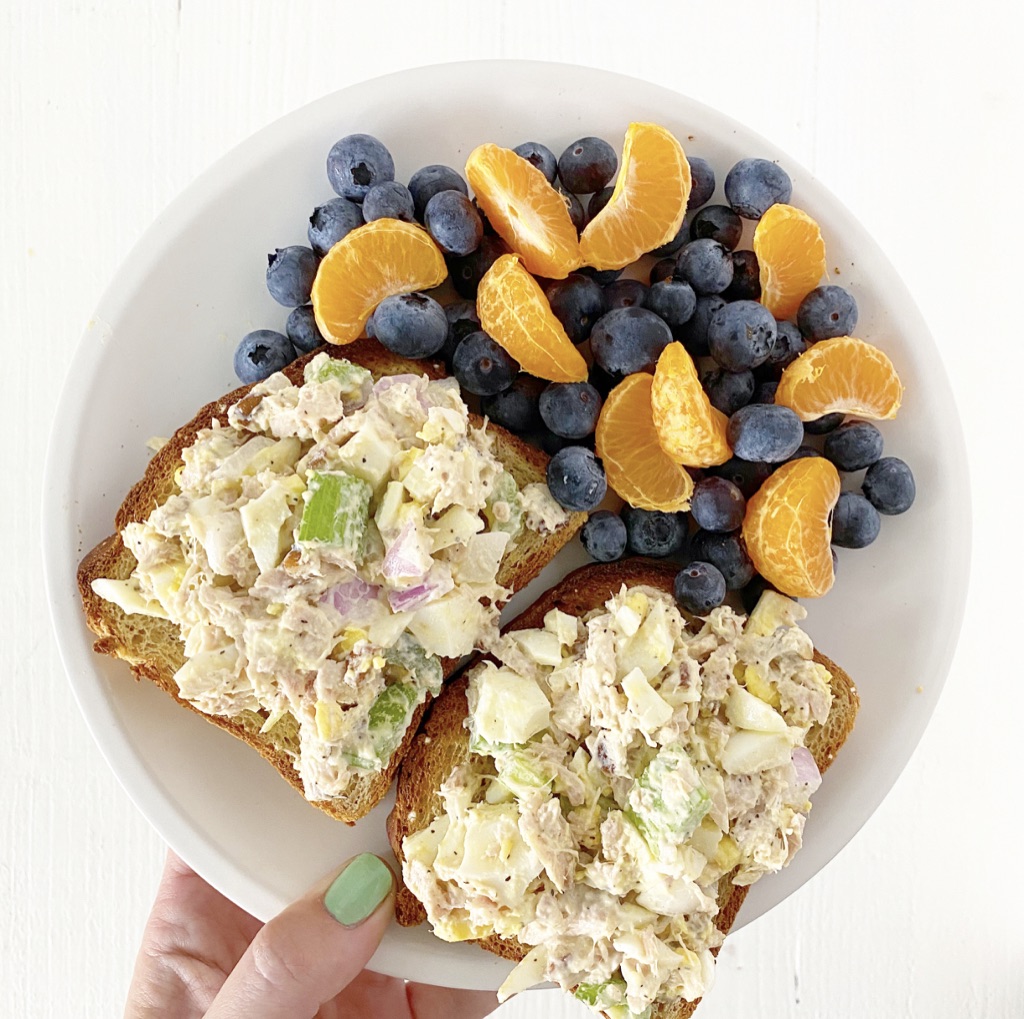 General Egg Nutrition
Eggs can fit into almost any dietary pattern: gluten free, paleo, keto, vegetarian, high protein, Mediterranean, etc. Whether you scramble some up in the morning, add a hard boiled egg to lunch, or top your dinner meal with a fried egg, they are an excellent way to add some nutrition to almost any style of eating.
A large egg is an excellent source of vitamin B12, biotin, iodine, selenium and choline, and a good source of riboflavin, pantothenic acid and protein. And, eggs are one of the only foods that naturally has vitamin D (1 mcg per large egg), which along with calcium, is critical for building strong bones.
Remember though, nearly all the vitamins and minerals are located within the egg yolk: choline, vitamin B12, vitamin D, vitamin A, vitamin B6, iron, vitamin E, zinc, fat, cholesterol, folate, phosphorus, selenium, riboflavin, lutein and zeaxanthin, and protein. That's a lot of nutrients in such a small package!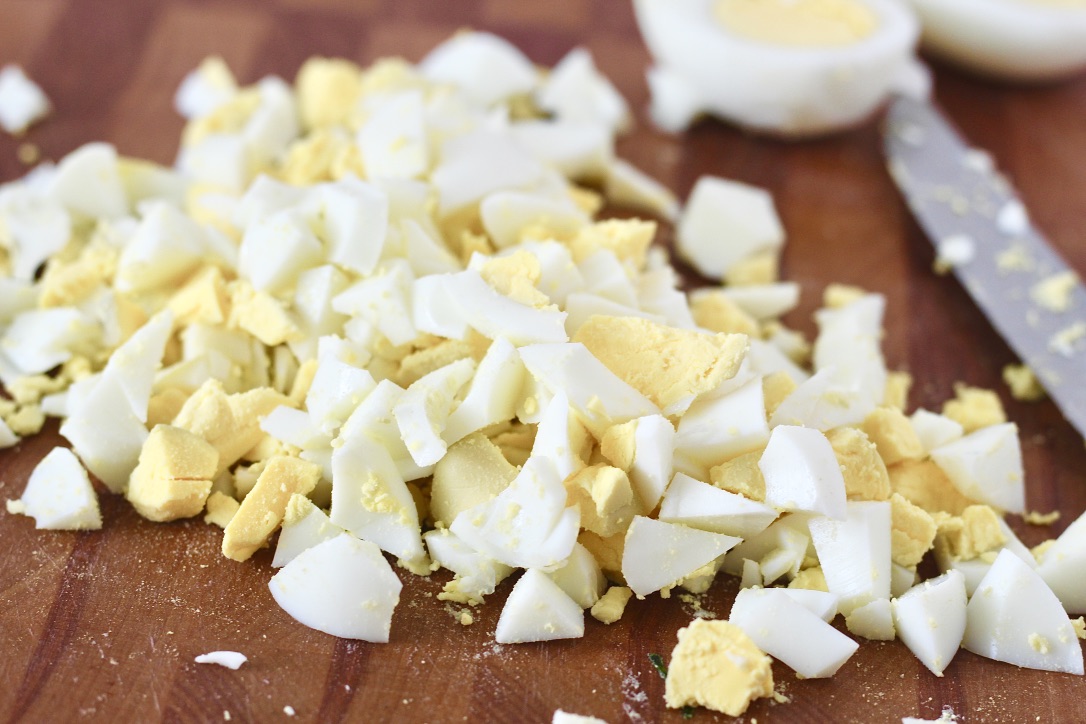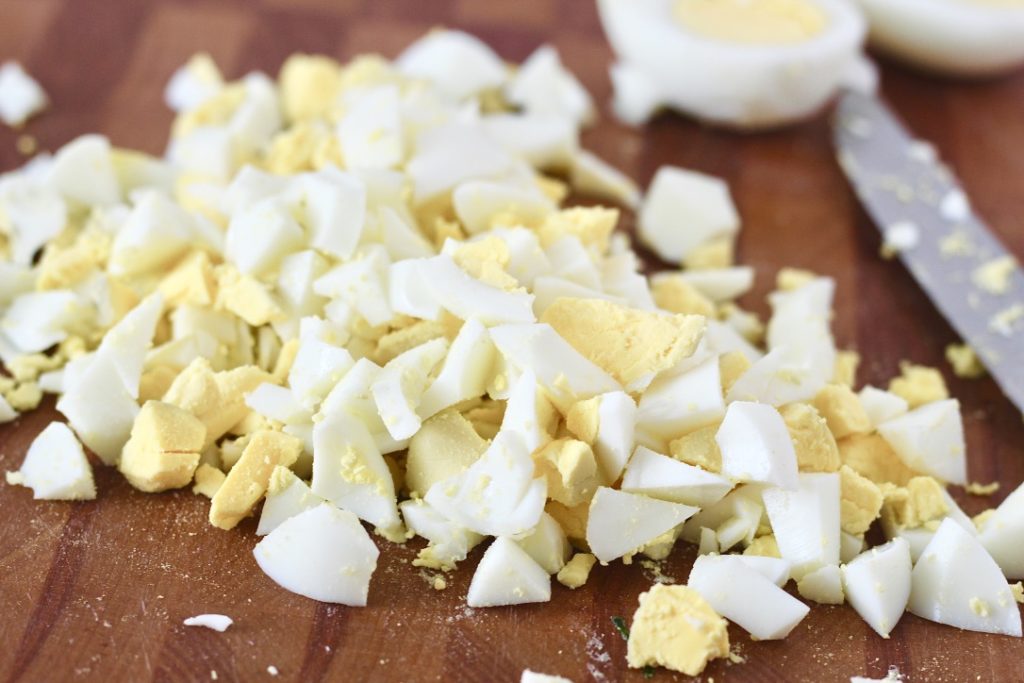 How to make hard boiled eggs on an electric stove top
It's a constant debate about how to make the best hard boiled eggs, AND how to peel them easily. Since, I have an electric stovetop, I can't comment on the best way to do hard boiled eggs on a gas stovetop (click here for that method), but if you have an electric one like I do, here's the best way I've found to give you that perfect texture AND they're super easy to peel…
Fill a medium to large size pot with water, about 2 inches from the top of the pot. Add 6 eggs and 1 tsp salt to the pot and set it on your stove top.
Turn the burner to high and let the water come to a full rolling boil.
Then, turn the burner off, place the lid on the pot, but leave it on the hot burner.
Let the pot sit on the burner for 12 minutes. (The water will continue to boil and gradually die out)
After 12 minutes, drain the pot and transfer the eggs to a bowl of ice water to quickly cool them down. Have them sit in the ice water for 4-5 minutes.
Next, drain the ice water and dry the eggs off.
Place one egg on top of a towel and place a glass cup or jar upside down over the egg as shown in the picture below.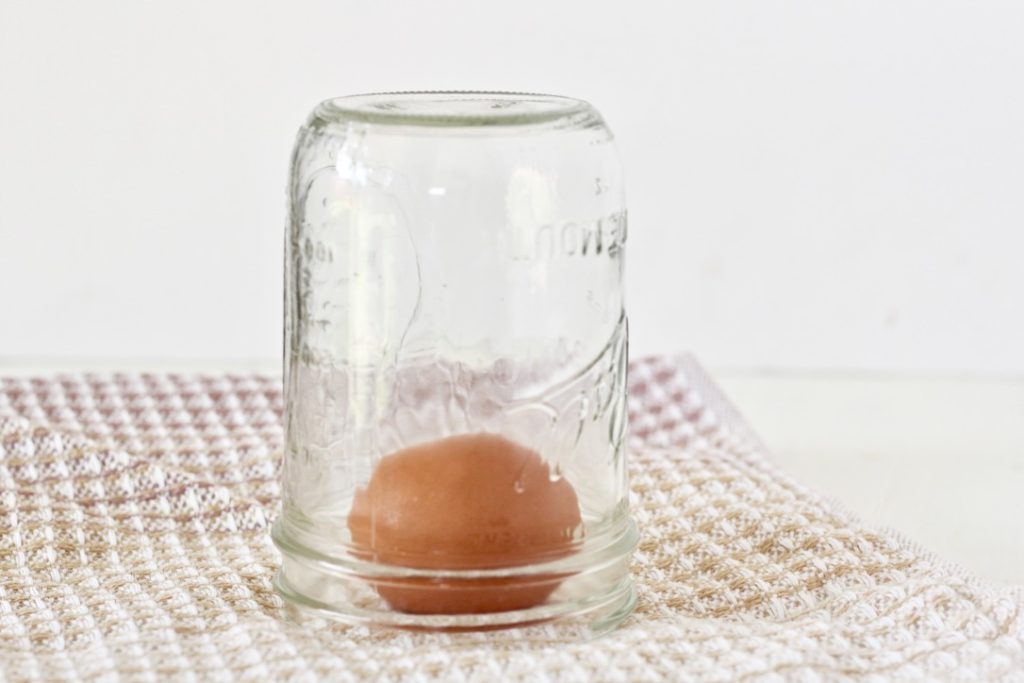 While lightly pressing down on the jar, slide it back and forth so that the egg hits the insides of the jar over and over.
Gently peel the shell off the egg… you'll be AMAZED at how easy it is!!
How to make tuna salad with eggs
Now, let's make some tuna salad with eggs… you'll want to have your ingredients ready to go. Follow the steps above for how to make hard boiled eggs and chop them up. Drain your tuna and mash/separate/shred it up with your fork. (This is the best canned tuna in my opinion.) And then all you have to do is mix everything together and you're good to go! I recommend letting it sit in the fridge for a few hours before eating it, it really helps all the flavors mesh together well!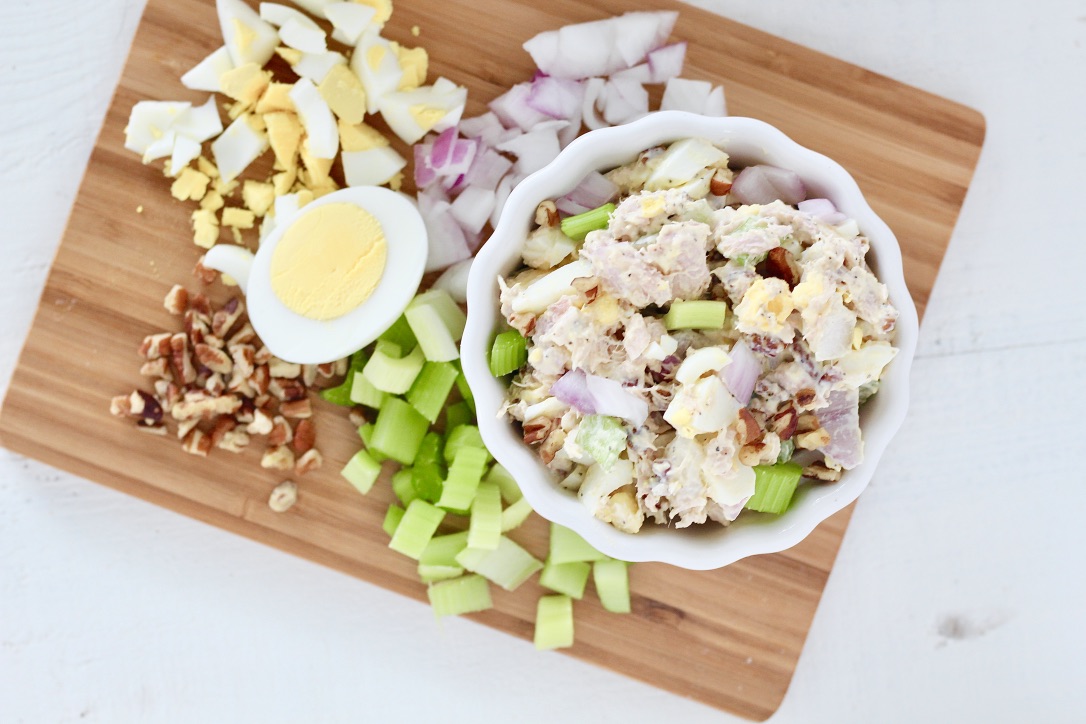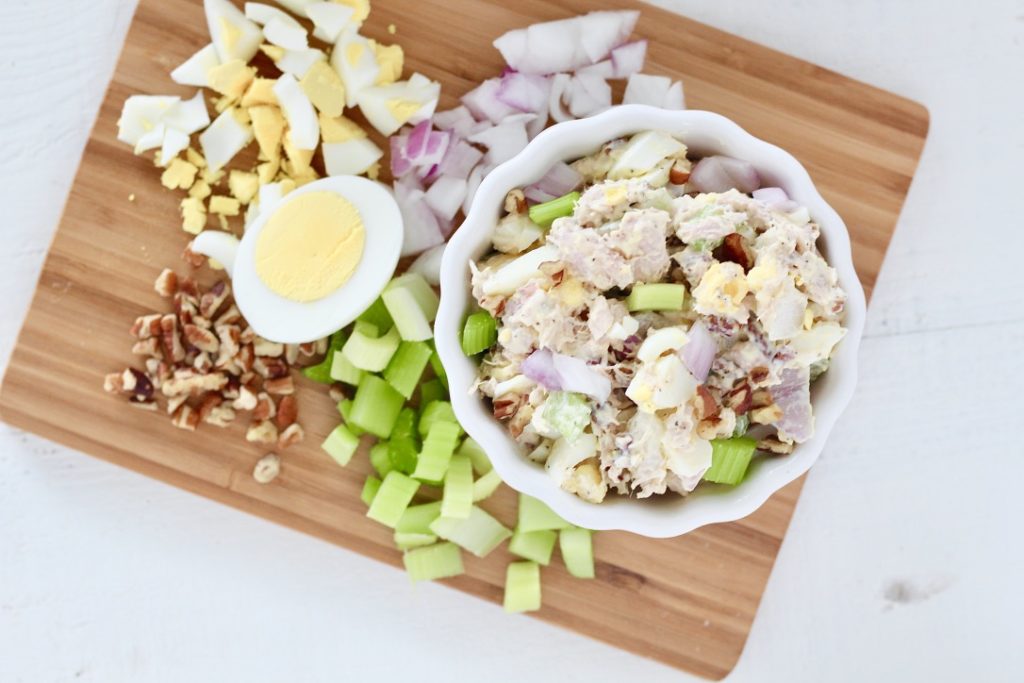 The Best Tuna Salad with Egg Recipe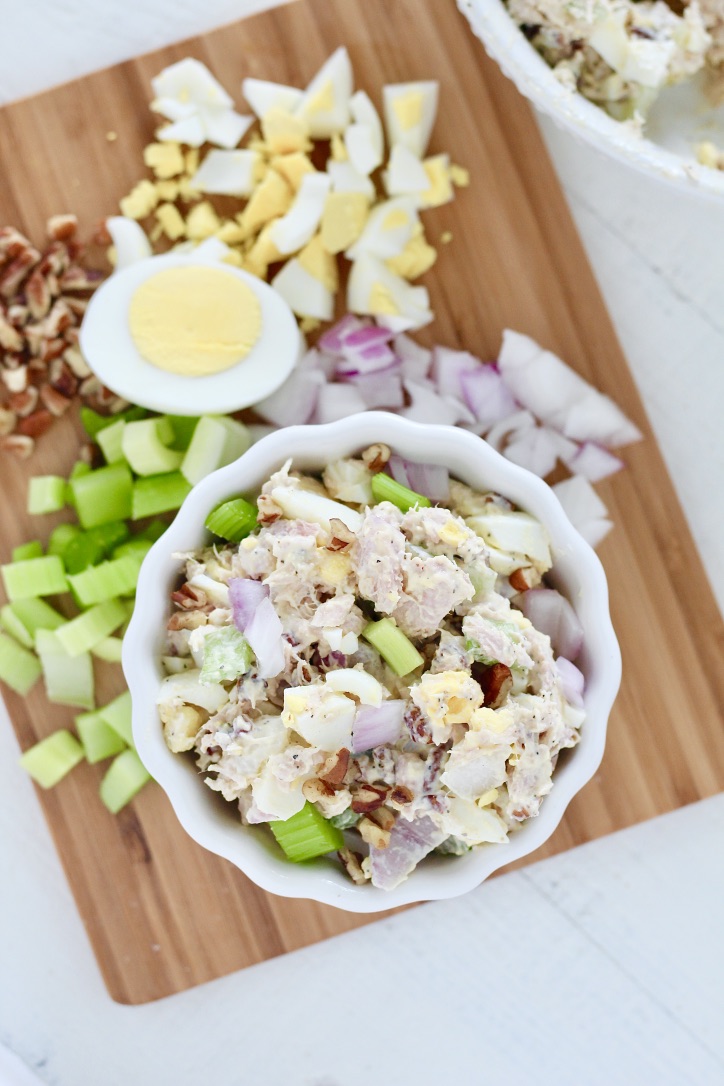 Ingredients
3

large

hard boiled eggs

chopped

5

oz.

canned tuna

drained

¼

cup

pecan pieces

¼

cup

chopped celery

¼

cup

chopped red onion

2

Tbsp

plain Greek yogurt

2

Tbsp

mayonnaise

¼

tsp

salt

¼

tsp

onion powder

¼

tsp

black pepper
Instructions
In a medium size mixing bowl, combine the hard boiled eggs, tuna, pecan pieces, celery, and red onion. Gently mix it all together to combine. Set the tuna and egg mixture aside.

In a small bowl, combine the Greek yogurt, mayonnaise, salt, onion powder, and black pepper. Using a fork or small whisk, carefully mix it together until it is one consistency.

Add the mayo/yogurt mixture to the tuna and egg mixture, and mix until everything is combined.

Serve with crackers and veggies for dipping, or with toast for the perfect Tuna Salad with Egg Sandwich!
Notes
The nutrition facts presented here are estimates only. The brands you use and product types chosen can change the nutritional information presented. To obtain the most accurate nutritional information, you should calculate the nutritional information with the actual ingredients you use.
Nutrition
Calories:
229
kcal
|
Carbohydrates:
10
g
|
Protein:
24
g
|
Fat:
11
g
|
Saturated Fat:
2
g
|
Sodium:
381
mg
|
Fiber:
3
g
|
Sugar:
0
g