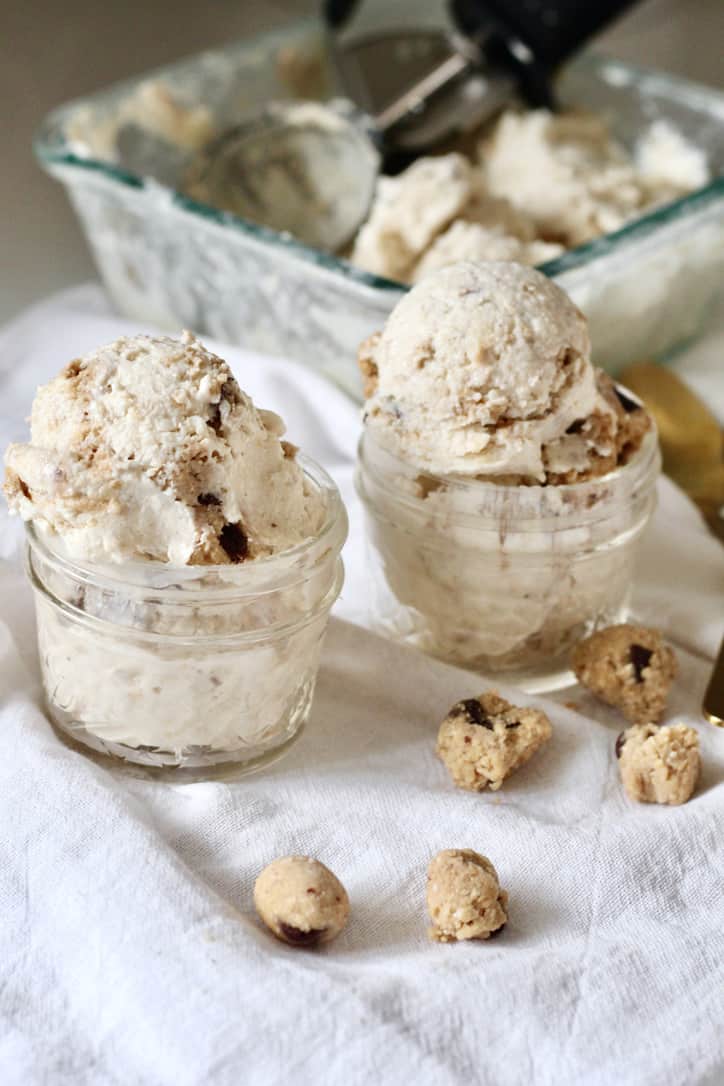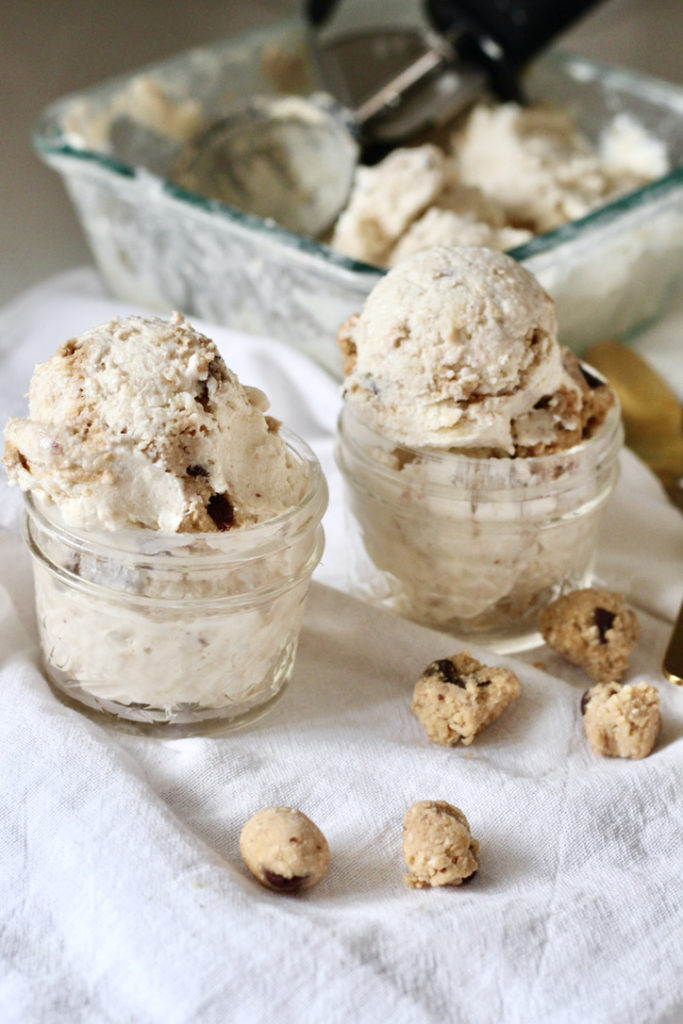 Yes, you read that correctly because we're making chocolate chip cookie dough homemade low carb frozen yogurt without an ice cream maker!
I'm relying on one of my favorite go-to low carb cookie dough recipes to give this delicious low carb frozen yogurt the perfect flavor combo. While the freezing process does take a bit of time, it is so so worth it!
Is frozen yogurt healthy?
Yes, it absolutely can be, and can certainly be a fun part of a blood sugar friendly eating pattern.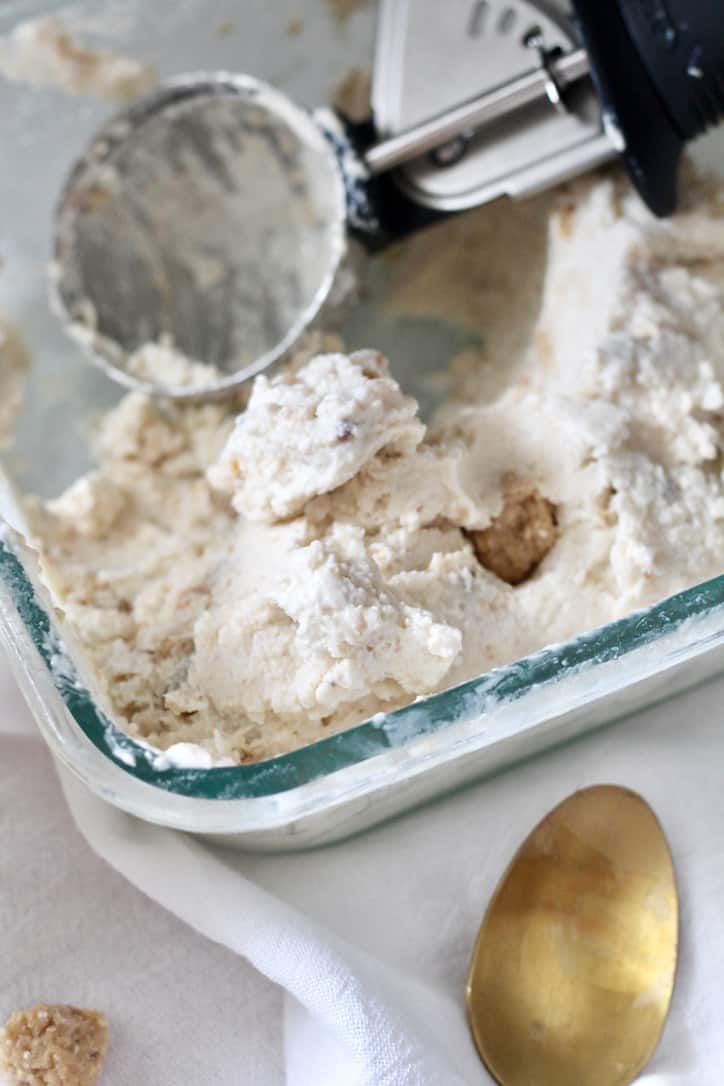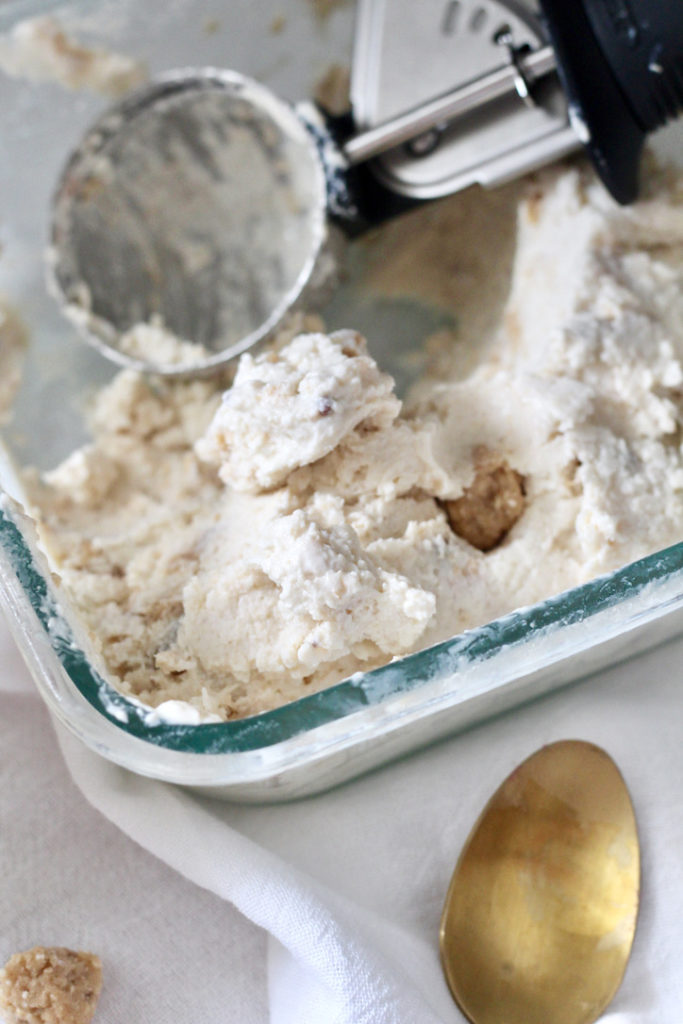 Frozen greek yogurt v. Regular yogurt
When making homemade frozen yogurt without an ice cream maker, I prefer o use full fat Greek yogurt because of the creamier texture that the fat contact offers. And, it's also got a lower water content than regular yogurt so it won't be as "icy" feeling.
Can you eat yogurt on a low carb diet?
If you choose to follow a low carb diet, you can still enjoy yogurt, including low carb frozen yogurt. I recommend choosing plain yogurt and adding in your own sweeteners and toppings rather than buying pre-sweetened varieties.
*Just as a little side note, having good go-to low carb recipes is very helpful when managing diabetes, but you don't have to follow a low carb diet to manage diabetes properly. A balanced diet with fat, fiber, and protein is a great starting place.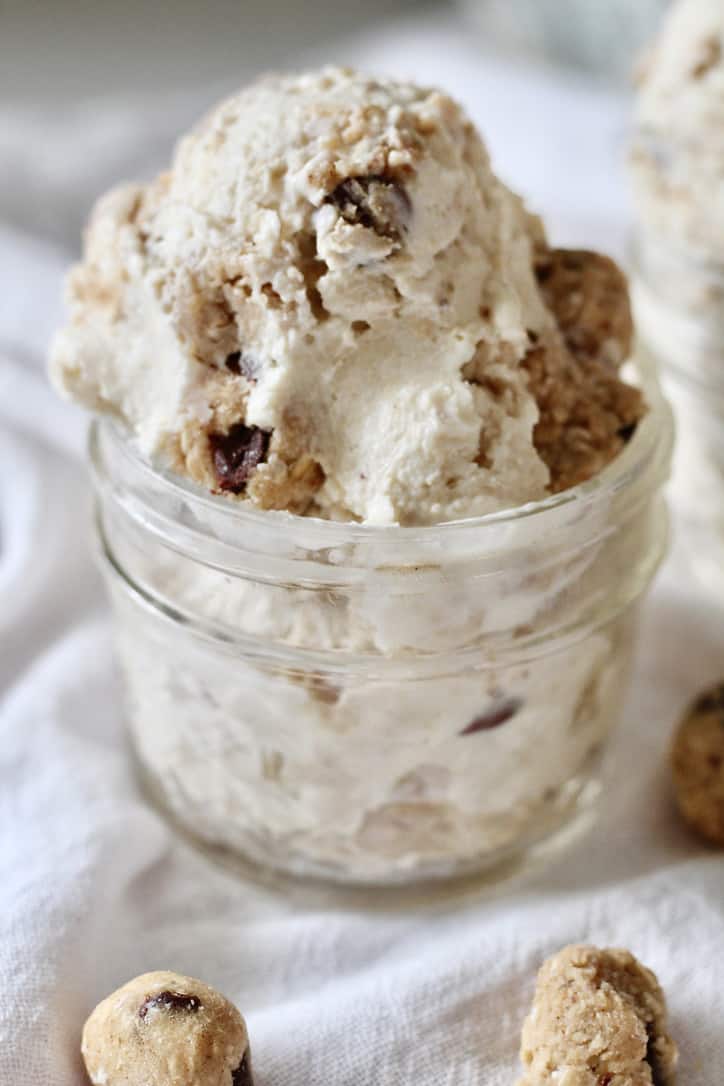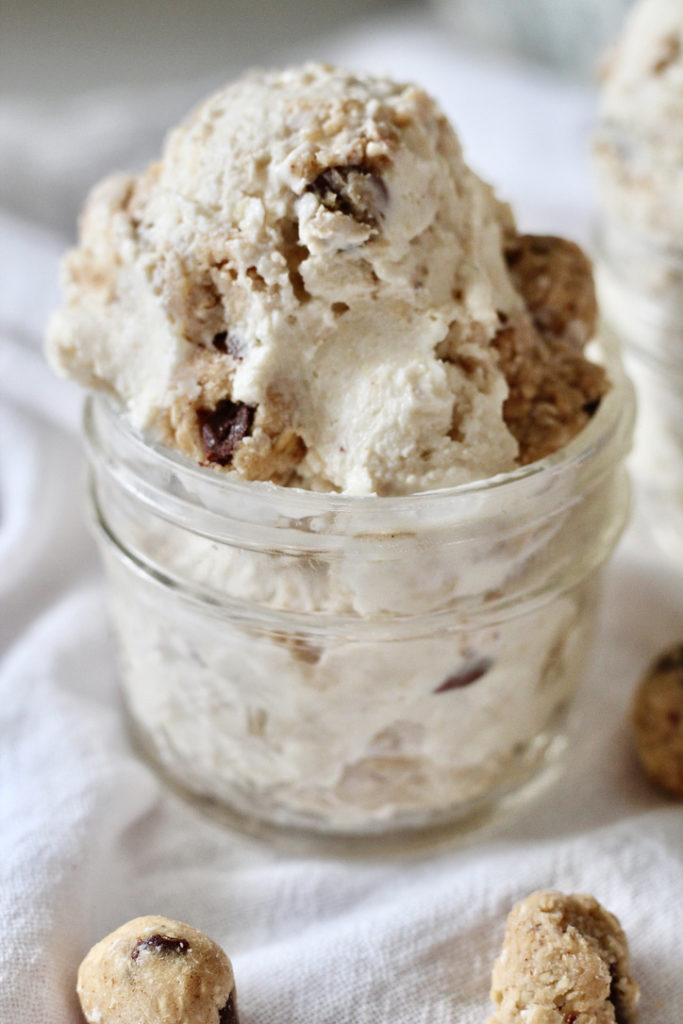 Which yogurt is lowest in carbs?
Plain low-fat yogurt has roughly 17g of naturally occurring carbohydrate. Plain Greek yogurt has 6-8g carbohydrate per cup.
Does sugar free frozen yogurt have carbs?
If we're talking your typical froyo low carb situation at a local yogurt shop, it will still have some amount of carbohydrate in it, so make sure to ask for nutrition information if you need exact numbers for insulin dosing.
Does frozen yogurt have less carbs than ice cream?
This depends entirely on the sweetness and flavorings that are added. Sometimes yes, but sometimes no.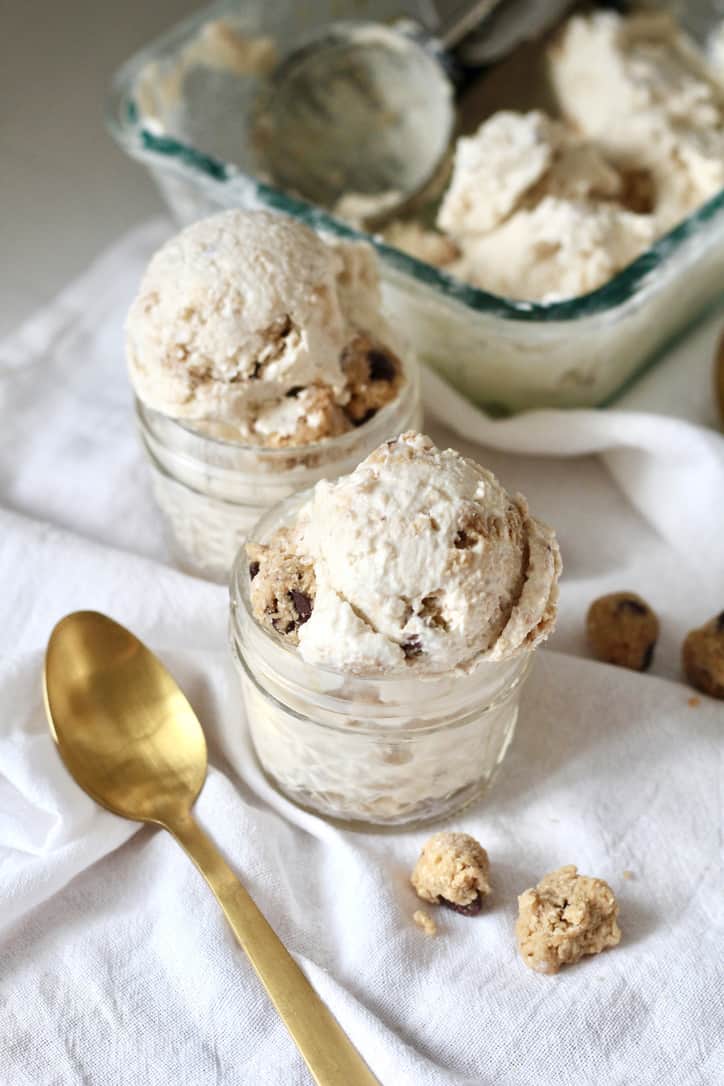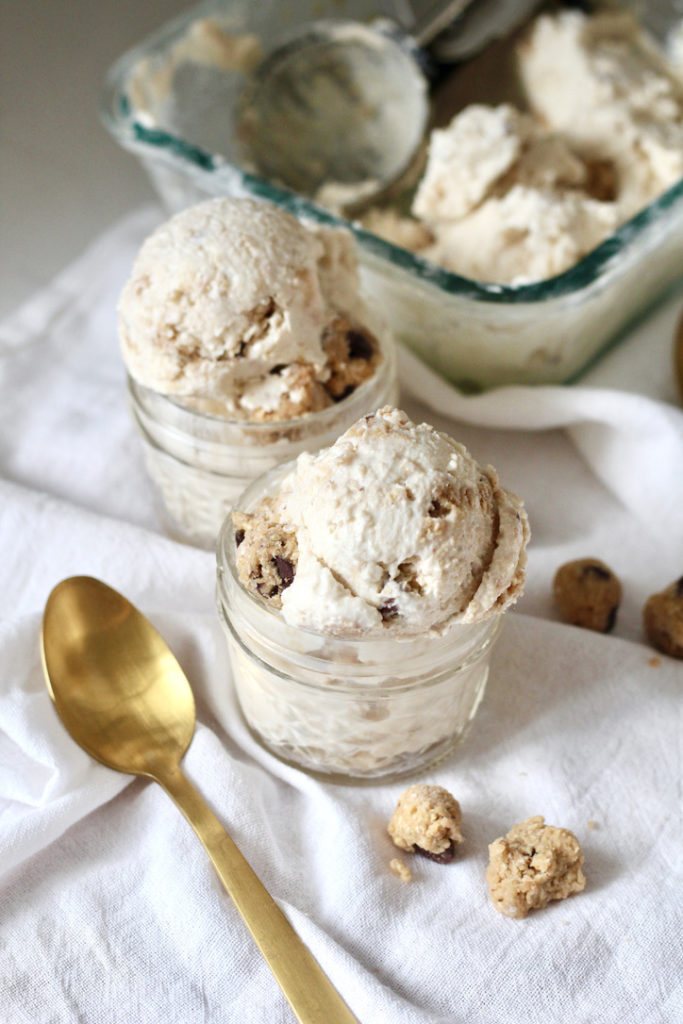 Frozen yogurt vs ice cream nutrition
Frozen yogurt got a reputation for being "healthier" back in the 1990's when low calorie was synonymous with healthy.
Both frozen yogurt and ice cream can fit into a balanced diet. Frozen yogurt typically has more protein. And ice cream will usually have more fat. Both, often have some amount of added sugar. Choose the one that tastes best to you and enjoy it!
Basic low carb frozen greek yogurt recipe
For a pretty simple low carb frozen yogurt recipe, all you need is plain Greek yogurt (I prefer full fat/whole milk), a sweetener, and vanilla extract. You mix it all together and follow the freezing instructions listed in the recipe below.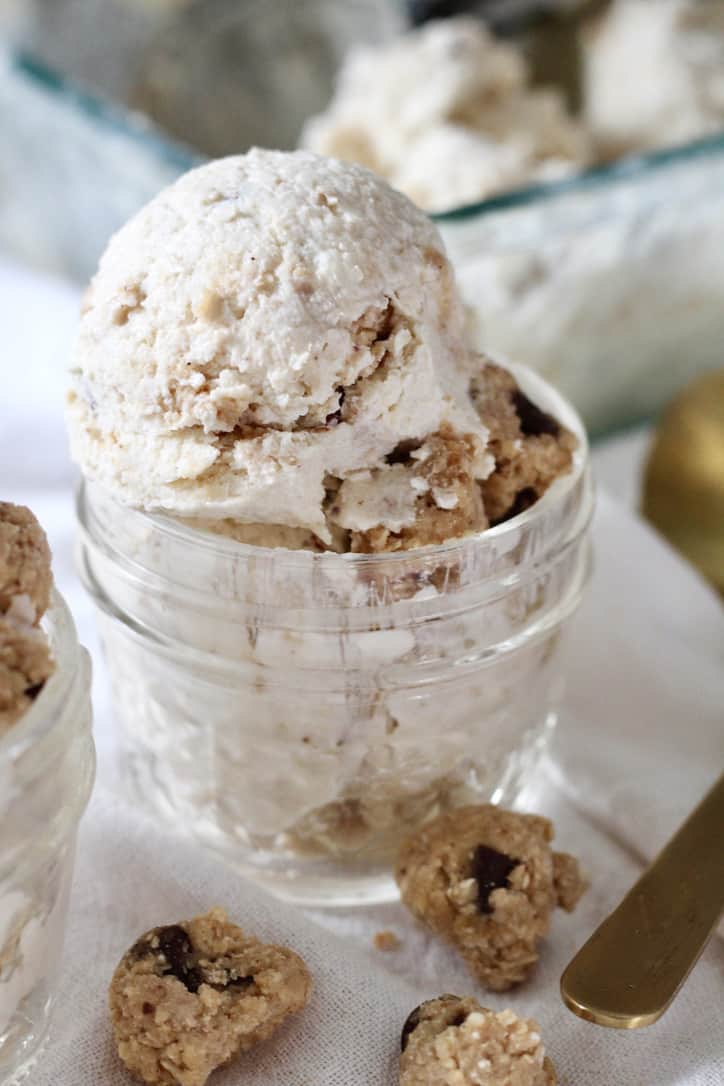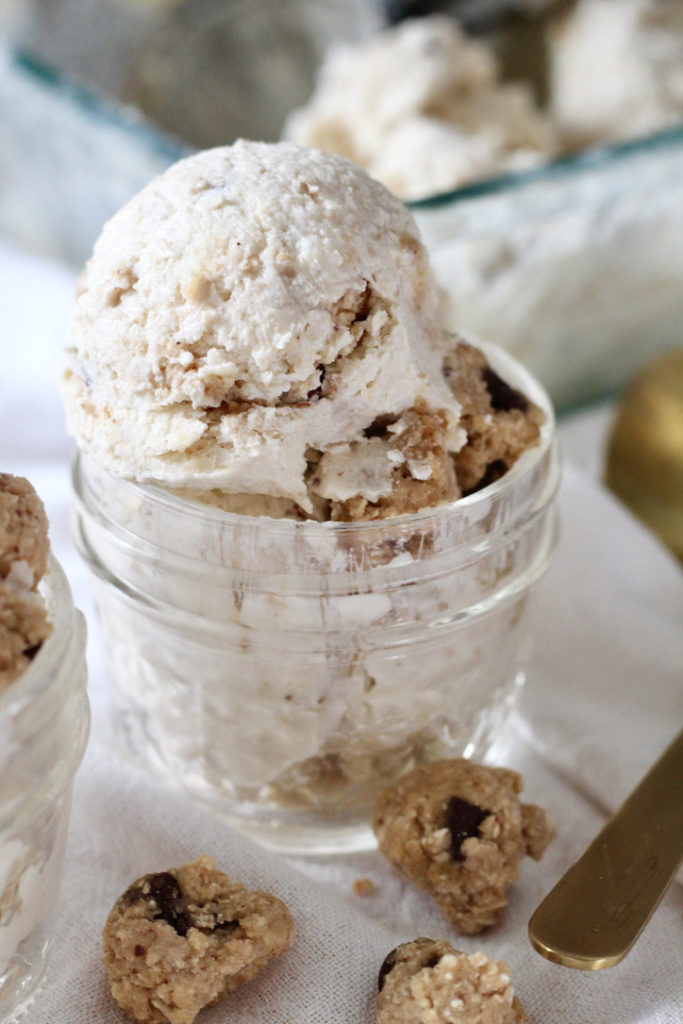 How to make frozen yogurt with chocolate chip cookie dough
The cookie dough chunks in this recipe are actually one of the most popular recipes I've ever published: Low Sugar Chocolate Chip Cookie Dough Bites. We make a smaller batch of those and freeze them into tiny chunks, then stir them into our yogurt mixture. Pretty simple, right?
But, if chocolate chip cookie dough isn't your thing you can also do strawberry frozen yogurt, blueberry frozen yogurt, mango, peach etc… simply add the frozen fruit to the yogurt before you put it in the food processor.

Chocolate Chip Cookie Dough Homemade Low Carb Frozen Yogurt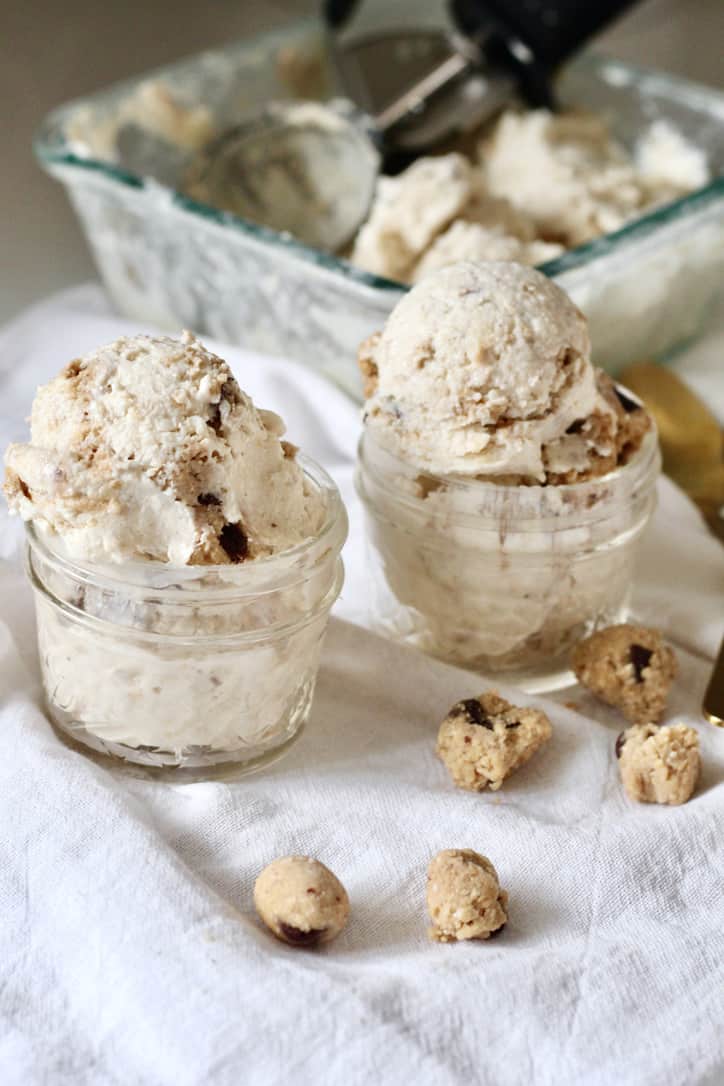 Ingredients
Cookie dough
½

cup

rolled oats

use gluten free if needed

⅓

cup

almond flour

½

cup

low sodium garbanzo beans or navy beans

rinsed and drained

1

tsp

vanilla extract

¼

tsp

cinnamon

2

Tbsp

maple syrup

2

Tbsp

mini chocolate chips
Frozen yogurt
2

cups

plain whole milk Greek yogurt

1

tsp

vanilla extract

½

tsp

almond extract

2

Tbsp

maple syrup
Instructions
First, we'll make the cookie dough…
Add the oats and almond flour to the bowl of a large food processor with the s-blade inserted.

Process until a fine powder is formed (about 20 seconds).

Add all of the remaining cookie dough ingredients, except the chocolate chips and process until smooth and a batter has formed. It will look almost exactly look cookie dough at this point.

Carefully transfer the mixture to a bowl and stir in the chocolate chips by hand.

Pinch the dough into small pea-sized balls of cookie dough.

Arrange the balls in a flat layer on a parchment lined pan and place them in the freezer.

They are ready to use in your frozen yogurt when they've been frozen for at least 2 hours or longer.
Now, let's make the frozen yogurt…
Add your plain Greek yogurt, vanilla extract, almond extract and maple syrup to the bowl of your food processor. Start your food processor and let it run for 45-50 seconds to get the mixture nice and fluffy.

Transfer the yogurt mixture to a square glass pan. (I like to use a glass food storage container I have so I can just snap the lid on when we're done.) Sprinkle the cookie dough balls on top of the yogurt and gently stir them in.

Cover your yogurt with plastic wrap to prevent as much air as possible from coming into contact with the yogurt.

Freeze the yogurt in your glass pan covered with plastic wrap for 30 minutes.

Remove the pan from the freezer, and stir the yogurt thoroughly. Cover with plastic wrap again and place it back in the freezer. Repeat this process of freezing for 30 minutes and stirring, 4 more times for a total of 2 1/2 hours.

Now, let it continue to freeze for another hour.
Notes
The nutrition facts presented here are estimates only. The brands you use and product types chosen can change the nutritional information presented. To obtain the most accurate nutritional information, you should calculate the nutritional information with the actual ingredients you use.
I recommend making the cookie dough at least a day ahead of time or longer. You'll be putting it in the freezer so you can really do it whenever you'd like.
If you have leftover frozen yogurt and it's been in your freezer for a while, set it on your counter for 20-30 minutes to soften before enjoying.
Nutrition
Serving:
0.5
cup
|
Calories:
160
kcal
|
Carbohydrates:
17
g
|
Protein:
8
g
|
Fat:
7
g
|
Saturated Fat:
3
g
|
Sodium:
44
mg
|
Fiber:
2
g
|
Sugar:
10
g