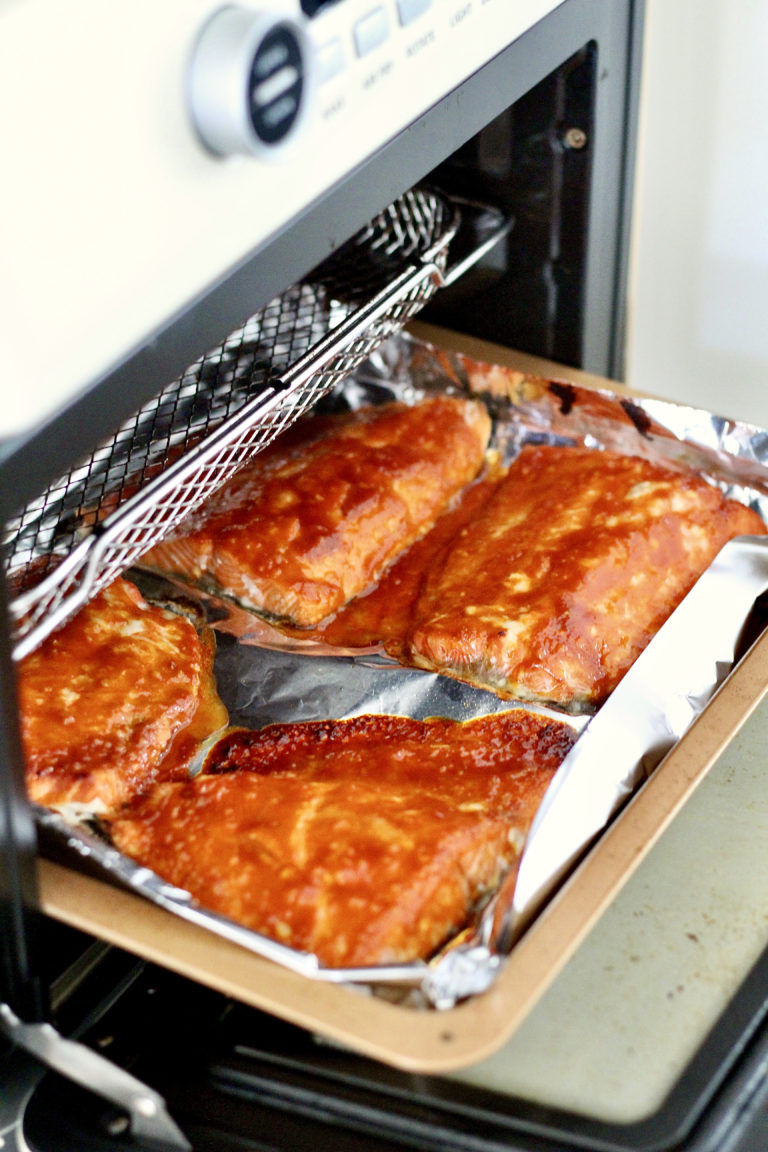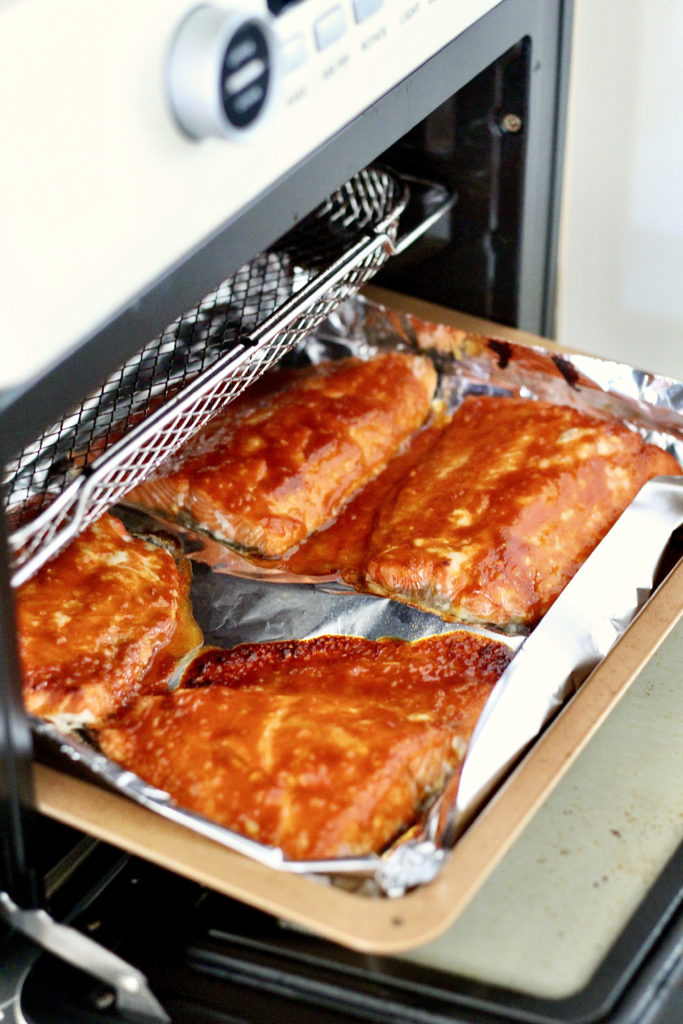 This gochujang salmon in the air fryer is the perfect combination of spicy and sweet, and it comes together in less than 30 minutes!
Gochujang salmon will be your next go to recipe on those busy weeknights. Give this gochujang glazed salmon in the air fryer a try soon!
This recipe for gochujang glazed salmon in the air fryer was developed by Milk & Honey Nutrition intern, Ashley Kim. Ashley is a 2nd generation Korean American that grew up learning how to cook Korean cuisine from her mother. Growing up in the United States influenced her now trademark Korean fusion cooking skills! She loves to get creative in the kitchen to share her Korean roots through food. 
What is gochujang, the Korean sauce?
Gochujang (goh-choo-jahng) is a staple ingredient used in Korean cooking. It's a fermented soybean paste with red chili, malt, sweet rice, sweetener, and salt. If you're not a huge fan of spicy food, don't worry! Although it's bright red, the spice is actually pretty mild. It's also usually mixed with other ingredients which mellows out the flavor and spiciness.
To learn more about Korean essential seasonings, check out this article.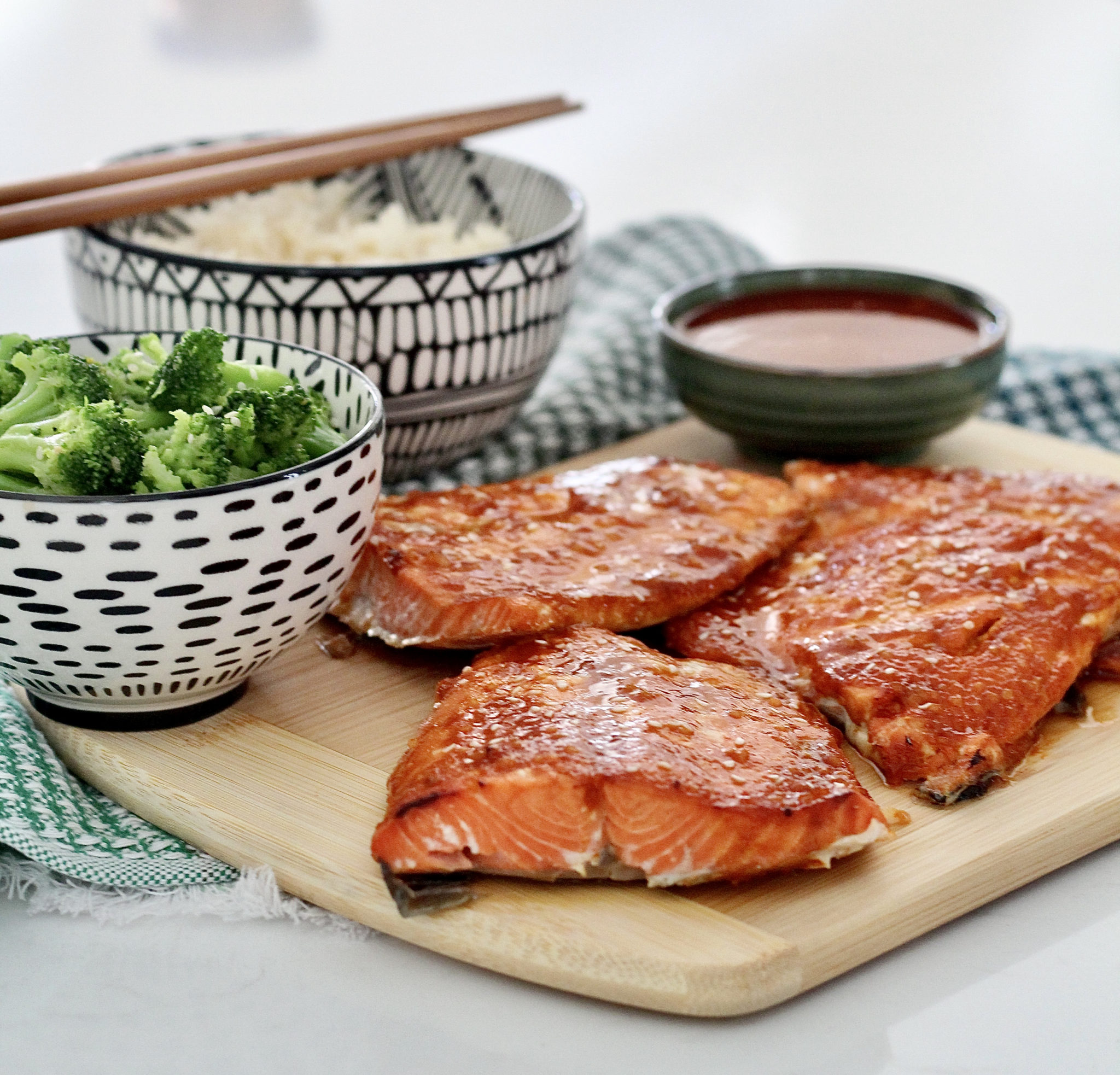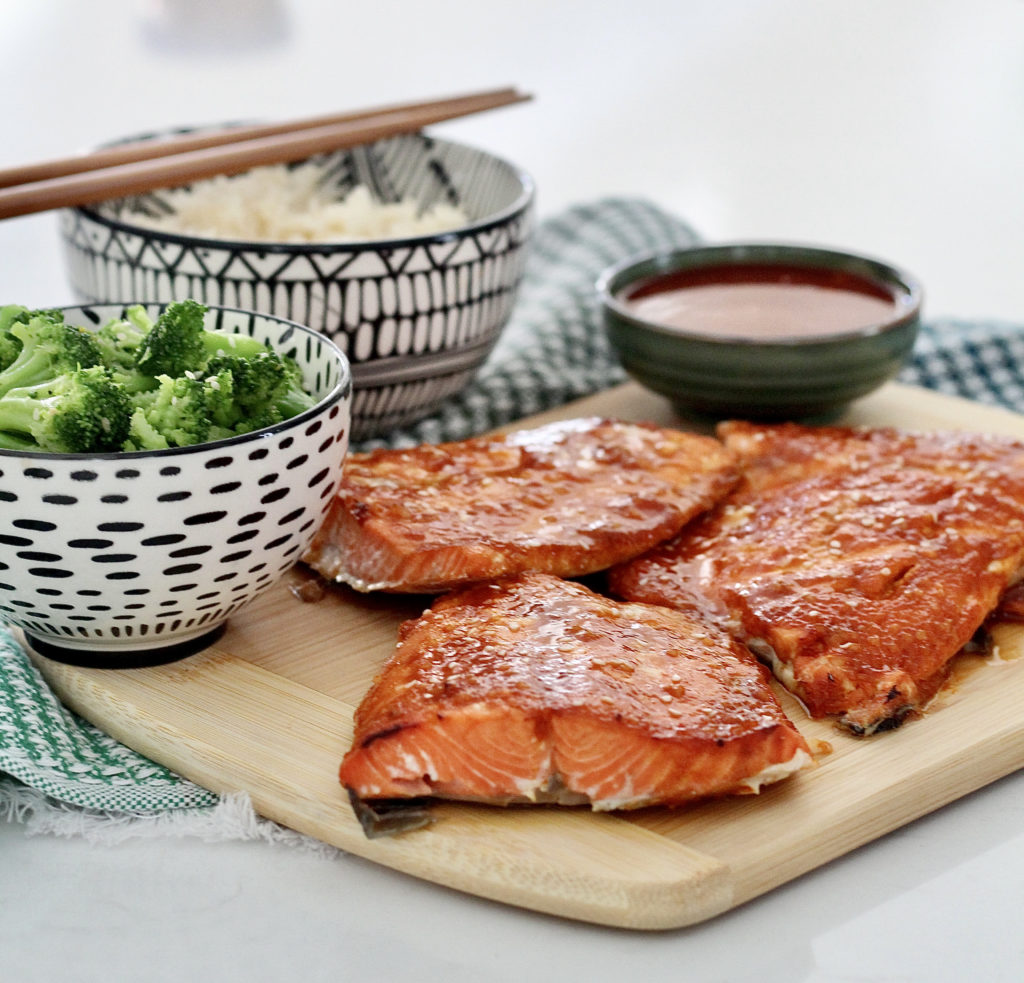 Is gochujang salmon diabetes friendly?
Gochujang, like other foods, can be used in a diabetes friendly way. While the ingredients do include sugar and rice flour, most recipes only call for 1-2 tablespoons per serving. Since the flavor is so strong, a little goes a long way!
Does gochujang go well with salmon?
In my opinion, gochujang goes well with almost any protein or vegetable. This glaze in particular is sticky, sweet, super savory, and has a slight kick, making it super versatile!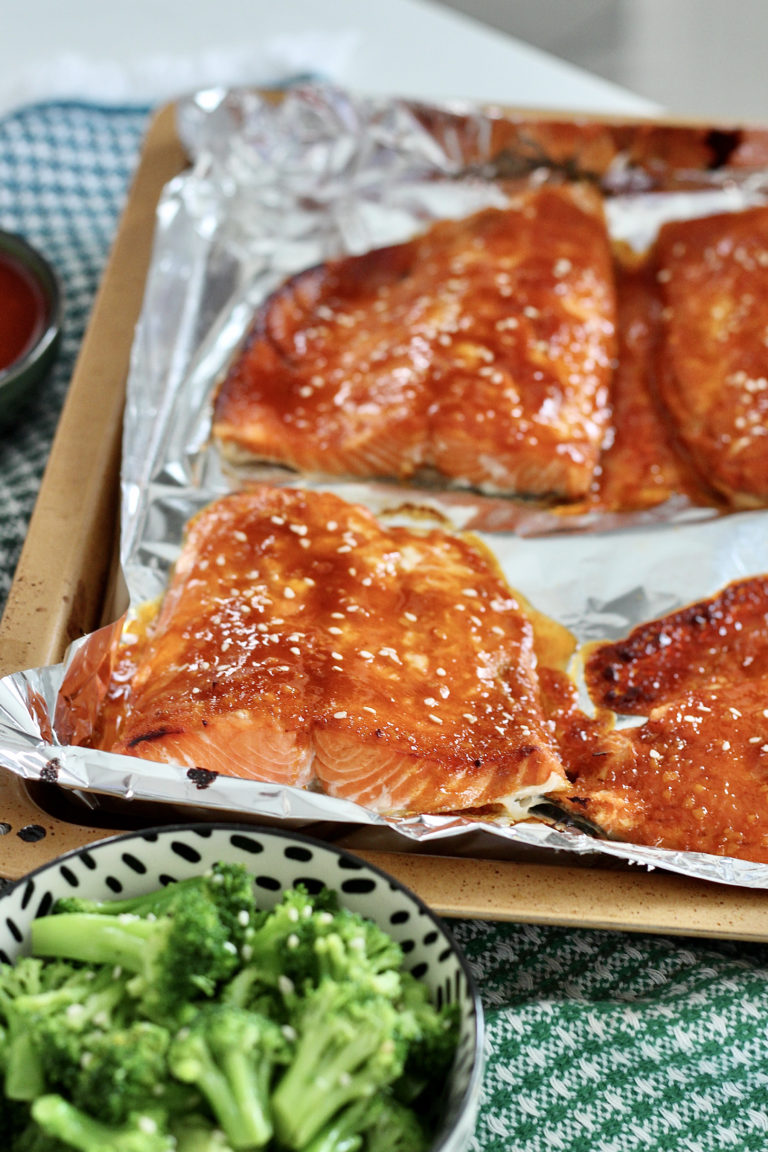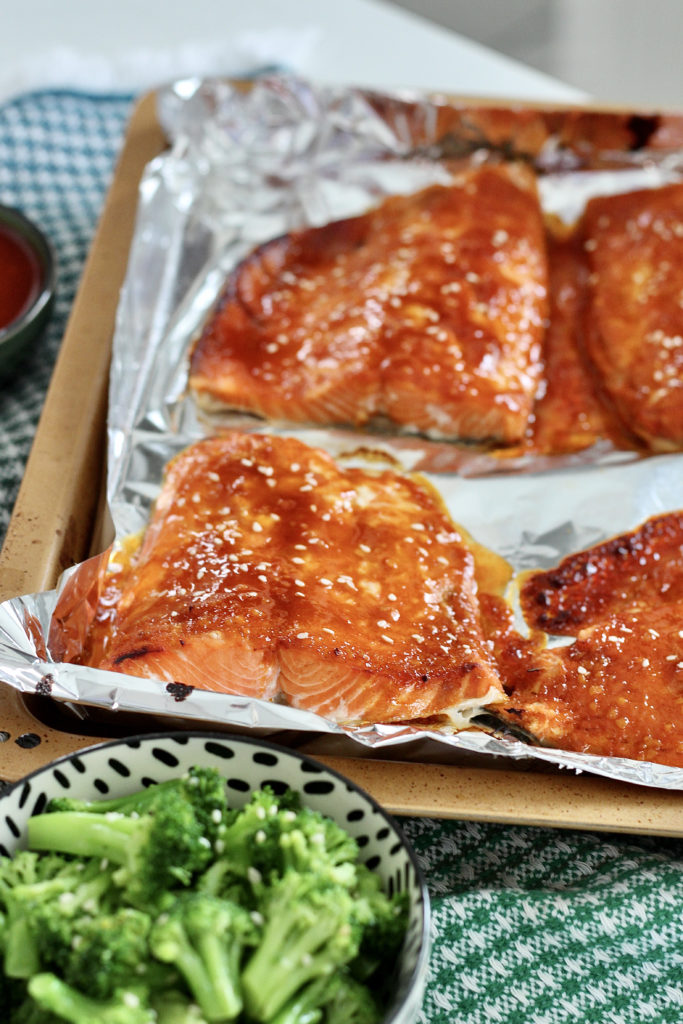 Gochujang glaze
To use the sauce as a glaze, you apply the sauce right before you cook it. You can also brush on the sauce right before it's done for extra shine and flavor.
Gochujang marinade
You can use the gochujang sauce as a marinade as well. All you have to do is place the sauce and your protein of choice in a sealed bag or container. Depending on the type of protein, you would let it sit in the fridge for 30 minutes to a few hours before cooking.
Korean food and salmon
Salmon is a newer protein option in Korea. It's not a "traditional" part of Korean cuisine, but its popularity has grown over the past few decades. And while salmon is a newer addition to your typical Korean meal, fish has always been an important staple! Fish, including salmon, offers lots of heart healthy omega-3 fats and protein. It also pairs perfectly with classic Korean ingredients like soy, sesame, garlic, and ginger.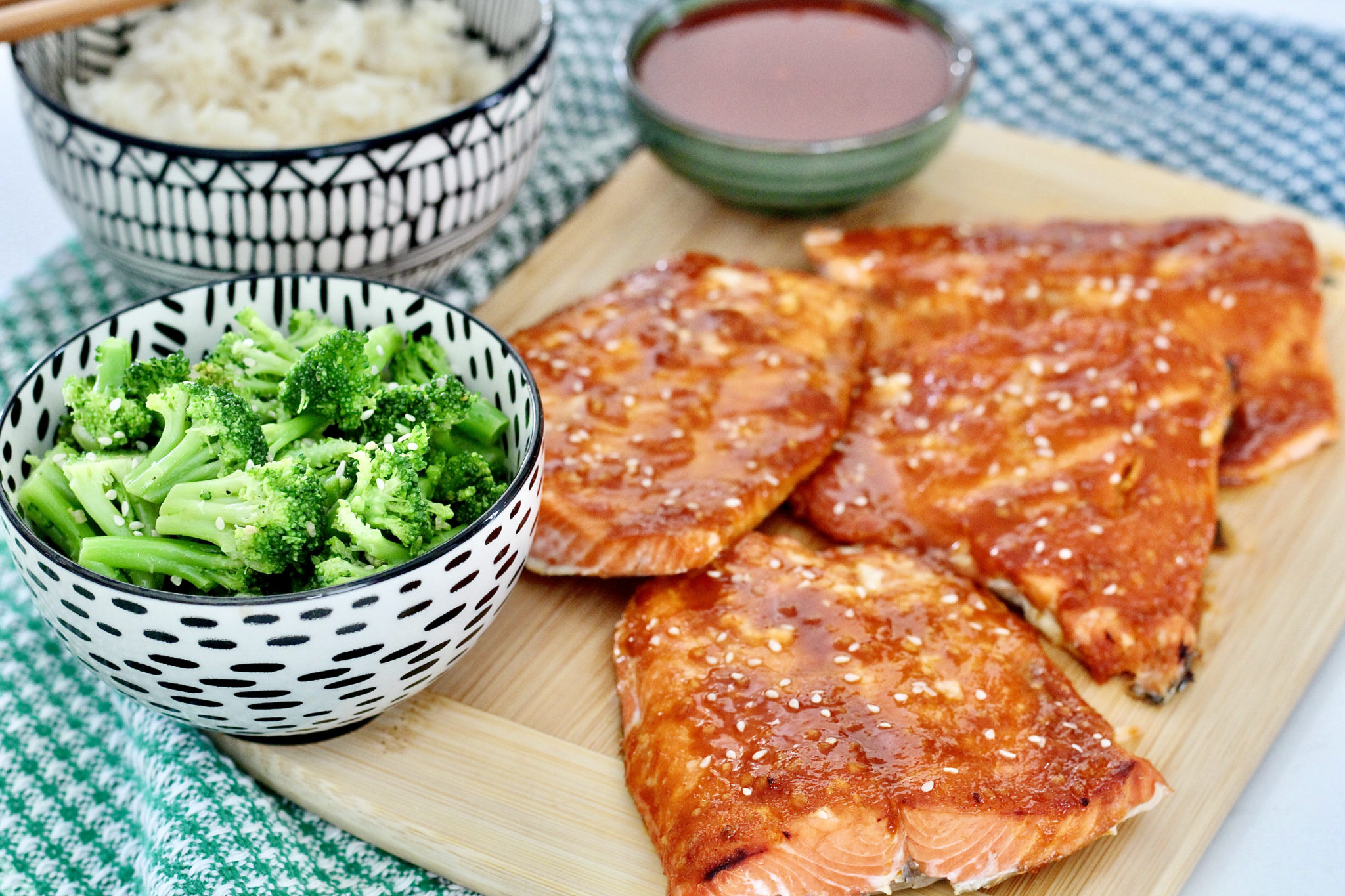 Air fryer salmon
If you haven't before, you need to start air frying your salmon! It's a huge game changer when you're short on time since it cooks the fish faster and it's easier to clean than a baking sheet or pan. Plus, I don't have to go through the trouble of lining my baking tray and preheating the oven. I love this air fryer salmon recipe because it cooks my salmon perfectly in less than 10 minutes! For more tips on cooking with an air fryer, read this article.
Looking for other quick and easy salmon recipes? Check these out: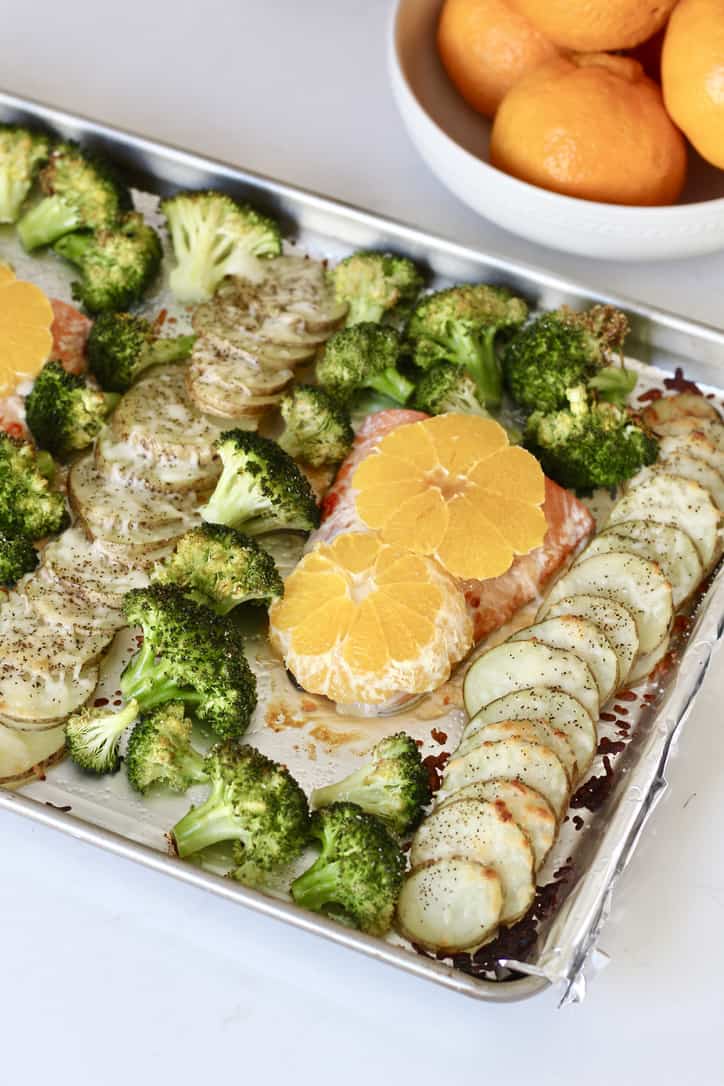 One Pan Citrus Glazed Salmon, Broccoli, & Potatoes
Dinner time doesn't get much easier than a one pan salmon and veggies meal!
View Recipe

Gochujang Glazed Air Fryer Salmon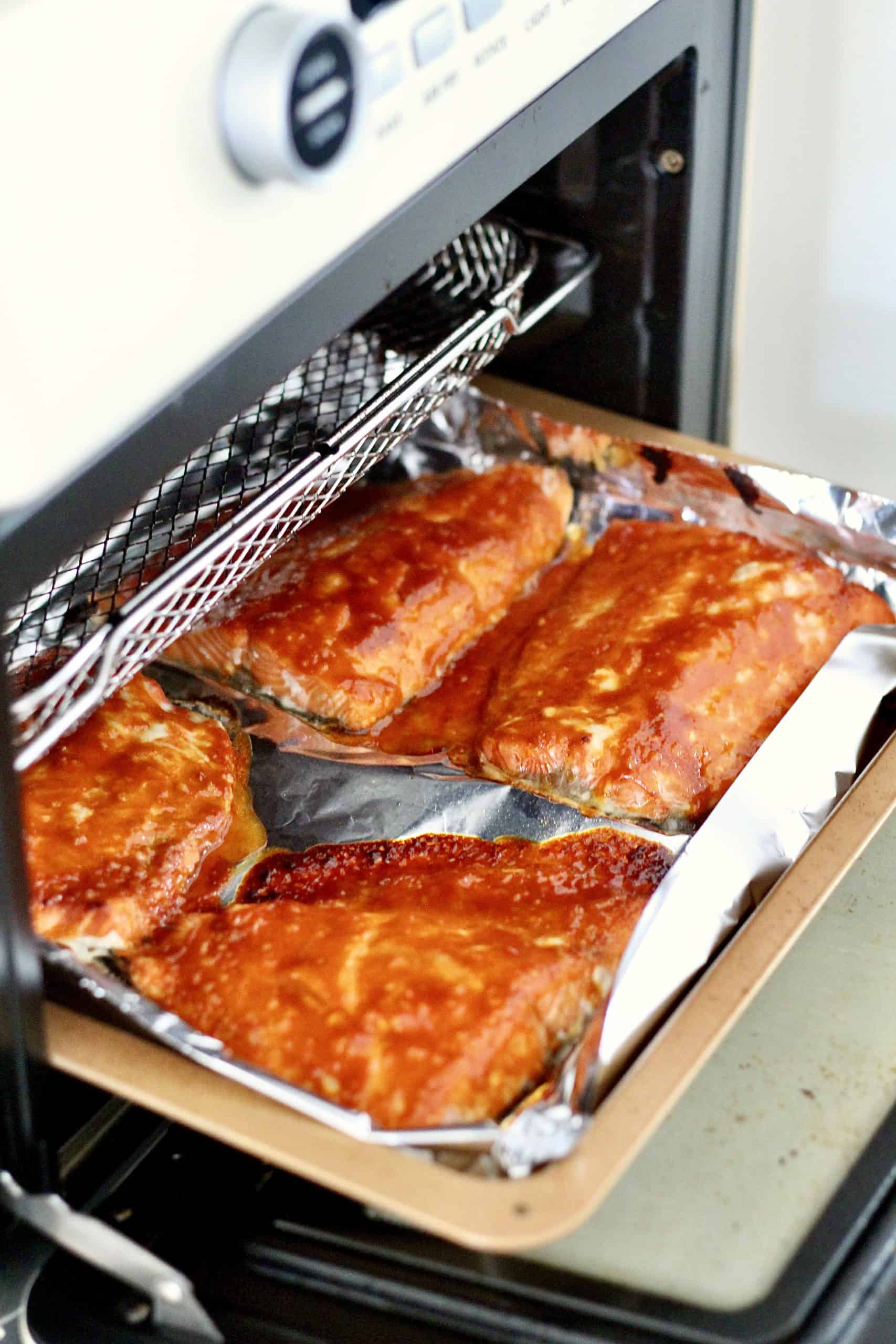 Ingredients
4

6-8oz

salmon filets

2

Tbsp

gochujang

1

Tbsp

sesame oil

1½

Tbsp

mirin

½

Tbsp

honey

1

tsp

soy sauce

1

tsp

grated ginger

2

cloves

garlic

minced
Instructions
Pat salmon filets dry with paper towels

Mix gochujang, sesame oil, mirin, soy sauce, honey, ginger, and garlic until well combined.

Align the salmon filets in the air fryer on a piece of parchment paper.

Brush the glaze over the filets.

Air fry at 400 F for 7 minutes or until the glaze has caramelized in color.

Garnish with sesame seeds and sliced green onion and enjoy!
Notes
The nutrition facts presented here are estimates only. The brands you use and product types chosen can change the nutritional information presented. To obtain the most accurate nutritional information, you should calculate the nutritional information with the actual ingredients you use.
Nutrition
Serving:
1
filet
|
Calories:
420
kcal
|
Carbohydrates:
10
g
|
Protein:
42
g
|
Fat:
21
g
|
Saturated Fat:
4
g
|
Sodium:
453
mg
|
Fiber:
1
g
|
Sugar:
8
g